Goa's capital city, Panjim (Panaji) offers the best insight into the states unique history and culture, and there are many things to do in Panjim.
Goa is mainly famous for its beaches and parties, but there's so much more to explore in Goa. Most tourists only visit Goa's beaches but if you don't explore beyond the beach then you simply haven't seen the real Goa!
It's such a shame that not so many people take the time to explore the beautiful and magical Goan countryside, wildlife sanctuaries, markets, temples and churches and historic sites.
There's so many things to do in Panjim and the central goa hinterland – its definitely worth prising yourself away from the beach for a day or 2 and making time for Panjim in your Goa itinerary.
The Best Things to do in Panjim (Panaji) Goa's Colourful Capital
Why you need to visit Panjim
Goa's capital is a pleasant, colourful and historic city, probably the most pleasant capital city I've seen yet in India. Panjim is now called Panaji, but most people still call it the old name Panjim.
There are so many things to do in Panjim including iconic landmarks, heritage walks, churches, temples, beaches, museums, Goan restaurants and colourful Portuguese backstreets.
Panjim also makes a great base from which to explore the other amazing cultural and natural heritage sites of Central Goa including the UNESCO listed churches at Old Goa, the spice plantations, wildlife sanctuaries and waterfalls – all of these are easy day trips from Panjim.
Staying in Panjim will also give you a glimpse of a very different Goa away from the crowded and touristy beaches.
If you want to make your trip to Goa complete then get off the beach and visit Panjim and Central Goa!
The Best Things to do in Panjim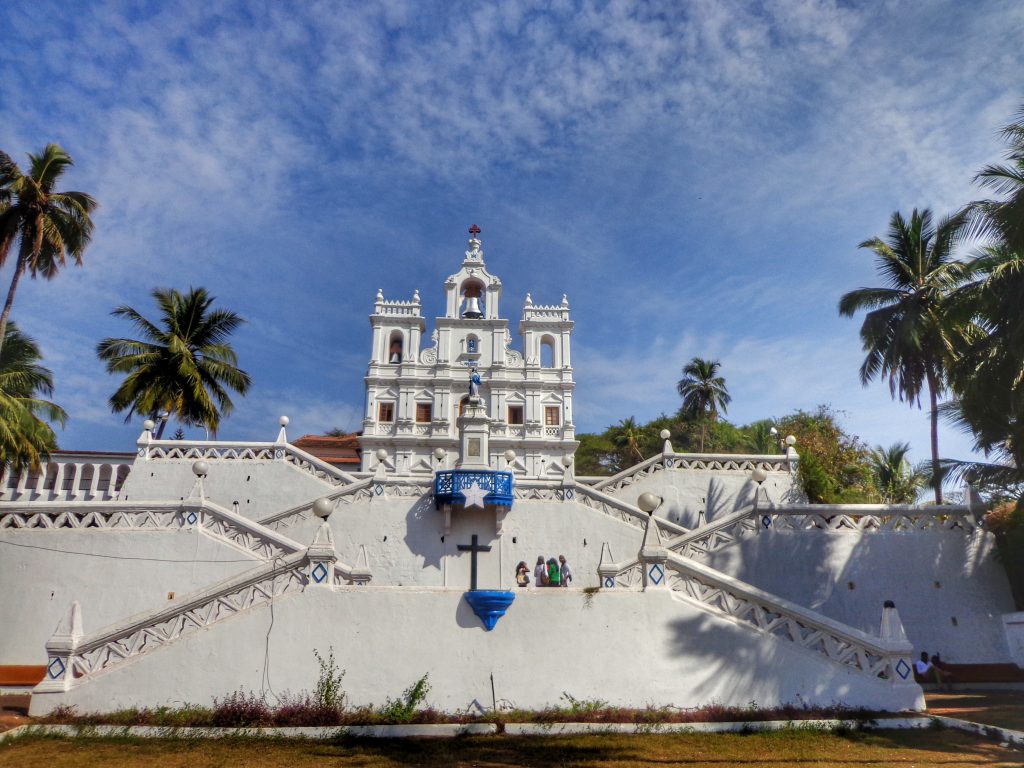 Our Lady of the Immaculate Conception Church
If you only see 1 site in Panjim then make it this – the Our Lady of the Immaculate Conception Church. This colonial Portuguese church is the spiritual and geographical center of Panjim.
A chapel was first built here in 1540 and then in 1619 the church you see today was built. This church was the first port of call when sailing to Lisbon when Panjim was just a small fishing village. It wasn't until the 1850 that the land in front of the church was reclaimed and the criss cross stairs were added.
This is a beautiful Baroque style church that sits on a hill overlooking Panjim like a fancy stacked white wedding cake. It's painted a bright white colour and features zig-zag stairs that are lined with swaying palm trees and is also colourful and interesting inside.
It's no surprise its one of the most photographed landmarks in the city, and a lovely place to admire not only from below, but also while ascending the stairs. Another thing I really enjoyed were the views of the city below. The church is also beautiful illuminated at night – definitely one of the very best things to do in Panjim.
If you get peckish while you're here there are a few cafes nearby – try tasty veg food at the Kamath Hotel (Restaurant), or have a drink and some non veg Goan food at the George Bar and Restaurant
Althinto Hill
This hillside area is home to some of Goa's most elite residents. It's also a great place for an afternoon wander. Althinto Hill is home to the imposing 19th century Bishop's Palace, which dates back to 1893 and was regarded as the finest property in Goa during Portuguese times.
It's also where the Pope stayed on his 1999 visit to Goa. Another reason why I recommend the neighbourhood in my list of things to do in Panjim is for its magnificent views over Panjim and the Goan countryside.
Maruti Temple
The Maruti Temple is a stunning terracotta-coloured temple that's dedicated to Hanuman; a Hindu deity that was devoted to Rama. The temple sits atop the Altinho hillock overlooking Fontainhas and is accessible by walking along the old Margao road. It is especially exceptional at night when it's all lit up and glimmers like a gem.
Eat at Hotel Venite
No list of things to do in Panjim would be complete without eating traditional Goan food! Hotel Venite on 31st January Road is a popular, legendary restaurant that has been serving traditional Goan cuisine since 1955 .
The vegetable vindaloo, spicy Portuguese-inspired chouricos (spiced sausages) and masala prawns are my favourites. It's one of the most atmospheric restaurants in Panjim with it's charming and quirky décor and the cute lit-up balconies that overlook the street are a great place to watch the world go by.
There's also a thriving cafe culture in Panjim with plenty of cute and cosy places to hang out with great coffee and delicious cakes. You can even try pasteis de nata right here in Goa due to it's historic ties with Portugal. Here's an insider's list of the best cafes in Panjim to try.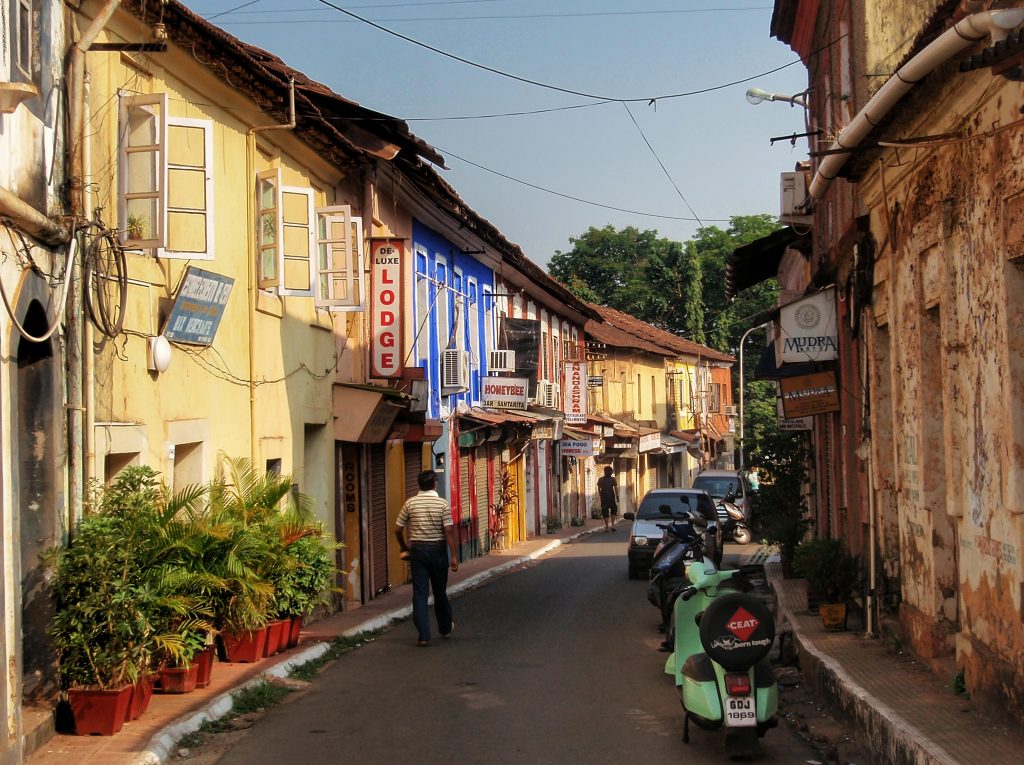 Fountainhas & Sao Tome Heritage Walk
Fountainhas is the oldest neighbourhood in Panjim and known as the old Latin Quarter. Exploring this area is one of the best things to do in Panjim.
Fountainhas is filled with picturesque colourful architecture, narrow winding streets and loads of charm. At the very south end of this old quarter is a small square that's dominated by the Chapel of St Sebastian. The square is a nice place to sit and read a book.
It's also worthwhile to pop into the Gitanjali Gallery to have a look at the artwork or have a coffee in the café.
At the very north end of Fountainhas is Sao Tome, another lovely neighbourhood that boasts picturesque houses painted in pastel colours. This old quarter is centred around Panjim's main post office, which was once a tobacco trading house.
A heritage walk along the narrow roads and winding streets in both of these neighbourhoods makes for a fantastic afternoon. We went on the heritage walk with Make it Happen.If you really want to learn more and get under the skin of Goa's history then you can also take a tour of Panjim's heritage with an archaeologist . 

Kala Academy
Kala Academy is a prestigious cultural centre that is run by the government. It is home to numerous auditoriums and hosts all kinds of plays, concerts and art shows. Check out their website to see whats on.
The Kala Academy is situated on the banks of the River Mandovi right where it meets the Arabian Sea, making it a good place to watch the sunset over the water. Beforehand, I recommend heading to the nearby Campal Gardens for a picnic lunch, a stroll through the gardens or to enjoy the views over Reis Magos Fort.
Floating Casino
Gambling is illegal in most states of India, but not in Goa, so its not surprising that visiting a casino is one of the most popular things to do in Panjim. There are some casinos in upmarket hotels but by law they can only have electronic games. The floating casinos in Goa on boats anchored in the Mandovi River have all the games.
There are several floating casinos within easy reach of Panjim – the most popular ones include the Deltin Royale and Casino Pride. You have to pay an entrance fee but you'll get drinks, snacks and some playing chips included. You can try your luck at Blackjack, Roulette, Bacarrette, Stud Poker or Rummy, or use the electronic slots.
The views from then upper deck of the yacht are magnificent. There is also a pretty good restaurant, music and entertainment and a sundeck bar, which is a nice place to watch the sunset. Check out this article for more info on Goa's casinos.
River Cruise
Another one of the top things to do in Panjim is taking a river cruise along the Mandovi. Boats leave from either the Santa Monica Boat Jetty or the Panaji Jetty and go on a tranquil cruise along the river.
You can do a quick one-hour cruise or a two-hour dinner cruise. There are also two-hour back river cruises that run twice a week. Music and cultural dancing is always part of the journey.
The most popular river cruises are the sunset cruises which includes dinner, drinks, music and entertainment. This sunset cruise and Panjim at night tour also takes you to see the illuminated Church and Maruti temple.
Goa State Museum
Indian musesums don't normally match up to the standard of museums in the West, but of all of the museums in the city, the Goa State Museum is worth a visit and its free to enter. There are three sections of the museum; Art and Craft, Ancient History and Archaeology, and Geology which together contain around 8,000 artefacts.
This includes an impressive sculpture of Lord Vishnu, hero stones that date back to the King Biravarma period and a beautiful wooden chariot. I found the furniture room the most interesting. See more info on their website.
Miramar Beach and Dona Paula
The other beaches of Goa are more well known but you don't have to miss the beach when in Panjim. These two beaches are a must for anyone visiting Panjim – Miramar Beach and Dona Paula.
Miramar is the busier of the two and the main beach of the city. It is the beach that many Goa locals and domestic tourists hang out.
Just beyond it is Dona Paula, which is famous for its sunsets. It is also where Raj Bhavan is located, which is the official residence of the Governor of Goa.
Eat at Mum's Kitchen
Mum's Kitchen is another of the most popular places to eat in Panjim. It's won many awards and is famous for it's seafood. The restaurant was created to preserve traditional Goan family recipes that have been handed down through Goan families and are served up in a charming, rustic, homely ambience. Check out their website for more.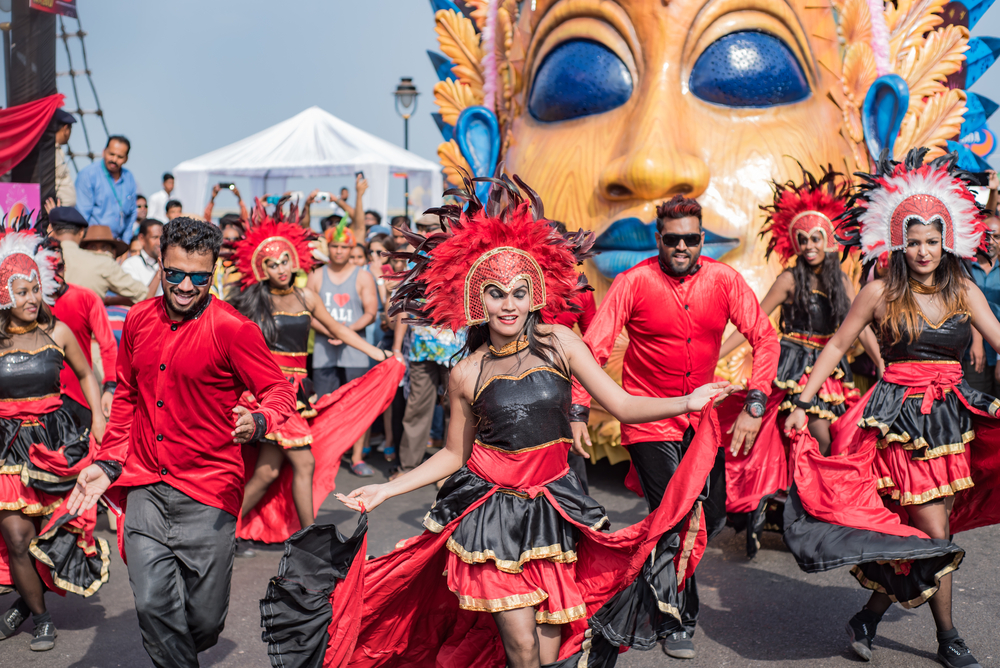 Celebrate Carnival
The Goa Viva Carnival is celebrated every year in late February/ early March time as a last opportunity for excess before lent and is one of the most colourful festivals you can go to.  The entire main street is closed off to traffic and instead it is filled with colourful floats and people that sing and dance in the street.
The first float is always the float with King Momo, who declares that everyone should eat, drink and be merry. And this is exactly what everyone does during Goa Viva Carnival. It's one of the very best things to do in Panjim so book accommodation well in advance if you're coming for carnival.
Pin Me 🙂
Day Trips and Tours from Panjim
As well as the many things to do in Panjim, the city also makes a great base for exploring some of the best cultural and natural sites in Central Goa like the UNESCO listed churches at Old Goa, spice plantations and waterfalls.
Many of these can be easily done as a day trip from Panjim so if you feel like getting out of the city for a day, these are a few things to do outside of Panjim.
UNESCO Old Goa Churches
Goa was under Portugese rule for about 500 years, and this influence can still be seen in Goa's food, culture, religion and architecture but the most impressive place to see the Portugese legacy is at Old Goa. This place used to be so important that it rivaled Lisbon but all that is left now is the churches of Old Goa, most of which are now UNESCO sites and are one of the best things to do in Goa.
Old Goa was once so grand that it was pegged the 'Rome of the East'. It was also the old capital city of the province before it was moved to Panjim in 1843, leaving behind many magnificent old churches, including the largest in all of Asia – Se Cathedral.
It's easy to just get a taxi there but you will miss out on learning about the history of this place which brings it alive. If you want to know the stories behind the old churches you can take a private half-day Portuguese heritage tour.
Or you could make a full day of it and combine a tour of Old Goa with visiting a spice plantation for lunch and a crocodile spotting river cruise. See details here. 
Ponda Spice plantations
One of the most popular Goa day trips is a visit to a spice planatiaon. Just 28 kilometres outside of Panjim is Ponda where you'll find a couple of Spice Plantations that you can visit.
Sahakari Spice Farm is one of the most popular with 60 acres of organic spices, fruits, medicinal trees and herbs. Visiting the spice plantations are a treat for all your senses. They staff will take you for a tour around the luscious, fragrant, tropical and colourful plantation, giving you interesting facts about the spices and plants and teaching you how to climb a beetle nut tree.
There's also a tasty Goan lunch included and you may get to see a folk dance and elephants. Check out their website for more info.
There are lots of tour options to the spice plantations. This is a good value for money tour to the spice plantations. Or if you want to make your trip to the spice plantations a little more exciting you could take a crocodile spotting river cruise to the spice plantation.
There are also some interesting temples around the Ponda area – this spice plantation and temples tour allows you some culutre and spirituality along with your spice farm visit.
Dudhsagar Waterfall
At the very far corner of Goa in the jungle is the beautiful Dudhsagar Waterfall. This is the second highest waterfall in India and is best viewed after monsoon, when it is gushing with water, but really anytime you can enjoy the jeep safari adventure through the jungle, admire the waterfall and take a refreshing dip in the cool waterthe pool below the falls.
This great value Waterfall, Plantation and Old Goa tour takes you on a jeep safari through Mollen National Park to Dudhsagar Waterfall, visits a luscious spice plantation, the churches of Old Goa and includes a traditional Goan lunch in 1 easy day trip. See full details here.
Chorao and Divar Islands
Both of these inland islands are just a short boat ride away from Panjim, and both make for a great day trip and escape from the tourist crowds.  Explore villages with old mud and thatched houses, whitewashed churches and elegant Portuguese villas.
They are both tranquil and picturesque with some stunning countryside and will take you back into to time to experience what life was like hundreds of years ago.
This Divar Island tour takes you on the ferry to Divar island to discover historic villages, ancient temples and churches, holy sites and hidden caves and includes lunch at a local home and an amazing view over Old Goa's churches.
If you're feeling more active then one of the best ways to explore these sleepy and picturesque inland islands is on a cycling tour!
Salim Ali Bird Sanctuary
This bird sanctuary actually takes up the entire western side of Chorao Island, though is a separate day trip all together. The sanctuary was named after naturalist Salim Ali, who was known as the 'birdman of India'.
The Salim Ali Bird Sanctuary is covered by low mangrove forest, which is the perfect habitat for western reef heron, striated heron, black bitten, jack snipe and red knot birds.
If you're interested in more bird watching you might like this North Goa Bird Watching Tour which takes you to Socorro Plateau, Paithona Stream and Pilerne Lake to spot lots of exotic birds.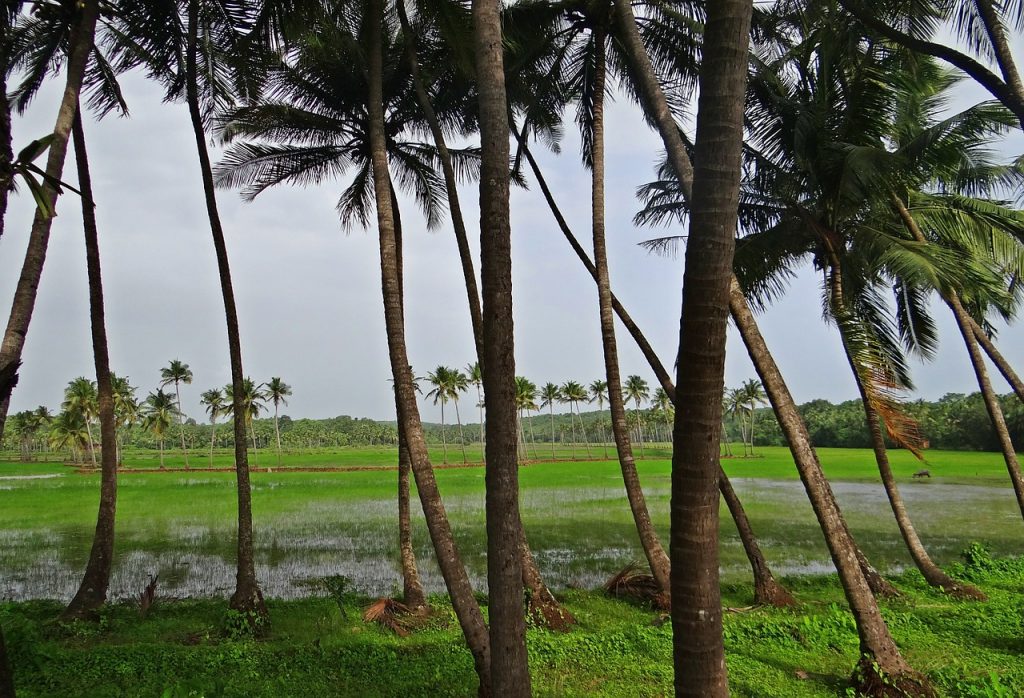 Where to Stay in Panjim
There are some great hotels and accommodation options in Panjim – from backpacker hostels to budget guesthouses, boutique and heritage hotels and even luxury resorts.
Panjim has some great heritage properties which have been converted into charming guesthouses and hotels which are full of character and history and make for a special and unique stay.
Located on Miramar Beach the Marriott is the best luxury hotel in Panjim. Rooms are stylish, modern, comfortable and there are great sea views from the pool and many excellent dining options.
The Cidade de Goa is a uniquely designed, colourful 5 star beachfront resort in Dona Paula, 10 mins from Panjim. I love the Portuguese village style architecture and bright, colourful rooms with stunning sea views. There are 2 lovely outdoor pools, a spa and fitness centre and several restaurants.
A cosy heritage guest house in Fontainhas with classic, simple, heritage style rooms complete with modern amenities and great hospitality.  I love the large doors that open out onto the small terrace balconies.
La Maison is another great heritage hotel in the Latin quarter that mixes traditional charm with modern luxury. There's only 8 rooms so you get a personalized experience and all the rooms contain restored antique furniture, impressive art work as well as mod cons. The European restaurant is also good.
Also located in Fontainhas is the Panjim Inn – one of the first mansions in the area. It's now an affordable heritage hotel with spacious rooms containing period furniture mixed with modern amenities and there is fine art and collectables displayed all over the property.
My favourite backpacker hostel and budget stay in Panjim is The Old Quarter by Hostel Crowd who run some of the most popular backpacker hostels in Goa. This comfy, clean and friendly hostel is located in Fontainhas, the old latin quarter of Panjim and has a cute coffee shop.
How to Reach Panjim
Panjim is conveniently located in the middle of Goa – it's only 30 mins away from the beaches of Baga and Calangute and it shouldn't take more than 1 1/2 hours max to reach even the further beach resorts of Palolem and Arambol. Cheap local buses run all across the state to the city so there's no excuse to not visit!
I hope this post has inspired you to visit and explore Panjim and see another side to Goa! For more of my Goa travel tips check out my other Goa blog posts and guides:
Do you have any more tips for things to do in Panjim?
I'd love to hear them! Please share in the comments below