New Year in Goa = Legendary Parties!
As India's party capital, the nightlife and parties in Goa are amazing all year round, but the Goa New Year parties are even more legendary! Goa is the best place to celebrate New Years, not only in India, but maybe even the whole world!
Not surprisingly, Goa gets extremely busy around New Year so you really need to do some planning and book your hotel well in advance if you want to have the best time in Goa over this busy period between Christmas and New Year's Day.
As I live in Goa I've celebrated countless New Years here so, to make sure your experience is memorable, for all the right reasons, I've put together my insider tips for planning your Goa New Year trip and celebrating the festive period in Goa safely including; the best nightclubs and New Year parties, where to stay in Goa for New Year and how to get around. I hope these tips help you to have the best New Year's ever!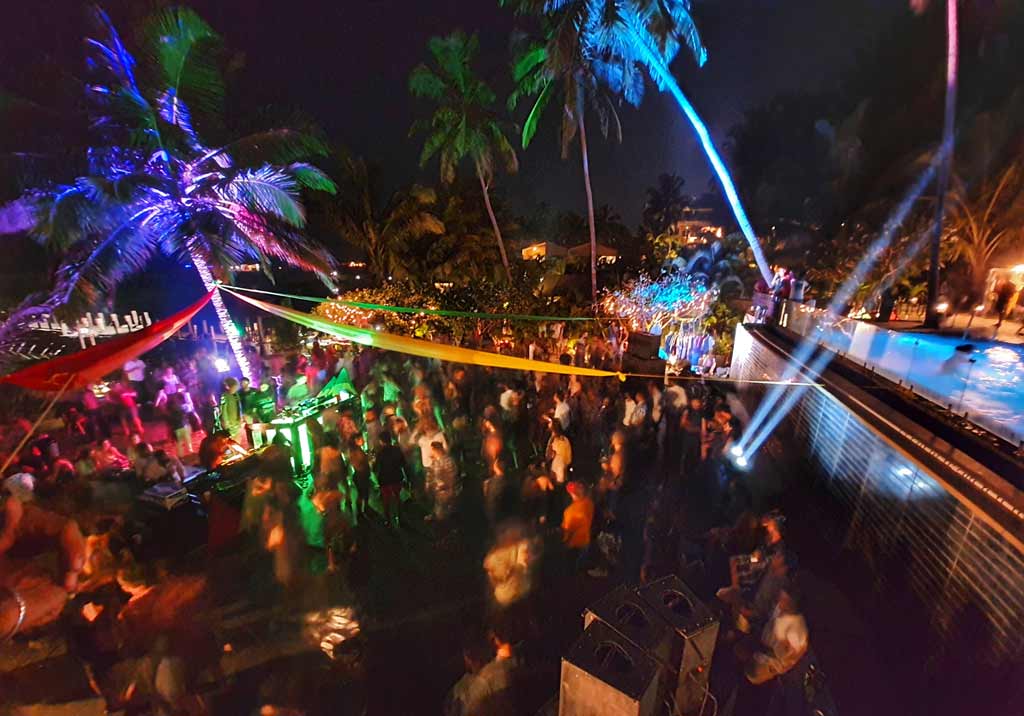 Planning Your Goa New Year Trip
My number 1 tip is to plan your Goa New Year trip and book your accommodation well in advance!
Goa gets extremely busy around New Years and the prices go up for everything, especially accommodation, so the further in advance you can book your hotel the better.
To be able to enjoy the epic parties my most important tip for you is to book your hotel well in advance close to where you want to party as all the accommodation gets sold out and the traffic is crazy.
Seriously don't even think about coming to Goa for New Years without a hotel booking and some kind of plan – it will just be stressful and expensive – not fun!
Another advantage of planning ahead is that you might also be able to get cheaper tickets for the parties and nightclubs online when you book in advance with the presales on PayTM Insider, MadVibes or Book My Show. Some events could even sell out.
But don't just book any hotel in Goa – you might be surprised at how long it can take to get places – especially on New Year's Eve because the traffic is crazy busy and you don't want to spend all your time stuck in a traffic jam instead of partying!
Read More: Where to Stay in Goa – The Best Areas, Beaches and Hotels
Pin Me! 😉
When thinking about where to stay in Goa for New Year you'll want to think about which parties and beaches you want to celebrate at and book your accommodation as close to there as possible – check out my huge post on where to stay in Goa to give you a better idea about the different beaches and areas and the best hotels.
To make the most of your time in Goa it's best to book a hotel to stay near the parties you want to go to – so you don't need to worry about how to get back when after you've enjoyed some drinks. Luckily many of the best party places in Goa are part of party resorts where you can stay, relax and party all in one resort!
Taxis are really expensive on New Year's and unfortunately many people drink and drive making it dangerous on the roads – another reason to carefully pick your hotel as close as possible to the places you want to visit and please, please don't endanger yourself and everyone else by drinking and driving!
So that you can start making your Goa New Year trip plan I'll let you know the best Goa New Years parties and where to stay.
The Best New Year Parties in Goa for 2023
On New Year's literally every hotel, night club, bar and shack will have some sort of party happening.
From a classy gala dinner and live music at a luxury hotel, to a crazy pub crawl and dancing to Bollywood tunes, to a psytrance rave and fireworks on the beach or a casino boat party – there's just so many New Year parties happening in Goa.
Alot of events are announced on Facebook and Whatsapp. Also download the Party Hunt App and check out What's Up Goa to find out what's on.
Entry prices for Goa New Year parties can be pretty expensive and depend on the artist and venue. There's are normally different charges for couples entry and stags (single men) Some clubs include drinks or sometimes some food in the cover charge but some don't so check with the venue.
So I'd recommend picking one party and staying there to avoid spending too much money on taxis and multiple entry fees.
For some of the big festivals and New Year parties you can often get a cheaper price by booking your tickets in advance online on Pay TM Insider, MadVibes or Book My Show.
Goa's beaches all get lit up with a spectacular array of fireworks at midnight on the 31st December too which is the best way to celebrate Goa New Years on a budget.
But be aware that drinking and cooking on the beach or in public areas is illegal in Goa and could land you in trouble with the police. So get a good spot in one of the beach shacks early to enjoy your drinks and food in there.
The Best Places to Stay in Goa for New Year Parties
The best party places and areas to stay for nightlife and New Year parties in Goa really depends on what kind of music you're into.
North Goa is the most happening part of Goa for nightlife but there are also a few parties in South Goa.
Book your hotel as close as possible to the parties and places you want to visit for the most enjoyable experience.
You need to be booking your accommodation as soon as possible as most Goa beach resorts get totally fully booked over the super popular New Year period. Prices go up as well so the earlier in advance you book the best choice and the best deals you can get.
Arpora, Baga Beach, Calangute Beach and Candolim Beach
Baga Beach and Calangute Beach are the busiest places in North Goa and have the biggest choice of bars, clubs, restaurants, shops, water sports and hotels.
The nightlife scene here is best for fun Bollywood and mainstream international music with many happening nightclubs, pubs, bars and the beach is totally packed on New Year's Eve.
The infamous Tito's Lane in Baga Beach where you'll find Tito's, Cafe Mambos, Cape Town Cafe, Cocktails and Dreams all in one crazy thumping street – it's the most happening street in Goa whatever time of the year but is especially crazy on New Year's eve. For more info check out Tito's website and Instagram @clubtitosgoa 
Candolim Beach is the more upmarket part of this area home to trendy nightclubs like LPK and Sinq Night Club. 
Arpora is located slightly inland in between Baga and Anjuna and is home to popular nightclubs like Club Cubana and Hammerzz.
Club Cubana is one of the best nightclubs, not just in Goa but in the whole of Asia! A huge, multi level, open air night club known as 'the night club in the sky' with numerous dance floors,  varied music and even a swimming pool. The cover charge includes unlimited drinks so it's sure to be a big night out. Check their instagram @clubcubana to know more.
Where to Stay in Baga
Beautiful beach resort with a swimming pool in tropical gardens and a good restaurant just steps from the buzzing nightlife on Tito's Lane in Baga.
Anjuna Beach and Vagator Beach
Anjuna Beach and neighbouring Vagator Beach are the best places to head for crazy psytrance raves and beach parties.
Vagator is where Goa's Sunburn Festival happens. There's also some amazing restaurants and party places on the cliffs overlooking the beach.
Vagator is home to the famous Hilltop nightclub which hosts amazing psytrance Christmas party on 24th – 25th December and New Year party from 31st Dec – 1st Jan which can go from sunset till 10pm the next day!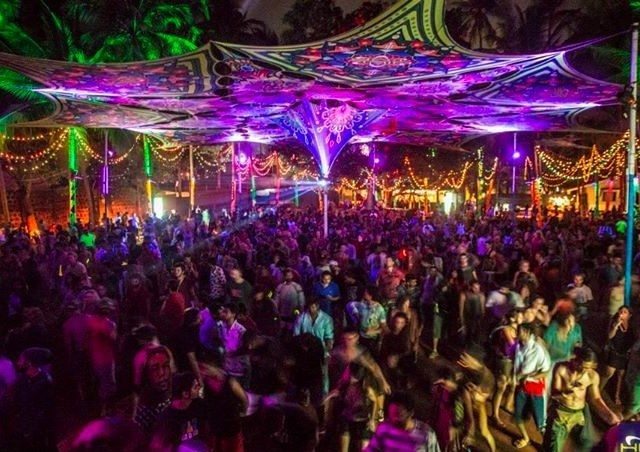 Vagator is also home to Antares, the famous restaurant, bar, beach club and party resort owned by Australian Master Chef winner and celebrity chef Sarah Todd.
You can also check out the views from Chapora Fort, made famous from the film 'Dil Chahta Hai' and visit the famous Greek restaurant and party place Thalassa – which moved from Vagator to a lovely spot on the river towards Siolim
Vagator has become one of the most happening nightlife spots in Goa with many more famous bars and clubs nearby like Titlie, 11:Eleven, Re:Fresh, 9 Bar, Mirage, Pinakin and Glory (formerly known as Chronicle.)
The amazing luxury W Hotel also holds great parties – the cocktail bar and pool overlooking the ocean are one of my favourite places in Goa for sunset drinks.
Where to Stay
Stay in a wooden party hut at the famous resort itself. There's stunning sea views, a pool and it's super close to all the bars in one of the most happening areas of Vagator.
Anjuna became famous in Goa's hippie days as the birthplace of Goa trance and still holds epic trance beach parties and the colourful flea market on Wednesdays.
Curlies and Shiva Valley are famous beach shacks which join together to make the craziest psytrance beach party on Anjuna Beach for New Years.
Other popular party places in Anjuna include Cafe Lilliput, UV Bar, Guru Bar, Purple Martini and Aura.  The Westin Hotel also hosts great parties.
Where to Stay
Comfy cottages in lush gardens just steps away from the famous all night psytrance raves and beach parties at Curlies and Shiva Valley on Anjuna beach.
Morjim Beach and Ashvem Beach
Located North of Siolim Morjim and Ashvem were quiet beaches just a few years ago that are now home to some of Goa's trendiest nightclubs.
This area is best for classy clubbing and beach party resorts with swanky techno and house nightclubs like Marbella Beach Club, a new branch of SinQ Nightclub, La Cabana and Ukiyo.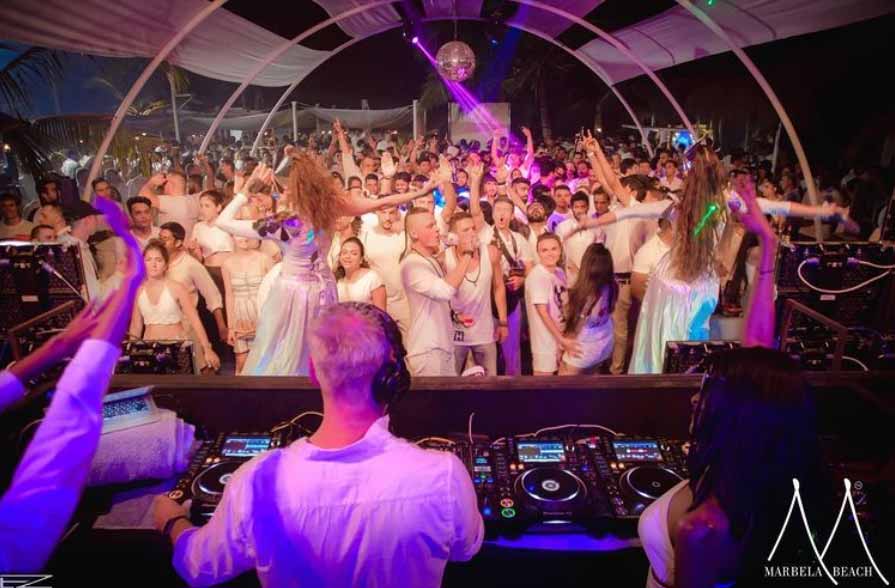 Marbella is famous for it's Ibiza style 'White Parties' and hosts famous, international DJs for swanky techno parties around the pool. Stay in the resort itself for a hedonistic holiday. Click here for prices. Check out their Instagram @marbelabeach to see what's on.
Where to Stay
A short walk along the uncrowded beach from nightclubs like Marbella and SinQ is this classy new resort with cute chalets and tropical gardens. The suite rooms even have a jacuzzi in the private garden area!
Panaji/ Panjim City
Panaji or Panjim, Goa's charming capital city, isn't the place for crazy New Year parties but Miramar Beach and Dona Paula are close by which will have fireworks and plenty of New Year festivities.
There's plenty of bars including Watermark Floating Bar and Restaurant, Soho Bar and Bar 51. Or you could try Portuguese delicacies in the cafes and restaurants in the colourful streets of the old Latin quarter Fontainhas.
Panaji is also the launch point for many of the floating casinos and river cruises. For a Goa New Year's party with a difference you could try your luck on the floating casino, join a boat party or even hire a private boat for your friends and family to have a party to remember forever.
Where to Stay
A luxurious 5 star hotel on Miramar Beach with sea views from the pool, stylish, modern rooms and several excellent dining options.
New Year Parties in South Goa
South Goa's nightlife scene is nowhere near as crazy as North Goa but it still comes alive to celebrate on New Years.
Many of South Goa's luxury resorts like Planet Hollywood, The Leela, The Grand Hyatt, ITC Grand Goa and Alila Diwa resorts usually hold New Years parties with gala dinners, live music and dancing, which would be much more suitable for families than the crazy scene in North Goa.
Leopard Valley is South Goa's very best party spot, it's a large open air night club and party venue with outdoor dance space located between Agonda and Palolem beach with international DJs playing EDM and exciting fire shows and pyrotechnics. Check what's happening on instagram @leopardvalleygoa
There's also live music in the beach shacks, fireworks and silent headphone discos held on Palolem Beach.
Where to Stay
This is the nearest resort to Leopard Valley with comfortable white washed rooms, a pool and live music on Saturday nights.
Sunburn Festival
No post about nightlife in Goa would be complete without mentioning the Sunburn Festival! Held every year in the days between Christmas and New Year's Eve – usually the 28th, 29th and 30th of December.
Sunburn is Asia's biggest and loudest 3 day EDM festival. There's often other festivals and after parties held around the same time that Sunburn Festival is on so the party never stops.
Sunburn is usually held in Vagator and attracts a huge crowd so you must book your tickets and accommodation well in advance as things get fully booked. But it can move locations so check their website and follow on Instagram @sunburnfestival 
If Sunburn isn't on in Goa then there's normally another event over those days  – in 2022 there was TimeOut 72. 
Where to Stay
Located in Vagator this luxurious, fun and young resort has a variety of rooms including double and quadrable rooms as well as luxurious dormitory rooms for large groups. Start the party around the pool before heading out to all the hottest party places nearby.
Tips for Celebrating New Year in Goa Safely
New Year can be most epic party of your life but too much alcohol can quickly turn the most amazing night into a nightmare. 
The most important thing is to pace yourself if you are drinking alcohol and look after your friends.
Way too many parties have been ruined by people getting too drunk too early and vomiting or passing out on the sand or worse before midnight!
Make sure you eat a substantial meal before you start drinking alcohol and it's a good idea to have some water or a soft drink in between alcoholic drinks to stay hydrated.
Less is always more – if you drink too much things can quickly take a turn for the worse, you won't remember the party, will probably make a fool of yourself and have a awful hangover the next day. That's not a good way to start the fresh New Year!
To avoid feeling hungover the next day drink lots of water and eat something before you go to bed to soak up the alcohol. And have some pain killers handy if you get a headache.
And ladies – never leave your drinks unattended or walk alone at night – especially if you are drunk because then you're more vulnerable.
Please don't drink and drive! When driving please, please dip the full beams as it dazzles and blinds the other oncoming drivers so that they cannot see where they are going. It's not necessary to use the full beams as there are street lights on most roads in Goa – it's just really dangerous!
Be careful with the sea too – I know when you're at a beach party it's so tempting to jump in the sea but swimming when drinking, especially at night, can be super dangerous and if you are not a strong swimmer it can be fatal.
Don't try random drugs – you never know what's in them, the police are getting more strict and people have died in Goa taking dodgy drugs.
You should also know that the phone networks usually get overloaded around midnight with so many people sending Happy New Year messages that you might not be able to get through so agree on a meeting point beforehand in case you lose your friends
Goa does not have Uber or online taxis so if you need to take a taxi home ask your hotel for the number of a trusted driver and save it in your phone.
Dispose of trash and especially glass bottles carefully – broken bottles on the beach from inconsiderate partiers can be really dangerous so be careful if walking barefoot
Be careful with fireworks – avoid lighting them near crowds of people and once you've lit them stay well back.
Don't arrive in Goa on New Year's Eve without booking your hotel or accommodation in advance as you won't find anything available.
But don't worry, Goa is generally pretty safe, just don't get too drunk so that you endanger yourself or other people and hopefully you'll have an amazing New Year in Goa and memories to remember forever!
I hope these tips help you to have a great and safe New Year party in Goa! Check out my other Goa blogs and my full Goa Guide to help you plan and make the most of your trip to Goa!