"Where to stay in Goa? With so many beaches to choose from how do I find the best beach in Goa?"
Goa is India's smallest state, famous for it's laid back lifestyle and 101 km of tropical beaches. After living in Goa for a few seasons, I'm often asked where to stay in Goa and which are the best beaches in Goa?
It's an impossible question to answer really because each beach in Goa has a different vibe and attracts a different kind of traveller, it's just a case of finding the best beach in Goa for you…
One of the best things about Goa is that there is something here for everyone and you really can have it all in Goa – from luxury resorts to package holiday hotels to backpacker beach huts, serene yoga retreats to wild all night trance parties and spicy Goan curries to fine dining European cuisine.
Pin Me! 🙂
Where to stay in Goa: Which is better? North Goa or South Goa
One of the first things to decide when planning your trip and thinking about where to stay in Goa is whether you want to stay in North Goa or South Goa.
Generally speaking South Goa is quieter and less developed whereas North Goa is where the action is.
North Goa has the best nightlife, restaurants and markets and a bigger range of accommodation, entertainment, shopping and eating out options to suit all budgets.
South Goa has better, cleaner and quieter beaches and is mainly luxury hotel resorts, although you can also find some busy stretches of beach and parties in South Goa and you can still find some quiet areas of North Goa too.
There is also a lot of explore in between the beach resorts too, crumbling old forts, bustling markets, colourful villages, palm tree fringed paddy fields and white washed Portuguese churches, all with that special Goan charm and character.
It's quite easy to explore neighbouring beaches and towns but the distance between North Goa and South Goa is a few hours on the highway so you probably want to concentrate on one area at a time, or perhaps stay one week enjoying all the action in North Goa and then another week chilling in the South to get the best of both worlds.
So the answer to "Which is the best beach in Goa?" really depends on what you are looking for. Here's my opinion on where to stay in Goa:-
The Most Beautiful Beaches in Goa
Palolem – Calm turquoise sea that is perfect for swimming, the white crescent beach backed with palm trees and colourful beach huts. Palolem is a laid back paradise on one of the best beaches in Goa although it is getting increasingly busier every year. You could also try Patnem next door which is beautiful but a little quieter.
Agonda – A great wide sandy that sometimes feels like you've got it all to yourself and a rustic, laid back vibe that is a good quieter alternative not too far from Palolem.
Varca and Cavelossim – Probably the best of a scenic stretch of quiet beaches in South Goa that cater for upmarket guests in luxury resorts.
Vagator – The sand is not the most golden but the rocky coves and views over the charismatic red Goan cliffs and the hippy vibe still have that special, unique Goan charm.
The Best Beaches in Goa for Nightlife
Baga and Calangute – the busiest beaches offer the best choice in everything (apart from quiet that is) including restaurants serving food from all over the globe, lively Saturday Night markets nearby that go on till the early hours, live music bars and nightclubs like Mambos, Titos and  Club Cubana.
Anjuna and Vagator – Goa loves psy trance and you will find it in Anjuna and Vagator where you can party all night at a beach shack or in famous nightclubs like Hilltop and Nine Bar, look out for flyers to see whats on where. There are also bars with live music but mainly the scene here is all about trance and techno.
For my pick of the best nightclubs and parties check out my guide to the best nightlife in Goa and check out my favourite restaurants in Anjuna and Vagator.
The Beach Beaches in Goa for Hippies and Backpackers
Arambol – A long wide beach with loads of cheap beach huts, more hippie clothing stalls than Glastonbury, every alternative therapy you've ever heard of and some you never thought existed, the odd drumming circle and a laid back, friendly vibe. Plus, climb over the rocks and go paragliding over cute Kalacha beach and swim in the sweet lake.
Anjuna and Vagator – these beaches became popular in the days of the hippie trail and some people never left! Good choice of cheap accommodation and beach shacks, a friendly vibe that attracts a lot of long stayers, trance parties and the infamous Anjuna flea market. Vagator's beaches are rocky but the cliffs are charismatic whereas Anjuna's beach is more sandy and better for swimming.
Palolem – Beautiful beach with colourful, affordable beach huts, plenty of beach shacks and eating and drinking options but as it gets busier every year it feels more mainstream, not so much the hippie or party scene up north.
The Best Beaches in Goa for Quiet
Agonda – only recently discovered the beach is long and wide and often pretty empty, I got a really good feeling of space here. There is a good choice of budget accommodation and beach huts to choose from but not nightlife to speak of yet, I feel like this place will get more popular and busier every season.
Benaulim – great, long sandy beach with only a handful of beach shacks and accommodation options near the beach. Most visitors are slightly older but I had a great relaxing few days here and only 5 mins from Margao Train Station I can't understand why it's not busier
Velsao, Arrosim and Cansaulim – The start of South Goa's strip of gorgeous beaches great for a relaxing holiday. This top end is quieter, probably because of the view of the chemical plant on the headland but the beaches and water are clean enough and if you look the other direction its just as beautiful as the other beaches. Most accommodation options are mid range or upmarket resorts.
Querim – perhaps the last undiscovered beach paradise right up in the far North of Goa. A wide sandy beach shaded by tall trees and pretty much empty apart from a few beach shacks that have appeared and a cute pink cupcake like temple. Limited accommodation options though.
The Best Beaches in Goa for Luxury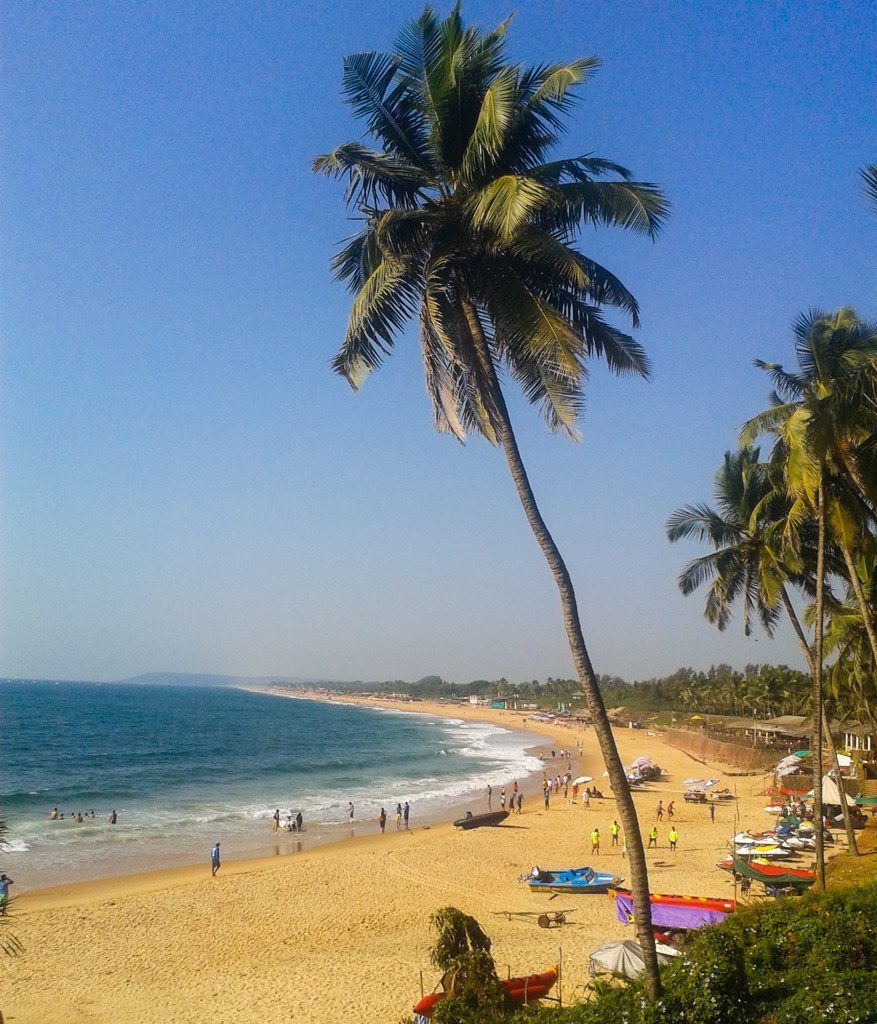 Sinquerim – At the end of Candolim Beach Sinquerim is the home to two luxury Taj hotels making it a good choice for a luxury stay but close enough to all the action and nightlife of North Goa.
Varca, Cavelossim and Mobor – Many of the beautiful, white sand, unspoilt fishing beaches in this part of South Goa are private beaches part of Goa's luxury resorts. Most of the nightlife happens at the resorts. The exquisite Zuri, Taj Exotic and Leela and LaLit are all along this stretch and many have private beaches.
The Best Beaches in Goa for Package Holidays and Family Fun
Baga and Calangute – busy and crowded beaches with shallow waters perennially popular with both domestic and foreign families and package tourists. The most popular beaches in Goa and have the widest range of facilities with accommodation and restaurants to suit every budget and inclination, the widest range of shopping, watersports, tours and activites and the best nightlife.
Candolim – following on from Baga and Calangute the beach is just as good and there is a good choice of accommodation – slightly more upmarket too, and it's still lively but a bit less hectic than Baga but still with easy access to all facilities.
Utorda, Majorda – A nice enough strip of beaches good, clean and quiet beaches (Majorda is cleaner and nicer but busier)  Most accommodation is in nice, upmarket resorts with a few luxury hotels with watersports and beach shacks available too.
Colva – Probably the busiest beach in South Goa, busy with lots of Indian families and a wide range of accommodation, watersports, activities and eating options but without the nightlife scene of Baga and Calangute or the enchanting atmosphere of Palolem.
The Best Beaches in Goa for Yoga
Mandrem, Ashwen and Morjim – The wide, flat beaches of Mandrem, Ashwen and Morjim merge into each with a still low key, chilled out scene that is popular with long staying Russians, with many great yoga schools and are also a nesting ground of rare olive ridley turtles!
Arambol – This backpacker and hippie haven has every natural healing and alternative therapy you could ever think of, and some that you never knew existed and the general vibe is awesome if this is your kind of thing.
Anjuna and Assago (a cute village slightly inland) have some great international yoga schools and a vibe that makes alternative types, yogis and hippy long stayers feel at home.
Palolem – The best variety and options for yoga and alternative therapy in South Goa on a beautiful and enchanting beach.
Find yoga schools and retreats in Goa here.
The Best Beaches in Goa for Expats and Long Stayers
If you love Goa and don't want to leave then the good news is that living in Goa can be really affordable! Check out my guide about how to rent a house in Goa.
Patnem – Just around the corner from popular Palolem is Patnem, another beautiful beach but one that is a lot quieter than Palolem these days and has a good community and range of affordable apartments to rent and call home for a few months.
Morjim – Popular with long staying Russians but even if you can't read Cyrillic you can find a nice and cheap apartment or house to rent for the season in a chilled out environment
Anjuna and Vagator – alternative communities and many long stayers (some who never even left from the days of the hippy trail!) Look out for the 'House for Rent' signs and find somewhere to chill out and enjoy the unique Goan vibes for a few months.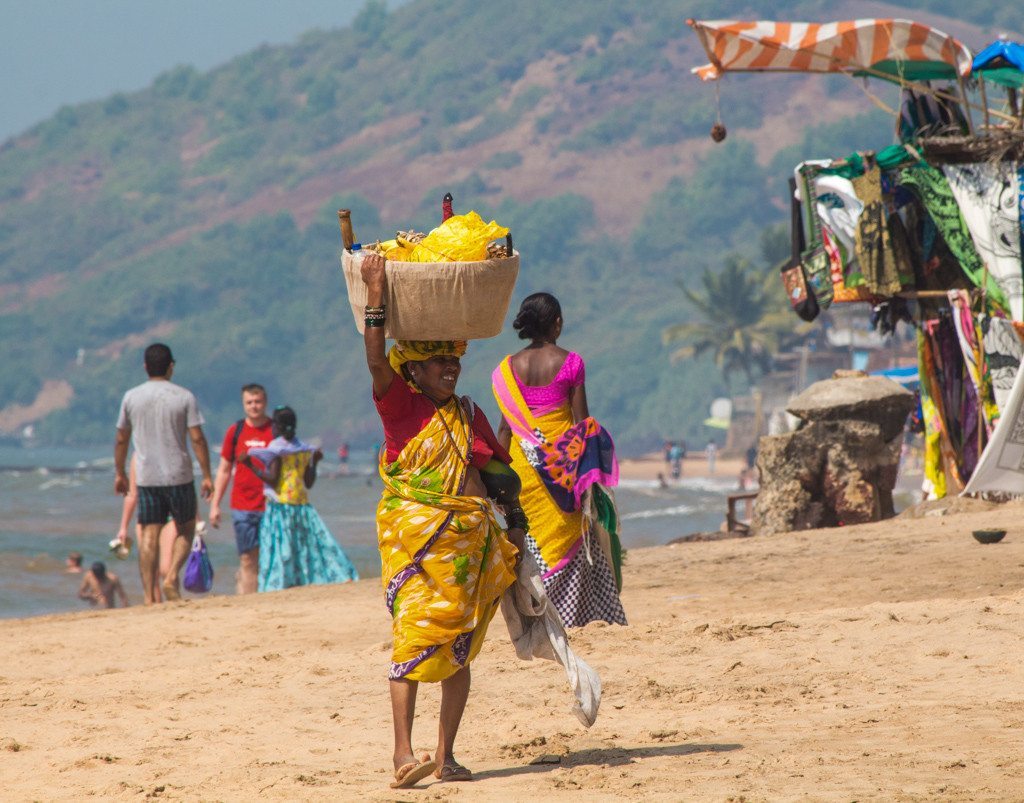 Whats your favourite beach in Goa?