The Best Restaurants in Anjuna, Goa
Goa has an amazing food scene, from street food stalls to cheap seaside shacks with a million dollar view to stylish fine dining restaurants you can really have it all in Goa and Anjuna Beach, where I live, is no exception.
You can find a vibrant and varied dinning scene with cuisines from all over the world in Anjuna and as eating out in Goa is so varied, delicious and good value (You won't find many dishes for over 500 rupees that's about £5 or $8 ) you are truly spoilt for choice!
I eat out at least once, often twice, a day, so I've built up quite a list of my favourite restaurants and places to eat and hang out around  Anjuna in North Goa.
My Favourite Beach Shacks and Restaurants in Anjuna
Artjuna Café is another great, leafy, chilled out place to hang out in the cute garden of an old Portuguese/ Goan house and enjoy healthy food.  Artjuna serves arguably the best coffee in the area and a delicious, healthy and interesting selection of juices, salads and sandwiches. They also have yoga classes here in the mornings and some cute boutique shops.
When in Anjuna you simply must visit Baba Au Rhum or the (French Bakery) This upmarket but still chilled out place is nestled on the outskirts of Anjuna with lovely green paddy field views. To get there go South past Orchard Stores and take the road towards Baga. Baba Rhum is one of my favourite places, it's open all day and does amazing pizzas, beef burgers, interesting specials and good salads and some interesting baguettes and deserts. Everything is great!
Curlies and Shiva Valley – South Anjuna Beach
South Anjuna Beach is one of my favourite spots as it's not so crowded as the main part of Anjuna beach, you don't get hassled by vendors and the sea is nice and calm. There are two big famous shacks here which have been around since Anjuna's hippie days – Shiva Valley and Curlies. Both sell a wide ranging menu and are  popular places for psytrance and sometimes techno parties that go on from sunset until sunrise. Shiva Valley has a big night every Tuesday and Curlies is the place to be on Thursdays. Check the flyers up around the village to find out what's on and where.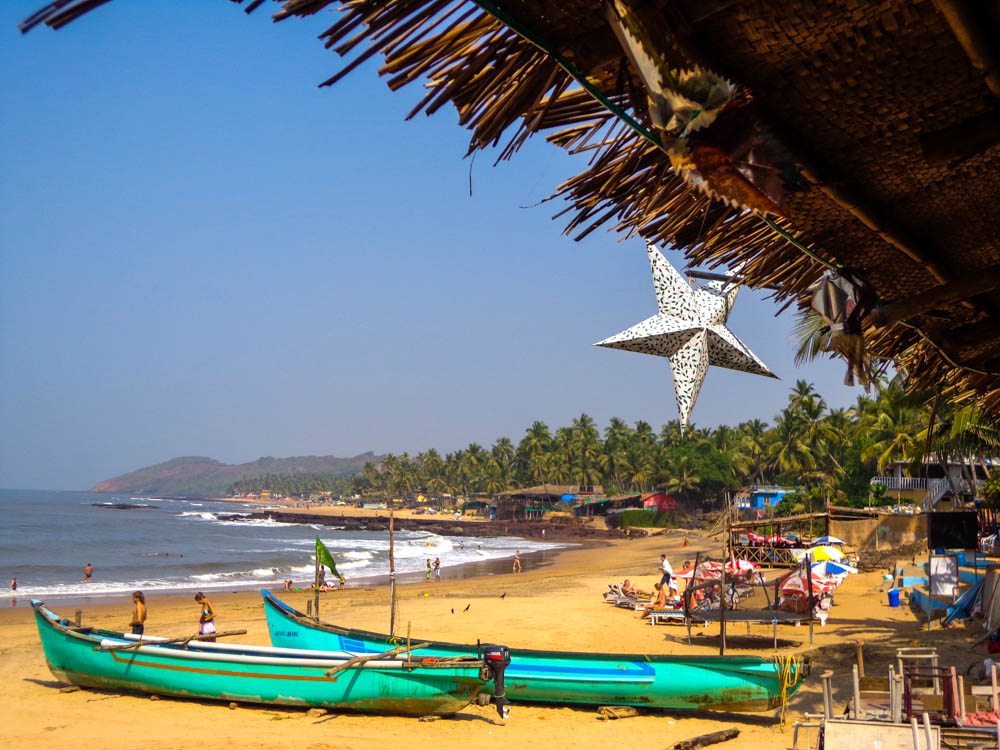 Cream Choc is just the best Gelato place in Goa or maybe even the whole of India! It is at the crossroads near the Orchard Store and the real Italian gelato is made fresh everyday on the premises with interesting flavours and is simply divine! It's quite a nice spot to sit out opposite the white Portuguese church and watch the world go by.
Like This? Pin Me! 
Goa's Ark is a new addition to Anjuna's vibrant dining scene that serves awesome Middle Eastern and Israeli food is a chilled out setting just near the junction for the Flea Market Road. Goa's Ark is also a great place for families, kids or just big kids at heart who will love the play area and petting zoo. Where else can you cuddle a rabbit or stroke a pony while waiting for your food! You must try the special middle eastern thali for a delicious taste of all of the best salads.
Sunset Bar is another of my favourite beach shacks on Anjuna Beach. Sunset is a good allrounder with a good view, good location in the middle of Anjuna Beach and yummy, good value food. I especially like the curries here.
Lilliput is a lively shack in the middle of Anjuna Beach which serves a good selection of Indian and Continental food. It's a nice place to hang out as the sea is good for swimming (no rocks) and I like the view over Anjuna Beach from the upstairs. Lilliput often has techno parties on at night
Basilico
Basilico is a great Italian place tucked away in the nice courtyard of an old Portuguese house just off the main Anjuna road not far from the beach. The Italian starters are delicious, the pasta is homemade and they do good pizzas and calzones and an awesome panna cotta.
Trattoria Fotonica
Another good Italian place with chilled out booths situated in spacious gardens near the Orchard Stores junction. Fotonica serves great, crispy, real Italian pizzas, good pasta and delicious meat dishes. Everything tastes super fresh.
Dum Biryani
Dum Biryani serves consistently good kebabs, curries and awesome biryanis (and has some other Indian dishes too) in a sparkly, spider's web themed place right near the main star co crossroads in Anjuna village. It can be difficult to get online in Goa (most bars and restaurants advertise Wi-Fi but they are just plugging a mobile internet dongle with a weak reception into a router and it's as good as useless) but Dum Biryani actually has decent broadband Wi-Fi.
Oasis Café
Oasis Café is super popular and always busy. They serve a good variety of food with all the Indian and Chinese favourites and good Italian, Israeli and Western dishes. Oasis also has good internet and is practically opposite from Dhum Biryani on the main street just below Starco crossroads.
Go with the Flow is a super stylish, funky, fine dining restaurant situated in the gardens of an big old Portuguese villa on the banks of the Baga creek with views over to Baga Beach. The menu is extensive and imaginative and served with flair, and because there is a strong Brazilian influence, the meat and steaks are really good here.
The German Bakery is almost an institution in Anjuna. It's tucked away on a side road just before the Flea Market and offers a super nice, shady and chilled out place to hang out and eat under the colourful Tibetan prayer flags. They serve an interesting selection of healthy juices, salads, sandwiches, main dishes and of course bakery items and deserts with a good choice of organic, vegetarian and vegan food. There is also a beauty and massage place, music on Wednesdays and lots of posters where you can find out all the yoga and alternative therapies that are going on around the area.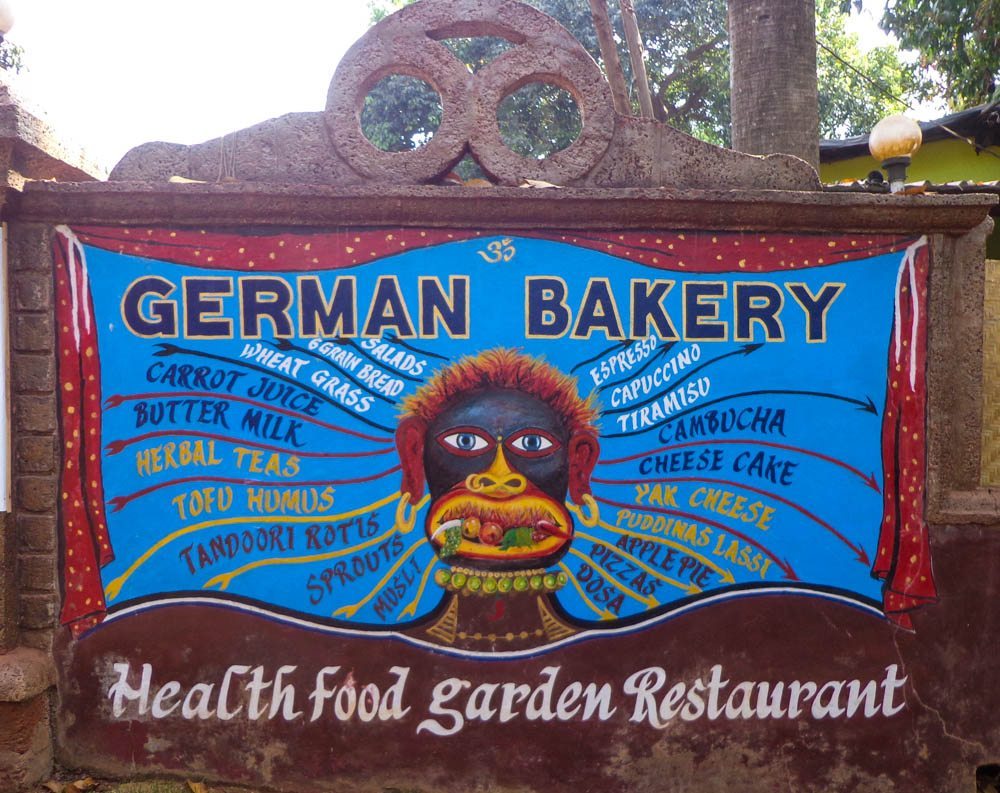 While in Anjuna you can't miss the famous Anjuna Flea Market that is held every Wednesday. If you tire of looking at the stalls and haggling with the stall holders there are quite a few places to grab a bite to eat. The best is Loodas which is right on the sea front and usually has a live band playing. It's the perfect place to chill out after shopping.
On the cliffs the Guru Bar is also a favourite of mine for it's friendly, hippy, atmosphere, regular live music nights and good value, extensive menu covering so many cuisines that I've lost count. The live music can be a bit hit and miss sometimes but the Guru Bar has been going since the 60's and you really should check it out when in Anjuna.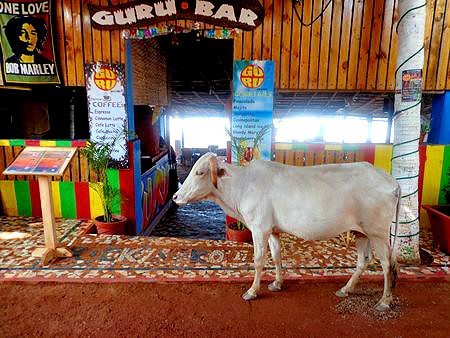 Blue Tao
A nice organic restaurant on the main Anjuna Road. They serve an interesting variety of salads, organic vegan food and pizzas as well some meat dishes. Service is great and they have a jam night on Mondays.
Dali Bar, near Oxford Supermarket, opens late and stays open till late. It's a friendly and lively place to have a drink with Israeli and Western dishes  and one of your best options for a proper meal late at night (or early in the morning!)
Upmarket Shamba is tucked away in a cute quite spot on the outskirts of Anjuna overlooking green paddy fields. The restaurant serves interesting dishes that would fit right in at a fine dining restaurant for a fraction of the price. The service is excellent and the signature dish is an interesting fuse of African and European cuisine, the fish is great too and the pork 3 ways is delicious.
Also Check out Assagao
Assagao is a really cute village just inland from Anjuna on the way to the town of Mapusa with shady lanes and colourful Portuguese villas.
Best Restaurants in Assagao, North Goa
Vinayak  Family Restaurant 
Vinayak is a real gem of a find – its a local place 'tucked away in untouristy Assagao with views over the paddy fields. It's not a fancy place but its always popular with the locals and serves a tasty, fresh and  great value thalis. Great for a quick, cheap lunch.
Many of the places on the beach tone down the spice a lot for tourists taste. For a bit more taste and a more upmarket South Indian experience head to Gunpowder for amazing flavours and tastes, try the Andhra prawn masala or the fish curry and, if you haven't already, you must try dosas and idlis when in south India!
For more about Goa's restaurant scene check out the Hippie in Heels blog.
Villa Blanche
Villa Blanche is a great place for lunch – the German pretzels, sandwiches and cakes are really yummy. Villa Blanche is especially popular on Sunday when they do their famous Brunch with a huge and varied buffet spread which changes every week although perhaps book ahead as it does get very popular.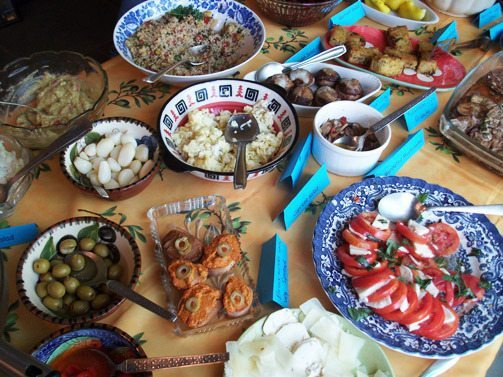 What's your favourite restaurant in Anjuna?