Goa is India's smallest state, famous for it's laid back lifestyle, over 101 km of tropical beaches and for being India's party capital. Backpacking Goa is a unique experience and it's one of the best and easiest places to backpack in India.
I've been living in Goa and backpacking India since 2015, I get alot of emails about tips for visiting Goa and as I see more and more backpackers visiting and new backpacker hostels opening all the time so I thought it would be good to put all my backpacking Goa tips into one handy post.
In this blog post I'll tell you all the best places to visit, stay and party in this backpackers guide to Goa!
The Ultimate Backpacker's Guide to Goa, India
Backpacking Goa is Amazing – Here's Why…
There's nowhere else on earth quite like Goa. From the colourful beach huts of Palolem in the far South to the hippie and backpacker vibe of Arambol and Anjuna in the North and with everything from luxury resorts and laid back sands to the busy, party and package holiday central Baga and Calangute. Each beach in Goa has a different vibe and suits different people.
Goa is one of the best places for backpackers in India where they can easily meet other travelllers, enjoy the beaches, party until sunrise, shop till you drop or just chill out and learn yoga. Many come for a few days a end up spending months here as they find it hard to leave so watch out, Goa is a great place to start your Indian backpacking adventure but many backpackers have spent their whole trip in Goa and never got round to leaving to explore the rest of India!
Goa became famous in the 1960s and 1970s in the days of the 'hippie trail' and you can still soak up the hippie vibe on some of Goa's beaches (and meet some of the hippies at a trance party!) Goa has a bit of a reputation for techno parties and drugs but, whilst there is a bit of that scene left, there is so much more to love about Goa!
Nowadays you really can have it all in Goa, from next to nothing beach shacks, sociable backpacker hostels to luxury hotels, from thumping trance parties to mellow yoga retreats and spicy Goan curries to fine dining European cuisine.
What makes backpacking Goa so interesting and captivating is that there is so much more to a holiday or visit to Goa than just beach bliss. Laid back Goa is much less of a culture shock than other parts of India and offers a good introduction to the subcontinent combining the Portuguese influence and an international hippie community, whilst still having that special Indian magic,  the fascinating, captivating Indian culture that sometimes frustrates or bewilders but never fails to surprise, endear and amaze.
And yes, this is India there are cows, dogs and hawkers on the beaches, it all adds to the unique Goan charm! There's nowhere else quite like it!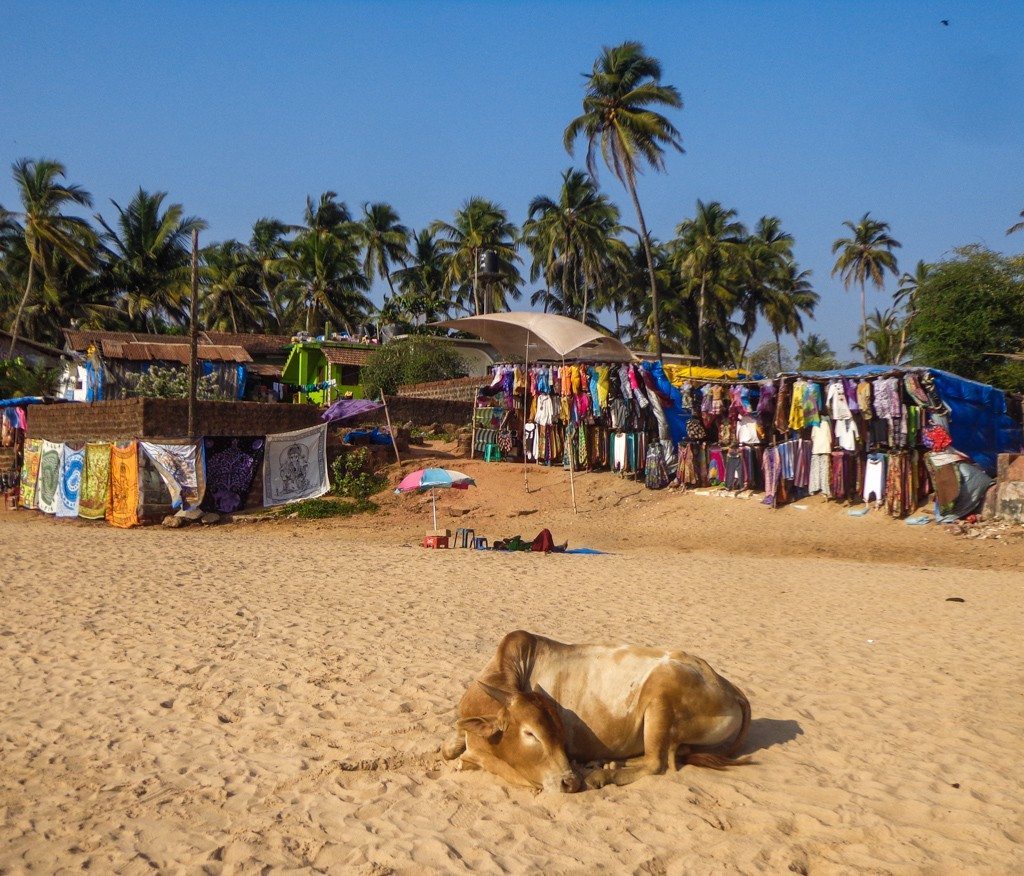 The Ultimate Backpackers Guide to Goa
This Backpacker's Guide to Goa is packed with tips on where to go and what to do, the best beaches, accommodation, eating out and nightlife suggestions, plus practical tips for applying for visas, getting around, saving money and so much more!
For more info you might also want to get the Lonely Planet Goa Guidebook  which also has Mumbai and Hampi which are popular and easy add ons to a Goa trip.
The best Goa Guidebook is by top blogger Rachel from Hippie in Heels has lived in Goa for years and recently put together the Insider's Guide to Goa E Book This is the most comprehensive book about Goa out there, it's 169 pages packed with all her amazing insider knowledge and local tips for Goa. Get it here. 
Things to do for Backpackers in Goa
Beaches!
When backpacking Goa you're first port of call will of course be the beach! Enjoy swimming, watersports or just lazing on the beach, sunbathing or eating and drinking at the super affordable beach shacks. Each beach has a different vibe and beach hopping to find your favourite one is fun.
Many people come to Goa just for the beach but make the effort to prise yourself from your sun lounger and get out and explore to find the real Indian culture and magic of Goa.
Read more: How to find the best beach in Goa for you.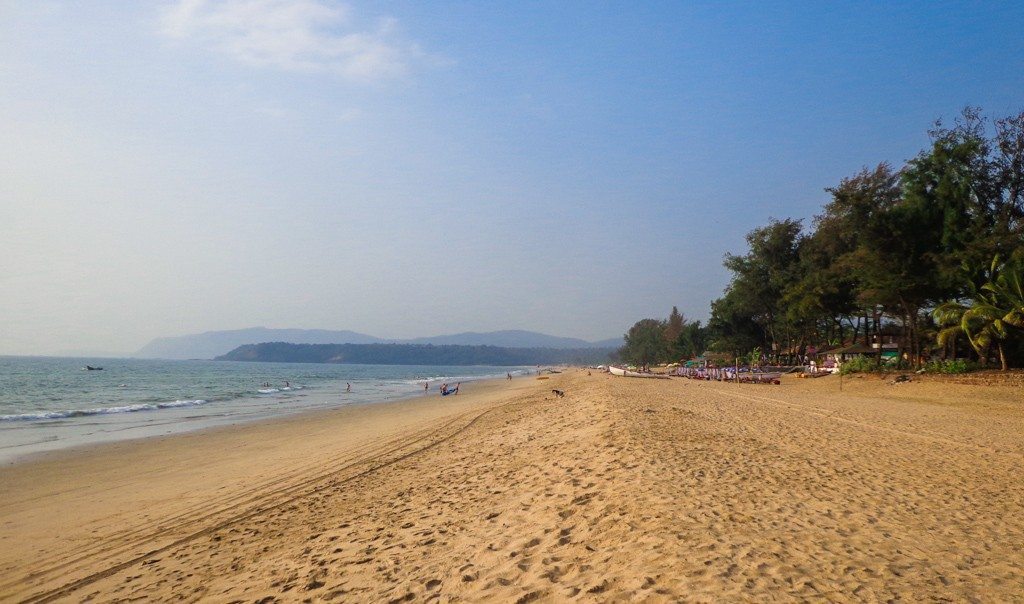 Practice Yoga and other alternative therapies
Goa is a popular place to practice yoga. From Ashtanga to Hatha and everything in between, yoga is everywhere in Goa and with so many yoga schools every inclination is catered for – from beginners, drop in, casual classes to more intensive retreats and teacher training courses.
You can also try Ayurveda – an ancient science of plant based natural medicine, mediation, Reiki, Tai Chi, Pilates, Acupuncture, Reflexology, Bollywood dancing or Indian cooking classes the list goes on….. trying at least once yoga class is kind of mandatory when backpacking Goa to have the full Goa experience.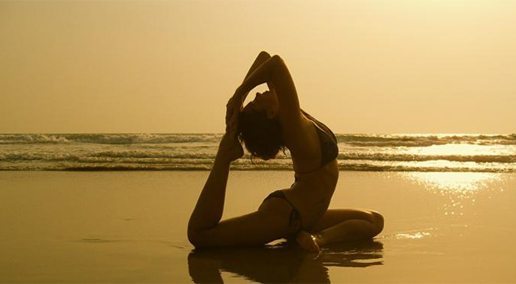 Dance until dawn at a trance party
Goa's famous parties are a reason in themselves to go backpacking in Goa! Goa is famous as the home of psychedelic trance and no visit to Goa would be complete with attending one of the legendary parties where you can dance till sunrise on the beaches or in the jungles.
Goa is the nightlife capital of all of India and if psytrance isn't your thing you can also dance the night away to live music, techno or commercial and Bollywood tunes. Check out my post on the best nightlife places in Goa and my tips for enjoying the epic Goa New Year parties!
Visit the colourful Flea Markets
Opportunities for shopping while backpacking in Goa are endless, from designer malls to hippie flea markets. If you can learn how to haggle, you can take home many bargains from souvenirs to hippie chic clothing.
Anjuna's famous hippie Flea Market is held on Wednesdays by the beach, visit Saturday night markets in Arpora and Vagator complete with live music and food stalls or for something more local and authentic visit Mapusa's local market on Fridays. There are also many stalls near the beaches to pick up hippie chic clothing and souvenirs.
Read more: 3 of the best markets you simply can't miss when visiting Goa
Explore Goa by motorbike
One of the best ways to explore Goa is by hiring a scooter or motorbike (even a Royal Enfield!) (approx 300 Rupees per day) and set out to explore Goa. You don't need to get far from the beach resorts to get an intoxicating taste of India's incredible heritage.
Along the way you will probably stumble upon green paddy fields, wandering cows, white washed Portuguese churches and colourful Hindu temples, bustling market places, chilled out farms, colourful villages, crumbling colonial villas and forts, sari draped ladies, curious children and crumbling forts complete with stunning coastal views and feel the breeze along a riverside road – it doesn't really matter where you go – just explore!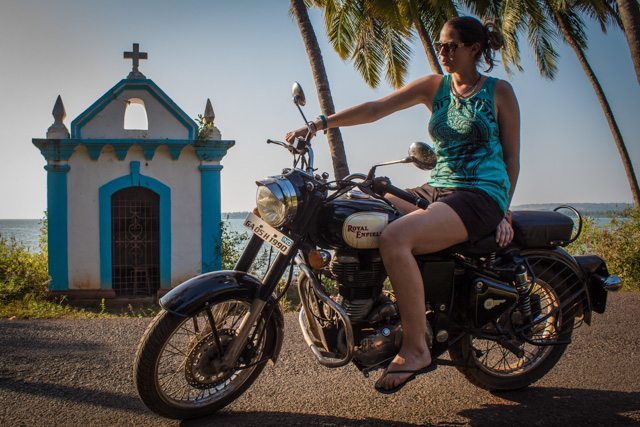 Visit the Churches of Old Goa
Don't forget to explore some culture and history when backpacking Goa. The state spent over 400 years under Portuguese rule and the legacy of the Portuguese is still apparent today. Take a day trip to visit Old Goa, once the capital of Goa under Portuguese rule and once so grand and important that it was known as 'the Rome of the East' and rivaled Lisbon.
However, it was was blighted by illness and disease and was abandoned for the new capital of Panjim in 1843 and is now a Unesco World Heritage site. Marvel at the massive churches they left behind, including the largest church in Asia and the remains of an over 300 hundred year old, very slowly, decomposing corpse of St Francis Xavier in the Basilica of Bom Jesus.
Take in the view from a Fort
Everyone wanted a piece of Goa and her colourful history has left many crumbling forts. There's not that much left of many of the forts themselves but whether it's Cabo de Rama Fort in the South, Fort Aguada with it's lighthouse and views over Panjim or Chapora Fort above rocky Vagator in the north the climb up is worthwhile for the views over the coast alone.
Visit a Spice Farm
Delve into Goa's Hindu Heartland and discover why spices were such a big deal they pretty much started empires. Near Ponda are many Hindu temples and spice farms, most are pretty touristy but well organised and include a buffet lunch and an enlightening tour of the spice plantation for your approx 400 rupees entry fee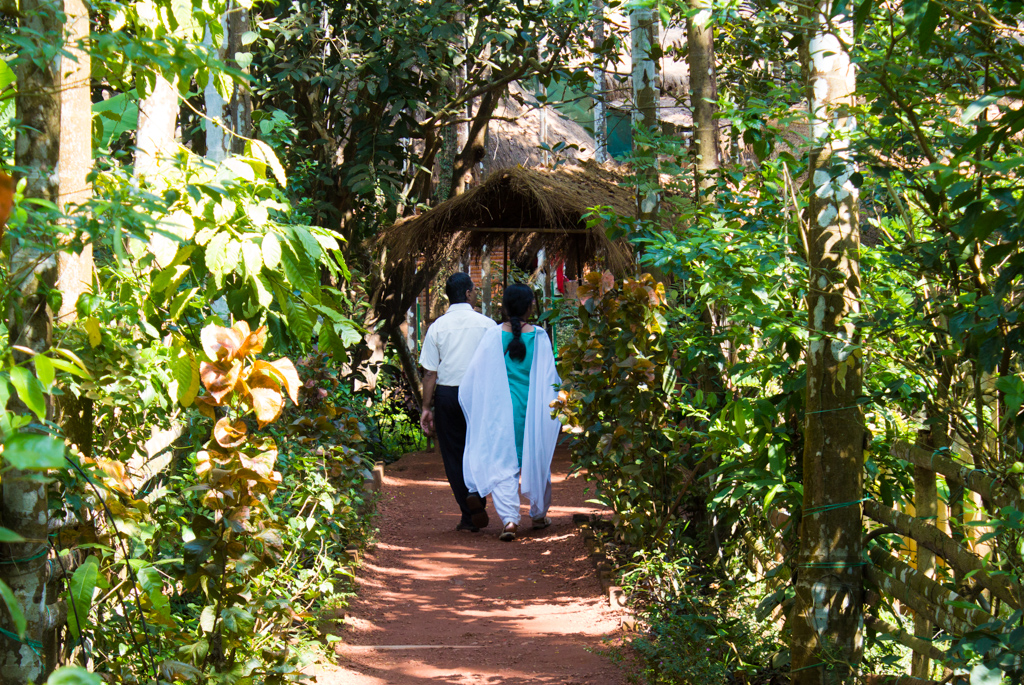 Swim under India's second highest waterfall
Animal lovers should head to one of Goa's three wildlife sanctuaries or the Dr Salim Ali Bird Sanctuary. You could combine a visit to the largest one, Bhagwan Mahavir Wildlife Sanctuary, with a trip to the nearby Dudhsagar Waterfall where you can take a bumpy jeep ride through the jungle to swim in the refreshing waters of Dudhsagar India's second highest waterfall.
Visit the Capital Panjim (Panaji)
Make time to discover Goa's laid back state capital – Panjim when backpacking in Goa. If you haven't been to any other cities in India this will be an interesting taste of the hustle and bustle of India. If you have visited the likes of Delhi and Mumbai then Panjim will be a pleasant surprise – a laid back, clean and beautiful Indian city!
Don't miss the elaborate white Church of Our Lady of the Immaculate Conception, see the colonial buildings and take time to explore the old atmospheric and colourful Portuguese districts of Sao Tome and Fontainhas for some of the most instagrammble spots in Goa.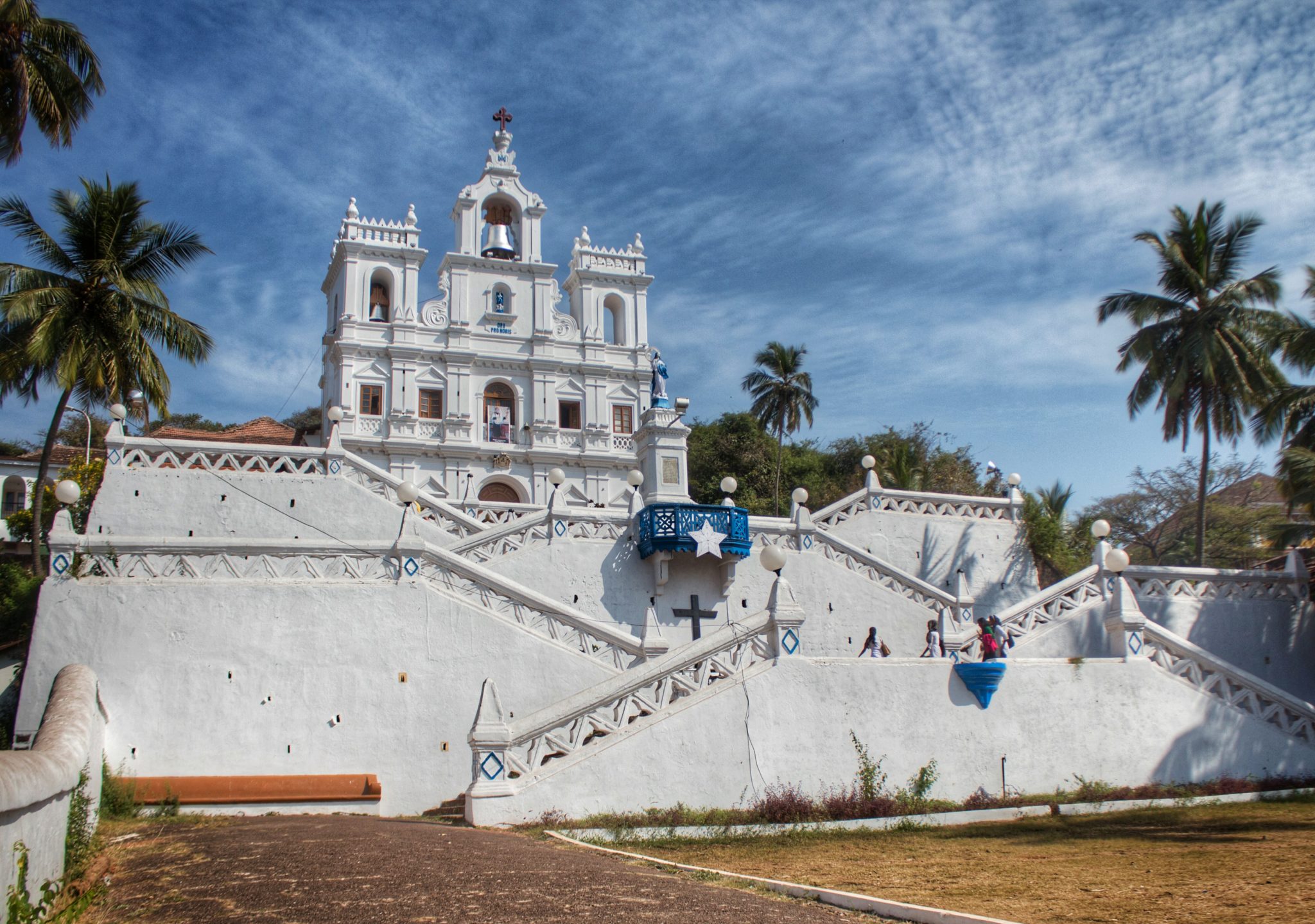 Celebrate a Festival
Especially in the dry/ tourist season there seems to be a different event or festival on every week. From photography, dance, art, food, music to religious festivals – there's all something new going on in Goa. Time your Goa backpacking trip so you can check out the craziness and join in Goa's biggest party on the streets of Panjim to celebrate the massive annual carnival in mid February before the beginning of lent.
Where to Stay when Backpacking Goa
All of Goa's beaches have their own unique vibe and different charms. Generally speaking South Goa is quieter, less developed, more laid back and a perfect place to unwind.
Whereas, North Goa is where the action is – nightlife, markets, watersports and a bigger range of accommodation, entertainment and eating out options and is probably the best place to visit with backpacking Goa.
The Best Beaches in Goa for Backpackers
It's impossible to say which is the best beach in Goa really because each beach in Goa has a different vibe and attracts a different kind of traveller, it just a case of finding the best beach in Goa for you.
My pick of the best beaches for independent travellers, free spirits, hippies and backpackers in Goa are Arambol, Anjuna and Vagator in the North and Palolem and Agonda in the South.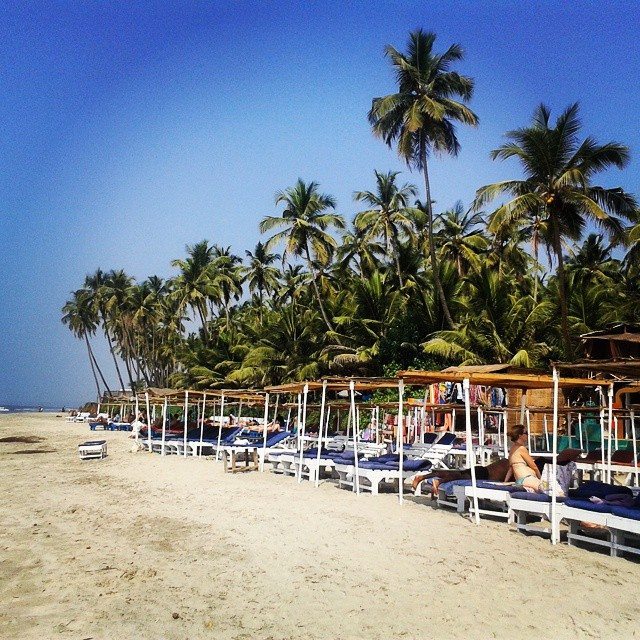 The wide, flat beaches of Mandrem, Ashwen and Morjim are also worth a mention if you are looking for a low key, chilled out scene with many great yoga schools but accommodation here is more expensive. These beaches are also a nesting ground of rare olive ridley turtles and attract many long staying Russians.
Here's a run down of the best beaches for backpackers in Goa, from North to South:
Arambol
Arambol is a backpacker and hippie haven has a long wide beach with loads of cheap beach huts, more hippie clothing stalls than Glastonbury, and every natural healing and alternative therapy you've ever heard of, plus some you never thought existed, the odd drumming circle and a laid back, friendly vibe.
Also make time to climb over the rocks and go paragliding over cute Kalacha beach and swim in the sweet lake.
If you enjoy the traveller hangout/ hippie vibe then Arambol is for you.
Good For: Backpackers, hippies, yogis
Anjuna and Vagator
Anjuna and Vagator were the beaches that became popular back in the days of the hippie trail in the 60's, they still offer a great choice for backpackers and budget travellers today and some of the hippies are still here!
It's also the best place for psytrance parties – you can't miss the chance to experience these parties when backpacking Goa!
Vagator has 3 beaches, they are a bit rocky but the views over the charismatic red Goan cliffs are pretty mesmerizing especially at sunset, whereas Anjuna's beach is more sandy and better for swimming.
Anjuna and Vagator have a the most backpacker hostels in Goa and also a good choice of cheap guesthouse accommodation, great eating options, a friendly, hippie vibe that attracts a lot of long stayers. You will also find psy trance and techno parties and the infamous Anjuna flea market and that special Goan hippie charm.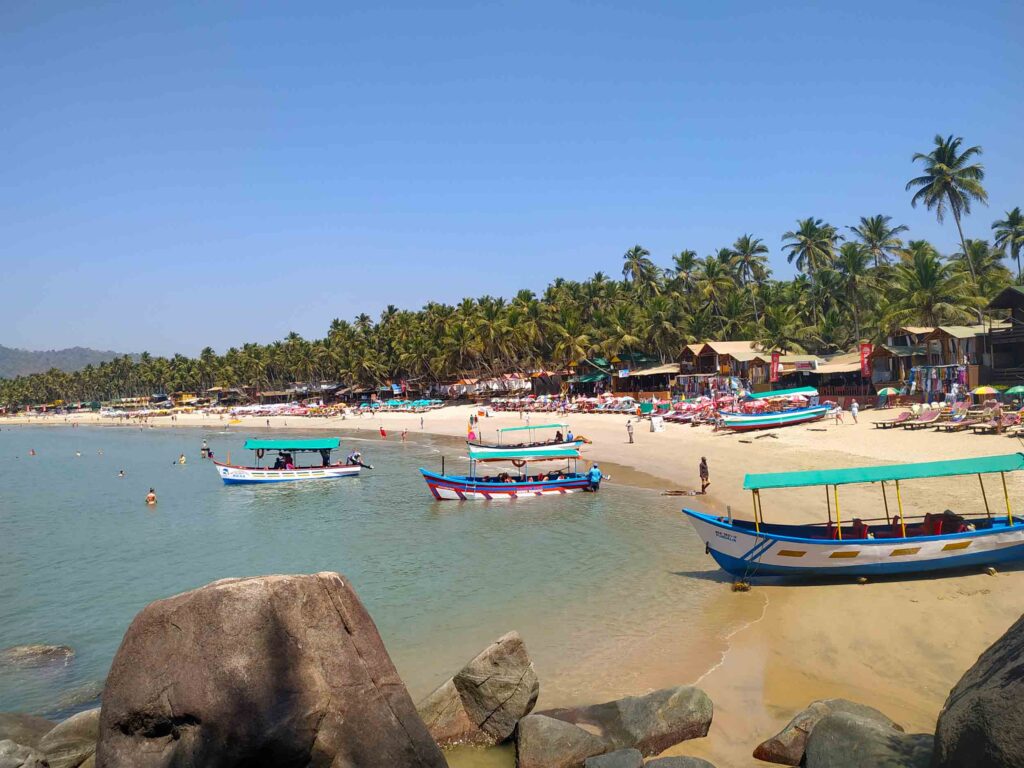 Palolem
Palolem is blessed with calm turquoise seas that are perfect for swimming, the white crescent beach backed with palm trees and colourful, affordable beach huts and plenty of laid back, beachside eating and drinking options.
Palolem is a laid back paradise on one of Goa's best beaches although it is getting increasingly busier, and more mainstream every year and it does not have so much the hippie or party scene that you find up north making it the best place for backpackers who just want to chill.
You could also try Patnem next door which is beautiful but a little quieter.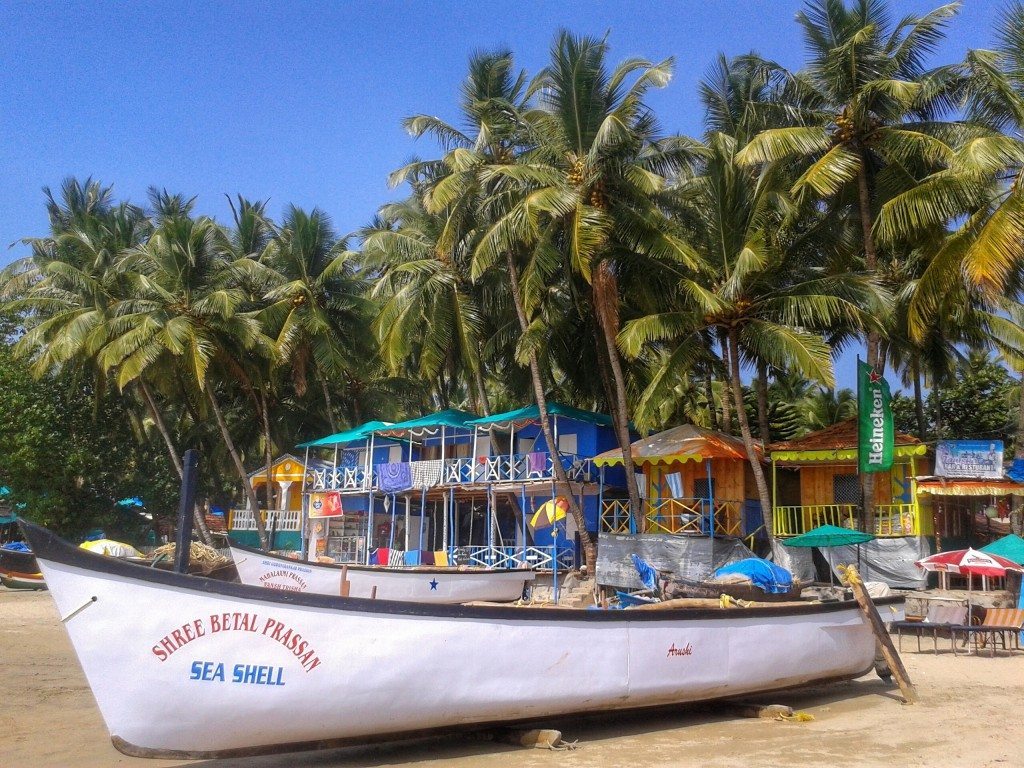 Agonda
Agonda has a great wide sandy beach that sometimes feels like you've got it all to yourself and a rustic, laid back vibe that is a good quieter alternative not too far from Palolem.  Agonda has only been recently discovered so the beach is often pretty empty.
There is a good choice of budget accommodation and beach huts to choose from but not nightlife to speak of yet but I feel like this place will get more popular and busier every season.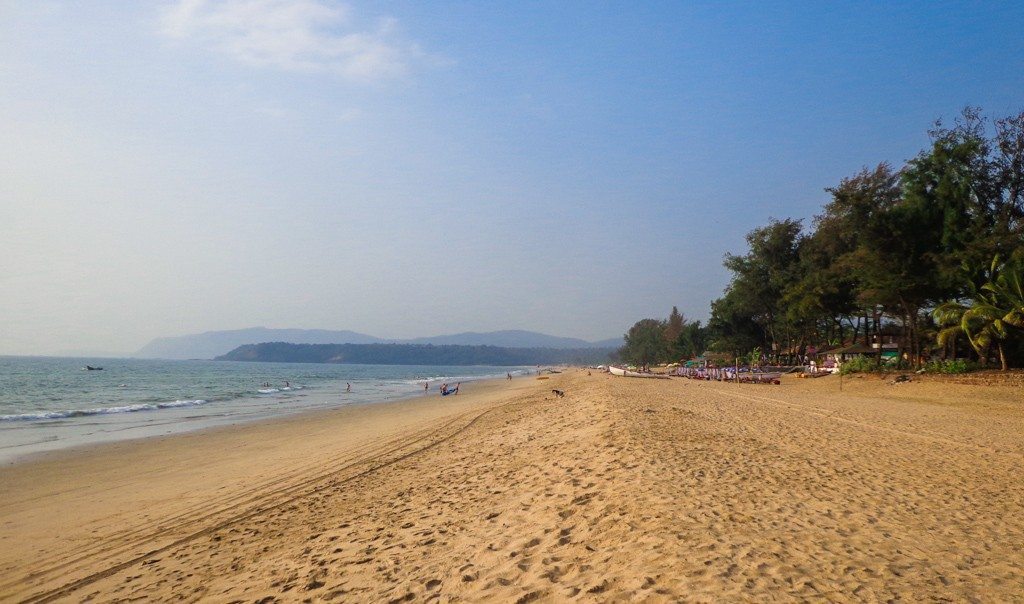 Other popular beaches in Goa
Baga, Calangute and Candolim are the most famous and busiest beaches in Goa and this is where most of the package holiday tourists (Indian and international) come.
These beaches offer the best choice in everything (apart from quiet that is) including restaurants serving food from all over the globe, lively Saturday Night markets nearby that go on till the early hours, live music bars and nightclubs like Mambos, Titos and  Club Cubana.
There is budget accommodation here but these beaches and busy, crowded and over developed – if you come to Goa and only see these beaches then you are really missing out!
Where to Stay when Backpacking in Goa
Traditionally backpackers and hippies in Goa would stay in basic beach huts, guest houses and homestays – these weren't available to book online so you just had to turn up and check a few out and negotiate a price.
It's hard to recommend beach huts to stay in as many of these get taken down for the monsoon and can change from season to season.
The best thing to do is just show up in the morning, walk around, take a look at a couple and then negotiate the price. Most of the time (apart from the busy period over Christmas and New Year you will find something without pre booking in fact most of the real budget places aren't online anyway)
There's also plenty for budget guesthouses and beach shacks in Goa suitable for backpackers that can be found for between 500 and 1000 Rupees (£5 – £10 /$8  -$16) Even without feeling like you are penny pinching it would be hard to spend over 2,000 Rupees (£20/ $30 ) a day in Goa.
Don't rule out staying a little further away from the beach too if you want a better deal, less noise and less wobbly accommodation – beach huts look pretty but often a cheap guest house of the concrete box variety is cheaper and more comfortable!
If you fancy a more off the beaten track experience and want to get an insight into Goan life then head inland and look for a sustainable, eco friendly homestay in Goa to see a totally different side of the state from the popular beaches and party scene.
The Best Backpacker Hostels in Goa
Nowadays there are many luxury resorts, mid range hotels and new backpacker hostels in Goa which are the best places to stay when backpacking Goa if you want to meet other backpackers and stay on a budget.
Most budget travellers arrive in Goa and find a cheap budget guesthouse. Backpacker hostels are a relatively new concept in India but there are now several backpacker hostels that have just opened up in the last year or so around North Goa.
The Jungle Hostel in Vagator is one of the best and the sociable atmosphere makes it really easy to met people and make new friends.
Prison Hostel in Anjuna is a uniquely themed party hostel or for something quieter check out the cute tents and dorms at Wanderers Hostel in Morjim, there is even a swimming pool.
Zostel Hostel in Candolim is part of India's first chain of backpacker's hostels
Old Quarter Hostel in the colorful Portuguese area of Panjim that also has a great coffee shop.
Hostels are a great place to meet people, especially if traveling solo, but honestly if there are two of you it's often cheaper just to get a cheap guesthouse instead of 2 hostel beds. 
Read More: The Top 10 Backpacker Hostels in Goa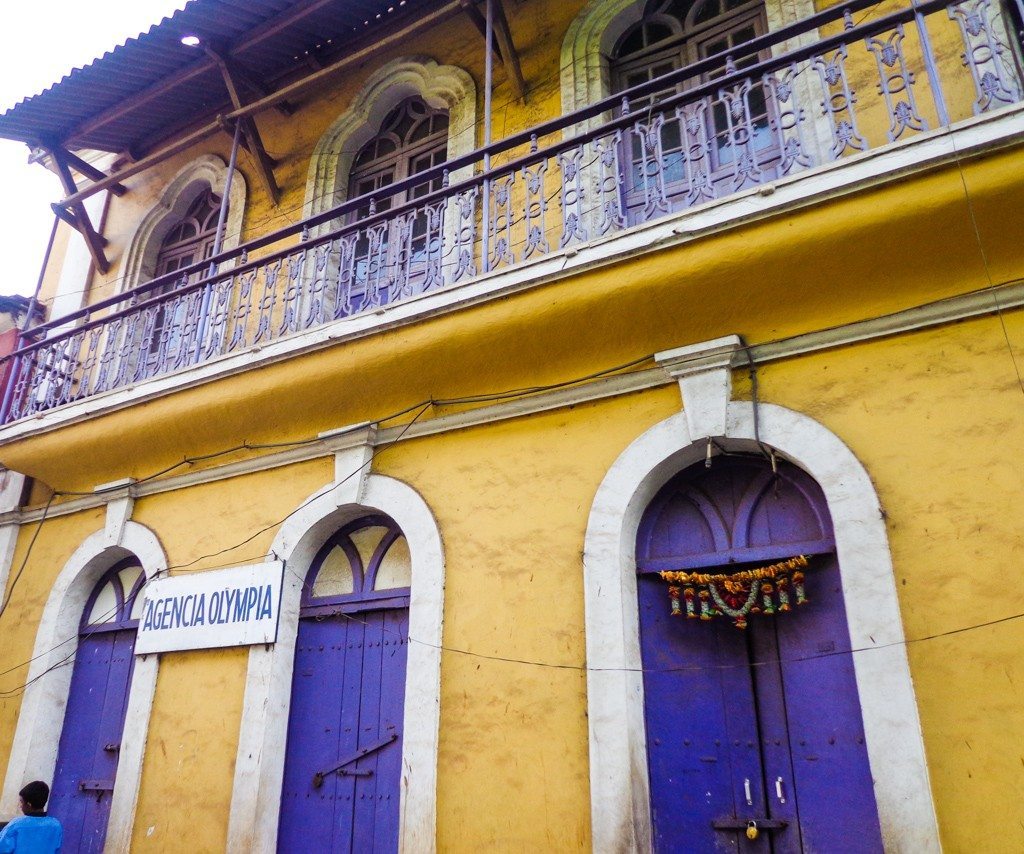 Budget Guesthouses around Anjuna and Vagator
There are many budget guesthouses in Goa that are not available to book online but some of the better ones around are Sunny Cow Village Villa – a cute, stylish place tucked away in the village, Starco has nice cottages near the crossroads, Sea Princess is just behind the beach and  Castelinho's Home Away From Home has cheap basic studio apartments.
In Vagator try Blue Bird Guest House it also has a great restaurant or Royal Star set in cute gardens near Mango Tree a popular restaurant.  Casa de Olga is a good , cheap option in nearby Chapora.
Don't be put off if these places are out of your price range, there are probably a hundred more cheaper places to stay that are not listed online and it's not hard to find a room for around 1000 rupees even in season.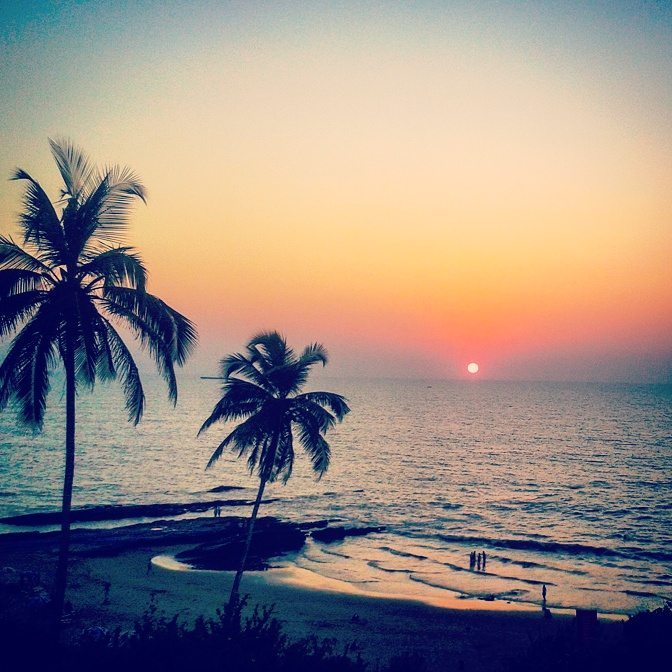 Mid Range Hotels and Resorts
Some more upmarket choices in Anjuna that also have swimming pools include the unique Laguna Anjuna where individually designed, quirky rooms nestle in tropical gardens, Palacete Rodrigues a charming old Portuguese villa filled with antiques and friendly owners and Granpa's Inn (Hotel Bougainvillea) 
In Anjuna, your best bet for a beach facing room is probably the Vista Praia Cottages although they are a little overpriced I think.  There are also some nice properties on the cliffs in Vagator with stunning sunset views – check out Ozran Heights , Oltremarino and Ocean Bliss for super cute huts with amazing views.is also a character filled hotel nestled in tropical gardens in a tranquil spot just outside Anjuna.
There are also some amazing luxury resorts in Goa, especially in South Goa that (compared to Western prices) are great value if you fancy treating yourself. Some of the best include the Taj in Candolim, Zuri in Varca,  Leela in Cavelossim and Alila Diwa in Majorda.
Renting a House in Goa
Perhaps you will love Goa and end up wanting to stay for months, as many do. Look out for the 'House for Rent' signs and find somewhere to chill out and enjoy the unique Goan vibes for a few months. Many you can rent on a casual monthly basis and it can work out cheaper than a guesthouse.
If you didn't want to commit to a couple of months you could still get all the comforts of home by renting an apartment through Flipkey or Air BnB. Get $25 off your first Air BnB booking here.
Check out the costs of living in Goa and How to rent a house in Goa.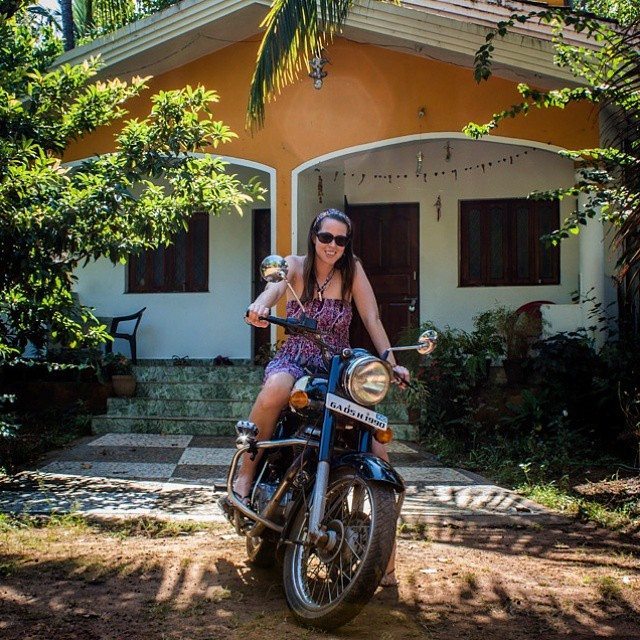 Where to Eat and Drink in Goa
The beaches of Goa are lined with beach shacks that serve a standard traveller orientated multi cuisine menu – serving up everything from Indian curries, Chinese dishes, noodles and rice, pizza and pasta, western food, breakfasts and sandwiches for between 100 and 300 rupees and the quality of the food that comes out of these beach shacks, for relativity little money, is surprisingly good.
My favourite beach shacks are Fishtail on Little Vagator Beach, Curlies in Anjuna and for something a bit special La Plague in Ashwen or Sublime on Morjim Beach. No backpacking Goa trip is complete without experiencing a day in a beach shack!
Goa has a real foodie scene going on. There are also many other restaurants around Goa serving all kinds of international food where you can get an amazing meal for a very affordable price. Some of my favourites for something a bit more special include the Greek place – Thalassa where the views over Vagator Beach are as amazing as the food, Go with the Flow in Baga and at Shamba in Anjuna you can get interesting, fusion, fine dining style food that still won't break the bank and Cafe NU in Mandrem is super healthy and tasty.
Also around Anjuna, you must visit Baba Au Rhum  nestled in the paddy fields with awesome burgers and pizzas, or the The Germany Bakery is a great place to hang out under the Tibetan prayer flags and have a healthy lunch.  Bean me up is heaven for Vegans and also has a really popular guest house and one of my favourite places is on the cliffs in Anjuna (since 1967) is the Guru Bar which has a friendly, hippy, atmosphere, regular live music nights and great value and extensive menu.
Read More: The Best Restaurants in Anjuna and The Best Restaurants in Vagator. 
Nightlife and Parties in Goa
Goa is India's party capital and many backpackers come here just to experience the legendary nightlife. Goa loves trance and most of the parties revolved around techno or psy trance music.
Anjuna and Vagator and Baga and Calanagute are the best nightlife spots with clubs or beach parties that go on late into the night. On South Anjuna Beach Shiva Valley and Curlies beach shacks often have parties that go on late into the night and in Vagator, Hilltop is still pumping on Sundays and has amazing special events – check the flyers up around the village or What's Up Goa to find out what's on and where.
For something more main stream try Club Cubana between the two in Arpora. The Saturday Night Market in Arpora also has live music and food and drink stalls and goes on into the early hours. Palolem has a more chilled out scene but you can usually find a silent (headphone) disco happening in the peak season or try Cleopatras or, slightly out of town, Leopard Valley holds the biggest parties in South Goa.
Tips for Planning your Goa Backpacking Trip
Ok, so now I've got you convinced that you really should come over and check out Goa – here's the practical info you will need to make your dreams of backpacking Goa a reality.
Daily Backpacker Budget for Goa
India is still one of the cheapest countries in the world to travel in and, although Goa is one of the more expensive places to visit in India you can still get by on 1,000 – 2,000 Rupees per days, about US$15 – $30.
While there are many temptations for you to part with your cash, Goa is still great value. The many temptations to drink, party and shop will undoubtedly push up the cost of a visit.
Goa has a huge range of accommodation – from luxury resorts, cute boutique hotels, and there are still many budget options for an affordable visit.
Prices vary depending on season (prices are almost half in the low season) and make sure you haggle for most purchases, especially for taxis, souvenirs at the market and you can also negotiate for scooter hire and accommodation if you stay longer.
See more budget tips and typical costs to expect when traveling in India.

Do you need a visa to visit Goa?
Nearly all visitors to India need a tourist visa before arriving. Luckily an E-Visa scheme is being rolled out which will make it easier to apply for a visa although it is only valid for 30 days. Most people visit India on a 6 month visa.
Read more about how to apply for an Indian visa.
When is the best time to visit Goa?
The main tourist season in Goa runs from November – March when the weather is dry and cool by Indian standards but still perfect weather for swimming, sunbathing and enjoying all Goa has to offer.
In April and May Goa, and most of India, gets almost unbearably hot. The monsoon rains arrive in June and continue until September/ October.
Some say that Goa is at it's most beautiful in the monsoon season as the paddy fields turn lusciously green although most restaurants and accommodation close but you can get great deals on the accommodation that does remain open during the off season.
See more on The pros and cons of visiting Goa in the monsoon season.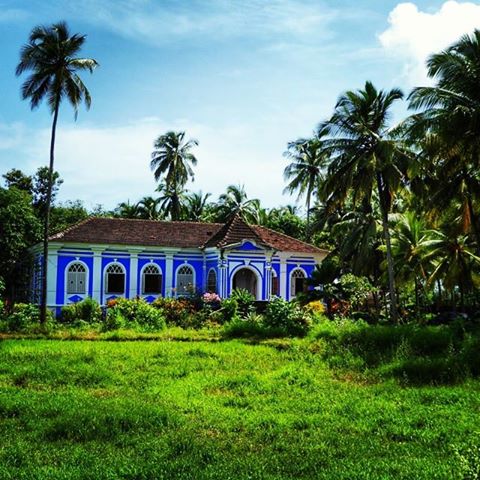 How to get to Goa
Goa has an airport (Dabolim) situated roughly in the middle of the state. You can fly to Goa from most major Indian cites and in the season time there are charter flights from the UK and Russia.
There are also an increasing amount of budget flights into Goa from Southeast Asia or you can also take a cheap flight from Bangkok or KL to one of the big cities in the South of India like Chennai, Bangalore or Kochi and then a domestic flight from there.
Goa is also easy to reach on the huge Indian railways network and then from Goa you can connect to the rest of India on the trains (just make sure to book tickets well in advance because seats sell out quickly) The main train station for Goa is Margao (Madgaon) which is roughly in the middle of South Goa.
If you are arriving or leaving by train in Margo the closest beach is Benaulim only 5km away. It's a nice, quiet, long stretch of beach with just a few restaurants and shacks. Right on the beach is the O Palmar Beach Cottages which is a great value place to stay and chill for a few days close to Margao or a good base right in the middle of South Goa.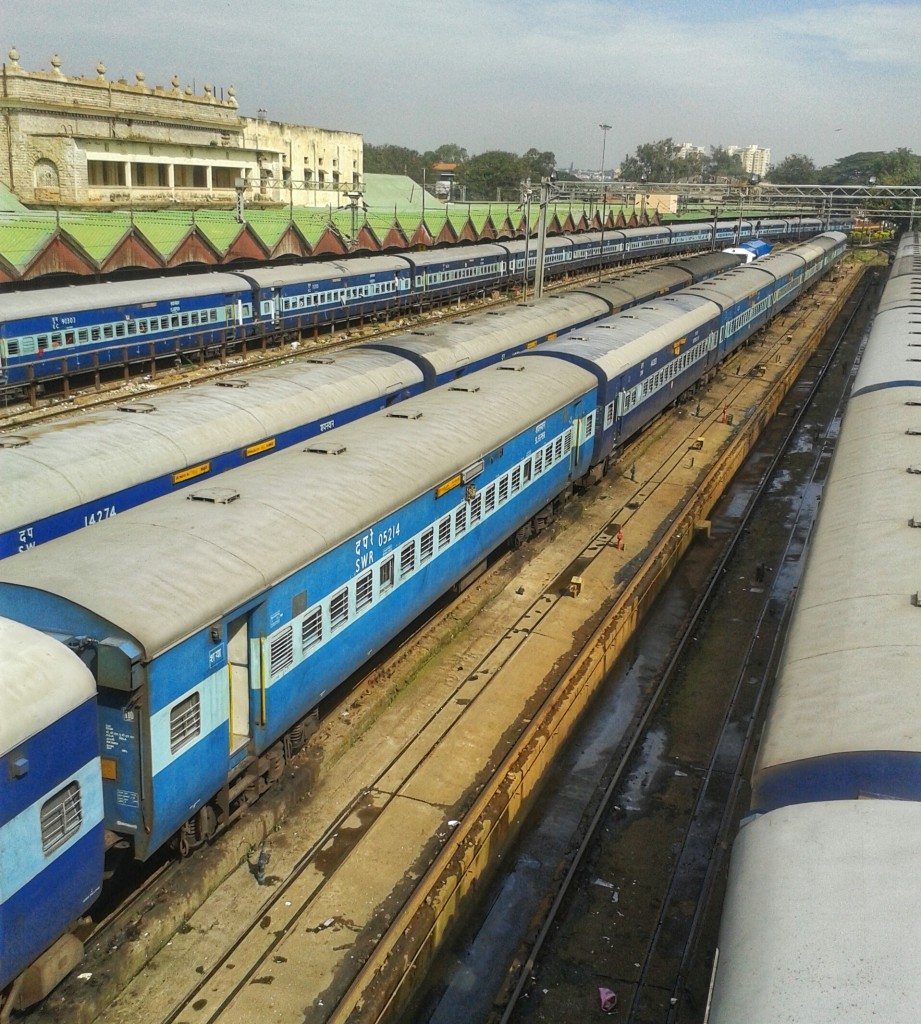 Other train stations in Goa include Vasco da Gama (closest to the airport)  Canacona (for Palolem and the far South) Thivim and Pernem (for Arambol – Anjuna) or Karmali (near Old Goa and the closest to the capital Panjim) Trains run overnight from Mumbai, Bangalore and Kochi to Goa.
Night trains are a much more comfortable way to get to Goa than on overnight buses but if you can't get a ticket you can also go by bus. You can book online at Red Bus but the train is for sure the most preferable way to travel rather than the hectic Indian roads.
How to get around Goa
The train network isn't really convenient for getting around Goa. There are many local buses which can be a bit rickety but fine for short journeys however, if you wanted to get say from Palolem to Anjuna or from the airport to Arambol while it is possible and very cheap to do so on public transport and very cheap there are no direct buses, you would have to go to each town (Margao, Panjim, Mapusa etc) and change buses each time. It's not too difficult to find the right bus it can be a time consuming way to get around.
Rickshaws are not as omnipresent as in other parts of India. Taxis can be easily arranged from most guesthouses or restaurants but rates are exorbitantly high even for a short taxi between nearby beach resorts. You can hire a car and driver for a days sightseeing for about 2000 Rupees.  A taxi from the airport to the beaches near Anjuna and Vagator should be nom ore than 1,200 Rupees use the prepaid stand inside instead of arguing with touts outside.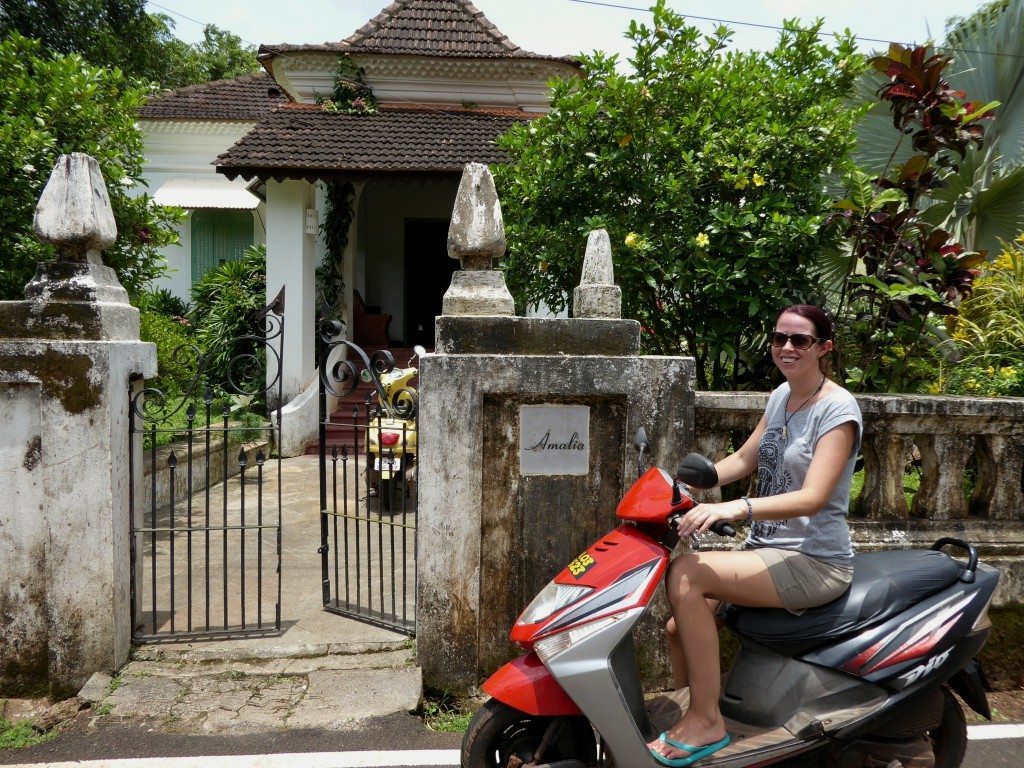 The best way to backpack Goa is on your own two wheels – it's easy to rent a motorbike (approx 300 rupees per day) and explore. India's roads may seem chaotic at first but there is not too much traffic on Goa's roads and its a good place to learn and you will see there is a method to the madness, just adapt the way that you drive to suit.
You also need to watch out for police, especially on the bridge at Panjim who like to stop tourists and try to get money out of them. Not wearing a helmet or not having an international driving license is one of the most common things they will fine you for so get one before you go and remember to also carry your normal license as well otherwise its not valid.
Where Next After Goa
Backpacking Goa is a perfect place for a gentle introduction to Incredible India but don't stop there. There is so much for explore in this hugely diverse and ever fascinating country. Check out my Perfect India Itinerary for more ideas for your Indian adventure!
Hampi
The incredible, enigmatic and bewitching ruins of Hampi are not far from Goa in the neighbouring (and underrated) state, Karnataka. It takes about 8 hours on the train or an overnight bus but these ancient ruins steeped in legend and scattered amidst a surreally beautiful boulder strewn landscape make a rewarding and cultural couple of days jaunt from Goa. You may love Hampi so much that you don't want to go back to Goa!
Read more: Why I fell in love with magical Hampi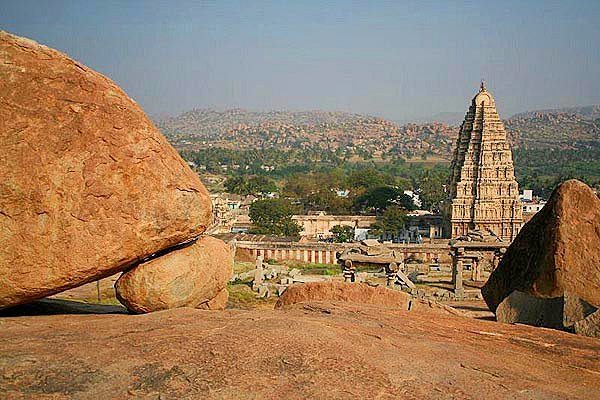 Kerala
The luscious, laid back state of Kerala is also known as 'God's own country' and once you are relaxing on a houseboat on the serene backwaters you will understand why! Kerala is also one of the most popular places to visit in India because of it's rich history as part of the spice trade and tropical, green natural beauty from the beaches and hill stations to the backwaters. It's a long overnight train ride from Goa to Kochi but worth it!
Read more: My Flashpakcer's  Guide to Kerala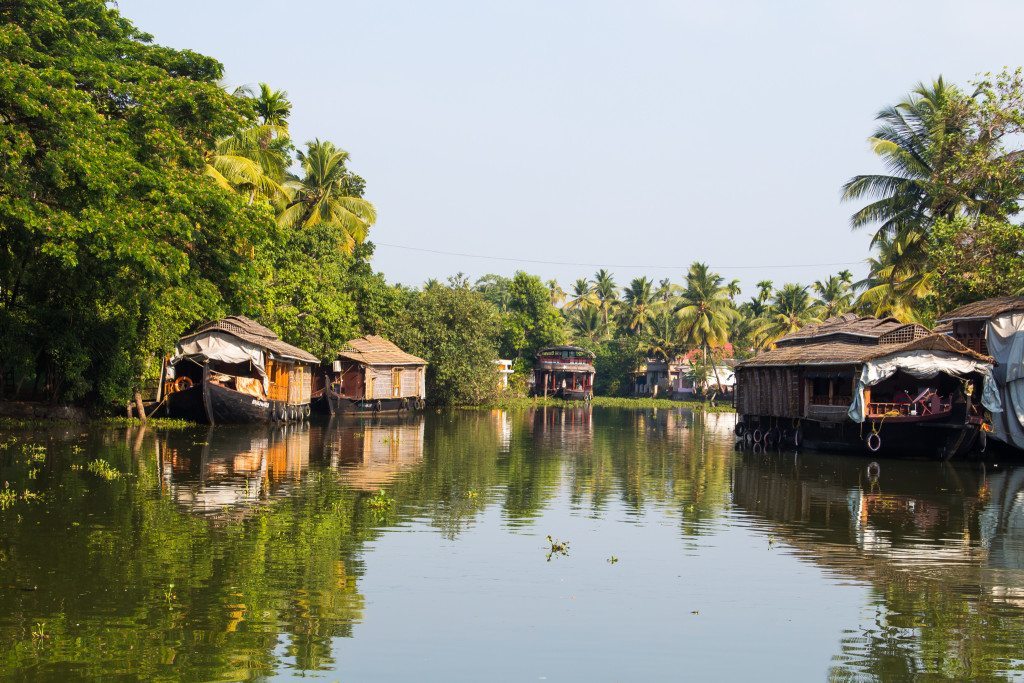 Mumbai (Bombay)
Mumbai, or Bombay, is India's answer to Hollywood – a city of dreams and also a city of contrasts.  A city that is both rich and poor, modern and traditional. Mumbai is a crazily captivating, buzzing, inspiring, ambitious, city of dreams with grand, crumbling colonial buildings and enough to keep you entertained for at least a couple of days. Mumbai is an overnight train ride from Goa.
Read more: My Flashpacker's Guide to Mumbai 
See all the posts about Goa on the blog.
For more info to help plan your trip to India and for practical inflammation once your on the road a great guide book is the Lonely Planet – you can either get a (pretty hefty) guide book for the whole country in the Lonely Planet India Travel Guide
 or there is also one that just focuses on Goa Lonely Planet Travel Guide with Mumbai and Hampi also thrown in.
Even though sometimes the hotels or restaurants it suggests are sometimes out of date or a bit over hyped the maps and practical information regarding what to see, how to get around and prices to expect can be invaluable.
Pin Me
I hope this guide to backpacking Goa has helped you to plan your trip and that you will love Goa as much as I do. I've got loads more blog posts about Goa and the rest of India on the blog so check them out too.
Do you have any more tips for Goa? Leave a comment and help another traveller out!