Is it worth visiting Goa in monsoon season?
Most tourists flock to Goa's sandy shores during the sunny and dry winter months between October and March when the weather is perfect for the beach and Goa buzzes with parties and activity. By April and May the heat and humidity rises and the crowds reduce. The period between June – September is Goa's monsoon or rainy season. This puts most tourists off but I discovered there are many advantages, as well as some disadvantages, to visiting Goa in monsoon.
So what's it really like in Goa during monsoon
Contrary to popular belief Goa does not completely close for monsoon. But it is a lot quieter than in season time. It's the perfect time to just relax and watch the rains but if you want to party then you'll need to consider carefully where to stay in Goa in monsoon and choose an area where things are open.
The weather in Goa in the rainy season
June sees the start of the monsoon in Goa and watching the first storms roll in with excited locals can be quite dramatic and fun. June and July see the heaviest rain, by August and September the rains are starting to ease up but you might also feel some pre monsoon rains and thunderstorms at the end of May. In June and July it can rain heavily all day, sometimes for a couple of days at a time, but then can clear up and allow for a warm, sunny day.
The monsoon in India is alot different to the rainy season in Southeast Asia where there is often a heavy downpour for an hour or so in the afternoon and you can usually plan your day around not getting wet. But in Goa sometimes it can rain all day and when it does the power goes off and it can make getting around difficult.
Read More: The Ultimate Guide to Visiting Goa in Monsoon
Where to Stay in Goa for monsoon
You need to think carefully about where to stay in Goa during monsoon season as not everywhere is open and the frequent power cuts mean that you'll want to avoid low budget places and stay in a modern apartment or upmarket hotel with power back up. You'll also want to have a car to get around.
Nearly all of the beach huts and shacks are pulled down and the night markets, flea markets and many parties cannot open in the rains so you need to bear this mind if your planning to visit Goa in the rains.
Monsoon is the perfect time to just relax and spend time with loved ones and enjoy walks on the quiet beaches and exploring the luscious green countryside.
The best places to stay in Goa in monsoon are Baga, Calangute and Candolim. These are the most developed beaches in Goa so more things stay open during the rainy season. A good place to stay is Wave Calangute Beach Resort These fully equipped modern AC 1 and 2 BHK apartments have 100% power back up and can comfortably sleep upto 8 people. There's nice gardens and a pool to hang out at and close to Calangute Beach, Baga and Candolim.
There's also some things open in Anjuna and Vagator including the famous Curlies beach shack which stays open during the rains and sometimes has parties on. The newly built Westin Anjuna is centrally located to explore Anjuna and Vagator with comfortable rooms, a spa, and a year round pool.  If you are travelling alone and want to meet others then if you stay in one of Goa's fun backpacker hostels you have the best chance of finding people to hang out with.
Monsoon is also a great time to splash out on a bit of luxury as you can get great monsoon deals on luxury hotels in South Goa and make a great place to relax and watch the rains in comfort and luxury.
My favourite 5 star resort in North Goa is The Taj Fort Aguada, Candolim. The colourful and luxurious heritage style cottages are surrounded by luscious gardens and located on the most picturesque spot on upmarket Candolim Beach so you can soak up the stunning views over the ocean while still being close to all the action in Baga and Calangute. As it's the Taj you can expect nothing less than unparalleled hospitality.
My favourite 5 star resort in South Goa is the Alila Diwa, Majorda. This beautiful Bali inspired luxury resort is even more stunning in monsoon. Watching the rains bring the green paddy fields to life from the infinity pool is just bliss. Plus there's an excellent spa, 3 dinning options and 2 bars so, apart from romantic walks in the rain along the empty beaches, you don't really to need to leave the resort.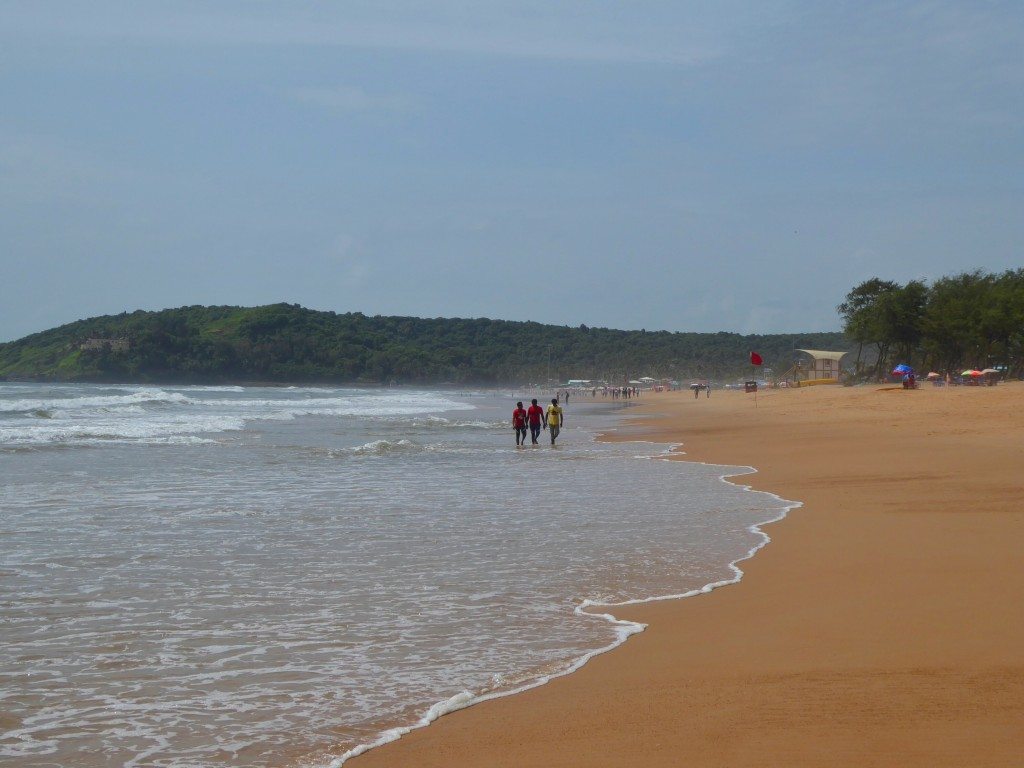 I was pretty lucky with the weather when I was in Goa nearer the end of August one time as the monsoon was coming to a close and most days were a mixture of rain storms, clouds and sunny patches. The weather was actually more humid than in the winter and felt hotter, even when it rained it was not too cold. Most nights it rained heavily but in the day time there were plenty of sunny moments and watching the black clouds gather on the horizons and the storms roll before heading for cover to wait it out was actually quite fun.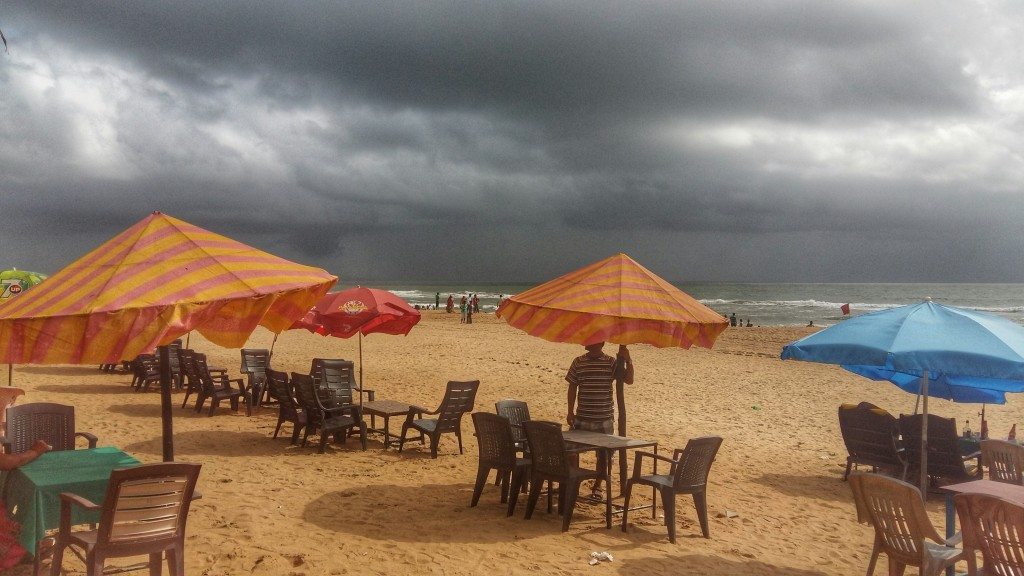 When it rains, it pours! But the storms usually lasted only half an hour or so and were quite refreshing after the humidity, so whilst there was rain it didn't put a dampener on the day too much and was far from the constant all day rain that the weather forecast had predicted. Although in June and July it can sometimes rain for most of the day.
Read Also: The Best Places to visit in India during Monsoon season
So what's open in Goa during the rainy season?
While there are not many Western tourists, you won't be the only tourist here! I noticed a distinct lack of Russian tourists who flock here in season time but monsoon season in Goa is popular with domestic Indian tourists.
Many guest houses and restaurants close down for the rainy season so don't just pick a place in the Lonely Planet and show up as it might not be open! It's best to book online in advance if you are coming to Goa in monsoon, I always use Booking.com or Agoda, many hotels offer discounted rates too.
But don't worry you will still find somewhere to stay and something to eat, although most of the markets, parties and top restaurants are not open there are even still some parties in Baga and Calangute. In fact, this area is crowded in season time but probably the best place to stay in monsoon as more things will be open.
Check out my post on the best places to stay in Goa in monsoon for more tips and recommendations
The Baga, Calangute, Candolim stretch remains quite busy, especially at weekends, with Indian tourists and most accommodation, restaurants, shops and bars are open. Although is no where near as busy as it is in season time (for me, this was a good thing!) if you are looking for some action in the rainy season then Baga is probably your best bet.
The beaches in the North popular with hippies and backpackers like Anjuna and Vagator still have a handful of the more permanent structures open but most of the shacks on the beach and closed for monsoon, and when they say closed they really mean it!
This handy info graphic by BlurbGoa shows which beach shacks are open in monsoon:-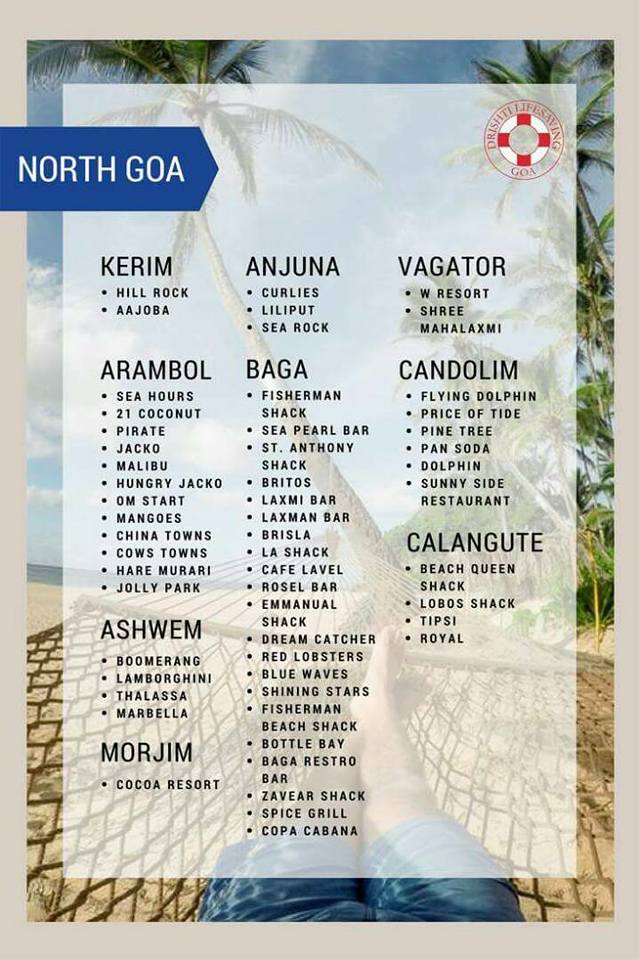 The popular Anjuna Flea Market and Saturday Night Markets are only open in the main tourist season. But the bars on Tito's Lane in Baga are still open and a few other party places – see here for the best nightclubs open in monsoon in Goa
Morjim, Ashvem and Mandrem are quiet even in season but felt pretty deserted in the rainy season. Arambol seems to get busier and busier each season but off season while a few places are open at the north end of the beach it is blissfully quite and the shoulder to shoulder stalls that line the roads in season are refreshingly absent during monsoon.
South Goa even in season is the place to go to escape the crowds and, while the popular beach huts in Palolem are all taken down for monsoon and South Goa is very quiet, the luxury hotels offer great monsoon rates – click here to find special discounted Goa hotel rates on Agoda.  You can get 76% off on Agoda over monsoon at Alila Diwa one of my favourite 5 star hotels in Goa or get a discounted stay at The Leela, Goa's most luxurious hotel for a perfect monsoon break.
See my post on the best places to stay in Goa in monsoon for my recommendations.
Read More: Where to go in India in July and August to avoid the worst of the rains.
Green, Green, Goa
Some say that Goa is at it's most beautiful in the rainy season as everything is so luscious, green and so jungly. It's almost like the jungle is trying to take back Goa!
Riding around exploring the countryside is a treat at this time especially as you can watch the locals going about their daily life largely unperturbed by tourists.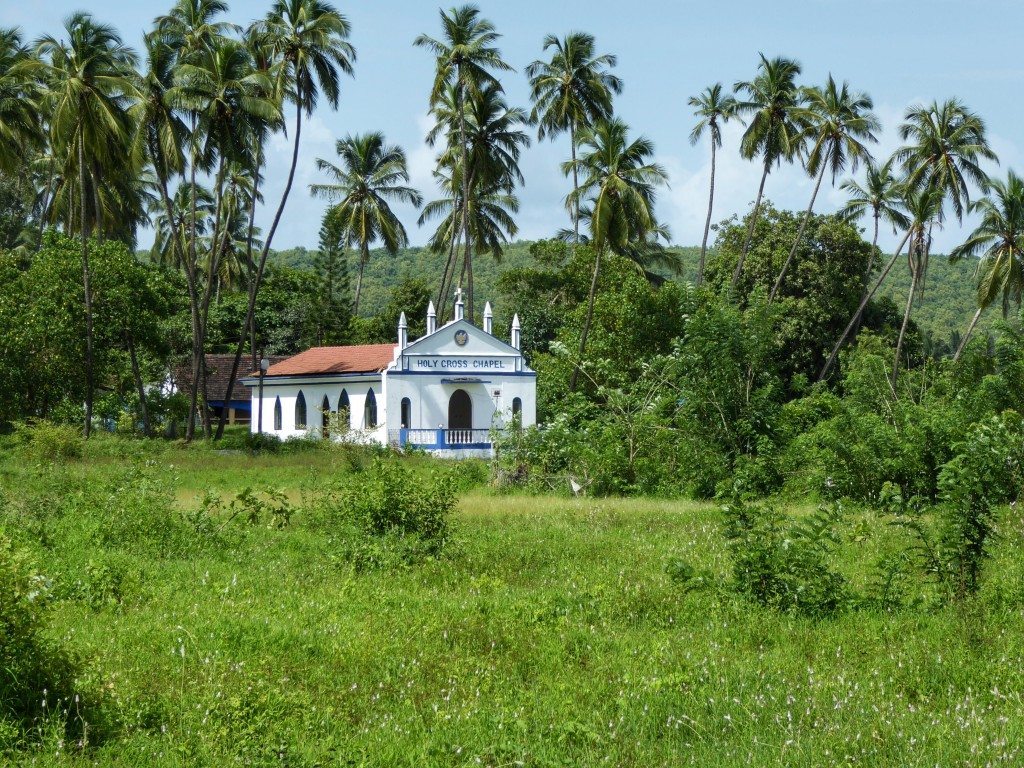 So should you visit Goa in monsoon season?
Whether or not you should visit during the rainy season depends on what side of Goa you want to see.
The advantages of visiting Goa in monsoon season:
Lower Prices
Green, beautiful scenery, a great time to explore the countryside by motorbike,
See a more local side of life
Less Crowds and have some of the beaches all to yourself.
The storms and rains can be quite dramatic and amazing to watch
The disadvantages of visiting Goa in monsoon season:
Weather can be unpredictable, rain is likely and weather is often not great for lazing on the beach
Many places shut outside the main tourist season meaning that there is not so much variety of accommodation, restaurant, shopping and partying options available and the markets are not open either.
As there are not so many tourists you are less likely to meet people and may feel a little lonely. One time I stayed at a backpacker hostel and meet a great bunch of people but did not see many other international tourists.
The beaches do not look their best and the water is sometimes too rough for swimming. Also, if you are the only foreigner in a bikini on the beach then you may attract a lot of unwanted attention.
Is Goa most beautiful in monsoon season?
Some say that Goa is the most beautiful in the rainy season, and while the lush green paddy fields and local life are really  a joy to explore and photograph, sadly Goa's beaches do not look at their best during monsoon season.
The beaches are a bit litter strewn, the seas a little murky and sometimes too rough for swimming and many of the beachside shacks hang half torn down and dilapidated. On a gloomy, cloudy day it may not be exactly your idea of beach bliss!
While the tourists are away the jungle seems to be trying to reclaim Goa, many houses are covered in tarpaulins and black and green mildew stains the walls. The unkempt jungle, the derelict shacks, black clouds and the lack of tourists gives Goa a slightly moody, atmospheric desolate feel and when it rains, the red Goan dust turns into a bright orange mud that gets everywhere.
So whilst I really enjoyed exploring Goa at the end of the rainy season as I took advantage of lower prices, zipped through the green fields and loved getting to see a more chilled out and local side of life, visiting off season won't be for everyone and during the months of June and July I find that the heavy rain and power cuts put a bit of a dampener on things. (pun intended! 😉
If you come here just for beaches and bars then you may be a little disappointed and leave not really getting what all the fuss is about.  However, there is so much more to Goa than just beaches and parties and visiting during the rainy season is the perfect time to chill, to enjoy a more local side to Goa and to explore the lush countryside.
For me, the hardest part about visiting Goa is leaving!
Are you visiting Goa soon? Make sure to check out my Backpacker's Guide to Goa and my post on where to stay in Goa during monsoon.
Have you visited Goa in monsoon season? How was your experience?