My Pick of The 5 Best Yoga Retreats in Sri Lanka for 2023
Whilst India is the birthplace of yoga, making one of the best places in the world to learn yoga. But the small neighbouring island nation of Sri Lanka is arguably an even better place for a serene yoga retreat. Sri Lanka is also a world class surf destination so it's an ideal place to combine the two with many yoga retreats in Sri Lanka also offering surf lessons!
Read Also: Surf Camps in Sri Lanka I recommend.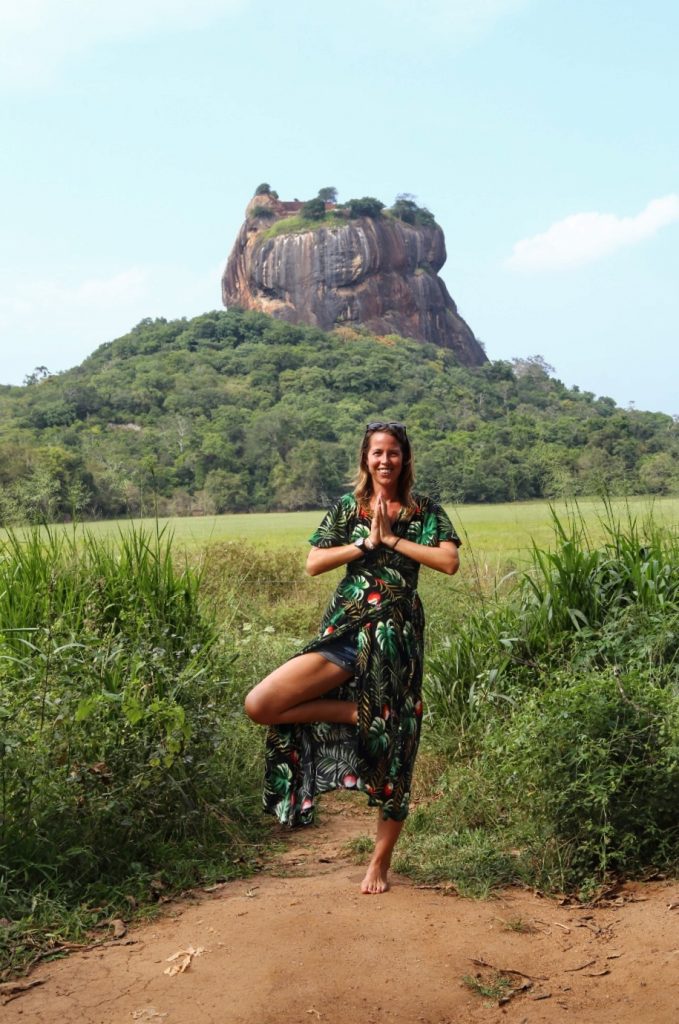 Reasons to go on a yoga retreat in Sri Lanka
Sri Lanka can be described as 'India lite' – with much of the colour and exotic spectacle you'll find in India but in a cleaner, smaller, less densely populated country that's safer for women and easier and quicker to travel around.
Sri Lanka is also known as 'the Pearl of the Indian Ocean' and offers a warm, sunny, tropical climate throughout the year, long stretches of stunning, unspoiled beaches, luscious jungles and tea plantations, scenic train rides, heaps of biodiversity, rich culture and history as well as the best safari and wildlife spotting opportunities outside of Africa!
Read More: My favourite places in Sri Lanka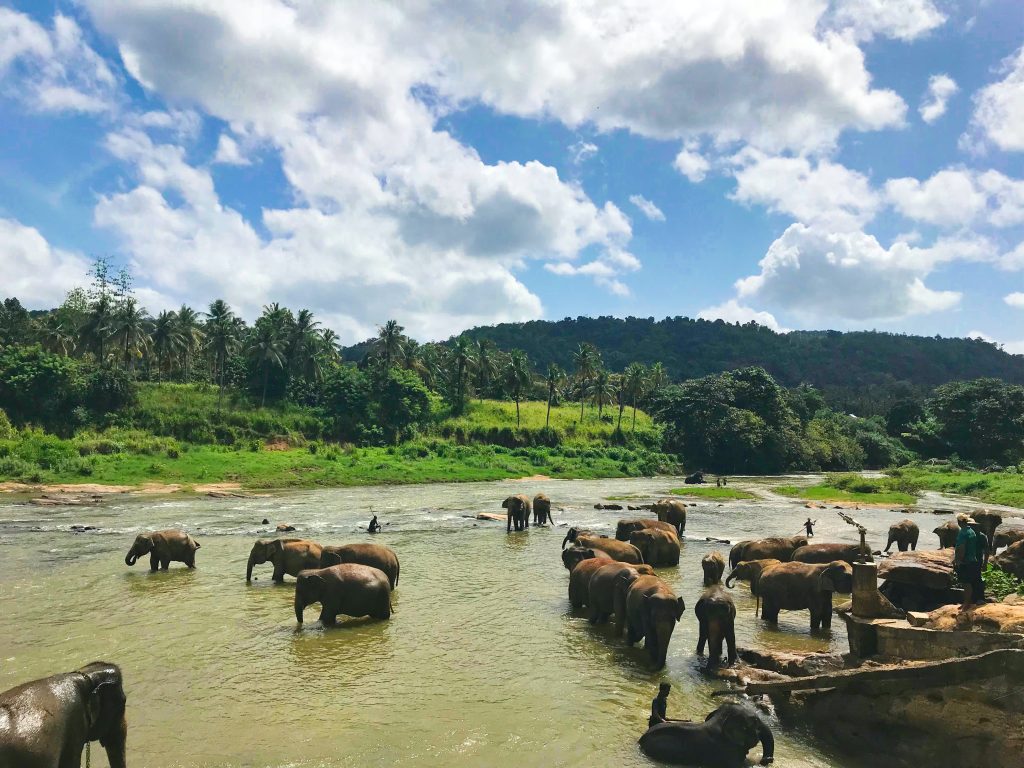 Most people in Sri Lanka follow Buddhism and the island has a serene, spiritual energy. No wonder Sri Lanka is fast becoming one of the most popular places to take a yoga retreat or join a surf camp. It's kind of a mix of the best bits of India, Bali and Thailand and yet it still doesn't feel super touristy.
There are many wonderful yoga retreats in Sri Lanka to choose from. Some of the most popular destinations include beach destinations like Weligama, Mirissa, Unawatuna, Hiriketiya and Arugam Bay. The UNESCO listed ancient capital up in the hills, Kandy, is also a popular place for yoga and Ayurveda with some great jungly retreats.
Pin Me! 😉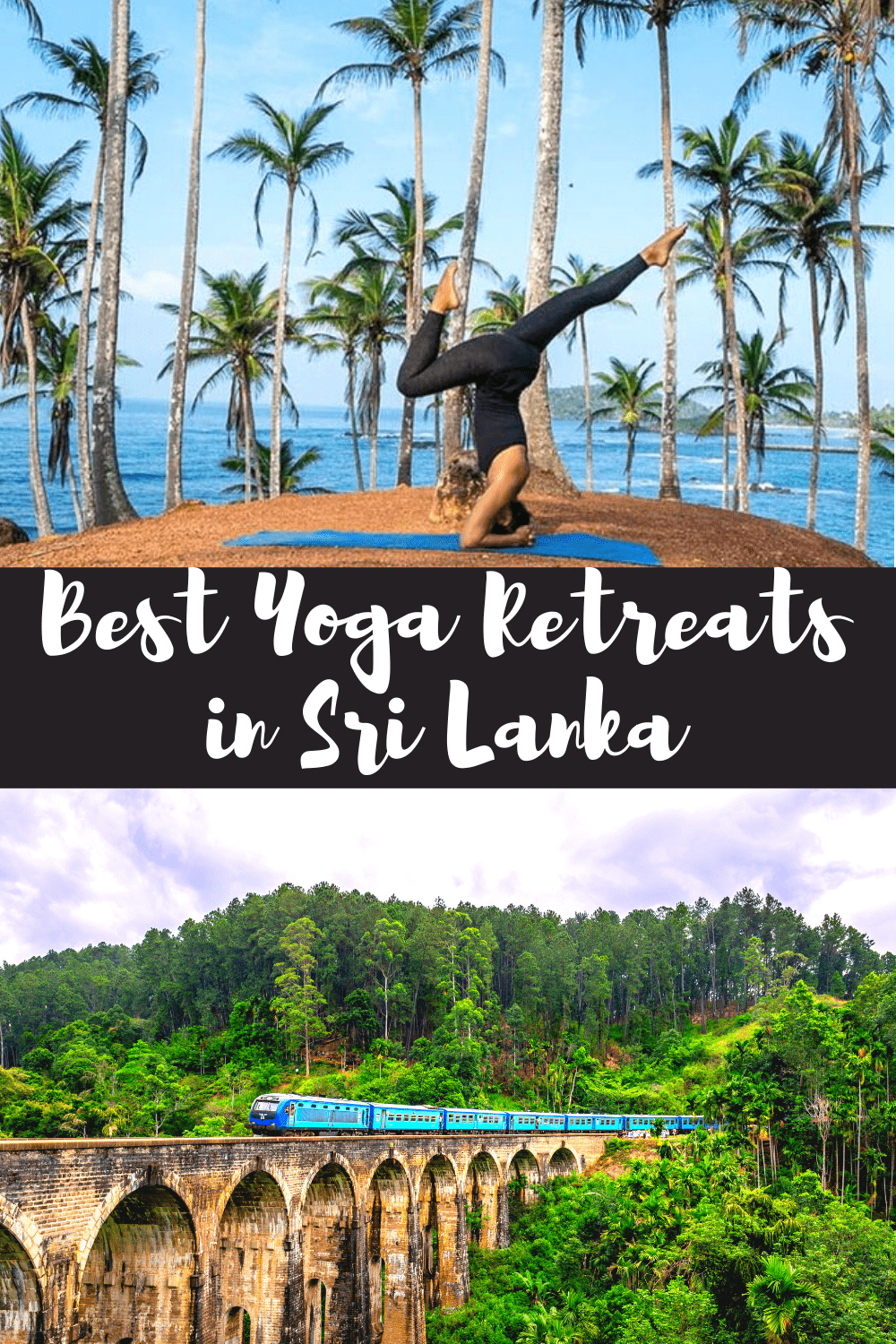 It's more important than ever to do your research and check reviews. I find www.bookyogaretreats.com really useful as you can read real reviews from people who've been there before. It's like the Booking.com for yoga retreats! To help you choose here are my recommendations for the best yoga retreats in Sri Lanka.
Covid Update: Sri Lanka is now open again for tourism. To check all the details and latest news visit the Sri Lanka Tourism website.  Also make sure you check the re entry requirements from your home country for when you return. As the situation could change at any time it's also more important than ever to have good travel insurance that covers coronavirus – mine is with SafteyWing. All these yoga retreats in Sri Lanka have also implemented enhanced hygiene and distancing measures to prevent the spread of coronavirus. (Note that the photos in the article were taken before Covid-19)
Read More: Why I love traveling in Sri Lanka
The Best Yoga Retreats in Sri Lanka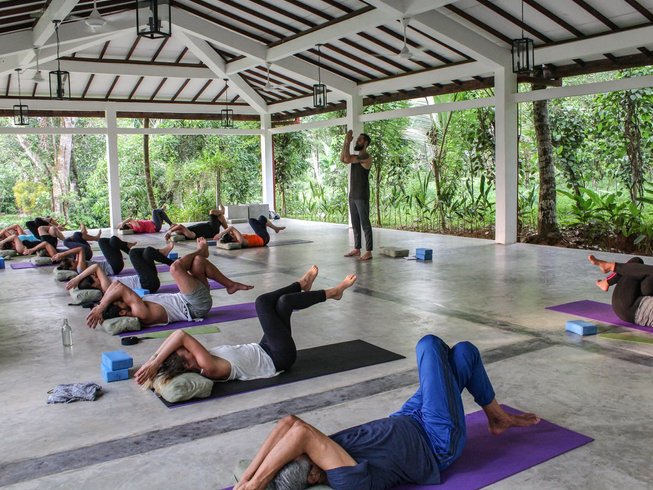 For one of the most mindful yoga retreats in Sri Lanka, consider a stay at the award-winning Plantation Villa in Kalutara. This yoga retreat offers classes for all levels in Hatha, Vinyasa, and Ashtanga styles. Instructors incorporate their expertise in meditation, Ayurveda, and varied yoga styles to provide a natural environment that helps free your mind from the distractions of our modern world.
Plantation Villas allows you to relax and focus on your wellbeing with personalised service to ensure your mind and body are fully detoxed and destressed. You'll stay in a beautiful, historic colonial villa in a room that opens up to a communal veranda, enjoy relaxing in the outdoor swimming pool and gardens, and refuel with natural, healthy foods that are locally and ethically sourced.
When not on the mat relax in the spa or soak up the ancient, local knowledge with plantation walks, cookery demonstrations and discussions about yoga philosophy, Ayurveda and meditation.  You'll also have the option to add on trips to beaches, temples, national parks and to explore the popular towns of Galle and Kandy. You'll soon see why this is one of the best yoga retreats in Sri Lanka!
See more details, dates, prices, reviews and book here!
Polwaththa Eco Lodge consists of 15 comfortable lodges, spread out in a pristine environment to give you that 'Living-in-the-Jungle' experience, close to the popular UNESCO listed ancient capital city of Kandy. The 4 day yoga, trekking, cooking, and reforestation retreat will help you reconnect to your body and to nature.
There's 2 daily yoga and mediation classes in Hatha, Vinyasa and Yin which are often accompanied by wildlife as monkeys and deer often pass by. Off the mat you will be trekking through the jungle, planting trees, visiting local homes, swimming in a waterfall and having a local cookery lesson. Healthy and authentic Sri Lankan meals are included and eco friendly accommodation. The team can also arrange trips to the nearby incredible cultural sites like Kandy, Dambulla Cave Temple and Sigiriya Rock for an additional cost.
Everything Polwaththa do is centred around eco friendly and responsible tourism. Your stay will directly contribute to their Forest Healing Foundation and you'll get to meet local people. This amazing yoga retreat in Sri Lanka is perfect for anyone looking to immerse themselves in nature and have a positive impact on their wellness, the environment and its people.
It's not just me who thinks it's amazing – check out the reviews, get more details, prices and book here!
If your search for yoga retreats in Sri Lanka has you daydreaming of practicing asanas and surfing surrounded by unspoilt, tropical paradise and magical vibes then The Salty Pelican may be just what you are looking for. This yoga, meditation and surf retreat is located on a headland right between two pristine beaches, and offers yoga for all levels in Hatha and Yin styles.
The recently built facilities of this retreat feature modern, clean, and comfortable amenities complete with a infinity swimming pool, yoga deck, and yoga shala surrounded by jungle greenery and it's only 200 meters from the beach! You'll eat at the poolside restaurant featuring delicious local ingredients, seafood, smoothie bowls, Sri Lankan coffee, and vegetarian and vegan dishes. Multi-cultural instructors offer diverse yoga classes, surfing instruction, and rejuvenating meditation sessions for all levels.
There are a variety of packages available. The 8 day yoga, mediation and surf holiday includes daily mediations, unlimited daily yoga classes, unlimited surf board hire and 5 surf lessons, accommodation, daily breakfast, 2 group dinners and a massage. You also have the option to join evening events, national park visits, exploring temples, markets and more beaches nearby.
See more details, dates, prices, reviews and book here!
Read More: The Best Surf Camps in Sri Lanka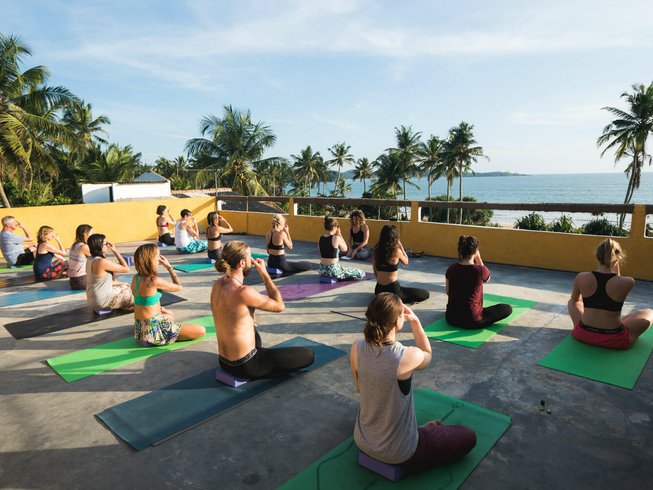 Have you experienced how powerful Breathwork is yet? This 8 day intensive breathwork and yoga retreat will take you on a transformative journey and provide a safe space to face buried feelings and emotions and teach you how to let them go with love.
You'll experience daily guided meditation classes, daily group breathwork sessions, mantras and affirmations, two multi-style yoga classes each day on the large rooftop shala at sunrise and sunset, delicious vegan meals, one Ayurvedic massage, accommodation and a supportive community vibe. There's also plenty of time to relax at the beach, go surfing, explore the area or just soak up the sun and tropical vibes in beautiful Weligama.
See more details, dates, prices, reviews and book here!
Surf & Yoga Mirissa is located in a laid back, bohemian jungle setting by the ocean in beautiful Mirissa where monkeys roam around freely. The friendly and knowledgeable team here focus on Hatha yoga for beginner and intermediate levels and offer yoga only or surf and yoga packages.
Twice daily yoga lessons are held on the lawn under the shade of the palm trees and at sunset on the cliff overlooking the Indian Ocean. A massage is also included and there's a gorgeous swimming pool surrounded by tropical greenery to chill out at.
Choose from a variety of accommodation options from wooden jungle cottages to air conditioned rooms, most with balconies. As well as a cafe, where the included continental or traditional Sri Lankan breakfast is served, there's also a library and plenty of hammocks, games and equipment you can use including a slackline. For lunch and dinner you can eat at the onsite cafe or you can explore the many cafes and restaurants nearby.
There's also the option to add on excursions to visit temples, tea plantations and go whale watching – Mirissa is also one of the best places to go whale watching in Sri Lanka!
See more details, dates, prices, reviews and book here!
Still looking for the perfect yoga holiday? Check out my round up of the very best yoga retreats around the world
Have you been on any amazing yoga retreats in Sri Lanka?
Leave your recommendations in the comments below the post and help out other yogis and travellers! 😊
Read More: