My Pick of the Best Yoga Retreats in Bali for 2023
Bali is a place that is filled with beauty, culture, heritage and spirituality and the amazing yoga retreats in Bali are among the best in the whole world.
Finally Bali has fully reopened for tourism without restrictions, so 2023 is the time to take that life changing trip to a Bali yoga retreat!
Bali is one of the best places in the world to take a yoga holiday. In fact, there are literally hundreds of stunning Bali yoga retreats making it hard to decide which one to book – that's why I wrote this post!
Why Bali's yoga retreats are the best in the world
Known as the 'Island of the Gods,' Bali is blessed with luscious landscapes, beautiful temples, a captivating culture and amazing art. The incredible spas, wellness retreats and yoga centres make it one of the best world's top yoga hotspots and wellness destinations.
I've spent a lot of time in Bali and been lucky enough to do several yoga holidays and retreats as well as yoga teacher training courses in Bali.
So I put together this post of the best yoga retreats in Bali based on personal experience, recommendations from friends and real reviews and testimonials from previous guests to make it easier for you to choose. I hope it helps make it easier to pick what I'm sure is going to be a life changing experience – as it was for me!
There are so many aspects that combine to make the yoga retreats in Bali the best in the whole world – the ancient Hindu culture, spirituality and philosophy, the gorgeous scenery,  great weather, fresh and healthy food and all the other yogis and like minded people to meet. Also the Balinese people are some of the most genuine, happy and friendly people in the world.
India may be the birthplace of yoga, but in many ways Bali is a better place to practice yoga, especially for solo female travelers. I love India but it can be a challenging place to visit.
Bali is a Hindu island, so the religion is very similar to India's, but Bali is so much more relaxed, modern, cleaner and safer for female travelers than India whilst still being deeply spiritual and mesmerisingly beautiful.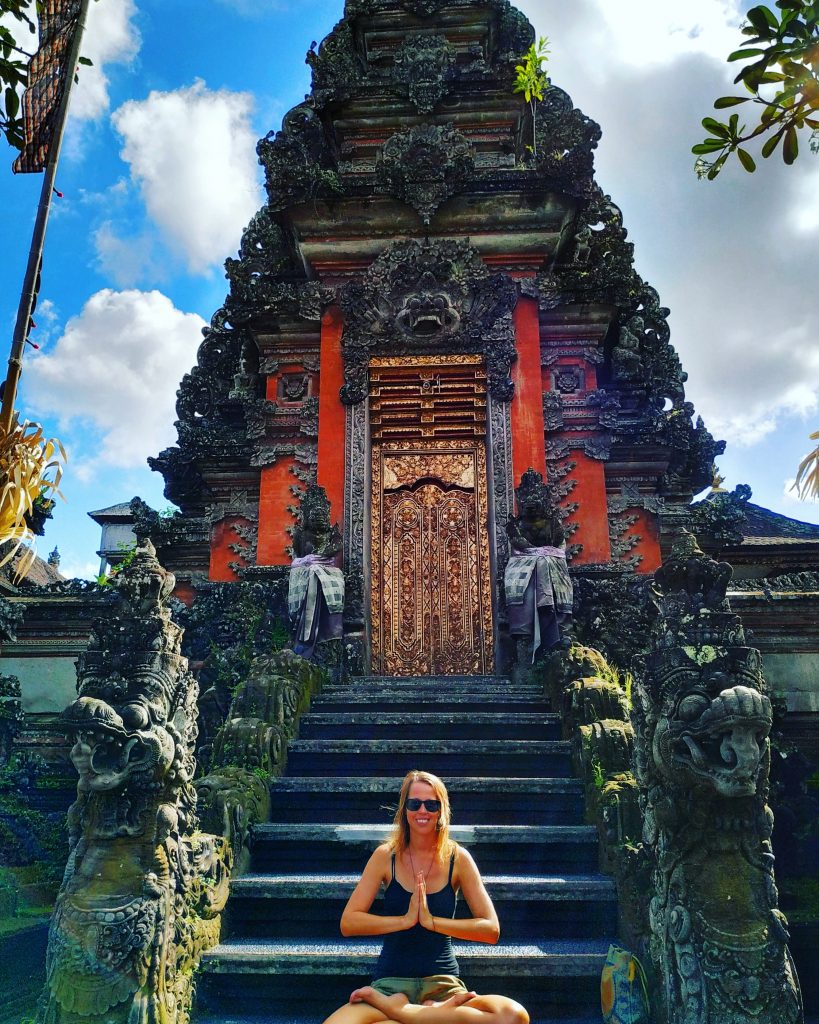 Where to take a Yoga Retreat in Bali
The island of Bali is larger than most people realise and there are a variety of places to take a yoga retreat.
The yoga hotspot and spiritual, cultural and artistic heart of Bali is Ubud and, especially after the movie 'Eat Pray Love' seekers flock here for yoga and wellness retreats and to soak up the magical Ubud vibes.
The book was actually based on a true story and there are still medicine men and traditional healers in Bali and a real magical energy that is not possible to describe in words which can only be experienced.
Pin Me 🙂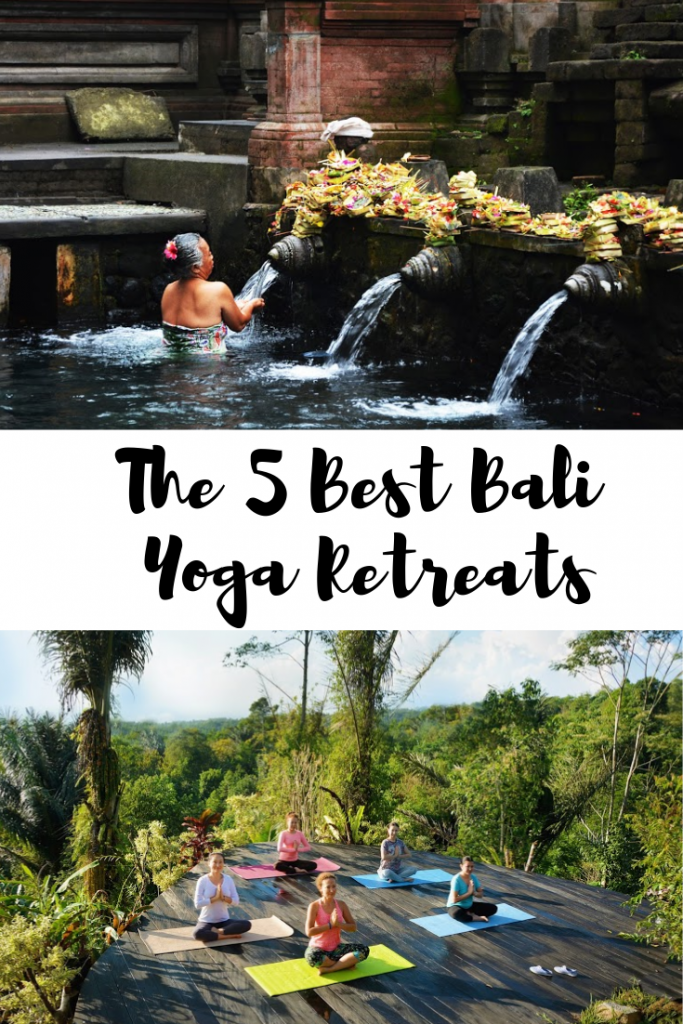 Did you know that the name Ubud comes from the Balinese 'Ubad' which means medicine. Ubud has long been known as a mystical place, rich in healing powers so it's not surprising that people flock here to find healing, inner peace, to learn to live a healthier way of life and find their own sense of spirituality.
There's everything from spiritual ashrams to luxury yoga retreats and The Bali Spirit Festival is held in Ubud in May.
Canggu and Ulu Watu are also rising yoga hotspots that suits those who want to combine a yoga retreat with beach time or even surfing as many Bali retreats offer both.
Bali is also a surprisingly affordable place to travel, practice yoga and indulge in spa treatments like Balinese massages with yoga retreats in Bali starting at only $108!
And don't worry, you don't need to be an expert yogi – there are many 3 day Bali yoga retreats for beginners too if you just want to get a taste.
Bali is also arguably the best place in the world to do yoga teacher training and many yoga centers bring in famous teachers from India and from the West so you get the best of both worlds. For more on Bali YTT's (and exclusive discount codes) check out this post.
I also think Bali has some of the best spas and wellness retreats in the world, many also offer yoga classes with their treatment packages. Five Elements, Desi Seni, Coco Shambala and Udara Spa are just a few of the best but that will be another post….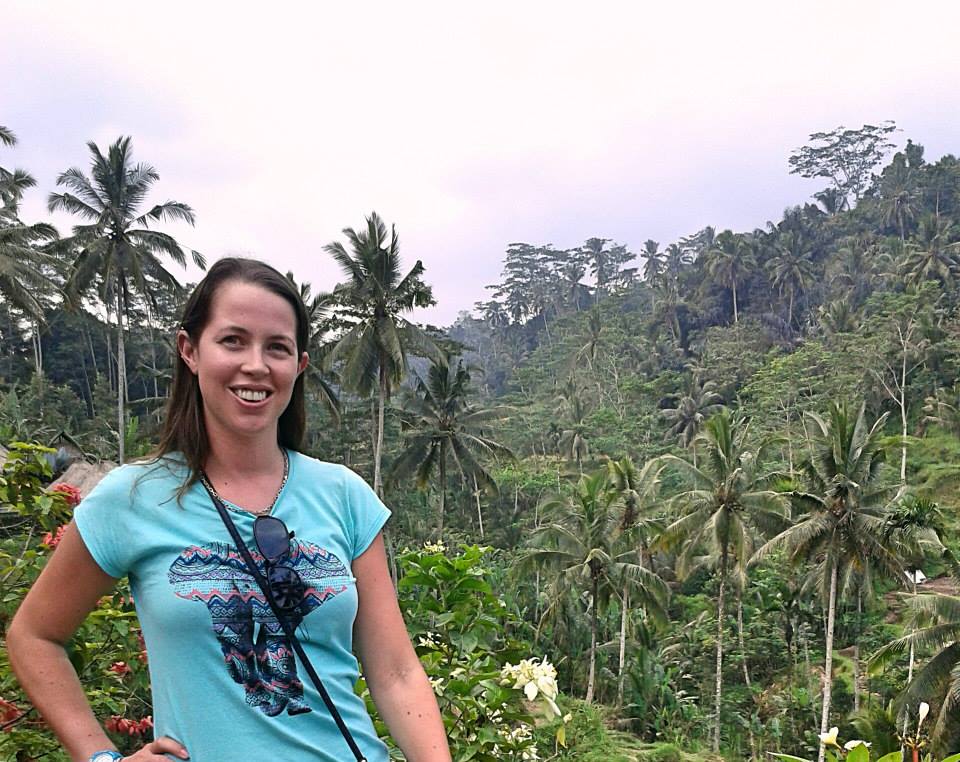 How to find Bali yoga retreat reviews
You need to be careful when following the spiritual path as yoga has become big business nowadays and sadly not all 'gurus' are the real deal and 'Me Too' is sadly also a thing in the yoga world. Did you hear about what happened at Agama in Koh Phangan?
Traditionally it's been hard to find reviews for yoga retreats in Bali and it's always best to try and get recommendations from friends or people who've been there already. I also love www.bookyogaretreats.com because it's like the Booking.com for yoga retreats.
On this site you can find all kinds of yoga retreats for all different styles and levels, learn more about the instructors and daily schedule and, most importantly, check real reviews, testimonials and book your place.
The Best Yoga Retreats in Ubud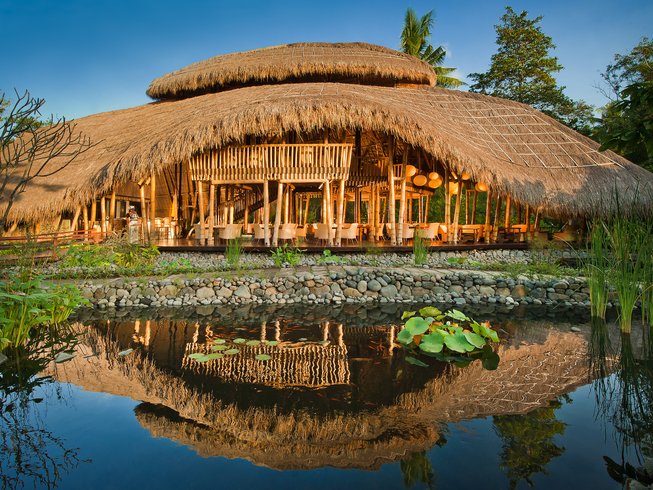 This award-winning eco-conscious centre is one of the very best Bali yoga retreats which is both deeply luxurious and also still deeply rooted in the ancient traditions of Bali. It's set in the jungle right alongside the sacred Ayung River, offering the perfect environment for healing, relaxation, rejuvenation and getting back in touch with your true self and with nature.
Five Elements is a healing and wellness centre that specialises in offering a large range of personalised retreats to suit your exact needs. Five Elements boasts holistic Balinese-inspired therapies that are administered by traditional Balinese healers by using ancient wisdom passed down to them.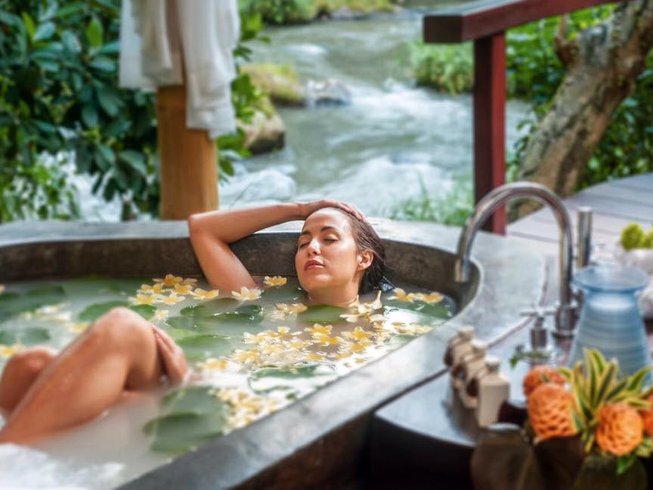 They offer luxury Bali wellness retreats that last anywhere from 4 to 22 days and are suitable for beginners. Retreats include daily yoga classes, meditation sessions, massages, energy and water healing sessions, 3 healthy gourmet meals a day and special healing consultation and Balinese blessing ceremonies. Even beauty treatments and airport transfers are included.
Not surprisingly, Five Elements is not a cheap Bali yoga retreat but you get what you pay for. This retreat is pure bliss, from the luxurious riverside suites, right down to its heated 'Watsu' therapy pool and healing ceremonies – it's one of the very best luxury yoga retreats in Bali.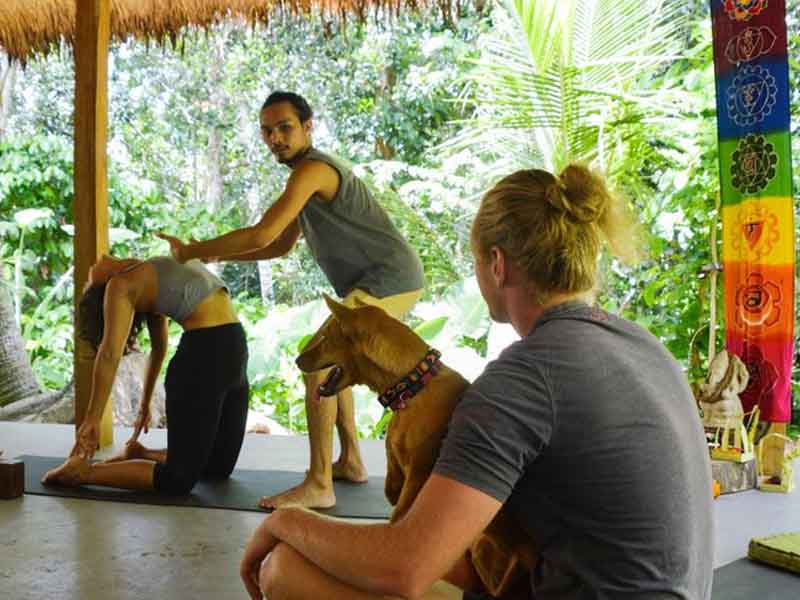 Although Bali Firefly has been around for many years, it was transformed into the bliss that it is today by Penny Adams and Wayne Furlong and is now one of the most popular Bali yoga retreats. It's a magical place nestled in the rice paddies with great views of the sacred Gunung Agung in the distance and within easy walking distance to Ubud.
It is one of the best choices for anyone looking for an affordable Bali yoga retreat that it is also great value for money. They offer an 8-day retreat that includes daily yoga classes, organic vegetarian meals and a few excursions, as well as accommodations in a villa, in which there are 3 options to choose from.
They offer a variety of different styles of yoga, including Hatha, Vinyasa and Yin, all of which are great for any level and are a good choice if you're looking yoga retreats in Bali for beginners.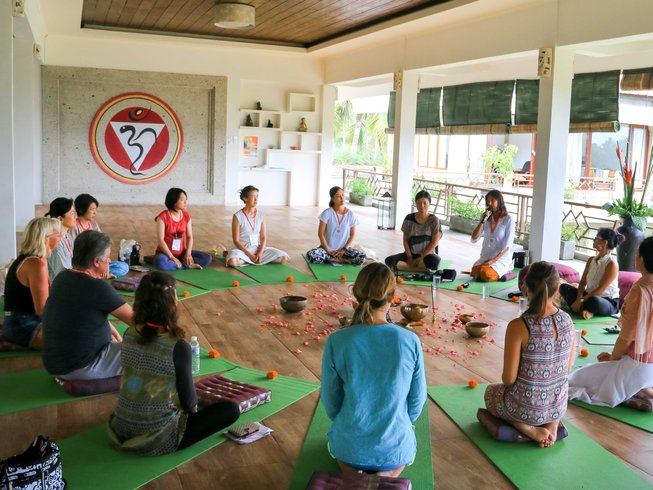 If you came to Ubud looking for an authentic, traditional Balinese healing and yoga experience then Om Ham Retreat and Resort is one of the best yoga retreats in Bali for you. Just a short drive outside the main town of Ubud is a unique holistic retreat, infused with love, good intention and tangible energy. Om Ham is the perfect place to recharge positive energy in an awe-inspiring and natural environment.
The authentic Balinese Master Guru Ketut Asana is from a a family of traditional Balinese shamanic healers and founded this center in 2014 based on Ashram Munivara's mission to help people find their true selves through holy knowledge, puja, yoga, meditation, holy song etc.
The yoga classes here are unique, based on the traditional Kundalini Tantra yoga style inspired by Balinese Master Guru Ketut Asana are a specialty of this place and are truly a unique experience.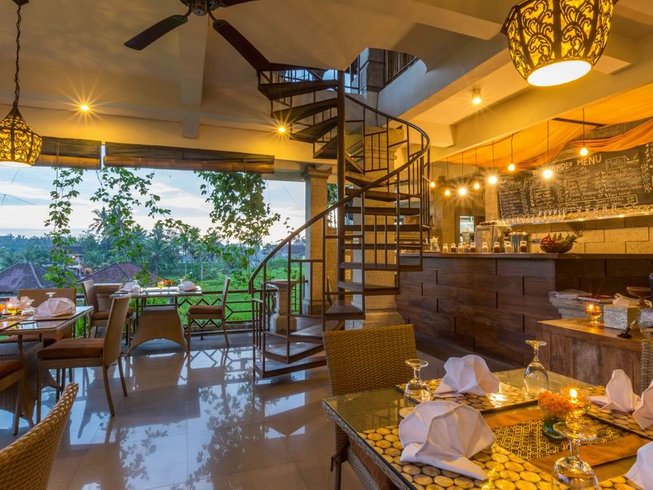 The resort is overflowing with a beautifully tranquil, magical, spiritual and positive vibe.  All rooms face outward to the picturesque rice fields and a beautiful swimming pool area. The staff are Om Ham are lovely and the organic and healthy food is prepared and served with lots of love. I especially liked the included afternoon tea and the blissful spa on site.
Retreats can be customised depending on your needs – check out the different retreat packages here to find the one perfect for you. Taking a retreat at Om Ham also offers the best of both worlds because if you want to explore more of Ubud there is a free shuttle service into town and the staff can also organise sightseeing tours of Bali, one of the highlights is the traditional water purification ceremonies held at an ancient Balinese temple. This is definitely one of the best and most authentic Bali yoga retreats.
The Best Yoga Retreats in Canggu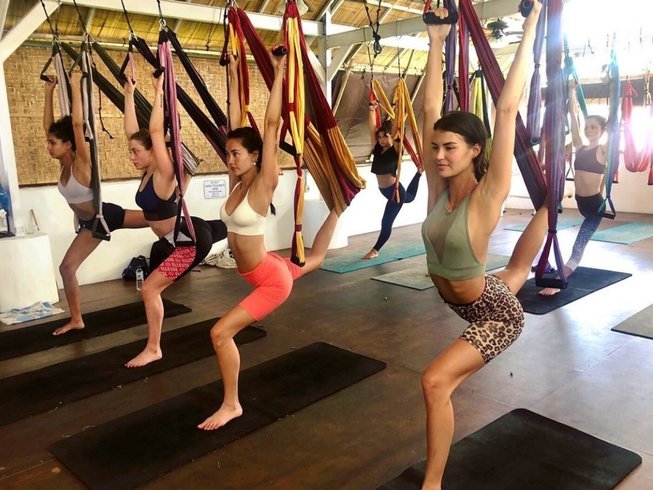 If you're looking for an unlimited Bali yoga holiday where you experience many different styles of yoga then this holistic lifestyle retreat center, 150 metres from the beach in the popular Canggu region, is perfect.
You can practice as much yoga as your body and mind need. On this retreat at Serenity Eco Guesthouse, you can practice 'unlimited yoga', with over 20 different yoga styles on offer and 10 classes each day including hatha yoga, ashtanga and vinyasa, yin and restorative yoga as well as acro yoga and even ariel yoga. 
There's no need spend all your time on the mat though, as your stay includes a one-hour Balinese massage, access to the swimming pool, and plenty of activities in the surrounding area, including surfing and cycling. Enjoy a daily vegan breakfast buffet to fuel your day, however active you choose for it to be.
They have crazy cheap reopening offers on right now from only $108 per person for a weeks accommodation and unlimited yoga making this one of the most affordable and best value unlimited yoga retreats in Bali! Don't miss this!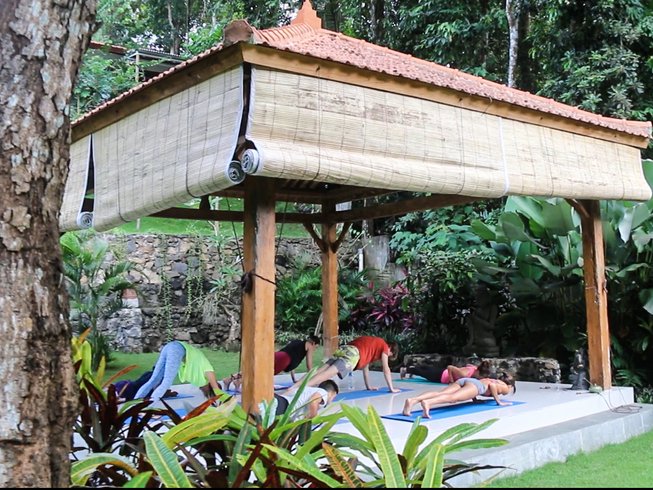 For an opportunity to be immersed in Bali's unique culture, a true sense of escape and a taste of the local chilled-out lifestyle, combine yoga with surfing at Pelan Pelan Bali, just north of Canggu. 
This 8-day yoga and surf retreat in Canggu includes four Hatha yoga classes, three massages, and surf tuition from local experts. Aside from time on the mat or on the waves, you can explore the stunning local surroundings, with cycling, excursions to coffee plantains, and even silver jewellery making classes.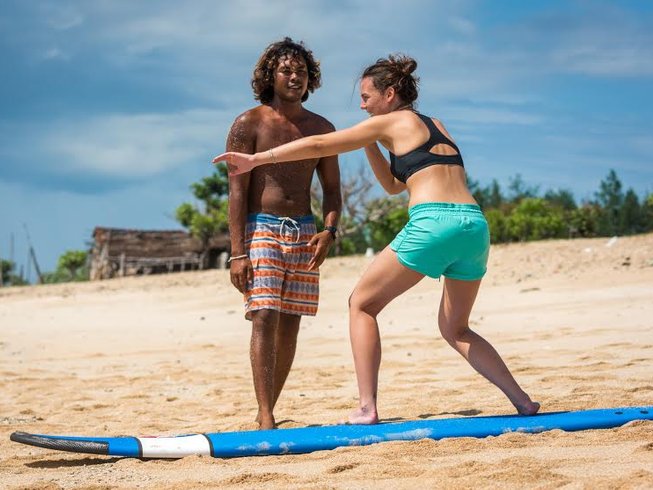 During your stay, you can experience freshly-cooked Indonesian dishes, with ingredients picked up from the market that morning. Your comfortable room overlooks the gardens and large outdoor swimming pool. No wonder Pelan Pelan is one of the most popular surf and yoga retreats in Bali right now!
More Amazing Bali Yoga Retreats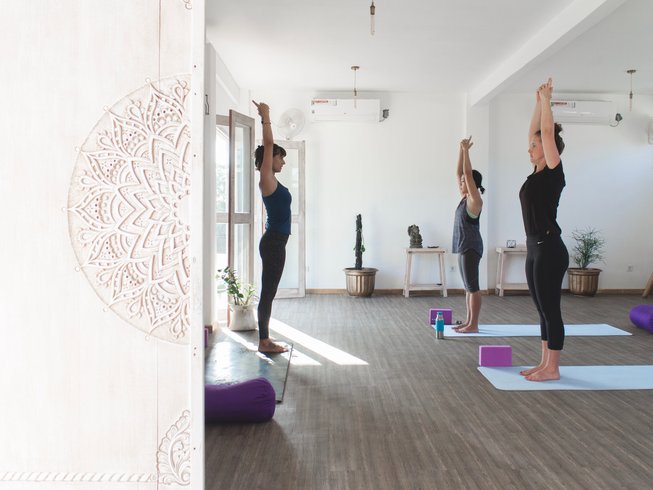 Whatever your experience in yoga or surfing, you'll be welcomed and fully catered for at Isla Indah Retreat and Monkey Surfing.
Located away from Bali's main tourist hotspots on the blissful island of Nusa Lembongan, you can discover the traditional culture and beautiful landscapes between your workshops. This island is one of my favourite places in Bali and is just a 30 minute boat ride from Sanur.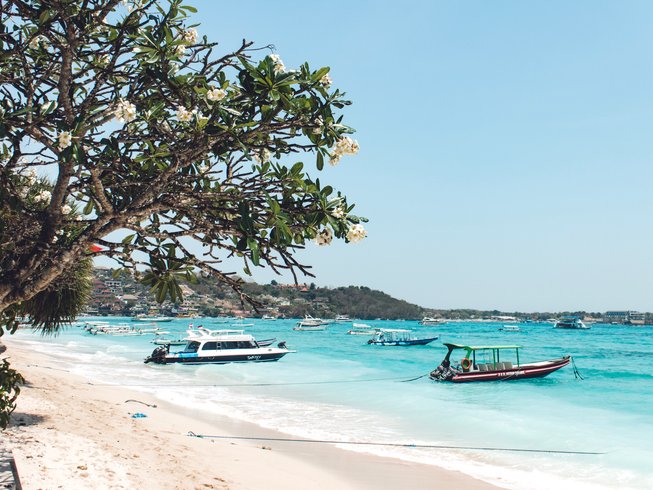 Surf classes are kept small to ensure all guests are comfortable and safe, and are followed by daily meditation and yoga classes to relax the mind and ease out any aching surf muscles. There's also an amazing included excursion to snorkel with the local manta rays!
The private bedrooms have king size beds and air conditioning, for peaceful nights after active days of exploration.  This is one of the best surf and yoga holidays in Bali for those who want to escape the crowds and relax in tropical island bliss.
For those seeking to write a chapter of their own 'Eat, Pray, Love' story, Bali Green Retreats has created this nourishing 12-day retreat. With a focus on Watukaru yoga – the traditional Indonesian practice rich in meditation, chanting, and chakra-opening – you'll be instructed by teachers from one of the world's oldest ashrams. 
Aside from spiritual immersion, you'll have the opportunity to discover the local culture, from coconut oil making to Balinese dance. Bali Green is one of the most sustainable and eco friendly yoga retreats in Bali and proudly supports sustainable tourism and enriching the local communities. 
All meals are included, and you can expect delicious and healthy dishes, freshly prepared from local ingredients. You'll also be treated to two tropical juices each day.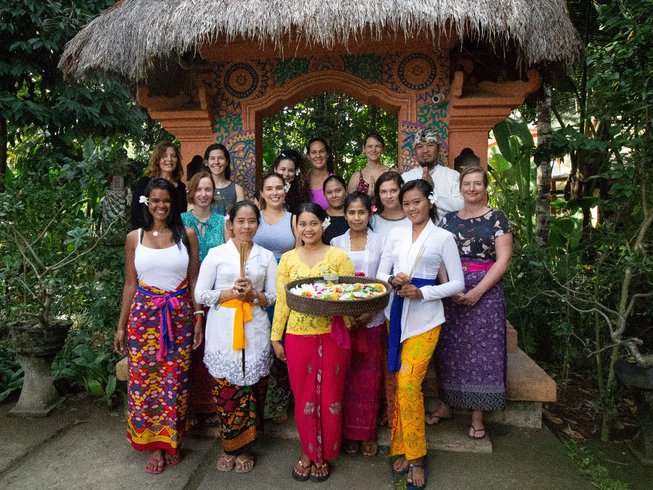 Shanti Toya ashram is surrounded by jungle and rice paddies – an idyllic setting for a 7-day spiritual Bali yoga and wellness retreat.
Your teachers will guide you through two yoga classes each day, including Hatha, Vinyasa, and Yin styles. You'll take part in a Balinese dance class and receive a traditional massage, as well as the option to attend a cooking class to prepare local food and a traditional healing drink. 
Your classes will take place in the bamboo-thatched shala, and you can also unwind in the outdoor swimming pool or discover the nearby holy river spring. All vegan meals are included, as well as fresh coconut water each day. 
This is also one of the most affordable yoga retreats in Bali as prices start at only $249 and it's located between Ubud and the beaches of South Bali making for a peaceful setting.
Balitrees is a traditional Balinese yoga retreat and healing sanctuary that offers a real escape from modern life and a unique Balinese spiritual and yoga retreat experience.
Balitrees is located in the spiritual village of Sesandan in the Tabanan area which is a quiet part of the island, surrounded by rice paddies and swaying palm trees for a truly authentic Balinese experience.
The instructors are local Balinese traditional yoga and meditation instructors that studied under famous local master Perguruan Seruling Dewata and they teach a unique form of yoga and mediation called traditional Balinese Watukaru Yoga.
There are many different retreats to choose from, most include Balinese Watukaru yoga sessions, Balinese culture, massage, waterfall trips and yoga on the beach at sunset, chakra meditation, Tali Rasa (Balinese Thai Chi) and Pencak Silat (a form of Martial Arts).
Yoga retreats here last anywhere from 3 to 8 days and include accommodations, 3 healthy meals a day and a daily cultural activity in the nearby village. They also offer an 8 day teacher training course.  Check out this unique Bali yoga retreat if you want the authentic Balinese experience!
Cover and Pinterest Photo Credits: Nailya Akhundova
Read More Bali Yoga Blogs:
I'm lucky to be able to choose to spend alot of time in tropical, spiritual places with great yoga – check out my pick of the best yoga retreats and yoga teacher training courses in Goa and the best yoga retreats in Koh Phangan, Thailand
Have you been on an amazing Bali yoga retreat? I'd love to hear about your experiences so please leave a comment below