Bali, also known as 'the island of the gods,' is one of the world's most enchanting destinations. It's a larger island than most people realise and there's so much to see and do that it can be hard to plan your Bali itinerary.
From epic surf and diving to beautiful beaches, mesmerising temples, stunning rice terraces and waterfalls, some of best yoga retreats in the world and some of the nicest people I've ever meet – there's so much to love about Bali!
The Best 2 Week Bali Itinerary
I've been lucky enough to live in Bali and explore every inch of this beautiful island several times, so I thought it was about time I put all my tips into a 2 week Bali itinerary.
Some of the best things to do in Bali are surfing, yoga and exploring the stunning nature and unique culture of this deeply spiritual island.
So this is my ideal itinerary for 2 weeks in Bali which includes plenty of yoga and surfing and will allow you to experience the spiritual side of the island of the gods.
Read More: 10 Absolute best things to do in Bali
Pin Me 🙂
If you only have 2 weeks in Bali you want to make the most of your time so this Bali itinerary includes just the highlights. I've skipped all the bits that I didn't absolutely love (ie Kuta Beach!) and just included my absolute favourite places and experiences in Bali.
As Bali is one of the best places in the world for surfing and yoga my Bali itinerary focuses on combining these activities with sightseeing.
So if you want a healthy, fun and active 2 week Bali itinerary with a focus on yoga, surfing and spirituality them I've been there and done the research for you – just follow my itinerary to have the best 2 weeks in Bali! 🙂
Read More: Where to Stay in Bali: The lowdown on all the areas and hotel recommendations to suit all budgets 
How to Spend 2 Weeks in Bali
Bali Itinerary Day 1 – 4: Surfing @ Canggu
Start your 2 week Bali itinerary by flying into Denpasar (DPS) the only airport. I always check Skyscanner to find the cheapest flights.
If you only have 2 weeks in Bali then give the busy areas like Kuta beach, Legian beach and Seminyak beach a miss and instead head straight to cool Canggu beach – Bali's hippest surf, yoga and digital nomad hot spot.
Canggu isn't as busy as Kuta but still has loads of cool beaches and surf spots including Echo Beach and Batu Bolong. There's also tons of cafes, bars, shops and yoga studios.
Canggu is also close to Tanah Lot temple and surrounded my green paddy fields instead of high rise hotels. Click here for more about the coolest things to do in Canggu.
Where to stay in Canggu:
I stayed at Stormrider Surf Camps. The wooden traditional style accommodation is in a great area of Canggu surrounded by rice paddies and overlooking the swimming pool.
Each morning, after a sumptuous breakfast,  we visited the most epic surf spots, chilled on the beach at lunch and in the evening cooled down with some great yoga sessions. Bliss! They even pick you up from the airport and its perfect for beginners. The 3 day package is perfect if you want to fit it in to a 2 week Bali itinerary.
Click here for my recommendations of the best places to stay in Canggu and check out more surf camps in Bali here.
Ulu Watu is another good place to start your Bali itinerary. The surf here is better suited for my experienced surfers but there are some beautiful beaches, luxury resorts with stunning views from the cliffs and the Ulu Watu temple to check out.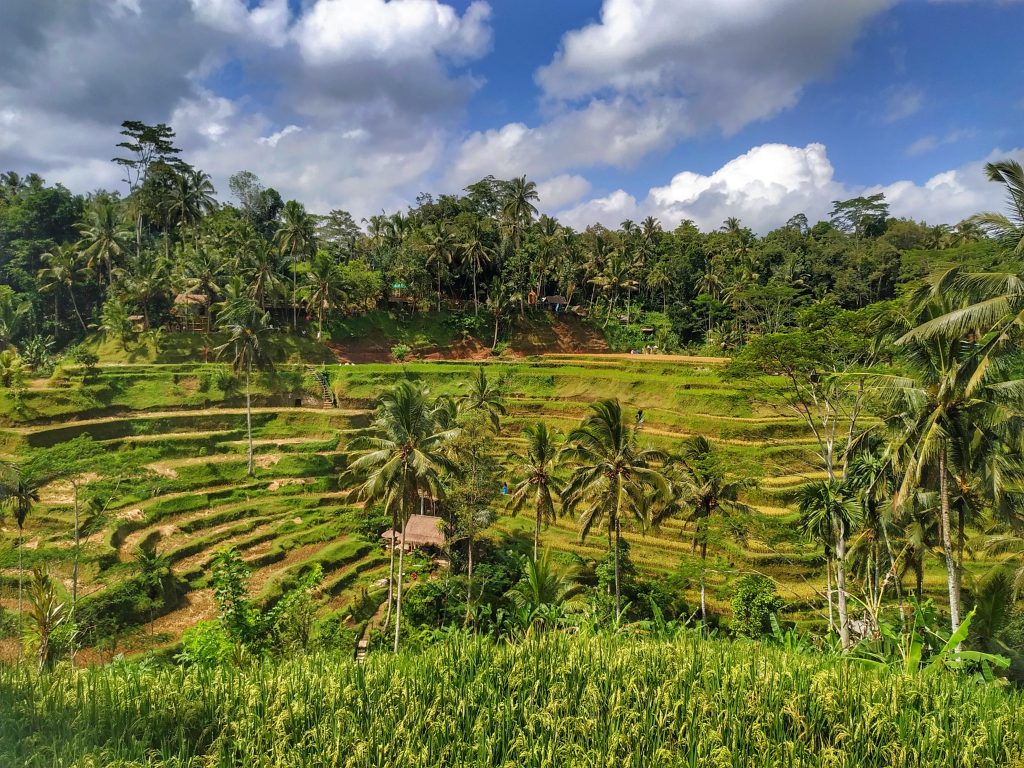 Bali Itinerary Day 5 – 9: Yoga and Temples @ Ubud
After you've had a your fix of surf and beaches head inland up to Ubud – the cultural and spiritual heart of Bali. If you're looking for the spiritual side of Bali then Ubud will be a highlight of your 2 week Bali itinerary.
Visit the sacred monkey forest, Ubud palace, the stunning Tegalalang rice terraces and the many temples, stay in one of the world's best yoga retreats and eat in the many almost unbelievably delicious raw vegan restaurants. Check out more things to do in Ubud here.
Ubud also makes a great base to explore the rest of the island including some of the most magical temples – my favourites are Ulun Danu Beratan (the temples that looks like it's floating on the lake), Pura Besakih (the mother temple) and Tirta Empul (a water purification temple.)
You can rent a scooter to explore the temples and rice terraces or if you want to see the best of all Bali's most beautiful and instagrammable spots in just one day you can take this popular Bali Instagram tour – the tour guide will even help you get the perfect insta worthy shot.
Where to Stay in Ubud:
I stayed at Om Ham Retreat just north of Ubud which was the highlight of my 2 weeks in Bali. I really enjoyed the unique style of Kundalini Tantra yoga taught there by an authentic Balinese guru.
There was plenty of time for me to rent a scooter and explore as well as just chilling in the swimming pool overlooking the rice paddies, enjoying the massages in the spa, the yummy, healthy food and kundalini smoothies.
There are yoga retreats in Ubud to suit all styles and abilities though and there are also many amazing places to stay from family run homestays to luxury villas with infinity pools overlooking the jungle and rice terraces.
Check out this guide to yoga in Bali for more and see my recommendations for where to stay in Ubud and the best yoga retreats in Ubud.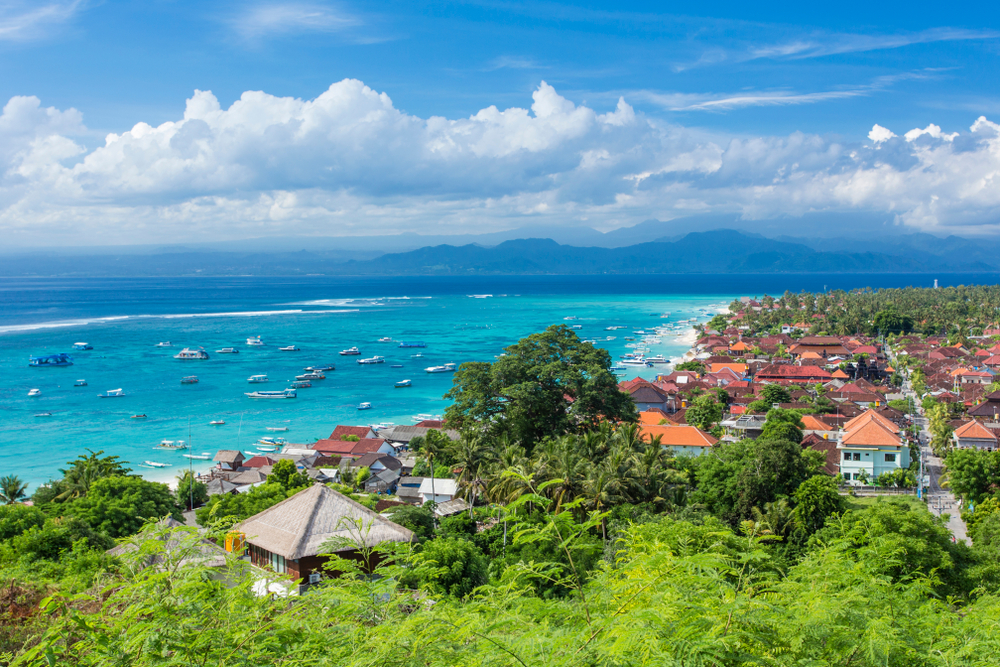 Bali Itinerary Day 10 – 13: Diving and Snorkeling @ Nusa Lembongan
Nusa Lembongan, along with Nusa Cenigan and Nusa Penida are 3 small tropical islands only 30 mins boat ride away from Sanur (get your boat ticket here) and just might be my new favourite place in Bali.
You could visit the smaller Gili Islands instead, but I prefer these islands as there's more local Balinese life and culture here. It's like Bali used to be before the crowds came. They are also much closer so saves you time if you are planning a 2 week Bali itinerary and want to fit in as much as possible.
The Nusa Islands have some of the best snorkeling and diving spots in the world where you can dive with giant manta rays and turtles on the surrounding reefs.  There are so many options for snorkeling trips, discovery dives and padi diving courses on the island and you don't need any experience to try a fun dive with Lembongan Dive Center.
There are 3 islands to explore here – Nusa Lembongan and Nusa Ceningan are connected by a super cute yellow suspension bridge and Nusa Penida is largely unexplored and contains some of Bali's most stunning natural beauty spots. It's also really fun to explore the island by scooter or just laze on the blissfully uncrowded beaches and soak up the epic sunsets. See here for more things to do in Nusa Lembongan.
Where to Stay in Nusa Lembongan:
I stayed at Nyoh Gading Homestay and Hostel which has dorms and private rooms, a lovely swimming pool and chilled café area and great staff and it's less than 1 minute walk from Jungtu Batu Beach – the best area to stay on the island.
Also see my recommendations for more of the best places to stay in Nusa Lembongan here.
If you have more time then I'd recommend hopping on a boat and visiting the paradisaical tiny Gili Islands and Lombok, but it might be hard to fit these in to a 2 week Bali itinerary.
Bali Itinerary Day 14: Sanur
If you've got an early flight then it's probably a good idea to plan your 2 week Bali itinerary so that you spend your last night back on the mainland. Sanur is a good place between the islands and the airport with a calm beach and plenty of beach front cafes.
Ulu Watu, Nusa Dua or Jimbaran are also good options as they are close to the airport and have wonderful beaches with a great choice of luxury resorts.
Read this post for a detailed explanation of all the different areas to stay in Bali to help you decide.
Essential Tips for Planning Your Bali Itinerary
Best time to visit Bali
If you're planning an active 2 week Bali itinerary you should check the weather beforehand to make sure you'll be able to do all the activities you want to do.
As a tropical island, Bali is warm all year round with the temperatures being between 28°C and 32°C (82°F to 90°F) however, the more mountainous areas, like Ubud, are slightly cooler.
There are two distinct seasons in Bali that you should know when planning your Bali trip – the wet season and the dry season.
The dry season is from April – September. This is the best time to visit Bali for beach days, sunbathing, hiking, diving and most outdoor activities. It's also the main tourist season with July and August being the busiest months. Experienced surfers can surf all year round in Bali but beginner surfers will be better off visiting Bali in the dry season.
Bali's wet season is from November to March. Frequent tropical downpours give Bali it's famous, luscious, tropical, greenery. The wet season is a good time to visit Bali to escape the crowds and enjoy cheaper prices at the spas and luxury resorts. Christmas and New Year are still busy though. It doesn't rain every day though, East and North Bali are not so wet, but Ubud sees a lot of rain.
For me, the best time to visit Bali is the shoulder seasons like April and May and September and October. It can be a little hot and humid and you might experience a short downpour but you'll get to enjoy all Bali has to offer while avoiding the peak season crowds and prices. May is also when the Bali Spirit Festival is held!
Visas for Bali
Most nationalities can get a 30 day Visa on Arrival at the airport which costs $35 USD . The visa fee can be paid in cash in several major currencies or by card. Once you arrive, walk to the right as you exit the airport and get a fixed-rate coupon for an official taxi.
You can extend the visa by a further 30 days by visiting the immigration office in Denpasar.
Getting to Bali and getting around
If you're planning a 2 week Bali itinerary then make sure you allow enough time to get there! Bali is close to Australia and a long way from Europe and America. Ngurah Rai International Airport (DPS) also known as Denpasar International Airport in the south is Bali's only airport.
There are many flights to Bali from Australia but there are limited direct flights to Bali from Europe or North America. To reach Bali from Europe or America you'll probably have to fly to one of the Asian hubs like Singapore, Kuala Lumpur and Bangkok from which there are frequent flights to Bali .
All these cities are exciting destinations in their own right so why not plan your itinerary to have a few days stopover and break the journey by exploring somewhere like Singapore on the way.
Getting around Bali can be a bit tricky as there isn't really a proper bus or public transport system and the popular tourist destinations can get a bit congested with traffic so it's important to plan your 2 week Bali itinerary carefully to avoid wasting time being stuck in traffic.
Locals use Bemos (mini buses) to get between the villages but it's not the quickest or easiest way for tourists to get around the island. There's is the Kura-Kura Bus, a public shuttle bus service that operates daily between the popular tourist areas of Bali.
If you are planning a packed Bali itinerary and want to see alot then the best way to get around Bali is to either rent a motorbike or car or hire a taxi or driver to get around.
Gojek is an online taxi and motorbike taxi app that works in the most developed areas of Bali and is a cheap, safe and convenient way to get around. They can also deliver food or groceries to you.
Hiring a private driver in Bali is not expensive and is a good way to do a day's sightseeing if you don't want to drive yourself or join a tour as you get the freedom to go wherever you want on your own schedule. If you want the contact for my driver just email me.
I hope you found this 2 week Bali itinerary useful, if there's any more Bali travel tips you need just leave a comment below.
More Bali Blog Posts:
Where to Stay in Bali – The Best Areas and Hotels