From vibrant and multicultural modern cities to historic and charming colonial towns, tropical islands surrounded by turquoise waters, scenic green tea plantations and the oldest rainforest in the world, there's a wonderful diversity of places to visit and things to do when backpacking Malaysia.
With such a diverse country it can be confusing figuring out how to fit in all of Malaysia's highlights into one trip. So after several trips in this amazing and underrated country in Southeast Asia, I've put together the ultimate 1 month Malaysia itinerary and backpacking route that covers it all to help you out.
The Ultimate 1 Month Backpacking Malaysia Itinerary and Route
Planning your Malaysia itinerary
Before you start planning your trip to Malaysia you need to know that Malaysia is divided into two parts, Peninsular Malaysia and Malaysian Borneo. Entering Borneo from Peninsular Malaysia is like arriving in another country, with its secluded beaches, orang-utan sanctuaries, and national parks with caves and dense jungles. The two are connected with low cost flights but it's still like visiting two different worlds.
To see everything I've mentioned in my ultimate backpacking Malaysia itinerary you'll probably need about 1 month if you spend a few days relaxing and soaking up each destination – although you could do it quicker if you don't mind traveling at a faster pace.
If you only have 2 weeks in Malaysia then chose either peninsula Malaysia or Borneo Malaysia to explore. Or create your own 2 week Malaysia itinerary using the destinations and parts of my itinerary that appeal to you the most but don't miss Kuala Lumpur, Penang, Langkawi, Cameron Highlands, and Melaka. You can take some day trips from Kuala Lumpur to save some time too.
If you are planning a 1 week or 10 days Malaysia itinerary I would recommend only spending a day in KL and heading to Penang and Langkawi via the Cameron Highlands. These are the easiest and best places to visit in Malaysia if you only have a short trip. Then start planning your trip to come back to see Borneo next time!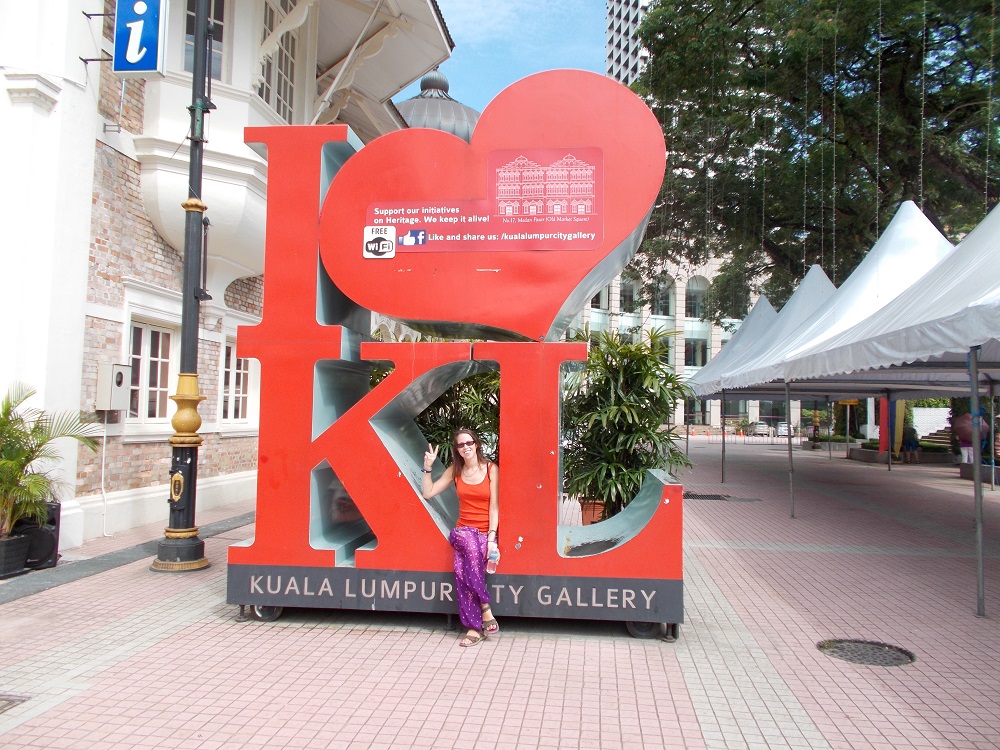 Why I Loved Backpacking Malaysia
From the colonial port city of Malacca, to the lush green tea plantations of the Cameron Highlands, there's so much diversity to explore when backpacking in Malaysia. I also love the captivating fusion of Malay, South Indian and Chinese cultures, religions and food all over Malaysia.
Multicultural Malaysia is one of the most underrated countries in South East Asia and its no way near as touristy as neighbouring Thailand but it ought to be with the diverse amount of things to see and do here.
Malaysia is also one of the easiest countries to travel around, with its efficient bus and flight system and many local people speak English. You'll find taxis and even Ubers in some of the bigger cities, along with metros and boats. It's also a very affordable country for backpackers.
Pin Me 🙂
Essential Info for Backpacking Malaysia
Malaysia Backpacking Budget
From $25/day. Read More: My Malaysia backpacking budget.
When to visit Malaysia
The weather differs on the west coast and east coast of Malaysia. It's recommended to visit the west coast during the winter months of December to February, while islands on the east side are better during summer, from June to August.
The driest months in Kuala Lumpur are during summer, May to August, while in Penang it's driest during November to January. Borneo has the best weather during the summer months, June to August. More info here.
Visas for Malaysia
Many nationals from countries such as U.K., U.S.A., Australia, Canada, and New Zealand get 90 days visa free entry to Malaysia.
Getting around Malaysia
Malaysia's transportation system is comparable to Western standards. Kuala Lumpur has a metro, and there are hundreds of flights every day around the country.
Luxury buses reach every part of peninsular Malaysia, and Uber operates in both peninsular Malaysia and Borneo. You can even book buses in Malaysia easily online now using 12 Go Asia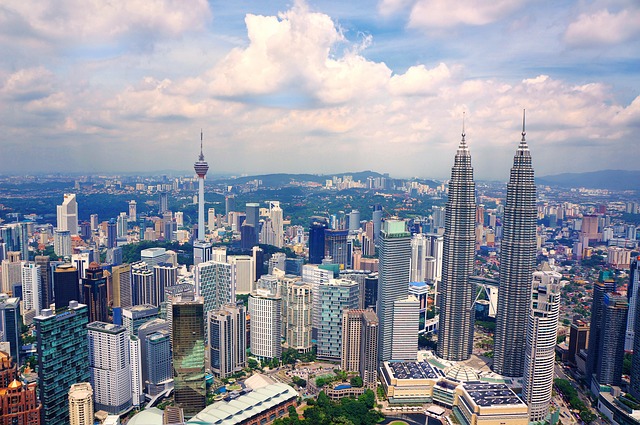 Backpacker accommodation in Malaysia
You'll find anything from backpacker hostels and campgrounds to luxurious resorts in Malaysia.  Places like the Cameron Highlands have mostly cosy guesthouses, while cities like Penang and Kuala Lumpur have everything from tiny guesthouses to modern hotels and upscale resorts. Booking.com is the best place online to check out hotels, reviews and book at affordable prices.
Volunteering in Malaysia
Malaysia is an amazing country but there are still many poor communities who could really do with your help. Instead of paying 1000's to volunteer sign up with Worldpackers and you can exchange your skills and time for free accommodation, food and many other benefits.
By volunteering when backpacking in Malaysia you can get immersed into the local culture, make friends with the locals, learn new skills all while helping those in need and saving yourself money so you can travel for longer.
I prefer Worldpackers over other platforms as they offer great support and customer service, all hosts are verified to ensure they offer a safe and rewarding experience and you can also take advantage of the Worldpacker's insurance should anything go wrong with your host.
Click on this link and use my discount code GLOBALGALLIVANTING to save $20 on the membership fee. Read more about volunteering for free with Worldpackers here. 
Tours of Malaysia
City tours are popular in Malaysia; you'll find tons of them in Kuala Lumpur and Penang, ranging from street food tours to historical monument tours.
Intrepid run the best small group Malaysia and Borneo tours, the Best of Malaysia tour visits the highlights and some offbeat gems in peninsula Malaysia while the Best of Borneo tour visits all the most incredible nature spots on Borneo. If you can't decide between the two – do both!
Read More: The Lonely Planet Malaysia, Singapore and Brunei Guidebook is packed with loads of essential information for pretty much every tourist destination in Malaysia.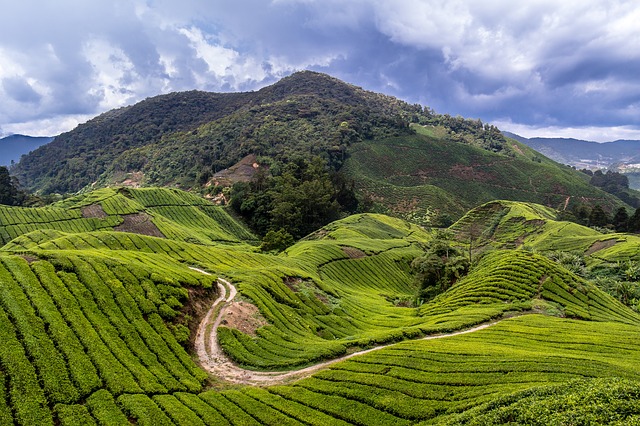 The Ultimate 1 Month Malaysia Itinerary and Backpacking Route
Normally a Malaysia itinerary will start in the capital Kuala Lumpur (KL) but my Malaysia backpacking route gives a more charming introduction to Malaysia and avoids you traveling back on your self whilst still fitting in all the highlights.
Plus you get to start off your Malaysia itinerary with Penang, one of most beautiful places in all of Malaysia!
This Malaysia itinerary and backpacking route works best if your either coming overland from Thailand or, if you fly into Penang airport. (There are plenty of cheap Air Asia flights from Kuala Lumpur to Penang.)
Penang – 4 or 5 days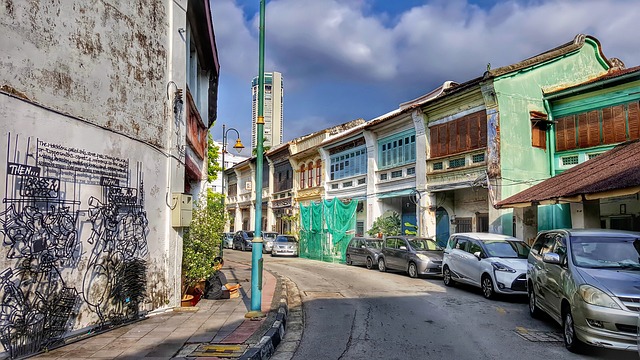 Start your backpacking Malaysia itinerary in Penang island – a melting pot of Indian, Chinese, and Malaysian culture, Penang boasts the most mouth watering and diverse cuisine in the entire country.
You'll find both expats and locals living in the quirky city of George Town which has so much to offer. Penang has cheap street food and expensive restaurants, fun hostels and heritage hotels, and nature, beaches, and museums.
There's so much to do in Penang that you could easily spend weeks here. You should hike up to Penang Hill for some spectacular views of the city, or spend an afternoon trekking through the jungle at Penang National Park.
If you want a more relaxed afternoon, Penang Botanical Gardens is a lush spot, or you can roam the historic lanes, admire the street art while eating yummy street food to your heart's content in George Town.
Don't miss visiting all the different places of worship in Harmony Street and the amazing Kek Lok Si temple.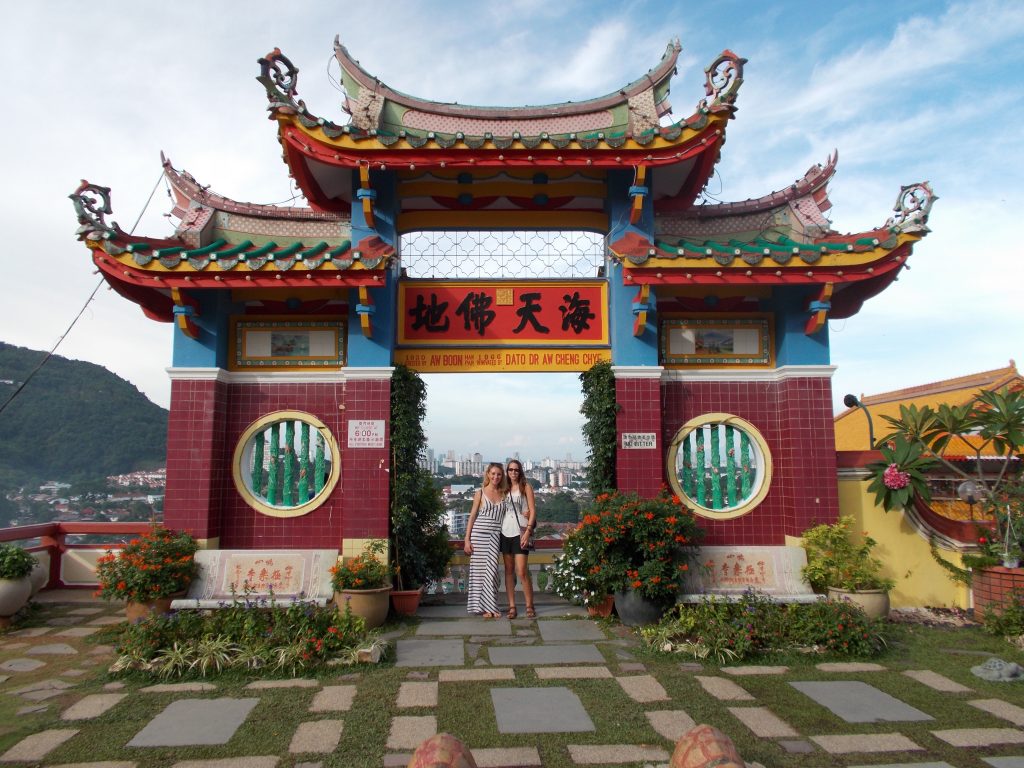 Where to stay in Penang:
Located in central George town, Queen's Hostel has a homey atmosphere with comfortable beds, colourful beanbags, and books.
Rope Walk Guesthouse is set along the river in the jungle and has lovely owners who will go out of their way to make sure your stay is as comfortable as possible.
Muntri Mews is a comfortable hotel with a mix of contemporary and traditional styles, and is decorated with artwork from local artists.
Or treat yourself to some luxury accommodation at Shangri-La's Rasa Sayang Resort & Spa, which is surrounded by 30 acres of lush secluded gardens, and has two outdoor swimming pools and an adult swimming pool.
How to get to Penang:
Penang island is easily accessible from Kuala Lumpur via bus or short flight. You can also visit Penang from Singapore or Thailand by land, or neighbouring islands via boat. Sungai Nibong is the main bus station in Penang, and the main train station is Butterworth Station. Book your tickets online here.
Read More: My Penang Travel Guide, The melting pot of Penang,  Exploring Kek Lok Si Temple
Langkawi Island – 2 or 3 days
Add a paradise tropical island to your backpacking Malaysia itinerary by visiting Langkawi island, just a boat ride away from the cultural delights of Penang.
Langkawi is an archipelago of 99 islands complete with turquoise seas, abundant nature and a dramatic mountainous jungle interior that glistens with a hundred shades of green.
Unlike some of Thailand's islands Langkawi has not be ruined by tourism and still has alot of natural beauty to explore so it shouldn't be left off your Malaysia itinerary.
You could spend a week or more chilling out on Langkawi island  but a couple of days in enough to relax, exploring the beaches, jungle and national park.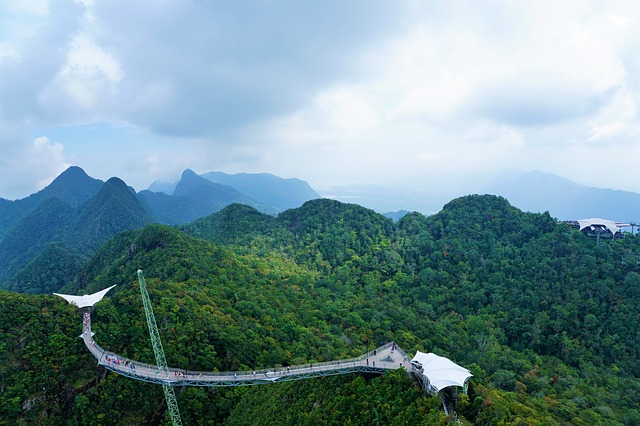 Where to stay in Langkawi:
Langkawi Dormitorio is a super friendly and stylish hostel with cool pod like bunks located in the middle of everything in Pantai Cenang – the best beach on the island.
Motel Aurora Damai has large, clean, bright rooms and helpful staff not far from the beach. If you want to stay right on the beach then the Best Star Resort is a good choice.
The Kunang Kunang Heritage Villa offers a wonderful Malaysian experience with lots of historic wooden character, lush gardens and also has a lovely outdoor swimming pool. Or if you want to really treat yourself you cant get much better than the fabulous 5 star Ritz-Carlton Langkawi Resort.
How to get to Langkawi:
Langkawi island is about 2 and a half hours on the ferry from Penang. Book your ticket here.
Read More: Langkawi budget guide, The natural beauty of Langkawi,  If you're short on time and have to choose between Penang or Langkawi check out this post. 
Cameron Highlands – 2 or 3 days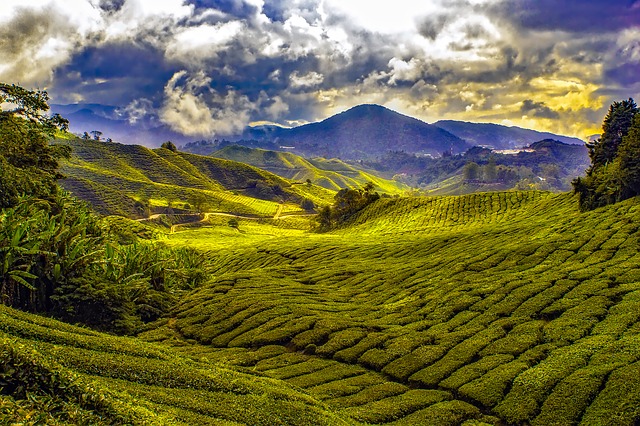 Rolling green hills, tea plantations, and valleys make up the Cameron Highlands, where you'll find the freshest and coolest climate in all of Malaysia.
There are tons of treks in the area to choose from. You should also pick your own fruit and enjoy fresh strawberry ice cream at the strawberry fields, taste honey at the honey farm, and enjoy beautiful nature in the butterfly farms.
If the humid tropical heat is getting to you then don't miss the Cameron Highlands from your Malaysia itinerary.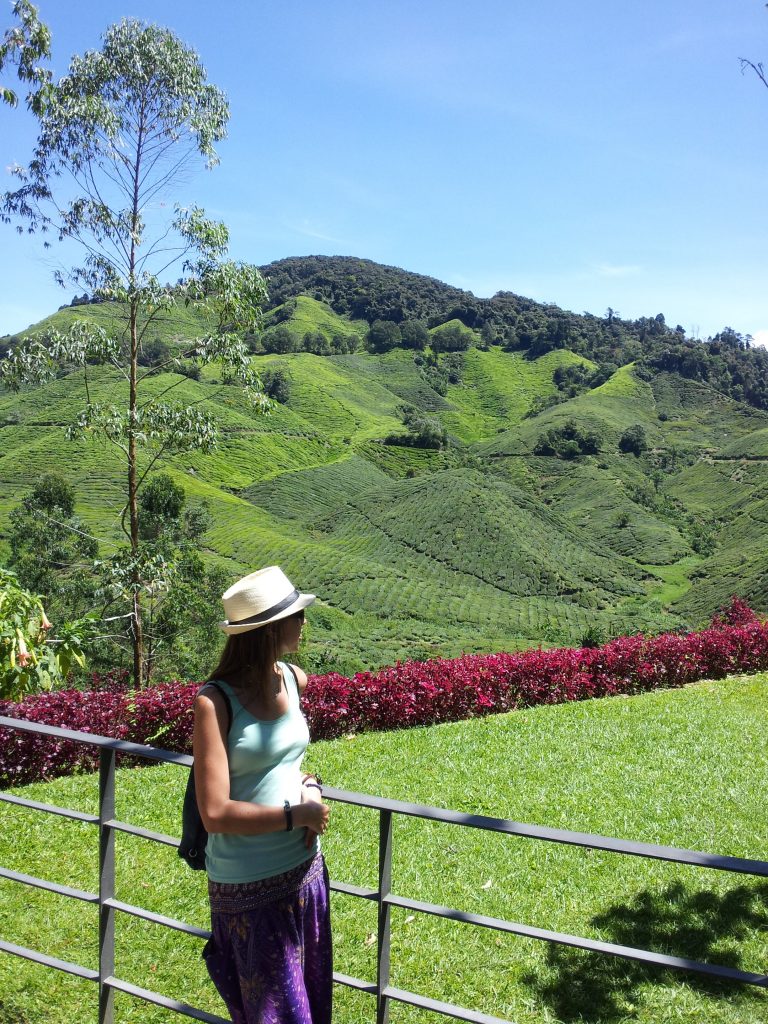 Where to stay in the Cameron Highlands:
Hotel Flora Plus is a quirky guesthouse that's in proximity to many of the attractions in the Cameron Highlands, with comfortable rooms that come with a flat screen TV.
Kea Garden has gorgeous views of the mountains, a children's playground, and spacious rooms. Surround yourself in lush greenery at Arundina Cameron Highlands, which has bright rooms, a shared kitchen, and a terrace.
ATS Cameron Hotel offers spacious and airy rooms with a private bathroom, and is in a great location in the centre of town..
How to get to the Cameron Highlands:
Multiple daily buses leave from Penang to the Cameron Highlands and take about 5 hours. Book online here
Read More: Cameron Highlands Travel Guide, Cooling off in the Cameron Highlands, 
Kuala Lumpur – 3 or 4 days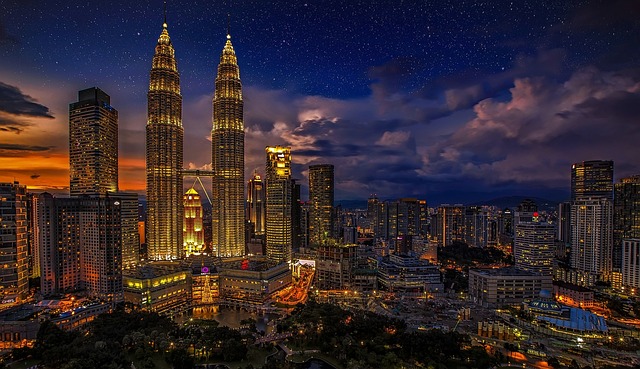 No Malaysia itinerary or backpacking trip is complete without a visit to the capital Kuala Lumpur, often simply called KL.
Malaysia's capital is a more business oriented city but Kuala Lumpur has a lively nightlife, interesting skyscrapers and mosques, vibrant street markets in Little India that sell unique trinkets and souvenirs, and some well known restaurants that will blow you away with their delicious dishes.
Don't miss standing high above the city in the famous Petronas Twin Towers, dining at a rotating restaurant at Menara Tower that offers a 360-degree view of Kuala Lumpur, or learning about Malaysia's aquatic life at Aquaria KLCC.
There are also museums and a bird and butterfly park to explore and don't miss visiting the Hindu Batu Caves.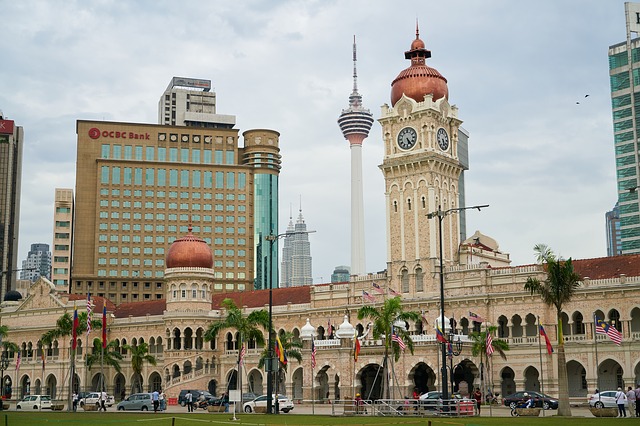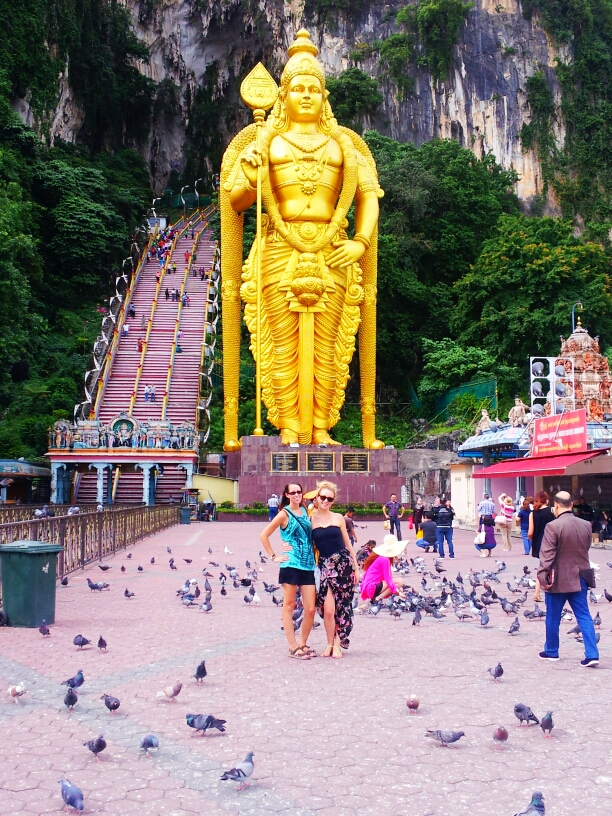 Where to stay in Kuala Lumpur:
Mingle Hostel Kuala Lumpur has a friendly vibe and is conveniently located in the city, it has a quirky design and a cool rooftop terrace where it's easy to meet other travellers. See more in my 5 Best Backpacker Hostels in Kuala Lumpur.
5 Twenty @ Ampang Hilir boasts rooms with a balcony, a big swimming pool, and friendly staff who will go out of their way to help you.
Cititel Mid Valley is seconds away from Mid Valley Megamall, and houses a spa, a pool, and 24-hour café with mouth watering international dishes.
Sunway Putra Hotel is a beautiful luxury hotel with gorgeous and elegant rooms, a fitness centre, and an outdoor swimming pool.
How to get to Kuala Lumpur:
KL is 5 hours by bus from the Cameron Highlands. Click this link to book tickets. 
KL is also easily accessible via flight from hundreds of international locations, as well as domestic locations over the entire country.
There are two main international airports in Kuala Lumpur, KLIA and KLIA2. There are buses from KL sentral to and from Singapore and Thailand.
Read More: Kuala Lumpur Travel Guide, Top 10 Things to do in Kuala Lumpur
Taman Negara National Park – 2 or 3 days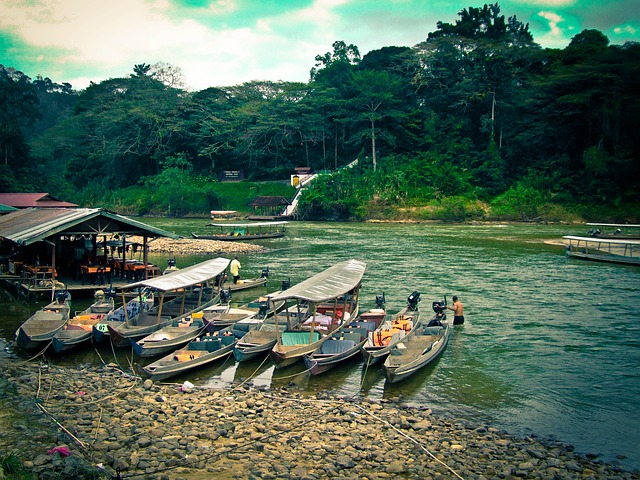 Taman Negara is an astonishing 130 million year old tropical rainforest that boasts exotic wildlife, flora, and fauna, and some of the best opportunities for trekking in the entire country.
It's also home to the famous canopy walkway, the longest of its kind in the world, where you can walk above the rainforest amongst the towering trees.
There are river trips, multi-day trekking trips, and opportunities to sleep in caves and trek to Mt. Tahan. You'll find tigers, elephants, snakes, spiders, and more in Taman Negara.
If you're an adventure lover, then this is the place to be! If your planning a 2 week Malaysia itinerary then I recommend saving time by visiting Taman Negara as a day tour from KL. 
Where to stay in Taman Negara:
Taman Negara Rainbow Guesthouse is owned by a friendly, happy couple who will make you feel right at home. The guesthouse is in proximity to many restaurants as well as the jetty, and rooms are basic but comfortable.
Tebing Guesthouse has a sun terrace, comfortable chairs to sit and socialize in, and comfortable rooms with air conditioning. Mutiara Taman Negara Resort is located on the edge of the national park and surrounded by nature, it boasts a terrace, jungle and river views, and a delicious restaurant.
Xcape Resort @ Taman Negara offers an outdoor swimming pool; air conditioned rooms, and a bar with snacks and beverages.
How to get to Taman Negara:
Getting to Taman Negara can be a bit of an adventure. You'll take a several hour minibus from Kuala Lumpur and then a 3-hour motorboat ride on the river!
Prepare to get quite snug with your backpacks! There is also a direct express bus that takes 4.5 hours that you can book here.
Read More: Trekking in Taman Negara, Independent travel guide for Taman Negara
Malacca/ Melaka – 2 or 3 days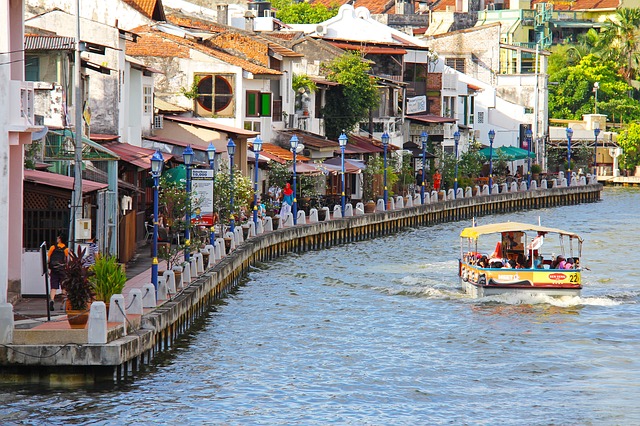 The charming, preserved colonial city of Malacca/ Melaka is a beautiful escape from bustling Kuala Lumpur and shouldn't be left off your Malaysia itinerary.
Like Penang, you can see, taste and feel the multicultural history of Malacca by exploring the historic lanes, mosques, temples and churches of the old town.
There are quite a few churches and museums to visit like the Portuguese St. Paul's Church and Christ Church where you can learn about Malacca's history.
You can also take a wonderful river cruise, explore the Jonker street night market or pick some fresh fruit at Melaka's Tropical Fruit Farm.
Where to stay in Melaka:
Jalan Jalan Guest House is an affordable, cosy, homely, friendly guest house in the centre of old Malacca that has a shared lounge, free tea and coffee all day long, and a sociable atmosphere, perfect if you're travelling solo.
Warisan Eco Lodge has comfortable beds, darts, a bike hire, barbeque, and terrace.  For some wonderful midrange but homey accommodation, Imperial Heritage Hotel Melaka has a splash pool, fitness centre, and air conditioned rooms.
Located right along Melaka's water front, you'll find spectacular sea and city views at Holiday Inn Melaka, which boasts rooms decorated with Malaysian-style fabrics, a fitness centre, and a sauna.
How to get to Melaka:
There are many buses that leave from Kuala Lumpur to Malacca and takes 2-3 hours. You can get tickets here.
Read More: Malacca Travel Guide, Meandering through Malacca 
To continue on my backpacking Malaysia Itinerary get a cheap Air Asia flight from Kuala Lumpur over to Kota Kinabalu on Malaysian Borneo – check Skyscanner for the best prices.
Many travellers only see Peninsula Malaysia but don't miss you chance to explore Borneo – one of the last remaining really wild places on earth.
Borneo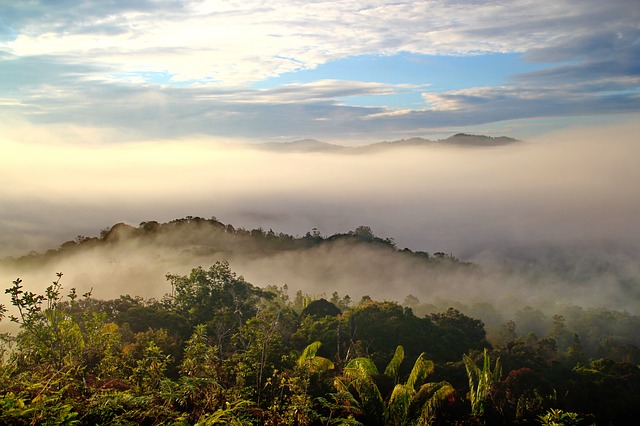 Any perfect Malaysia itinerary wouldn't be complete without Borneo!
The massive island of Borneo is one of the last remaining really wild places on earth. Borneo is shared by three countries: Malaysia, Brunei, and Indonesia. The Malaysian section is split into two states, Sabah and Sarawak.
Travelling to Borneo gives you the chance for an off the beaten path adventure. Its exotic natural landscapes consist of ancient rainforest, incredible dive sites, and hidden beaches.
You can trek to the island's highest peak, Mount Kinabalu, dive at Sipadan Island, spend the day observing the orang-utans in one of two of Borneo's orang-utan sanctuaries, met tribal warriors and mysterious head hunters or taking a propeller airplane to Mulu National Park to trek to bat caves and waterfalls.
Kota Kinabalu – 2 or 3 days
This is the capital of Sabah state and is a great city to fly into and start the Borneo part of your Malaysia itinerary as you're right in the centre of Borneo. The city itself has bustling markets, an impressive waterfront mosque, a modern boardwalk and beaches to explore.
It's also the starting point for the famous trek to Borneo's highest peak, Mount Kinabalu, a few day trek where you watch the sunrise above rolling clouds.
There are also neighbouring islands that you can visit that make for great day trips. Some of the islands you'll want to visit are Manukan Island, Gaya Island, and Sulug Island.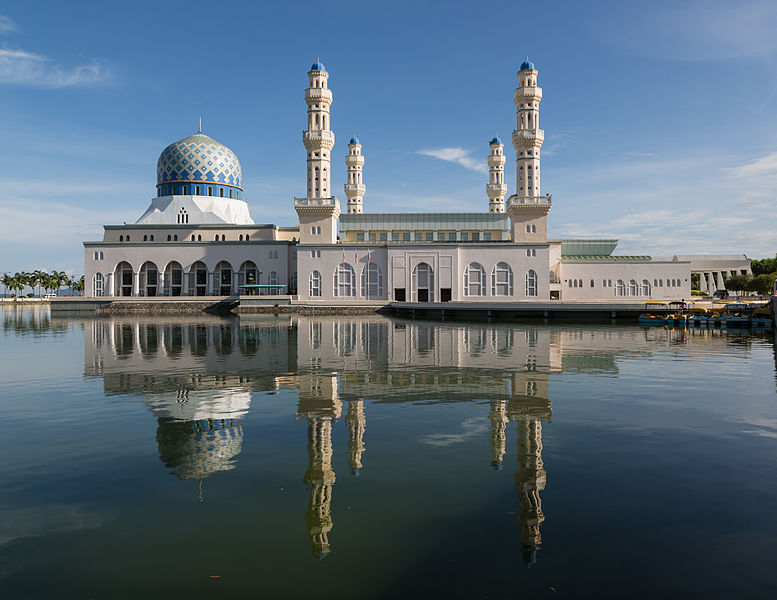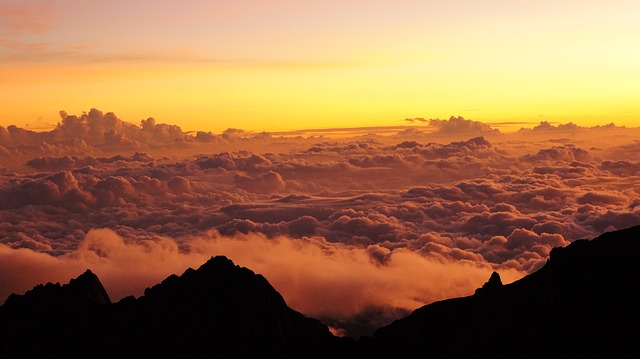 Where to stay:
Halo Hostel is in a nice location in a quiet neighbourhood with very accommodating staff and comfortable, spacious dorm rooms.
Storytel Kota Kinabalu has a welcoming atmosphere and is in the centre of Kota Kinabalu, and close to many restaurants and shops.
Tune Hotel – 1Borneo Kota Kinabalu has ensuite bathrooms, good air-conditioning, and offers a homey stay in the busting city of Kota Kinabalu.
If you want to splash out check out Shangri-La's Rasa Ria Resort & Spa spacious luxurious rooms, vibrant gardens and golf course.
How to get there:
Air Asia and Malaysian Airlines operate daily domestic and international flights from KL to Kota Kinabalu, you can also fly from places like Brunei, Jakarta, and Taipei.
There are many buses leaving from Kota Kinabalu to various destinations around the island, as well as a port to take boats to neighbouring islands as well as Brunei.
Read More: How to climb Mount Kinabalu on a budget, Things to do in Kota Kinabalu, 
Mulu- 3 or 4 days
Home to Gunung National Park, Mulu offers spectacular outdoor adventures. From trekking through jungle to climbing through caves, this national park is one of the most unique in the country.
The National Park is home to the biggest underground cave chamber in the world, Sarawak Chamber, as well as Mulu caves and the Deer Cave, the entrance to the largest cave passage in the world.
You can also trek to the Pinnacles at Gunung Api or summit Gunung Mulu Mountain, both multi day treks.
Where to stay:
Mulu Village has incredible hosts that will make you feel right at home the second you step inside. They're known for their delicious breakfasts!
Kenny's B&B has a friendly, young staff and is located right next to the river in the national park. The Benarat Lodge is basic accommodation in huts with amazing staff, and is definitely a unique experience in the jungle.
Mulu Mariott Resort has a beautiful restaurant in the middle of the jungle right along the river, and has a fitness centre, pool, and sauna.
Where to stay:
Getting to Mulu is quite the adventure; you'll have to take a propeller airplane operated by MASWings. There are two daily flights from Miri, one in the morning and one in the afternoon, one daily flight from Kota Kinabalu via Miri, and one daily flight fron Kuching to Mulu.
Kuching – 2 or 3 days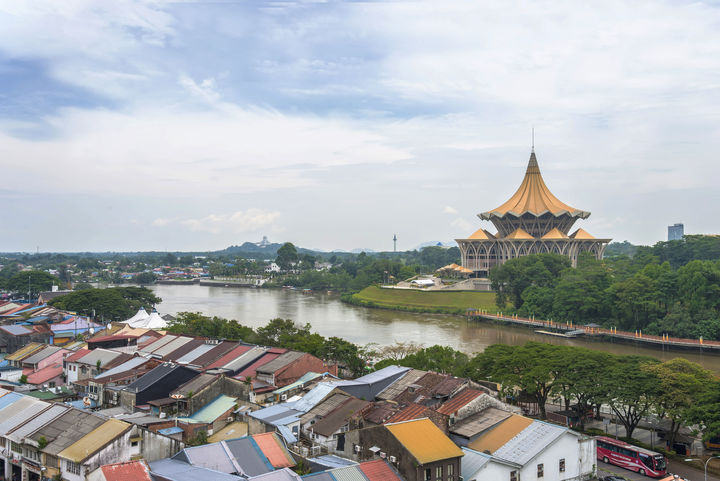 The capital of the state of Sarawak, Kuching is a diverse city that's a mix of colonial and modern architecture. You'll find massive buildings as well as tiny old houses in this city, which is located along the beautiful Sarawak River.
You can take a two-day trip to Bako National Park for trekking and wildlife, or visit Fort Margherita, The Astana, or even the Kuching Cat Museum.
You should also take a trip to the incredible orang-utan sanctuary, Semenggoh Nature Reserve, where you will get to watch these massive creatures climb the trees and eat. A highlight of any Malaysia itinerary for sure!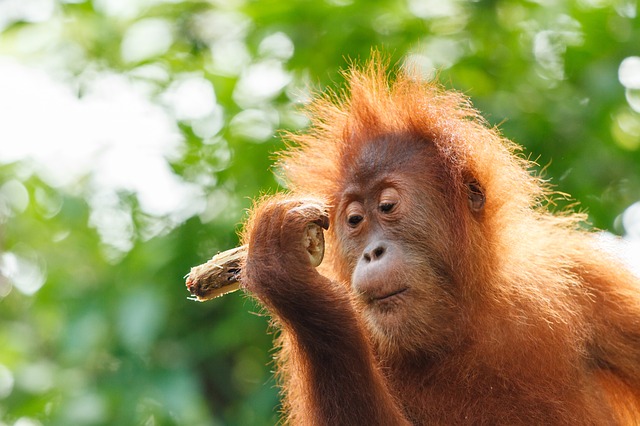 Where to stay:
Check In Lodge offers you free coffee all day, a nice rooftop area to hang out in, and a good location close to the centre.
Dream City is located close to the waterfront and cosy, comfortable rooms or Tune Hotel- Waterfront Kuching is near a ton of cafes and restaurants with quiet rooms with good amenities.
Riverside Majestic Hotel offers you big, comfortable beds, and the chance to stay in a room with big windows and amazing views of the riverfront.
How to get there:
There are flights operated by Air Asia and Malaysian Airlines that offer domestic and international flights to Kuching. You can fly from Mulu to Kuching. There are also buses that operate around various places in the island from Kuching.
Read More: My Ultimate Thailand Itinerary and Backpacking Route.
I hope my Malaysia itinerary and backpacking route has helped you plan an epic trip!