Backpacking Thailand might be one of the best experiences of your life! Seriously, it was for me!
From temples to islands, there's so many amazing sights to see and experiences to be had in 'the Land of Smiles'. Plus, it's easy, safe, fun and affordable for backpackers.
But with so much to fit it, it's worth planning your Thailand itinerary, or at least a rough Thailand backpacking route, to make sure you don't miss out on anything.
The Ultimate 1 Month Thailand Backpacking Route
In this blog post you'll find the best Thailand backpacking route which is perfect for a 1 month Thailand itinerary as well as suggestions if you've only got 2 weeks. You'll also find all the tips you'll need for backpacking Thailand. I hope it helps you have an amazing time!
Why Backpacking Thailand is so Popular
Thailand is one of the best countries in the world for backpackers because of its diversity, interesting culture, fantastic food, friendly locals, affordability, safety and ease of travel.
If you follow the popular Thailand backpacking routes and stay in backpacker hostels it's so easy to meet like minded people, make new travel buddies and have a lot of fun.
Backpacking Thailand will allow you to experience some of the world's best nightlife, beaches and islands as well as amazing historical and cultural sights, natural beauty spots and adventure activities.
And you can do this all on a Thailand backpacker budget of only $25 – $40 per day!
Covid – 19 Update – Thailand is now fully open!
From 1st October 2022, Thailand no longer requires travellers to show proof of vaccination or a negative COVID-19 test result. The length of stay allowed with the visa exemption has also increased from 30 days to 45 days.
Check the latest entry requirements and keep up to date with the latest news from the Thailand Tourism Authority.
Thailand has also decriminalised cannabis and there are many cannabis cafes popping up all over the country. Here's what you need to know about cannabis in Thailand now.
How long to spend backpacking Thailand
There's so much to see and do when backpacking Thailand – from the glittering temples, jungles, treks and hill tribes of the North, to the buzzing metropolis of Bangkok to the paradise islands in the South that you might be wondering how to fit it all in.
Most nationalities get a free 30 day visa on arrival and I recommend making the most of it and spending at least 1 month backpacking Thailand. This will give you time to see the best Thailand has to offer and still have time to party and relax on the beaches.
I've visited Thailand many times and also lived in Koh Phangan and Chiang Mai so I thought I'd share my ideal 1 month Thailand itinerary and backpacking route to help you see the most of this incredible country.
If you have less time check out my recommended Thailand itinerary for a 2 week trip.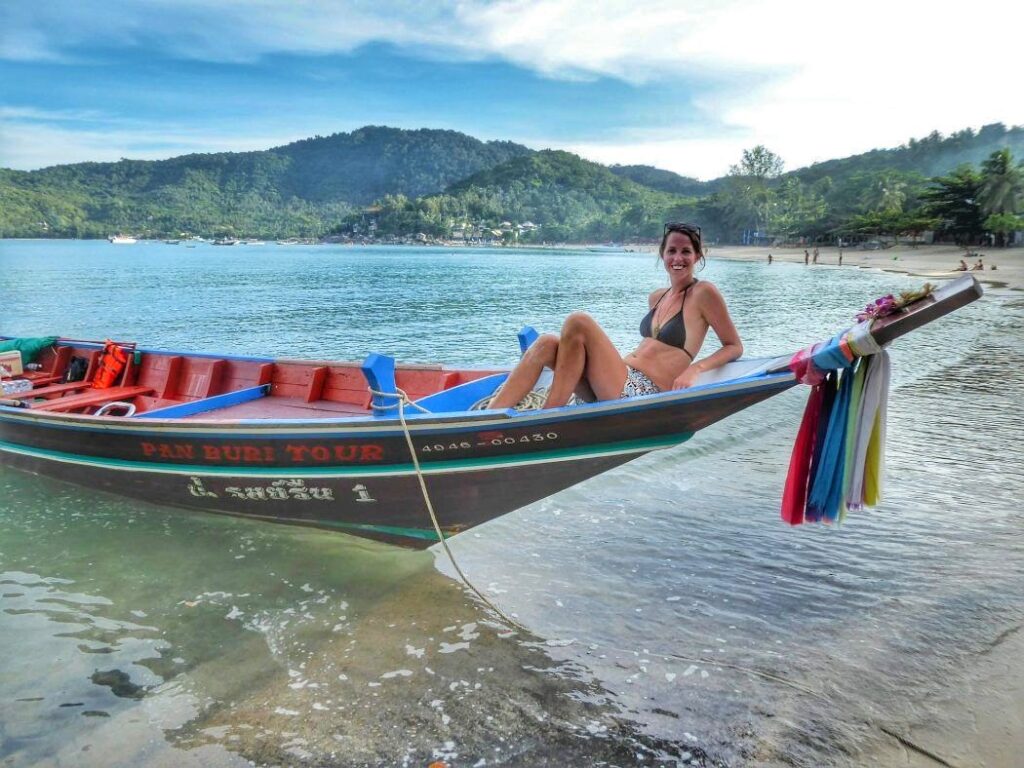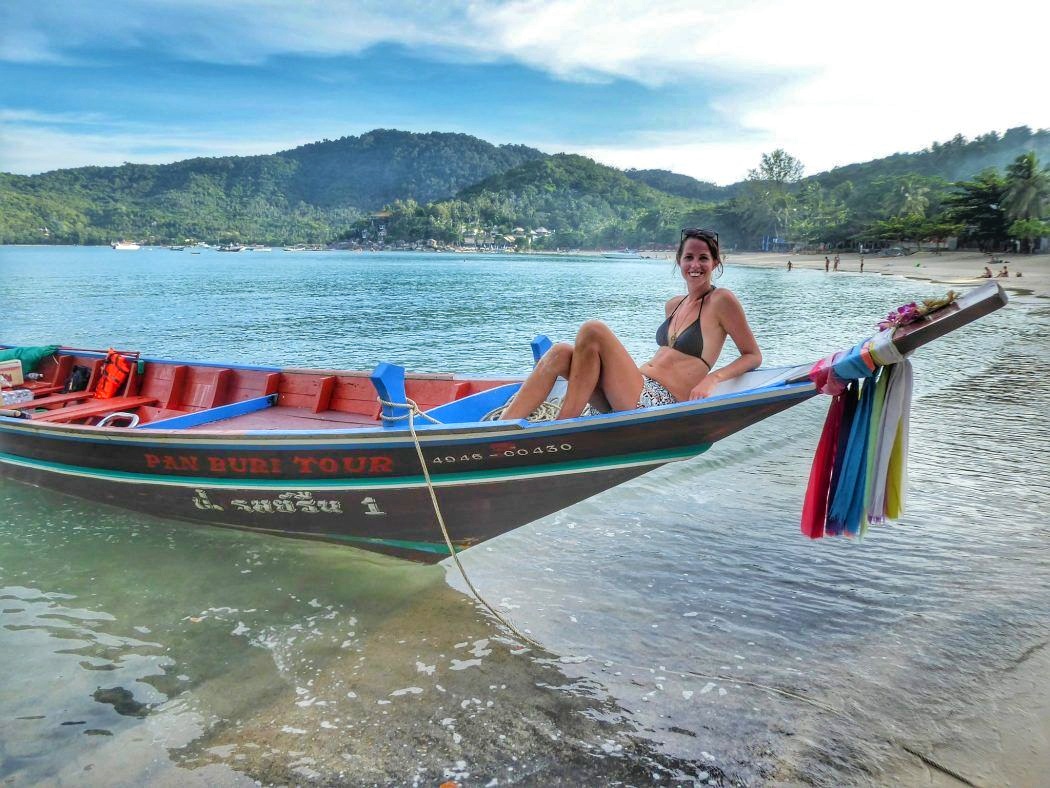 Tips for Planning your Thailand Itinerary and Backpacking Route
If you're planning a Thailand backpacking trip you might be wondering what the popular Thailand backpacking routes are, or how you are going to fit all the amazing things to do in Thailand into one trip.
Well, with this ultimate 1 month Thailand itinerary you can experience the best of both north and south in one epic adventure!
Thailand is well set up for tourism and is one of the safest, easiest and best places in the world for your first backpacking adventure – even if your going solo.
It's also a great destination for couples, families and everyone looking for an exotic, exciting but still relaxing, safe and comfortable holiday.
It's especially easy to plan your Thailand itinerary and to backpack in Thailand, with numerous day tours and accommodation options, modern train and bus systems and numerous daily flights that take you all over the entire country and not forgetting the helpful and friendly locals.
Why you need to visit both the North and South of Thailand
The north of Thailand and the south are completely different from one another, which is what makes this country so special, and both should be included in your Thailand itinerary or backpacking route.
Many people get stuck on the islands and miss out of incredible sights in Northern Thailand which is such a shame because you've only seen half of what this amazing country has to offer.
In the northern Thailand, you'll find Chiang Mai, the historical and cultural heart of Thailand packed with ancient temples as well as hip cafes and bars. Nearby is the hippie backpacker haven of Pai, with tons of healthy cafes and adventure activities, like waterfall trekking and soaking in hot springs, to enjoy.
The south is home to various party islands like Koh Phangan and Koh Phi Phi, as well as the resorts of Phuket and tiny laid back islands like Koh Lipe, with its secluded white sand beaches.
If you're looking to rock climb, visit Krabi, famous for its towering limestone cliffs and turquoise waters, or if you're looking for some jungle trekking, Khao Sok National Park may be calling your name.
There's more tips for backpacking Thailand at the end of this itinerary, like when to visit, how to get around and what the ideal Thailand backpacker budget is, but for now, let's get on with the itinerary.
Pin Me 😉
1 Month Thailand Backpacking Route
The ideal route for 1 month backpacking Thailand would be:
Bangkok – Kanchanaburi – Ayutthaya – Sukhothai – Chiang Mai – Pai/Mae Hong Son – Chiang Rai – Khao Sok National Park – Koh Samui – Koh Phangan – Koh Tao or  Krabi – Koh Phi Phi – Koh Lanta – Koh Lipe
Read on and I'll explain more about these places and the best things to do there.

Bangkok – 3 or 4 days
The capital of Thailand is one of the liveliest cities in the world and the ideal place to start your Thailand backpacking route so it makes sense to be the start of your Thailand itinerary.
Bangkok boasts a vibrant and fun nightlife, colourful temples, and mouth watering street food stands that seem to be around every corner of the city. There's plenty of things to do in Bangkok to keep you busy for at least 3 or 4 days.
You could spend hours simply wandering and exploring the fascinating streets of Bangkok, soaking up the culture and buzzing atmosphere but there's a couple of Bangkok tourist attractions you won't want to miss.
Things to do in Bangkok
Visiting Wat Phra Kaew to marvel at the huge, golden, reclining Buddha.
Explore the spectacular Grand Palace, a gorgeous glittering building that is the former royal residence.
Drink buckets and party on Khao San Road – the world's backpacker mecca.
Try Bangkok's amazing street food.
Take a tuk tuk tour around the temples and markets at night.
Take a Thai cooking class and learn how to cook it yourself.
Shop for bargains and souvenirs at Chatuchak weekend market.
Cruise along the Chao Praya River.
Explore the unique floating markets and jump out of the way as the train comes through the unique railway market. This is the tour we took.
Take in the views of the Bangkok skyline from the observation deck of the

Baiyoke Sky Hotel.

Visiting the The Ancient City or Muang Boran, a huge open air museum that brings Thailand's long and unique history to life, is also worthwhile.
Where to stay in Bangkok:
This boutique backpacker hostel is situated next to the skytrain in the Siam district making it one of the most conveniently located backpacker hostels in Bangkok. Getting around and exploring this exciting, mega city will be a breeze and the hostel has thought of every detail to ensure you have a comfortable and fun stay. No wonder it's one of the most popular backpacker hostels in Bangkok. Click here for price, availability and booking.
Formerly known as the popular Rikka Inn, this recently refurbished hotel is one of the best budget hotels in Bangkok. Unique, cozy rooms decorated with vintage Thai memorabilia and a rooftop pool make this a great place to stay in Bangkok. Add to that its location on Khaosan Road means you only need to step out of the door to be in the colourful backpacker district that entices so many to this city, but the sound proofing means you'll still enjoy a good nights sleep. Click here for price, availability and booking.
How to get to Bangkok:
Bangkok has two airports, Suvarnabhumi (BKK) – which handles mostly long haul flights, and Don Mueang, which handles low cost flights around the rest of Thailand the Southeast Asia. It's one of the easiest cities in Asia to get to.
There are also many buses and trains that leave to and from Bangkok to other parts of Thailand, as well as Malaysia and Singapore. You can book tickets easily online with 12 Go Asia.
Read More:
Kanchanaburi – 1 or 2 Days
Known for the WWII Death Railway, Kanchanaburi will help you gain some interesting history knowledge and insight of Thailand's role during the war. The town also has beautiful river views and a rich history to explore with its numerous museums and cemeteries. There's actually quite a few interesting places to see in Kanchanaburi that you could add a couple days to your Thailand itinerary to explore the town if you have time.
If you want to stay longer to explore the natural side of Thailand, it's a great starting point for many national parks such as Sai Yok. You can also visit Erawan National Park, home to the beautiful Erawan Falls and the Phartat Cave, the Burma Railway, or the JEATH War Museum, where you can learn about WWII and Thailand's military history.
Things to do in Kanchanaburi:
Learn the history of the Thai-Burma railway at the Death Railway Museum,

Hike passed waterfalls in the beautiful Erawan National Park.

Marvel at the stalactites of Phra That Cave.
Walk with giants at

Taweechai Elephant Park.

Check out the ruined temple at Prasat Mueang Sing Historical Park.
Where to stay in Kanchanaburi:
This hostel (or "poshtel" as they brand it) is designed around the theme of a train journey where mingling with your co-passengers is encouraged, making it a very sociable place to stay in Kanchanaburi. Transport hubs are within walking distance and the famous night market is only ten minutes away. Click here for price, availability and booking.
An unassuming guesthouse that has gained a reputation as the best budget hotel in Kanchanaburi. The service you will get here is far above the price you will pay with all rooms having a terrace and air conditioning as well as views over their pretty garden. Click here for price, availability and booking.
How to get to Kanchanaburi:
There are daily minibuses, buses and trains departing from Bangkok. The journey takes about 2 and a half hours.
You can also see Kanchanaburi with this day tour from Bangkok which saves time.
Ayutthaya – 1 or 2 days
Ayutthaya is a city in Thailand with crumbling ruins of palaces, temples, statues, and monasteries. You can rent a motorbike or bicycle and spend the entire day exploring the ancient ruins and learning about this ancient Siamese Kingdom.
Some of the popular temples that you will definitely want to check out include Wat Mahathat, Wat Chaiwatthanaram, or Wat Phanan Choeng, which has a golden Buddha. Don't miss Ayutthaya from your Thailand itinerary if your interested in Thai history, religion and culture.
Things to do in Ayutthaya:
Explore the old city ruins that form the Historic City of Ayutthaya.
See traditional craftmanship at the Thai Boat Museum.
Where to stay in Ayutthaya:
Despite being a little out of town this backpacker hostel is a great place to stay in Ayutthaya. They provide free breakfast and dinner as well as healthy snacks during the day. There's a beautiful garden to relax in and, most importantly, two fluffy pillows on each bunk bed. Click here for price, availability and booking.
This welcoming, family-run hotel is wonderful for first-timers to the city. Everything you want to do can be arranged by the hotel and they will suggest exciting activities if you don't have your own plans. Clean, comfy and so very friendly. Click here for prices, availability and booking.
How to get to Ayutthaya:
Ayutthaya is about 2 and a half hours taxi from Kanchanaburi which will cost around 2,000 baht. You could also take a local bus 1.5 hours to Suphanburi and then change and take another local bus to Kanchanaburi (2 hours) Daily trains leave from Bangkok train station to Ayutthaya and takes 2-3 hours to reach.
If you're short on time you can see the best of Ayutthya as a day trip from Bangkok. 
Sukhothai – 1 or 2 days
Known for its ancient ruins, Sukhothai will take you back in time. Sukhothai was Thailand's capital during the 13th Century C.E., and is now a UNESCO World Heritage Site. The historical park is now a ruined city with temples and Buddha figures.
There are bicycle tours you can join so you can see all of the ruins and learn a little bit about the history surrounding them. This is the fun small group bicycle tour we took – you learn so much more about the ruins which really brings them to life, plus you can cover much more ground than you can by just walking.
If you want to save time you could choose between including Ayutthaya or Sukhothai in your Thailand itinerary.
Where to stay in Sukhothai:
In an area with very few backpacker hostels you'll be overjoyed with Dorm of Happiness. They provide bed linen and towels in every room (a rarity for hostels!) and there's even a swimming pool and restaurant on-site for a very hotel-like experience on a backpacker's budget. Click here for prices, availability, reviews and booking.
If you're travelling as a couple or have a little extra to spend then you should take a look at Thai Thai Sukhothai Resort. It's spacious, clean and green, with small gardens outside each room, and the wooden furnishings add a real touch of class to your stay. Click here for prices, availability, reviews and booking.
How to get to Sukhothai:
You can get a bus or train from Ayutthaya to Sukhothai and the journey takes about 6 hours.
Chiang Mai – 3 or 4 days
Chiang Mai is a beautiful cultured city nestled amongst the mountains of northern Thailand. It was founded in 1296, and the walls and moats from the Old City still stand today, making it a fascinating place to learn about Thailand's history and culutre so it should not be missed from your Thailand backpacking route.
The Best Things to do in Chiang Mai
There's so much to do in Chiang Mai and the surrounding area. The Old City is packed with gorgeous, ancient temples to explore, such as Wat Chedi Luang and Wat Phra Singh and you can't miss visiting Wat Phra That Doi Suthep which perches over the city from the mountain top.
Chiang Mai is also a modern and fun city with tons of buzzing night markets, hip cafes and bars and cheap backpacker hostels. It's not just one of the most popular places for backpackers in Thailand, it's also one of the biggest hubs in the world for digital nomads with numerous cafes and coworking spaces.
If you're a nature and animal lover, then Doi Suthep and the Elephant Nature Park are two popular places in Chiang Mai that may peak your interest. Read my full post on the best attractions and things to do in Chiang Mai for more.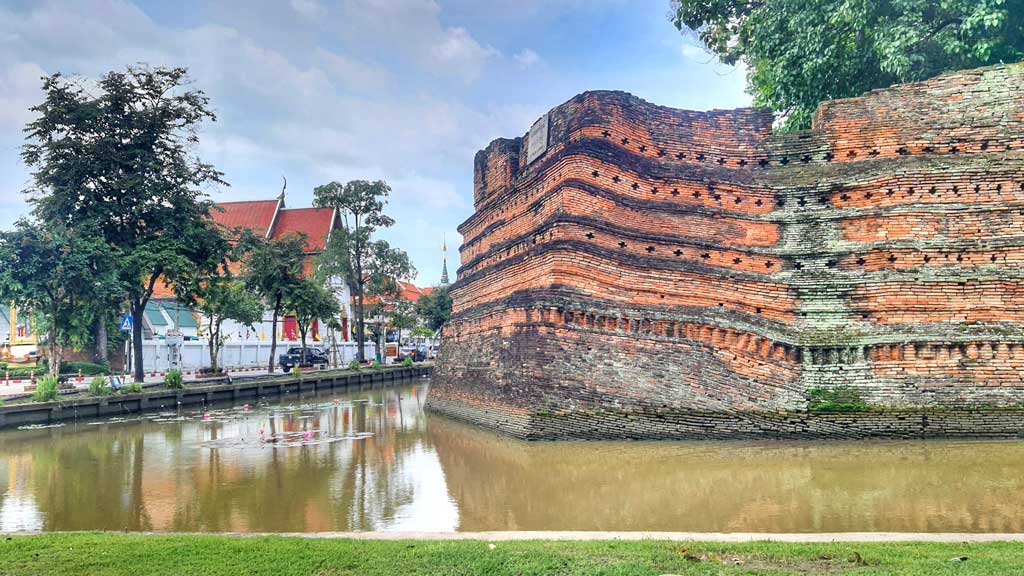 Where to stay in Chiang Mai:
Chiang Mai is a diverse city so check out my guide to where to stay in Chiang Mai to find your perfect place.
Generally speaking the best areas to stay in Chiang Mai for backpackers are the Old City for history and culture or Nimman for modern cafes and nightlife.
Stamps is the place to be for meeting fellow backpackers in Chiang Mai. It's often busy with friendly faces from all over the world and encourages social activities without spilling into being a party hostel.
The location is super convenient, situated by the moat of the Old City and within a short walking distance from the buzzing night bazaar.
Traditional bunk beds are available as well as funky modern 'pod' beds, and there's also a bar and restaurant on site. Click here for prices, availability, reviews and booking.
Centrally located and close to amenities, Chill Chill is a great affordable apartment hotel in the trendy Nimman area of Chiang Mai with good views over the city close to all the cafes, bars and boutiques. Click here for prices, availability, reviews and booking.
How to get to Chiang Mai:
Buses and trains take about 8 hours from Sukothai to Chiang Mai. There's also an airport at Chiang Mai which operates international and domestic flights. It only takes 1 hour to fly from Bangkok but the best way to get from Bangkok to Chiang Mai is on the overnight train which takes about 11 hours.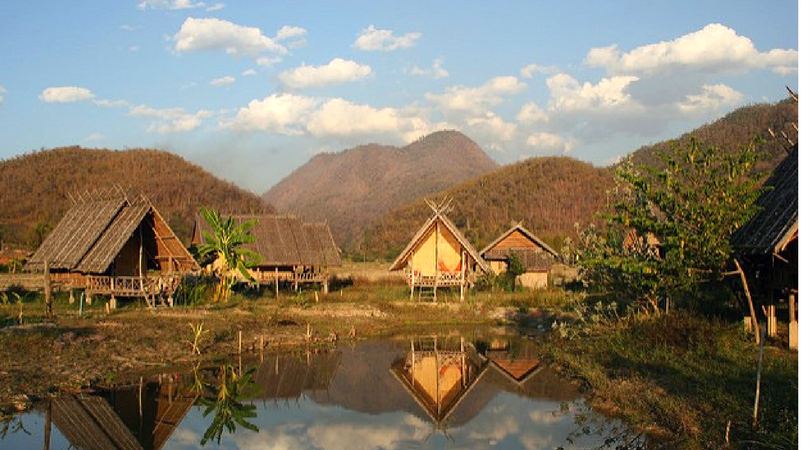 Pai, Mae Hong Son – 3 or 4 days
Pai is a hippie backpacker town nestled in the mountains of northern Thailand several hours from Chiang Mai.
Pai is one of the most popular places for backpackers in Thailand. Here you'll find cosy cafes decorated with tapestries and colourful pillows that serve delicious vegan and vegetarian food, as well as bars that have live music nights, and tons of opportunities for you to explore the surrounding forest, hot springs, and mountains.
Make sure to spend an evening shopping and eating on Walking Street; you won't be able to resist all of the delicious aromas of street food!
You can easily spend the day renting a motorbike and driving to the Tha Pai hot spring and then to Mae Paeng Waterfall, and to various treks around Pai.
Many backpackers watch the sunset from the Big Buddha or Pai Canyon, a gorgeous orange canyon just outside of the town that you can hike along.
Where to stay in Pai:
Featuring a restaurant, swimming pool and bar, Blue House Pai is a great stop while backpacking in Pai. Situated close to the river in a quiet, green area you'll be able to chill and meet other travellers without spending too much. Click here for prices, availability, reviews and booking.
The Nest House is one of the best reviewed hotels in Pai, and it's affordable for all. Located very close to the walking street shopping area and with mountain views, it's hard to fault this clean and comfortable budget hotel. Click here for prices, availability, reviews and booking.
How to get to Pai:
You'll first have to arrive in Chiang Mai, and then take a minibus to Pai. The journey to Pai takes several hours and is quite windy, and there are multiple minibuses leaving from the morning to evening to Pai. You can also choose to rent a motorbike and drive to Pai, the company will deliver your bags for you!  
Chiang Rai –  2 or 3 days
Chiang Rai is famous for the spectacular and unique white temple, Wat Rong Khun, and is well worth including in your Thailand itinerary.
The White Temple is more like an art exhibit than a temple and is one of the most amazing temples and sights I've ever seen (and I've seen alot of temples!).
Gaze at the intricate and interesting designs, and make sure to really explore the temple! You can also visit the Blue Temple, Rong Suea Ten, or Thailand's biggest Guan Yin statue.
Where to stay in Chiang Rai:
Surrounded by markets and restaurants, Stay in Chiangrai is an exceptionally located backpacker hostel. They offer a friendly, family-like vibe with social areas and well furnished bunks. Plus there's a female-only dormitory for those that appreciate additional security and peace of mind. Click here for prices, availability, reviews and booking.
Clean, bright and spacious with a noticeable cat theme throughout the property, there's plenty to love at Sleep House. A very modern hotel right in the heart of town with easy access to all the best things to do in Chiang Rai. Click here for prices, availability, reviews and booking.
How to get to Chiang Rai:
The bus from Chiang Mai to Chiang Rai takes 3-4 hours.
If you're doing a trip around Southeast Asia catch the slow boat to Laos and then continue the rest of the Thailand itinerary from Bangkok once you get back around.
Heading down to the Thai Islands…
Thailand's islands are some of the best in the world and it would be a crime to not include beach time in any Thailand itinerary! The islands are one of the highlights of backpacking Thailand and shouldn't be missed.
Head back down to Bangkok by overnight train or bus. You'll probably need to spend a night in Bangkok again before catching your connecting bus, train or flight to the South to Phuket or Surat Thani.
To save time, you could fly down from Chiang Mai to Koh Samui, Phuket or Krabi.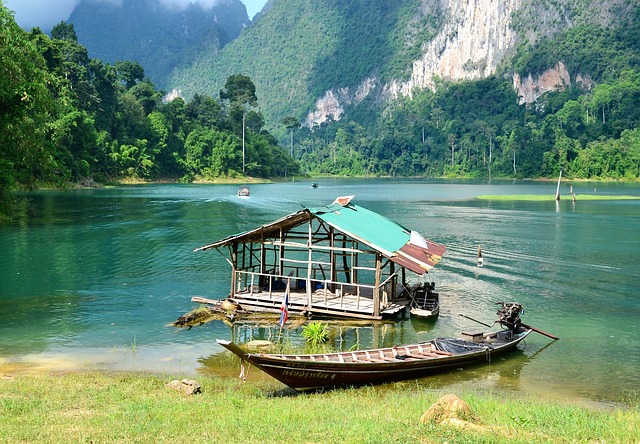 Khao Sok National Park – 1 or 2 days
Before you head off to Thailand's amazing beaches and islands if you're a nature lover visiting Khao Sok National Park is definitely worth including in your backpacking Thailand itinerary.
The park consists of towering limestone formations and a lush jungle that you can trek through. Relish in the species of flora, fauna, birds, and animals, and learn about Thailand's natural environment first hand.
You can choose to explore the national park however you choose, whether that be hiking, kayaking, or rafting on the massive man-made lake, Cheow Lan Lake.
Where to stay in Khao Sok:
A funky backpacker hostel with super helpful staff, clean rooms and comfy beds. There's a great vibe here with guests from all over the world and cute social areas to share your travel stories and pick up tips on what to see during your stay in Khao Sok. Click here for prices, availability, reviews and booking.
Surrounded by lush nature and great views, there's something special about this budget hotel. Staying in one of the huts and cycling around the national park will give you the full Khao Sok jungle experience. Click here for prices, availability, reviews and booking.
How to get to Khao Sok:
The fastest way to get to Khao Sok is to fly to Surat Thani or Phuket. There are mini buses from both locations to Khao Sok.
Southern Thai Islands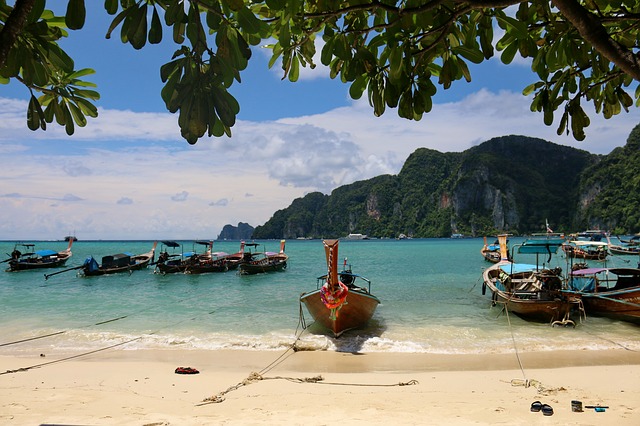 Thailand is home to some of the very best beaches and most paradiscal islands in the world so no backpacking Thailand itinerary could miss out some beach time!
Depending on the season, you'll want to visit either the East Coast or West Coast islands to avoid the rain. Between May – Oct its best to island hop on the East Coast and between Nov – April hit the beaches on the West Coast islands.
Read on to see my top tips for both sides…
East Coast Islands (May – Oct)
Koh Samui – 2 or 3 days
Start off your Thai island hopping adventure relaxing on the beach with a coconut on Thailand's second largest island – Koh Samui. The island consists of white sand beaches, clear turquoise oceans, dense jungle, and plenty of opportunities to pamper yourself and take full advantage of the meaning of a holiday.
Koh Samui is a great place to include on everyone's Thailand itinerary, whether you're a backpacker, couple, or family, since you'll find both a party atmosphere and a laid back, chilled out atmosphere on the island.
You'll want to check out the popular Chaweng Beach, as well as make your way to two of the Na Muang Waterfalls. Also don't miss exploring the temples and visiting the Big Buddha statue and the Secret Buddha Garden in the jungle, an interesting collection of Buddha statues.
Where to stay on Koh Samui:
It's really easy to get to Chill Inn as it's right on the main ring road, but it also faces out onto a beautiful secluded beach which completely takes you away from the busy streets. There's waterfalls and viewpoints within close distance and the hostel provides beach games and water activities as well as great music all day long. Click here for prices, availability, reviews and booking.
Close to the airport, pier and several beaches, this hotel will help take out a lot of the stresses of travelling on a budget. Their rooms are fitted with all the essentials plus a few luxuries, and the hosts are really friendly too. Click here for prices, availability, reviews and booking.
How to get to Koh Samui:
Koh Samui has an airport but flights are usually quite expensive. You can also fly from Bangkok to Surat Thani and take a ferry to Koh Samui. I always buy the combined flight, bus, boat tickets to make the journey hassle free.
You can also buy combined overnight train from Bangkok, bus and ferry tickets to Koh Samui. An easy place to buy tickets online is 12goAsia. If you're coming from Khao Sok take a bus to Surat Thani where you can easily connect to the bus and ferry.
Koh Phangan – 2 or 3 days
Koh Phangan is one places you shouldn't miss out on when backpacking Thailand. The island is famous for its monthly Full Moon Party, a massive party on the beach that attracts tens of thousands of people every single month.
Deck yourself out in UV glow paint and sip on buckets at the Full Moon Party as you watch the sun come up over the horizon with various techno, house, and EDM beats blasting from the beach clubs and bars. If it's not full moon time when you visit don't worry as there are lots of amazing parties on all month.
Koh Phangan still has a lot to offer and should be in your Thailand itinerary even if you don't want to party. There's many yoga retreats as well as a massive national park called Than Sadet Ko Phagnan National Park, with numerous waterfalls, secluded beaches, and gorgeous hiking opportunities that you shouldn't miss out on if you're visiting the island.
Phaeng Waterfall is a beautiful waterfall with a nice lookout point in the jungle.  Haad Yuan Beach and Ao Thong Nai Pan are two stunning beaches with huts and bungalows that you should definitely visit.
Where to stay on Koh Phangan:
Just ten minutes from the full moon parties and sitting right on the beach, this hostel is perfect for a fun-filled stay in Ban Tai on Koh Phangan. This is definitely a social backpacker hostel and the good vibes you find here will stay with you for life. Click here for prices, reviews and booking.
A beautiful property with traditional wooden huts surrounded by coconut palms, you could easily think you were staying in a luxury resort. But the room prices are very reasonable and the host treats guests like family as well as being very knowledgeable about the local area. Highly recommended. Click here for prices, reviews and booking.
See more: 7 Best Backpacker Hostels in Koh Phangan/ Where to stay in Koh Phangan (for all areas and all budgets)
How to get to Koh Phangan:
The ferry from Koh Samui to Koh Phangan only takes about 20 mins.
Read More of my posts on Koh Phangan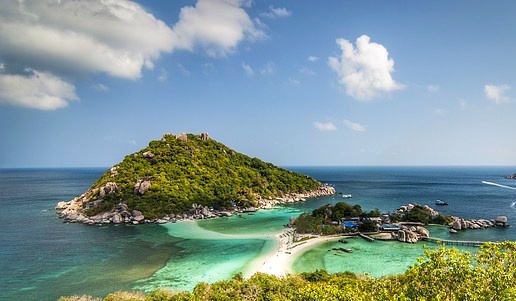 Ko Tao – 2 or 3 days
Known for its colourful and vibrant coral reefs, Ko Tao is one of the best places in Thailand for SCUBA diving. It's here you'll have the chance to see rays and whale sharks, as well as other numerous species of fish and wild life.
The island is also home to many beautiful bays, groves, and secluded beaches. If you have time to add to your Thailand itinerary you can even take a course and receive your diving certification if you don't have it already.
Take the strenuous trek up to John-Suwan Viewpoint and relish in the gorgeous island views, a reward for your hard work. Sai Nuan Beach is a hidden beach with skinny palm trees and the perfect place to spend the afternoon.
Sairee Beach is another wonderful option. If you're looking for a party, the Koh Tao Pub Crawl is a great way to meet other backpackers.
Where to stay on Ko Tao:
Comfy bean bags in the common room and colourful bunks in the dorms make Summer Hostel a real pleasure to stay at. The beds are large and comfy, plus there's private balconies and complimentary drinks. Overall a fantastic hostel on Koh Tao. Click here for prices, reviews and booking.
Right by the beach with spectacular views, this hotel really soaks you in the Koh Tao experience. The nightlife is close by and the hostess will always do her best to make your stay truly exceptional. Click here for prices, reviews and booking.
How to get to Ko Tao:
The ferry from Koh Phangan to Koh Tao takes about 1 hour.
West Coast Andaman Islands ( Nov – April)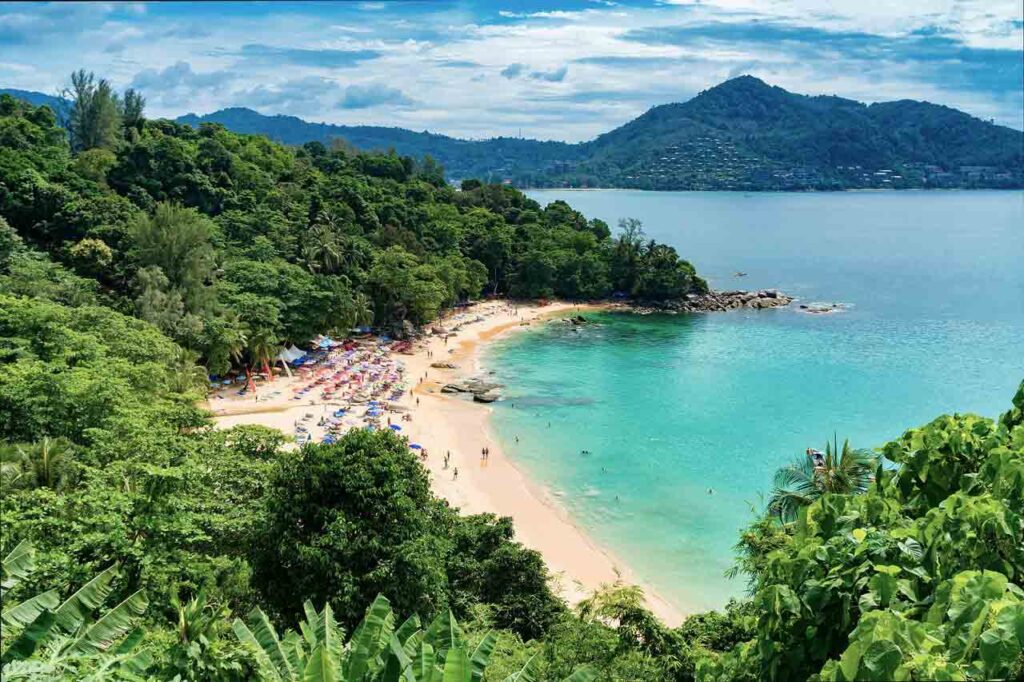 Phuket – 3 Days
Phuket is Thailand's largest island and the country's most popular tourist destination. It's blessed with some of the most beautiful beaches in Thailand, the nightlife at Patong beach is legendary and there's numerous attractions and things to do in Phuket. From waterparks and elephant sanctuaries to night markets and Buddhist temples – you'll find everything in Phuket.
Before tourism, the island was a rubber and tin mining hub that attracted many traders from over the world. This created a unique culture which you can explore in colourful Old Phuket Town.
Visit on Sunday to combine your trip with the Sunday walking street night market and also make sure to go up and admire the Big Buddha pearched on a hilltop nearby offering stunning views over the island.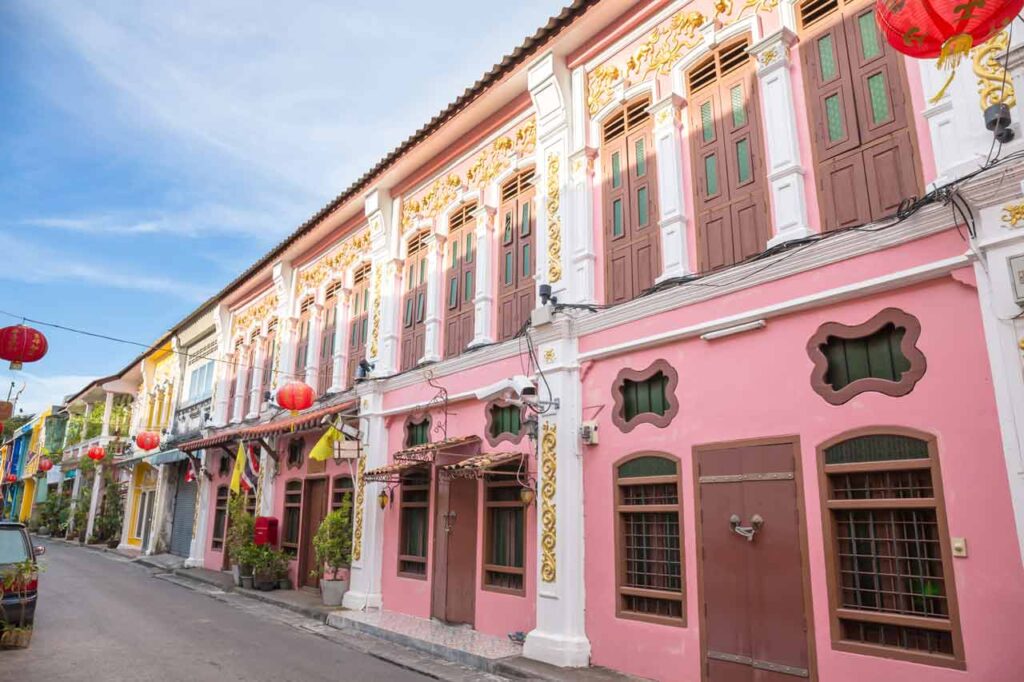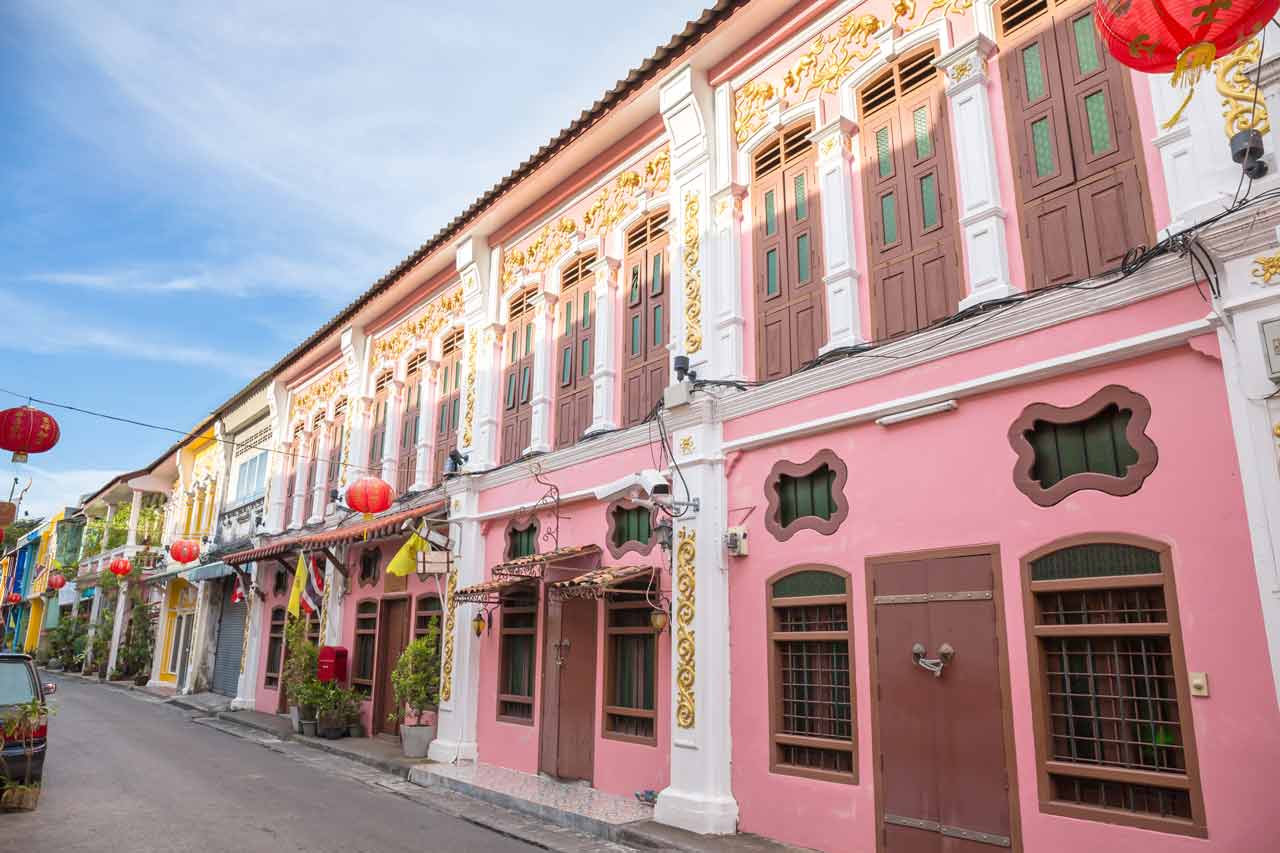 Phuket also makes a great base for island hopping with Koh Phi Phi and hundreds of other lesser known paradise islands that make a great day trip from Phuket.
If you're limited for time, or just don't want to move around so much, you could base yourself in Phuket and take some island hopping day trips for an easy way to experience some of the most beautiful parts of southern Thailand.
Where to Stay in Phuket:
Phuket is popular with backpackers, families and is also home to some amazing luxury resorts so there's no shortage of accommodation and places to stay in Phuket whatever your budget.
If you're looking for crazy nightlife, affordable backpacker hostels and a young and fun atmosphere head to popular Patong beach and Bangla Road.
Phuket's branch of this popular stylish backpacker hostel chain offers air conditioned 4 bed dormitory rooms as well as deluxe private rooms in a sociable environment. There's a large swimming pool, cafe and bar and plenty of lounging hang out areas. Great for meeting people to party with in Patong and chilling in the day.
A great budget hotel in Patong with lovely friendly staff in a convenient location that gives easy access all the action and is just 10 minutes walking distance from the beach.
How to Get to Phuket:
Phuket has an international airport receiving many flights from all over Thailand and the world. You can also get a sleeper bus from Bangkok or a train and bus combination.
Krabi –  2 or 3 days
Krabi is more laid back and not as popular as Phuket, but just as beautiful!
Krabi is home to spectacular limestone cliffs that tower over the ocean, mangrove forests, a 150-kilometer coastline with stunning beaches, and tons of tiny islands just of its shores, including Koh Phi Phi.
Take a long tail boat from Ao Nang beach over to Railay Beach, a amazing place for rock climbing and one of the most beautiful beaches in all of Thailand. There's also the chance to go kayaking, snorkelling, diving and trekking in Krabi.
If you're after culture explore Krabi Town and browse the weekend night market, if you're after nightlife you'll find plenty of bars to party at in Ao Nang.
For a unique adventure in the nature head to the Tiger Cave Temple, a Buddhist temple and meditation centre situated on a hill with epic panoramic views. Another one of my favorite things to do in Krabi was relaxing in the Klong Thom hot springs and the Emerald Pool nestled in the jungle of Khao Phra Bang Khram Nature Reserve.
Where to stay in Krabi:
A lively hostel with a party vibe, close to all the fun things to do in Ao Nang and super helpful staff. They offer affordable and tasty food that can be ordered at reception as well as organising local bar crawls and other day trips. Click here for prices, reviews and booking.
This modern hotel is in a quiet area with good connections to the city. The rooms are spacious with large beds and clean, private bathrooms. The WIFI is amongst the best around making it suitable for digital nomads, plus it's one of the most affordable hotels in Krabi. Click here for prices, reviews and booking.
How to get to Krabi:
Krabi has an international and domestic airport services flights to and from all over Thailand and other major cities in Asia. You can also take an overnight bus from Bangkok, or a ferry from Phuket.

Koh Phi Phi –  2 days
The Phi Phi islands are an archipelago of 6 islands, located between Krabi and Phuket. The 2 main, and most famous, islands are Phi Phi Don and Phi Phi Leh.
Koh Phi Phi is one of most beautiful places in all of Thailand (and also one of the most popular and crowded) Koh Phi Phi and Maya Bay shot to stardom after the movie The Beach was filmed here in 2000 so it's a must see on everyone's Thailand backpacker route.
The island is home to beautiful beaches, turquoise waters, underwater marine life, limestone cliffs and tropical jungle. Phi Phi Viewpoint is an excellent place to hike up to for some awesome photos of this most picturesque Thai island paradise.
Nowadays it has become quite a party island with its many beach bars, clubs, and restaurants that are open until early in the morning and boozy sailing cruises and boat trips.
Where to stay on Koh Phi Phi:
The complimentary hot drinks and biscuits are just the start of the exceptional hospitality you will experience if you choose to stay at Voyagers Hostel. The friendly and open atmosphere attracts many solo travellers and backpackers to share your time on Koh Phi Phi with. Click here for prices, reviews and booking.
The simple, beautiful huts made from natural materials at Viking Nature Resort are surrounded by lush, tropical vegetation and placed on a private sandy beach making this hands down one of the best places to stay on Koh Phi Phi. Click here for prices, reviews and booking.
How to get to Koh Phi Phi:
The ferry to Koh Phi Phi from Krabi takes about 1.5 hours. You could also take a 2-hour ferry from Phuket

Koh Lanta – 2 or 3 days
Located in the Andaman Islands, Koh Lanta offers you the chance to explore many waterfalls, beaches, and dense jungles. It's the largest island that's part of the Mu Ko Lanta National Park with rich marine wildlife.
You can go snorkelling at Koh Rok. Koh Muk has an emerald cave with a hidden lagoon. There are many beach bars and restaurants as well in Koh Lanta, so grab a coconut and put your feet up!
It has has a great co working spaces so digital nomads will want to include Koh Lanta in their Thailand itinerary.
Where to stay on Koh Lanta:
Located close to Long Beach, famed for its snorkelling and horse riding tours, this modern hostel offers everything that you would need while backpacking Koh Lanta. Don't miss out on their free breakfast – essential after a night out on the island. Click here for prices, reviews and booking.
A serene location overlooking the sea where beautiful sunrises remind you that this truly is a paradise get-away. Very close to the Old Town Market and surrounded by mangrove forest, it can be hard to believe that this is an affordable place to stay. Click here for prices, reviews and booking.
How to get to Koh Lanta:
From Krabi, it is a 15-30 minute speedboat ferry ride or a several hour slow ferry to Koh Lanta.
Koh Lipe – 2 days
A gorgeous island in the Andaman Sea, Koh Lipe has colourful coral reefs, shipwreck dive sites, and crystal clear blue waters.  It's sometimes referred to as the Maldives of Thailand, with its spectacular beaches and chance to escape reality and absorb a completely relaxed beach life.
Koh Lipe is part of Tarutao National Marine Park, and is home to sandy beaches such as Pattaya and Hat Chao Le.
Where to stay on Koh Lipe:
Set in a peaceful garden close to Sunrise Beach, The Hideaway offers beds in dormitories as well as private bungalows made from natural materials. They accommodate all types of backpacker and will assist in making the most of your time on this island. Click here for prices, reviews and booking.
Breezy bamboo cottages just moments from the beaches and walking street. If diving, snorkelling and nature are your thing then Forra Dive Resort should be the first place you look at when staying on Koh Lipe. Click here for prices, reviews and booking.
How to get to Koh Lipe:
The ferry from Koh Lanta to Koh Lipe takes about 3 hours or you can take a quicker, but often bumpy, speedboat ride.
Once you've seen the best of the Thai islands then, if you are backpacking Southeast Asia you can easily continue down through Malaysia to KL or Singapore.
Take the boat from Koh Lipe to Langkawi islands in Malaysia and check out my Malaysia Itinerary.  Or if it's the end of your trip then take an overnight train, bus or catch a flight back to Bangkok to head home.
Pin Me! 😉 
2 Week Thailand Backpacking Route
In this blog post I've focused on my 1 month Thailand itinerary which is ideal for the ultimate Thailand backpacking route and allows you to experience the best of what backpacking Thailand has to offer.
If you have less time you could also cover the highlights in just 2 weeks by skipping some places, taking day tours to save you time or spending fewer days.
If you're really short on time then the places you really can't miss out on are Bangkok, Chiang Mai and spending some time on the islands.
Here's my suggestion for the best 2 week Thailand backpacking route:
Bangkok – Sukhothai – Chiang Mai -Pai/Mae Hong Son – Koh Phangan + Koh Tao or Phuket + Krabi  or Koh Phi Phi
You can still see a lot of Thailand in only 2 weeks if you save time by taking day trips to some places from Bangkok and Chiang Mai and Phuket.
Backpacking Thailand: Essential Thailand Travel Tips
Thailand Backpacking Budget
$25 – 40/day (Read more here on my Thailand backpacking budget)
Best time to visit Thailand
There are generally three seasons in Thailand: hot, cool, and wet. Cool season provides favourable weather conditions with sunny, clear skies and warm temperatures.
The best time for backpacking Thailand is in the cool season during November- March but traveling in the rainy season is also possible and has advantages . (Read more here on the weather)
Visas for Thailand
Many nationals from countries such as U.K., U.S.A., Australia, Canada, and New Zealand get 30 days visa free when arriving to Thailand via air with an onward ticket (that they sometimes check although they have never checked mine), and 15 days visa free when arriving via land.
You can extend your visa by another 30 days by going to an immigration office and paying about 2,000 baht or apply for a longer visa at any Thai Embassy. It's better to get at least 30 days because there is so much to see in Thailand. More visa info here.
Getting around Thailand
Thailand's transportation system is modern and efficient making it easy to backpack Thailand. Trains, buses, flights, boats, taxis and tuk-tuks operate all over Thailand.
Trains are comfortable and can save on night's accommodation, and buses are convenient and comfortable, especially when you book a luxury bus. When planning your backpacking Thailand itinerary in advance you can book your transport in Thailand online easily using 12 Go Asia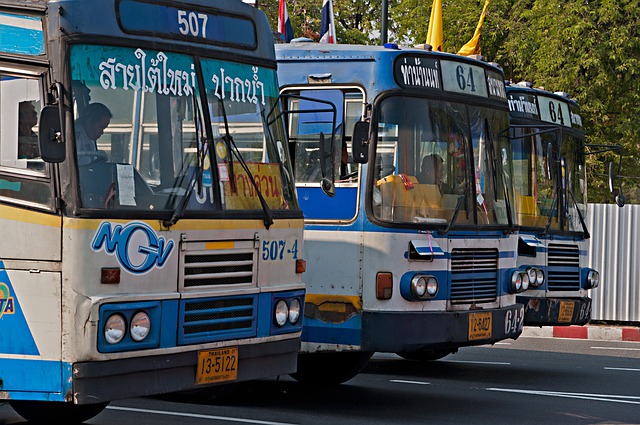 Budget Accommodation and Backpacker Hostels in Thailand
Thailand has all types of accommodation, whether you're looking for luxury 5 star hotels with rooftop pools or cheap guesthouses and sociable backpacker hostels.
I've recommended accommodation for each destination – you might also like these posts: The best places to stay in Bangkok,  The best backpacker hostels in Bangkok,  The best backpacker hostels in Thailand recommended by fellow travel bloggers.
Thailand is also an amazing place to take a yoga retreat – see my top 6 Thailand yoga retreats here.
Volunteering in Thailand
Thailand is an amazing country for backpackers and budget travellers however there are still many poor communities who could really do with your help.
Many backpackers in Thailand like to do something to give back to the community. Instead of paying 1000's to volunteer sign up with Worldpackers and you can exchange your skills and time for free accommodation, food and many other benefits.
By volunteering you can get immersed into the local culture, make friends with the locals, learn new skills all while helping those in need and saving yourself money so you can travel for longer. Click on this link and use my discount code GLOBALGALLIVANTING to save $20 on the membership fee. Read more about volunteering in Southeast Asia for free with Worldpackers here.
Thailand Backpacker Tours
Thailand is easy to backpack or travel independently but if you don't want to go it alone or just want to take the hassle out of planning and arranging your Thailand itinerary for yourself then there are some great backpacker tours of Thailand that will get you to all the highlights as well as off the beaten track to some less touristy experiences.
My favourite budget Thailand backpacking tour is the 15 days Thailand: Night Markets and Blue Waters tour by G Adventures, starting at $1000 it's good for backpackers and young, fun, adventurous travellers who want to see all Thailand's highlights – Bangkok, Chiang Mai, a hilltribe trek, Khao Sok National Park and the islands of Koh Phangan and Koh Tao. Get more info here, or for more of my Thailand tour recommendations check out this post.
Best Thailand Guidebook
The Lonely Planet Thailand Guidebook has tons of key information for pretty much every tourist destination in Thailand. It's invaluable for backpacking Thailand and no traveller should leave home without it. Save money and buy it on Amazon.
More Backpacking Thailand Blog Posts