Thailand, has been a haven for backpackers for decades. I've visited 6 times now and I think Thailand is the best country for a first time backpacking trip.
There's so much to see and do in the 'Land of Smiles' that planning a trip to Thailand can be a little overwhelming, especially if your first time backpacking or you are going solo.
A great way to take the stress out of planning, pack in as much as possible into a short time, be safe, have fun and make new friends is by going on one of the awesome Thailand backpacking tours.
Thailand may be famous for it's golden temples and beaches but with so many stunning cultural, historical and natural sites, paradise islands, exciting cities, national parks, hill tribes and animal conservation centres no visit to Thailand is complete just sitting on a beach.
I really recommend you visit the cultural sights in North Thailand as well as the beaches and islands in the South of Thailand. Check out my perfect Thailand itinerary that covers the best of north and south in just 2 weeks.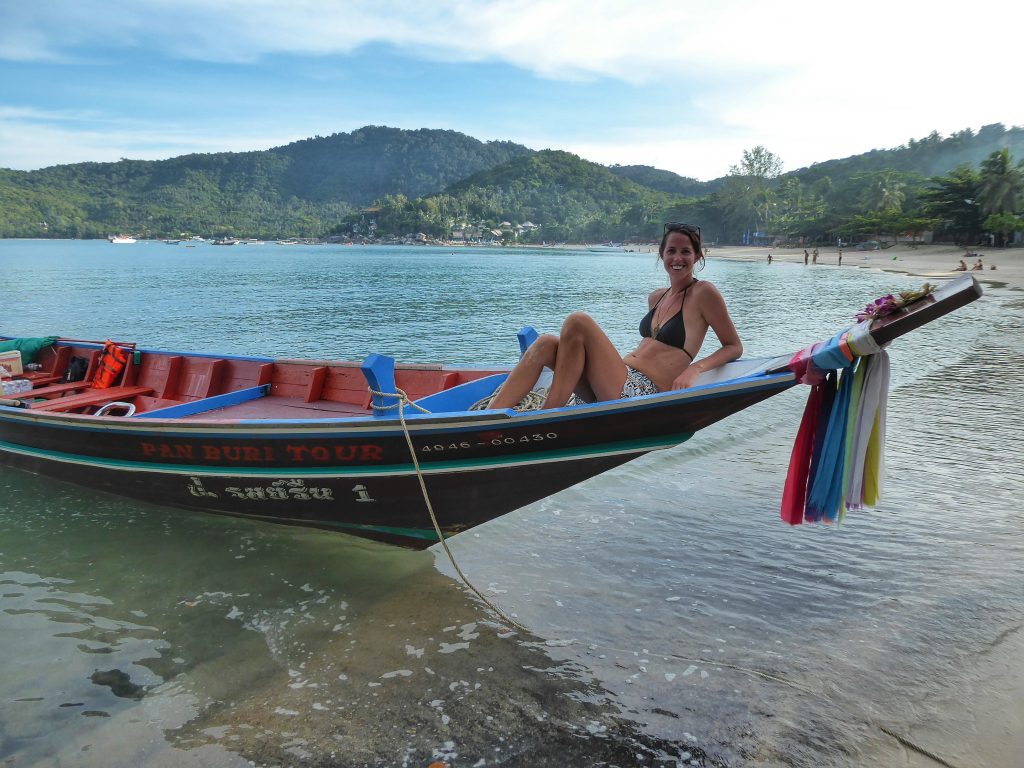 10 of the Best Thailand Backpacking Tours
As Thailand is such a dream backpacker destination there are a plethora of different tour companies out there that offer awesome Thailand backpacker tours specially designed for fun, young travellers and give backpackers the chance to tour around Thailand with a group of like-minded travellers.
There are so many companies that offer Thailand tours but the ones I mention here are special Thailand backpacker tours run by my favourite tour companies that are specifically aimed at backpackers and young travellers.
My all time favourite tour companies; G Adventures and Intrepid both run award winning, adventurous, fun, socially responsible and affordable small group backpacking tours of Thailand.
TruTravels, Contiki, Free and Easy Traveller, Intro Travel and Stray also are really well known for their fun Thailand backpacker tours specially made for 18 – 35's.
If you are thinking of taking a longer backpacking trip of Thailand, or around all of Southeast Asia, but are feeling a little daunted its a good idea to take a short tour around Thailand first so you can relax into your trip, gain confidence and meet new friends.
I've organised my favourite tours by length so you just have to decide how much time you have, where you want to go and which Thailand backpacking tour is right for you …
Pin Me 😉 
The Best 1 Week Thailand Backpacking Tours
If you want a quick taster of this amazing country but are pressed for time, these are the best 1 week or 7 day backpacking tours in Thailand.
If you're just visiting Bangkok or just want to tour the best of the city in a few days with like minded people and have a soft landing check out G Adventures' 3 day Bangkok Mini Adventure. 
This 8 day Southern Thailand backpacking tour stars with a day checking out all of the main sights in Bangkok before getting on an overnight train to enjoy the natural beauty of Khao Sok National Park.
Go hiking through the magnificent forest and swimming in Lake Cheow Lan, followed by a journey across the peninsula and to the Gulf of Thailand to visit the famous Full Moon party island of Koh Phangan.
Spend a day exploring the island, seeing waterfalls and hiking through the jungle, or opt to just lay around on the beach. Then hop on a ferry to the laid-back island of Ko Tao to go snorkelling, diving or hanging out in a hammock.  Click here for more details, dates, prices and to book…
If you want to party at the legendary Full Moon Party in Koh Phangan check out Tru Travels – Full Moon Expereince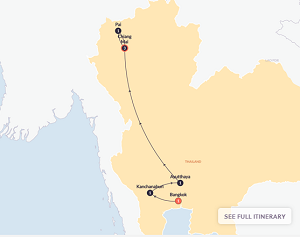 This is the best Northern Thailand backpacking tour that shows you all the highlights in just over a week. Roam around the streets of Bangkok, snap photos of the Bridge on the River Kwai, explore the old capital of Siam and cycle past rice paddies.
This 8 day backpacking tour of Thailand is one of the best tours for a short stint exploring Northern Thailand. The tour starts in Bangkok, where a local guide will take you around the canals and to the shopping centres.
You then visit the sleepy town of Kanchanaburi to see the Bridge on the River Kwai and the magnificent 7-tiered Erawan Waterfall. Contiki will even take you on a boat trip along the famous river!
The UNESCO listed Ayutthaya is the next stop. The former capital city is filled with temples and palaces, with a guide taking you around on bicycles before you get on an overnight train to Chiang Mai.
Spend 2 days exploring the city in whatever way you chose, followed by a stunning drive through the hills to Pai where you'll spend the last 2 days of the tour before finishing off back in Chiang Mai. Click here for more details, dates, prices and to book…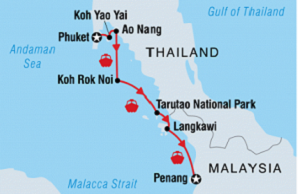 Visit islands, waterfalls and seaside villages dotted along the Andaman coast from Phuket to Penang. On this 8-day tour you'll travel by boat starting in Phuket and working its way down the coast to Ao Nang, Koh Rok Noi and Lankawi, before finishing off in Penang.
You'll also stop at the stunning Koh Yao Yai and the magnificent Tarutao National Park. This Thailand backpacking tour also includes a homestay with a local family, Stand Up Paddle boarding right from the ship, a visit to Telaga Tujuh Waterfall and a walking tour of Penang Old Town.
Intrepid also offers added extras like rock climbing, Thai massages and a Thai cooking class for the ultimate Thailand experience. Click here for more details, dates, prices and to book…
If you just want to island hopping in Thailand check out this 8 day West Thailand Island Hopping Tour by G Adventures
The Best 2 Week Thailand Backpacking Tours
If you have a little bit more time on your hands then it is well worthwhile going on a longer Thailand backpacking tour where you'll see a bit more and won't feel so rushed jetting from one place to the next.
Here's the best tours if you have about 2 weeks to explore Thailand: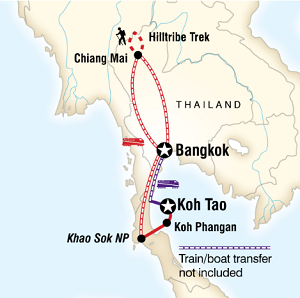 This is my favourite short Thailand backpacking tour that takes you to the highlights of both North and South Thailand.
Get off the beaten path on this 15 day tour that starts in Bangkok and takes you north to wander around the streets of Chiang Mai, to the colourful hillside village of Ban Mae Jok and to the Karen village of Pa Khao Lam.
You will then head back to Bangkok before taking an overnight train to Khao Sok National Park to go trekking and enjoy the amazing natural beauty at this renowned national park.
The last 4 days of the tour are spent relaxing on the beach on Koh Phangan and snorkelling in Koh Tao. It's a great tour for anyone looking for both culture and beach time. Click here for more details, dates, prices and to book…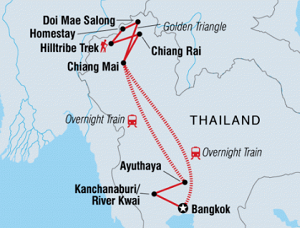 On this 15 day tour Intrepid will take you to see the Bridge on the River Kwai, the 7-level Erawan Waterfall, and the capital of Siam.
You'll also go trekking through hill tribe villages, stay with a local family, and walk through rice fields and bamboo jungle. It's a fantastic way to experience the best of Northern Thailand, from its busy city streets to its quiet hill tribe villages.
Intrepid even offers a few optional extras to make it that much more memorable, like a Thai cooking class, a visit to the Elephant Nature Park and a boat trip along the Mekong River. Click here for more details, dates, prices and to book…
If you don't have so much time see the highlights of Northern Thailand in only days on this the Explore Northern Thailand Intrepid tour.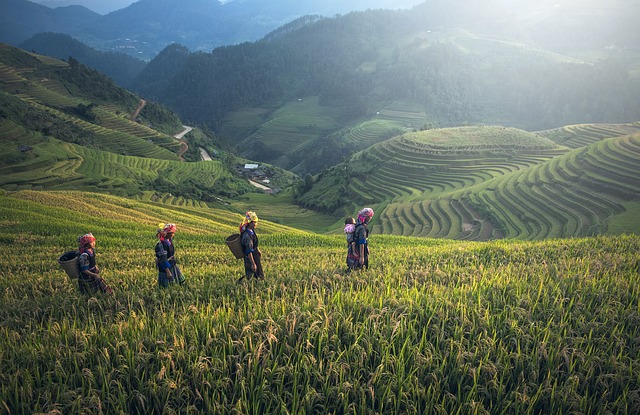 Travel to stunning white sand beaches, sleep in floating bungalows and be surrounded by magnificent limestone cliffs on this 10 tour that takes you from Bangkok south to Cheow Lan Lake, Koh Phi Phi and Railay.
The tour starts with a guided tour of Bangkok before you get on an overnight train to Cheow Lan Lake, which you arrive at by longtail boat. You'll spend the night floating on the lake before trekking through the magnificent rainforest to see waterfalls, gibbon monkeys and exotic birds.
Then you'll go to Koh Phi Phi's Maya Bay, which was the set of the movie 'The Beach', where you can go scuba diving, trekking or just lazing on the beach. From there, Free and Easy Traveler will take you on a boat to the beautiful Railay beach where you can go rock climbing or continue to work on your tan. Click here for more details, dates, prices and to book…
Flexible Thailand Backpacker Tours
These tours offer flexible ways to travel around Thailand and see the highlights depending on where you want to go and how long you have to travel.
Not only will you get to explore Northern Thailand on this 13 day tour, but also Laos!
This fantastic backpacking tour of Thailand starts in Bangkok and takes you to the ancient city of Ayutthaya and the busy city of Chiang Mai. You then get on a private slow boat up the Mekong River to Luang Prabang, stopping in villages along the way and spending nights on the river at homestays.
Stray Travel then takes you on a tour of the magnificent UNESCO listed city of Luang Prabang to see its fabulous temples and French colonial buildings. Vang Vieng is the next stop, which is infamous for its tubing trips down the Nam Song River.
Laos' capital city of Vientiane is the last stop in Laos before taking the train back to Bangkok. Click here for more details, dates, prices and to book…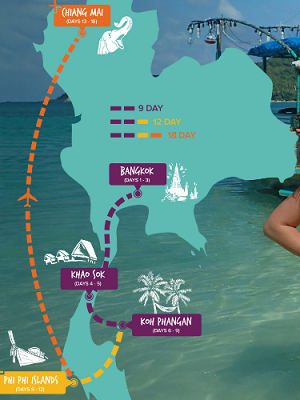 This is a great flexible Thailand trip that is a total of 18 days, but you can stop at 9 days or at 12 days, or enjoy the entire 18 day Thailand backpacking tour.
You'll start in Bangkok where you'll enjoy the food, culture and liveliness of the city before heading south to Khao Sok National Park, where you'll be surrounded by stunning natural beauty of pristine lakes and rainforest jungle.
From days 6 to 9 Intro Travel will take you to the beautiful island of Koh Phangan where you can take a Muay Thai class, a yoga class or just work on your tan.
If you are continuing on, days 10 to 12 will be spent on Koh Phi Phi and its famous Maya Beach. You can either end the tour there or take a flight to Chiang Mai for a 3 day taster of the north, where you'll stay overnight with a local hill tribe and spend days zip-lining through the rainforest and trekking through the jungle. Click here for more details, dates, prices and to book…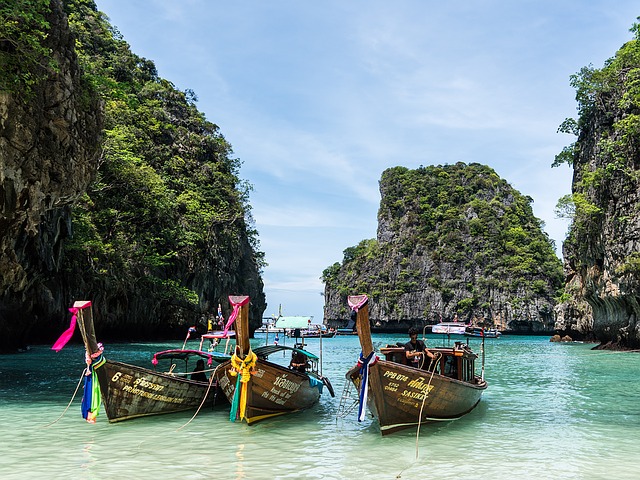 If you really want to sink your teeth into backpacking Thailand and have the time to spare, it's worthwhile to travel around the country for 1 month. Check out my 1 month Thailand backpacking route and itinerary for the ultimate Thailand experience. Also check out Tru Travels 27 Day Total Thailand tour.
Have you been on an awesome Thailand tour? Which company did you go with? Leave your comments below and your tips can help out other backpackers 🙂