The Best Backpacker Hostels in Bangkok
Thailand, and especially the capital Bangkok, is one of the best and most popular places to start a backpacking adventure and the backpacker hostels in Bangkok are great places to stay on a budget while also having fun and meeting other backpackers.
There are so many cheap places to stay and backpacker hostels in Bangkok that choosing the right one can be a little overwhelming. I've lost count of how many times I've visited Bangkok so I thought it would be useful to put all my recommendations of the best areas of the city to stay in and the best backpacker hostels and budget guesthouses for each place.
I've included links to Booking.com so you can check the prices and reviews out for yourself. If you want to book I can earn a small commission (at no extra cost to you) which helps me to keep me travelling and this blog running so thank you! 🙂 For more tips also check out my Ultimate Guide to your first time in Bangkok.
The backpacking scene in Bangkok centres around the infamous Khao San Road. Most first time backpackers in Bangkok stay around Khao San Road as it has a fun and lively atmosphere with everything a backpacker could ever need but make sure you also venture away from Khao San to see the 'real' Bangkok.
Staying on Khao San Road can be great fun, although if you want a more culturally Thai experience then it may be better to stay in more central areas like Silom, Sukhumvit and Siam Square which have cool backpacker hostels which are also more convenient locations for getting around the rest of the city on the skytrain. I'll go into more detail further on about the places to stay outside of KSR.
Pin Me 😉
The Best Backpacker Hostels and Cheap Hotels around Khao San Road and Banglamphu
Thailand is a bit like a backpacker's mecca and the epicentre is Bangkok's Khao San Road. Khao San stretches far further than just one street – the whole Banglamphu area is a great place for backpackers. If it's your first time backpacking in Bangkok then Khao San Road is a great place to stay due to the ease of meeting other travelers and the plethora of services the area offers to backpackers.
KSR is not just popular with dread locked hippies staying in grungy guesthouses it attracts all kinds of travellers. Nowadays backpackers staying around Khao San Road can expect stylish, modern, clean and fun backpacker hostels, budget hotels complete with rooftop swimming pools, international stores and fast food chains as well as many market stalls, clothes stalls, bucket bars and the deep fried cricket and scorpion vendors.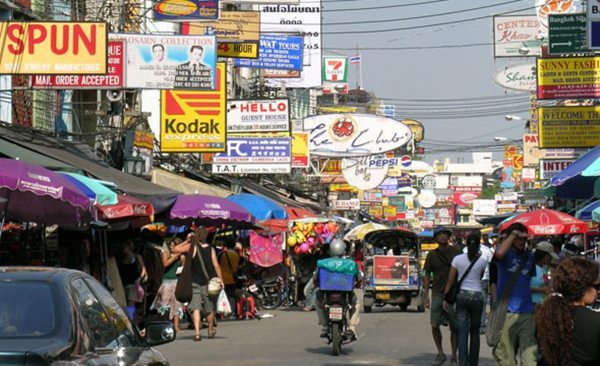 Being right in the heart of the action on KSR can get a bit noisy so if you want a quiet night's sleep then it's better to head a couple of streets back from the action. I prefer the streets just behind Khao San Road, like Soi Rambuttri, as they still have a lot of bars, restaurants, accommodation and things going on but with a more chilled out and a bit quieter vibe.
Khao San Road itself only has a few backpacker hostels as traditionally most of the cheap backpacker accommodation was in budget guesthouses. You could just turn up and check out a few places along Khao San Road but if you want to be sure of a bed in some of the most popular hostels during peak season then it's wise to book ahead.
The Best Backpacker Hostels on Khao San Road
Nap Park – is one of the most popular hostels around Khao San Road and is a great place for solo backpackers to meet other travellers in the comfy and lively common areas. The hostel is clean with comfy beds, hot showers and decent wifi and its only a 2 minute walk to Khao San Road so its easy to get home after a night out with new friends. I've stayed here a few times when I'm in Bangkok alone and Nap Park is a great, sociable and affordable place to stay close to all the action. Nap Park is one of the most popular backpacker hostels in Bangkok so book ahead. If Nap Park is full then Khao San Immjai is a stylish hostel about 10 mins away that is also a nice place to met other travellers.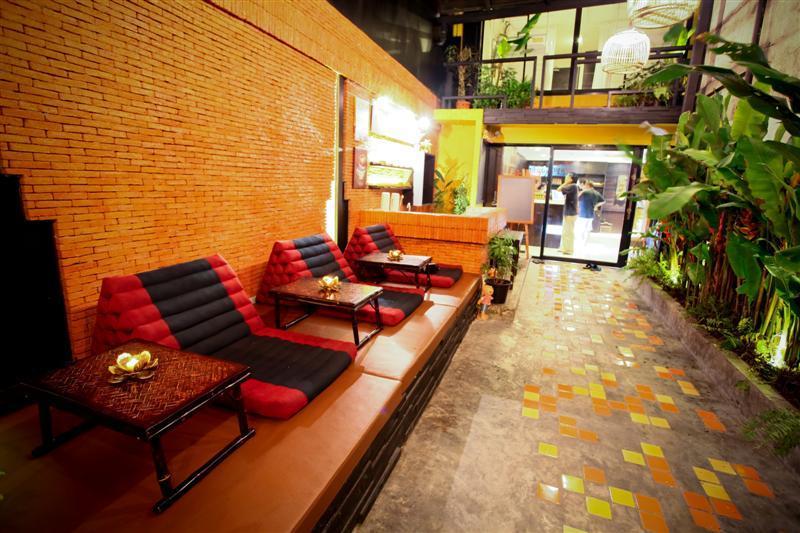 Nitan Hostel Khaosan is a new stylish boutique hostel that is located in the heart of Khao San Road but tucked away down an alley which means it's in the middle of the action but quiet enough to sleep if you want an early night. The staff were really friendly and helpful and the hostel is super clean and comfy. The dorm beds have nice privacy curtains around them and there is also decent wifi, good common rooms and a shared kitchen. Nitan is not a party hostel but it's a good place to meet people, especially over breakfast.
Suneta If you're looking for something with more Thai character check out super cute Suneta Hostel. The wood filled interior gives the hostel and cosy vibe and the dorms are clean and comfy with the added bonus of having privacy curtains around each bed. They even have beds that are like little pods with a wall that makes it feel like you have your own little room. Suneta is one of the best backpacker hostels in Bangkok as it's within walking distance to KSR but situated in a quiet area so it's great if you prefer to get a good nights sleep, while still being in a sociable environment, without being too far away from all the action.
Pillow Hostel is a modern, bright, clean and sophisticated hostel situated right on Khao San Road. They have dorms, single, twin, double and triple rooms to choose from. The beds are comfy and the staff are really friendly and willing to help you with whatever you need. The location is right above a night club on KSR which means it can be noisy at night but it's a perfect location for party animals as you are right in the middle of the all the action.
Best Cheap Hotels on Khao San Road
When backpacking Bangkok, and the rest of Southeast Asia, budget travellers are not just limited to backpacker hostels either. Many hostels do also have private rooms but it can be more cost effective to share a room in a cheap hotel or guesthouse if you are traveling as a pair or couple. There are some great cheap hotels around Khao San Road, some even have rooftop swimming pools! Here are my favourites :
Buddy Lodge – is a large, comfortable and eternally popular budget hotel on Khao San Road that's been around for many years. The location, on the far eastern end of Khao San Road, is super central, the rooms and décor are surprisingly classy and comfortable and the best part is the rooftop swimming pool and fitness centre. Buddy Lodge is one of the best sleeps on KSR and is great value for money if you book online in advance.
D & D Inn – Another flashpacker institution located right on Khao San Road. The hotel is clean, recently refurbished and good value for money. Rooms feature wooden and modern Thai styled décor but the highlight is the rooftop swimming pool with views of Bangkok's skyline. D & D Inn has become so popular over the years that the owners opened a, slightly more upmarket, sister hotel called Dang Derm in 2010 which is home to the best swimming pool on KSR.
Rikka Inn is a step up from your typical Khao San Road guesthouse. There are a variety of modern, clean and comfy rooms to choose from that are all equipped with wifi, air con, comfy beds, mini fridges, TVs, safes etc. Rooms are decorated in a nice vintage Thai style and interesting, colourful Thai themed art work. There is also a nice rooftop swimming pool.
Where to stay in Bangkok – apart from Khao San Road
Khao San Road is a great place for people watching, nightlife and to meet other backpackers but sooner or later you'll probably want to explore the real Bangkok!
Khao San Road is not really very conveniently connected to the rest of Bangkok and the city's traffic is pretty congested so staying near a skytrain station is a good idea as it makes it much easier to get around Bangkok.
The areas around Silom, Sukhumvit and Siam Square are a world away from Khao San Road but offer an arguably more cultural and interesting taste of Bangkok where the skytrain glides over ultra modern skyscrapers and shopping malls which tower over an eclectic mix of old shophouses, street markets, temples and go go bars.
Silom, Sukhumvit and Siam Square are the areas I would recommend backpackers to stay in if they prefer to avoid KSR. These areas have some really cool backpackers hostels and are centrally located and have a lot going on (although some areas, especially around Sukhumvit near Nana BST, are quite on the seedy side)
Best Backpacker Hostels in Bangkok (away from Khao San Road)
Lub d Silom and Lub d Siam Square are two of the best and most popular backpacker hostels in Bangkok.
Lub d Silom opened in 2008 and was one of the pioneers of Bangkok's trendy backpacker hostel craze. Lub d's excellent common facilities, trendy vibe, social atmosphere, central location and good security mean it is still one of the most popular backpacker hostels in Bangkok. It's located 200 meters from Silom Road, which is one of Bangkok's most eclectic and interesting areas, and the BTS. Lub d Silom makes a great base for exploring the city and there is also an tour desk in the hostel which offers some more offbeat Bangkok experiences. Lub d is a little more expensive that your average backpacker hostel but it's worth it and is my top recommendation if you want to meet other travellers in a funky hostel atmosphere away from Khao San Road.
There is also Lub d Siam Square which has a similar high standard of facilities, a great atmosphere and is situated in a great location for shopaholics.
The Yard Hostel is a great, sociable chilled out hostel located in Ari, a hipster area away from all the hustle and bustle of Bangkok and away from the tourist crowds of Khao San Road but still with many nice eateries, boutiques and within easy reach to all the major sights. The Yard Hostel has a really lovely community atmosphere and there are lots of nice little spots to chill out and meet other travellers. The rooms are really clean and crisp and the hostel common spaces and bar have a very social atmosphere. This is one of the very best backpacker hostels in Bangkok if you want to be away from the crowds and noise but still be sociable.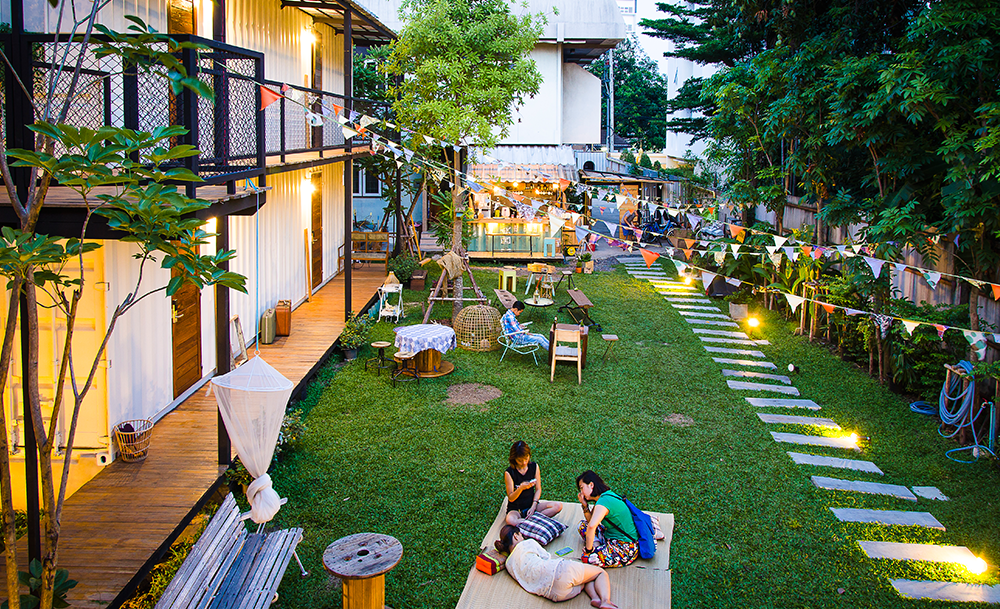 Smile Society – is a cosy, clean and friendly hostel with a peaceful and relaxed atmosphere. The hostel is located down a quiet side street but just a minute away from Silom Road giving you the best of both worlds, so you can have a good nights sleep whilst enjoying the central and convenient location. The staff and the owner, Bee, are really friendly and happy to help with recommendations for things to do in Bangkok. The rooms are comfy and cool and there is also a nice common room with plenty of areas for travellers to chat. There is also good security and a nice breakfast included and with easy access to public transport Smile Society is one of the best backpacker hostels in Silom.
Bodega – is a chic, trendy and lively party hostel located in the center of Sukhumvit and in the heart of Bangkok with easy access to everything Bangkok has to offer. Sukhumvit has great nightlife, the hostel is only a few mins from infamous Soi Cowboy and the bars on Soi 11 and the staff will come out and party with you. There is a cool onsite bar at Bodega which has a very social atmosphere and also does good food. The hostel is colourfully and artistically decorated and has 30 rooms all with comfy beds with individual reading lights, power and shelves. Free Wi-Fi is available in all rooms and there also a 24-hour front desk, luggage storage and fun, friendly staff making Bodega a great party hostel option in the vibrant area of Sukhumvit and one of the trendiest backpacker hostels in Bangkok.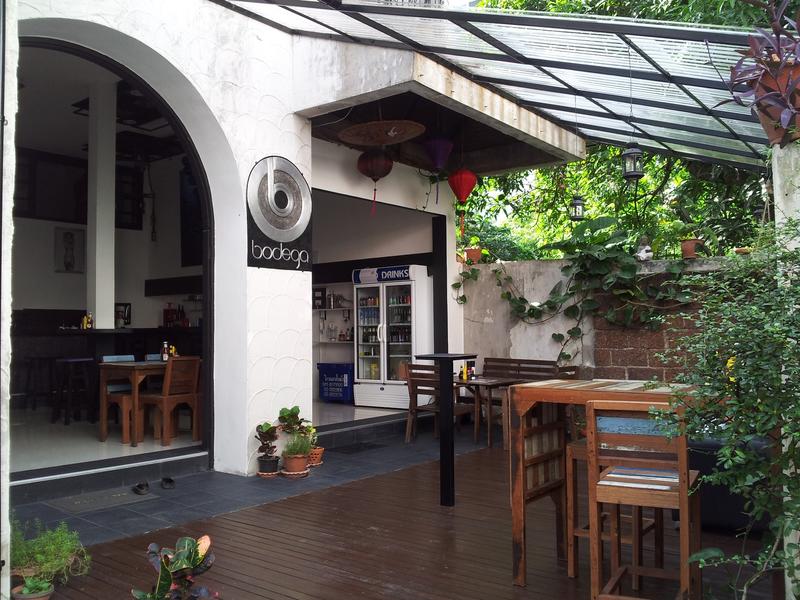 Adventure Hostel is conveniently situated just north of the center of Bangkok, directly next to the Saphan Kwai BTS stop making it easy to connect to the rest of city by skytrain and road. Adventure Hostel is also within short walking distance to Bangkok's famous outdoor weekend shopping mecca called Chatuchak Market. Inside, Adventure Hostel is uniquely decorated and spotlessly clean. Each bed has its own power outlet and reading light, and every dorm room is equipped with ice cold air conditioning. The staff are all welcoming, friendly, and genuinely helpful in assisting to plan your stay. When it comes to location, staff, cleanliness, and overall awesome atmosphere, Adventure Hostel is by far my favorite hostel in Bangkok.
Adventure Hostel was recommended by Craig O'Brien from www.VagabondDisposition.com
Siamaze is a bright and cheerful backpacker hostel that offers lots of free extras like free self service breakfast, free luggage storage, free cooking classes on Mondays and free BBQ parties on Fridays. The hostel is located in Ratchadapisek Road, a business/ residential area of Bangkok, and is less than 10 minutes walk to the Suthisan MRT station that will connect you with the rest of Bangkok. The clean and bright dorms include comfy beds with privacy curtains, personal reading lights and a private locker complete with power socket. There's also lots of common areas including an air conditioned TV lounge, outside terrace with hammock and small shared kitchen.
I also loved Refill Now it's a really nice, stylish, chilled out place with a cute mini swimming pool surrounded by tropical plants in a typical Bangkok neighbourhood. The dorms are clean, bright and modern and the staff are lovely. I also liked the trendy restaurant and bar area. It's a bit far from the center of Bangkok but a nice place to chill and the closest cheap option to the airport.
Have you been to Bangkok? If you've stayed in any amazing backpacker hostels in Bangkok that I didn't mention let me know in the comments below.