Mexico is a colourful, diverse and vibrant country full of ancient ruins, colourful towns and stunning beaches and any trip to Mexico is guaranteed to be alot of fun.
It's also a huge country and you can't see it all in 2 weeks or even a month. With so many amazing places to see it's hard to decide on your Mexico itinerary if you have limited time.
My top tip is to concentrate on one region, trying to travel long distances and see too many places at once will only make for a stressful and tiring trip – better to focus on one region and enjoy that fully.
I decided on the more off beat region of Oaxaca and fell in love with it. So I wanted to share my 2 week Mexico City, Beaches and Oaxaca itinerary which gave me a fantastic slice of the best of Mexico without the crowds of Cancun or the Yucatan.
My Awesome 2 Week Mexico City and Oaxaca Itinerary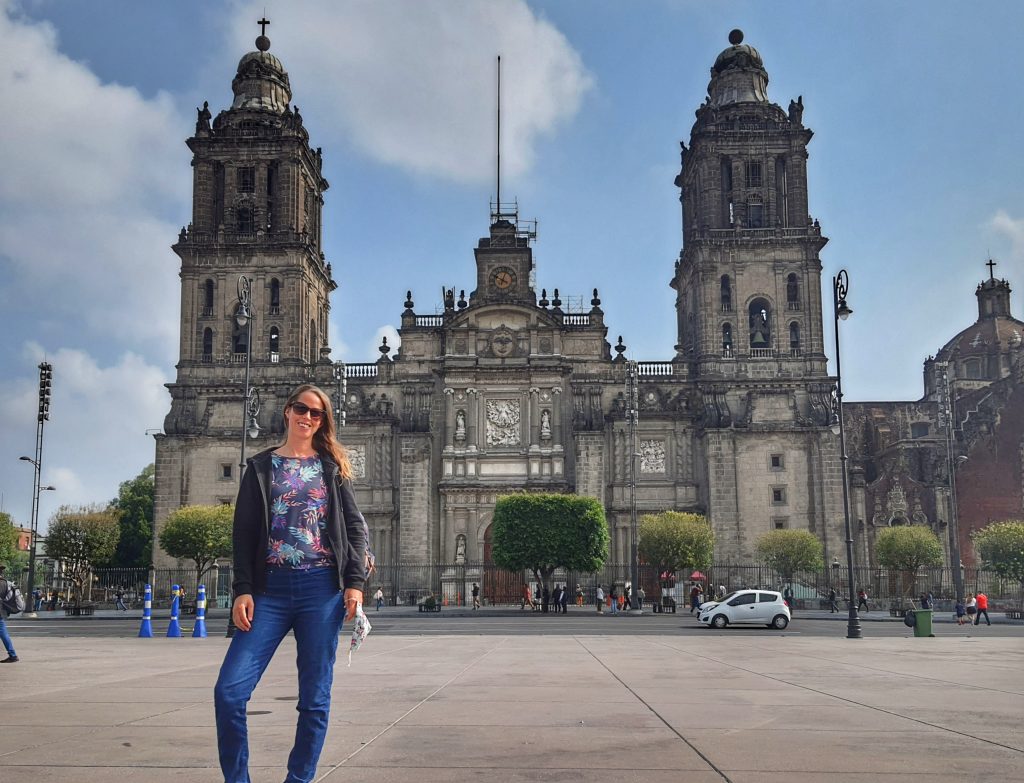 This 2 week Mexico itinerary takes you to some of the best spots in Mexico City and Oaxaca state. While the Yucatan region might be the most popular this Oaxaca route is less touristy, better value and more authentic.
Fly in and out of Mexico City and explore the best of this exciting megalopolis.
Chill out, learn to surf or practice yoga on the laid back, less touristy and uncrowded beaches of the Oaxaca Coast
Explore the colourful, historic city of Oaxaca and the surrounding countryside, indigenous culture and ancient ruins of the Valles Centrales!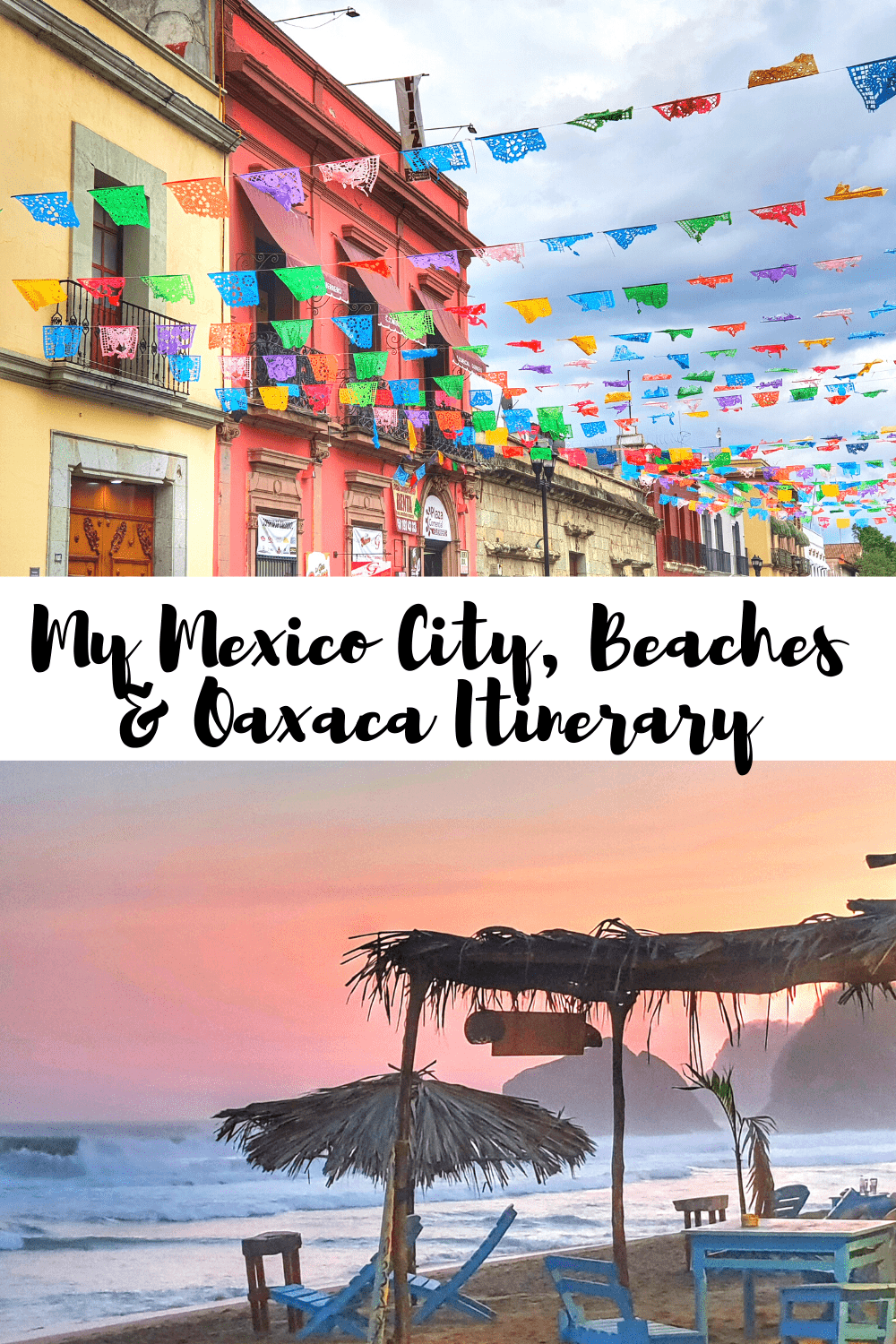 You might want to also read my post about my experience backpacking Mexico solo in 2021 for all Covid related entry requirements and tips for traveling in these strange times. Mexico has been consistently open for tourism throughout the pandemic with no entry restrictions and is the most popular destination of 2020 and 2021.
My 2 Week Mexico City and Oaxaca Itinerary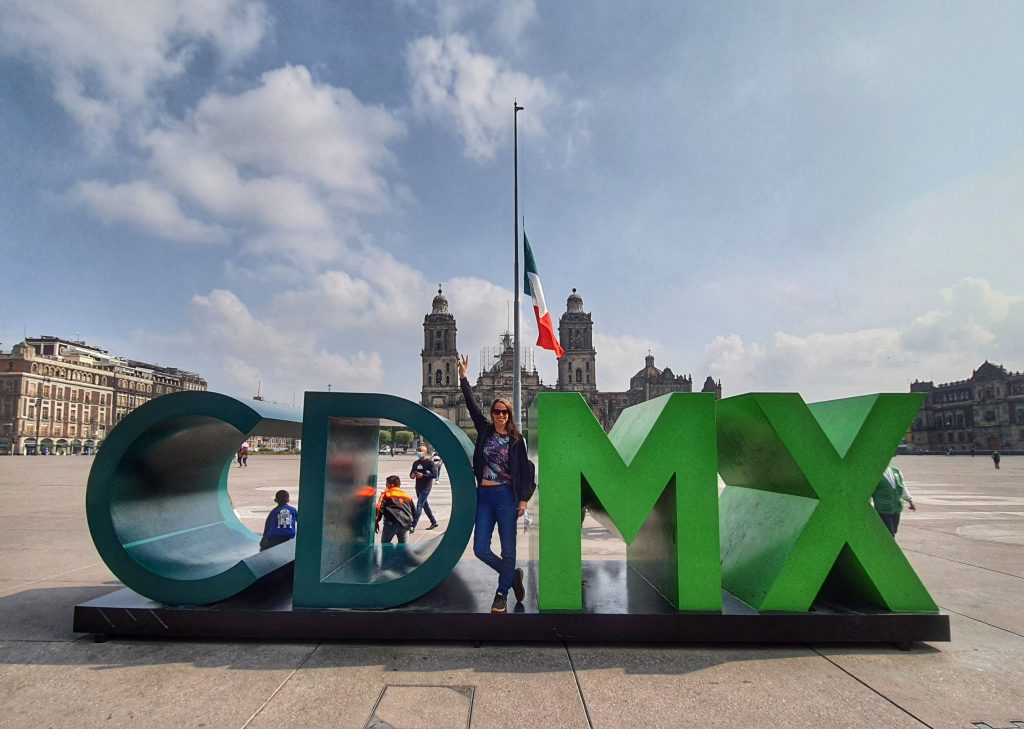 Mexico City – 3 Days
Mexico City (or CDMX as it's known by the locals) is an endlessly, amazing, unique megalopolis that offers everything from mysterious Aztec ruins and enchanting Spanish colonial buildings to elegant, tree lined, art deco neighbourhoods and an exciting dining and nightlife scene.
Did you know that Mexico City also rivals London as the city with the highest concentration of museums in the world! There's over 150 cultural institutions here. So allow at least a couple of days in any Mexico itinerary to see Mexico City (and maybe also a few days before you fly out) – there's a lot to explore in CDMX!
I didn't expect to like Mexico City so much! From the, somewhat negative, stereotypes I'd heard I thought it would be a place I'd want to get out of a soon as possible. It was a bit of a culture shock at first but actually I grew to love this exciting, sprawling and diverse city.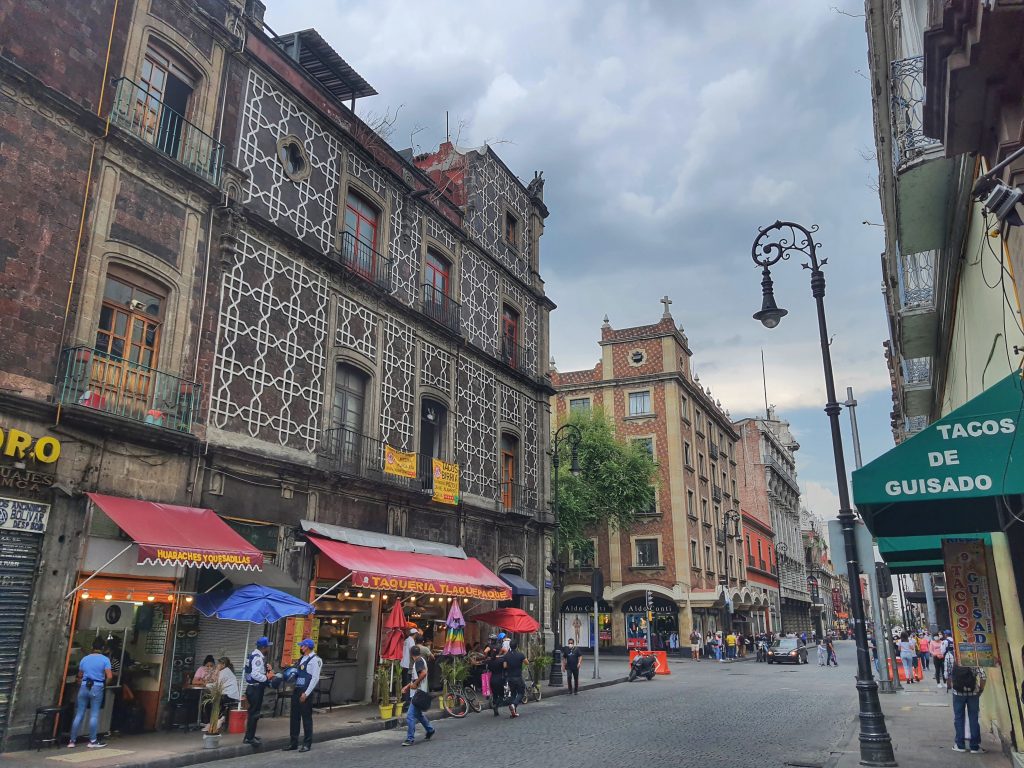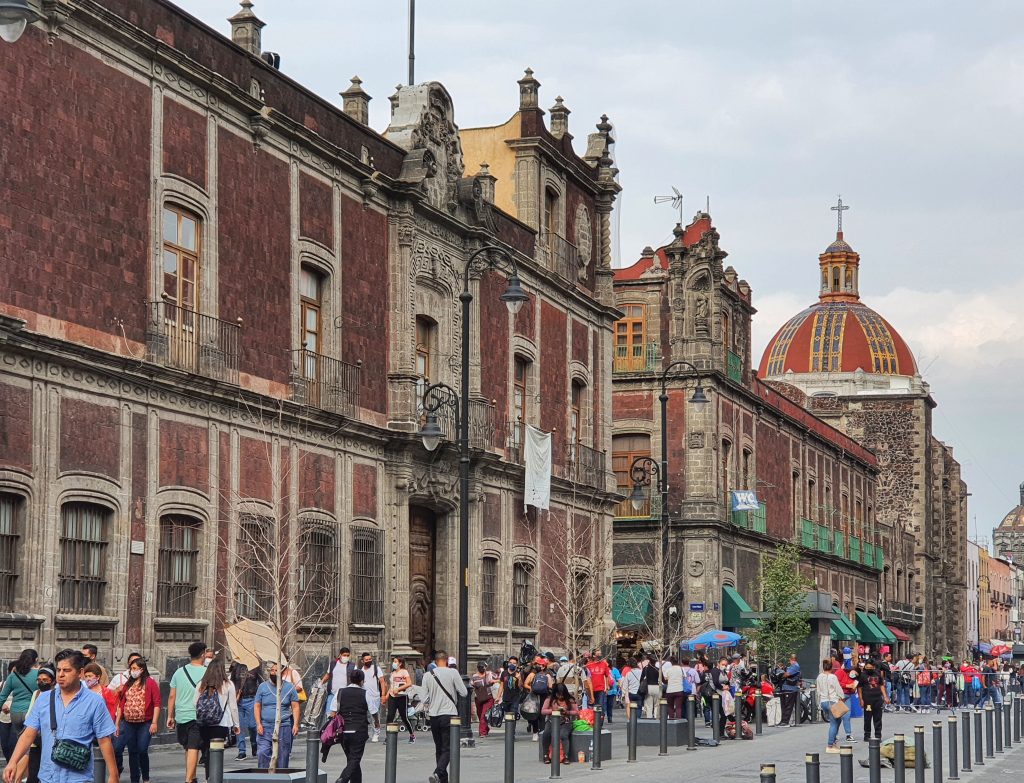 Things to do in Mexico City
Strolling around the Centro Historico and taking in the beautiful, Spanish colonial buildings.
Admire the mysterious, mighty pyramids at Teothiucan 
See the shamans at work in the Zocolo,
Visit the massive Cathedral Metropolitana
See the Aztec ruins of Tenochititlan at Templo Mayor
Ride on colourful boats on the Xochimilco Canals
Be inspired visiting artist Frida Khalos House and Museum in Coyoacan
Visit the Palacio de Bellas Artes and the Palacio Postal
Go up the Torre LatinAmericana for great views over the city
Visit some of the museums and galleries. Don't miss the huge Anthropology Museum and the University Museum of Contemporary Art
Stroll around Chapultepec Park and get amazing views from the Castle
Learn about and watch Lucha Libre (- a Mexican wrestling match)
More of Mexico's most colourful and historic cities are easily accessible from Mexico City by taking a day trip tour. You could visit the historic and colourful city of Puebla and see the Great Pyramid of Cholula or take a day to explore Taxco, a unique colonial town famous for its silver works.
Find more things to do in Mexico City and book your tickets and tours here!
I visited during Covid times and some attractions including most of the museums and galleries were not open, so check before you travel.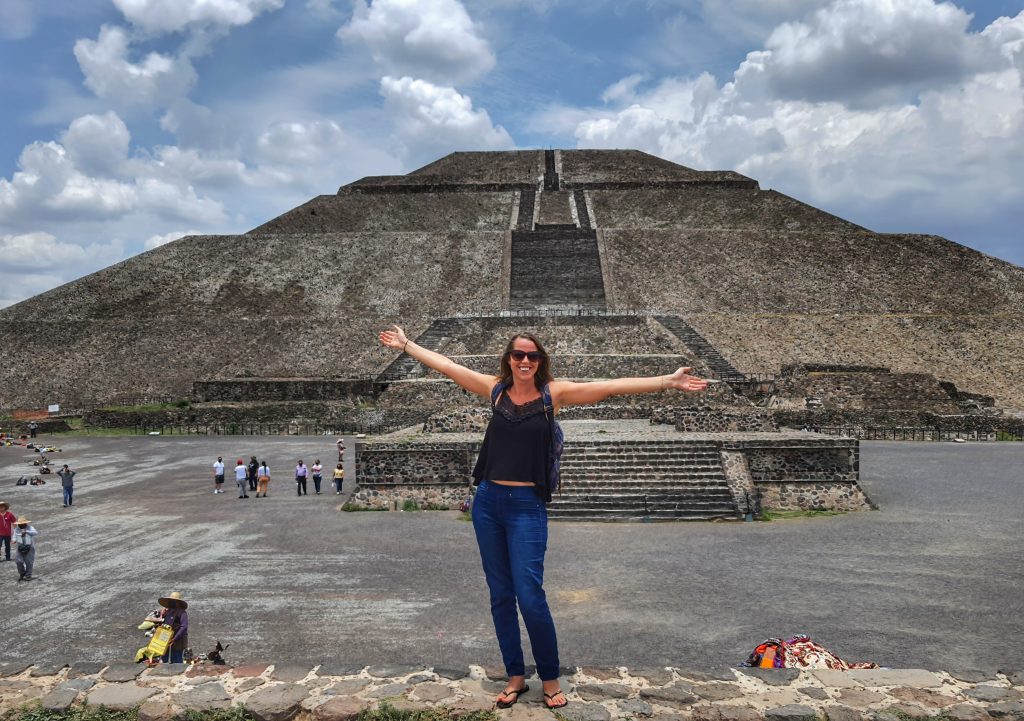 Where to Stay in Mexico City
Mexico City is pretty safe if you stick to the safe neighbourhoods and use Uber.
The safest and most pleasant areas in Mexico City include affluent, modern Polanco, the leafy, arty areas of La Condesa and Roma and Frida Khalo's birthplace of Coyoacan.
The Centro Historico can also be a good, budget friendly place to stay with lots to see but be careful in the North and East areas at night.
This deserves a whole post so check out my guide onthe best neighbourhoods to stay in Mexico Citytoo. Here's some quick recommendations for the best places to stay in Mexico City:
Best Hostel in Mexico City: Casa Pepe, Centro Historico
This colourful, boutique, luxury hostel is located in the heart of all the action in the Centro Historico. The comfy dorm beds have plenty of privacy and all the mod cons and there's a buffet breakfast available. Another highlight are the daily free walking tours and loads of other events and interesting people to meet from all the over the world on the sociable roof terrace. Click here for prices and to book.
Best Budget Hotel in Mexico City: Hotel Catedral, Centro Historico 
This great value 4 star hotel is located in a fantastic location just steps from the Zocalo, Cathedral, Templo Mayor and all the historic sights of the Centro Historico. Rooms are comfy, spacious and airy with large windows. The staff are wonderful and there's an airport shuttle and a good breakfast included too. Click here for prices and to book.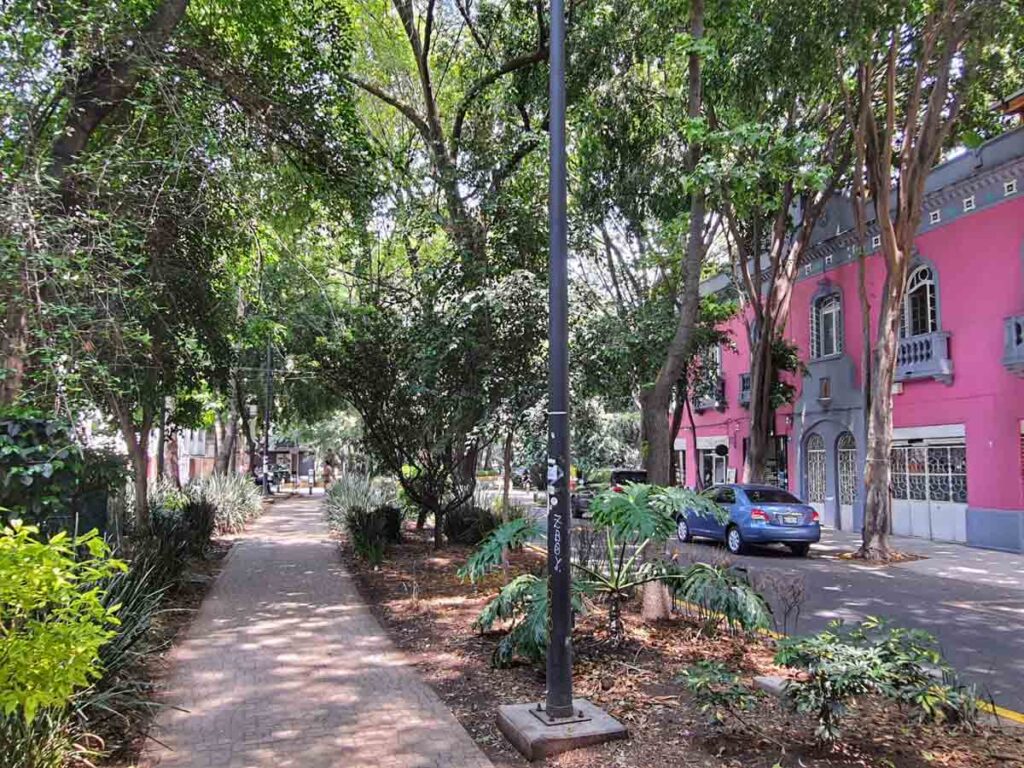 Best Boutique Hotel in Mexico City: Hotel Parque Mexico Boutique, Condesa
This colourful hotel is located in my favourite area of La Condesa by the Parque Mexico, the leafy pedestrian Amsterdam Ave, and the art deco buildings and chic cafes. It's also walking distance to the trendy neighbourhood of Roma too. There's a lovely terrace with a restaurant and bar with regular live music and the rooms feature handmade furniture, coffee machines and kitchenettes. The staff go the extra mile and it's great value. Click here for prices and to book.
Best Apartment in Mexico City: Flow Suites Polanco
Feel at home in this modern apartment located near the park in Polanco – the swankiest, and safest, area of Mexico City. These slick and comfy apartments have large windows and everything you need including a double bedroom, bathroom, sitting area and kitchen. There's also helpful and friendly staff available 24 hours at the front desk. Click here for prices and to book.
Best Luxury Hotel in Mexico City: Four Seasons Hotel, Reforma 
One of the very best places to stay in Mexico City is undoubtedly the Four Seasons Hotel Mexico City. This 5 star award winning hotel is one of the few in the city with a swimming pool, full service spa and fitness center. It's set in lush gardens on Paseo de la Reforma in an upmarket, well connected and safe area. Click here to check prices, reviews or to book
Read More: Where to Stay in Mexico City: Safest Neighbourhoods and Hotels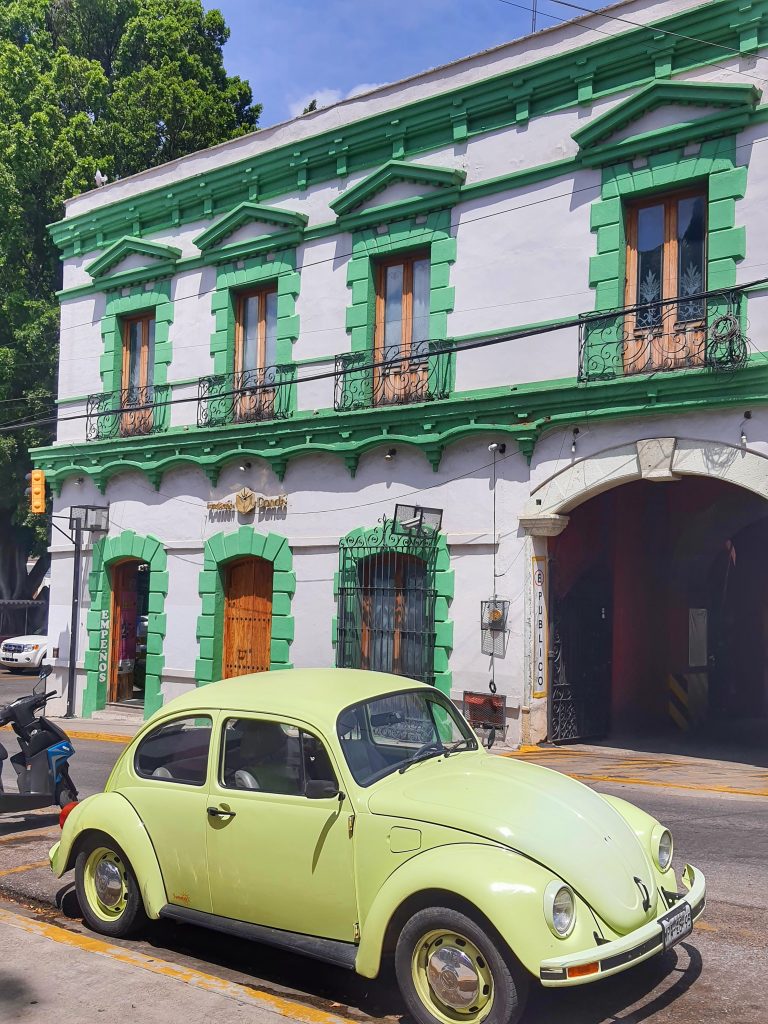 The Oaxaca Coast
Oaxaca is one of Mexico's most loved, enchanting and colourful regions due to it's fascinating indigenous culture, festivals, unique cuisine and spectacular landscapes and is a highlight of any Mexico itinerary.
You could end up spending a lot longer here but a week should be enough to get a taste of the best Oaxaca state has to offer.
Start your Oaxaca itinerary with the beaches of the Oaxaca Coast! Oaxaca's beautiful Pacific Coast is home to some of the best sealife spotting opportunities, surf and yoga in Mexico. Plus, it's cheaper, more laid back and not half as developed as the Yucatan Peninsula.
There are many Oaxaca beach towns to choose from like Puerto Escondido, Mazunte, Zipolite and Huatulco.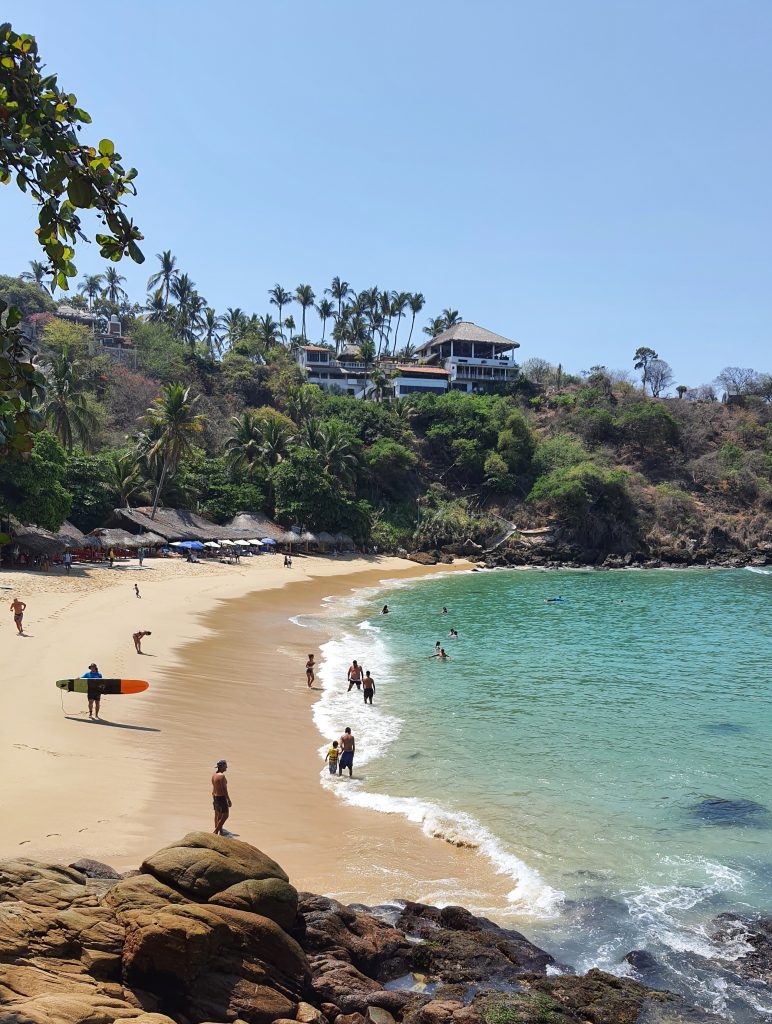 Puerto Escondido – 3/ 4 Days
Puerto Escondido is no longer a 'hidden port' but remains blissfully laid back. It's one of the best places to surf in the world due to the consistently massive waves on Zicatela Beach.
The huge waves, known as the Mexican Pipeline, are really only for experienced surfers but there are some fantastic surf camps that will take you to safer waters to teach you the ropes and the beautiful bay of Playa Carrizalillo is a blissful place to hang out.
There's plenty to do in Puerto Escondido from surfing lessons, yoga classes and beach hopping, to swimming in a bioluminescent lagoon plankton, dolphin and whale watching and even releasing baby turtles.
At night there's a hip restaurant, bar and live music scene on the sandy streets of La Punta and lively nightlife in Zicatela beach. Check out my complete Puerto Escondido guide for all my travel tips.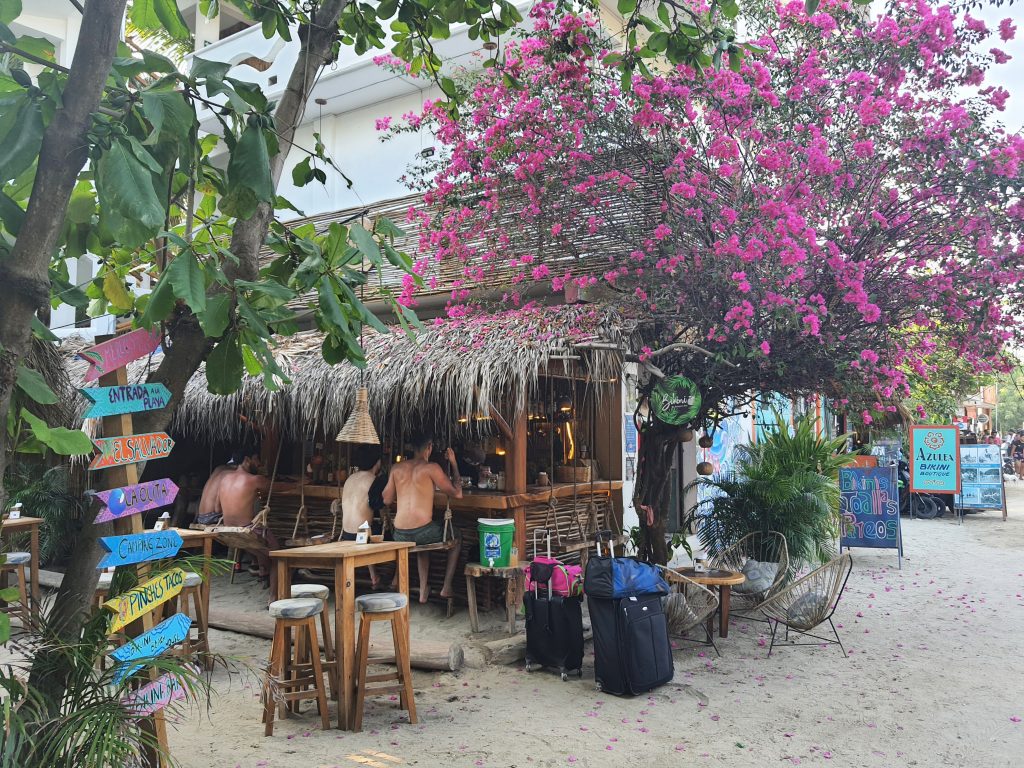 Where to Stay in Puerto Escondido
A trendy coworking, coliving and luxury hostel concept just steps from Zicatela beach that also offers surf lessons, tropical gardens, a shady swimming pool and plenty of hammocks and interesting people to meet. Stay in a dorm, thatched tepee or quirky private room. See more details here
If you have more time you could take surfing, Spanish and yoga classes at Oasis Surf School. The experienced instructors make learning to surf fun and easy, plus knowing some Spanish will really make your travels around Mexico and interactions with locals so much better.
There are a couple of surf houses to chose from but I personally liked the apartments, pool and cafe at El Nopal which is located near Carrizalillo Beach, my favourite beach in Puerto Escondido. See more details here. 
For the best views over the best beach stay at Villa Carrizalillo. These luxurious, fully equipped rooms, suites and villas with a beautiful swimming pool and tropical gardens offer spectacular views over the turquoise bay and private access to the beach. See prices and book here.
How to get from Mexico City to Puerto Escondido
Puerto Escondido and Huatulco both have airports so are the best starting place for your Oaxaca itinerary if you want to explore the stunning Oaxaca coastline.
To make the most out of your time avoid the long 19 hour bus ride, take a 1 hour flight from Mexico City straight down to Puerto Escondido. I flew with Viva Aerobus for about 1,000 MXN (£35 / USD$50 ) Check Skyscanner to find the best deals.
Also See: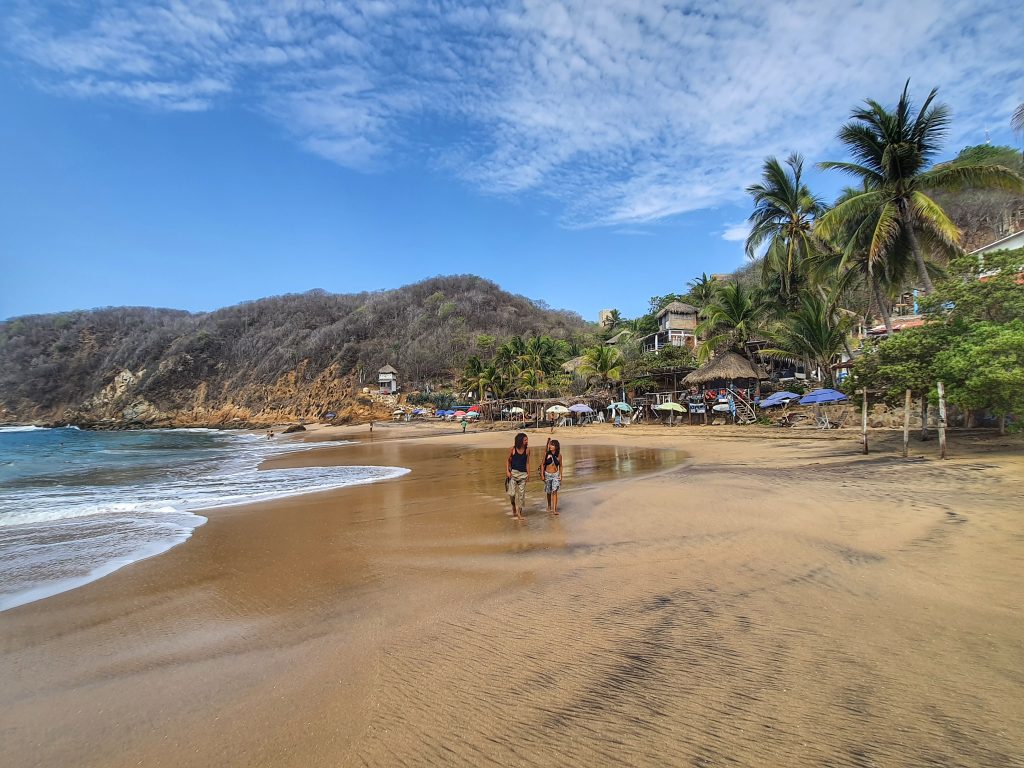 Mazunte and Zipolite – 3/4 days
Head along the coast to the laid-back beach towns of Mazunte and Zipolite – the highlight of my Oaxaca itinerary.
Mazunte is the yoga hotspot and turtle capital of Mexico – it's kind of like the Arambol (Goa) of Mexico with so many yoga retreats and classes on offer along with all sorts of meditation, tantra, breathwork, ecstatic dance, cacao ceremonies and alternative therapies and healing to try.
Hridaya Yoga is the most famous yoga retreat in Mazunte, they offer many yoga workshops as well as popular 3 or 10 day silent mediation retreats.
Don't miss trekking to Punta Cometa for an amazing sunset. There's also some great health food and vegan cafes here but not much nightlife.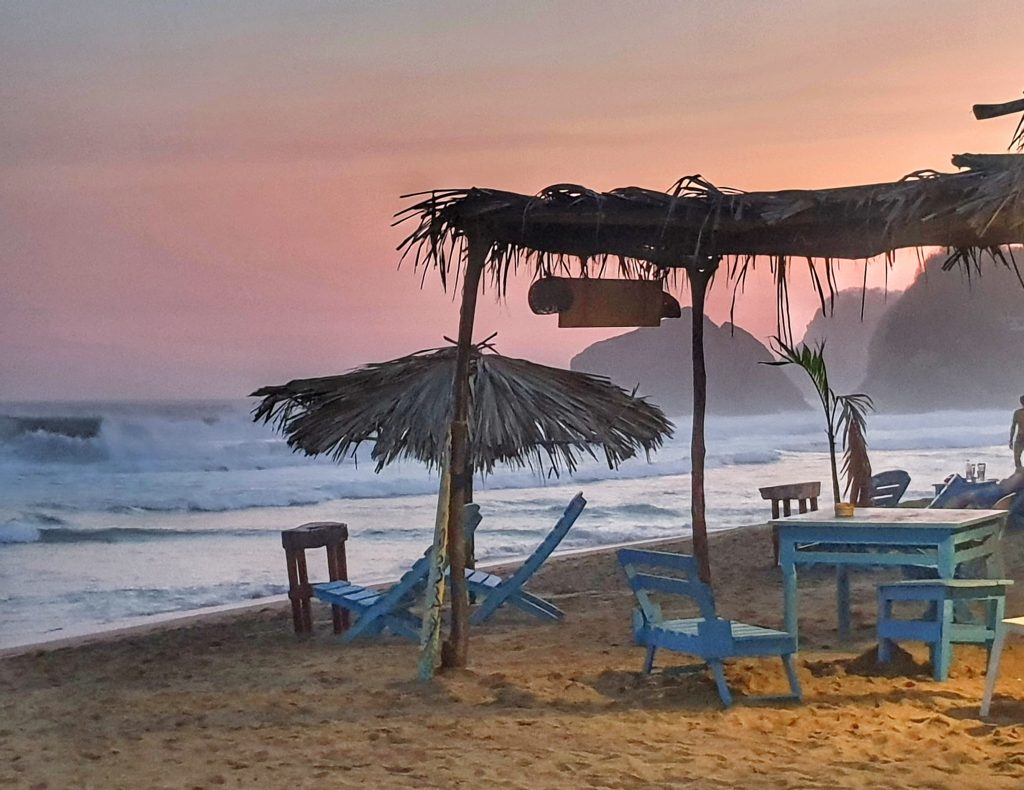 Zipolite is Mexico's only official nudist beach! It's not obligatory to be naked and I'd say probably only 1/4 of people where. Zipolite is fun and open minded and very LGBTQ friendly but Mexican families, backpackers and hippies also love Zipolite.
It's a lovely long stretch of sand with crashing azure waters and low key development where the best thing to do is to eat fish tacos and drink pina coladas and simply relax! Most nights there were low key parties in the beach shacks and you can also find some yoga and healing activities to do here without having to go to Mazunte.
You could also check out San Agustinillo beach and the fishing village of Puerto Angel nearby. If hippie hangouts aren't your thing you could explore the beautiful beaches in Huatulco and relax in one of the resorts there instead. Or if you have more time for your Oaxaca itinerary you could see it all!
Although the beaches are a highlight of any Oaxaca itinerary be really careful swimming in the ocean on the Oaxaca Coast as the seas can be pretty rough
Where to Stay in Mazunte and Zipolite
Hotel Rinconcito, Mazunte
This new hotel is in the best location as it's pretty much is the middle of everything. It's beautifully rustic chic, clean and comfortable with a restaurant that faces the main street and rooms all facing the swimming pool. All the rooms have air conditioning (very important as Mazunte is super hot) and patio doors opening out onto a balcony with hammock. Click here for prices and to book.
Naked Hotel, Zipolite
Zipolite is famous as Mexico's only nudist beach and, despite the name, I never actually saw any naked people here. But whether you choose to wear clothes or not, Hotel Naked is still the best hotel in Zipolite. It's right on the beach and the ocean facing rooms are stylishly rustic and super comfortable with AC and balconies to soak up the amazing views. There's a lovely swimming pool for when the ocean is too rough, a great beach bar and restaurant and plenty of quirky, Instagrammable features. Click here for prices and to book.
Be warned – I came to the Oaxaca Coast for a few days which turned into a few weeks and I nearly got stuck here – it's easy to get too relaxed, make friends and then it's hard to leave!
Read More: My Guide to Mazunte – Mexico's Yoga Hotspot!
How to get from Puerto Escondido to Mazunte and Zipolite
Mazunte and Zipolite are only about 1 hour from Puerto Escondido although getting there can be a little tricky.
There are local buses that leave from Puerto Escondido heading towards Pochutla and Huatulco but you'll need to get off at Crucero de San Antonio and take a collectivo or taxi from there the rest of the way. This will probably take about 2 – 3 hours in total.
The easiest and most convenient way to get there is to book a transfer that will take you from Puerto Escondido straight to your hotel in Mazunte or Zipolite.
You could also make a day out of it and book a tour bundle with GuateGo that will pick you up from your hotel in Puerto Escondido and visit the Ventalina ecological zone, Mexican turtle Centre, Mazunte, Zipolite and Puerto Angel before dropping you at your hotel in Zipolite. See more details here and book your trip.
Mazunte and Zipolite are only 15 minutes apart and collectivos run between them, stopping at San Agustinillo for 10 MXN so you can choose one to stay in one town and easily explore them all.
See all the options for getting from Puerto Escondido to Mazunte and Zipolite and book online here
Read More: My Guide to Zipolite – Mexico's hippie, nudist beach!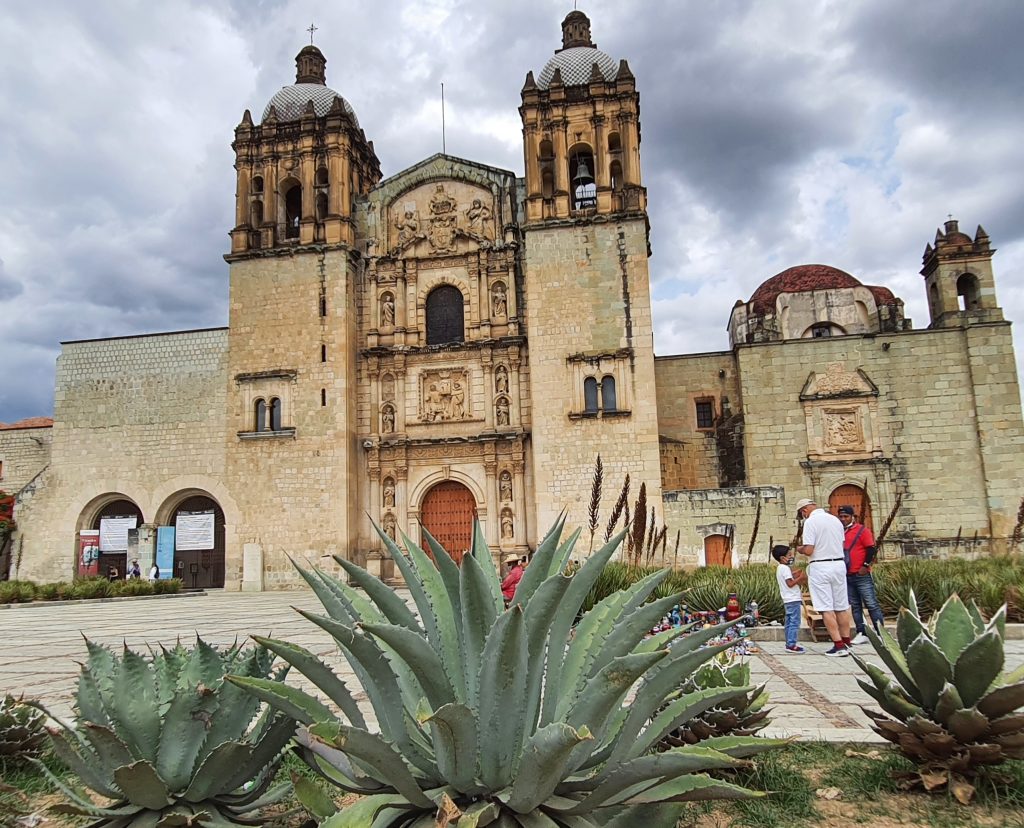 Oaxaca City – 4 Days
Oaxaca City offers enough cultural delights and colour to rival most other places in Latin America without the overwhelming size of some cities.
The UNESCO world heritage listed Centro Historico is packed with historic, colourful, colonial buildings and churches, art galleries, street art and museums, chic cafes and boutiques all within walking distance of each other and is a must for any Oaxaca itinerary.
Oaxaca is also a great base for day trips in the Valles Centrales to explore ancient ruins, stunning countryside and natural wonders, indigenous Zapotec villages and artisan villages and fields of mezcal. Don't miss seeing the stunning countryside off your Oaxaca itinerary.
Oaxaca is also known for it's vibrant festivals and is one of the best places in Mexico to celebrate Dia de Muertos (The Day of the Dead) so time your trip around the end of October and start of November if you can.
Things to do in Oaxaca City
Join a walking tour to get to know the history of this unique city.
Stroll along the pedestrianised Calle Alcala taking in the colourful buildings, shops, cafes and galleries
Visit the Templo Santo de Domingo – Oaxaca's famous church
See huge cactuses at the Jardin Etnobotanico (just behind the church)
Discover Oaxaca's most photogenic and instagrammable sights with a professional photographer on the Oaxaca instagram tour.
Join the crowds in the buzzing Zocalo. Visit the Cathedral, browse the stalls, eat street food and soak up the carnival atmosphere.
Visit the Museo de las Culturas (Museum of Cultures) to learn about the fascinating history and culture of the region.
Visit the local markets like Benito Juarez to get a taste of local culture and life and sample the street food stalls outside
Oaxaca has it's own unique cuisine – if you love mole then take an authentic Oaxacan cooking class here to learn how to make it at home
Visit the art galleries and look out for the street art
Check out more tickets, tours and things to do in Oaxaca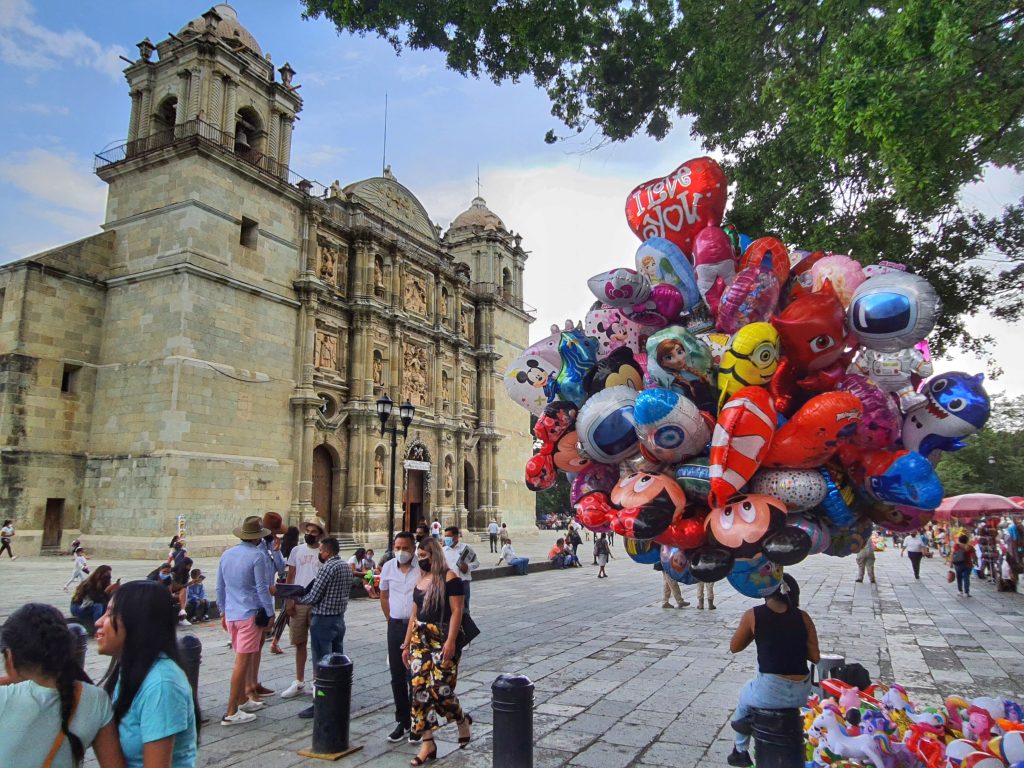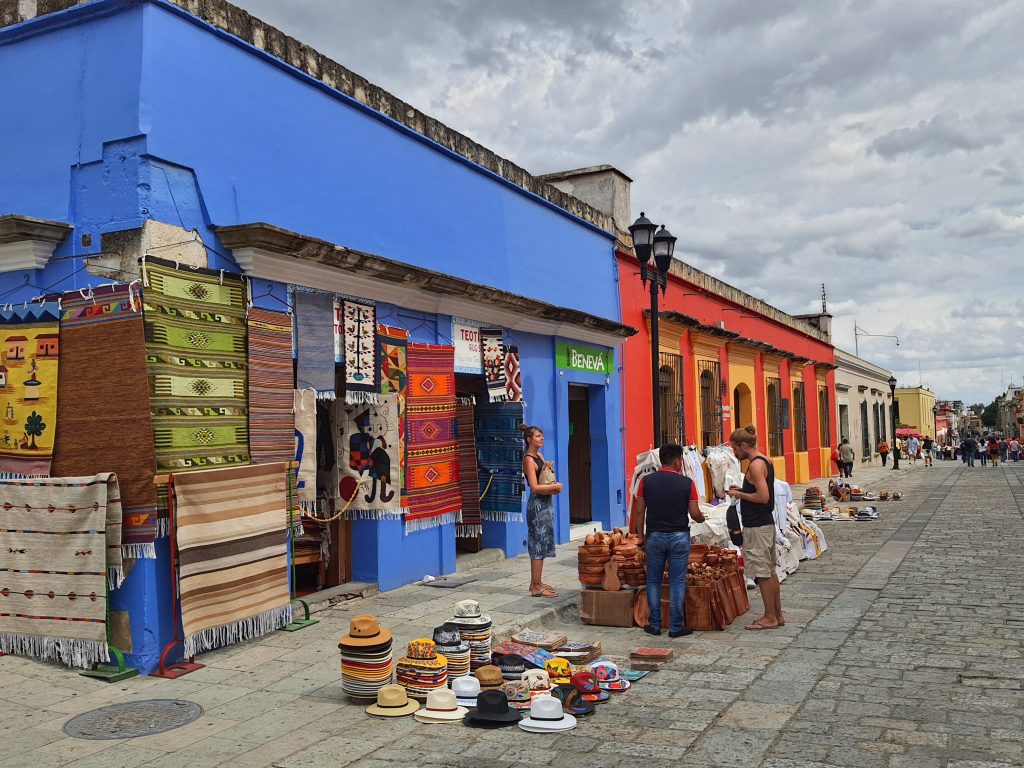 Day Trips from Oaxaca
One of the highlights when visiting Oaxaca are the unique sights and beautiful surrounding countryside so don't forget to allow time in your Oaxaca itinerary to get out of the city and explore.
Visit the ancient Zapotec ruins at Monte Alban
Soak in the springs at Hierve el Agua – amazing rock formations with hot springs that look like cascading waterfalls.
Learn about and sample the local spirit on a Mezcal tour
Explore the stunning countryside on a horseback riding tour
Go trekking to an indigenous village or visit an artisan village with an NGO like Fundacion En Via the money from your tour helps them to provide financial aid to help village women start business
Take the hassle out of figuring out public transport and make the most of your time you could take this Oaxaca day tour that visits Santa Maria el Tule, Teotitlan del Valle, Mitla, Hierve el Agua and a tasting at a Mezcal distillery!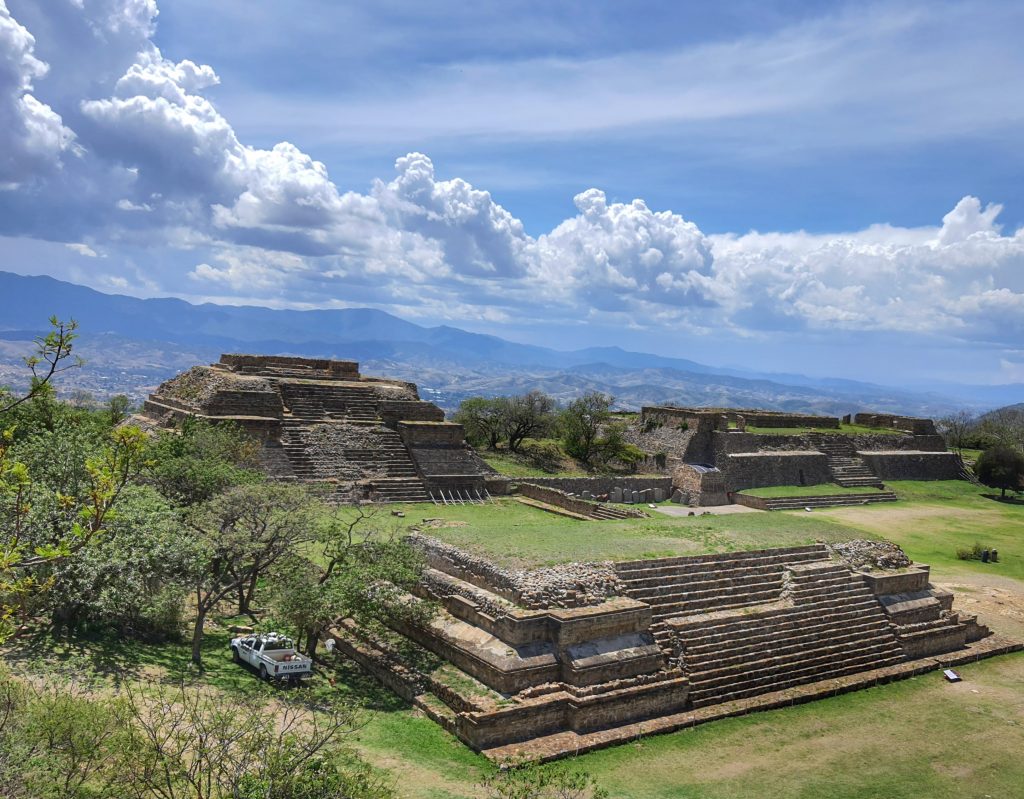 Where to Stay in Oaxaca City
Best Budget Stay in Oaxaca: Azul Cielo Hostel
Oaxaca's best hostel is located in a colourful colonial style house with a beautiful garden and plenty of private rooms making it perfect for anyone on a budget. It's located in a quite zone of the Centro Historico just a few minutes walk from all the sights, shops and eateries.  A Oaxacan breakfast is included and there's also a terrace, bar and shared kitchen you can use. The staff are super friendly and can help you arrange bicycle hire, transportation, tours, and yoga and salsa classes. Click here for prices and to book.
Best Boutique Hotel in Oaxaca: Casa De Sierra Azul
A wonderful colonial mansion in the heart of the Centro Historico. Rooms are spacious, staff are super helpful and friendly. A highlight is luscious, magical courtyard complete with fountain and restaurant. Enjoy the authentic atmosphere and Mexican hospitality as its best. Great value for a heritage hotel in such a good location. Click here for prices and to book. 
Check out more of the best hotels in Oaxaca here.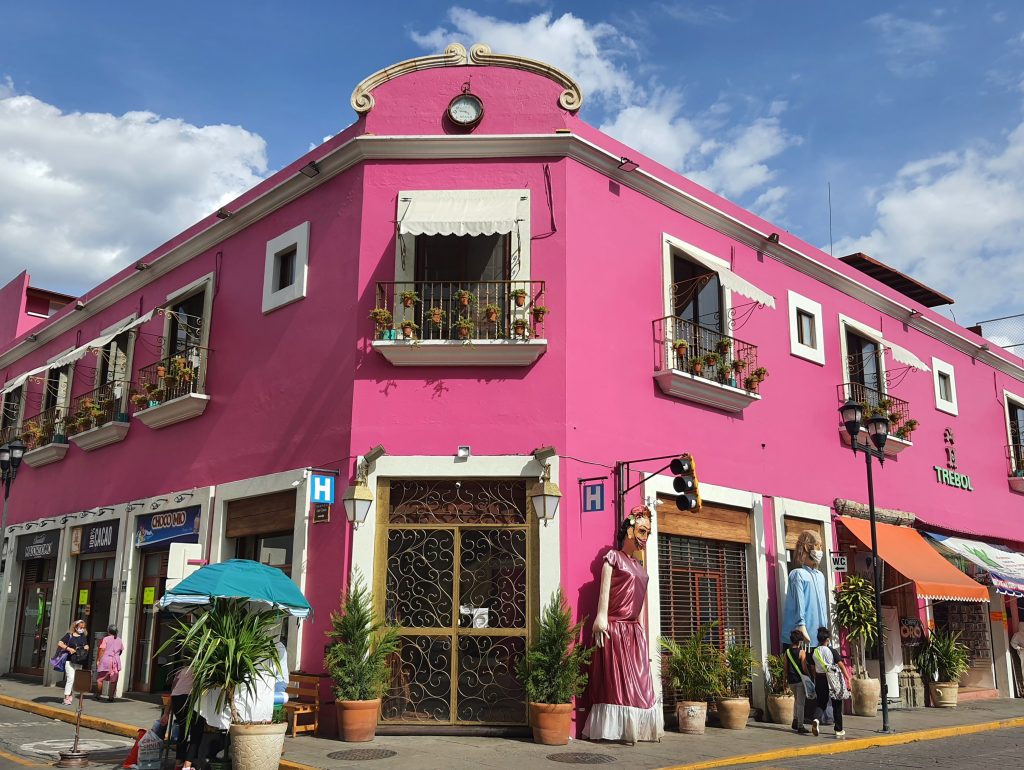 Getting from the Oaxaca Coast to Oaxaca City
There are a few options to get from the Oaxaca Coast and over the mountains to Oaxaca City.
The quickest, most scenic and most expensive option is to take a 30 minute scenic flight from Puerto Escondido airport in a small plane which offers fantastic views but is expensive and gets booked in way in advance. See prices, availability and book here.
The other option is to take a bus to Oaxaca City from either Puerto Escondido or Pochutla
If you suffer from motion sickness opt for the longer, less windy route with the more comfortable and more expensive ADO or OCC bus from Puerto Escondido which takes about 11 hours. It's a popular route so you should book your bus online in advance.
If you can handle mountain roads and want a quicker route then take a taxi to Pochutla and hop on one of the mini buses which takes the most direct but also most windy route. It's the cheapest and quickest option at only 7 hours and I didn't find it that bad. I went with Lineas Unidas for 250 MXN.
The bus was clean and comfortable and the pharmacy across the road sold 1 Diamox (motion sickness pill) over the counter very cheaply. The journey wasn't as bad as some people said it would be but then I don't normally suffer much from motion sickness anyway.
You can make life easier by booking this combined transfer and bus ticket which will pick up you in Zipolite and take you to Pochutla and get you on the Lineas Unidas minibus to Oaxaca. You can book it here.
You could also break up the journey after about 3 hours stop off at San Jose del Pacifico for great mountain views, hikes and magic mushrooms! If you want to book the transfer and bus to San Jose click here.
See all the transport options for getting to Oaxaca City from Mazunte and Zipolite and book online here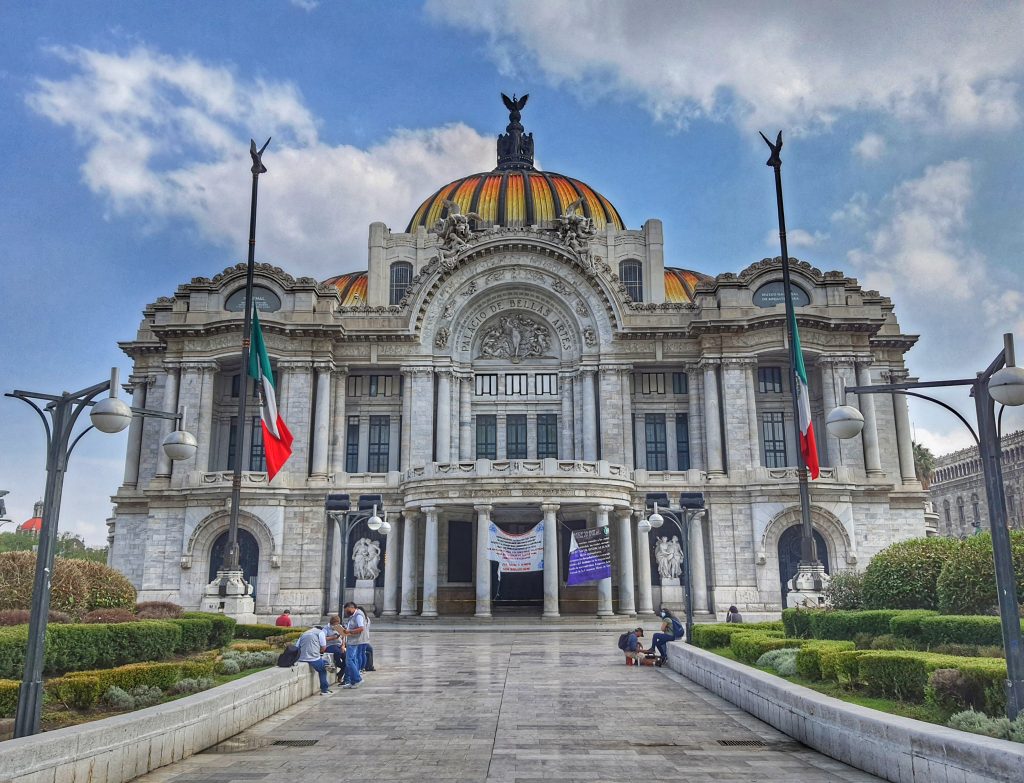 Mexico City – 1 or 2 days
My Mexico and Oaxaca itinerary ends by returning to Mexico City for my flight home.
I wanted to travel on from Oaxaca into Chiapas to San Cristobal de las Casas and Palenque which is totally do-able if you have more time.
I was excited to return to CDMX and enjoyed doing all the things I hadn't got round to on my 1st visit, revisiting some of my favourite cafes and parks and doing some last minute shopping before heading to the airport. I enjoyed staying in a different Mexico City neighbourhood to the one I stayed in at first as I got a whole different experience of this fascinating metropolis!
You could also do some day trips from Mexico City like to the nearby towns of Puebla and Cholula which are full of colour and history.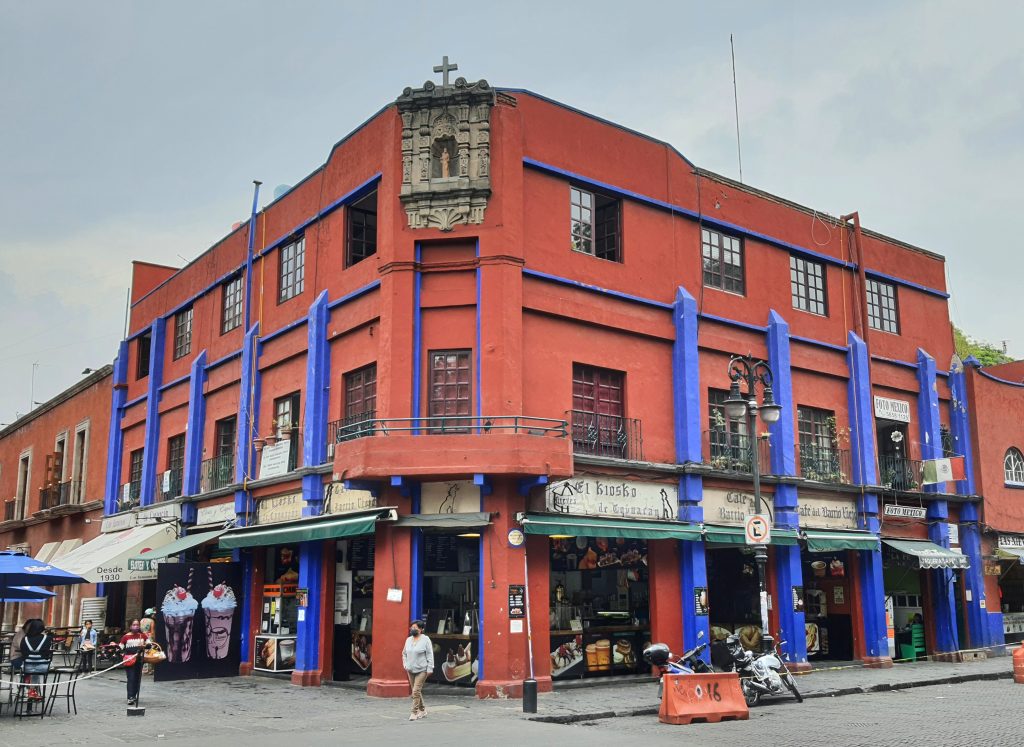 Getting from Oaxaca City to Mexico City
It's quite straightforward to get from Oaxaca City to Mexico City via a 7 hour bus journey or a 1 hour flight if you need to save time.
I took the AU bus back to Mexico City which was comfortable, air conditioned and the 7 hour journey offered great views of the countryside. It was only 476 MXN  whereas the ADO bus is 600 MXN.
The AU bus doesn't have a toilet (but it stops many times along the way) or WIFI or entertainment but I had a local sim card and the loud movies they play on buses are kinda annoying anyway.
This is a popular route so it's worth booking your bus in advance. You can book it here.
See all the transport options for getting from Oaxaca City to Mexcio City and book online here.
So there it is, I hope my Mexico City, Beaches and Oaxaca Itinerary is useful and helps you to see the best of what Mexico has to offer in a short time!
(P.S. I actually ended up spending 1 month doing this route as I made so many friends and loved Mazunte and Zipolite too much so I stayed for 2 weeks there. But you could squeeze the highlights into 2 weeks.)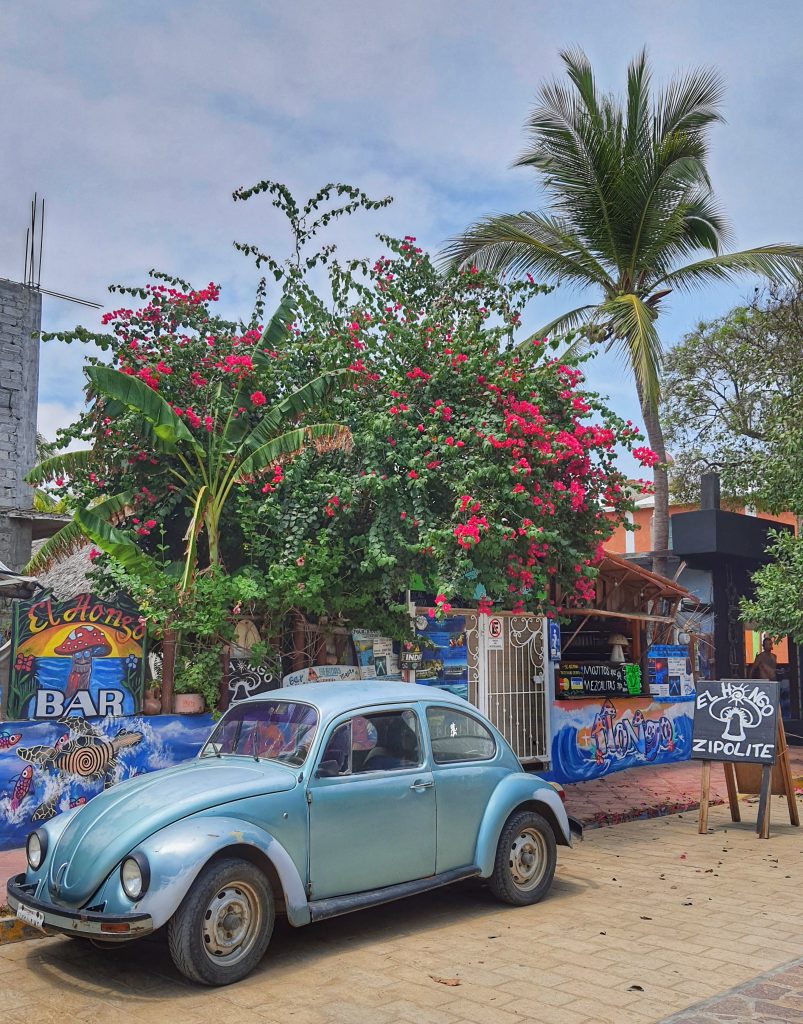 Tips for Planning your Mexico City and Oaxaca Itinerary
My Top Tip – If you don't speak any Spanish you may find following this Oaxaca itinerary independently a little difficult, especially if you want to get off the beaten track. I'd recommend making life easier by using GuateGo to book your transport online in advance for smooth and stress free journeys.
With GuateGo you can book bus and flight tickets in Mexico and Latin America as well as private transfers and bundle tours so you can make a day out of the journey by stopping off at some interesting places along the way to your destination. Check them out here.
Offbeat Small Group Tours of Mexico
I also wished I'd joined a tour to get more off the beaten track and see more places with a group of like minded people in a less stressful and more enjoyable way.
G Adventures, one of the top tour companies in the world, also have an 8 day tour from Mexico City to Oaxaca and Puerto Escondido and Go Ahead Tours combine Oaxaca, Puebla and Mexico City with Playa del Carmen and the Riviera Maya.
Vibe Adventures have some amazing interactive, diverse, authentic and fun small group tours that take you off the beaten track to see loads of cool places. This 15 day Hidden Gems of Oaxaca Tour is the most similar group tour to my route with many added extras and off beat places that I, as a solo female independent traveller with no Spanish skills, was unable to get to. Use the code 'Back2Travel' to get 5% off all tours.
I kinda wish I'd taken this tour now! You can see everything in this itinerary and so much more. Starting and ending in Mexico City, you'll explore so much of the rich cultural and natural diversity of Oaxaca. As well as popular destinations like Mexico City, Puerto Escondido, Mazunte, San Jose del Pacifico, Oaxaca City and Pueblo you'll also visit so many interesting off beat gems including historic and picturesque towns, colonial cities, magical temple towns, ex haciendas and indigenous villages, fascinating archaeological sites, national parks and nature reserves, hot springs, hidden caves and beautiful beaches.
If you don't have time you could also check out the 8 day Coast and Heartline of Oaxaca Tour from Puerto Escondido to Mexico City. The Off the Beaten Path to Oaxaca Tour takes you from Mexico City to Puerto Escondido in days. One of the highlights of this really diverse and interesting off beat tour is spending time Lagunas de Chacahua National Park.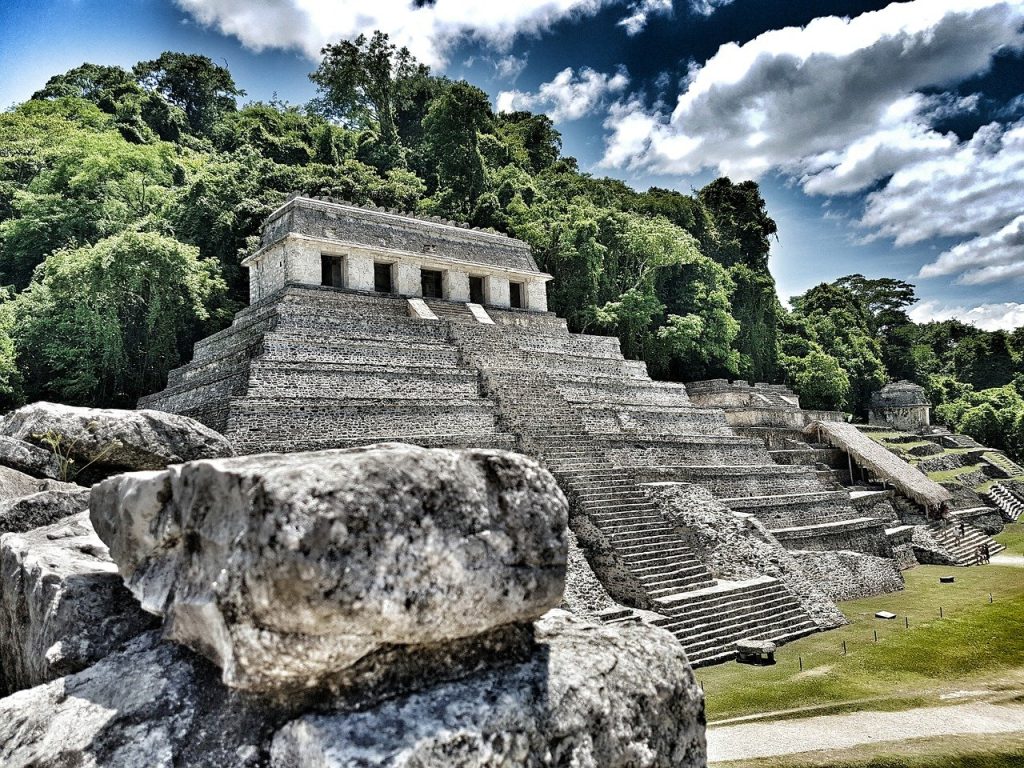 Other Places to Add to Your Mexico Itinerary
I also wish I'd had time to make it to San Cristobal de las Casas and Palenque in Chiapas. I heard so many good things about this part of Mexico – it seems to be many travellers favourite part of Mexico. It's on my bucket list for my next trip to Mexico!
The Road to Chiapas 9 day tour takes you from Mexico City visiting the mighty pyramids of Teotihuacan and the colonial city of Puebla to Oaxaca City. You'll explore all the natural wonders around Oaxaca City before hitting the beach at Salina Cruz, exploring picturesque towns in Chiapas and awe inspiring natural features before reaching the colonial highland city of San Cristobal de las Casas.
You could also see the best of Mexico in just 2 weeks with the North 2 South Adventure 15 day tour. Start in Mexico City, see Teotihuacan, Puebla and Oaxaca. Catch some waves at Salina Cruz before exploring the highlights of Chiapas including San Cristobal de las Casas and Palenque. Then explore the colourful colonial cities of the Yucatan like Campeche and Valladolid, see flamingos in Ria Celestun Biosphere Reserve, visit cenotes and Chichen Itza and check out the famous beaches of Tulum and Playa del Carmen (You can also do this tour in reverse.)
I hope this post helped you to plan your Mexico City and Oaxaca itinerary and that you have an amazing trip to Mexico!
Read More of my Mexico Travel Blogs: