Mexico is an eternally popular destination for holidays filled with fun and colour, spectacular beaches, tequila, fish tacos and fascinating ancient ruins.
Not so many people know that Mexico is also home to some of the best places to surf in the world and Puerto Escondido, Oaxaca is one of the very best places to surf in Mexico.
Be warned though, the massive, legendary waves here are not suited to beginners so I'd really advise taking lessons first or even better joining one of the surf camps in Puerto Escondido.
A Guide to Surf Camps in Puerto Escondido – The Best Place to Surf in Mexico!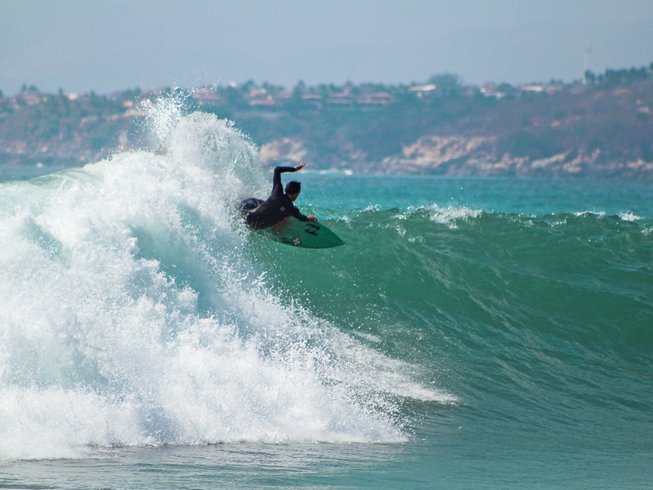 Costa Rica is the most popular surfing destination in the region but did you know that some of the biggest surfable waves in the Americas are found on the Pacific coast of mainland Mexico where you can expect consistent swell all year round and warm waters.
The best place to surf in Mexico is Puerto Escondido, a small, laid back, surf mad town on the blissed out Oaxaca Coast home to the legendary Zicatela Beach and the 'Mexican Pipeline' a spectacular barrel that can produce waves that reach 30 ft (9 meters) and is widely considered to be the world's best beach break.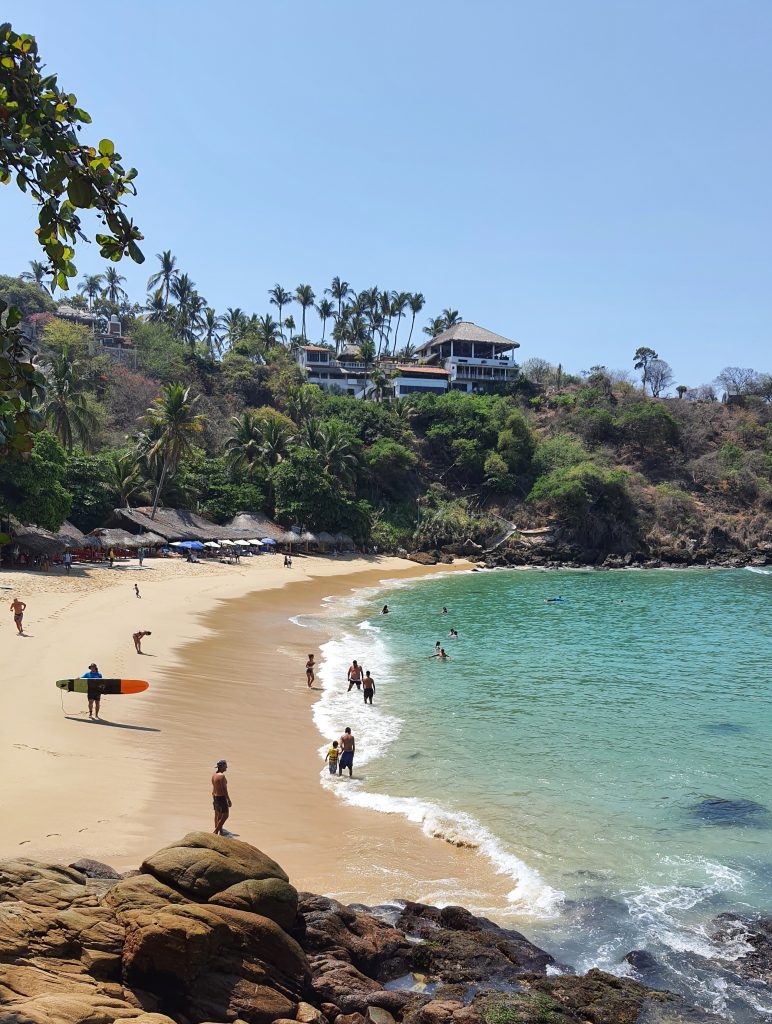 Luckily for beginners Puerto Escondido also offers La Punta, a left-hand point break with smaller waves, and the gorgeous bay at Playa Carrizalillo which is where most beginners surf camps in Puerto Escondido will take you before you're experienced enough to tackle legendary Zicatela. 
Other than surfing, Puerto Escondido has alot to offer and is a great place to hang out. There's alot of yoga on offer, a thriving expat scene and many trendy cafes, bars and restaurants to enjoy and easy day trips to explore nearby beaches like Mazunte and Zipolite, help with turtle conservation and swim in the bioluminescence water of the nearby Manialtepec Lagoon.
See my complete guide to Puerto Escondido for all my tips.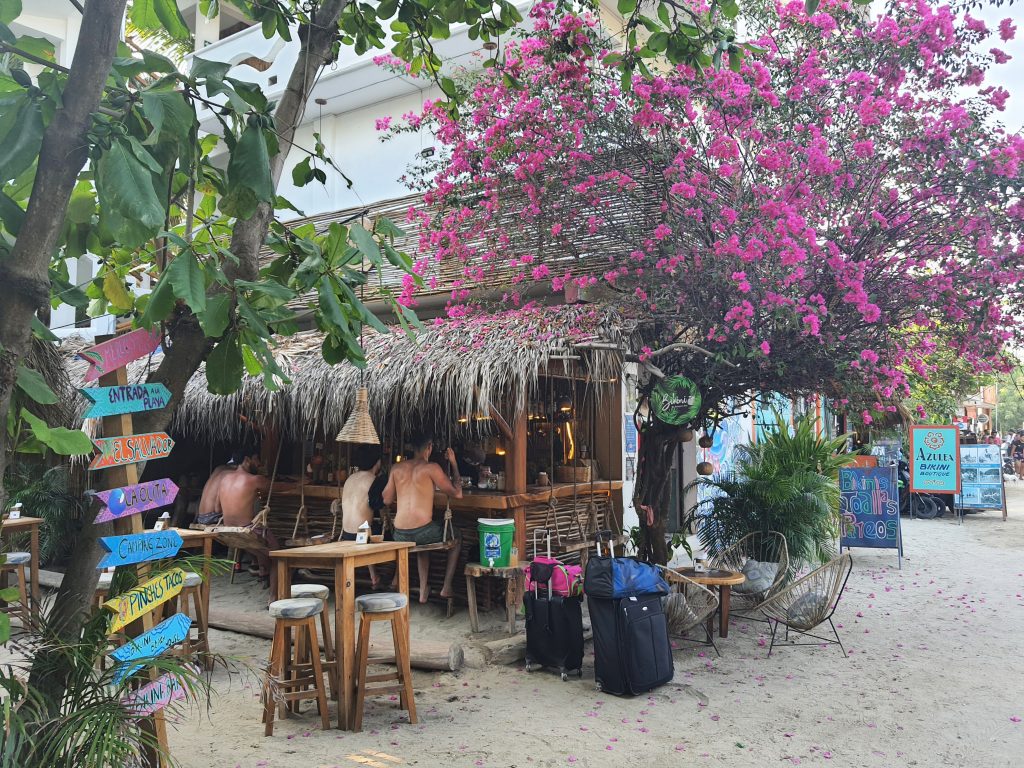 There's a really sociable scene especially at sunset time on the beach and in the bars around La Punta later on. Many people end up staying in Puerto Escondido a lot longer than they expected!
The best time to surf in Puerto Escondido is between March and December with the best and biggest waves coming in between May and July. 
You can find and book surf camps at BookSurfCamps.com. I love this site because you can read real reviews from people who've already been there so you know your surf camp will be an amazing, memorable and safe experience.
Pin Me! 😉
Most surf camps in Puerto Escondido are really quite affordable and many also include yoga classes, Spanish lessons and other fun activities.
Yoga and surfing make a perfect combination and, trust me, learning some Spanish will really come in useful and make traveling in Mexico so much easier and will help you make the most out of your interactions with the friendly locals.  
Here's my pick of the 5 Best Surf Camps in Puerto Escondido, Mexico
Oasis Surf School is an excellent all-level surf camp in Puerto Escondido offering the chance to learn not just surfing but also Spanish with many other activities also available.
Oasis is located just a stone's throw away from beautiful Playa Carrizalillo and one of the highlights of this surf camp is that you almost get 1 on 1 treatment as each instructor is paired with only two students for a highly personalised tutoring experience. 
Surf lessons are conducted in both Spanish and English and benefit from a dedicated photographer for post-session visual feedback on your progress. There are also free evening fitness classes, fully equipped private apartments with kitchens and also a lovely outdoor swimming pool. Some packages also include an excursion or city trip for you to soak up more of the local culture and vibrant Mexican heritage. 
Choose from an 8 day Spanish lessons and surf camp package to a 4 week package for those who really want to dive in deep! Upon completion you will receive a diploma certificate stating your board size, visited spots, gained skills and final level attained. Oasis is definitely one of the most professional and enjoyable surf camps in Puerto Escondido. 
Click here to see more info, photos, prices, dates, reviews and to book!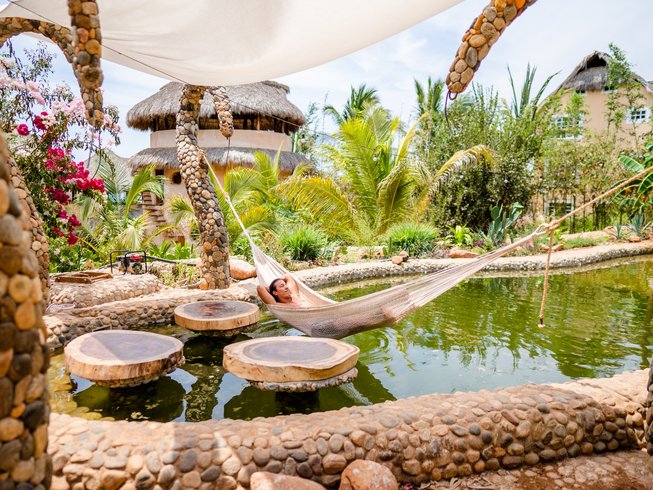 For a relaxing and personalised yoga and surf experience in an intimate setting in Zicatela look no further than Barbarenas. Located in beautiful, sustainable eco-friendly yet super comfortable cabañas complete with inspiring art and private terraces with mesmerising ocean views.
There's also a swimming pool surrounded by tropical flowers and greenery and the yoga shala also has views over the sea so you can watch the sunset while practicing your sun salutations.
The 6 day package at this friendly and conscious retreat includes 3 yoga classes per day and 3 surf lessons. You'll also get a private pranayama and meditation practice as well as a private customized yoga class.
Healthy daily vegan breakfast and lunch are provided and fruit water, smoothies, tea and coffee are available all day. You can also use the large, common kitchen or explore the nearby cafes and restaurants and relax afterwards reading a book in the hammock on your private terrace while looking out over the ocean.
Click here to see more info, photos, prices, dates, reviews and to book!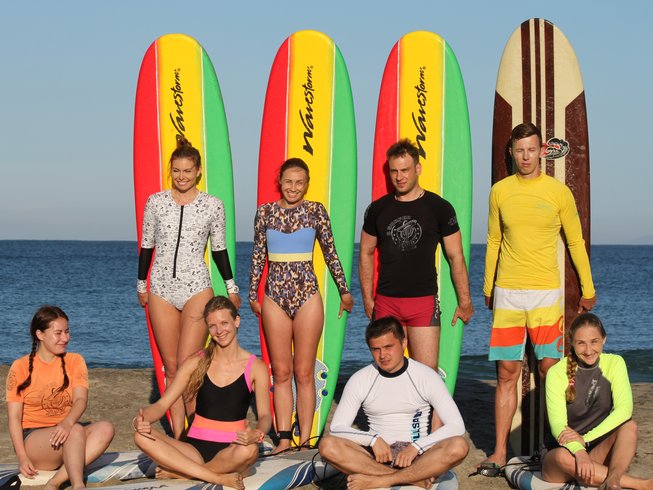 B Surfer is the place to go if you're serious about learning to surf. They offer a 4 week program and also an 8 day package if you don't have so much time. B Surfer are also the only surf school in Puerto Escondido that meets the Association of Surfing Professionals' safety standards.
Surf lessons are taken in small, semi private groups of only 2 or 3 students to allow for personalised attention and utmost safety no matter what level you are at. The experienced teachers make learning to surf fun whilst still focusing on safety and proper technique.
You'll also learn the basics of surfing theory and have a photo and video analysis session. 5 surf lessons are included in the 8 day package and free use of surfing equipment so you can practice whenever you like.
The B Surfer surf villa is located in one of my favourite spots in La Punta de Zicatela, just 150 meters from the beach and surf spot. The villa is surrounded by tropical greenery and has ocean views.
The rooms are spacious and comfortable with private terraces and kitchenettes as well as a large swimming pool, shared equipped kitchen, barbecue facilities and sitting area and of course Wifi and plenty of hammocks.
Meals are not included but you can use the cooking facilties or enjoy exploring the hip cafes nearby.
Click here for more info, photos, reviews, dates, prices and to book!
With a full schedule of surf, yoga and Spanish lessons just steps from La Punta beach it's hardly surprising that Expereincia Puerto Escondido is one of the most popular surf camps in Puerto Escondido.
Choose between 6 days or 15 days of fun, life changing experiences with the friendly and professional team at Expereincia Puerto Escondido. The 6 day program includes 5 surf lessons with experienced instructors suitable for beginners as well as 5 Spanish lessons and 3 relaxing Hatha yoga classes.  
Accommodation is provided in dorms or private rooms in the newly built surf house. There is a fully equipped common kitchen if you want to prepare your own meals or you can enjoy sampling the nearby restaurants and nightlife. This is also one of the most fun packed and most affordable surf camps in Mexico 
Click here to see more info, photos, prices, dates, reviews and to book! 
Selina Surf Club
If you're a digital nomad or need to work while you travel then the Puerto Escondido branch of Selina (-possibly the most popular co-working and co-living company in the world right now) is the perfect combination.
Selina has a lovely, leafy, shady swimming pool area, a cafe and bar with a buzzing social scene and a wide choice of funky accommodation from dorms to private rooms to suit all budgets. I particularly liked the cool, rustic, A frame tepee huts.
Selina Surf Club offers a 3 days/ 2 nights surf package that includes accommodation, wifi, breakfast, surf lessons and board rental. Selina is in a great location – literally just across the road from the North end of legendary Playa Zicatela which means it's close to the waves and all the bars and restaurants lining Zicatela as well as being close to the main part of town.
Digital nomads should be aware that the internet on the Oaxaca Coast is not the best so to avoid frustrations and missed deadlines do yourself a favour a stay at Selina.
Click here for more info, prices, reviews and to book!
I hope this article helped you find the perfect surf camp in Puerto Escondido. For more Mexico travel tips and inspiration check out my other blog posts:
Save Me, Share Me, Pin Me 😉