If you feel like Bali is getting too busy then don't worry, it's just a 30 min boat ride away to Nusa Lembongan! This tropical Balinese island is everything you could ever dream an island escape could ever be! And don't let the size of this tiny island fool you, there is an absolute abundance of things to do on Nusa Lembongan!
Top 10 Best Things to do in Nusa Lembongan, Bali
From pristine, white sand beaches with crystal clear turquoise coloured waters, to luscious jungle and wildlife, to vivid coral reefs booming with marine life, what's not to adore about this precious little island just off the east coast of Bali.
There are a number of unique, undiscovered, attractions and experiences awaiting you there, such as world-class diving and snorkeling, surfing and yoga classes, picture-perfect views of nature's beauty and even some thrill-seeking and cultural activities – you won't get bored on Nusa Lembongan!
I've just spent a month here doing yoga teacher training and it's become my new favourite place in Bali!  Nusa Lembongan is quickly becoming Bali's latest hot spot though so get there before everyone else does! 
Read More: Why Nusa Lembongan is my new favourite place in Bali
Pin me 🙂
Where is Nusa Lembongan
Nusa Lembongan is part of the Nusa islands which are about 30 minutes speedboat ride away from the Southwest coast on mainland Bali.
There are actually 3 islands here – Nusa Lembongan is the most developed and most popular and is where most people choose to stay. Tiny Nusa Ceningan is connected to Nusa Lembongan by a cute, photogenic, yellow bridge and is also worth a day exploring.
Nusa Penida is the biggest of the 3 islands and is largely undeveloped with many amazing natural beauty spots. The island used to be a penal colony and is known to locals as the 'black magic island.'
You'll need to take a boat to get to Nusa Penida, you can take a day trip to visit the top sights including one of Bali's most instagrammable spots Kelingking Beach with its stunning coastline that looks like a T-Rex and the astonishingly Angel's Billabong.
It's a huge island though with loads more to see and the roads are bad so if you really want to explore the island you should consider staying a few days on Nusa Penida as well.
How to Get to Nusa Lembongan
Getting to Nusa Lembongan is super easy and quick. Most boats go from Sanur about 3 times a day.  You can book your boat ticket easily in advance online at Bookaway or you can book this return fast boat ticket package which includes hotel pick up in Bali and drop off in Lembongan for the ultimate easy travel!
You can go on a snorkeling trip or see the highlights of Nusa Lembongan, Ceningan and Nusa Penida on this day tour from Bali, but I would recommend to stay here a while and soak up the chilled island vibes.
If you want to stay 1 night on the beach in Nusa Lembongan and have everything arranged take this 2 day complete 3 island tour from Bali or check out my post on where to stay in Nusa Lembongan and this post on things to do in Nusa Lembongan and make your own perfect trip!
Read More: Best places to stay on Nusa Lembongan (for all budgets)
Here are 10 of the best things to do on Nusa Lembongan, Bali
1. Go Snorkeling
The reefs surrounding Nusa Lembongan are well known for being home to some of the most diverse reefs and marine life on the planet. Snorkeling, simply put, should be one of the first on your list of things to do on Nusa Lembongan! You could potentially be swimming side by side with giant manta rays; following turtles across the reef and maybe even frolic with some dolphins.
There are a number of great snorkeling spots around the island to check out, including Crystal Bay, Manta Point, Toya Pakeh, Mangrove Point and Blue Corner. There are many local snorkeling tour operators who can take you out to these amazing snorkeling spots for as little as $10USD.
It's also possible to snorkel off the beach from Coconut Beach and Mushroom Beach if wish, but honestly, it's well worth it to get a boat ride out to the best snorkeling spots! We went with World Diving Center next to our yoga shala.
2. Go Diving
The waters surrounding Nusa Lembongan are home to a very special fish, the Mola Mola (also known as the Oceanic Sunfish). It's the world's largest boney fish growing up to 3 meters long and weighing 2.5 tonnes and truly magnificent fish to see!
The best time to see the Mola Mola would be between July and October. They rise up from deeper waters to be cleaned by the cleaner fish the more shallow waters around the island. You're also likely to see giant manta rays, as it is a prime plankton-filled feeding ground for them.
The island trio is also surrounded by a large stretch of coral reefs with highly diverse marine life. Definitely, diving is one of the best things to do on Nusa Lembongan! You'd be crazy to miss out on this! We went with World Diving Center next to our yoga shala.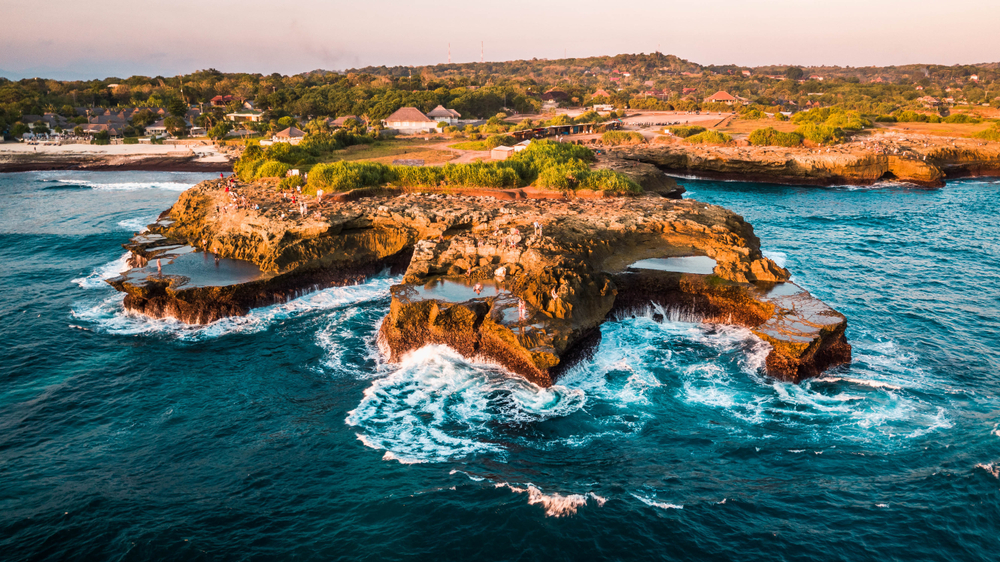 3.See The Devil's Tears
This natural 'blow hole' is so captivating which makes it one of the most popular places to see and things to do on Nusa Lembongan! The oceans swells, smashing against the cliff face, sending sea spray meters high into the air is a showcase of mother natures power and glory.
Standing here on the cliff edges you can feel the ocean, the wind, the sea spray on your skin and it's truly a soul refreshing vibe and something special to witness for yourself. You'll be able to take great pictures too! Just be careful not to go too close to the edges of the cliff face, the waves could wash you away if you're not careful!
4. Relax on Mushroom Beach
Mushroom Beach really is a hidden gem of Nusa Lembongan, and it's easy to see why from the second you arrive at this spot! The beach is a relatively calm bay, with crystal clear, aqua blue water and pure white sands, and it's perfect for sunbathing, swimming and snorkeling.
The beach is lined with cute Balinese style bungalows and beachfront restaurants giving it that old school Bali vibe that's been taken over in recent years by fancy big chain hotels.
If you are looking for a true 'piece of paradise' hideout, then look no further! A visit to Mushroom Beach is essential and one of the best things to do on Nusa Lembongan!
5. Visit Dream Beach
This hidden gem of a beach is nestled between the surrounding limestone cliff faces, lined by pure sands and those turquoise waters you crave for every tropical escape! It's also very close by to the Devil's Tear's blowhole, so it's nice to visit both on the same day.
There are a few rustic beach huts if you want to wake up in a place this beautiful, all with bar/restaurants that you can sit and enjoy a drink or meal whilst taking in the view. It's a great place to sunbathe too as it's not overly busy and often it can seem as though you have the whole place to yourself! A visit to this little hideaway 'slice of heaven' is one of the best things to do in Nusa Lembongan!
6. Explore the Mangrove Forest
A large area of the northeast end of Nusa Lembongan is covered with a mangrove forest, which plays an important role in the ecosystem of the island and is home to many birds and marine life.
Taking a calm and scenic boat ride through the mangrove forest is one of the most amazing things to do in Nusa Lembongan. You can either pay for a tour guide to take you on their boat or hire kayaks and take your own leisurely trip.
It's best to go first thing in the morning, as you're more likely to see a lot more wildlife, especially tropical birds in their habitat at this time.
7. Learn about Seaweed Farming
Seaweed farming is one of the main sources of income for local villages on Nusa Lembongan. In Laguna Bay (located in the calm waters between Nusa Lembongan and Ceningan Island) you will see the farming is spread out and local harvesting the seaweed daily on low tides to bring in for drying and sale.
As you pass through the local villages on the island you will see a lot drying of cut seaweed, ready for sale. It's quite an interesting and cultural experience to see the seaweed farming operates and watching the villagers going about their daily routines.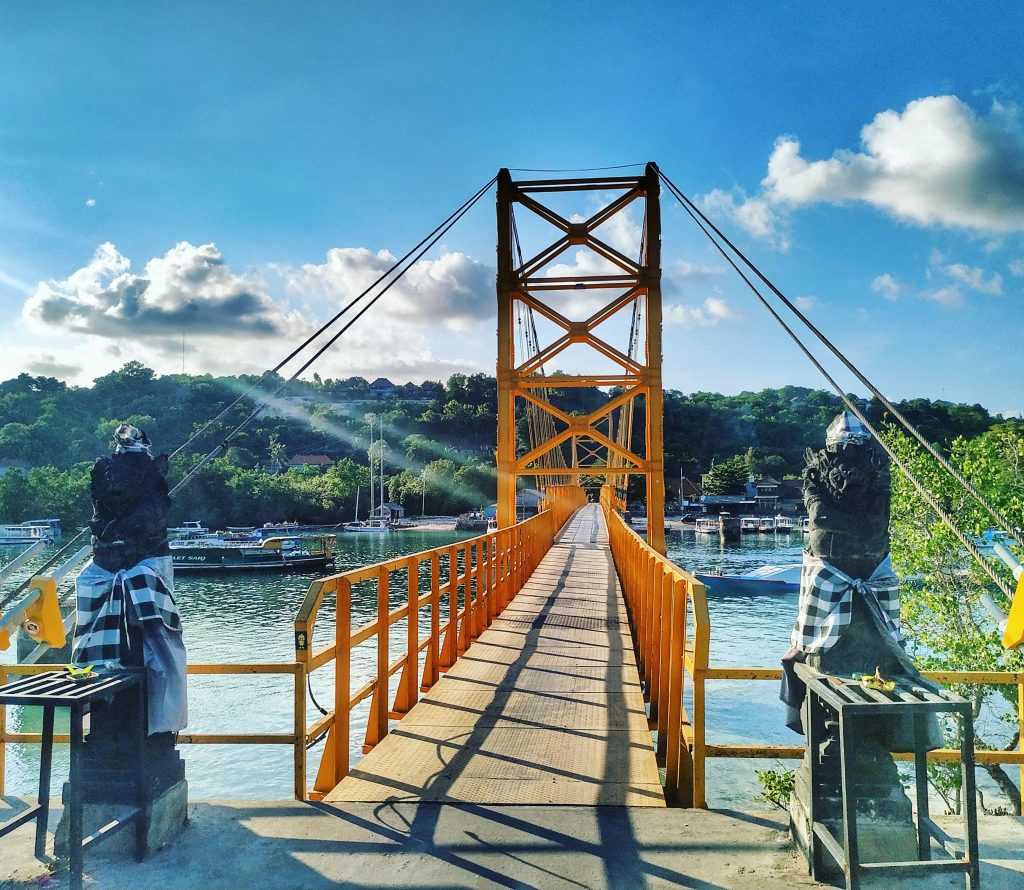 8. Yellow Bridge
If you are staying on Nusa Lembongan you definitely must visit the smaller neighboring island Nusa Ceningan. One of the most fun things to do in Nusa Lembongan is to test your balance on a scooter as you to cross over via the yellow bridge that connects the two islands!
It's a really nice walk or bicycle ride across or fun and exciting scooter ride over to Nusa Ceningan, though the yellow bridge is not accessible to cars it's only just wide enough to fit two passing scooters, so whilst you can get a taxi to the bridge you can't get one to take you across it.
It's nice to stop on the bridge and take in the views of the seaweed farming & lagoon area between the islands. It's also a cute place to take a photo too.
9. Splash around at the Sunday Beach Waterpark
This is a great little water park and one of the most fun things to do on Nusa Lembongan, especially if you have kids with you (although it's definitely not just for kids!) It's not a super-sized water park like other touristic places in Asia have, however, it's pretty decent considering Nusa Lembongan is quite a small island.
It'll cost you about $6USD for adults and $3USD for children under 10 years for unlimited rides. The rides are surprisingly fast too; so get ready to fly around the slides on your way down into the pool!
There's a restaurant and bar at the waterpark, along with a bunch of other activities you can do such as kayaking, banana boating, and jet skiing if you're up for a day full of thrills!
10. Enjoy the View from the Panorama Lookout
One of my favourite spots on Nusa Lembongan is the Panorama Point. The first time I saw the view over the whole island I was just stunned at how beautiful and green the island is and how clear and turquoise the sea around it.
In between the gap of the trees, is an absolutely stunning view that overlooks the beautiful Jungut Batu beach below. If it's a clear day you might be able to see the majestic Mount Agung volcano over on Bali's main island from here too.
A visit to this panoramic lookout location, which is right at the top of the hill, is one of the must-see places in Nusa Lembongan. You can easily get a taxi to take you up to the spot, go for a leisurely hike up the hill or hire a scooter to go on a sightseeing adventure.
There are a couple of nice restaurants and hotels right up on this hill too if you wish to relax for a while and take in this view.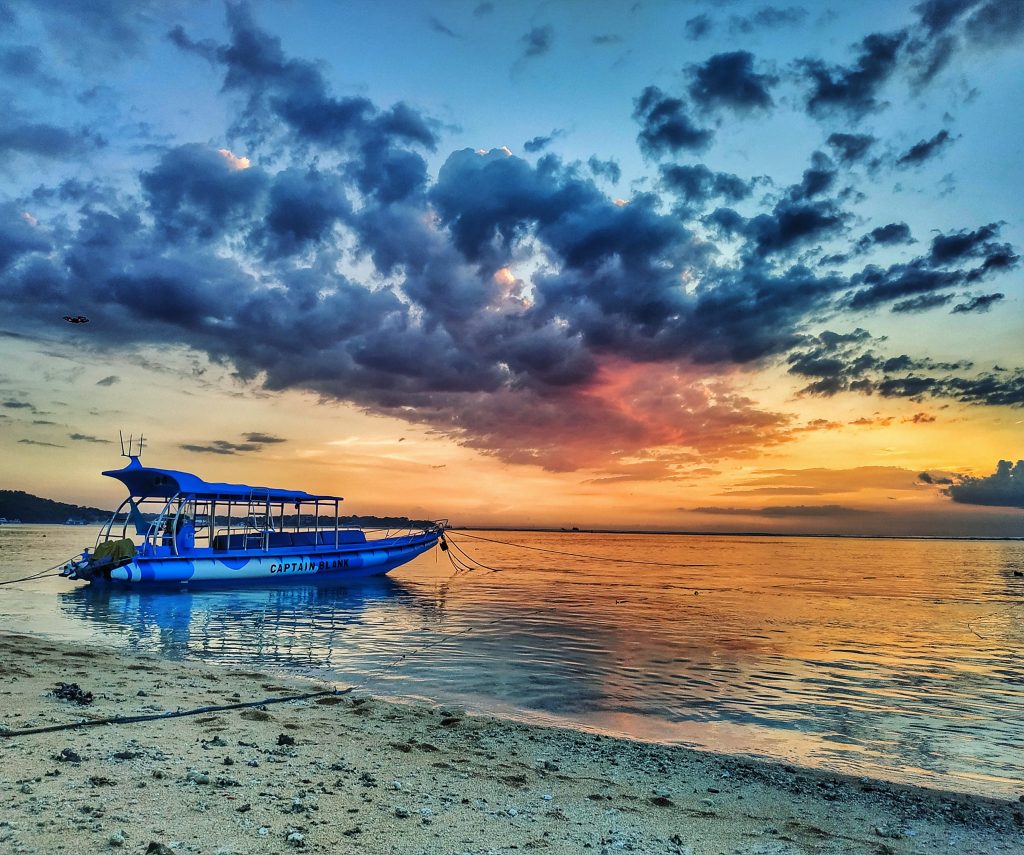 Read More Bali Travel Blogs:
Have you been to Nusa Lembongan? Do you have any more tips on things to do here?
Leave a comment below and your recommendations can help out other travellers 🙂