One of the best things about Bali, and one of the reasons this tropical island is such a popular destination, is the huge range of things to do and see. I've visited Bali several times and still find something new and interesting to discover on each visit. One visit isn't enough to experience all the best things to do in Bali!
Despite its relatively small size, Bali has so much more to offer than just a holiday on the beach. Bali is blessed with natural beauty and is a highly cultured and spiritual island that really has something for everyone.
There are yoga retreats, spas, temples, world class beaches,  restaurants and hotels to suit all budgets and there are also many more adventurous activities and things to do in Bali. It's hard to imagine another island with so much to do and see.
Pin Me! 😉
Here are 10 of the Best Things to do in Bali:
1.  Visit the beautiful Hindu temples
Unlike the rest of Indonesia, which is mainly Muslim, Bali's population are mostly Hindu and the island is famous for its divinely beautiful temples. In fact there are so many temples (over 20,000) that Bali is known as 'The Island of the Gods.'
Hinduism in Bali has similarities with Indian Hinduism but is really quite different and visiting Bali's temples and learning about the spirituality of this island is a whole different experience from the religious culture and sites in India.
There are so many things to do in Bali, and with 20,000 temples, of course it would be impossible to see all of them. But no visit to Bali would be complete without visiting some of the most famous and most beautiful temples.
3 of the best temples in Bali not to miss include;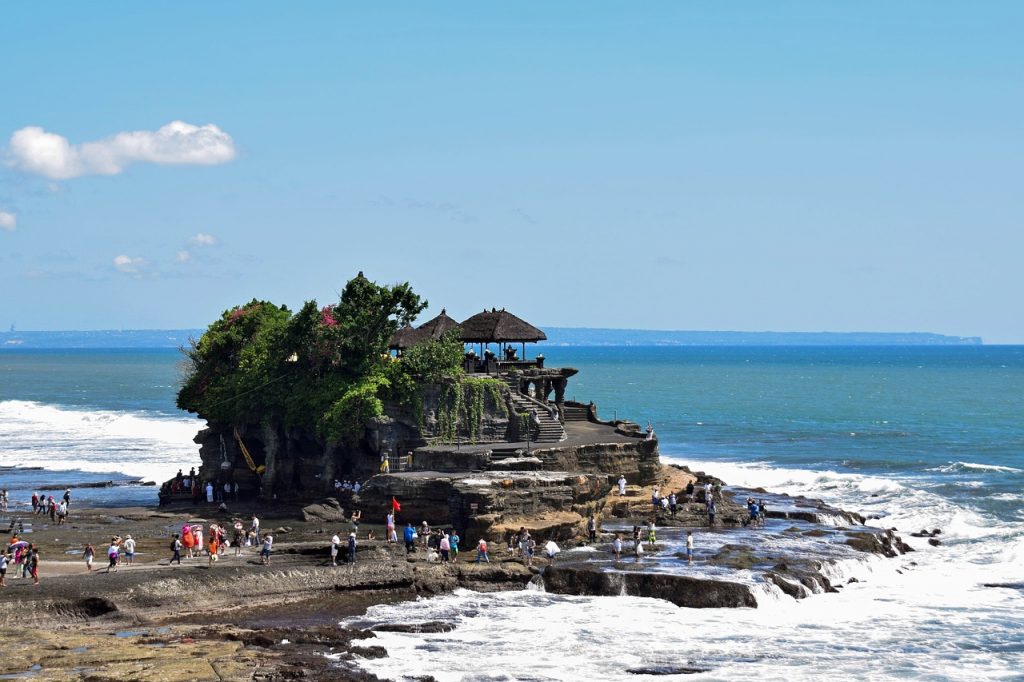 Tanah Lot, a stunning temple perched on top of a huge rock surrounded by constantly crashing waves that is especially spectacular and atmospheric at sunset. Tanah Lot is one of the most popular things to do in Bali.
Besakih, known as the 'Mother Temple.' This is the biggest and most important of all the temples in Bali that should be top of your list of any culture vulture's list of things to do in Bali. Besakih temple contains 86 temples and is set in a stunning location high up on sacred Mount Agung.
Pura Ulun Danu Bratan sits serenely in Lake Bratan and is a beautiful water temple dedicated to Shiva. This fairytale like temple is one of the most picturesque and most iconic sights in all of Bali.
Ulu Watu temple is also another beautiful temple with stunning coastal views and you can also watch a traditional Kecak dance display here. Another highlight of a visit to Bali is witnessing the captivating temple festivals and processions. Each of the 20,000 temples in Bali has a festival every year so there's a good chance that there will be one happening when you visit.
Check this post out for more about Bali's temples and the most important ones to visit.
Read More: Where to stay in Bali (the best areas and hotels for all budgets)
2.  Go Surfing!
Bali's world class surfing Bali opportunities are one of the main reasons that people flock to the island and Bali is regarded as one of the best surf destinations in the world.
Bali really is a surfer's paradise and riding the waves is one of the most popular things to do in Bali. Don't worry if you haven't surfed before,  you don't need to miss out on this fun as Bali offers something for all abilities from beginners to epic advanced breaks and Kuta is actually one of the most affordable places in the world to learn how to surf.
The best time for surfing in Bali is during the dry season from June to September. This is also the busiest time but Bali has good surf and warm waters all year round and the vibrant surf scene and huge variety of breaks, mean that Bali one of the best surfing spots in the world.
The waves at Kuta and Nusa Dua are perfect for beginners and there are many excellent and affordable surf schools and board rental places along Kuta Beach.
The most famous, and most challenging, of Bali's legendary surfing spots are found around the Bukit Peninsular near the Ulu Watu temple and there are also great breaks at Canggu, Padang Padang and Dreamland. Surfing is undoubtedly one of the best things to do in Bali. See more of the best surf spots in Bali in this post.
If your serious about learning how to surf and catching some waves then I really recommend staying at one of the fab surf camps in Bali – having daily instructor and being immersed in a surf crazy environment has improved my surfing ability dramatically – here's my pick of the 5 best Bali surf camps.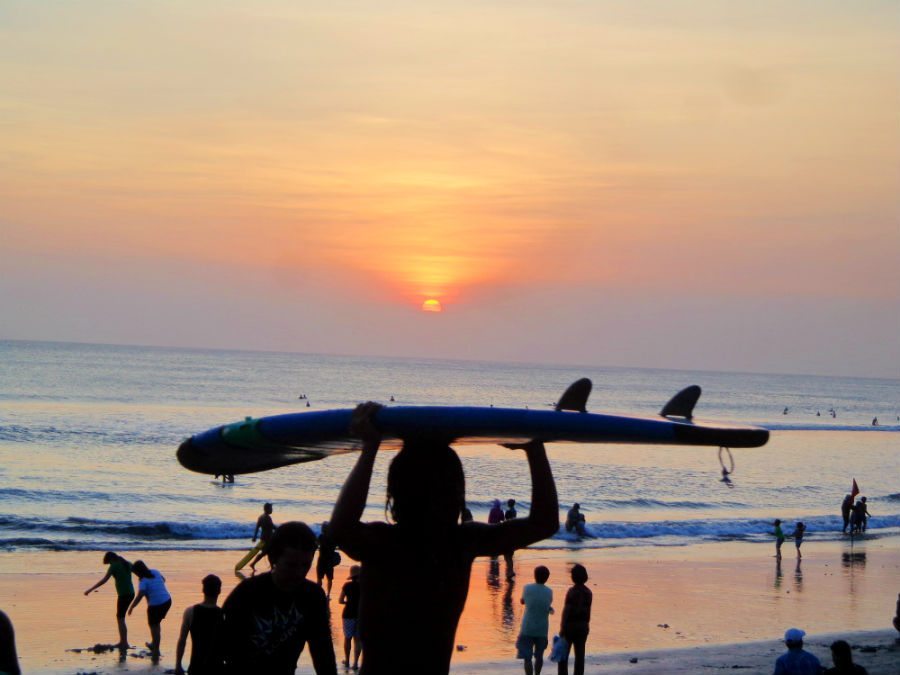 3.  Watch a Traditional Balinese Dance
Spirituality is everywhere in Bali and dance, drama and music are important parts of Bali's captivating religious culture and festival celebrations.
The ancient and beautiful art of Balinese dance is very intricate and expressive and includes elaborate costumes and mystical storytelling and watching a traditional dance performance is one of the most interesting ways to experience and learn more about the island's rich culture and spirituality.
With so many temples, and so many festivals happening, it is possible that you might stumble upon an authentic performance but there are also many staged performances that are put on specifically for tourists, you can find these happening at the Palace in Ubud, the Bali Collection theatre in Nusa Dua and at some of the most famous temples and also at the 5 star hotels and resorts.
There are many different traditional Balinese dances that you can see but seeing at least one dance should be on your list of things to do in Bali. One of the most popular and visually interesting is the Kecak Dance –  a trance like fire dance. This dance tells the story of the Ramayana, which as well as being important in India is also very important in Balinese Hinduism. One of the most dramatic settings to watch the Kecak dance being performed is at sunset on the cliffs at either Tanah Lot or Ulu Watu temples. There are no instruments used, just the men's voices as the dancers perform a trance like fire dance ritual.
The Barong dance is another vibrant and elaborate storytelling dance that represents the eternal struggle between good and evil. Also popular is the elegant and refined Legong dance which is characterized by expressive facial expressions and gestures as well as intricate finger movements and footwork and it reminded me a little of Kerala's Kathakali dance.
To see a combination of all the dances performed in a colourful 90 minute dance, culture and acrobatic extravaganza head to the Devdan dance show at the Nusa Dua Theatre.
Read More: how to save money on your holiday to Bali
4.  Explore the stunning rice terraces
In my opinion, Bali's lush, tropical inland scenery is even more beautiful than its stunning coastline! Bali's photogenic rice terraces in all shades of emerald green offer stunning panoramic views and are a sight you can't miss when in Bali.
You can find beautiful rice paddies landscapes in rural areas all over Bali but the most famous and most spectacular rice terraces are the UNESCO heritage listed ones in Tegalalang and Jatiluwih, about half an hours drive north of Ubud.
The rice terraces are one of the most picture postcard spots in Bali but the famous ones can get a bit crowded with tourists and there are also many stalls selling local crafts and cafes where you can soak up the stunning views. Even though the most splendid terraced landscapes are found in Tegalalang, the ones in Jatiluwih are also UNESCO listed and the nearby villages of Pejeng and Campuhan are also amazing and less busy with tourists. This post has more info about the best places to view the rice terraces.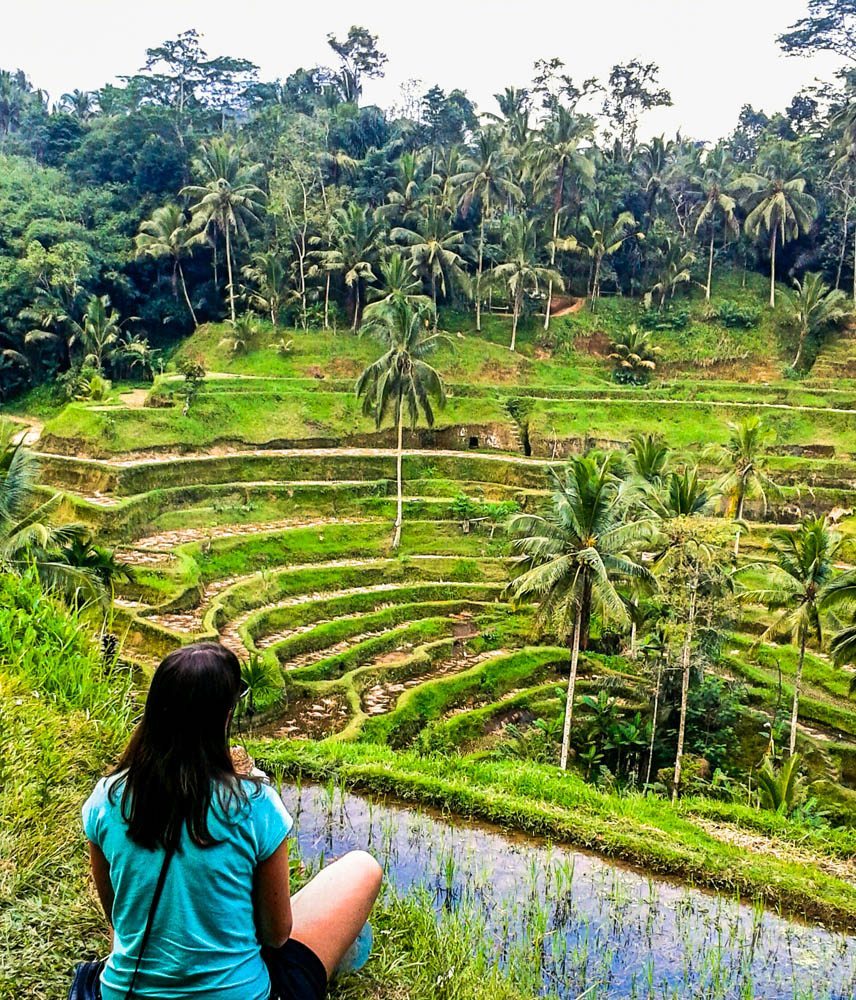 One of the best things to do in Bali if you want to further immerse yourself in the stunning landscapes is to take a rice field trek or bike tour which will get you away from the touristy spots so you can soak up the amazing views better and also see local Balinese villages, farming communities and craft workshops. See here to check out and book the best rice field terraces tours and activities 
5.  Visit Ubud and the Monkey Forest
The cultural heartland of Bali is the inland town of Ubud in the centre of the island. Ubud has been made famous by the book and film Eat, Pray, Love, and since then visiting Ubud has become one of the must see places in Bali.
You can choose to stay in Ubud or just visit on a day trip (click here to book an Ubud day trip in advance) to take in the artsy, spiritual, cultural vibe and the lush, scenic rice paddies, stunning views in the area. If you visit Ubud on a day trip you can combine visiting the Monkey Forest with seeing the Tegalalang rice terraces and the Ubud Royal Palace but to get the real feel of Ubud you'll need to stay here a while and stay outside the center which gets quite crowded with tourists and traffic especially in the middle of the day.
One of the most popular things to do in Bali is visiting the Ubud Monkey Forest, also known as the Sacred Monkey Forest of Padangtegal. It's easy walking distance from the centre of Ubud, once there you'll find a natural forest sanctuary home to a horde of mischievous grey long-tailed macaques. You can stroll through the forest, watching the playful monkeys swinging through jungle canopies, lazing around quite photogenically and feeding on bananas. Also, deep inside the forest lies some beautifully atmospheric 14th century temples complete with guardian statues covered in moss and shady banyan trees which give the forest a mystical atmosphere.
Even though the monkeys may look cute keep a safe distance and be careful, don't take any valuables as these naughty monkeys are master thieves and grab sunglasses, hats and anything they can from unwitting tourists.
It's also worth having lunch at one of Ubud's healthy vegan and vegetarian cafes overlooking the scenic rice paddies and also take time to check out the exquisite local arts and crafts at the Ubud Art Market.
Ubud is cooler than the rest of Bali and there are many activities that you can do here. Instead of just taking photos at the rice fields why not explore the scenery in more detail by taking a walk along the Campuhan Ridge or by join a ricefield trek or bicycle tour where you can soak up the amazing views and see local Balinese villages and farming communities, coffee plantations, traditional Balinese homes, fruit orchards and craft workshops. The ricefield treks and bike tours are mostly downhill so it's a great and not too strenuous way to experience the natural beauty of inland Bali.
Read More: Exploring Ubud: The spiritual side of Bali
6.  Go Diving and Snorkeling
The waters around Bali boast some of the most diverse coral reefs on the planet making diving and snorkelling some of the best things to do in Bali.
There are so many great places in Bali for snorkeling, diving and exploring the amazing underwater world. If you haven't dived before then no worries, there are also many professional scuba diving centers in Bali that offer scuba diving courses, PADI certifications, diving tours and even introductory taster dives with experienced guides and equipment. Read this post for more tips on learning to dive in Bali.
Some of the very best locations for snorkelling in Bali are actually found at the nearby islands of Nusa Lembongan and Nusa Penida. Here the clear warm water and pristine corals are home to schools of vibrantly coloured fish like the emperor angel fish, parrot fish, moray eels and even turtles and manta rays. Crystal Bay, Toyapakeh, Gamat Bay and Manta Point are also must see snorkel spots.
Whether you're a beginner or experienced diver, Bali offers a plethora of excellent dive sites with incredible diving opportunities for all levels where you'll find diverse marine life around the reefs and even some shipwrecks.
The best dive sites in Bali are found along the east coast near Candi Dasa, Amed, Tulamben and near Nusa Penida and Nusa Lembongan. One of the most interesting and most famous dive spots in the world, the USAT Liberty wreck from WWII, is in Bali, this is one of the best things to do in Bali for divers.See this post for more of the best snorkeling and diving spots in Bali.
7.  Practice Yoga
Ubud, the cultural heartland of Bali, has a thriving yoga and spiritual scene. Since being made famous by the film Eat, Pray, Love, yogis, spiritual seekers and new age types have been flocking to Ubud to find some inner peace of their own amongst the stunning rice field views. Ubud has many, great yoga studios and wellness  retreats where you can refresh, rejuvenate and practise yoga or even train to be a yoga teacher against the impossibly scenic backdrop of the lush green rice fields.
Whether you're an experienced yogi or a curious newbie practising your asanas in Ubud is a special experience and one of the most serene things to do in Bali.
The huge Yoga Barn is one of the most famous and most popular yoga schools in Bali. The Yoga Barn offers a wide array of classes and styles of yoga and other workshops on offer however the large class sizes might be too much for some. Ubud Yoga House and Intuitive Flow offer a more laid back and personalised experience that is better for beginners. Radiantly Alive is also highly rated and offers smaller, more intimate but more expensive classes.
There are also many yoga retreats in Bali, most also have fabulous spas and vegetarian or vegan restaurants and offer other therapies, treatments, healing workshops, meditation sessions. See a complete guide to yoga in Bali here.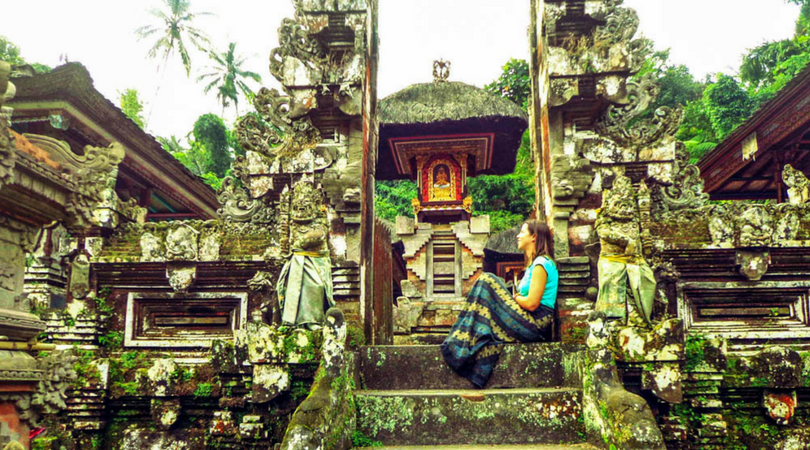 Yoga is one of the best things to do in Bali and if your looking to deepen your yoga practise or just relax then Ubud is one of the best places in the world to practice yoga.
Read More: The Ultimate Guide to Yoga in Ubud 
8.  Go Island Hopping
The island of Bali is renowned for its huge variety of beaches but actually the best beaches are found on the smaller neighbouring islands. There are many smaller islands that are within quick and easy reach of Bali by speedboat and taking a day trip (or even a couple of days getaway) to explore these picture perfect, white sandy beaches and turquoise waters is one of the best things to do in Bali.
Bali's has 3 stunning sister islands; Nusa Lembongan, Nusa Penida and Nusa Ceningan, which can be accessed by fast boats or for a more exciting experience you can take a day tour on a thrilling power raft trip where part of the fun is getting there (you will get wet!).
Nusa Lembongan is the best for surfing and offers plenty of accommodation if you want to stay there a few days. Nusa Penida is great for diving, snorkelling and exploring the diverse marine life to explore in the reefs. Nusa Ceningan is the smallest of the three islands with not much to do but simply relax and enjoy the tropical paradise. Check out this guide to the Nusa islands for more info.
Visiting the 3 tiny but paradisiacal Gili Islands have become one of the most popular things to do in Bali. These 3 tiny islands are closer to Lombok than Bali but are only a short speedboat ride away. There is no motorised transport allowed on the islands, just horse carts and bicycles to get around so it's a idyllic escape from modern life.
Gili Trawangan, the largest Gili island has a vibrant party scene and is popular with backpackers, Gili Meno offers a mellow and laidback escape while Gili Air is a good middle ground between the two and has great views over Lombok from the beach.
The Gili islands are a popular add on to a holiday in Bali and all have plenty of accommodation and eating options so you stay and relax for a while. Check out this guide to the Gili islands for more info.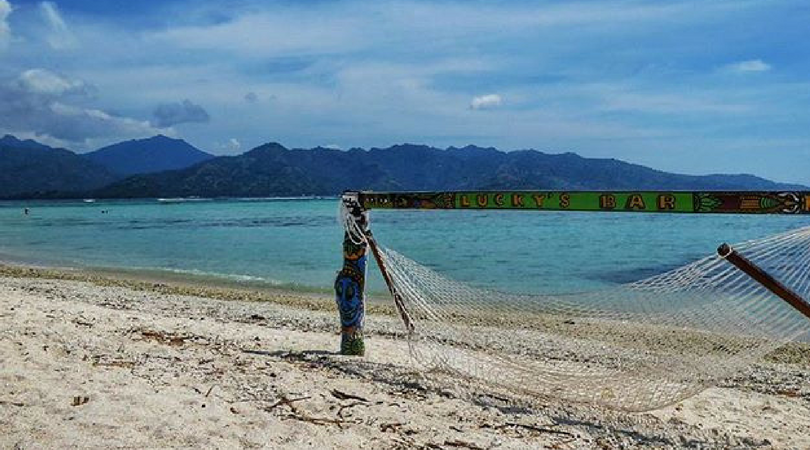 Read more: Why the Gili Islands are a backpacker's paradise. 
9.  Trek up a volcano at sunrise
One of the best active and adventurous things to do in Bali is trekking up one of the volcanoes. Bali is also known as 'the Land of the Gods', and the island's dramatic and mystical volcanoes are worshipped by the local Balinese population.
There are four volcanoes in Bali: Mount Agung is the biggest and a really quite challenging hike (read more about trekking Mt Agung here) but there is also Mount Batur, Bratan, and Mount Merbuk.
The most popular volcano for tourists to hike is Mount Batur, it's only a 2 hour hike to reach the top (over 1.700 m) and the summit offers breathtaking views from the peaks piercing the clouds all the way down to Lake Batur, the largest crater lake on the island. Read what its like to hike Mount Batur.
It's an unforgettable view from above the clouds so if you're physically fit and in good shape hiking up one of Bali's volcanoes could be your most memorable moment from your time in Bali. There can't be a more magnificent feeling than reaching the top of a volcanic and witnessing the sunrise. You really can't get any closer to heaven!
Keep in mind that all of these volcanoes are active and it's highly recommended to take a guide, especially if you are starting your hike in the darkness in order to reach the summit for sunrise. You can book a tour and guide for trekking up Mount Batur on Viator here. 
If you're not feeling so active, don't worry as you can also drive up to lookout points for a breath taking view of the volcanoes, without losing your breath!
Read More: Trekking up Mount Batur at Sunrise
10.  Try the world's most unique (and expensive) coffee
The most expensive, and some would say best, coffee in the world comes from Bali. The coffee is called Kopi Luwak and is made from the poop of a jungle cat! If you are a coffee lover, connoisseur or just an adventurous foodies visiting a coffee farm in Bali and trying this unique coffee for yourself is one of the most unique and unmissable things to do in Bali.
The coffee is made when the civet cat eats the coffee beans, then, after spending a day or so in the civet cat's digestive tract, the partially digested coffee beans are expelled through the defecation process and then harvested, washed (thankfully!) and roasted to make a surprisingly good coffee. See more here about the cat poop coffee!
You can visit a coffee farm on your own, usually for free, and taste the coffees and learn about how they make it. There are many around Ubud so you could combine it with a visit to Ubud. Bali Pulina is close to the rice terraces.
Most of the organised day tours around the island will include a visit to one where they show you around, explain this unique  process and at the end of the tour you get to try this special 'cat poop coffee' often for free.
The coffee has a smooth, slightly caramel, flavour and certainly makes for an interesting souvenir or present for those back home!
This is just 10 of my absolute best things to do in Bali. I could go on forever as there are so many more things to do – this island has something for everyone! What is your favourite thing to do in Bali?
Check out my other posts on Bali:
Where to stay in Bali (the best areas and the best hotels to suit all budgets)
Am i moving to Bali? My experience of 1 month in Bali as a digital nomad
How to save money on your holiday to Bali
Ubud – Exploring the spiritual side of Bali
Pin Me! 😉