Why I left Goa to try out being a Digital Nomad in Bali
Life isn't always as easy as it seems, even when you live in a tropical paradise. I love Goa but this season has been hard so I left Goa to see if life as digital nomad in Bali would be any better.
I arrived back in Goa at the end of September – my favourite time in Goa is the period just after the monsoon when everything is still lush and green and the excitement of the upcoming season builds.
But the monsoon dragged on through October and then in November the sudden shock announcement of demonetisation meant that 85% of the currency ceased to be legal tender overnight.
For 2 months while they printed new money many ATMs did not have any cash so I struggled to find enough money to eat, to pay the rent or to buy basic supplies and relied on the kindness of friends and local shack owners to get by for a few months.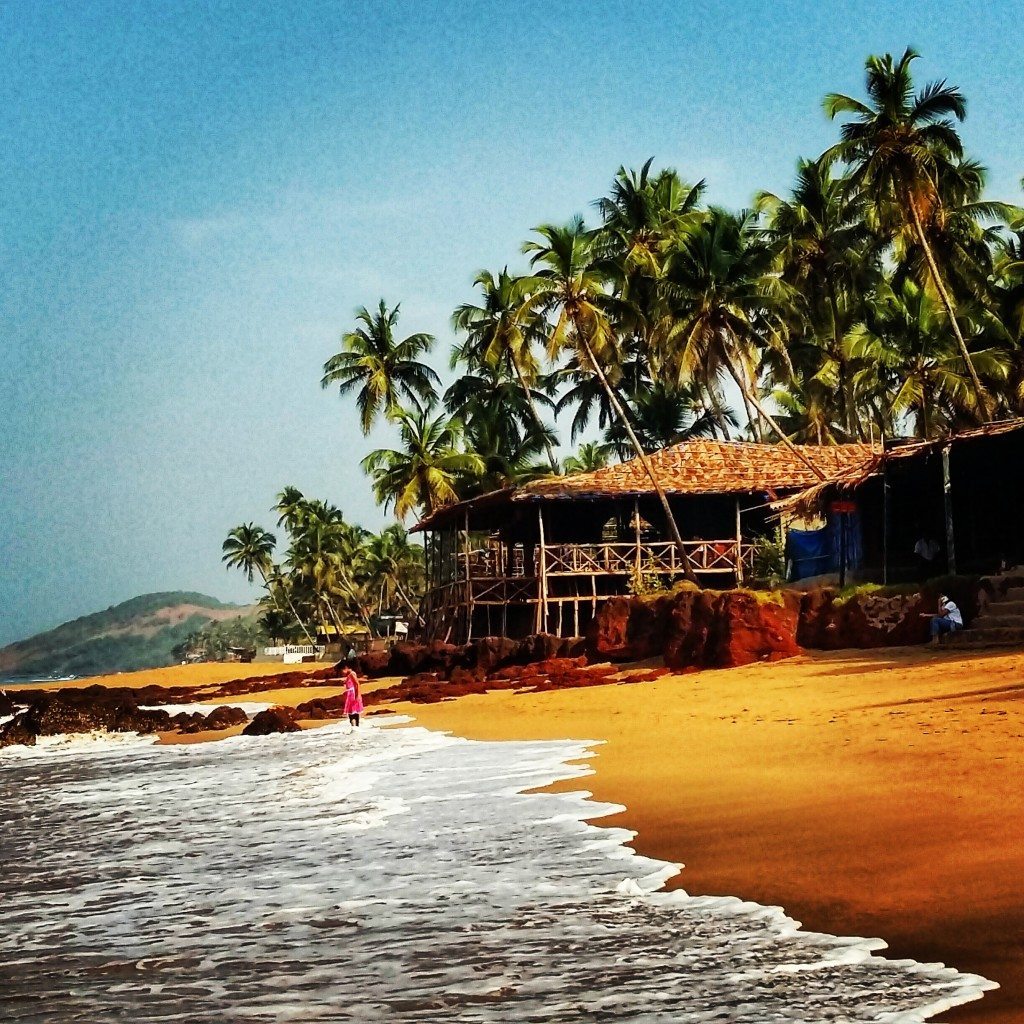 Christmas and New Year are always a bit too hectic in Goa for me, normally I feel quite safe as a solo woman in India but over the Christmas period I got run off the road by drunk drivers and chased down the beach by large groups of drunk male Indian tourists making disgusting sexual remarks on more than one occasion.
Then in January the code of conduct due to the elections meant that Goa's famous nightlife came to a halt as live music, parties and alcohol were banned after 10 pm for 40 days and for a few days were completely dry.
The Reality of being a Digital Nomad in Goa
Goa's beaches and parties are alot of fun, but being a digital nomad in Goa is incredibly frustrating with the daily power cuts, unreliable internet and lack of community of like minded people working online.
Combined with everything else going on I also had serious work issues as my computer broke and several things went wrong with my website which I wasn't able to fix.
The internet in Goa is pretty diabolical anyway but for some unknown reason the internet in my house went from slow to non existent making it impossible to work in a productive manner.
This is the sad reality of being a digital nomad in Goa.
Instead of writing and doing what I'm passionate about I seemed to spend most of my time chasing unpaid invoices (some outstanding for 6 months) and dealing with a hundreds of emails that basically want me to write, work or promote someone else's company for free.
This leaves me feeling super worthless, demotivated and stressed about money, work and life in general. I even had to take off the private message function on my Facebook page due to all the creepy messages from men that I was receiving.
It all got too much and I started to think what was the point of being a blogger and digital nomad in Goa? With no money, no internet, no parties – maybe life would be easier, more productive and more enjoyable somewhere else?
I need a break from India!
By February my Indian visa was running out and as much as I love/d Goa and love India I really needed a break from the madness of India.
I'd already checked out Chiang Mai, Thailand's digital nomad hub, last year but missed being close to the beach.
I knew that the tropical, spiritual island of Bali was another digital nomad hotspot, so I packed up and made a gruelling 3 flights and 60 hour journey from Goa to the island of the gods to see if living in Bali as a digital nomad would be more productive and less stressful.
So here's my review of a month as a digital nomad in Bali
After much research on Skyscanner the cheapest way to get to Bali was to catch an overnight train from Goa to Kochi in Kerala and then catch an Air Asia flight from Kochi to Bali via a long wait in Kuala Lumpur, Malaysia. I managed to get the flight for about 7,000 INR but it was an exhausting 60 hour trip.
Arriving in Bali I was struck at how much more modern and developed Bali was from India, it was almost a culture shock.
Canggu
For the first week I based myself in the upcoming area of Canggu just North of the popular Kuta, Legian, Seminyak stretch as I'd heard good things about the digital nomad scene in Canggu.
The Canggu area is much more spread out and less packed in than the other beaches nearby and has a surfing vibe, a really cool co working space – Dojo, lots of cool cafes and hip restaurants, bars and boutiques as well as several yoga schools. My favourite hang out was Old Mans. 
I used my Air BnB credit (click here and you get $25 too) to stay at the Comeback Guesthouse a really cute collection of cottages nestled in tropical gardens around a swimming pool with wonderful hosts and super fast internet – such a treat after struggling with the internet in Goa.
I also got a local Indonesian sim card set up and working in less than 5 mins without any of the paperwork and waiting time that it takes to get a sim card in India and has almost uninterrupted 4G coverage almost everywhere I went in Bali and even on the Gili islands.
However, I was really disappointed by the beaches in Canggu, maybe because it was off season the seas were very rough and the beach wasn't very appealing for lounging on. The area is popular with surfers but I prefer calmer waters.
Ubud
Next I headed inland to Bali's spiritual hub, Ubud. I loved Ubud when I visited a few year before and so I was really excited to check out the scene, the yoga schools, co working spaces and countryside around Ubud.
I loved the beautiful Balinese culture and temples that are everywhere in Ubud and exploring the lush green countryside and rice terraces around the area.
The variety of yoga schools and workshops around Ubud are fantastic, especially The Yoga Barn which offers a huge variety of classes and workshops that I wish I'd had time, and money, to try them all. However, the class sizes were quite big and the prices were much more expensive that I had been used to paying in India.
Ubud was my favourite place in Bali but unfortunately it rained almost non stop the whole time I was there.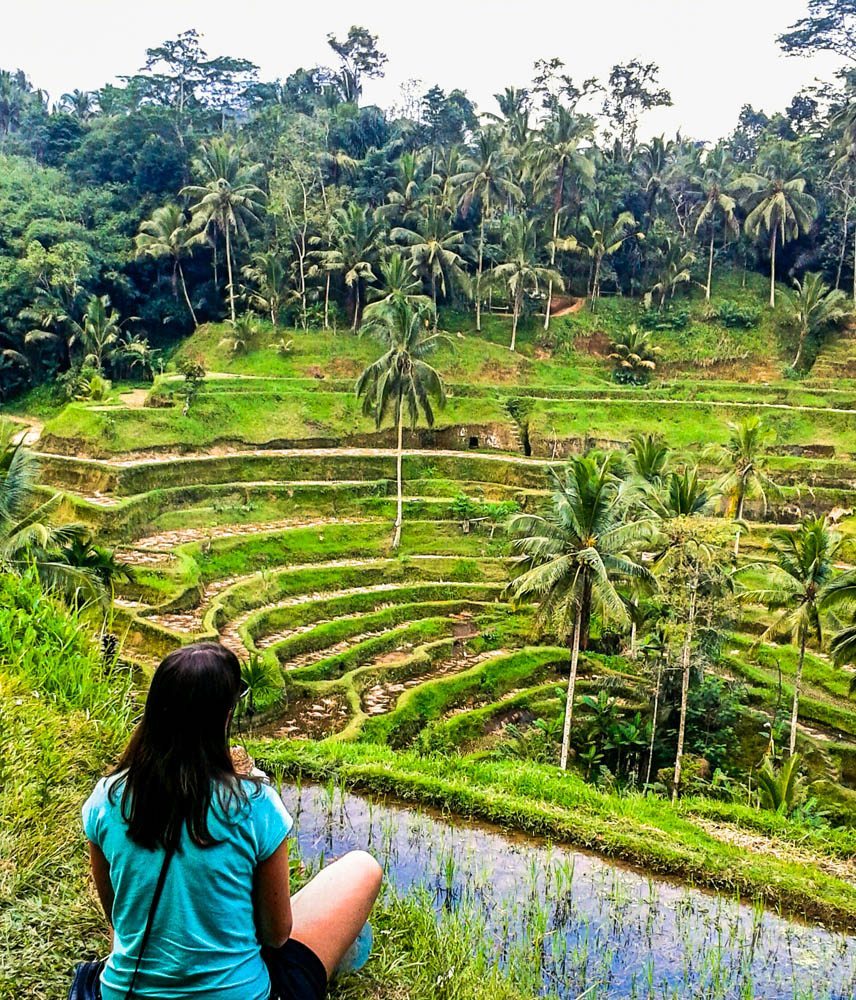 Ubud is also home to Hubud, which must be one of the best co working spaces in the world that also hosts loads of lectures and workshops for digital nomads but at $20 for a day pass I don't think I would make it a regular thing as, again, I wasn't comfortable with the cost and actually realised that (when the internet is working) I work better on my own at home.
The center of Ubud is pretty busy and touristy so I stayed slightly outside at the cute Nicks Hidden Cottages which was just a few minutes walk to the centre but surrounded by gorgeous rice fields.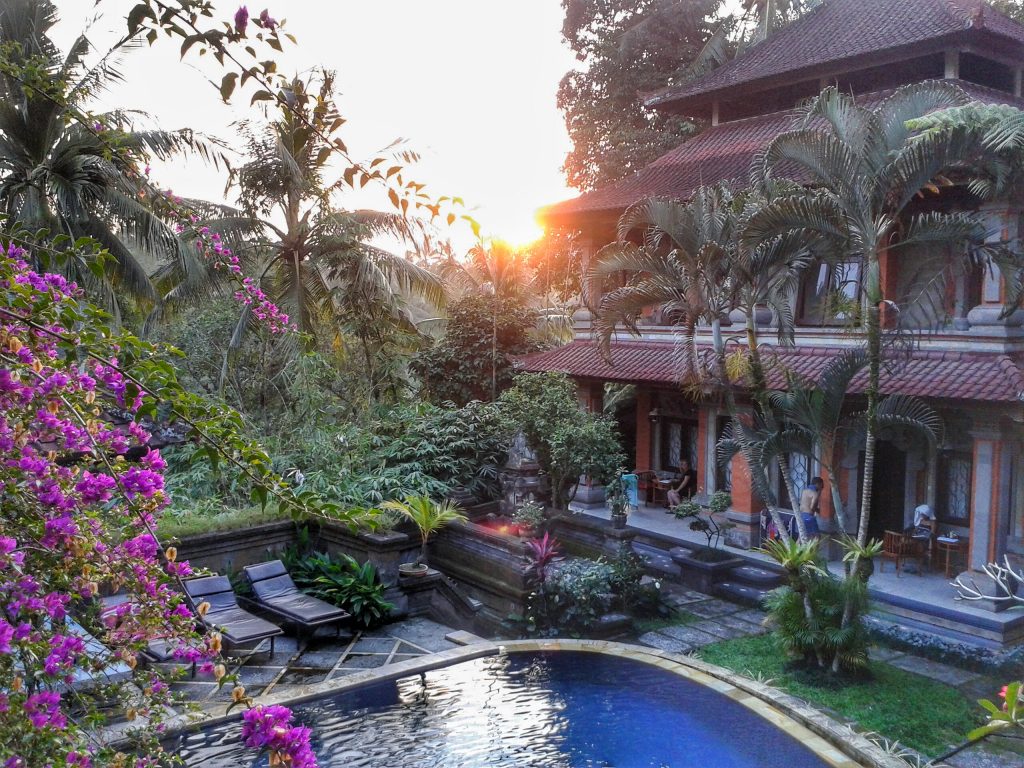 Padang Bai
I was planning to spend longer in Ubud but the persistent rain put a bit of a dampener on things. So I decided to head to the Gili Islands for a bit of beach time and got a minivan from Ubud to the port at Padang Bai but, due to the bad weather, all the boats were cancelled for the next couple of days.
However, staying for 4 days in Padang Bai actually ended up being one of my favourite places in Bali this time around. Most travellers simply pass through Padang Bai to catch a boat to Lombok and the Gili Islands but actually it's a great little destination in it's own right.
It's a small fishing village and port town but there's just enough restaurants, bars and accommodation to keep you comfortable and in addition to the main beach where the colourful local boats wait there are 2 gorgeous beaches within 10 mins walk and several dive schools.
Despite the persistent rain in Ubud the weather down in Padang Bai was much better. I stayed at the Aloha Inn, a cute complex of huts with a colourful pool 2 mins from the main beach, and met some really cool people there.
Gili Air
Once the weather cleared up I caught a boat from Padang Bai to the island of Gili Air. The Gili Islands are a string of 3 tiny, paradasical tropical islands closer to Lombok than Bali but only a few hours away by fast boat.
Gili Tarawagan is the party island, Gili Meno is very quiet and Gili Air is somewhere in between with enough going on to keep you entertained whilst still being a chilled out island escape.
There is no motorised transport on the islands but you can walk or cycle around in less than an hour or take a horse and cart.
To my surprise I had a good 4G signal on the island which was better than the wifi in many places so I still managed to get some work done. There were some nice yoga schools as well.
I stayed at Damai Bungalows in the North East corner of the island which turned out to be a good choice as the bottom part near the port was quite busy.
But as much as I enjoyed Gili Air I can't see myself living on such a small island – its great for a holiday but I started to feel a little claustrophobic after a few days but, for a digital nomad in Bali it's great that these islands are so close.
Sanur and Kuta
I spent a few days in Kuta and really hated the crowds and commercialism of Kuta and I didn't really rate Kuta's beaches either and I missed the beach life and vibe of Goa.
In many places in Bali even if you buy a meal and drinks they have an additional charge to sit on a sun bed on the beach whereas in Goa I almost live my life on the beach, chilling, eating, drinking, shopping, partying – I really missed that in Bali.
Last time I visited Bali 3 years ago I was traveling with my Mum and we stayed in Sanur and it's still my favourite out of the main beach resorts in South Bali. I
stayed at the Puri Kelapa Garden Bungalows which cute cottages located in luscious tropical gardens just 2 mins walk from the beach. I liked the more laid back Sanur a lot more than loud and brash Kuta and enjoyed the calm seas but still, it's great for a holiday but I was missing Goa.
Luckily Sanur is only 15 mins drive to the Indian Consulate in Denpasar, Bali's capital, where you can obtain an Indian visa in about a week. See here for my step by step guide on how to get an Indian visa in Bali.
So is Bali a good place for Digital Nomads?
Bali is a great destination for digital nomads and a great place for a holiday. There is good internet and 4G, amazing co-working spaces and nomad communities to get involved in.
With fantastic yoga studios, gorgeous scenery, delicious food, wonderful people and so much to do and see Bali has so much to offer. Plus it's affordable (compared to Western prices) but still more modern, cleaner and developed than India making it easier to get things done.
My main frustration in India is the internet and power outages and in Bali the internet worked great in most places but, honestly, I still found myself getting distracted, chasing invoices, procrastinating and having a never ending 'to do' list so I guess these are things I need to work on where ever I am in the world– changing location doesn't solve all your problems – although having decent internet is definitely essential when you're a digital nomad.
But still Bali isn't perfect. The traffic was horrible and found it expensive, compared to Goa. But most of all, I missed India too much, I missed the chaos and the magic. I missed my friends, the beach scene, the parties, the spiritual scene and the rustic, hippie vibe of Goa – there's just no where else like it!
Luckily, you can get an Indian visa in Bali it's more complicated than applying in your home country but at least it's possible (here's how) unlike Thailand where it's pretty much impossible to get anything more than a 30 day E Visa.
Home is where the heart is…
So maybe the sea isn't as bright turquoise, the internet isn't as fast, the roads aren't as smooth, the houses aren't as comfortable, it's a hassle getting a visa and I get creepy stares from men. But Goa is cheaper and feels more free and more authentic. And most importantly Goa is where the magic happens, I just feel a special vibe from being in Goa.
They say home is where the heart is and despite the frustrations my heart is still in Goa.
This trip made me re-evaluate what I want from this lifestyle and I remembered that when I started this journey (over 4 years ago now) it wasn't so that I could become a famous top blogger or even that I could visit every country in the world and tick tourist sights of a bucket list. Instead I was travelling to find myself and where I belonged in the world.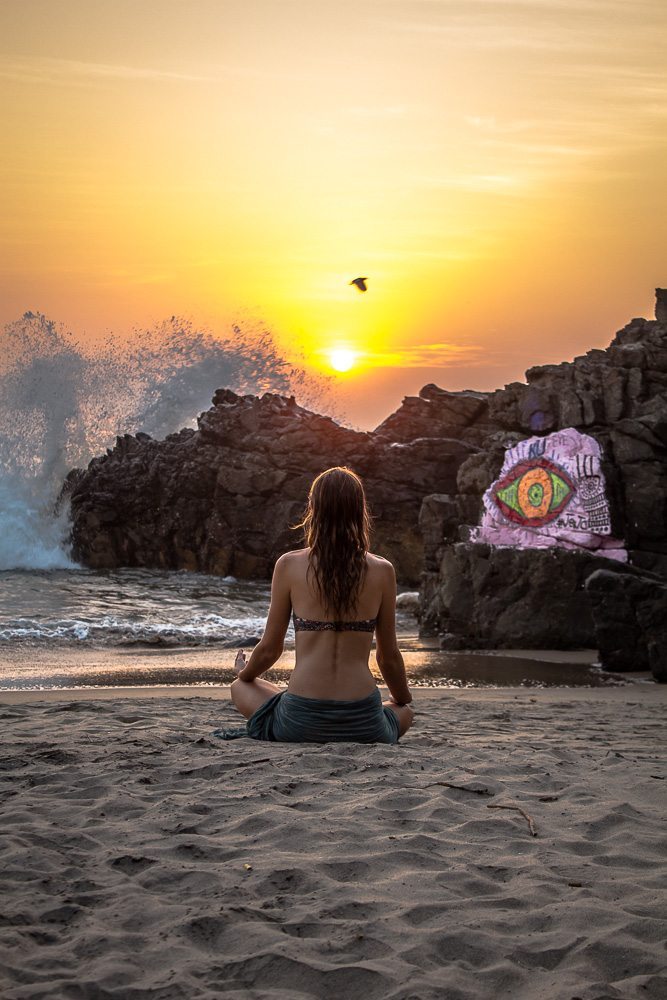 I realised that life is not all about work, I don't need to be published in the Lonely Planet (although that would be nice) or to be the biggest travel blogger in the world.
So maybe I don't need to push so hard, I just want to share my story, help other travellers out and do what I'm passionate about and make enough money so that I don't need to go back to working for someone else in the cold UK winter.
I've realised that nowhere is perfect but Goa is where I want to be (for now) who knows what will happen in the future.
So I'm going back to India to give Goa one last chance, rested and refreshed from the beautiful island of Bali and the kindness of the Balinese people with a new perspective and hopefully I can find a new house where the internet and electricity works and an ATM with cash!
Have you ever thought about moving somewhere only to want to move back again? Are you a digital nomad and have you found your happy place?