Life in Goa: A Day in my Life as a Digital Nomad and Travel Blogger Living in Goa
Ever read blogs or drool over photos on Instagram of those digital nomads and travel bloggers who've left the 9-5 world behind for a life of travel and wondered what it's really like to be 'living the dream? Ever wonder what life in Goa is like or what travel bloggers does all day!?
Here's what a typical day in my life in Goa looks like.
How I became a travel blogger living in Goa
I first visited India 3 years ago and fell in love with the craziness. The amazing experiences I had in India inspired me to write and so I started a blog mainly to keep family and friends updated with my travels and was amazed to see that people were actually reading it. I didn't want to go back home and get a job so I looked for ways to earn money while traveling and realized that that it was possible to make money from travel writing and blogging which encouraged me to keep writing, to grow my social media followers and to learn about SEO.
Still it was a long learning curve and took 2 years of hard work until my blog was making money – its in no way a get rich quick scheme! If you want to kick start your travel blogging career I recommend signing up to the Travel Blog Success course which will take you through everything you need to know to start and make money from your own travel blog!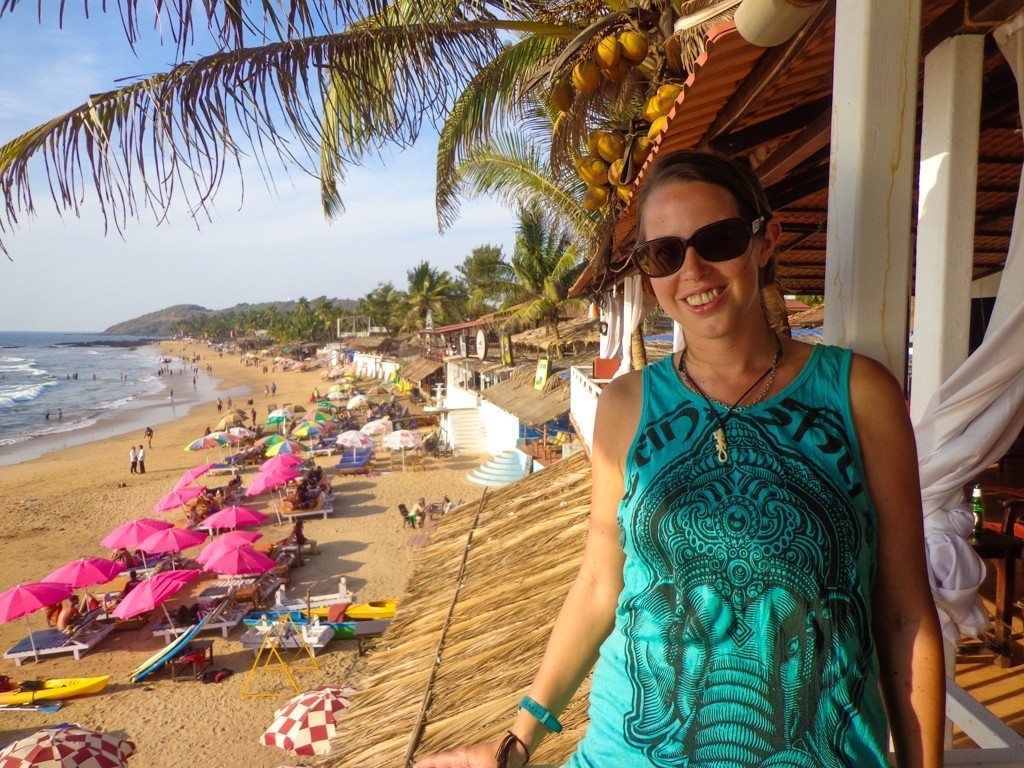 Why I love life in Goa
As for why I love Goa – I was just captivated by the colour, culture and craziness of India – there is so much to see, do, experience and learn here that it would take a lifetime to see it all but after 3 years of full time travel I also wanted a base where I could relax, work and Goa just called to me and felt like home and its well connected with the rest of India so I often travel for a few weeks and then come back to my base in Goa to chill and get work done.
Goa is the the most westernized and easy going state in India and (compared to Western standards) life in Goa is pretty cheap. The days are sunny and relaxed and there are plenty of beaches, restaurants, markets, nightlife, nature and culture to explore. I love the fusion of the Indian and Portuguese culture and, well everyone from all the world comes to Goa so there's a really interesting community of other expats, hippies and long stayers. Life in Goa is unique – you'll just have to visit if you really want to understand why I love Goa so much.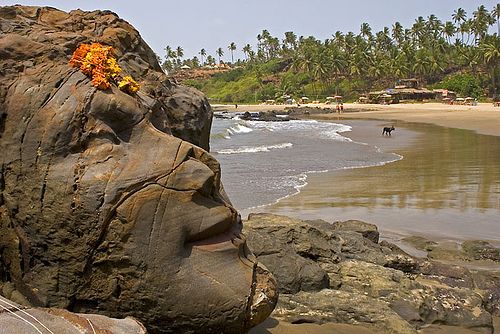 A typical day as a travel blogger living in Goa
Life in Goa is very relaxed but I usually try to wake up early to beat the heat and so that I can fit as much as possible into my day – they just seem to go so quickly in Goa!
I start my day around 8.30 am with a 2 hour yoga class under the palm trees and then pick up some groceries and return home for a late but large and healthy breakfast.
I usually work from about 11 am – 3 or 4 pm writing blog posts and promoting them, writing freelance articles, answering emails and pitching for more work, updating my social media accounts and responding to comments, editing photos and I also do some consultancy with travel companies.
By late afternoon I'm just dying to get out into the sunshine, to drive the motorbike through the countryside and head down to the beach for a swim, meet friends and enjoy a late lunch at a beach shack and watch the sunset.
In the evening I'll often try to get a few more hours of work in before going out for dinner, watching a movie on my laptop.
At weekends I like to go for a longer ride to some of the other beaches or to explore inland, I love going up to Arambol for the drum circle and sunset market and going to the Saturday night market, watching live music in a bar or sometimes raving all night long at a beach party! Life in Goa is never dull!
The best thing about being a travel blogger living in Goa
There's alot to love about Goa – the sunny days, the warm sea, the friendly locals, the spectacular sunsets, driving through the paddy fields with the wind in my hair and eating out alot for relatively little money.
I started my blog because I wanted to show others how they don't have to work a boring 9-5 but wanted to show that full time travel could be affordable and that there are many ways to earn money while traveling. I also want to give useful advice to people traveling India and encourage more people to discover this incredible, life changing country for themselves.
Writing a travel blog is a great creative outlet, a great way to record your travel memories and it can be really rewarding to see your blog grow in popularity, to learn new skills, to get lovely comments and know that you have helped other travellers and of course if you make money out of the blog then you get to keep on traveling, writing and doing what you love.
The main reason I love being a travel blogger and life in Goa is simply the freedom – I have deadlines but I have no schedule or boss to adhere too, I make my own schedule, I can go wherever I want and I love to write, to connect with other travellers and to spread the word about places I visit.
Goa is a very laid back place – I feel free here to be myself and do what I love.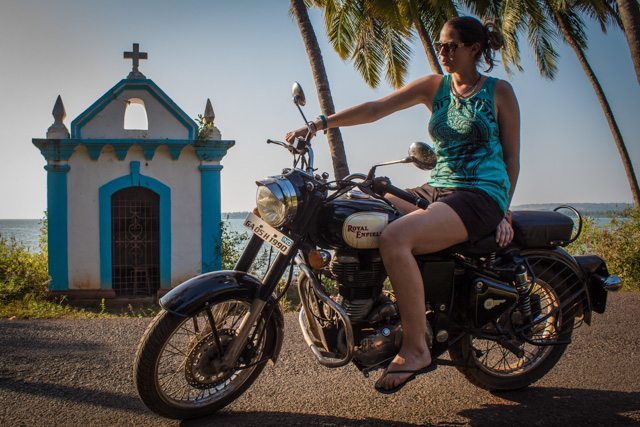 But of course, nothings ever perfect…
My biggest frustration working as a digital nomad in Goa is the daily struggles with power cuts and dodgy, slow internet. As much as I love India and Goa and I like the chaos, dirt, dust and wandering cows of India sometimes when you have a deadline and the power is off, the roads are being dug up and the internet doesn't work again it drives me insane as I rely on being connected for my income.
Life in Goa always has surprises for you. There's always something that doesn't work, strange bureaucracy to get around and even a simple task can often take all day in India, plus, as the internet is slow it means everything takes so much longer which is a pain when Goa's beaches are calling and I'd rather be out enjoying them.
Also, don't underestimate the time that creating and maintaining a travel blog takes and the income can be very unreliable and its frustrating when you work hard and sometimes people take 6 months to pay you and every day I get emails asking me to write for free or to advertise their company for free 🙁
How to follow in my footsteps and become a travel blogger?
It takes time to become a travel blogger, so start a travel blog today and be prepared to put the work in – it's not as easy as it seems and take a long time to build up an audience and start making money as a travel blogger.
Learn as much as you can about SEO to gain more readers, decide on a niche (there's so much competition) create useful, inspiring and engaging articles with personality and don't be afraid to reach out to brands that you want to work with. You will want to have many income streams. It took me years to make money as a travel writer and blogger – if you want to kick start your travel blogging career sign up to Travel Blog Success to learn everything you need to know about starting and making money as a travel blogger.
Also, think outside the box – you don't have to be a travel blogger to make money while traveling there's many other ways you can earn money being location independent, use your blog as a portfolio to get freelance writing work or consulting work as another income stream.
As for Goa, get yourself a 6 month visa and get down here for a season and see how you like it. I've written alot about Goa so you can read all my insider tips and I also wrote about How to rent a house in Goa and the costs of living in Goa .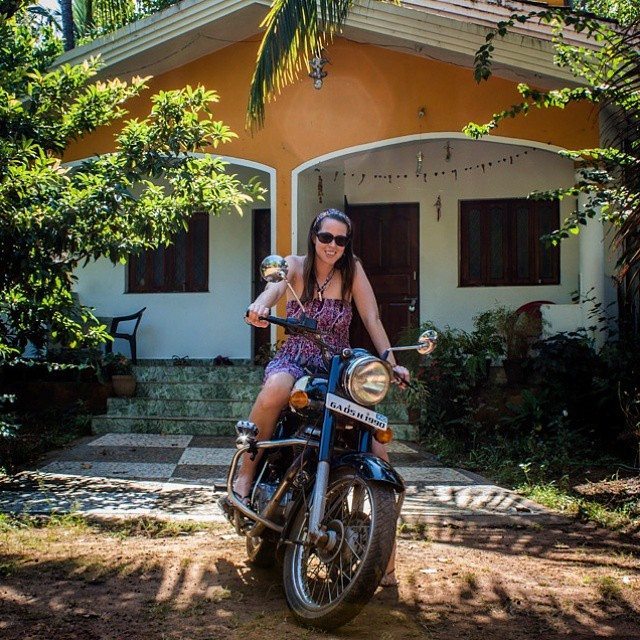 Contact me anna [dot] global-gallivanting [dot] com if you are living a life less ordinary and would like to be featured here
Find out more about me in:
My journey to a life of full time travel
How I afford to travel full time (and how you can too!)
Pin Me! 🙂