I get a lot of comments and emails asking how I afford to travel full time since 2012. So I thought it was about time I told you exactly how I afford to travel and give you some ideas about how you could afford to travel too!
After many months of saving and dreaming in 2012 I finally quit my job in the UK and left on an indefinite journey around the world.
If you want to know more about me, about why I decided to give everything up to travel full time and how I made it happen then read my last post first – My journey to a life of full time travel.
Now, I'll tell you how I afford all this travel.
How I afford to travel the world indefinitely, how I make money on the road and how you can too!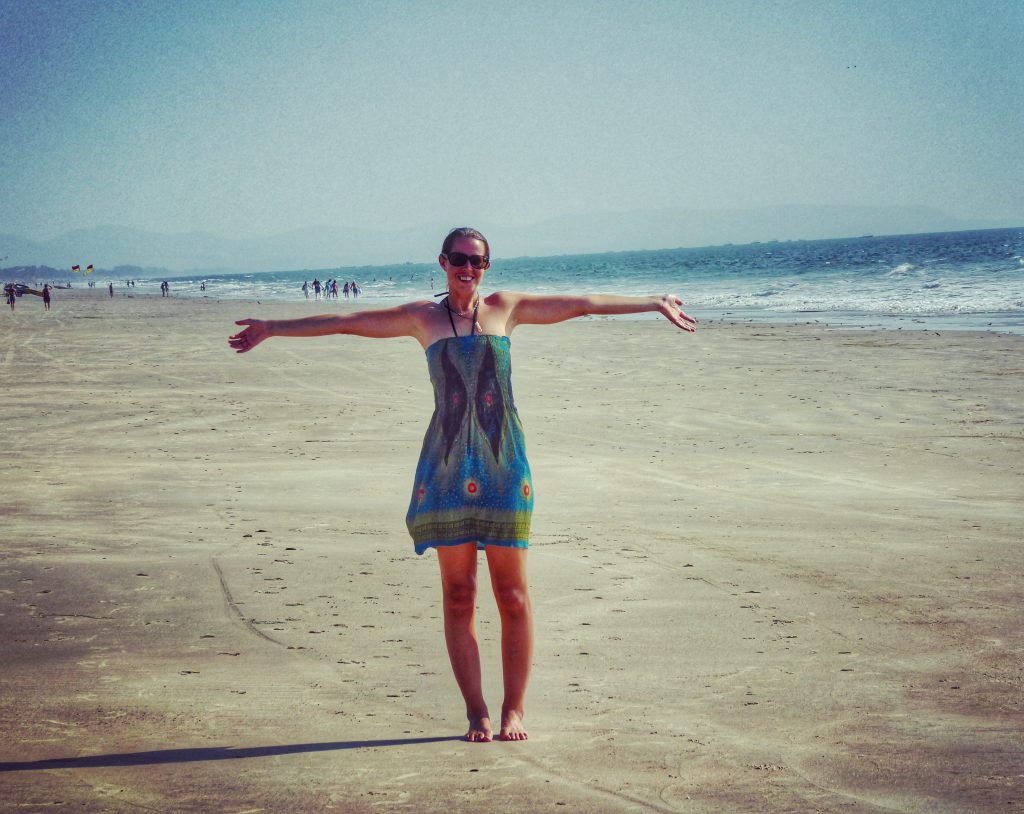 So am I rich? How exactly can I afford to travel so much?
Let's get this out of the way first, whilst I know that I'm really fortunate to be able to afford to travel, to be able to make my dreams of traveling the world a reality, I'm not rich. I didn't win the lottery, I don't have a trust fund or large inheritance, I don't even have a 'proper job.'
It's a common misconception that travel has to be expensive.
Travel does not have to be expensive. Sure, if you want to stay in luxury hotels, go on tours and cruises and fly first class then traveling is expensive.
But it doesn't have to be and, in the West, we are especially lucky because we have the propensity to save money and take our $, £ and € to countries where our money stretches really far. Most of us could afford to travel if we really, really want to – it's all about prioritizing.
Usually, the plane ticket will be your biggest expense but the longer you go away for the more value you can get out of that expensive plane ticket, not to mention that slow, independent travel is a cheaper and infinitely more rewarding way of traveling.
Traveling can be cheaper than life at home
In fact, if you are clever about where and how you travel then traveling is actually less expensive than maintaining an apartment, car and lifestyle in the UK (or indeed many parts of the Western world)
By backpacking and traveling independently in cheap countries in Asia, Central and South America and parts of Africa your money goes a lot further and you can actually afford to travel and lead a very comfortable lifestyle from only US$15 / £10 a day!
So, in many ways I can't afford to stop traveling!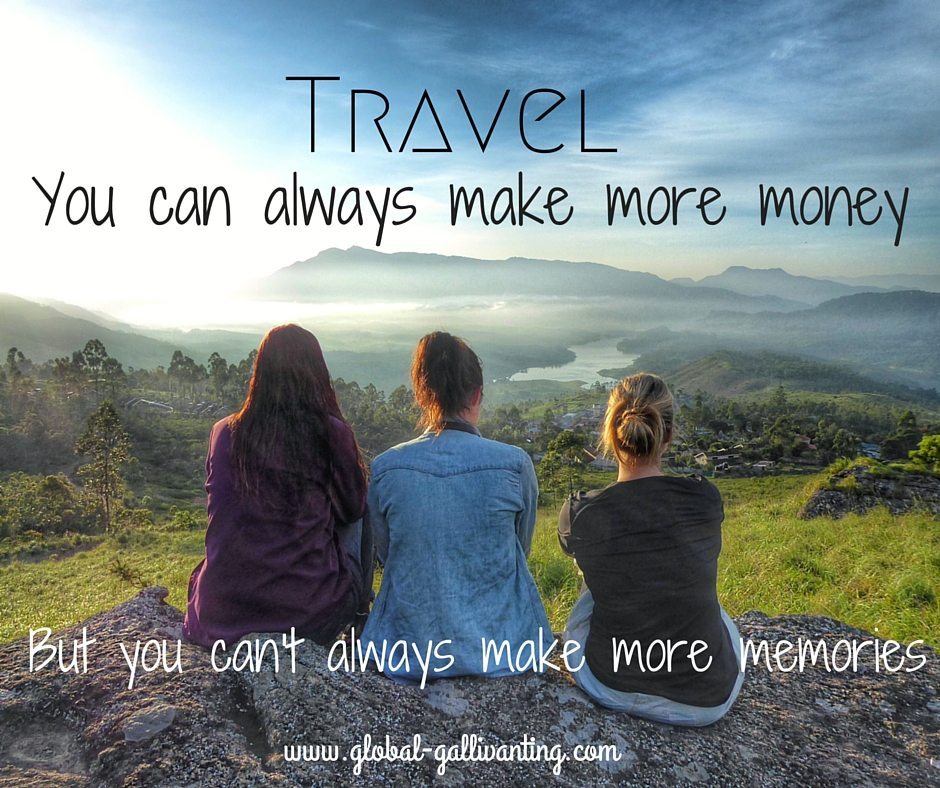 Travel in cheap countries
The secret to being able to afford to travel is choosing cheaper destinations. Check out these 22 Cheapest Countries to Travel in the World to get an idea of where you could go to enjoy life for less than $50 a day!
I've also listed how much it cost me to travel through India and Southeast Asia and don't just take my word for it –  check out Price of Travel.com an excellent resource for backpacker costs which lists cities in order of price and breaks down the costs you can expect to help you save and budget for your trip.
Also, take a look at Backpacker Banter which has a really useful series about how much it costs to travel in many different countries for 1 month.  
There are many ways to travel for free and to make money while traveling
If you still think you cant afford to travel then did you know there's also ways that you can travel for free!
Try couch surfing or house sitting, camp or hitchhike, work or volunteer in exchange for food and accommodation, there's many ways to cut down your travel costs and to get freebies on the road. Check out 11 Ways to Travel for Free for more ideas.
Even better, you could work and earn money while traveling.
Thousands of Digital Nomads afford to travel because they take their work on the road with them and live a location independent lifestyle where all they need is their laptop and an internet connection to make money.
You could also try teaching English, get a working holiday visa for somewhere like Australia, New Zealand or Canada and work in hospitality or pick fruit.
Check out 17 Ways to Get Paid to Travel for more ideas and also check out my interviews with digital nomads and travellers who work abroad for real life stories and inspiration.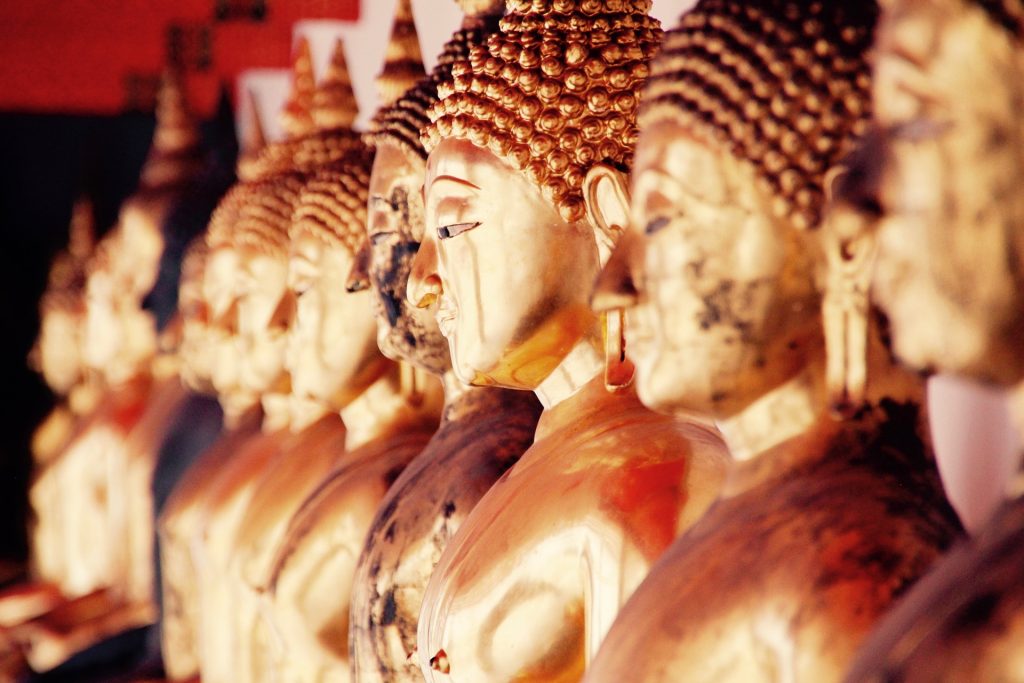 So, to summarise there isn't really any big secret about how I afford to travel and how you can afford to travel too!
The secret to affording a life of constant travel, is simply deciding to make travel your priority and doing whatever it takes to make it a reality.
Once you do that you have 3 options to be able to afford to travel:
Save money before you travel
Spend less on travel
Earn money as you travel
Still, everyone has slightly different circumstances and different challenges and opportunities. It can be daunting to figure out how to make it work for you and have the confidence to make that leap.
For me, and for many other bloggers and nomads, it was kind of a trail and error and I tried many ways to afford to travel until I found something that worked for me and the lifestyle I wanted to lead.
So, here's my story about how I have been able to afford to travel since 2013.
As I already mentioned in my post about My Journey to a Life of Travel I made sure that I paid off my debts and had a good chunk of savings (£6000 / $10,000) behind me before I left the UK.
I realise that just by having a British passport and being able to work in the UK I am very privileged already but I didn't have a well paid job by UK standards. I worked a soul destroying job in admin and sales for a large energy company for just over minimum wage. When I decided to make travel my priority I sacrificed everything, sold all my possessions and saved like mad for 18 months to buy my freedom.
It wasn't easy as I worked all the hours I could doing a job I hated, moved back in with parents and seriously cut back on spending until I hardly even ate anything. But I saved every penny for my travel fund firmly keeping my eyes on the prize and keeping on dreaming of the day that I could make my escape.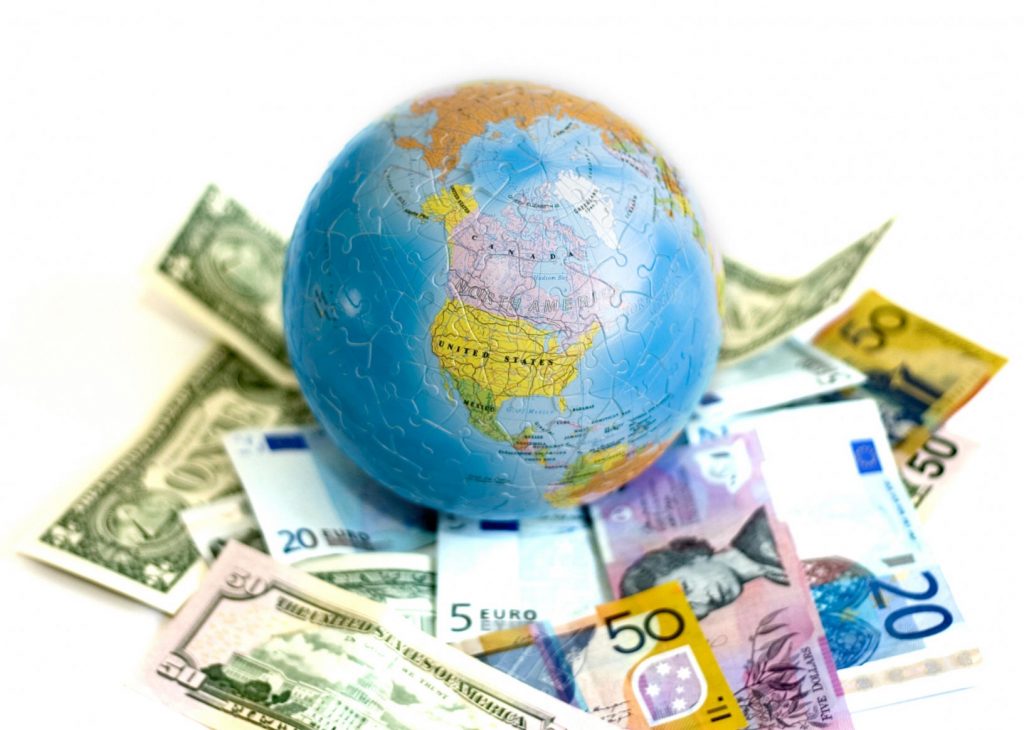 Work, save, travel, rinse, repeat…
Saving was probably the hardest part in my journey to a life of travel. I'm lucky that living with parents allowed me to really save big chunks of money quickly but most of the time saving money is just a matter of making travel your priority and cutting down on unnecessary spending.
Even the small things add up, for example, bringing a packed lunch to work and saving on a coffee and sandwich could save you over £100 a month which goes a long way in Asia. See here for more ideas about How to Save Money for Travel 
Most people fund their travels this way and there's nothing wrong with that.
In fact there are many advantages of this method – with a nice chunk of money saved you can truly be free and really appreciate and enjoy your trip without worrying about money or work – you just travel!
Traveling or backpacking on a tight budget helps to make your money and your trip last as long as possible. But eventually you will run out of money and won't be able to afford to travel anymore so you have to go back home to get a job and start saving again and coming home from traveling can really suck!
My savings lasted me for about a year as I travelled through India and Southeast Asia. My next destination was Australia, somewhere I had been dreaming about visiting for year but I knew that exploring Oz wasn't going to be cheap. I was starting to run out of money, I coudln't afford to travel Australia but going home was not an option – luckily a working holiday visa was!
Taking a Working Holiday in Australia
It took a few weeks to find a suitable job in Australia but once I did I worked in two 3 month stints in an outback pub in Queensland.
This was perfect because the job included live in accommodation in the pub and all my food. As the pub was in the middle of nowhere and all my expenses were covered I had nothing to spend my money on and I just worked every hour that I could to save as money as possible whilst also getting an amazing insight into authentic rural Australian life. Read more about How I Saved $15,000 on my Working Holiday in Australia 
If you're thinking of going to Australia for a Working Holiday check out my FREE Working in Australia Ebook Guide with all my tips on how to find a job in Australia and save money.
After 3 months I had saved enough to buy a campervan with my boyfriend and travel around Australia. Buying a campervan was another amazing way to travel on the cheap that also gave us the ultimate freedom to explore Oz.
Plus, when we left Australia we sold the camper which effectively meant that we had free accommodation and transport for our time in Australia making our trip in this expensive country very affordable. See my Ultimate Guide to Buying a Campervan in Australia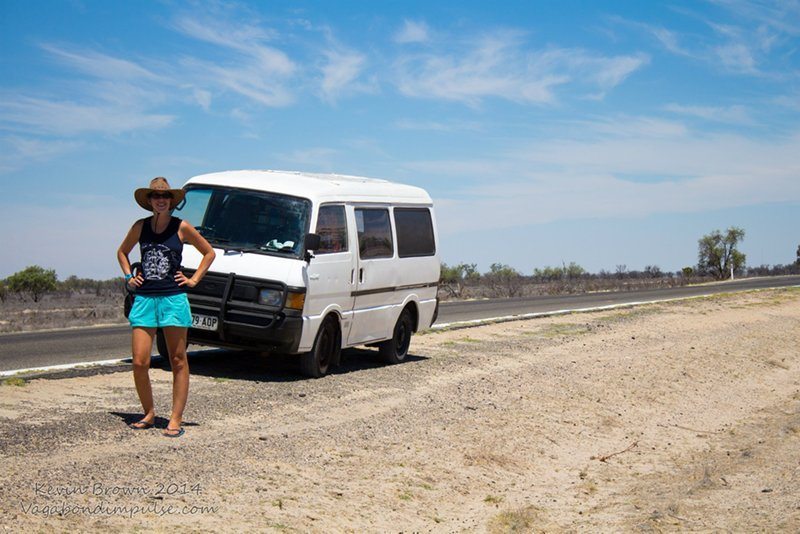 With the money from selling the campervan and another 3 month stint at the pub I saved enough money to afford to travel more in Southeast Asia and then Eastern Europe.
But Europe has a habit of draining your money so after a few months I was back in the UK with no money and had to take on a temp office job for a few months to top up my savings.
After being away for 2 and a half years it sucked to be tied down to one place and I realised that I really needed to find a way of making money from anywhere in the world so that I could really afford to travel indefinitely.
How I earn money working on the road
I have been writing this travel blog since my travels began but at first it was just a way to record my experiences and update my family and friends but as I wrote more and gained more readers I started to realise that perhaps I could make money out of my travel blog. Wouldn't that be the dream!
So I attended events like TBEX and signed up for courses like Travel Blog Success and spent many, many hours writing posts, editing photos, promoting my blog on social media, developing my website, learning about SEO and figuring out how I could monetise my travel blog while still remaining authentic and sharing useful travel tips.
Out of the hundred of thousands of bloggers there are out there I am one of the lucky ones that makes an income from my travel blog through advertising, sponsored posts, affiliate marketing and partnerships with travel companies and tourism boards but it took years of working for nothing.
As well as this I've also been fortunate to go on some amazing tours for free because of my travel blog like meeting unique tribal people in North East India, an experience I would not have had if it wasn't for my travel blog.
But being a travel blogger is not as easy as it might look…
However, many people seem to think that being a travel blogger is an easy ticket to free travel and making money on the road. But, to be honest, there are much better ways to fund your travels than with travel blogging alone.
When I think about the amount of time and money I've spent on it I would have been better off working in McDonalds and the income can be quite irregular.
How I make money online as a digital nomad
Luckily there are other, more reliable ways to make money online. Developing my travel blog has been worth it because the skills that I have learned from doing this have enabled me to build a location independent career online as a freelance writer, social media and SEO consultant and website designer.
Finally, after years of work and trial and error, I have found a way that enables me to afford a base in a place I love (Goa, India) to afford to travel frequently and more importantly to avoid getting stuck spending the best years of my life in an office.
Digital Nomads do a huge variety of things, most capitalise on their existing professions and skills and work remotely or a freelance capacity but if you decide that you want to lead a location independent lifestyle you can learn the skills you need.
The sort of work that digital nomads do could be anything really that you can do online including:
Start a business that you can run remotely
Build websites
Develop an App
Graphic design
Freelance writing, SEO writing, copywriting
Translating or online language tutor
Working as a virtual assistant
Drop shipping / E-commerce
Social media management
SEO and digital marketing consultant
Developing a product that you can sell online like an E-Book or online course
Affiliate marketing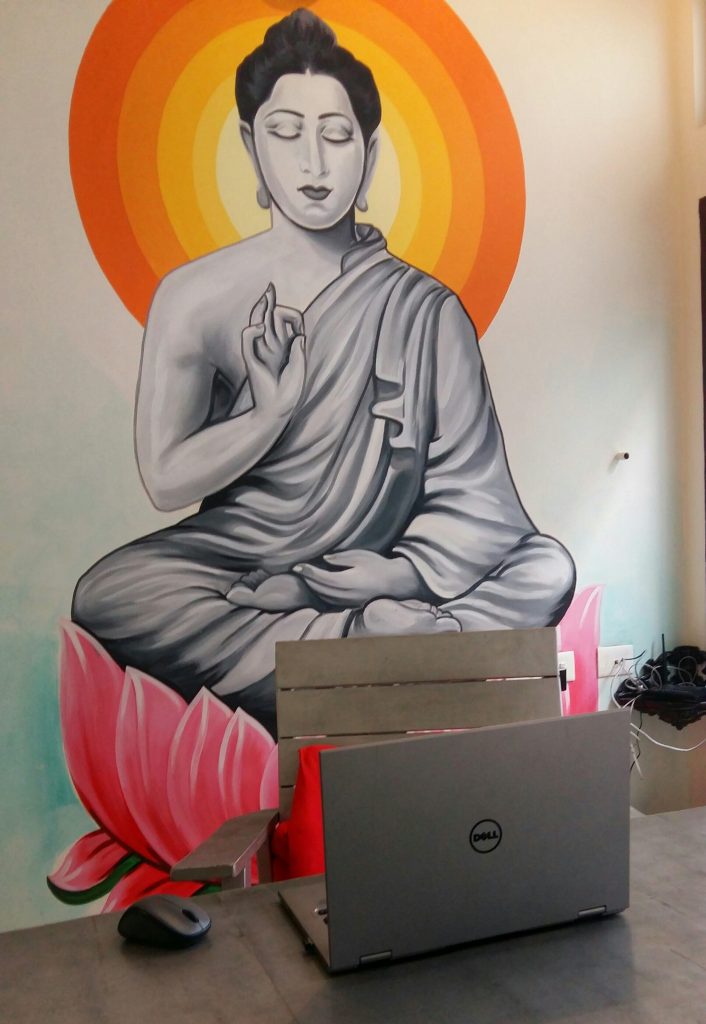 In fact the list is endless, anything that you can do online you could do remotely, freelance or self employed and many digital nomads combine a few of these methods to make a flexible work and travel lifestyle work for them.
One of the first places that freelancer and digital nomads go to to make money is Upwork but the bidding system means that may can be very low. You can also try
And there are loads more places to find freelance work depending on what type of work you want to do. There are also many bloggers who blog mostly about how to make living online that you can loads of tips from and also check out Nomad List which tells you the best locations to live and work as a digital nomad.
Also, don't be disheartened if the jobs on these kind of sites have low pay, I find that it's best to pitch directly to companies who I feel might be in need of my skills and services and often they are travel related companies so it combines nicely with the work I do with my travel blog.
If you're not so good with a computer there are still ways you can earn money by being a nomadic yoga teacher, tattoo artist, DJ, musician, bar tender, hair dresser, artist, guitar teacher, surf instructor, jewellery maker or by selling things on the markets.
The truth about the digital nomad lifestyle
I'm still far from rich in monetary terms but that's not what matters to me.  I've experienced more than I could ever put a monetary value on, I finally feel like I'm making the most of my short and precious time on earth and I've spent less each month than I was spending in the UK just to afford to live and leading an unhappy and fulfilling life.
I've learnt a lot about myself and about the world, made new friends, wonderful memories and completely changed my life which I would never have been able to do if I was still spending 40 hours a week doing a job I hate just to buy material possessions! For me, it's well worth it for the adventure of a lifetime and my only regret is that I didn't do it sooner.
Ironically, now that I work online and earn money while traveling I find that I don't have so much time for pure travel and that I need to travel a lot slower – it's certainly not a constant holiday and the life of a freelancer/ digital nomad/ travel blogger is far from easy.
It would be easier and more profitable to work a 9-5 but for me it's not an option and as long as I can do work that interests me, be location independent and free to live the lifestyle that I want and afford to travel as and when I want then I'm happy.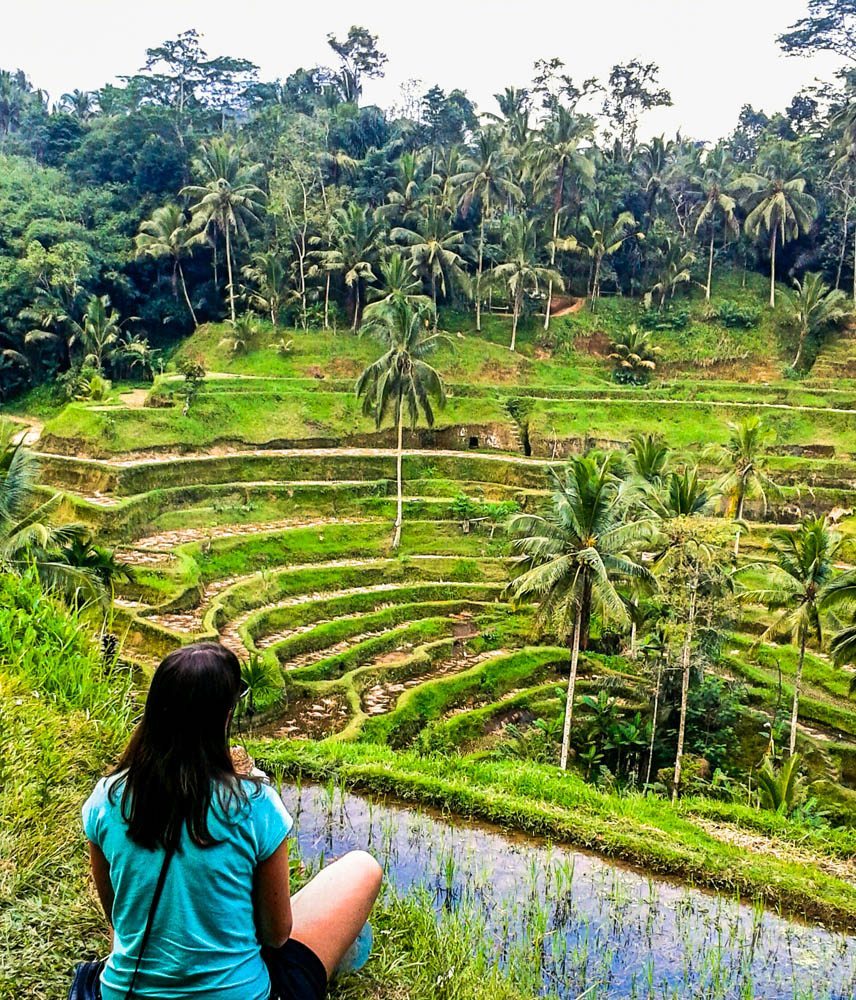 I don't own a house, have children, savings, healthcare or a pension, I have no idea what will happen in the future or where I will be and sometimes that's scary.
But I'm making the most of the present moment and I trust the universe that whatever happens will work out for the best. I'm free to live my life on my terms and too see the world. This kind of lifestyle is not for everyone but, for me, it's well worth it for the adventure of a lifetime and my only regret is that I didn't do it sooner.
So, do you still want to give up everything and travel full time?
Let me know in the comments below … 
Want More? Check out how these other travel bloggers and nomads afford their travel lifestyle:
Liked it? Pin me! 🙂