Ubud is the spiritual and cultural heart of Bali and is blessed with stunning nature, amazing food and magical vibes. From exploring the rice fields, temples, waterfalls and monkey forest, or just relaxing with a yoga class and spa day, there are endless things to do in Ubud where you can immerse yourself in the beautiful nature and unique culture of the most spiritual part of Bali.
Ubud is one place that I feel I will always return to time and time again. There is something magical about this artistic village hidden amongst the thick jungle and rice paddies of central Bali.
Pin me 🙂
Ubud is a place that many have come to immerse their soul in a sense of adventure, spirituality and to recharge their batteries, and from the moment you arrive, you'll feel it too.
It's possible to visit Ubud on a day tour from other parts of Bali, but to feel the spirit of Ubud you should really stay here at least a couple of days.
In fact, it's really hard to see and experience it all in just one visit. Every single visit you'll find even more reasons to fall deeper in love with Ubud!
As Ubud gets more popular and more crowded I'd also recommend against staying in the center of Ubud. Check out my post on where to stay in Ubud.
Here are 12 of the best things to do in Ubud: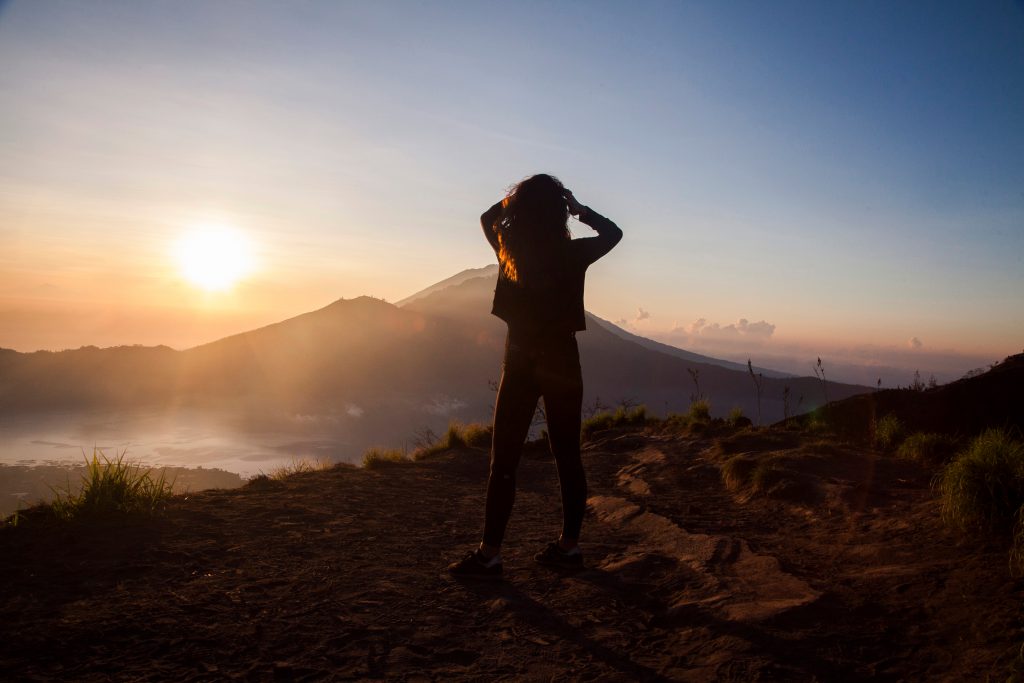 One of the most memorable and soul-refreshing things to do in Bali hands down would have to be climbing Mount Batur for a sunrise you'll never forget. Mount Batur (which is actually an active volcano) stands at 1717 meters above sea level and the panoramic views from the top are absolutely breathtaking!
Climbing Mount Batur is best done as an organised day trip from Ubud. Tour guides will normally pick you up from your hotel around 2-2.30am in the morning to set out for the base of the mountain (yes, it's an early start but I assure you, well worth getting out of bed for!)
From there you will begin the trek up to the summit, which takes a couple of hours. The timing is planned so that everyone can reach the top at a moderate pace no matter their fitness level, that way everyone reaches before the sun comes up.
At the top, you're likely to be served a cute, light, mountain village style breakfast of local coffee, hard boiled egg, and banana steamed in its skin, as you eagerly await this magnificent, unforgettable sunrise with anticipation! Click here to book a Mount Batur hiking tour.
Signing yourself up for an Indonesian cooking class is another must-try experience and one of the most fun things to do in Ubud and not just for foodies! This is the best way to fully immerse yourself authentically in the Balinese way of life, as food is at the heart of every culture.
First up, these excursions will usually take you out to a local village market, where you can hand-select the exotic ingredients for yourself. Quite often cooking schools are set-up in a traditional Balinese family compound which means you'll be able to learn about all aspects of family home life.
And of course, the best part of doing a cooking class is the opportunity to taste an array of authentic local cuisine that you have helped to prepare yourself. Click here to book yourself in for an Indonesian cooking class.
Mandala Suci Wenara Wana (or more popularly known as Ubud Monkey Forest) is home to a population of approximately 700 crab-eating macaques (Balinese long-tailed monkeys) who live this forest!
This forest is their protected natural habitat, and a sacred sanctuary for them. The Ubud Monkey Forest is also home to three ancient Hindu temples, which were all constructed in the 14th century.
There are also over 186 different tree species in this enchanting forest, many of which have wrapped themselves around the ancient bridges and temples here. Unlike visiting monkeys in a zoo, these monkey's roam wild and free and are not afraid of those who visit their playground.
Expect monkey's to approach you, take food from you, and even jump on you! There are even warning signs on entry and within the forest, reminding visitors to keep their valuables safe and hidden, as these monkeys have been known to pinch things that interest them, such as sunglasses, hats and even camera! Click here to book yourself in for a tour.
Read More: 5 Best Places to Stay in Ubud
4. Explore the Ubud Art Market
Ubud has long been known as a hub of artistic expats and it's easy to see why! The Ubud Art Market, or often referred to as 'Pasar Seni Ubud', is one of Ubud attractions that's just not to be missed!
Located opposite the Royal Ubud Palace on the street of Jalan Karna, these markets are the place where you can find a showcase of the most exquisite local handicrafts.
Here you'll find all kinds of hand made artifacts from wooden carvings to beautiful paintings, woven baskets and bags, silk scarves, and so much more!
The best time to go would be early morning before it gets too busy, and it's also the best time to nap a bargain as the first sale of the day is considered lucky to the Balinese people.
Also, its considered normal practice to negotiate the price of things (within reason) in the markets, so don't be afraid to ask for a discount!
If you're a bit of a thrill seeker, then white water rafting down the Ayung River is one of the things to do in Bali that you'll definitely want to experience!
The beautiful Ayung River runs from the northern mountain ranges, winding through the center of the island and dispersing out in the ocean at Sanur in the south peninsula, and is the longest river on the Indonesian island of Bali.
The white water rafting starting point is only a short 20 minutes drive from Ubud town center and tour packages will all include a pickup and drop off from your hotel. Because of the sheer size and length of the Ayung River, there are sections of river to suit every level of ability, whether you are a beginner or a seasoned rafter.
Rafting down the river is also a great way to take in the wondrous, lush scenery of Bali as you pass through rice terraces, thick jungle, and even waterfalls! Click here to book yourself in for an Ayung River rafting experience!
Picture swinging out over the tropical jungle below, looking out into the horizon as you glide through the air – this is certainly an exhilarating experience you'll want to try and one of best things to do in Ubud.
The Bali Swing is located about 20 minutes drive out of town in a very beautiful and picturesque location. There are actually a few different swings of different heights to try, and it's actually a lot more safe than it may look initially.
A trip out to Bali Swing Ubud will set you back $35USD, however, this includes transport to and from the location and lunch, so it's actually really good value for money when you think about it.
The best time to go would be in the morning before it gets too hot in the day and you'll be able to get the best views (and Instagram pics!) Click here to book yourself in for your own private tour.
The Tegallalang Rice Terraces are probably one of the most iconic scenic attractions in all of Bali, and they really something that you must see! Tegallalang is traditional rice farming village in the Gianyar Regency and is a leisurely 20-minute drive north of central Ubud and there are many tour groups that will take you there.
Other options for getting there are by private taxi, hiring a scooter or by walking (it's a 2-hour walk for those who are up for that!) The area is famous for its terraced rice paddies, and the traditional Balinese irrigation system is known as 'subak' by the local villagers.
The terraces are technically free to enter, however, the villagers who work in the rice paddies will probably ask for a small donation to take photos. This is of course up to you if you wish to pay, however, this is their livelihood and it's a little disrespectful to enter without at least giving a small donation.
The best time to visit would also be in the morning before it gets too hot, and there are many restaurants and cafes with lovely views where you can relax, soak up and enjoy the rice terraces or if you're feeling more active the best way to really see the rice terraces is on a downhill biking tour. Click here to look at tours and book.
8. Royal Ubud Palace
The Royal Ubud Palace definitely should be on your itinerary as it's one of the most interesting, cultural attractions in Ubud.
The Royal Ubud Palace (known as Puri Saren Agung by the Balinese people) is historical building complex that dates back to the early 1800s, and one of the most impressive places in Ubud.
It was built during the reign of Ida Tjokorda Putu Kandel and is maintained by the royal families who live there still today. Nowadays, the palace has become a major landmark and tourist attraction of the Ubud region and there are many cultural performances and dances held there daily.
The Royal Palace has been well persevered over the years and really is a great showcase of Balinese architecture and manicured gardens that you really must see. There is an entrance fee to enter the Royal Palace, however, it's only IDR 100,000 (approx. $7USD).
Traditionally known by locals as Goa Gajah, the Elephant Cave is an archaeological site with considerable, historical meaning to the Balinese people. It's estimated to date back to the 11th Century!
The site is located approximately six kilometers from central Ubud, on the edge of Bedulu village and there are many tour guides that will take you there. There are various ancient buildings, structures, and artifacts at the entrance and inside the cave that showcase the influence of Hinduism and even Buddism in Bali.
There several theories as to why this sacred place of meditation was called 'Elephant Cave', one of the most popular are a place to worship the Hindu God, Ganesh, the remover of obstacles. This place is very enchanting and intriguing and a trip to see it for yourself is definitely one of the must-see things to do in Ubud! Click here to book yourself in for a tour.
One of the best things to do in Ubud for nature lovers is to visit some of the stunning waterfalls. One of the best is the Tegenungan Waterfall, this scenic waterfall is located about 30 minutes drive south of Ubud, is surrounded by lush Balinese jungle, and has a shallow swimming area at its base.
The most popular way to get to this beautiful spot is by joining a tour, by hiring a private driver to take you there and back, or for the more adventurous types you can hire a scooter for about $2-4 USD for the day.
For those who are up to it, there are just over 100 stairs to descend down to the waterfall area (a nice little workout!) otherwise there's a great view from the cafes at the top for those wanting a more relaxed day out. To enter the waterfall area, there's a small fee of 20,000 Indonesian rupees (approx. $1.40USD).
The Tegenungan Waterfall is very powerful, and it's quite impressive to see the sheer volume of water falling from the top and of course a great place for photos. Click here to check tours and make a booking.
The Campuhan Ridge walk is one of my favourite things to do in Ubud and a great way to recharge the batteries with some light exercise, and beautifully lush and scenic views of the surrounding mountain area.
The Campuhan Ridge walking track is about 2kms long and there is a lovely cafe and spa called Karsa Spa where you can stop for a morning coffee before heading back. Also at the end of the track is the Pura Gunung Lebah temple which dates back to the 8th-century.
It's best to do this walk early in the morning before it gets too hot, or late in the afternoon after cools down! Sunset is very photogenic and remember to take water with you, or you'll have to wait till you reach the cafe at the end of the track. Click here to book yourself in for a walking tour of Campuhan Ridge.
12. Watch a traditional Balinese Dance Performance
One of the best ways to experience the unique and enchanting Balinese culture is by watching a traditional Balinese dance performance. There's various different dances and places to see them, including the Ubud Palace and the Pura Taman Kemuda Saraswati temple.
Some of the most popular dances include the Barong dance, Legong dance and the Kecak dance. The fascinating Balinese traditional Kecak Dance Performance is one of the most interesting to watch and presents a meaningful insight into the unique Balinese culture.
The setting is usually quite intimate as you are able to sit quite close and feel part of the story that is expressed through the dance. You'll also see men walking on hot coals and fire is used throughout the performance.
The ancient Hindu mythology is about the Ramayana, a epic love story about Rama and his beautiful wife Sita, Hamuman and the demon Ravana and a story about the triumph of good over evil. (Kecak means monkey in Balinese, and Hanuman is a Hindu monkey god.)
If you found my recommendations for the best things to do in Ubud useful. If you want to book through my links I can earn a small commission which helps to keep this site going at no extra cost to you so thank you! 😊
Have you been to Ubud? Do you have any more tips on things to do/ where to stay here?
Leave a comment below and your recommendations can help out other travellers 🙂
Read More Ubud Blogs: