Bali is, without a doubt, one of very best places in the world to do a yoga teacher training, and the very best place for yoga in Bali is by far Ubud!
Ubud is the spiritual heart of the 'island of the gods' and doing yoga teacher training in Ubud is a magical and healing experience.
The thriving wellness scene means there are literally hundreds of yoga teacher training courses in Ubud, which makes it kind of overwhelming trying to choose. But don't worry, I'm here to help.
My yoga training in Ubud was life changing in many ways and I've spent a lot of time in Bali and have been able to check out many of the yoga schools myself so hopefully this post will help you find the perfect program for you.
Why Ubud is the best place in Bali to do yoga teacher training
Ubud is about 1 hours drive inland north of the famous southern beaches region of Bali. Ubud has a long history of healing and is the spiritual, cultural and artistic heart of Bali – also known as 'the island of the gods.' The town is sounded by lusciously green rice paddies, Hindu temples,  stunning rice terraces and thick tropical jungle.
Since 'Eat Pray Love' was released in 2010, there has been an influx of people searching for their own spiritual journey visiting this once very laid-back, quiet little village. The area is also fast becoming well-known worldwide as an epicentre of yoga and you'll find some of the world's very best yoga teacher training courses in Ubud and many amazing raw vegan cafes.
Even though India is the birthplace of yoga, Bali also follows the Hindu religion and is a deeply spiritual island. Add that to the natural beauty of the island and the kindness of the Balinese people, its no wonder that Bali is such a great place to learn yoga and Ubud is Bali's spiritual heart.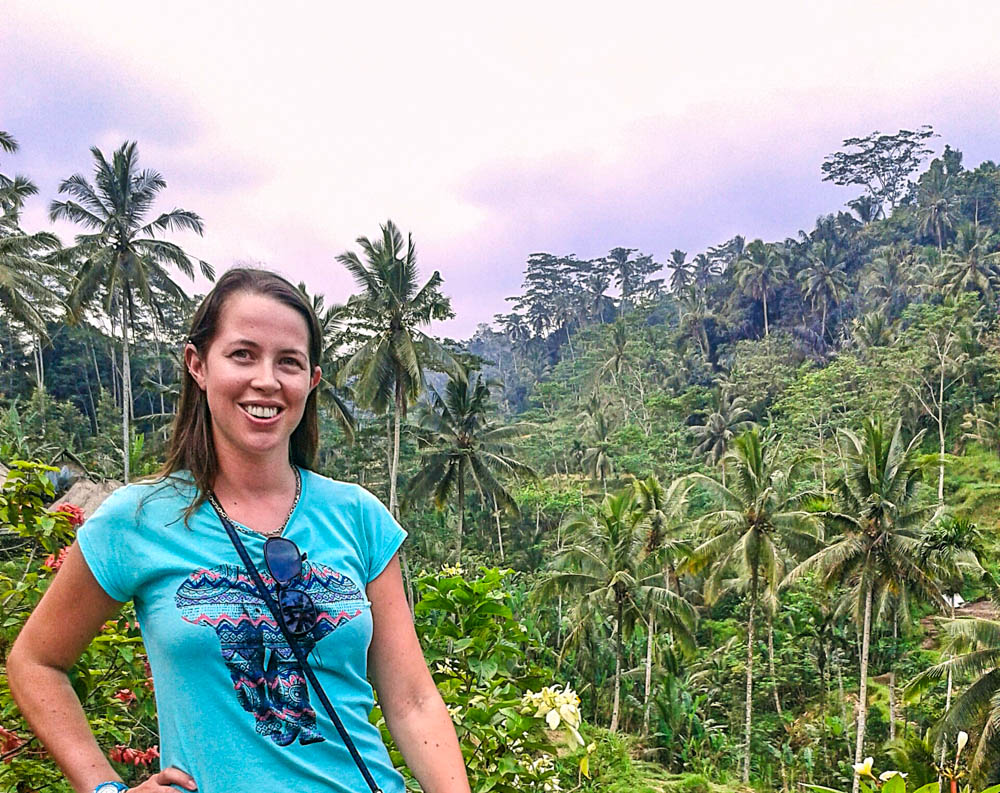 How to choose a yoga teacher training course in Ubud
When choosing a YTT it's a good idea to be clear on your intentions and expectations so you know which certification you want to gain and what yoga style you want to focus on.
Ubud's Yoga teacher training courses (YTTC) are understandably very popular, and it's not just something for those who intend to teach yoga. Many people also choose to do yoga training in Bali just to gain a deeper understanding of yoga and to dive deeper into themselves.
If you want to change your career and teach yoga you need to complete a 200 hour yoga teacher training program which takes between 15 – 30 days to complete and is the basic requirement you need to start teaching yoga. If your course is approved by Yoga Alliance you will be able to apply to become a registered yoga teacher upon completion.
If you just want to learn more about yoga and immerse yourself in the spiritual and magical atmosphere of Ubud then you could do a shorter course like a 100 hour YTT if you don't have the time or money for the full yoga training.
Other important things to consider when looking for a yoga teacher training program include your experience level and the style of yoga you wish to teach, the length and price of the course, the facilities and location and the reputation of the yoga school and instructors.
A good way to check this and get an idea of what to expect is by checking reviews from previous students on an unbiased site like bookyogateachertraining.com. Be aware that a yoga retreats website or social media may not always tell the full story.
A YTT can be a transformative experience but it is challenging – if you'd prefer just a relaxing yoga holiday then check out my pick of Ubud's best yoga retreats.
Pin me 🙂
The Cost of Yoga Teacher Training in Ubud
Whether you plan to teach yoga as a career, or just want to deepen your own practice, yoga teacher training is a big investment in your physical, spiritual, mental and emotional health.
Luckily Bali is one of the most affordable places to do a YTT in the world. While there are some very luxurious retreat centres in Bali, there are also some affordable yoga teacher training programs in Ubud.
The price of a 200 hour yoga teacher training in Ubud is normally between $1000 and $2000 and most courses include accommodation and meals in the price as well as the yoga training. Some also include airport transfers, massages and excursions to explore the island on your days off which makes it a great deal.
Of course you also have to factor in the cost of flights to Bali. Return flight tickets from Australia to Bali can be really cheap. Flights from the UK or Europe to Bali can be found for about £500 or around $750 from the East Coast of the USA. I recommend checking Skyscanner and being flexible on dates to find the best deals.
Once in Bali, it's very affordable, easy and safe to travel around, even as a solo female traveller. So to make the most of the experience I'd recommend allowing extra time before or after your yoga course to explore beautiful Bali – it's one of my favourite places in the world!
If cost is an issue, you may be able to find yoga teacher training scholarships where you volunteer to help out at the yoga school to earn your place on the training.
My Pick of the 6 Best Yoga Teacher Training Courses in Ubud: (updated for 2023)
Because there's just about every possible type of yoga being taught in Ubud, it can make it a bit of a task deciding on which course is best for you. So, this is my pick of the best yoga teacher training courses in Ubud, complied by personal experience and reviews, to help you with your decision making process.
Yoga Union have been running some of the most popular Bali yoga teacher training programs for over a decade. They offer a fully comprehensive intensive 200-hour yoga teacher training course in Ubud, completed in just 23 days. Great for those who have less time and are looking for a compact course structure.
Yoga Union teach a combination of different styles of yoga, however, they mainly focus on Vinyasa Flow. Their course covers a wide range of teachings, including pranayama, meditation, philosophy, anatomy and 80 different yoga postures which you will learn to analyze.
Also worth mentioning is their beautiful, open-air yoga shala with overlooks the luscious, green rice paddies behind the school.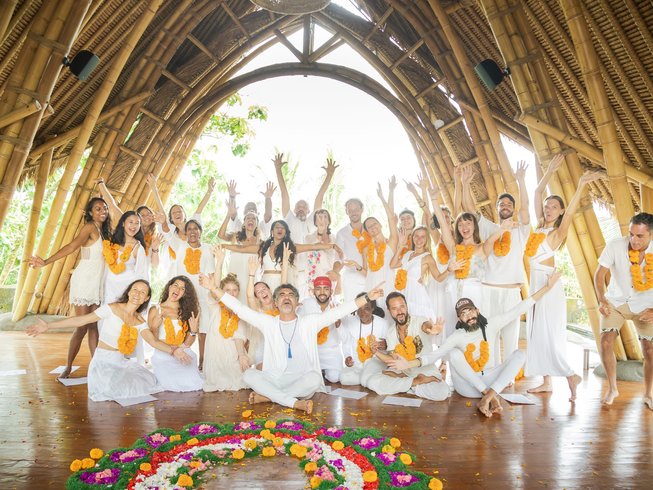 If you're looking to transform your life through the ancient wisdom of yoga consider this authentic and spiritual yoga teacher training course in Ubud with Yoga New Vison.
This 22-day 200-hour yoga teacher training program blends ancient Indian wisdom with modern scientific research. Designed for anyone interested in deepening their personal practice, becoming a successful yoga teacher, or simply discovering the joy and fulfilment of life.
The program's innovative "Meditative Hatha Vinyasa" approach combines stillness, movement, breathing, and mindfulness in one unique meditation style. Led by experienced Indian teachers like Deep Kumar who has such a profound understanding of yogic philosophy, students can learn in a fun and interactive environment.
With its focus on authenticity, connection, support, and celebration, this course empowers individuals to find their true happiness and soul calling while also rooting them in the ancient tradition.
Held in luxurious resorts with small class sizes, this Ubud yoga teacher training equips students with all the necessary tools to become exceptional, deeply connected, and fulfilled yoga teachers.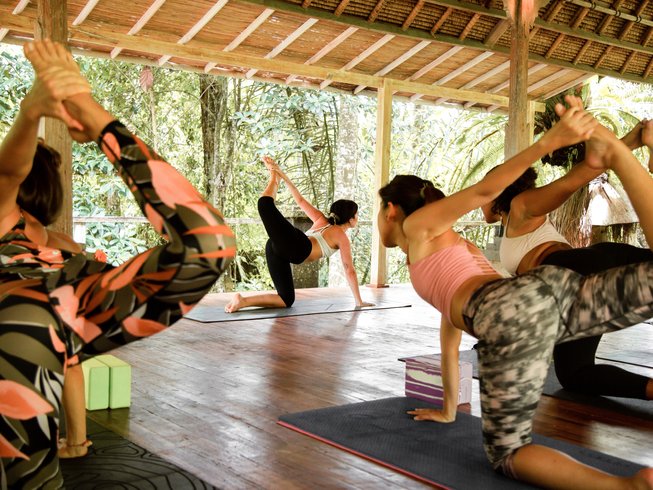 This 200-hour Ubud yoga teacher training from House of Om includes training in Hatha, Vinyasa, Ashtanga, Yin, Nidra, and Kriya, for a rounded approach to yoga teaching.
Upon successful completion of the 20-day experience, you'll be eligible to register with Yoga Alliance as a certified teacher. The whole YTT experience is intended to be deeply enriching, heart-opening, and a life changing spiritual experience.
The traditional Balinese resort has the choice of either shared or private bedrooms, and access to the outdoor swimming pool. The beautiful shala where you'll take your training is made from wood and bamboo, and surrounded by lush jungle views. All meals are included – freshly prepared with healthy local vegan ingredients.
The Bali yoga teacher training course from Yoga East West is designed for yogis who yearn for a deeper knowledge of yoga and a transformative spiritual experience.
The 21-day yoga teacher training in Ubud brings in some of the best teachers from around the world, each with varied specialisms, for the perfect combination of East and West.
You'll cover all elements needed for Yoga Alliance Certification, including asana, pranayama, meditation, philosophy, anatomy, and sequencing. You can expect a rich, spiritual, and authentic experience.
The training is set at Ananda Cottages – a luxurious resort with a spa, swimming pools, and traditional Balinese rooms. Between classes, you can walk the surrounding rice fields, before nourishing your body and soul with organic, vegetarian meals.
This was one of my absolute favourite Bali yoga teacher training experiences. You can get $100 discount by mentioning Global Gallivanting!
At Yogmantra Bali, the 200-hour yoga teacher training is delivered both as the first step towards a teaching career, and as an all-round introduction to the practices and philosophy of yoga.
Over the course of 25 days, you will discover Hatha, Vinyasa, Yin, and Ashtanga approaches to yoga, as well as meditation, pranayama, mantra and chanting. The course also includes an introduction to the principles of Ayurveda, with cooking and healing courses.
During the experience, you'll stay in a comfortable private room. The retreat centre has an outdoor pool and meditation garden so you can unwind between classes. The all-inclusive menu is freshly created from local, vegan ingredients.
With prices starting at US$1,499 this is one of the most affordable yoga teacher trainings  however it is a little further out of the main Ubud area.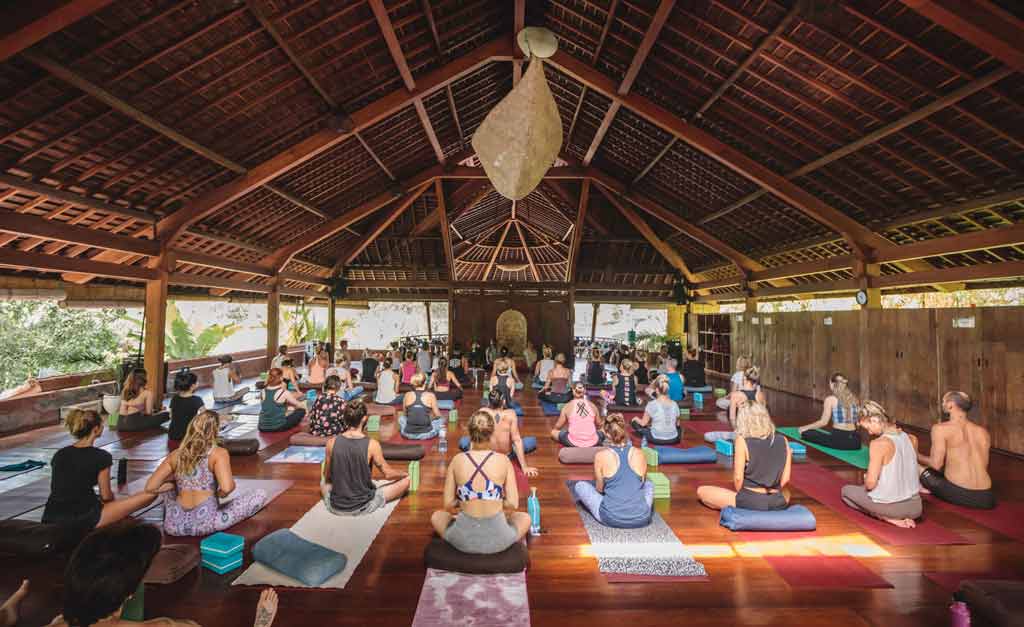 And of course, no mention of yoga teacher training in Ubud would be complete without The Yoga Barn! This is one of the most famous and largest yoga teacher training centres in Ubud (and South East Asia!)
From the minute you arrive at this wonderful place it's easy to see why so many people speak so highly of this beautiful place!
Over the years The Yoga Barn has grown from one simple, small, open-walled studio overlooking the green rice paddies behind, to the well-known hub of all things yoga that they have become in more recent years.
The Yoga Barn offers teacher-training courses in traditional Hatha, restorative Yin Yoga, and the more intensive Vinyasa, so there's something to suit everyone.
I hope this blog has helped to find your ideal yoga teacher training program in Ubud. If you're still undecided  did you know there are yoga teacher training courses all over Bali?
If you'd rather practice on a beach front shala on a tropical island or hidden in the jungle away from any other yogis or tourists then check out my post about the best yoga teacher training courses in Bali or this article about yoga teacher training abroad for more tips and recommendations.
Have you been on any amazing yoga teacher training courses in Ubud?
Leave your recommendations in the comments below the post and help out other yogis and travellers!
By the way – this post contains affiliate links. This means that if you find my recommendations for the best yoga teacher training courses in Ubud useful and choose to book through the links I provide I can earn a small commission at no extra cost to you which helps me to keep traveling and to keep this site going. Thanks so much for your support!
Read more about yoga in Bali: