Everyone's travel style is different. Some people like to relax at an all inclusive beach resort, some enjoy chic city weekend breaks, others prefer to go on an organised tour. But for me, the best vacation is taking a yoga retreat abroad.
You can't underestimate the importance of taking a holiday and break from everyday life. I believe that everytime we travel we learn something new about ourselves and about the world. I travel because I want to broaden my horizons, meet new people, learn new things and improve myself.
Why you should take a Yoga Retreat Abroad for your next holiday
After taking several different types of retreat holidays, I wanted to share the reasons why I've been converted into taking a yoga retreat abroad instead of a regular beach vacation or sightseeing trip.
There's so many different kinds of yoga retreat holidays you can take
The most popular retreat holidays are yoga and meditation retreats, but you don't have to be a serious yogi or sit in strict silence for 10 days to enjoy a retreat holiday, from fun and lively yoga and surf camps to all inclusive luxury yoga retreats and even affordable yoga retreats for beginners that combine easy gentle daily yoga sessions with sightseeing and other cultural activities.
I've been lucky enough to practice yoga on the shores of Goa, Koh Phangan and Bali and also experienced a more austere meditation retreat in a Buddhist monastery in Nepal. But my recent surf and yoga retreat in Morocco showed me that the possibilities for taking a retreat holiday are unlimited.
Yoga retreats cater for all levels, hobbies and interests
I've discovered that there are retreat holidays to suit all hobbies and interests including yoga, trekking, surfing, skiing, cycling, dance, creative writing, art, horse riding, mediation, massage, tantra, Ayurveda, detoxing, cooking, learning a new language, or even traditional plant based medicine healing ceremonies.
A retreat holiday could be life changing and offers so much more than just lying on a beach or wandering around sightseeing!
Retreat holidays are great for solo travellers
If you want to visit a new country and learn a new skill but don't have anyone to travel with, don't worry because retreat holidays are great for singles!
I went on a surf and yoga retreat with Surf Berbere in Morocco just after a break up and I never felt alone, I actually felt really at home with a new surf family that I didn't want to leave once the week was over.
Taking a yoga retreat abroad is also a super safe way for solo female travellers to explore the world in a fun, healthy and safe environment with plenty of like minded people.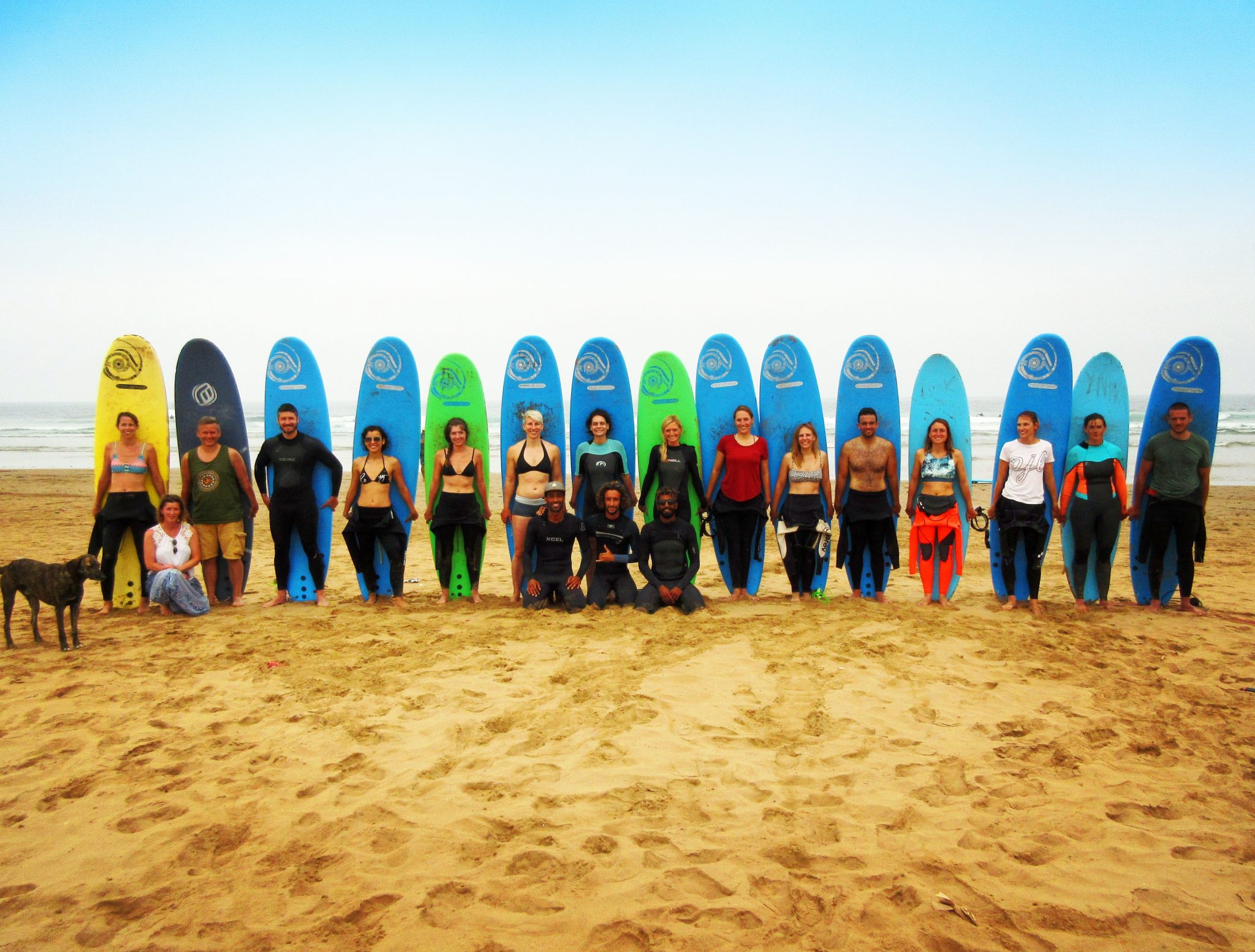 More reasons to go on a yoga retreat holiday
Take a break away from your routine and the stresses of everyday life to be able to really focus on yourself, allow yourself to get a new perspective, find inspiration or just relax, regroup and re-energize and be yourself.
Combine your passions and interests whilst also exploring a new destination in comfort. Often retreats are located in nature in beautiful destinations, and it always feels better to get out into nature.
Learn a new skill, challenge yourself to do something you've always dreamed of doing or just focus on getting better at something you already enjoy. It feels amazing to learn new things and can be very therapeutic to be more creative and active.
Retreats are great for singles, you'll have the chance to connect and get to know yourself better whilst also having a ready made group of new friends and be in like minded company with people who share the same interests as you
Often retreats are all inclusive and include transfers, some sightseeing or excursions. Everything is planned and often meals are included and taken as a group which means no more stress getting from place to place and no more searching for a decent restaurant or eating out alone.
If it's an active retreat you'll also improve your fitness and be feeling amazing by the end of the week.
Unlike a regular holiday where you might flop on the beach or wander around a new city while indulging in unhealthy habits, going on a retreat means that your trip has more purpose and structure.
The Chopra Centre reports that retreats are more likely to have long term benefits which are more impactful and long lasting. This could include starting a yoga, mediation or writing routine, improved fitness, spiritual healing or just feeling recharged, rejuvenated, more inspired or gaining a new perspective that will help you going forwards in your everyday life.
The possibilities for retreats are endless but you still need to do your research before you book a retreat holiday. When you book a hotel it's easy to find reviews but not so much for yoga retreats.
I find www.bookyogaretreats.com really useful as you can search different types of yoga retreats all over the world and read reviews before booking to make sure you're experience is memorable – for all the right reasons!
Have you taken a yoga retreat abroad? I'm keen to take some more so inspire me by telling me where you went and what you learned! 🙂
Pin Me 🙂
Cover Photo Credit: De Visu and Shutterstock
Read More:
Best yoga, meditation and fitness holidays – The Guardian 
My surf and yoga retreat in Morocco with Surf Berbere
Discovering Buddhism at Kopan Monastery in Nepal
Best Yoga and Meditation Retreats in India
Best Yoga Retreats and Yoga Teacher Training in Goa, India
5 Best Yoga Retreats in Koh Phangan, Thailand
5 Best Yoga Retreats in Goa, India
5 Best Yoga Teacher Training Courses in Goa, India
A unique, new yoga and meditation retreat in the Portugal's Algarve