My Experience Discovering Buddhism at Kopan Monastery, Kathmandu, Nepal
When I left everything behind to travel I was a strict atheist, although I guess in a way I was traveling to 'find myself,' but in the UK I had never been interested in religion or spirituality.
So it surprised me that on my travels I ended up visiting so many temples and religious places and in fact many spiritual places have been my favourite places and highlights of my travels. I was also surprised at how much I enjoyed visiting temples and how interested I was to learn about the different religions that I encountered and also started practising yoga and meditation while in India.
Last year I visited many Tibetan monasteries in India, including Tawang in Arunachal Pradesh (which after the Potala Palace was made into a museum is now the largest still functioning Tibetan monastery) I also went paragliding and explored the beautiful monasteries in Bir Billing and then spent a month in Dharamkot, a small mountain village close to Dharamsala and McLeod Ganj (the home of the Dalai Lama and Tibetan Government in exile)
During my time in Dharamkot I went each day to Tushita Buddhist Meditation Centre for the daily drop in meditation sessions and also attended some talks by monks. Tushita and Kopan are both part of the FMPT and both offer 10 day Discover Buddhism courses but the one at Tushita was fully booked when I went there but still I really enjoyed the meditations in the colourful and elaborately decorated gompa each morning and used the afternoons to hike, practise yoga and explore the numerous other opportunities to learn different alternative therapies in Dharamkot.
I decided then that I had to travel to Nepal and attend the full course at Kopan Monastery.
Pin Me 🙂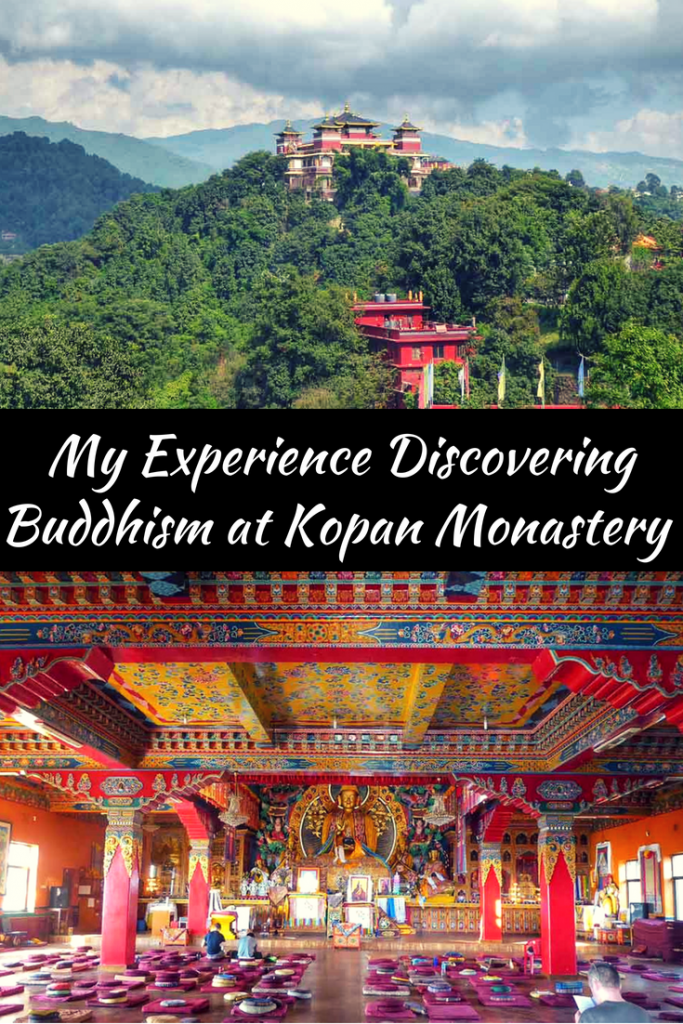 Discovering Buddhism Course at Kopan Monastery
Kopan is an authentic, working monastery set in the mountains above Kathmandu with amazing views over the city and the surrounding countryside and mountains. Inside the monastery compound are colourful and beautifully decorated halls and gompas, nice gardens with colourful stupas and accommodation for monks and visitors. It's really a beautiful, inspiring and interesting environment to stay in.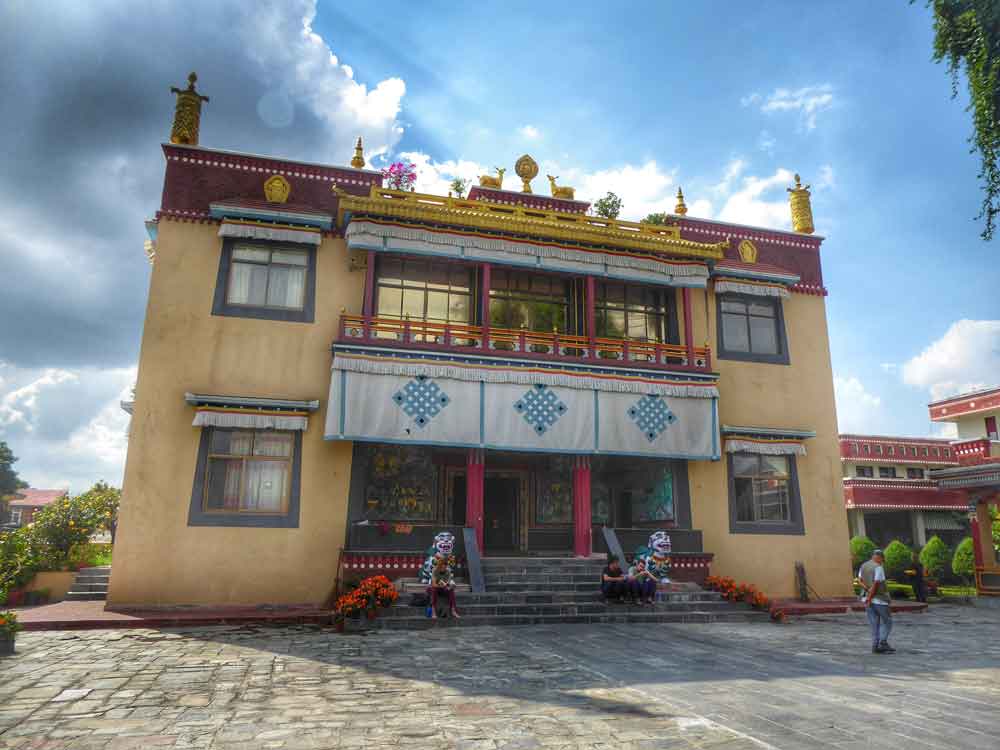 Kopan Monastery (and Tushita) are both members of FMPT – The Foundation for the Preservation of the Mahayana Tradition which has monasteries and meditation centers around the world. 
Kopan and Tushita both run a Discovering Buddhism course for beginners based on the Lam Rim (The Graduated Path to Enlightenment). Courses are normally 10 days and scheduled throughout the year (apart from in November) The courses are taught in English and led by Western monks and nuns with daily teachings from a Tibetan Lama. All courses are residential with accommodation and food provided.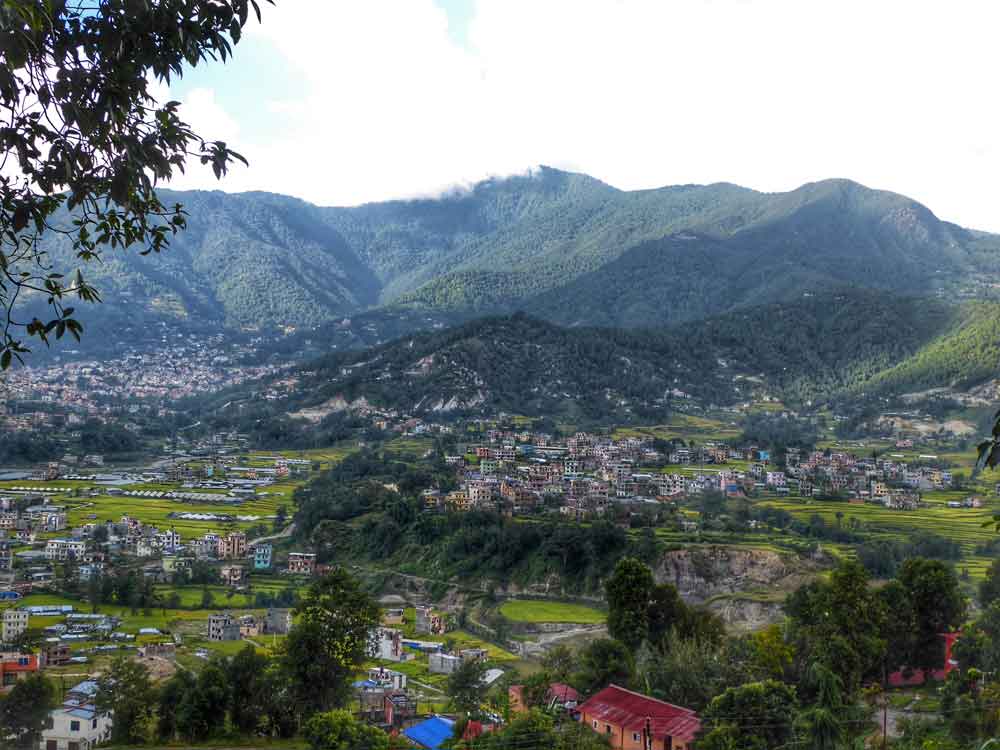 The Kopan Monastery websites describes the Discovering Buddhism course as:
" It provides an overview over Tibetan Buddhism, and introduces you to its fundamental principles.  Learning how to apply these principles to your life makes the teachings very meaningful. The course also introduces you to the different types of meditation that can be used to calm the mind. A special feature of the ten day course is the two day silent retreat at the end. This is a great opportunity to gain practical experience of a meditation retreat. "
"If you are interested in Buddhism, or experience problems in your life such as uncontrolled emotions, or dissatisfaction, this course will give you some skills to address these problems and make your life more fulfilling and meaningful. In the process you will meet like minded people and make new friends – friends that have shared your experience, and will provide support on the path."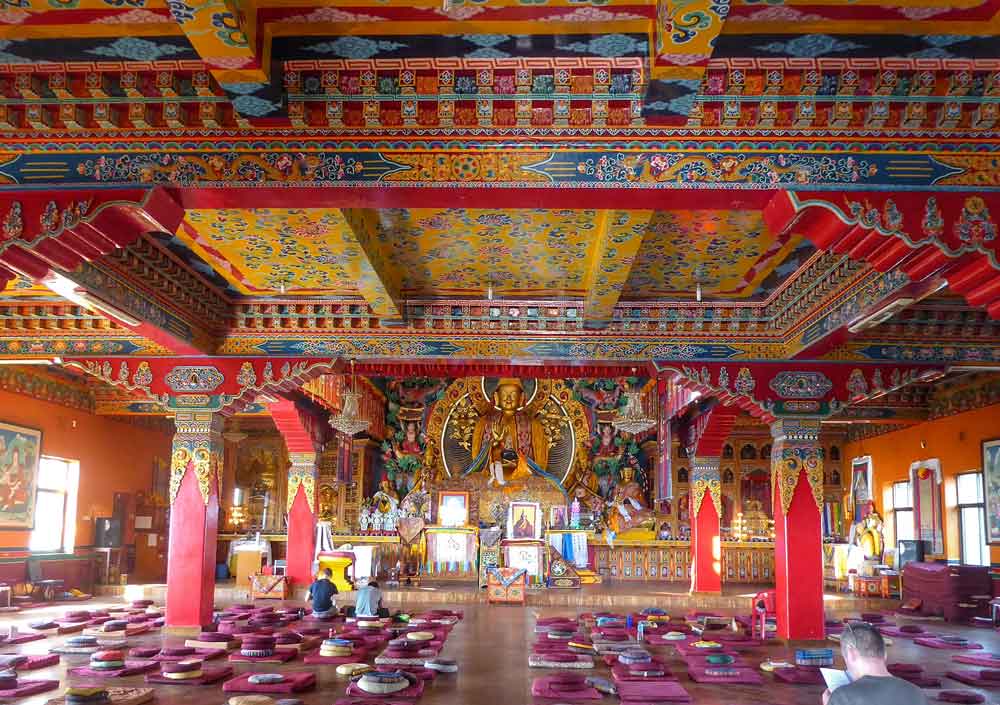 Courses are run throughout the year and are 10 days long if you include the 2 day silent meditation retreat at the end but you can also just opt to do 7 days. You stay at the monastery and the course fee ($150 ) includes teaching, food and accommodation. Courses are taught in English and attended by people from all over the world. There were about 100 people on my course! Check out the next course dates on the Kopan Website.
The daily schedule begins at 6.30 am and finishes at 9 pm with evening meditation and you have to attend all the sessions which are a combination of meditation sessions, teachings and lectures and a discussion group in the afternoon. You have to be silent from 10 pm until after lunch the next day as this helps to keep your mind focused on the course.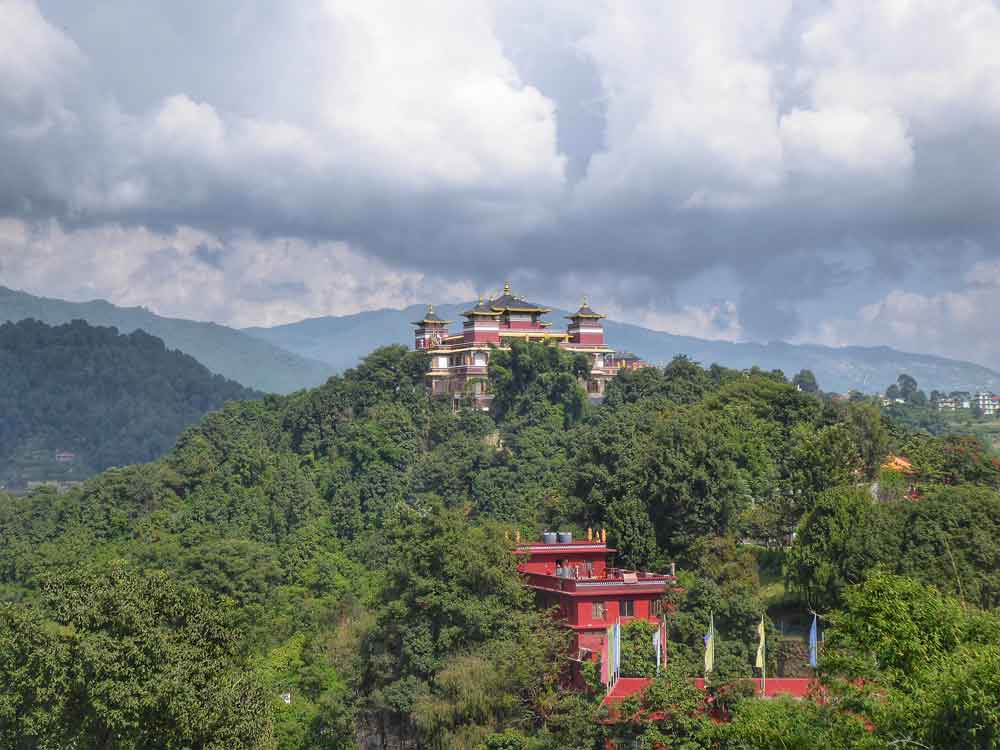 The Monastery Rules
There are a lot of rules to follow when on retreat in a monastery environment. I understand that discipline is important but I've always been a rebel and I hate rules. One of the things I did not like about the course was that there were so many rules which made it feel a bit like being in a prison. Read more on Course Disciplin e here 
The rules included:
Silence (not even any eye contact, smiling, gestures etc) until after lunch – I found this easier than I thought as I came alone and I'm not really a morning person anyway and its good because it keeps you calm and focused on your self.
No internet devices or contact with the outside world. You must check in your mobile phone and other electronic devices in the reception safe at the start of the course. – It was great to not have to worry about updating social media and answering emails etc and to keep you focused on the course but as someone who works online for myself 10 days offline is really bad for business and also I would have liked to be able to use my computer to watch documentaries etc and for more research.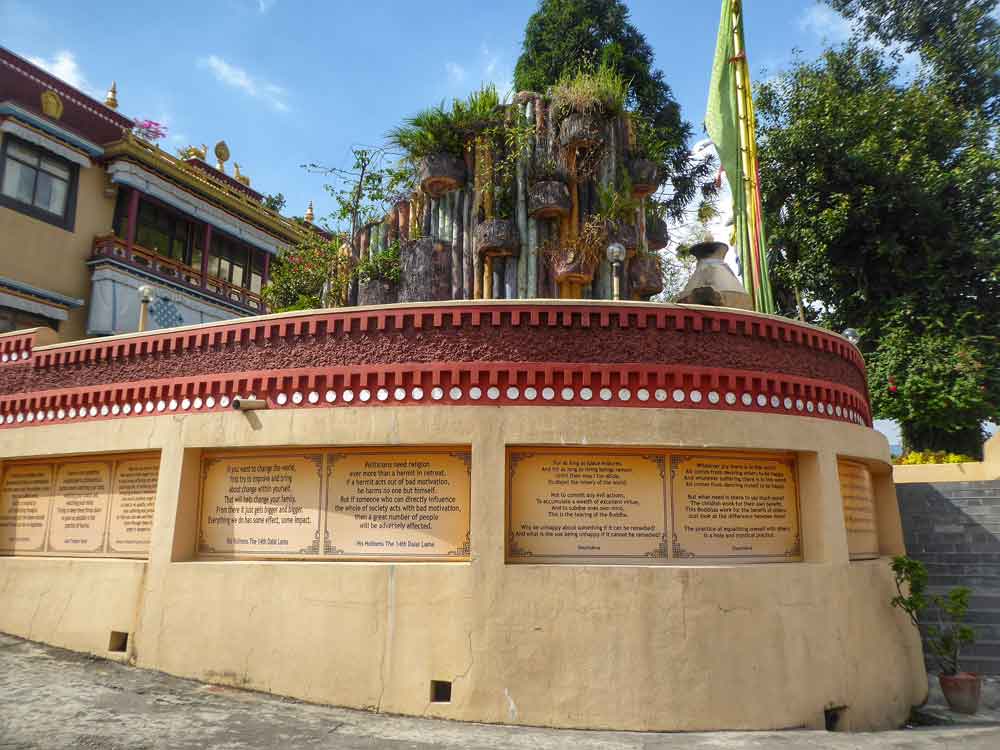 You must attend all sessions and stay inside the monastery grounds throughout the course.
No singing, no playing music, no non-Dharma reading material, you cannot do yoga, exercise or even lay down in the gardens
No killing – not even a mosquito or ant so make sure you look down when you walk!
No stealing,
No lying,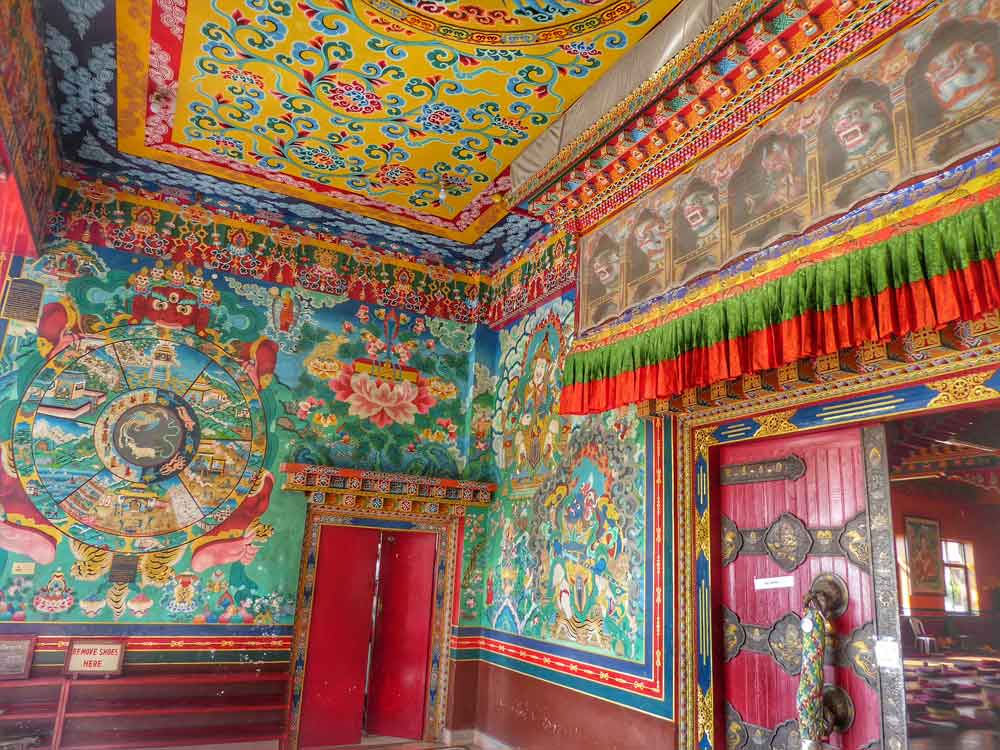 No sexual activity – if you come with your partner you have to stay in separate rooms and are asked not to visit each others rooms or even sit together in meditation.
No tobacco, alcohol or illegal drugs of any kind.
Adhere to the dress code.
I understand that these rules make for a peaceful environment that enables you to concentrate on the course without distractions but I can't stand rules and really didn't like this aspect.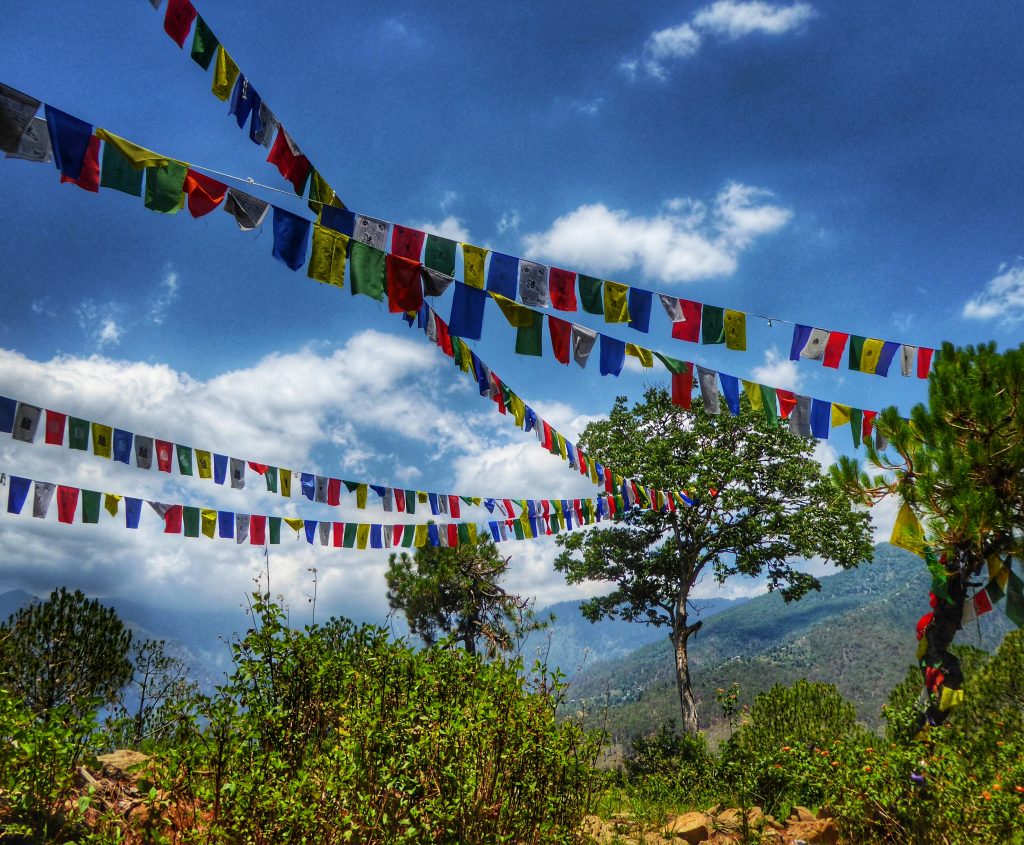 My experience in Kopan Monastery
Kopan Monastery is in a beautiful setting in the hills above Kathmandu. The setting is serene and peaceful, the views over the city below and surrounding countryside and mountains are amazing. The monks and staff at Kopan are all friendly and helpful and the Gompa was beautifully decorated and there are many nice garden areas, stupas and inspirational sayings dotted around the monastery and in the mornings you can hear the monks chatting.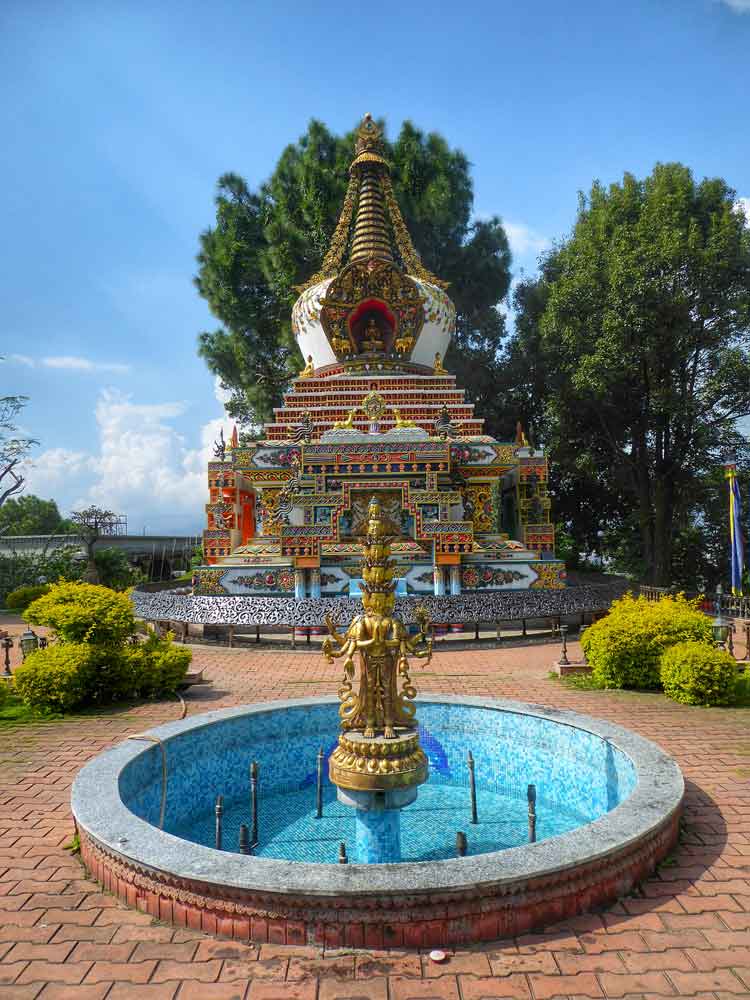 Kopan is a real working monastery and really a wonderful and beautiful place to spend some time. The rooms were basic but comfortable enough. The only thing is that its under the flight path and the planes were sometimes so noisy the teacher had to stop talking for a bit. This was quite disrupting.
Vegetarian food and tea was served 3 times a day in the big communal dinning hall, I'm a bit of a fussy eater and the food was quite basic and I didn't enjoy the food so much but there is also a nice coffee shop in the monastery grounds and a small store where you can buy coffees and snacks to keep you going but don't expect any culinary delights.
I wasn't going to write so much about my personal experience as everyone is on their own path and everyone is different and I encourage everyone to find out for themselves. However, for me, I found the teaching was too slow and too religious ( yes I know it's a monastery but it said it was more about learning about the mind but there was too much religious dogma for me) there was not enough meditation, too many lectures and I felt too constricted by the rules.
Anyway I learned that while I am interested in spirituality and psychology I'm still not religious and definitely not going to adhere to any dogma. I personally feel like I get more out of yoga and active meditations. And apart from the last 2 days there was not really enough meditation for me, I would have preferred more meditation and less teaching (or teachings that move faster)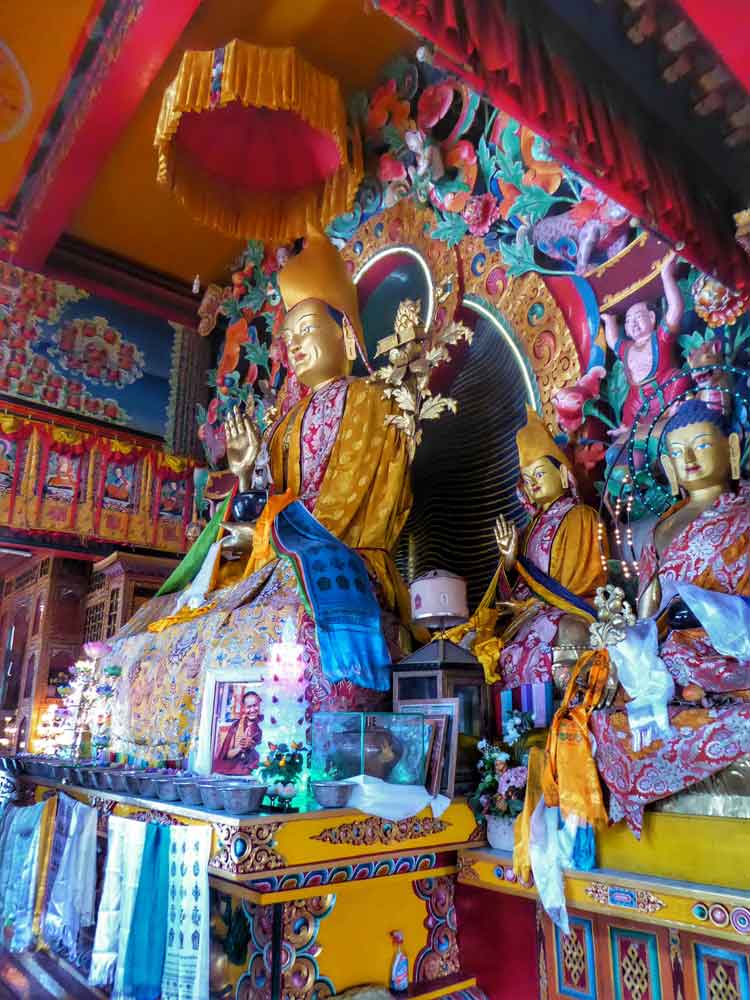 Overall I felt like there were too many rules and I wasn't learning so much but then I had already been 1 month every day at Tushita where I did feel that I learned a lot.
So if you are interested in learning about Buddhism and meditation from scratch then Kopan, Tushita or any of the FMPT centers are great. If you like a beautiful and structured environment then the discovering Buddhism courses should be an interesting and informative experience for you. Its a very affordable and interesting program, especially if you have never done any meditation or spiritual or Buddhist studies before – its perfect.
If, like me, you don't like too many rules then you can just drop in on the meditations at Tushita and talks and use the library. You can also just drop by Kopan monastery for a day trip away from the hustle and bustle of Kathmandu.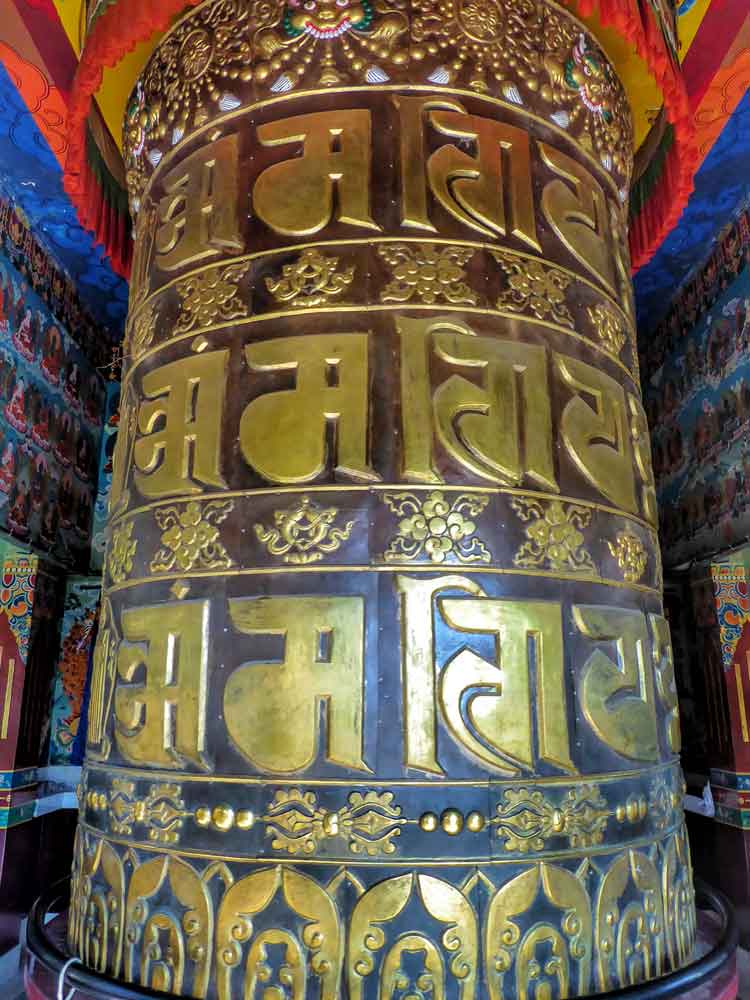 Even though there were aspects of the course I didn't like so much, and I don't think I'll be becoming a Buddhist nunn anytime soon, I'm still grateful that I had this experience and it was wonderful to be immersed in a beautiful, serene, real monastery for 10 days.
After I left Kopan I spent 10 days at the Osho Tapoban Meditation Center which is situated in the jungle of the Nagarjuna hills just outside Kathmandu and, personally, I enjoyed my time at Osho Tapoban doing yoga, active meditations and going for walks around the jungle more but I'll write more about that later in another post…
Have you been to a Buddhism course at Kopan, Tushita or another monastery? Please leave a comment below as I would love to hear about your experiences.