Welcome to Tawang, Arunachal Pradesh, India!
As I stood amongst the soaring Himalayan mountains, fluttering prayer flags and colourful monasteries it was hard to believe that I was not in Tibet.
I was still in India, but only just.
The largely unexplored diverse tribal region of North East India offers a whole new Indian adventure in the truest sense of the word and the mysterious, mountainous and blissfully untouched state of Arunachal Pradesh, nestled between Tibet (China), Burma, Bhutan and Bangladesh, is the final frontier of Indian exploration.
Arunachal Pradesh means 'the land of dawn lit mountains' and these rugged peaks are home to over 25 unique tribes, rare wildlife, vibrant festivals, colourful monasteries, beautiful handicrafts and a captivating and distinctive culture that makes it seem a world away from the rest of India.
In fact, Arunachal Pradesh is so far off the beaten track that some parts of the Himalayan ranges in Arunachal Pradesh have not even been mapped yet!
Safe to say I had big expectations of this place dubbed as the last Shangri-la but at the same time I also really  didn't know what to expect.
I took so many amazing photos while traveling through Arunachal Pradesh so I couldn't resist sharing them in a photo essay of my adventure to Tawang, the last Shangri La! Enjoy!
The Adventure Begins…
After flying into Guwahati in Assam, the gateway to North East India, Rachel from Hippie in Heels and I were meet by our instantly likeable guide Sange from Holiday Scout.
Soon we were leaving the fertile, green plains of Assam behind and I felt like the adventure was really beginning as we had our permits inspected and passed through the checkpoint in Bhalukpong.
As well as an Indian visa all visitors to Arunachal need a special permit, even Indian's, but our Holiday Scout guide sorted all this out for us. You shouldn't really take photos of the check points but I sneaked a few out of the back of the car!
Then we were climbing the rugged mountains of Arunachal Pradesh and it seemed like we had left India behind, or at least the India I knew.
As we bumped over the mountains, passing through valleys and crossing bridges adorned with colourful prayer flags fluttering in the breeze I wasn't surprised to learn that the otherworldly valleys of West Kameng and Tawang actually where formerly part of Tibet. In 1914 the Shimla Accord ( a convention that was held in Shimla, the summer capital of British India, between Great Britain, China, and Tibet) defined the McMahon Line as the new boundary between British India and Tibet. By this treaty Tibet relinquished territory that included Tawang, to the British, however this has not been recognized by China which is the reason all visitors (even Indians) to this area need permits and for the military presence although it all seemed very peaceful.
Bomdila
Our first stop was Bomdila, the headquarters of West Kameng district, a colourful town perched on the Himalayan mountains 8000 ft above sea level.
Arunachal Pradesh and North East India is known for being the home of many unique and distinctive tribal people. This region is home to the Monpa Tribe and you can really see the Tibetan influences in the people and their culture.  One of the things I found so captivating was that these idyllic valleys and soaring mountains almost seem to have been forgotten by time and the Monpa people are free to live their way of life that is still heavily influence by Tibetan culture. As the Chinese government repress the culture of Tibet, Arunachal Pradesh offers a tantalizing glimpse of this beautiful and magical culture.
.Our Holiday Scout guide Sange, is from Bomdila and a member of the Monpa tribe so, despite the chill of winter in this mountainous region, we received a very warm welcome in Bomdila! Sange's family made us feel so welcome and it was a special and unique experience to spend the night in their cute and colourful traditional house enjoying views over the valley of Bomdila.
Undoubtedly one of the highlights of the homestay was sampling Sange's mother and sister delicious Tibetan dinner of momos and thupka and a warm traditional alcoholic beverage called Ara made from fermented rice which I was told the local people drink all day to keep warm!
Every adventure should start with a hearty breakfast and this morning was no exception! This soft, delicious bread is made from the same ingredients as momos! I can't get enough of this homemade Tibetan food!
Before heading further and higher into the mountains we visited the local market in Bomdila and got a taste of the local life and colourful traditional handicrafts, I especially loved the colourful Monpa bags so I was delighted when Sange's Mum gifted us one!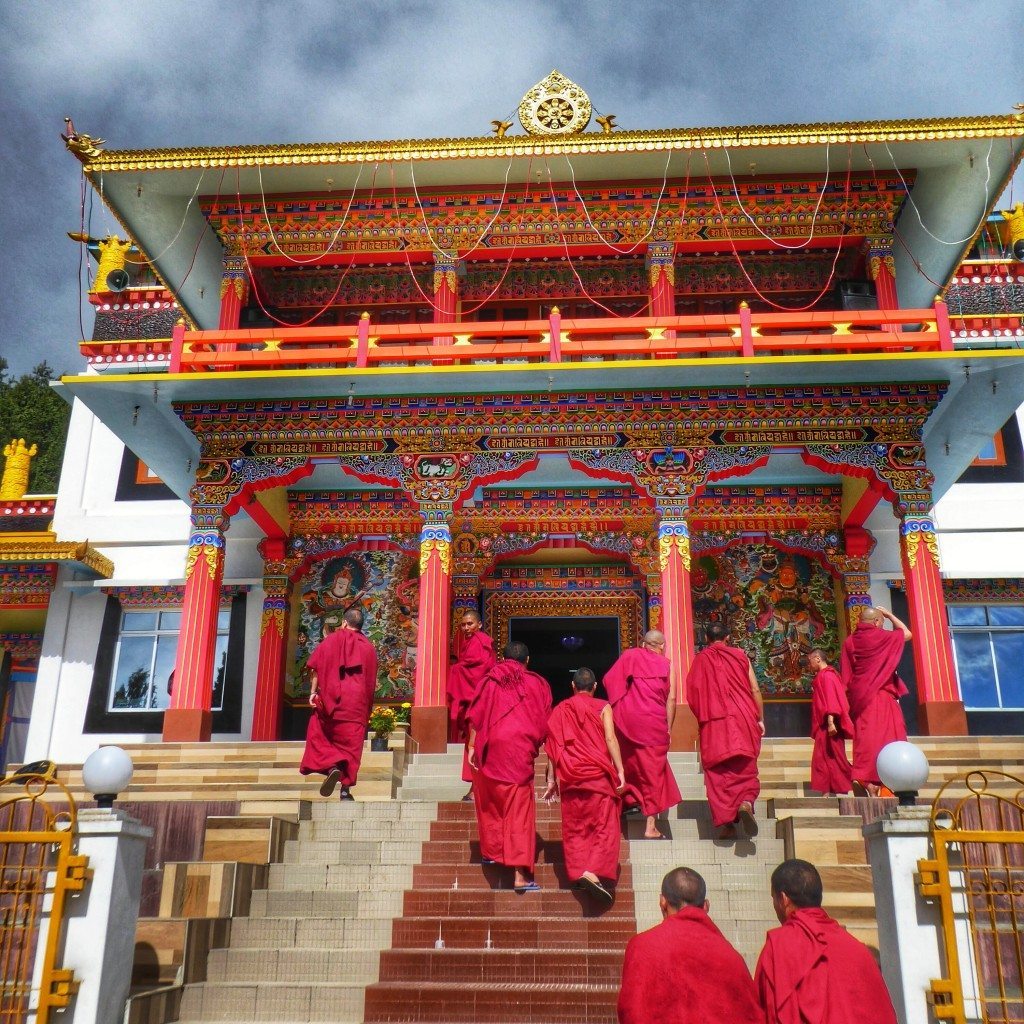 Visiting the Gontse Gaden Rabgyel Lling Monastery, also known as the GRL Monastery, in Bomdila was my first experience of a Tibetan Buddhist monastery and I loved it! These monasteries are so colourful and detailed and I found it a truly fascinating and unique experience.
When I entered the monastery I was in for a surprise! Instead of the soft chanting I was expecting the monks had donned these hats and capes and the chanting sounded more like death metal! Bizarre but brilliant experience.
The highlight of the monastery was the huge, golden Buddha and this beautiful and intricate mandala. The mandala consists of intricate symbolic patterns made from colourful sand and is a representation of the world in divine form. The most interesting thing for me was to learn that after the monks have finished the praying and related ceremonies they destroy this beautiful and painstakingly made mandala. This symbolizes the Buddhist belief that life and material things are transitory, nothing is permanent, everything is in flux.
Outside the monastery some local Monpa women had come to the monastery. It seems they were making a day of it as they bought a picnic and sat on the lawn outside chanting, empty liquor bottles strewn about!
Prayer wheels are found all over this region. Traditionally the mantra Om Mani Padme Hum is written in Sanskrit on the outside of the wheel and people turn the prayer wheels clockwise while reciting the mantra to release the prayer.
Before we left the monastery I spun the big, colourful prayer wheel, excited about the next part of what was already shaping up to be an amazing and unique adventure!
Sangti Valley
One of my favourite stops was the quaint, picturesque and untouristy Sangti Valley.
We walked through the Sangti Valley and just took a leisurely stroll around this colourful authentic village
I came across this man sitting and reflecting by the village prayer wheels.
And I couldn't resist joining him for a bit, taking in a the views of the valley, the tranquility of this village while falling in love with this unique, captivating place.
Dirang
We spent the night in Dirang and woke up early the next morning to this view before heading on our way to Tawang, the highest and most eagerly anticipated point of the adventure.

Before we left Dirang we made a visit to the Thupsung Dhargye Ling  Monastery. It's not completed yet but it will be a huge monastery and the nicest thing is that the head monk, a friend of the Dalai Lama, wants it to be a center for everyone to pray and to learn about Buddhism, not just for monks. He was also kind enough to give us some hats as we were feeling the mountain chill!
Driving over the Sela Pass to Tawang
After leaving Dirang the real climb began as we drove up to the Sela Pass. At 13,700 ft this is one of the highest motorable passes in the world. The ride is long, winding and bumpy but the scenery is just out of this world! As it gets higher the weather gets colder and the road gets worse until it is mainly just mud.
We stop on the way at little roadside shacks to huddle around heaters (bhukhari) drinking chai and eating momos.
And stop to thank the road workers who have a tough job in these harsh conditions but still have a smile of their faces.
The yaks were certainly better dressed for the weather than I was!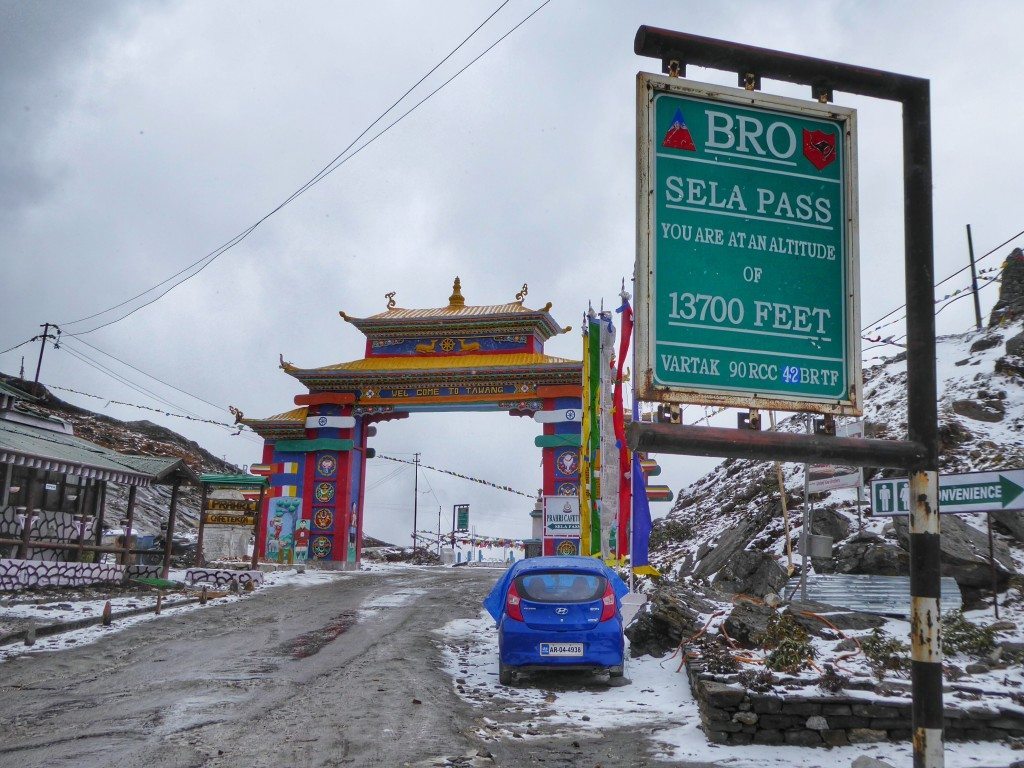 A striking, colourful gateway rewards you as you cross over Sela Pass at 13,700 feet. The colours looked even more striking against the snow!
We made it to the top of Sela Pass (and almost froze taking this photo!) and crossed over into Tawang!
The prayer flags look even more magical and beautiful when frozen!
I love how there are Tibetan shrines, stupas and prayer wheels everywhere, even on the top of a remote, frozen mountain pass. Colour, faith and spirituality are all around.
Once over the Sela Pass we started descending again as we made our way towards Tawang, the most anticipated point of our adventure through Arunachal.
As we twisted through the mountains we came across a war memorial and heard the legendary story of the solder Jaswant Singh. He was the last Indian solder standing in the Chinese invasion of 1962, he managed to hold off the Chinese for 3 days with the help of two local Monpa girls named Sela and Nura. There is now a shrine and memorial for him in Jaswant Garh and he is treated like a saint.
After hearing about Jaswant Garh we had to make a stop at the beautiful Nuranang Waterfall, named after the local Monpa girl called Nura who had helped the last soldier defend these mountains against the Chinese. Not many travellers know about this scenic spot not far from Tawang but having a local guide means that we really get to explore and get to know all the local legends of this amazing place!
Tawang!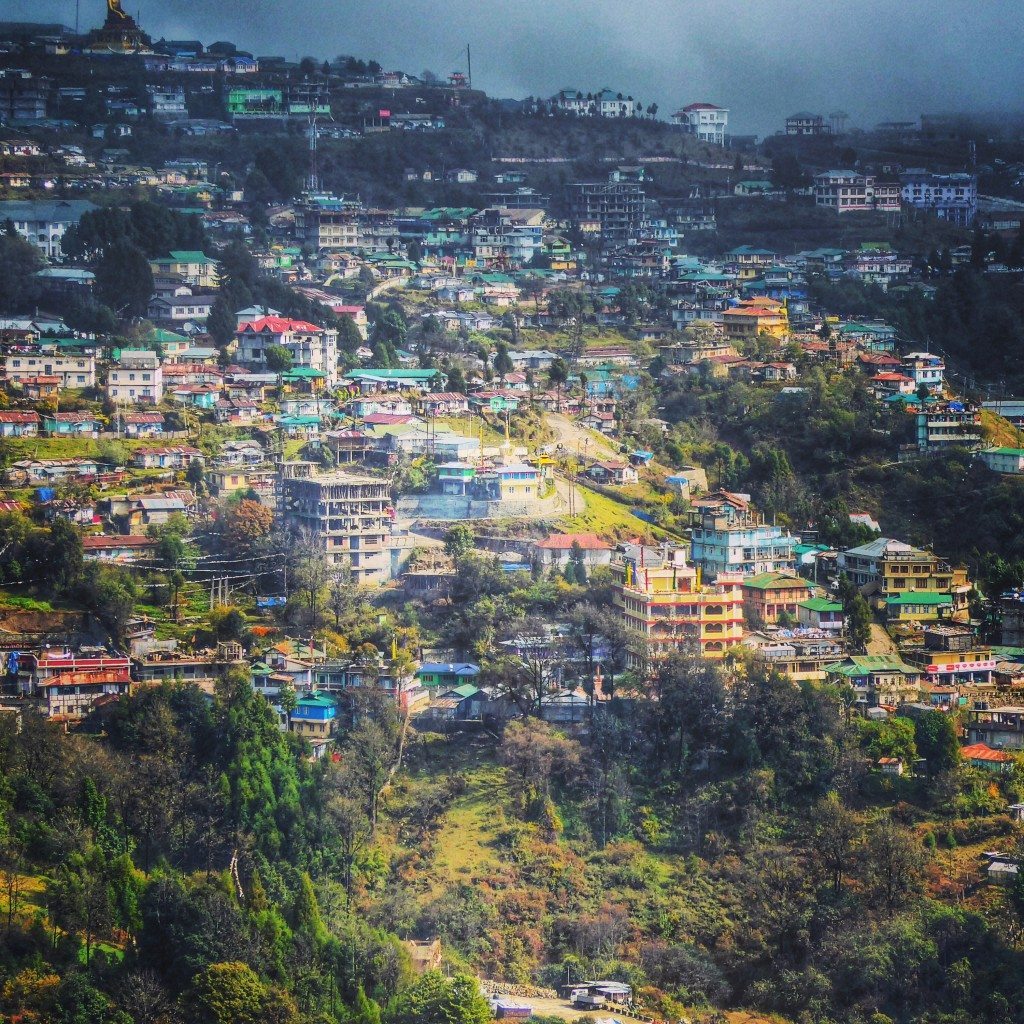 After almost 12 hours of bumpy winding roads and spectacular scenery the feeling of finally arriving in Tawang is incredible.
Tawang is most famous as the home of Tawang Monastery. This is the 2nd largest Tibetan monastery in world, after the Potala Palace in Tibet which is now a museum as the Chinese government do not allow the Tibetan people to follow the Dalai Lama or practice their culture and religion. In 1959, the 14th Dalai Lama fled from Tibet, and after an arduous journey he took shelter here in Tawang Monastery for a few days. As the Potala Palace is now a museum, Tawang Monastery is the largest still in operation and it's an amazing feeling to be here.
The colourful courtyard of Tawang Monastery. It was quiet when we visited as the monks perform their early-morning prayers at dawn (4am to 5am)
In Tibetan this monastery is known as Galden Namgey Lhatse, which translates to "celestial paradise in a clear night!" 'Ta' means "horse", 'wang' means "chosen" so the full meaning of the 'Tawang Galdan Namgye Lhatse' is the "site chosen by the horse is the celestial divine paradise!" It was founded in 1680-1681 in accordance with the wishes of the 5th Dalai Lama, Ngawang Lobsang Gyatso. To say this place is atmospheric and magical is an understatement!
Inside the monastery was even more impressive than the outside! I could never get tired of the colour and detail and fabrics of these Tibetan Monasteries, there really is a special feeling in here that is hard to put into words, to experience this you will just have to visit yourself!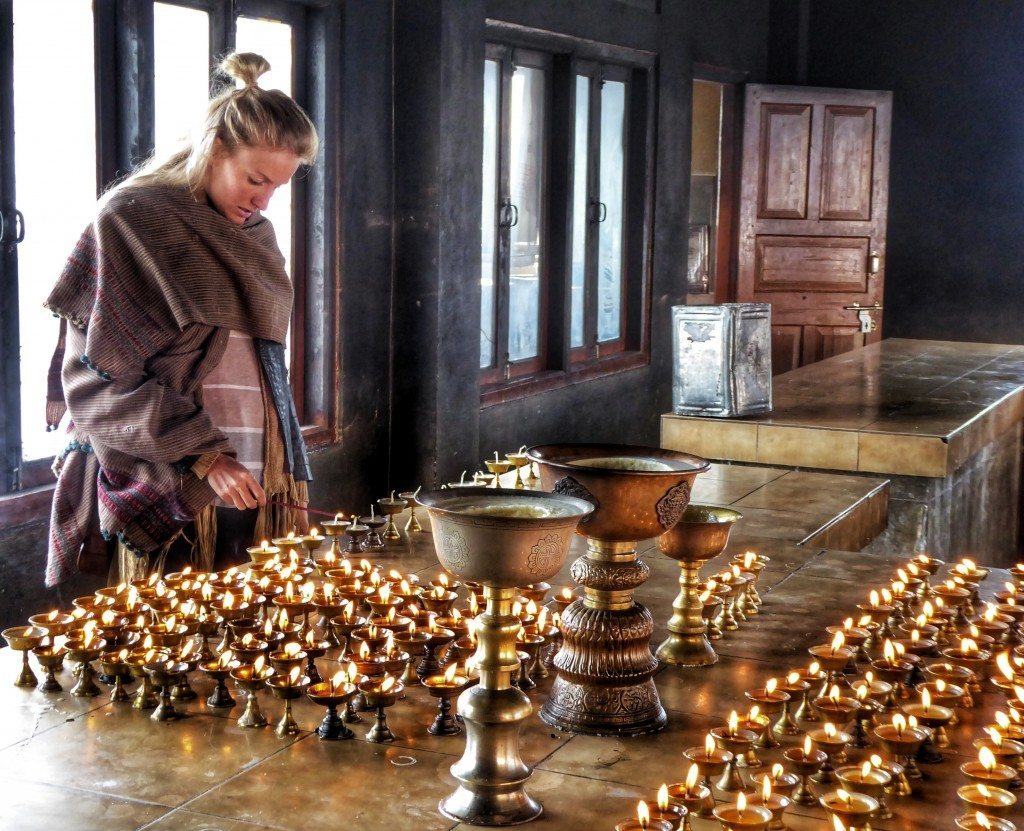 One of the important rituals when visiting a monastery is to light a lamp made from yak butter, doing so represents the illumination of wisdom.
Tawang Monastery is also a school to about 500 young monks and we were able to join some of their classes and although initially they were shy they were happy to have a selfie!
Tawang also has something for the ladies and a newly built cable car runs over the mountains to the remote Thuk Choening Nunnery. I'm not being biased but the nun's monastery was much warmer and cosier than the monks and we spent time chatting and warming up in Sonam's rooms, who had been a nun since she was 9 and now 23 and I loved the feeling of sisterhood here.
Tawang certainly doesn't have any shortage of monasteries! Did you know there are 4 different sects in Tibetan Buddhism, they all follow Mahayana Buddhism but are slightly different. I loved the modern and super colourful Khinme Monastery, home to the Nyingma sect – these monks are allowed to grow their hair and get married unlike the others.
Whilst I loved the old world atmosphere of Tawang Monastery I also loved the colour and intricate wall murals in the modern Khinme Monastery, no two monasteries are the same!
And no visit to Tawang would be complete without visiting the Urgelling Monastery, the birthplace of the 6th Dalai Lama, Tsangyang Gyatso in 1683.
What an amazing adventure!
Arunachal Pradesh has astounded and surprised me every step of the way, the scenery, the culture, the colour, the monasteries, the sense of adventure and of seeing something that not many people have seen has just blown me away. But possibly the biggest highlight of this trip has been the people of Arunachal Pradesh who have captivated my heart the most. Unlike other parts of India, we have had no hassle here, everyone has been so lovely and so eager to help us, especially our wonderful guide Sange from Holiday Scout.
It's been fascinating and I feel blessed to have caught a glimpse into this beautiful culture and magical land. I can see now why they call Arunachal Pradesh 'the last Shangri-la' and part of me doesn't want to leave this rugged slice of untouched paradise and return to the chaos of the rest of India.
It's safe to say that after this trip of a lifetime I'm a little obsessed with this region and can't wait to explore more of North East India!
If you think you've seen everything there is to India, if you want a real adventure, to step back in time, to experience the beauty and serenity of Tibetan culture then come and explore Arunachal Pradesh!
How to visit Tawang and Arunachal Pradesh
Arunachal Pradesh, the final frontier of Indian exploration, is not the easiest place to travel independently, special permits are required and tourism infrastructure is a little sparse. I visited Tawang on the Monastery and Tribal Discovery Tour with Holiday Scout and can highly recommend my wonderful guide Sange!
For more info on visiting Arunachal Pradesh check out this useful FAQ on how to travel in North East India by my travel companion Hippie in Heels.  or visit the offical Arunachal Tourism website
Like this post? Pin Me!