The Best Yoga and Meditation Retreats in India
India is the birthplace of yoga and Ayurveda, the place where the Buddha became enlightened, the home of one of the oldest civilisations and one of the most spiritual countries in the world.
Visiting India can be life changing and transformational and it's not surprising that this country attracts so many spiritual seekers with its plethora of spiritual places to visit and the sheer numbers of amazing yoga and meditation retreats in India.
Yoga is probably the most well known, but Yoga is so misunderstood in the West. Yoga is so much more than just physical exercises, in fact the whole point of yoga is to prepare the body and mind for meditation.
Yoga is a whole lifestyle and philosophy that is believed to have developed around the 6th or 7th century BCE and has been practiced in India for centuries.
Yoga didn't become popular in the West until the 1980s, and since then there has been a boom in the yoga industry. This has inspired many people to visit India to practice where it all began or if you want to go deeper train to become yoga teachers in a search for more meaning, peace and contentment in life.
I was one of those seekers when I quit my job, sold everything and came to India to 'find myself' back in 2013 and I never really left! Read 'Can you really 'Find Yourself' in India!?"
Yoga, meditation and India has really changed my life! Just traveling to India can be a transformative journey but I believe it's even more worthwhile if you spend some time on a yoga or meditation retreat in this highly spiritual country. In fact, it would really be a shame not too!
There are so many benefits of taking a retreat and many wonderful places to enjoy yoga and meditation retreats in India, from holy, mountainside towns in the Himalayas to beach resorts along the coast of the Arabian Sea, plus everything in between.
The world capital of yoga – Rishikesh is located in India, the Buddha attained enlightenment in Bodhgaya, India and the tropical South Indian state of Kerala is also the home of Ayurveda – considered to be the oldest healing science and system of natural medicine. Check out recommended Ayurvedic retreats in Kerala.
In fact, there are so many yoga and meditation retreats in India that it can be a bit overwhelming and hard to decide which are the best ones so I wrote this post with all the best ones in one place to help you. I also wrote a post with 5 of the best yoga retreats in India especially suitable for beginners that you might want to check out.
I've been living in Goa and traveling around India for years and have attended some of these retreats myself while others come recommended by friends. I hope to find the time to attend all of these one day!
Pin Me 🙂
This post contains some of the most famous yoga and meditation retreats in India – some yoga and meditation courses only take experienced practitioners and may be a bit too serious for a beginner. Ashram environments also might seem a bit too basic and strict for some but don't worry if your just getting started with yoga and mediation as many places will also take complete beginners.
A great site that I can recommend and use to find yoga and meditation retreats in India is www.bookyogaretreats.com  and www.bookmeditationretreats.com because they list all sorts of retreats and most are very welcoming to beginners. You can even find meditation teacher training courses on there if you want to dive in deep, get certified and be able to share your knowledge with others.
You also have to be careful on the spiritual path as not all 'gurus' are the real deal, some may even take advantage of the spiritual seeker, so it's a good idea to get reviews and recommendations from others to know if a yoga retreat or meditation center is good or not.
With these sites you can learn more about the yoga and meditation retreats offered, the instructors, location, style of yoga classes or meditation offered, and most importantly you can check real reviews and testimonials from previous guests and book your place.
Also check out my yoga section which has recommended yoga retreats and yoga teacher training courses in India, Bali and Thailand.
Here are my 10 Best Yoga and Meditation Retreats in India
Sadhguru is probably the most famous living Indian guru around now. Sitting in the foothills of the Velliangiri Mountain, the Isha Yoga Center was founded by Indian yogi Sadhguru in 1992. It attracts people from all over the world who come to do both yoga and meditation retreats in India.
The ashram offers various types of traditional yoga, including Hatha Yoga, Upayoga and Kriya Yoga, as well as Aum and Shoonya Meditations and the Inner Engineering program.
It is a large centre, boasting 150 acres of land, complete with a domed yogic temple, a large meditation hall, rejuvenation centre and living quarters. The hills and forest that surround the centre, combined with the sound of birds chirping and waterfalls makes it a fantastic place to spend some time on your inner growth.
The Isha Foundation has become one of the most popular and well regarded yoga and meditation retreats in India. I recommend staying in one of the cottages that have a more rustic and cosy feel. See their website to find out more.
If you want to combine a relaxing yoga and meditation retreat with a beach break then Goa is one of the best places in India for this. There are loads of yoga retreats and places to do yoga teacher training in Goa but Ashiyana is one of the best.
Ashiyana is a magical, sanctuary set in stunning tropical gardens on the chilled Mandrem Beach that offers a wide range of yoga and meditation retreats, including Hatha Yoga retreats, Vinyasa Yoga retreats and Iyengar retreats.
Ashiyana means home in Hindi, and that is exactly the vibe that has been created here. Ashiyana is not ashram, it's a beautiful, boutique resort with a gorgeous natural swimming pool, many beautiful accommodation options and delcious, healthy food.
One of the things that made my expereince at Ashiyana stand out is that, in addition to yoga, there are also many other spiritual activities and workshops as well as a detox program, spa and massage treatments, Ayurveda consultation and cleansing. They also offer 200 and 300 hour yoga teacher training programs. See more details, read the reviews and book here!
Also Read: My pick of the best yoga retreats in Goa and my recommendations for the best yoga teacher training in Goa
This Buddhist meditation centre is set on the outskirts of Dharamkot in a forest in the hills above the town of McLeod Ganj; home of the Tibetan government-in-exile.
The centre was opened in 1972 by Lama Thubten Yeshe and Lama Zopa Rinpoche and named the Tushita Meditation Centre. It follows the Tibetan Mahayana tradition and offers daily drop-in meditation as well as residential group retreats.
The popular 10 day Discovering Buddhism course focuses on spiritual studies and meditation with a 2 day silent meditation retreat at the end. This is quite a challenge, but can be quite refreshing and illuminating. There are also other retreats and courses available.
Accommodations are dorm-style but comfortable, and three vegetarian meals are served each day. It is a great place to learn about Buddhism and inner peace and one of the best Tibetan style meditation retreats in India.
If you want a meditation retreat but aren't quite ready for 10 days of full silence in Vipassana then this is a great start. See their website to find out more.
You need to book in advance as the 10 day course gets full up. I attended the drop in sessions at Tushita but couldn't get on the course so I did it in Kopan, Nepal (part of the same group) Check out my experience of the 10 day discovering Buddhism course at Kopan Monastery. 
Also Read: Dharamkot – the best place to find yourself in India
Any list of yoga and meditation retreats in India would not be complete without mentioning the spiritual city of Rishikesh – the yoga capital of the world situated on the holy river Ganges!
There are SO many yoga schools, yoga retreats and places offering yoga teacher training in Rishikesh nowadays that it can be hard to decide which school is the best. One of my favourites, especially for beginners, is Yoga Vidya Mandiram.
It's perfect for beginners who want to learn not just yoga poses but the whole yogic lifestyle as the program also includes classes on mediation, pranayama, philosophy, yogic cleaning processes, mantra reciting .
There's also various styles taught here including hatha, vinyasa, ashtanga and even yoga nidra. The center has basic but comfortable rooms and healthy nutritious vegetarian meals. They also take you on trips to visit nearby temples, shrines and on some treks in the surrounding Himalayas. Click here to see more details, prices, reviews and to book! 
Also Read: My pick of the best yoga retreats in Rishikesh and my recommendations for the best yoga teacher training courses in Rishikesh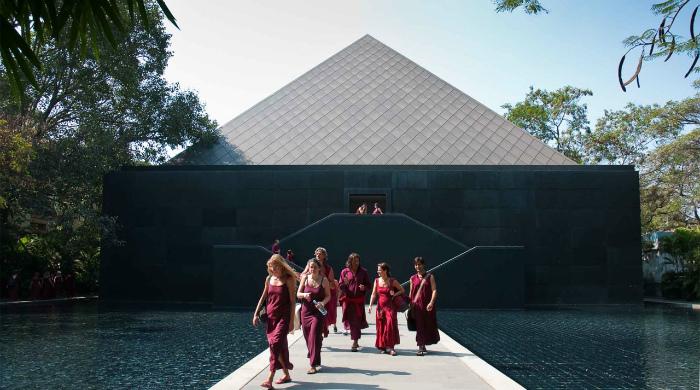 Any list of the best meditation retreats in India wouldn't be complete without mentioning Osho! India's most controversial guru still attracts many spiritual seekers today.
Rajneesh (aka Osho) founded the Osho International Meditation Resort in 1974. This plus resort offers many active and dynamic meditation styles to help the modern, Western mind settle for meditation. Osho offers the meditation techniques of Buddha, while the resort itself takes on the qualities of Zorba the Greek.
The resort is an oasis in the city of Pune, with its beautiful trees, koi ponds, bamboo forest, 12-acre park and waterfalls. It is the perfect match for the Zen style guest rooms, marble meditation area and glass pyramid main building. There's also an Olympic size pool, a spa and a vegetarian restaurant onsite.
Expect to pay Rs. 3,540 per night for single occupancy and Rs. 4,130 per night for double occupancy if you want to stay at the centre, plus addition daily program fees. You can also opt to stay in a cheaper guesthouse nearby and just go to the resort for the meditations.
They offer 8 different types of meditation every day, morning Chi Gong and Tai Chi classes, and evening events. There's also a variety of courses that run from 7 to up to 30 days, depending on the course. This is one of the most luxurious and infamous meditation retreats in India. See their website to find out more.
The ancient technique of Vipassana meditation was practiced by Lord Buddha in India and taking a 10 day silent residential Vipassana meditation retreat in India has become a popular, and challenging, right of passage for many travellers and seekers. There are centers all over India and the courses are always identical but where better to meditate than in Bodhgaya where the Buddha attained enlightenment! Check out their website here.
Vipassana meditation means to see things as they really are. The Vipassana technique focuses on observing the breath and bodily sensations. The course is free of religious teachings and is one of India's most ancient techniques of meditation. It was taught in India more than 2500 years ago but todays courses are based on the instructional video and audio of by S.N.Goenka.
Normally, the course, food and accommodations are all free of charge. Days begin at 4.30 a.m and there should be no contact with other participants so don't expect it to be a free holiday. Check out this post for an insight into the Vipassana experience.  The world's largest Vipassana meditation center, Dhamma Giri, is located at Igatpuri in Maharashtra. Check out this post with more Vipassana centers in India. 
The facilities at the free Vipassana courses can be quite basic and it's far from a holiday. If you want to practice Vipassana in a bit more comfort there is an excellent 8 day Vipassana meditation course at the Vedansha Institute of Vedic Science and Alternative Medicine in Rishikesh! 
The course includes daily mediation sessions, pranayama, kriyas, mantras, basic asana practice to make your meditation more comfortable and so much more. Ayurvedic, yogic, vegetarian food is also included and some local excursions.
There are different accommodation options to suit all budgets including shared dorms, twin rooms and private rooms in either the school or the retreat center. The rooms have air conditioning and all mod cons as well as impressive views of the Himalayan mountains. If you'd like to learn Vipassana meditation in comfort then this course is a great option! Click here to see full details about the course and read reviews.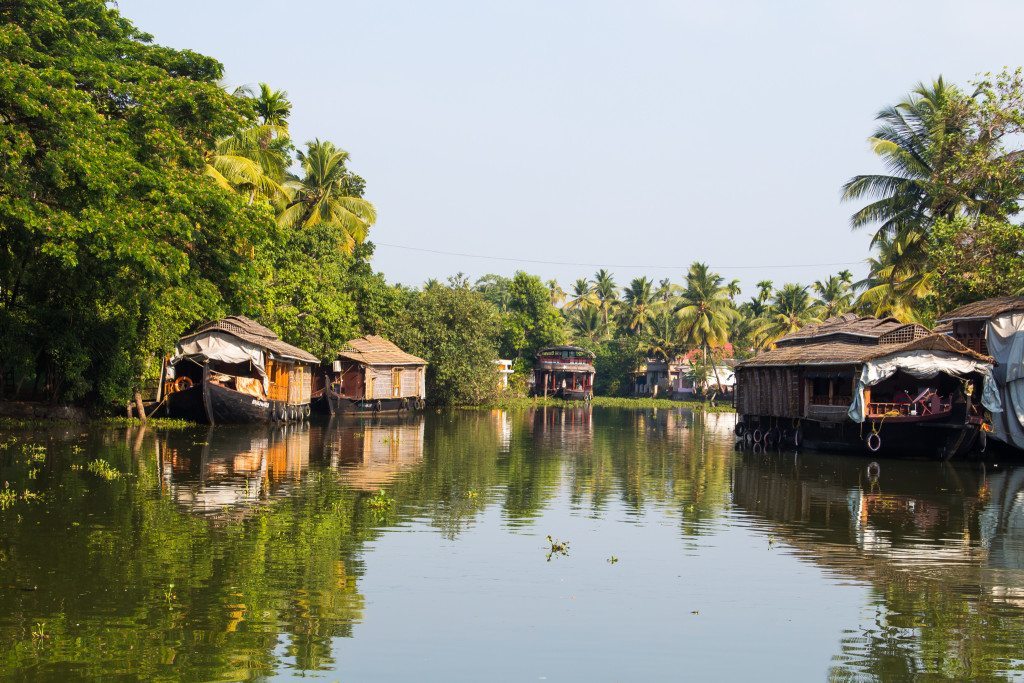 Kerala is one of the most luscious and relaxing places in India, plus it's the home of the ancient Ayurvedic medicine system. This 10 day retreat includes daily cleansing kriyas, yoga and meditation classes.
You'll also have a personal consultation with an Ayurvedic Doctor, receive detailed recommendations for the ideal diet, yoga and exercise based on your individual body constitution and 4 rejuvenating Ayurvedic massages.
Delicious Ayurvedic vegetarian food and accommodation is also included. One thing that makes this retreat special is the location in a cosy, traditional Keralan homestay surrounded by palm trees and the personalised treatment you'll receive. See more details and read reviews here.  If you prefer to stay in a retreat resort environment rather than a homestay then I recommend Namaste Ayurvedic Wellness Centre 
Following the teachings of Swami Sivananda, the Sivananda Yoga Ashram sits in the foothills of Agasthyamalai at the edge of the Niyyar Dam.
The centre offers rejuvenating yoga holidays that include two daily vegetarian meals, a morning Karma Yoga class, an afternoon asana class, an afternoon workshop/lecture and 2 daily Satsangs (meditation, chanting and talking).
It is quite strict here, as it is mandatory to attend everything and stick to the schedule, so if you don't think you're disciplined enough you may want to give the ashram a miss but if you enjoy the ashram environment then it can be an incredible experience.
There is a 3-night minimum stay, with rates based according to accommodations. See their website to find out more.
If you are looking for something a little bit more luxurious, Ananda is one of the best luxury yoga and meditation retreats in India.
This luxury spa resort was not only voted as one of the best spas in the world by the Telegraph, but was also pegged as the world's number 1 spa destination by Travel + Leisure. I haven't been here personally, I can't afford it, but have heard alot of great things about its incredible wellness programs, impeccable grounds, and yoga and meditation retreats.
The whole place is set in a 100 acre Maharaja's Palace Estate with service and accommodation to match. Hatha, Gatyatmak and Kriya Yoga is offered, as is Yoga Nidra. There are also many meditation techniques offered here, like Antar Mouna, Chidakasha Dharana and Trataka.
Combine these with things like a Tibetan Ku Nye Massage, Earth Stone Massage, Indian Head Massage and Hydrotherapy Aromatic Bath and you will be in total bliss.  See their website to find out more.
If you're on a budget then you can still experience the beauty and serenity of a detox, meditation and yoga retreat in a small Himalayan village not far from Dharamshala.
This retreat run by Tarun an experienced holistic health coach, naturopath, yoga and meditation teacher, will cleanse your body and mind from the stresses and unhealthy habits of our modern-day lifestyle.
You can enjoy two yoga sessions a day, pranayama, kriyas, meditation and relaxation sessions, yoga nidra, mantra chanting, kirtan and 2 natural detoxification massages. Special attention is put into all the meals to help you detox with organic homemade dishes, plenty of fruits, detox juices and herbal tea.
The accommodation is basic but comfortable enough and you'll get a good insight into village and family life See more details and read the reviews here.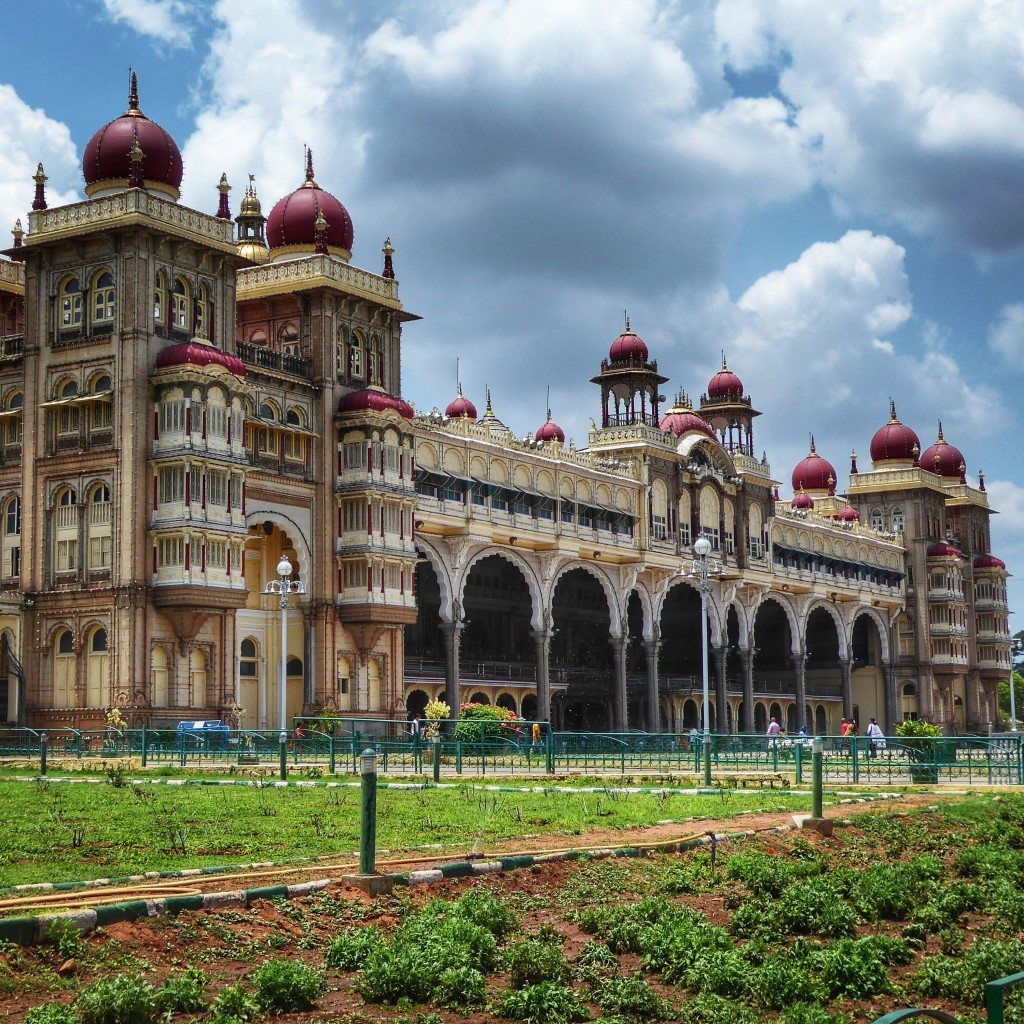 Mysore Krishnamachar Yoga Shala, Mysore, Karnataka
Sri BNS Iyengar's main teaching centre, Mysore Krishnamachar Yoga Shala is based on his own teachings by Sri T. Krishnamacharya and Sri K. Pattabhi Jois. The centre is located in the centre of Mysore and offers comfortable private rooms within an apartment, with shared kitchen, bathroom and terrace.
It is also possible to stay somewhere nearby, but you must take the yoga course for at least one month. Classes run every morning except for Sunday and cost just Rs. 6,000 for the month, plus accommodations. This is one of the best yoga and meditation retreats in India if you want to learn Ashtanga Yoga See their website to find out more.
The Art of Living International Centre is one of the most famous and popular mediation retreats in India. Started in 1986 by Sri Sri Ravi Shankar the ashram now spreads out over 65 acres in the Panchagiri Hills just outside the busy, modern city of Bangalore.
This center is a haven and a home away from home for those suffering from stress. The main meditation hall, the Vishalakshi Mantap, is stunning and represents a fully blossomed 1000 petal lotus and the extensive grounds are lovely and serene too.
The meditations and practices here are dedicated to stress management and the pursuit of world peace but this is more of an ashram than a yoga vacation. Days here begin with yoga and meditation, followed by breakfast and karma yoga or seva (voluntary service). There's a range of jobs that need doing around the ashram including cooking, cleaning, office and administrative work.
Like I said, it's not a holiday but most people find it a very rewarding experience as the art of living organisation believe that adding an element of service adds more depth to our lives. The sattvic meals are a highlight as they are often made from the vegetables and grains produced on site and the day finishes with satsang, group meditation, celebration, singing, dancing and devotion. Find out more on at their website. 
Read More:
5 Best Yoga Retreats in Goa, India
5 Best Yoga Teacher Training Courses in Goa, India
5 Best yoga retreats in Rishikesh
5 Best yoga teacher training courses in Rishikesh
5 Best yoga retreats in India for beginners
Have you attended any great yoga and meditation retreats in India?
I'd love to hear your experiences, please leave a comment below 🙂