Rishikesh, India is one of the best places in the whole world for an authentic and affordable yoga teacher training (YTT) program.
India is the birthplace of yoga and Rishikesh, situated on the holy Ganges river at the foothills of the magical Himalayan mountains, is known as the 'Yoga Capital of the World.'
So it's not surprising that there are hundreds of yoga schools offering yoga teacher training in Rishikesh!
My Guide to Yoga Teacher Training in Rishikesh, India
There are SO MANY yoga teacher training programs in Rishikesh, but sadly not all of them are good. So it can be confusing and overwhelming trying to choose the best one for you.
But don't worry, I've lived in India for 10 years and did my yoga teacher training here. So in this post I'll guide you through everything you need to know about yoga teacher training in Rishikesh.
As well as giving you my recommendations for the best Rishikesh yoga teacher training courses, I'll also guide you through how to choose the best yoga school and program and be honest about the pros and cons and challenges of doing yoga training in Rishikesh.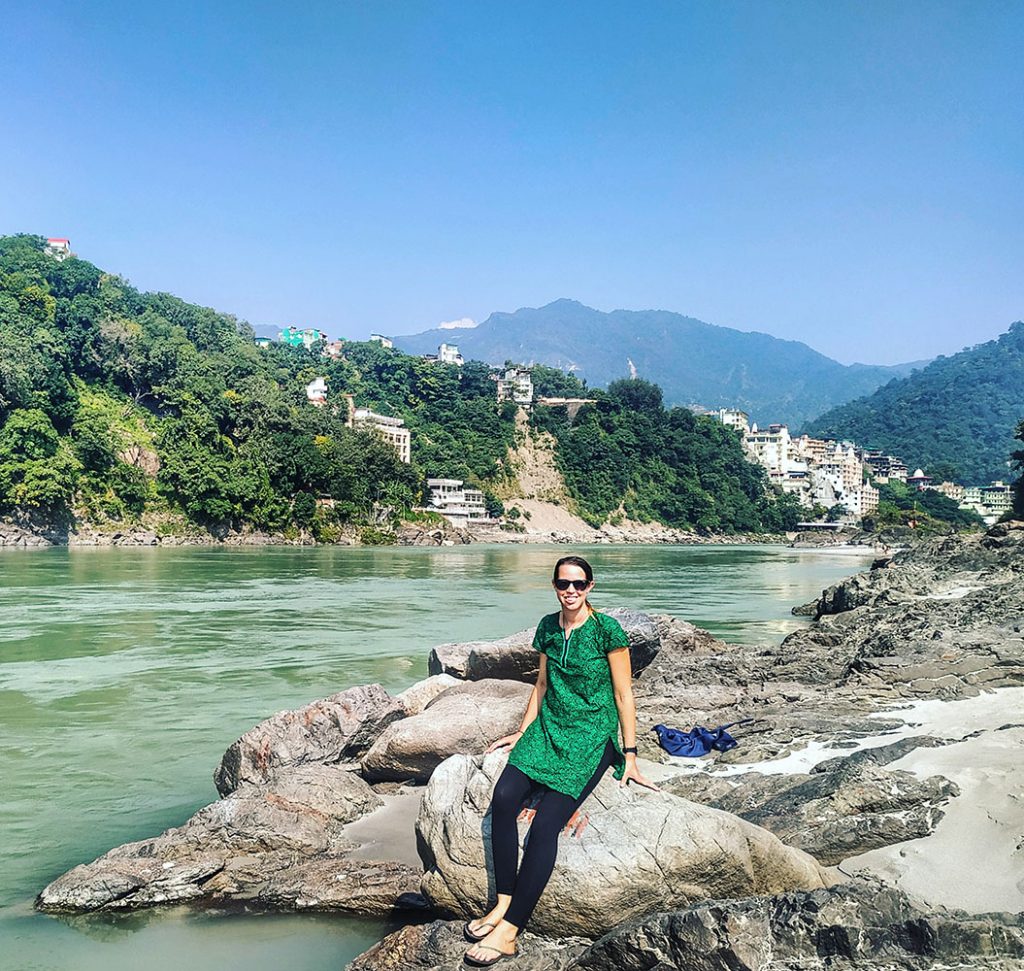 Reasons to do Yoga Training in Rishikesh
Rishikesh is one of the most serene and spiritual towns in India and it's connection with yoga, meditation and spiritualty goes back to ancient times. There's a very special energy here, the mountain scenery is simply soul stirring and has lead to plethora of temples and yoga ashrams in the town.
After The Beatles visited the Maharishi Mahesh Yogi Ashram here in the late 1960s Rishikesh has become world famous for being the 'Yoga Capital of the World' and it's become a magnet for yogis and spiritual seekers so it's easy to meet like minded people.
As well as the traditional ashrams there are also numerous yoga schools and studios offering yoga classes, retreats, workshops, healing therapies and teacher training programs.
There's an eclectic mix of Indian and Western culture in Rishikesh, with delicious local Indian restaurants next to healthy Western restaurants serving nourishing vegan and vegetarian food, many with fabulous views over the river and mountains. As it's a holy place no meat, eggs or alcohol are served in the restaurants in Rishikesh.
There's also no shortage of places to shop in Rishikesh either, with affordable spiritual books, trinkets, jewellery, handbags, musical instruments, and hand-sewn dresses and skirts to choose from.
You can also go white water rafting down the Ganges, trekking into the Himalayas, visit the abandoned Beatles ashram and take part in the nightly Ganga Aarti along the River Ganga in Ram Jhula.
Check out my Rishikesh travel guide for more travel tips.
Pin Me 😉
Cost of Yoga Teacher Training Courses in Rishikesh
Yoga teacher training in India is amazing value for money and one of the most authentic experiences you can get and being able to immerse yourself in the timeless culture, heritage and spirituality of India is priceless!
Yoga teacher training course fees in Rishikesh are amongst the cheapest in the world – you can find YTTC's with twice daily yoga classes, yoga philosophy lectures and basic shared accommodation and vegetarian meals included for as little as 65,000 INR that's about $780/ £630 / €730 (depending on the exchange rate)
Of course, you get what you pay for and often the cheapest is not always the best, especially if you want more comfortable accommodation, tasty meals, smaller class sizes and extras like excursions and airport pick up.
My Pick of the 6 Best 200 Hour Yoga Teacher Training Programs in Rishikesh
I know how overwhelming it can be to trawl through the hundreds of Rishikesh yoga courses. So to help you decide here's my pick of the 6 best yoga teacher training courses in Rishikesh – all of them are approved by Yoga Alliance.
I've put this list together from my own experiences as well as recommendations from friends and other travelers and from reviews from previous students on www.bookyogateachertraining.com.
Hopefully it will make it easier for you to choose. I've focused on 200 hour courses as this is the basic qualification to start teaching yoga, but many yoga schools also run 50 hour, 100 hour, 300 hour and 500 hour programs too. Keep on reading to learn more about the courses.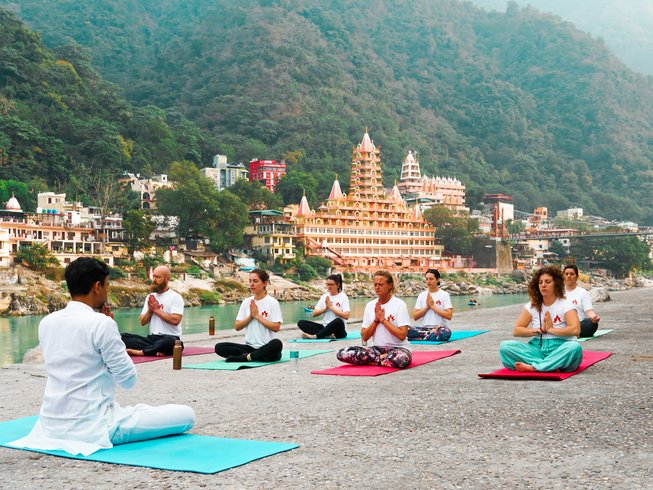 Rishikesh Yogkulam – 25 Day 200-Hour Multi-Style Yoga Teacher Training Course with Emotional Release Treatment
Rishikesh Yogkulam runs a top rated 200 hour multi style yoga teacher training program which takes place over 25 days and is located in a peaceful area near Ram Jhula.
One of the reasons this yoga school stands out from the others in Rishikesh is their dedicated teachers and commitment to smaller class sizes and creating a family like environment.
Yog kulam actually means 'yoga family' so you'll feel at home here and like part of a family, not just students. They also limit their batch size to 15 students maximum in order to provide every student with personalised attention for the best learning experience.
After a traditional vedic fire opening ceremony the Yoga Alliance approved program focuses on traditional hatha yoga and you'll also learn ashtanga, vinyasa, yin, and restorative yoga styles alongside meditation, pranayama, yogic cleansing and mantra chanting.
You'll also dive deep into yoga philosophy and lifestyle, learn all about the chakras, yoga anatomy and physiology. Also included are sound healing, kirtan and an emotional release treatment – a powerful therapy combining the use of deep acupressure points with energized breathing to release stuck emotions and trauma for holistic healing.
Accommodation is provided in a new building with a garden and roof terrace in a peaceful and quiet environment near the green mountains and traditional ashrams in the Ram Jhula area. The vibe here is more tranquil and more suitable for yoga training than the busy centre of Rishikesh or Tapovan. Choose from a shared room or a private depending on your budget.
Freshly made, healthy vegetarian meals and a yoga kit are also included in the YTT package as well as white water rafting and excursions to local temples and waterfalls on days off. Airport pick up is also provided to get your time in Rishikesh off to a smooth and stress free start. Prices start from only $648!
See more details, reviews, photos, dates, prices and book here!
Rishikesh Yogkulam also offer a self paced online 200 hour YTT, a 29 day holistic 300 hour YTT for those who have already completed their initial 200 hours, and a comprehensive 60 day 500 YTT for those who want to do both certifications together.
Triunga Yoga School – 25 Day 200-Hour Hatha Yoga Teacher Training with Body and Emotional Detoxification Program
Triunga Yoga offers a 25 day 200 hour Hatha Yoga Teacher Training in a quiet and green location just outside the hustle and bustle of Rishikesh. Rishikesh has gotten quite busy in recent years, especially at the weekends, so if you want a really peaceful and tranquil setting to do your yoga training you'll need to head a bit out of the tourist area.
Another reason why this is one the best yoga teacher training courses in Rishikesh is because it focuses on using yoga's role in body and emotional detoxification to help you discover the relationship between mind and body through yoga, meditation and breathing techniques.
So as well as becoming a qualified 200 hour Yoga Alliance certified yoga teacher, you will learn how you can heal yourself physically, emotionally and mentally using the five elements, yoga asanas, meditation, breathing techniques and emotional detoxification kriyas.
The course starts with an opening fire ceremony in line with the traditional yogic culture and the teachers are very experienced and infuse profound traditional teachings and spirituality into the course.
As well as asana yoga classes, philosophy and anatomy studies and teaching practice you'll also experience the emotional detoxification program, sufi meditation, mantra chanting, pranayama, meditation, mudras, yoga nidra, yogic cleansing and naturopathy which will give you skills way beyond just the yoga poses.
The location of Triunga Yoga School is one of my favourites in Rishikesh as the town itself can get a bit noisy but this school is located just outside town at Dhyan Mandir Ashram in a peaceful area. I especially liked the white domed circular open air yoga shala (studio), the spacious rooms and gardens.
3 daily home cooked tasty Indian vegetarian meals are also included and vegan options are also possible. On days off the school can arrange trips to the mountains and local temples. Courses fees start at $1,295
See more details, reviews, photos, dates, prices and book here!
Triguna also have a 300 hour YTTC and an excellent 12 day meditation teacher training course
World Peace Yoga School – 29 Day 200-Hour Hatha, Ashtanga Vinyasa Yoga TTC with Yin, Ayurveda, Sound Healing and Acro Yoga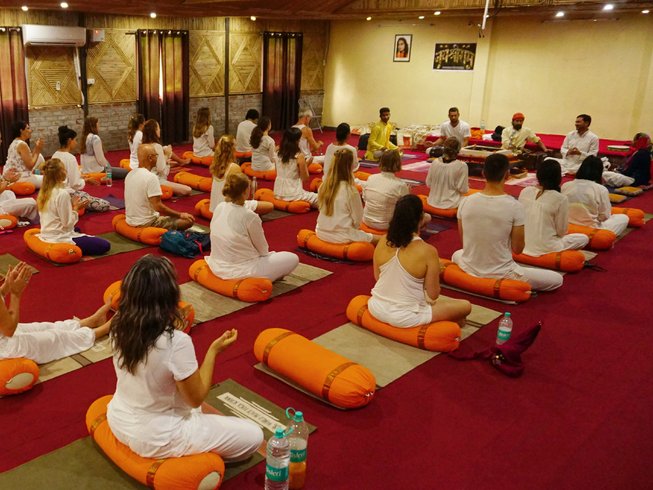 World Peace Yoga School Rishikesh offers a 200-hour Hatha and Ashtanga YTT which takes place over the course of 29 days at Tapovan resort in the centre of the yoga area of Rishikesh.
The program draws on over 10 years of experience facilitating yoga teacher training and focuses on the art of traditional hatha yoga, ashtanga, yoga philosophy, anatomy, and Ayurveda and is held at one of the most authentic and most popular yoga schools in Rishikesh.
The course is lead by Guruji Vishnu Panigrahi and takes place over 29 days which means it will be more in-depth and less overwhelming than other courses that try to pack it all in to a shorter duration. This is why it's one of the most popular yoga teacher trainings in Rishikesh.
This life changing program begins with a beautiful and magical fire ceremony for initiation and blessings. The course will transform your body, mind and soul with in-depth training and practices in meditation, pranayama and yoga asanas in a welcoming and loving environment with world class teachers.
World Peace Yoga School is located in one of the best areas of Rishikesh, in Laxman Jhula, where you'll find shops, restaurants, cafes, and bike rentals within easy reach.
Accommodation is clean, bright and colourful with a garden, library, cafe and three yoga studios nestled next to the River Ganga and surrounded by serene mountains and lush landscapes and views. 3 vegetarian meals a day are also included.
They also do yoga sessions on the beach of the holy river Ganges, have a Satsang twice a month and show movies in the cafe most evenings. Plus, every Sunday, you're able to explore Rishikesh and the tourist destinations within the area. The cost starts at $899
See more details, dates, prices, reviews, and book here!
World Peace Yoga School Rishikesh also offer self paced multi-style online 200 hour yoga teacher training, the advanced 29 days 300 hours training and an epic 59 day 500 hour program
Rishikesh Yoga Teacher Training Center – 28 Day 200-Hour Ashtanga, Hatha, Vinyasa Flow TTC with Ayurveda, Trauma & Emotional Healing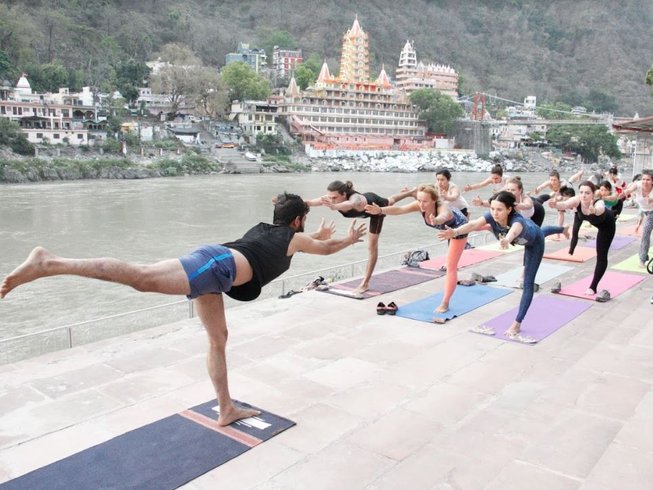 Rishikesh Yoga Teacher Training Center offer an inclusive 200 hour fusion YTTC at a really affordable price, starting at only $750. The course focuses on hatha, ashtanga, vinyasa and power yoga and takes place over 28 days. They also delve into Naturopathy and Ayurveda and include a trauma and emotional healing session.
One of the best things about this yoga center is that the YTTC has been specially designed so that it's suitable for all levels – from beginner to advanced yogis so even if you are a beginner just wanting to learn more about yoga you will be welcomed with open arms here.
Another highlight is the teachers and staff – there's a real family vibe here as they make you feel so welcome, loved and at home. The teachers at the Rishikesh Yoga Teacher Training Center are enthusiastic and well trained in teaching the spiritual techniques about yogic life, asana-pranayama, anatomy, mediation, and mantra-chanting.
Their main focus is their small and intimate yoga classes, so you really get to know your teacher and your fellow classmates during this program. They also try to individualize and personalize everything for you, so its suitable for all levels and you're receiving the exact sort of help you need in order to expand on your knowledge of yogic practice.
The school is situated at Tapovan Nishant Garden Resort in the heart of the Rishikesh in Laxman Jhula, next to the famous hanging bridge and holy Ganga river so it's within easy reach of all Rishikesh has to offer. Accommodation is included in single or double rooms with private bathrooms and balconies with nice views.
There are 2 yoga studios, roof top, a dining area and garden. Some excursions and activities like cooking classes, Ayurveda massage, reflexology session, white water rafting, trekking and sight seeing tours are also included making this one of the most fun, sociable and best value for money Rishikesh yoga teacher training programs with prices from $750.
See more details, dates, prices, reviews, and book here!
Rishikesh Yoga Teacher Training Centre also offer courses in Bali and an epic 59 day 500 hour fusion yoga and holistic teacher training in Rishikesh.
Yoga Vidya Mandiram – 22 Day 200-Hour Hatha, Ashtanga, Ayurveda, Philosophy, Meditation, Yoga Nidra YTTC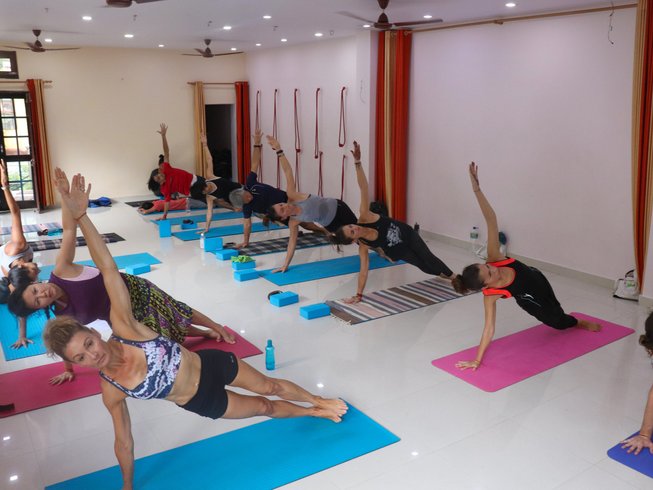 Yoga Vidya Mandiram is one of the most popular yoga teacher training schools in Rishikesh and Thailand. They offer a 200 hour Hatha, Ashtanga and Vinyasa YTT which takes 22 days and is most suitable for beginners/ intermediate yogis with basic knowledge of yoga.
The course focuses on the eight limbs of yoga and Ashtanga Vinyasa yoga styles, as well as traditional Hatha yoga and Patanjali's philosophy.
This comprehensive program includes asana practice and yoga classes, pranayama, meditation, history and philosophy of yoga, yogic anatomy and physiology of human body, mantra recitation, daily joints and glands practices, six cleansing exercises (shat karma) yoga energy locks (bandha), yoga gestures (Mudra), yogic sleep (yoga Nidra), basic principles of Ayurveda, asana alignment practicum classes, yoga teaching practice, and teaching methodology.
The staff here are experienced and amazing and do everything they can to make you feel comfortable and at home, whatever time of the day or night!
The training also includes 3 vegetarian meals a day and accommodation. The food here is a highlight – really tasty, nourishing, healthy and lots of it! They also cater for vegan diets.
The air conditioned accommodation is clean, comfortable and well maintained. It's located in a quieter area, close to the banks of the Ganges but still just a short walk into town. There's also a nice garden where outdoor yoga classes are sometimes held. Prices start at $820.
See more details, dates, prices, reviews, and book here!
Yoga Vidya Mandiram also run trainings in Thailand and some great short yoga courses in Rishikesh including a 7 day 50 hour Ashtanga Vinyasa yoga training course for those wanting to cover the basics in one week and a 7 day breath and pranayama retreat.
There's also a full range of 100 hour, 300 hour and 500 hour yoga teacher training programs.
Himalayan Yoga Association – 24 Day 200 Hours Vinyasa, Hatha,  Ashtanga Yoga Teacher Training Program
The Himalayan Yoga Association offer a 200 hour multi style Yoga TTC in just 24 days. This popular and long standing Rishikesh yoga school is lead by Himanshu Ji Yogi and also offers yoga trainings in Bali.
This YTT focuses on vinyasa, ashtanga, and hatha yoga, studying movements and key systems of the body, and really getting into depth with correct postures and alignment which will help you to become an accomplished yogi and yoga teacher.
The program is suitable for people from all walks of life and all levels and includes twice daily yoga classes with detailed teaching on asanas (postures), meditation sessions, pranayama, yoga philosophy, mantra chanting, yoga anatomy and physiology, alignment-adjustment, teaching methodology as well as fundamentals of Ayurveda and its importance.
You'll stay in new accommodation near Laxman Jhula that offers a spacious yoga studio, comfortable rooms and even a small swimming pool in the garden (rare for Rishikesh)
There are also weekend excursions included like waterfall trekking, visiting the mountains and a local orphanage and kirtan evenings on Saturdays.
As well as accommodation, 3 vegetarian meals daily, one Ayurvedic massage, airport transfers and weekend activities and excursions are included which makes this course amazing value for money. The fees start at $975 depending on what room you choose.
See more details, dates, prices, reviews, and book here!
Himalayan Yoga Association have one of the most comprehensive range of teacher training programs in Rishikesh with courses for all lengths including 12 days/100 hours,  28 days/ 300 hours and 58 days/500 hours.
They are also known for some of the most comprehensive self paced online yoga teacher training courses with options including 100 hours, 200 hours and 300 hours.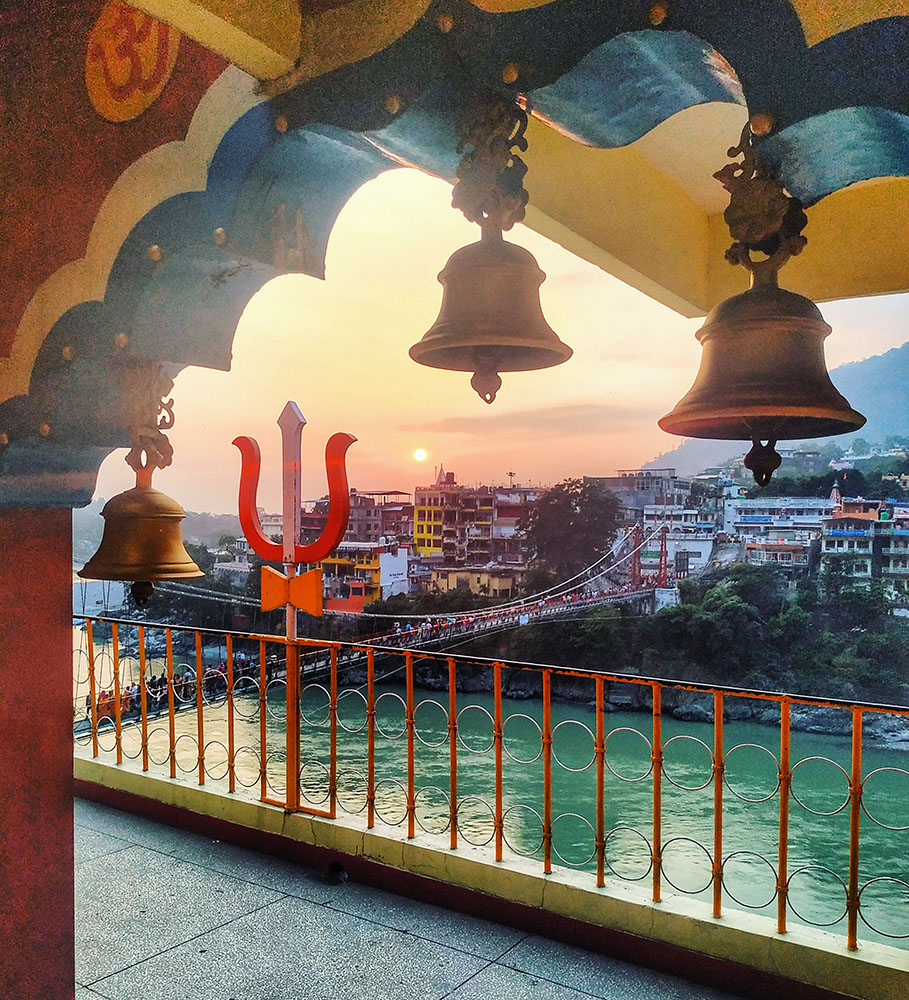 How to Choose a Good Yoga School in Rishikesh
It's easy to see why so many people flock to Rishikesh for affordable and authentic Indian yoga teacher training but with so many options and the plethora ashrams, yoga retreats and yoga schools it can be confusing to know which yoga teacher training in Rishikesh to choose.
Whether you just want to further your yoga practice or if you want to change your career and become a yoga teacher, yoga teacher training is a challenging and life changing experience.
It's also a big investment and time commitment so make sure you do your research and choose a YTTC that is right for you and the style of yoga that you wish to teach and always make sure your YTT is with a registered yoga school that is Yoga Alliance approved.
There are many SO places that offer yoga teacher training in Rishikesh and it's become big business nowadays but sadly not all yoga schools are equal and not all gurus are the real deal.
Some places are like yoga teacher training factories with huge class sizes although some schools, like Jiva Yoga Academy, offer smaller groups with more personalised attention.
Also be aware that just because a school is number 1 on Google it doesn't necessarily mean they offer the best yoga training – they are just good at SEO or pay for advertising…
Accommodation can be basic in India. so its a good idea to check out photos and reviews of where you'll be staying first, and the location.
In recent years, Rishikesh has also become very popular and pretty crowded with domestic tourists at weekends. There's also a lot of construction happening, so I'd recommend staying in a yoga school a bit out of the centre if you want a more peaceful experience.
If you're a solo female traveller in India you want to take special care when traveling in India and to really check out the yoga schools and teachers, get testimonials and reviews from previous students to make sure that you have a safe and rewarding experience in India.
Make sure you thoroughly check reviews on unbiased sites like www.bookyogateachertraining.com as the reviews on a yoga school's website or social media pages may not always tell the full story.
Solo female travellers who are nervous about visiting India might also want to consider Bali which is safer, cleaner, easier and more luxurious than India. Known as 'the island of the gods' Bali is still immersed in spirituality with the Hindu culture and religion and there's a plethora of amazing yoga teacher training programs in Bali. 
Which Rishikesh Yoga Training Course to Choose
There's a variety of options for Rishikesh yoga training programs, all of them should include twice daily yoga and meditation classes and teachings on yoga philosophy and history, anatomy and physiology and teaching methods.
The 200 hour yoga teacher training in Rishikesh is by far the most popular program and will give you the certification you need to start teaching yoga. Most 200 hour YTTs take place over 15 – 30 days and I'd recommend taking the most time you can for the best experience because its an intense process.
If you don't have that much time and are looking for short yoga courses you can also do a 100 hour yoga teacher training in Rishikesh and come back later to do another 100 hours to complete your training. There's also a few 50 hour options or many relaxing Rishikesh yoga retreats if you are looking for just a few days yoga retreat.
For those who want to go deeper there's also the option of a 300 hour or 500 hour yoga teacher training in Rishikesh. The 300 hour is a more advanced course taken after the completion of the initial 200 hour course. If you choose a 500 hour YTTC this is a combination of the 200 hour and 300 hour yoga program in succession and takes about 60 days.
If you can't make it to India there are also many Rishikesh yoga schools offering online yoga teacher training courses nowadays.
Best Time to do Yoga in Rishikesh
Many people think that it's always hot in India, but its a huge and diverse country with a varied climate. As Rishikesh is located in the foothills of the Himalayas it can be quite chilly here in the winter between Dec and Feb and be aware that most budget accommodations won't have heating, hot water or power back up.
In Summer it can be boiling hot so you'll need air conditioning and monsoon season runs from July – September. The best time to come for yoga teacher training in Rishikesh is in October – November or March – April. Don't forget that you'll need an Indian visa too.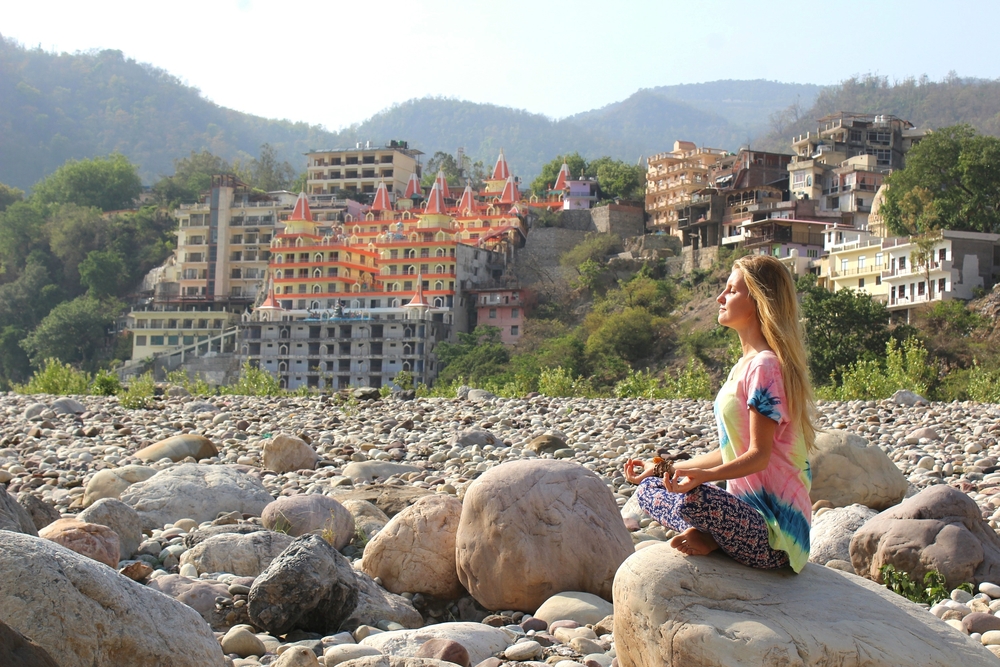 Pros and Cons of Doing Yoga Teacher Training in Rishikesh
Pros:
Rishikesh yoga teacher training packages are among the cheapest in the world
Learn authentic and traditional yoga in India – it's birthplace
Be immersed in a spiritual atmosphere of this holy town surrounded by temples and ashrams
Connect with the vibrant community of yogis and spiritual seekers
Experience the life changing adventure that comes with visiting India
Cons:
Beware of fake gurus and yoga teacher training factories with huge classes sizes and low quality teaching and facilities.
India can be challenging to travel in. Women's safety, scams, garbage, pollution and poor food hygiene are challenges to consider.
Accommodation can be basic and beds are usually hard in India. Winters can be cold in Rishikesh and most accommodation does not have heating or hot water.
Noise from traffic, crowds of tourists and construction can disturb the tranquil atmosphere.
You need to obtain an Indian visa beforehand.
While India, and in particular Rishikesh, is one of the best places in the world to experience an authentic yoga training and immerse yourself in the spirituality of this fascinating country, visiting India isn't without it's challenges.
But as long as you carefully research the school before you book, prepare yourself for the challenges and culture shock of visiting India and come with an open mind and heart, yoga teacher training in Rishikesh can be a truly life changing experience.
I hope my guide to yoga training in Rishikesh was useful and that this blog has helped to find your ideal YTTC.
If you're still undecided check out my other blogs about India and this article about yoga teacher training abroad for more tips and recommendations.
Read More Rishikesh Blogs:
Do you have any more questions about doing yoga teacher training in Rishikesh?
Leave your comments below the post and I'll try and help you out.