Whether you're embarking on a new career path as a yoga instructor, or you just want to deepen your personal yoga practice, learn about yogic philosophy or simply find out more about yourself, joining a yoga teacher training in Thailand (YTT) is well worth considering.
Yes, India and Bali have traditionally been the hotspot for doing yoga teacher training abroad, but the vibrant Buddhist spirituality, tropical jungles, spectacular beaches, friendly locals and affordability of Thailand make an excellent setting for this spiritual and transformative endeavor.
Now yogi's are flocking here to find their zen and there are numerous options for yoga training in Thailand in all styles and locations. So if you are feeling overwhelmed trying to choose the right Thailand YTT this post is for you.
I've completed yoga teacher training myself so I know how confusing it can be shifting through all the options available for this challenging but also amazing and potentially life changing experience.
I've also lived in Koh Phangan and Chiang Mai and have been lucky enough to practice yoga in Thailand at some of the best studios, yoga retreats and schools.
So if you are looking for a guide to everything you need to know about yoga teacher training in Thailand and recommendations of the best courses to make your search easier, this post is for you.

Reasons To Consider Yoga Teacher Training in Thailand
Thailand is a popular tourist destination and also a great place to do yoga teacher training. It's also a deeply spiritual Buddhist country and known as 'the land of smiles,' as the local people are generous, kind, welcoming and make newcomers feel right at home.
This joyful and serene energy combined with the glittering Buddhist temples, beautiful beaches, jungles and mountains of Thailand make it an excellent place to explore both as a yogi and a tourist.
Yoga teacher training courses in Thailand are often much more affordable than those in Europe or America and normally include meals and accommodation too. Starting at only  making it great value for money.
It's also a much easier, safer and hassle free country to travel than India, so I'd recommend combining your YTT with exploring this beautiful country.
See my recommended 2 week Thailand itinerary for more inspiration and tips for traveling Thailand.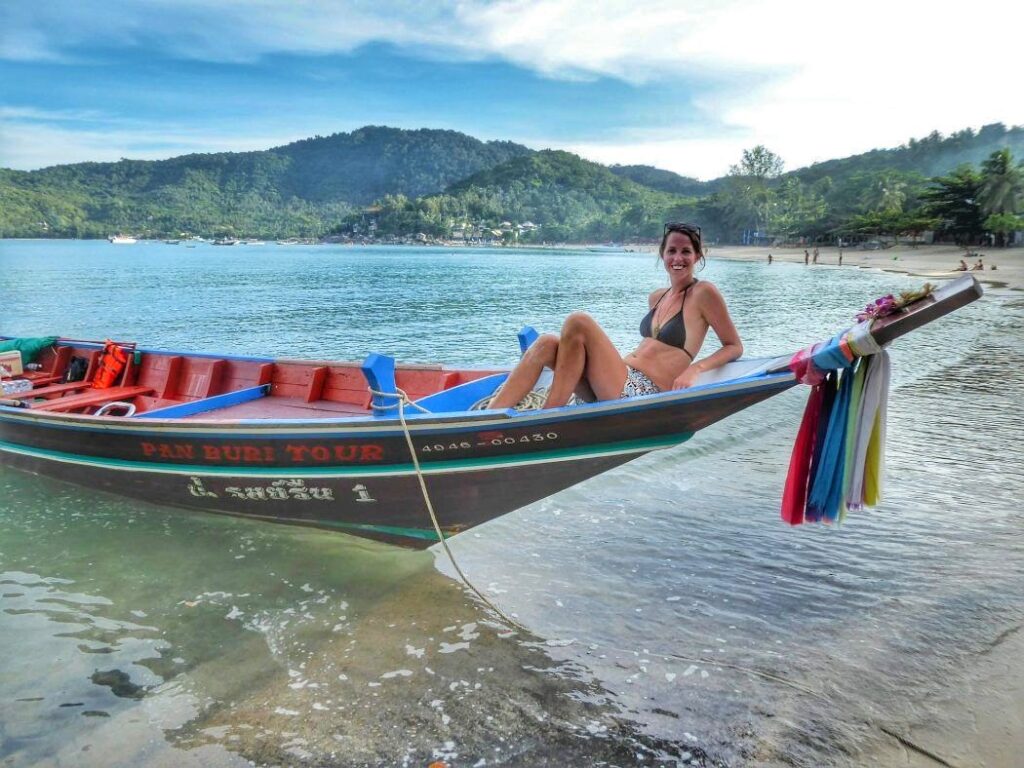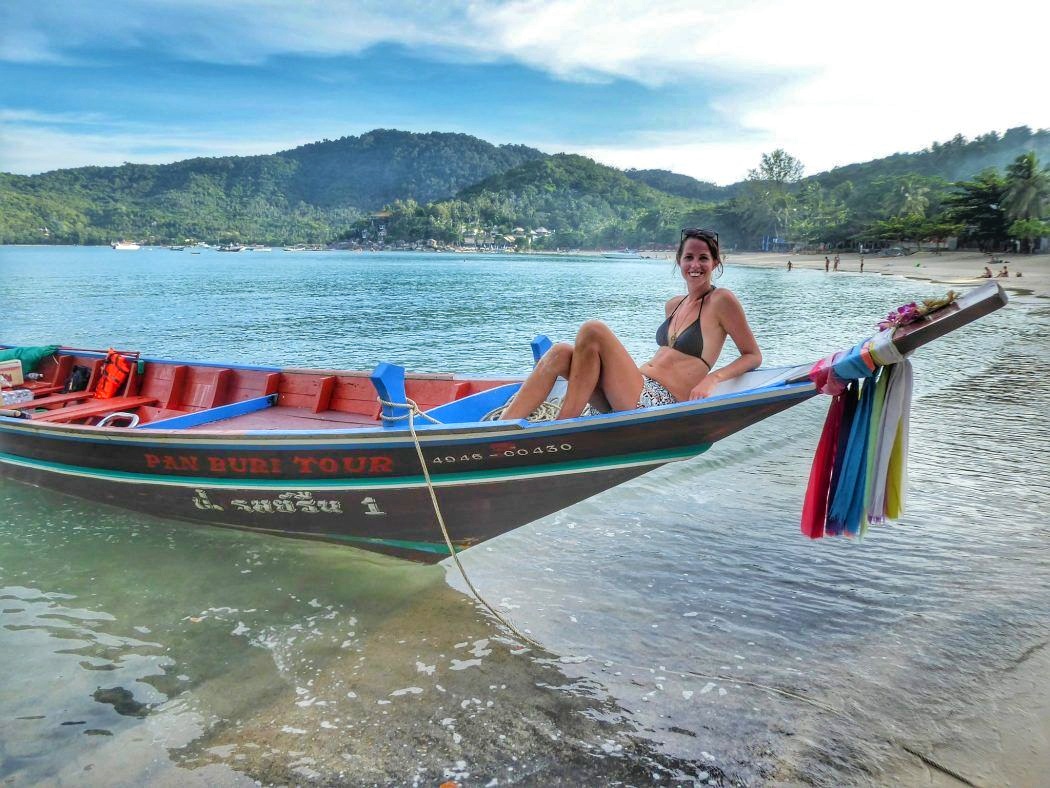 The Best Destinations in Thailand for Yoga Teacher Training
There are YTTs all over the country so whether you want to practice yoga on the beach on a tropical island or surrounded by ancient temples and jungle in the mountains, there's plenty of options available.
The best and most popular locations for yoga teacher training courses in Thailand are the beautiful islands – Koh Phangan is quickly turning into one of the world's best yoga meccas while Koh Samui and Phuket are also home to several yoga centres.
In Northern Thailand, the historical old city of Chiang Mai is the spiritual and cultural heart of Thailand and you'll find excellent yoga schools in the jungle and mountains surrounding the city.
Pin Me 😉
Tips for Choosing The Best Yoga Teacher Training Program
If you're tempted to take the plunge into a life changing yoga teacher training in paradise, you'll want to thoroughly research programs before deciding which one is right for you.
Yoga teacher training is challenging physically, mentally, emotionally and spiritually. If you're not sure you're ready yet or want a more relaxing escape then there are also many excellent yoga retreats in Thailand.
Check the certification you'll receive upon completion, the qualification of the instructors, level and style of yoga taught, as well as the location, facilities, accommodation and meals provided.
The 200 hour yoga teacher training certification is the basic foundational qualification you need to start teaching yoga. Always make sure your YTT is Yoga Alliance approved and check out these things to look out for when choosing your YTT.
Yoga Teacher Training is a life changing experience but its also big business nowadays and some schools are more about profit than anything else.
There have even been reports of sexual abuse in some places like Agama so it's really important to do your research and check reviews – you want your YTT to be an investment and life changing experience for the right reasons!
I use www.bookyogateachertraining.com to find and compare different programs and check reviews. They provide thorough descriptions of yoga teacher training programs around the world all in one place and the best part is that you can read real reviews by previous students so you know what to expect.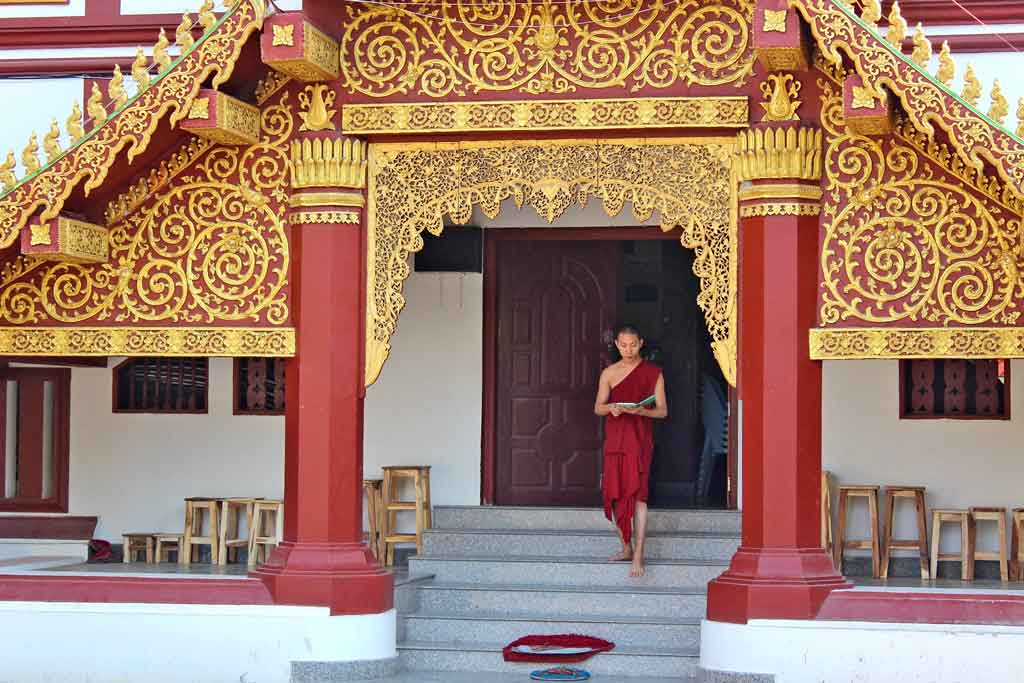 My Pick of The 6 Best Thailand Yoga Teacher Training Courses
These are the best yoga teacher training courses in Thailand, based on personal experience, friend's recommendations and reviews.
Carry on reading to learn more about what makes each one special.
Located on the tropical island of Koh Phangan, Wonderland Healing Center offers a 28 day multi style 200 hour yoga teacher training program surrounded by lush Thai forests, waterfalls and breathtaking beaches.
The program includes two yoga classes a day, meditation sessions, and training on philosophy, methodology, anatomy of yoga and pranayama, bandhas, and kriyas. Yoga styles include yin, kundalini, vinyasa, Nidra, Hatha, and acro yoga.
Daily vegan buffet meals, including a coconut or smoothie, clean tropical resort accommodations with sauna and pool, yoga books and a yoga mat are all included. In the evenings you can take part in Kirtan, bhajans, movies, lectures, or dance classes.
This yoga teacher training in Thailand is among the best value for money and is suitable for both beginner and intermediate levels. The experienced teachers who go the extra mile make this a one of a kind experience for your yoga teacher training run in collaboration with Nirodha Yoga tat has been running YTT's for over 16 years in India.
Click here for more details, photos, dates, prices, reviews and to book!
Read More: Best Yoga Teacher Trainings in Koh Phangan, Thailand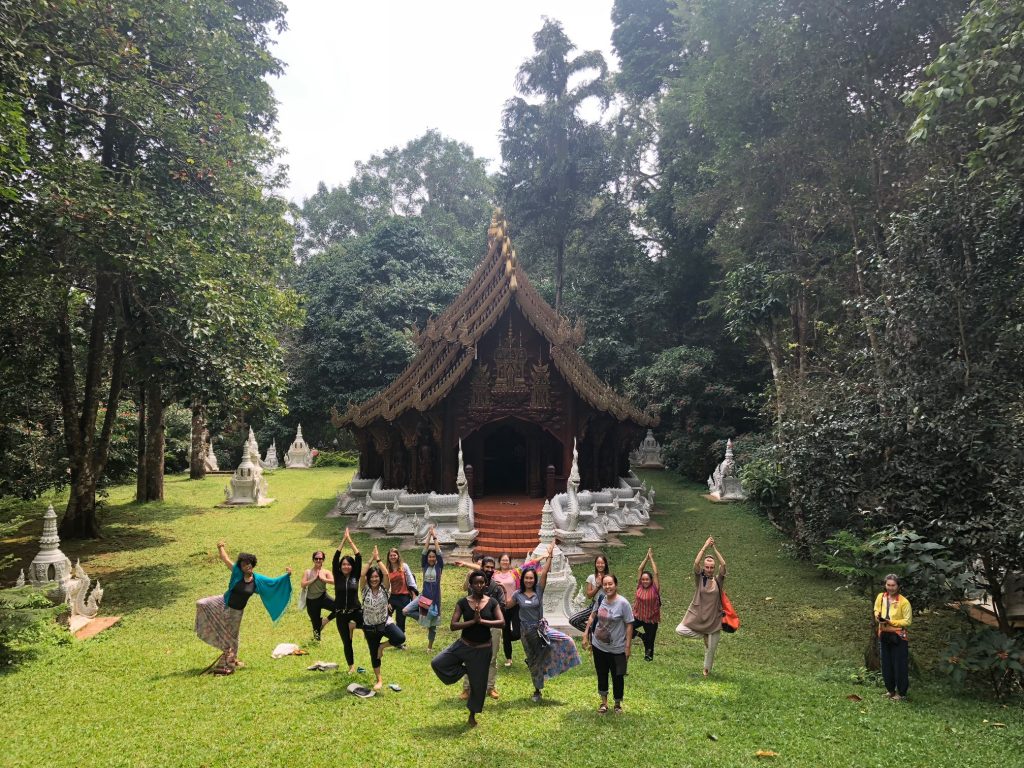 One of the best schools in Rishikesh, India, also now offers yoga training in Thailand! Located in Chiang Mai, this centre is surrounded by rolling hills and tropical greenery around every corner. If you're looking for an authentic, spiritual yoga teacher training in Thailand, this 24 day, 200-hour Hatha and Ashtanga Vinyasa yoga program may be a great fit.
This comprehensive program boasts a cross-cultural and modern spin on traditional yoga teacher training. Instructors design highly intensive sessions to transmit authentic knowledge of yoga and meditation from the ancient Indian Vedic scriptures to help you lead a healthy and happy lifestyle.
With many different yoga styles including Ashtanga, Vinyasa, Hatha, Nidra, Karma, Japa and lessons on kriyas, mantras, philosophy, anatomy and Ayurveda, homemade vegan meals and satsang sessions, you'll love the spiritual focus and rejuvenating quality of this intensive program.
The program also includes cultural activities like visiting ancient Buddhist temples, hiking Thailand's highest mountain range and enjoying a traditional Northern Thai dinner with Thai cultural performance. The training is held on a private farm and accommodation is in comfy dorm rooms in a traditional Thai-style wooden house or you can pay a bit extra and opt for a private room in a nearby guesthouse. 
See more details, dates, prices, reviews and book here!
If your dream is to complete a yoga teacher training in Thailand in an ocean view shala with access to an infinity pool and private beach on a stunning tropical island, take a look at the comprehensive 29-day, 200-hour Hatha and Vinyasa program at Vikasa Yoga.
The island of Koh Samui provides a true paradise setting while you dive into daily yoga, asana, meditation and pranayama practices. You'll also learn all about yoga philosophy, anatomy, chakras, kriyas and koshas in an easy to understand way, and receive a lecture on nutrition, diet, and fasting.
Vikasa means evolution in Sanskrit and the Vikasa method, taught by the founder and international expert yoga instructor, Kosta Miachin, focuses on individual evolution and spiritual development helping you to discover your true authentic self within a supportive and fun community.
Beautiful ocean view accommodation in a luxurious tropical resort and healthy, nourishing, vegetarian breakfasts and dinners served in the onsite Vikasa Life Cafe are included in the course price. A waterfall hike, bonfire night, graduation ceremony and airport pick up are also included.
In your free time there's plenty to explore on the island, from visiting the vibrant walking street night markets, he Big Buddha statue and traditional fishermen's villages, and not forgetting activities like snorkelling, kite surfing, paddle boarding and kayaking, or just relaxing on the beautiful beaches and enjoying a Thai massage.
Vikasa have been running YTTs since 2011 which are consistently voted as one of the best in Asia. They only run a couple of courses each year so book early to avoid disappointment.
See more details, photos, dates, prices, reviews and book here!
Read More: My Guide to Yoga Teacher Training in Bali
If you're up for an in-depth advanced yoga teacher training in Thailand, this 27 day, 200-hour hatha and vinyasa YTT in Chiang Mai caters to intermediate and advanced students. This program focuses on Hatha, Vinyasa and Tantra yoga styles taught by experienced yoga instructors from around the world.
Path of Yoga practically apply and blend traditional philosophy and sacred traditions of the East with modern sports science. You'll learn about the history and philosophy of yoga, anatomy and the science of breath work, mind, meditation and the subtle energy body.
There's also teaching practice every day and, by the end of the program, you'll have a certification from Yoga Alliance and all the skills to embark on your yoga teaching journey. You'll also experience special activities throughout your stay such as chanting, massage, and meditation.
Held at the stunning Mala Dara resort in Doi Saket, just 45 minutes from the Chiang Mai airport, the location of this program provides unparalleled convenience. You'll be immersed in nature and also able to explore the temples of Chiang Mai's Old City on your days off. You'll enjoy access to a swimming pool, spa treatments, personalised attention from instructors, and three daily vegetarian meals throughout your stay. They also offer an advanced 300 hour yoga teacher training program once a year.
See more details, dates, prices, reviews and book here!
Read More: My Guide to yoga teacher training in India
If you're looking for a fun, multi style teacher training in a small timescale then this 28-day, 200-hour multi style yoga teacher training in Thailand could be perfect.
One Yoga is located in an ocean view resort in Sri Thanu, Koh Phangan – the yoga hub of Thailand. You will learn to teach Hatha Yoga and Vinyasa Flow and will also be introduced to other yoga styles like Ashtanga, Yin, and Restorative yoga.
You'll get access to Yoga Alliance standard lectures and learn from teachers from a wide variety of backgrounds. They also have an excellent meditation program that will help to increase your mindfulness and enhance the benefits of the yoga training. Through their courses, you'll get a unique and detailed look at alignment and anatomy and experience a high-quality, comprehensive yoga training. You'll also get access to the One Yoga Online Studio.
The accommodation is situated in sea view bungalows surrounded by tropical nature with a beautiful ocean view yoga shala. Vegetarian breakfast and lunch is included and you'll also get the chance to explore healthy and delicious restaurants nearby in the surrounding area.
On days off you can try fun activities like the herbal sauna, stand up paddle boarding, kitesurfing, snorkeling, ecstatic dance and tours of temples.
 See more details, dates, prices, reviews and book here!
Read More: My favourite yoga retreats in Thailand
The Yoga Mat School has a yoga teacher training in Thailand that is among the most popular offers out there. Located in Koh Samui, this program is a 26-day, 200-hour intensive teacher training for all levels in Hatha, yin, and vinyasa yoga styles.
You will also get to explore yoga styles like Kundalini, Nidra and Metta and enjoy ecstatic dance sessions. You'll study yoga philosophy and history, anatomy and physiology, asana, pranayama, healthy living, developing a home practice, ethics, chakras, mantras, meditation, teaching methodology, and get plenty of practice teaching yoga.
The program features 5 star accommodations right on the beach, a pool, a restaurant with room service, and a magical garden to explore. The deluxe rooms even have a deep soak jacuzzi bath perfect to relax in after a hard day of yoga training.
You'll get access to multi-lingual teachers, free kayaking, bikes, and scooters, and courses that go beyond yoga to encompass healthy living, ethics, physiology, and more. Enjoy a luxury yoga experience in paradise while taking advantage of everything this dynamic teacher training program has to offer.
See more details, dates, prices, reviews and book here!
Final Thoughts on Yoga Training in Thailand
As you can see there's plenty of options when it comes to yoga teacher training programs in Thailand. Whatever style you want to learn to teach and whatever location you prefer, I hope this blog has helped to find your ideal Thailand yoga teacher training course.
If you're still undecided you can find even more courses on bookyogateachertraining.com. Whichever you choose I'm sure you'll have an amazing experience.
Also check out my other posts about Thailand and yoga like this article about yoga teacher training abroad for more tips and recommendations.
Other Popular Yoga Teacher Training Destinations:
Do you have any more questions about yoga teacher training in Thailand? Leave them in the comments below the post and I'll try my best to answer! 😊