There's no shortage of amazing yoga teacher trainings in Koh Phangan and it's one of the most popular places to do yoga training abroad.
Whether you want to change your career to become a yoga teacher or whether you just want to take some time out to focus on deepening your practice, learning more about yogic philosophy or simply finding out more about yourself, yoga teacher training courses in Thailand are extremely popular these days.
There's so many options now for doing your YTTC – some of the most popular places are Rishikesh and Goa in India and Bali but the tropical Thai island of Koh Phangan is quickly turning into another yoga mecca with many amazing yoga retreats and yoga teacher trainings in Koh Phangan to choose from.
How to choose a yoga teacher training in Koh Phangan
There are many places that offer 200 hour yoga teacher training in Koh Phangan. No two courses are the same but all will include not only yoga, meditation and pranayama classes, but also lectures on yoga philosophy, alignment and anatomy and teaching methodology and practice.
So before you shell out thousands of dollars and commit yourself for a month to do one of these courses, take the time to be sure to choose one that is right for you and the style that you wish to teach. Always make sure your YTT is Yoga Alliance approved. See here for more tips on how to choose your YTT.
YTT is big business nowadays, and some yoga teacher training places are more about profit than anything else and there have even been reports of sexual abuse in some places.
Just because a yoga school is high up on the google search it doesn't mean they offer the best and most authentic teachings – it just means they are good at seo and use the keyword 'best yoga teacher training course' a lot or pay money to google ads to be up there!
It's really important to do your research – you want your Koh Phangan yoga teacher training experience to be a good investment and life changing experience for the right reasons! A great site I use for finding yoga retreats and yoga teacher trainings and checking out reviews is on www.bookyogaretreats.com.
Pin Me 🙂
I spent a few months living on Koh Phangan and had a chance to take yoga classes at all the top yoga studios, combined that with asking my friends about their yoga teacher trainings in Koh Phangan and did some research to put together my pick of the 5 best yoga teacher trainings on Koh Phangan.
Most of these places are located in the yoga area of Sri Thanu, some of these places specialise in teacher trainings whilst some also offer yoga retreats and drop in classes. (See here for my favourite yoga retreats in Koh Phangan)
Also don't miss the chance to see the rest of this incredible country. Check out my perfect 2 week Thailand itinerary for tips on planning your trip around Thailand either before or after your yoga teacher training.
Also see: 6 best places for Yoga Teacher Training in Thailand
Best Yoga Teacher Trainings in Koh Phangan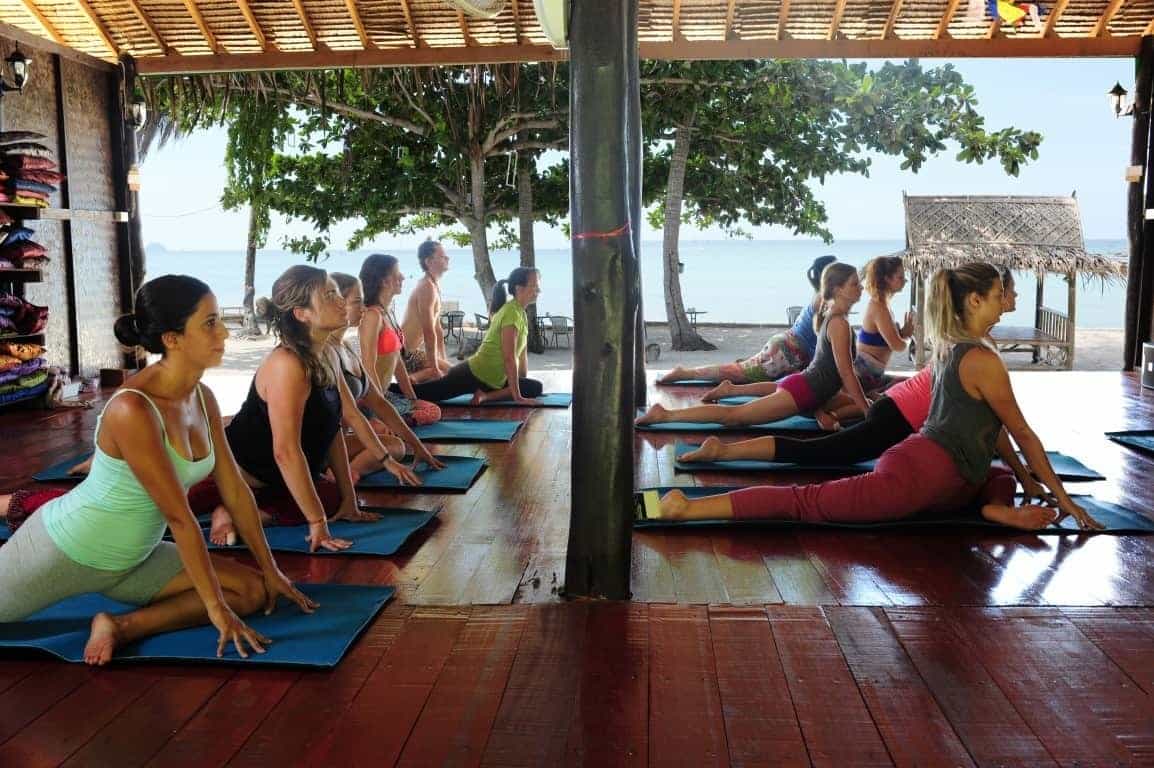 Samma Karuna is my favourite yoga center on the island as it offers so much variety of yoga styles and healing therapies and has a really loving, inclusive vibe. Plus, it's right on the beach! Samma Karuna offers a 200-hour yoga teacher training course on Koh Phangan that is based on awakening, mindfulness and a loving heart and it was recently named one of the best yoga teacher trainings in Thailand.
One of the things I liked the most about the yoga retreats at Samma Karuna was the huge variety of yoga styles, meditations and other workshops and activities that are on offer including osho meditations and tantra classes. A big bonus of this unique YTT is that you get a taste of these and you'll also gain free access to their popular and unique 4 week Awakening and Healing program upon completion.
The YTT course at Samma Karuna embraces the values of Yoga, Tantra, Taoism and Buddhism, as well as covering all the subjects that you need to go off and teach yoga yourself. You will learn to teach Hatha, Vinyasa and Yin yoga, as well as learn meditation, anatomy, physiology, the history of yoga, philosophy, nutrition and all about the 8 limbs of yoga of Patanjali. It is a unique program unlike any other on the island.
Samma Karuna offer free yoga classes daily to the public which give recently certified teachers an amazing chance to home their teaching skills if you want to stay on after the course. Haad Chao Phao is only a few minutes away from Sri Thanu – the yoga center of the island. Accommodation in the cute bungalows on this beach front resort and 1 vegetarian meal a day is included in the course fee. You can buy more meals at the tasty, healthy onsite cafe. If you volunteer for 3 to 4 hours a day you can even get a 20% discount.  Click here for more info, reviews and to book! 
All Yoga Training have been running excellent, comprehensive Ashtanga Vinyasa 200 hour teacher training courses since 2009 in Koh Phangan and also the stunning island of Nusa Lembongan in Bali. The Koh Phangan courses are located in a stunning, jungly, tropical Haad Tien Bay that is only accessible by boat. A complete escape from the stresses of daily life! The beautiful hillside shala looks over the jungle and ocean and there's also an amazing open air yoga platform with stunning views.
You'll learn to purify your body, mind and soul with daily kriya, pranayama and meditation practices and though the twice daily Ashtanga yoga classes you'll master both the full primary series and modified primary series. You'll get plenty of teaching practice throughout the course and also have the chance to try out rocket and yin yoga and fun workshops.
This is one of the best Ashtanga yoga teacher trainings in Koh Phangan that will probably change your life as well as giving you the skills to become a knowledgeable and confident yoga teacher in just 23 days. The course is run by a super knowledgeable, fun, friendly and approachable international team with experts coming in to teach yoga history, philosophy and anatomy.
Accommodation and food are not included but the team will help you find accommodation nearby – whether you prefer a rustic jungle hut or a higher end resort. Free dormitory accommodation near the shala is also included for the first 10 students to sign up. Healthy and affordable Thai and international restaurants are also close by so you'll barely need to leave the secluded bay.
I did this training in Nusa Lembongan island in Bali – here's my full review of All Yoga Teacher Training in Bali. Also, check out more details about the yoga course here.
All Yoga are offering Global Gallivanting readers a generous $150 off the course fee! Just mention 'Global Gallivanting' when enquiring! 

Another one of my favourite yoga centers in Koh Phangan, Orion Healing Center, offer a really unique yoga teacher training program that combines top quality Ashtanga Vinyasa yoga teacher training in a stunning location with reiki, herbology and detox to really help you to purify your mind and body, clear out negative emotions, toxins, and fully awaken your chakras.
Orion is a holistic healing sanctuary that was founded in 2005. Their Yoga Alliance Certified 26 day 200-RYT Ashtanga Vinyasa program will give you the confidence and qualification to start teaching yoga with authenticity and integrity. Besides the yoga theory and philosophy, the daily asana classes (Ashtanga Vinyasa and Yin), anatomy and alignment, they focus on ethics, mindful movement and practice teaching in small groups.
What I found to be truly unique about their yoga teacher training is the exploration of the interplay between yoga and its connection to spirit through reiki, the power of plant-based nutrition, herbalism and their properties for healing. The variety of tools that you gain there through detoxification, diet change, yoga, meditation and healing are tools that incorporated as part of a daily lifestyle choice, can help people to become healthy, vibrant and gain the clarity and courage to truly follow their dreams and resolve many personal issues.
Orion is located in the yoga centric village of Srithanu on its own private white sand beach, set in a natural tropical gardens full with butterflies and exotic flowers, 3 yoga shalas, a spa, herbal steam rooms, a wellness lounge with ocean views and an award-winning, beachfront cafe that serves high-quality healthy vegan and raw food dishes. They also offer a variety of comfy accommodation options from rustic bamboo huts to modern air conditioned rooms. Check out their website for more details.
You can also get a 5% discount off Orion's YTT with my 'Refer a Friend' code. Just use the code ANNA5
Although One Yoga is fairly new to the Koh Phangan yoga scene, the teachers here have over 60 years of experience between them and will teach you to teach both modern and traditional yoga. The course focuses on authentic Hatha yoga but also allows you to experience more modern dynamic styles as well as learning yoga philosophy, anatomy and physiology and a unique Zen meditation program.
This 29 day 200 hr yoga teacher training course on Koh Phangan takes place at amongst the tropical gardens at Pranayama Garden. The yoga hall is a fantastic open-air structure that is protected from the mosquitoes by screens, while still allowing the natural breeze to come through.
The schedule includes an early meditation practice, the practice of yoga, yoga philosophy, anatomy, tips on how to teach and an evening activity. It's an action packed but not too overwhelming schedule. The course fee includes accommodation and daily vegetarian breakfast and lunch, plus, it is just a few minutes' walk to the beach! Click here to see more info, reviews and to book!
Ulu Yoga has only been on the island for 2 years, but their Ariel yoga courses and multi style yoga teacher training course is making a name for itself. This is probably because, unlike any other yoga teacher trainings on Koh Phangan, they teach the art of teaching aerial and acro yoga! The course is held at Bounty Retreat in Haad Yao, a little north of Sri Thanu, which is a quiet resort that boasts its very own private beach. This is where you will learn the acro yoga portion of the course, with the rest taking place in their ocean view shala.
Like other 200-hour yoga teacher training courses, the 28 day course here includes anatomy, philosophy and meditation. You will learn the correct form, practice and benefits of approximately 50 yoga asanas that are used in Hatha and Vinyasa yoga, as well as spending time flying over the water on bamboo tripods practicing Aerial yoga! Click here to see more information, reviews and to make a booking!You can also just do a 7 day Ariel yoga teacher training course or retreat too.
Anahata is also quite new to yoga teacher trainings on Koh Phangan, though their program is excellent. The teachers here come from a variety of yoga backgrounds that include the traditions of Pattabhi Jois, BKS Iyengar and T. Krishnamacharya. Still, the course at Anahata is mainly Tantra based, though you will also learn hatha and vinyasa as well and leave with a 200-hour yoga teacher training certificate after 29 days.
Each day starts at 7:30am with an asana practice and ends with a walk on the beach. In between, you will learn theory and yoga philosophy, as well as about the 8 limbs of yoga and the 7 chakras. You will also do an afternoon yoga session, eat a healthy vegan brunch and attend lectures.
Accommodation in the eco huts on the beach front campus and a daily vegan brunch is also included in the course price. See here for more info, reviews and to book!
This 30 day 200 hr yoga teacher training in Koh Phangan is held in Sri Thanu atop a hilltop in the jungle with beautiful views of the nature that makes the island so magical. Plus, Sunny happens to be the only Thai yoga teacher on Koh Phangan that offers yoga teacher training courses, which she runs with her Canadian husband.
Courses are based on the Sivanada style of teaching and include anatomy, philosophy, ethics and meditation. One thing that makes Sunny Yoga stand out amongst the rest is that the course also includes an introduction to Ayurvedic diet and lifestyle, which is something that is definitely matched with yoga.
A typical day here will start with an early morning meditation session, and end with an evening activity of chanting, bhajan or a movie. You will also do a morning nasal cleanse, a morning yoga practice, and have free time to enjoy the island. You also have the option of also taking a Thai massage training course.
There are no accommodations onsite, though they will book you a place to stay within walking distance of the hilltop shala. There's also lots of healthy cafes nearby. Sunny Yoga also offers popular drop in classes. See here for reviews, more info and bookings! 
I hope this blog has helped to find your ideal Koh Phangan yoga teacher training course. Check out my other posts or this article about yoga teacher training abroad for more tips and recommendations.
Have you done yoga teacher training in Koh Phangan? I'd love to hear about your experiences in the comments below 😊
Read More Koh Phangan Blogs: