My Pick of the 7 Best Meditation and Yoga Retreats in Nepal for 2023
Nepal – a nation of deep spiritual history, magnificent mountains and rich culture, drawing adventurers from across the globe to connect with and conquer the elements. With majestic landscapes, ethereal energies, and famously warm people – yogis and spiritual seekers are spoilt for choice when it comes to meditation and yoga retreats in Nepal.
Where could be a better setting for yoga and meditation than in the lap of the mighty Himalayan mountains? The energy here is just incredible, refreshing and inspiring – perfect for spiritual practices, a yoga retreat or yoga teacher training.
Pin Me 🙂
When searching for Nepal yoga and meditation retreats, I'd always recommend checking out bookyogaretreats.com and reading some of the real testimonials and reviews. Sadly, not all yoga gurus are the real deal and not all retreats are heavenly so it's really worth checking out this site first – it's like the TripAdvisor or Booking.com for yoga retreats!
COVID-19 Update: Nepal has reopened for tourism, but be aware that pandemic-related travel permissions can change at any moment and be dependent on your nationality. Check out the Nepal travel and tourism website for the most up to date information and remember to check the re-entry rules for your home country. Also make sure you have travel insurance which covers Covid, mine is with Safety Wing.
From ashrams and monastery stays in historic Kathmandu, to yoga retreats on the banks of the Pewa Lake in Pokhara and even yoga treks to Mount Everest – here's my picks of the 7 best meditation retreats and yoga retreats in Nepal to help you decide on your next life changing adventure.
So here is my pick of the 7 Best Meditation Retreats and Yoga Retreats in Nepal
Designed for budding yogis who are starting to dip their toes in the deep pool of yoga practice and spirituality, this 8-day meditation and yoga retreat in Pokhara is the ideal introduction.
Atmashree is one of the most popular yoga retreats in Nepal, the experienced teachers here  will guide you through some of the less vigorous approaches to yoga, including hatha, vinyasa, sivananda, and satyananda disciplines. They will offer modifications to make sure you're comfortable in the postures, and also help with alignment so that you're getting the most out of them.
As well as physical yoga practice, you'll experience guided meditations, mantra meditations, and silent nature walks to hone your awareness. There's also an introduction to chanting, kirtan, and bhajans – musical approaches to yoga and meditation.
The comfortable retreat accommodation varies between a room in a shared house or a private cottage – with all rooms having private bathrooms. Throughout this yoga retreat you'll receive freshly-prepared vegetarian Nepalese meals, to leave you feeling energised, balanced, and refreshed.
For yogis seeking a slightly more adventurous yoga experience, the retreat centre also offers a yoga, meditation and hiking holiday. Scaling some of the peaks in the surrounding area, yoga and meditation takes places with breathtaking views at heights reaching 3200 metres.
Where better to explore the wisdom of Tantra, than in its birthplace of the Himalayas in an ashram in Kathmandu.
Tantra – the process of awakening Kundalini energy for transformation and consciousness – is a yogic practice dating back millennia. At Shanti Yoga Ashram in Kathmandu your teachers will guide you through a two-week journey towards enlightenment and self-knowledge, by imparting teachings on several disciplines.
Combining asana, pranayama, manta, nidra, meditation, and tantric ritual – among other practices – you'll immerse in the applications of yogic philosophy. The Ashram is a vibrant community hub, rather than a luxurious yoga retreat, so you can expect to experience authentic Nepalese life during your stay, and visitors contribute by carrying out karma yoga duties.
During free time, you can soak up the atmosphere of the incredible surroundings, or explore nearby forests and villages. Traditional vegetarian Nepalese dishes are freshly prepared and served for each meal.
See more details, dates, prices, reviews and book here!
Combining nourishing spa treatments with a taste of the authentic yogic lifestyle, this 8-day Nepal yoga retreat is intended to relax, rejuvenate, and inspire. Himalayan Yoga Academy is located in beautiful countryside, rich in history, culture, and wildlife – the perfect setting to disconnect from daily life.
Each day starts with traditional yoga practice and ceremony, before a varied day of exploration, workshops, and therapies begins. Spa treatments include full-body massage, reflexology, steam sauna, and reiki – ensuring that you leave the retreat feeling restored. Meanwhile, fresh vegetarian meals will keep energy levels high and prana flowing.
All rooms are en-suite, and guests can make use of the swimming pool, gardens, library, and meditation areas on site making this one of the most luxurious yoga retreats in Nepal. This experience balances escape with immersion, to help guests feel more themselves than ever.
See more details, dates, prices, reviews and book here!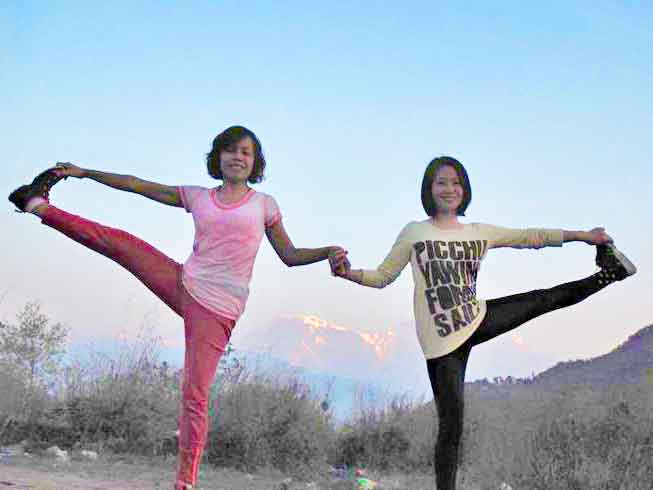 Combining daily Hatha yoga with two weeks of trekking through the incredible scenery of the Himalayas – this adventure holiday is a once in a life time experience with a spiritual twist. Guided by a Sherpa – a native of the region – you'll not only achieve incredible physical feats, but also experience the traditional local culture close-up.
The route follows the footsteps of great explorers through UNESCO world heritage sites, past ancient monasteries, and surrounded by some of the world's tallest peaks. Each morning starts with yoga and meditation to prepare mind and body for the day's adventures. Each night you'll rest in local hotels and lodges, before another day of passing through Sherpa villages, visiting museums, and discovering the beautiful local flora and fauna along the way.
The experiences climaxes upon arrival to the Everest base camp, although the peaks of your personal journey may be all together different on this transformational expedition. It's safe to say this is one of the most incredible yoga experiences you can have in Nepal!
See more details, dates, prices, reviews and book here!
If you're looking to add a new alternative therapy to your repertoire, or simply curious about learning more about sound healing, this 3-day course could tick the boxes. Deep in the Himalayas, discover how to harness the natural vibration of the universe through singing bowls to facilitate healing.
Set at a beautifully remote eco-farm near popular Pokhara, you'll receive instruction in sound healing theory, energy systems, chakra cleansing, sound journeying, and mastering the gong.
Training takes place from 9am-6pm each day, and upon completion of the course, you'll receive Sound Therapist certification.
Accommodation is on a shared basis, with solar powered showers and farm-sourced meals. Guests can enjoy the yoga deck, meditation garden and explore the surrounding area in their free time.
See more details, dates, prices, reviews and book here! 
This 5 day transformational healing, meditation and yoga retreat will introduce you to a wide variety of spiritual and wellness practices including Osho meditations.
The retreat is held at Osho Divine Zone in the Nagarjuna Hills – a peaceful nature escape close to Kathmandu. Osho Divine Zone is a small sangha (group) of Osho Sannyasins, founded by Swami Basu Samarpan, from the nearby Tapoban Commune who have devoted their lives to meditation, celebrating life, sharing joy, love and happiness.
The retreat makes you aware of your inner bliss by taking you to your own center of love and bliss by experiencing a variety of passive and dynamic meditations, gentle yoga, reiki, sound healing and philosophy talks. You'll also go hiking, spend a day in silence and take a trip to see the historical and spiritual monuments of Kathmandu. Food and accommodation is also included.
See more details, dates, prices, reviews and book here!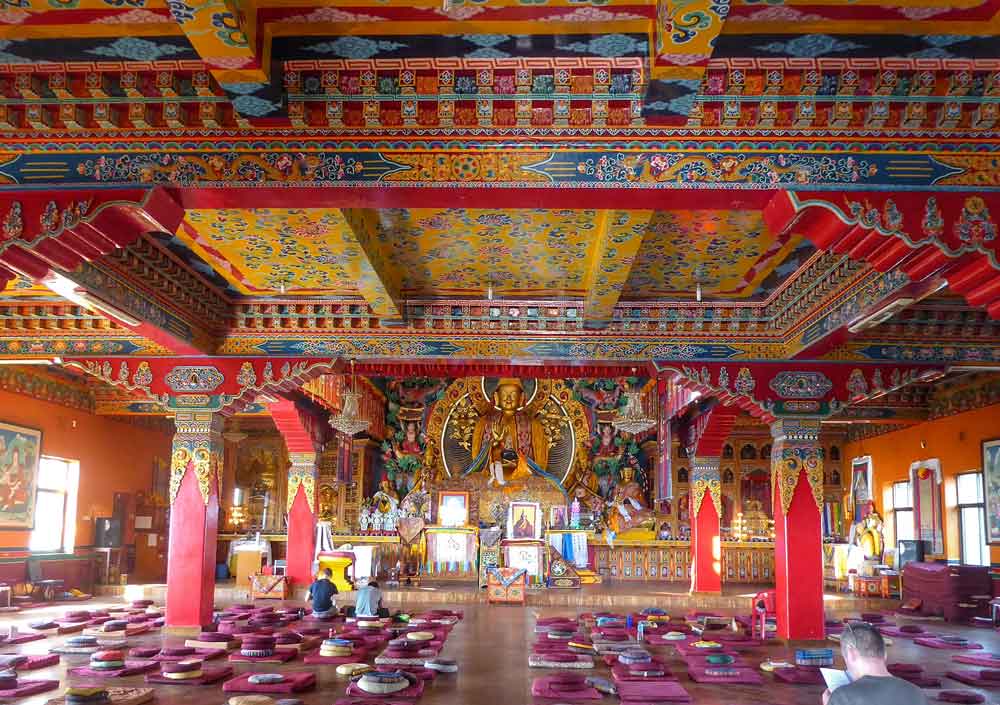 The colourful Buddhist monasteries are one of the highlights of visiting Nepal. If you're interested in learning more about Tibetan Buddhism and staying in a real monastery then you might like the 10 day Discover Buddhism course held at Kopan Monastery, a real working monastery perched on the hillside with stunning views over Kathmandu.
This is not a yoga retreat, but it's a unique and special experience to stay in a real monastery and learn about Buddhism. The courses are taught in English by monks and are 10 days long including the 2 day silent retreat at the end, but you can also just opt to do 7 days of teaching if you like.
The fee is $150 which includes basic food and accommodation. There are a number of rules to follow including that you must check in your mobile phone and not have any contact with the outside world during the course. Check out my experience at Kopan Monastery
Click here for more info, dates, prices and to book. 
Still looking for the perfect retreat? Check out my round up of the very best yoga retreats around the world
Have you been on any amazing meditation or yoga retreats in Nepal?
Leave your recommendations in the comments below the post and help out other yogis and travellers! 😊
Read More:
Best Yoga Teacher Training Courses in Nepal
The Best Yoga & Meditation Retreats in India
My Experience discovering Buddhism at Kopan Monastery
Can you really find yourself in India?
The Best Yoga Retreats in Sri Lanka
Reasons to take a retreat for your next holiday
Dharamkot: The best place to 'Find Yourself' in the Indian Himalayas