As the cultural and spiritual heart of 'The Island of the Gods', Ubud is where you'll find stunning rice terraces, luscious jungles, beautiful temples and healing yoga retreats and it's definitely one of the best places to stay in Bali.
There's no shortage of accommodation in Ubud to suit all budgets, whether you're looking for a luxury resort or villa with a private pool overlooking the jungle and rice fields, or a budget friendly hotel or hostel, you're spoilt for choice with the beautiful hotels in Ubud.
Ubud is deservedly popular, but this means that the centre is no longer a tranquil paradise. So you need to know where to stay in Ubud if you are looking for a peaceful and relaxing experience. That's why I wrote this post!
I live in Ubud, and it's one of my favorite places in the world, but wow it gets busy these days! I've explored the area thoroughly so I want to give you my honest expert tips for the best areas and places to stay in Ubud to help you have the best possible experience.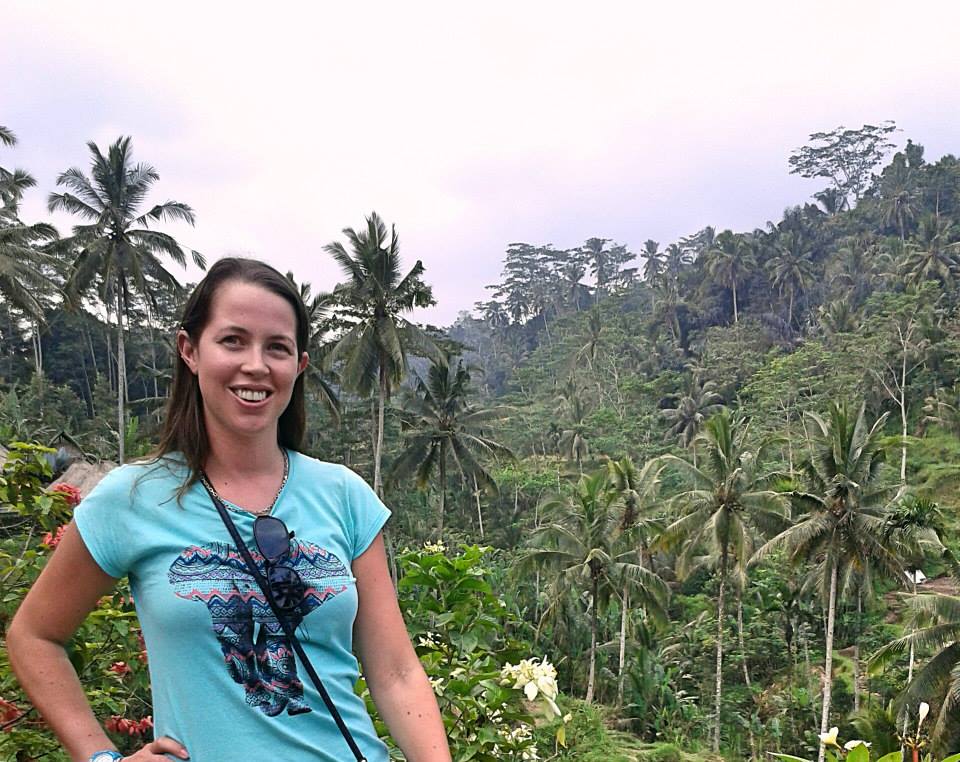 Why I Love Ubud
Ubud is one of my favourite places in the whole world, I love the scenery, the people and the really unique culture, spirituality and magical, healing energy that I can't really put into worlds, so you'll have to visit yourself to experience it.
However, if you come on a rushed day trip you might not get what all the fuss is about so I really recommend staying at least a few days in Ubud to soak up the special energy here.
As the cultural and spiritual heart of Bal, Ubud has become a hub for those seeking a more healthy and spiritual lifestyle. It's home to some of the best yoga retreats, spas and raw vegan restaurants in the world. Amazingly, it's also still super affordable and the locals are some of the most friendly, helpful and genuine people I've ever meet.
But Ubud has something to interest all types, not just spiritual seekers. The beautiful landscapes, adventure activities and amazing value hotels in Ubud make it a great destination for everyone, from families to couples to solo travellers. It's a great choice for honeymooners and there's also a big digital nomad community here with some great coworking spaces.
Whether you want to visit the sacred monkey forest or the Tegalalang rice terraces, go white water rafting or climb an active volcano for epic sunrise views, join a workshop to learn about Balinese art, crafts, cuisine and culture or just relax with a flower bath in the spa or a floating breakfast in an infinity pool there's plenty to do in Ubud.
However, especially after rising to fame in the movie 'Eat, Pray, Love', Ubud is no longer a tranquil quaint village. So if you're looking for a peaceful escape among the rice fields and want a your own serene piece of this tropical paradise, then deciding where to stay in Ubud is one of the most important decisions to make when planning your trip and it's worth doing some research about the different areas to stay in Ubud.
Pin Me 🙂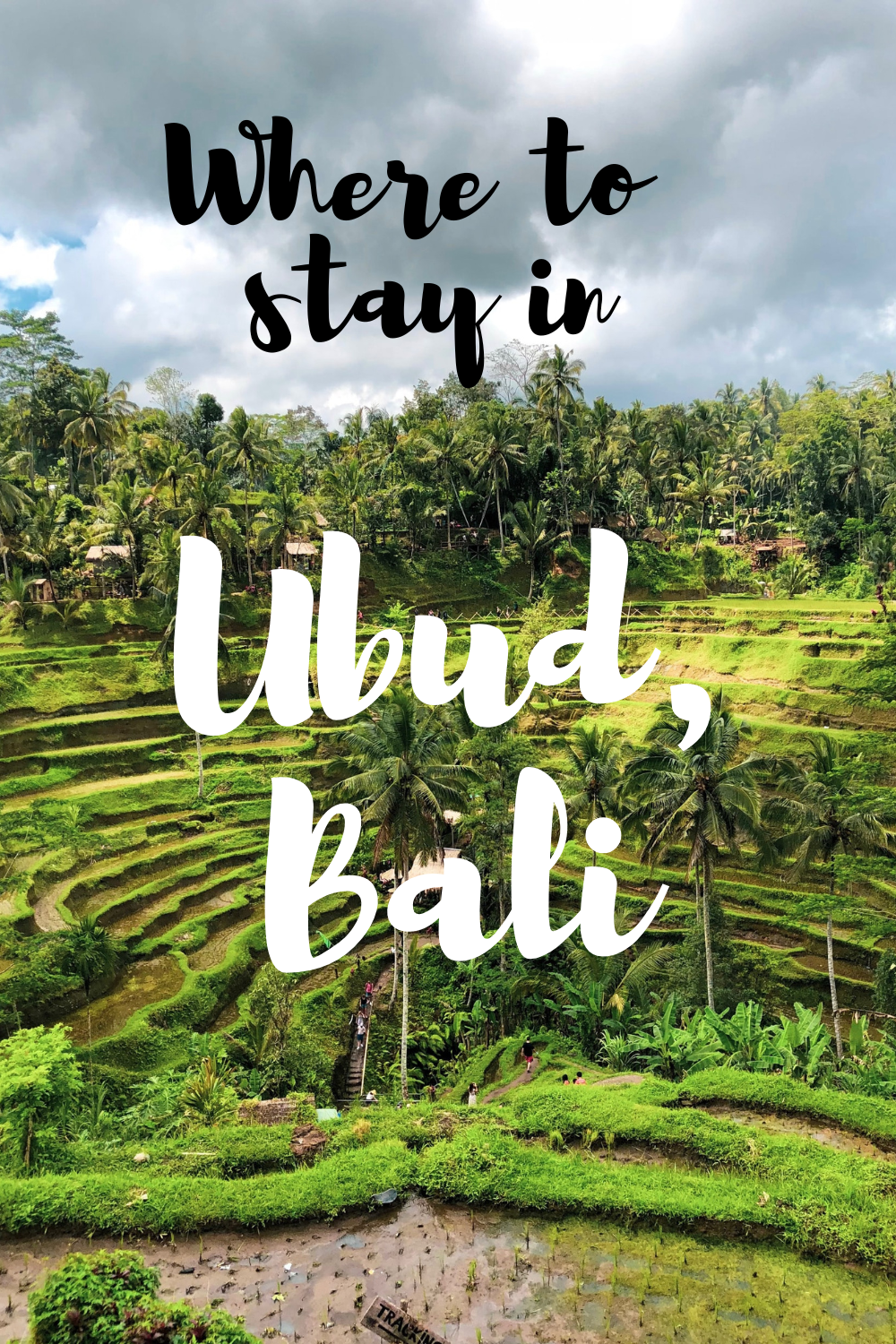 Ubud Accommodation Options
There's certainly no shortage of accommodation in Ubud. But don't worry, I'm not going to give you a list of 101 Ubud hotels, because that won't help you decide.
I'm just going to give you my tips on the best areas to stay in Ubud and my pick of the very best accommodation options to suit different types of traveller and budgets.
Whether you're looking for a luxury jungle resort for a honeymoon, a private pool villa for the whole family, a healing yoga and spa retreat or a sociable budget backpacker hostel, there's something to suit all travellers in Ubud.
Those seeking luxury or romance are spoilt for choice in Ubud as it's home to some of the most gorgeous resorts complete with infinity pools with stunning views over the jungle and world class spas and hospitality.
Ubud is a great choice for a honeymoon and it's also one of the world's top yoga and wellness destinations. Even if you don't have a huge budget I think you'll be surprised at the amazing value for money you can get in Ubud.
And even budget travellers are in for a treat as your money goes really far here. Even the cheap Ubud hotels, family guesthouses and traditional homestays are clean, comfortable and beautiful. There are also backpacker hostels which are good places for solo travellers to meet other and coliving spaces perfect for digital nomads.
Some of the best places to stay in Ubud are found in budget friendly guesthouses and homestays where you can stay in the traditional family compound for a unique cultural experience.
So whether you're visiting Ubud for the first time, for a your honeymoon or a romantic couples escape, a solo yoga trip or even a family holiday – you should be able to find the perfect place to stay in Ubud in this post.
Where to Stay in Ubud: An Honest, Indepth Guide
Unlike many destinations where it's a good idea to stay right in the center of town, you won't get the proper Ubud experience if you do that. So here's my insider's tips on where to stay in Ubud to help you have the best trip possible.
Be aware that Bali's narrow roads get clogged with traffic and noisy scooters. There are often traffic jams in the center of Ubud around the one way system on Jalan Wanara Wana (commonly known as Monkey Forest Road) Jalan Hanoman and Jalan Raya Ubud.
So avoid those areas if you are looking for a peaceful place to stay in Ubud and go for hotels hidden down the side streets or a bit further out of town in the neighbouring villages.
Another tip is to travel light if possible as some of the best places to stay in Ubud are not accessible by car so you may have to walk a little or hop on the back of a scooter to reach hidden hotels tucked away in the jungle.
Normally the hotel staff will help you get your bags to the accommodation, the service and hospitality in Bali is consistently excellent even in budget hotels or family guesthouses.
The Best Areas to Stay in Ubud
What we call Ubud is actually made up of lots of little villages and some of the best areas to stay in Ubud are actually located in the neighbouring villages of:
Padang Tegal,
Nyuhkuning,
Pengosekan,
Campuhan,
Penestan,
Sayan,
Sanggingan,
Kedewatan,
Peliatan,
Sambahan
And Tirta Tawar.
You don't really need to know all these areas, as when you search for hotels in Ubud they will all show up, but it's useful to know what the different areas are like and where they are located.
Central Ubud
Central Ubud and Padang Tegal is where you'll find most of Ubud's attractions (and crowds.) It's the most popular area to stay in Ubud but it's also pretty busy.
Ubud's most famous sight, Pura Taman Saraswati, is a beautiful temple complex overlooking lily ponds. There's also Ubud Palace, which hosts interesting traditional Balinese dance shows most nights, Ubud market and many boutique shops, cafes, restaurants, and spas. The popular Sacred Monkey Forest is located at the southern end of Central Ubud.
Most accommodation in Central Ubud is small family run guesthouses and homestays so if you want a more fancy resort you'll have to head a bit further out anyway.
Central Ubud can be a convenient base, especially if it's your first time visiting Ubud, but for a peaceful stay it's best to look for accommodation located down a side street rather than on one of the main roads which can be quite busy and noisy.
The best options for staying in Central Ubud include Jalan Goutama, Jalan Kajeng, Jalan Bisma and Jalan Jembawan:
Jalan Goutama is car free in the evenings so makes a nice, quiet, central place to stay or stroll down. Jalan Kajeng is a convenient location super close to town but on a quiet and picturesque street that leads to the Kajeng rice field walk.
The rice fields known as the Sari Organik rice field walk are within easy walking distance to town and also now have some places to stay.  Dragonfly Village is my favourite in this area – I love the super cute traditional Balinese architecture and the magical rice field setting.
Jalan Bisma runs parallel to Jalan Monkey Forest but offers a much more peaceful experience with some great resorts like Bisma Eight hidden away down the sidestreets.
Running parallel to Jalan Hanoman is Jalan Jembawan, a quiet residential street home to The Adiwana Resort Jembawan, one of the very best places to stay in Ubud.
Both these hotels offer spacious rooms and jungle views from their fabulous infinity pools yet are only 5 minutes walk to the centre of Ubud.
Just South of the monkey forest is the woodcarving village of Nyuhkuning and Pengosekan, a community of artists and home to the Agung Rai Museum of Art (ARMA) and close to the popular Yoga Barn.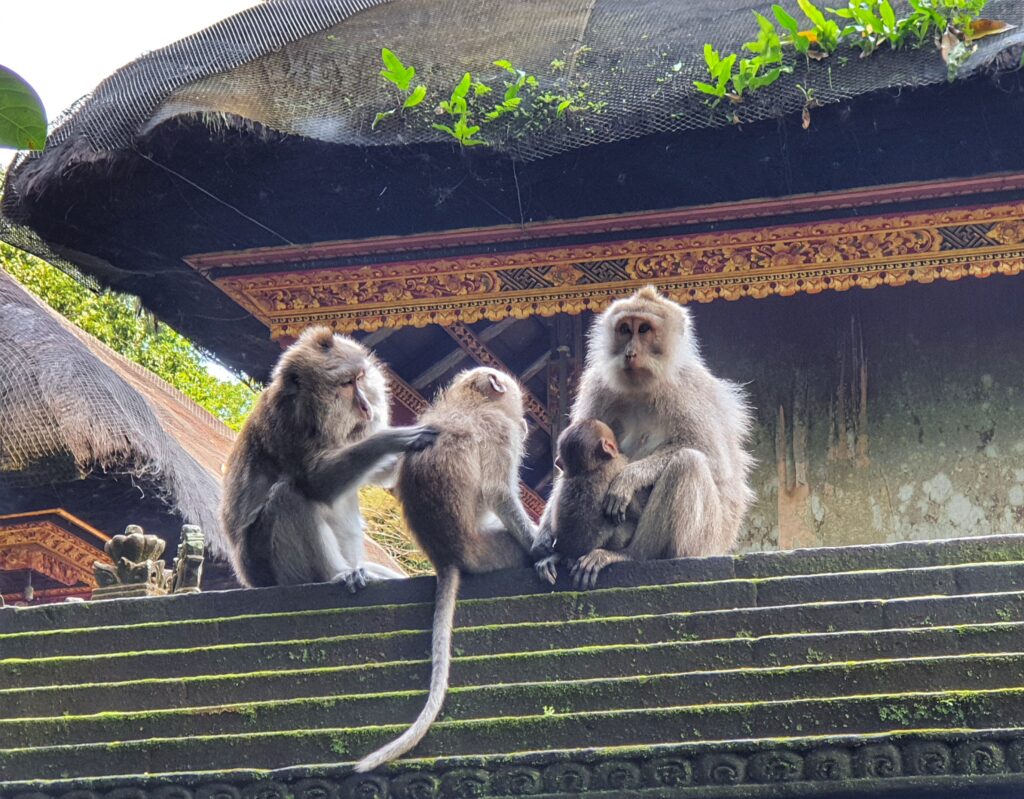 Other villages around Ubud
If you are looking for that super peaceful place to stay in Ubud amongst nature with green paddie field views then my top tip is to book your Ubud accommodation a little further out from the center.
The best hotels offer shuttles into central Ubud and bicycle or scooter hire. There's also Gojek, it's a cheap and convenient online taxi app, so getting around isn't a problem. You can also order food with this app – it's like the Uber for Indonesia.
Generally speaking the more North of Ubud you go the less built up things are so the more peaceful it is and the more likely you'll get those famous rice field views.
Tirta Tawar is a picturesque village just 5 mins drive North of Ubud where you can still see traditional Balinese life and green rice fields. Calma Ubud offers beautiful, spacious, modern rooms and villas here with a pool and spa immersed in nature.
To the West of Ubud, Campuhan is home to the Neka Art Museum and the start of the lovely Campuhan Ridge Walk. Neighbouring Penestan retains it's picturesque traditional village vibes and scenic views despite it's ever increasing popularity with expats.
A bit further out Sayan and Kedewatan are home to some incredible luxury resorts with spectacular views overlooking the Agung river valley.
Tegalalang, 20 minutes North of Ubud, is famous as the home to the Tegalalang rice terraces and is now also home to numerous cafes and hotels.
Tampaksiring to the North East is a peaceful location home to Gunung Kawi and Tirta Empul. The new K Club Ubud offers one of the most unique places to stay in Ubud with a luxury hanging tent complete with hot tub on the balcony and views of the jungle.
Another quirky, unique, romantic accommodation choice in this area is the Bubble Hotel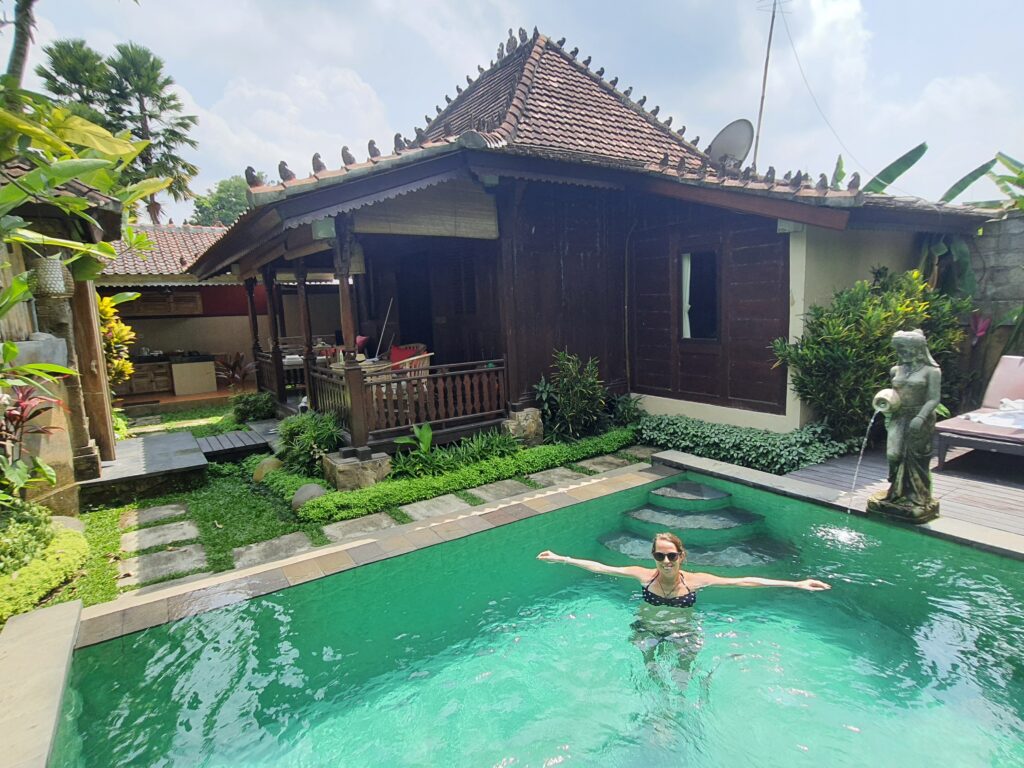 The Best Hotels and Places to Stay in Ubud for all Budgets
So know you know the best areas to stay in Ubud, here's a quick rundown of my recommendations for the very best hotels and places to stay.
Best Place to Stay in Ubud for First Time – Adiwana Resort Jembawan
Best Luxury Resort in Ubud – Four Seasons Resort Bali at Sayan
Best Place to Stay in Ubud for Couples and Honeymooners – Kayon Jungle Resort
Best Private Pool Villa in Ubud – Ubud Padi Villas
Best Yoga Retreat in Ubud – Puri Ahimsa at Five Elements Retreat
Best Spa Resort in Ubud – The Udaya Resorts and Kaveri Spa
Best Eco Resort in Ubud – Le Sabot Ubud
Best Place to Stay in Ubud with Family – Adiwana Monkey Forest
Best Place to Stay in Ubud for Solo Travellers – Artotel Haniman Ubud
Best Ubud Coliving for Digital Nomads – Outpost Penestan Coliving and Coworking
Best Backpacker Hostel in Ubud – Ubud Tropical
Best Budget Hotel in Ubud – Ubud Aura Retreat
Best Traditional Homestay in Ubud – Gedong Bali Family Homestay
Most Unique Place to Stay in Ubud – Bubble Hotel
Carry on reading to find out what makes each place to special.
The Best Place to Stay in Ubud for your First Time – Adiwana Resort Jembawan
The excellent 4 star Adiwana Resort Jembawan is my top recommendation if you're wondering where to stay in Ubud for your first time and want somewhere both peaceful and conveniently located.
With two amazing infinity pools overlooking the jungle,  modern, comfortable rooms with luscious views from the balcony, Adiwana Jembawan is a hidden gem tucked away peacefully in the jungle yet only 5 minutes walk from the center of Ubud.
The Herb Library restaurant serves both local and international vegetarian cuisine and the onsite Tejas Spa is consistently rated as one of the best in Ubud. Yoga classes and Ayurvedic workshops and bicycle hire are also available at the hotel.
This is hands down one of the very best places to stay in Ubud for everyone, it's especially perfect for first timers to get their bearings and have easy access to everything Ubud has to offer while still being able to retreat into a hidden jungle paradise and soak up the special Ubud vibes.
Check prices, reviews and book here
Also Check Out:
Bisma Eight, a contemporary boutique hotel with Japanese soaking tubs, incredible views over the jungle from the infinity pool and free yoga classes in a secluded and convenient location.
The Alamdini Resort Ubud a great value luxurious hotel with a large outdoor pool hidden in nature a quiet area yet still super close to Ubud city center.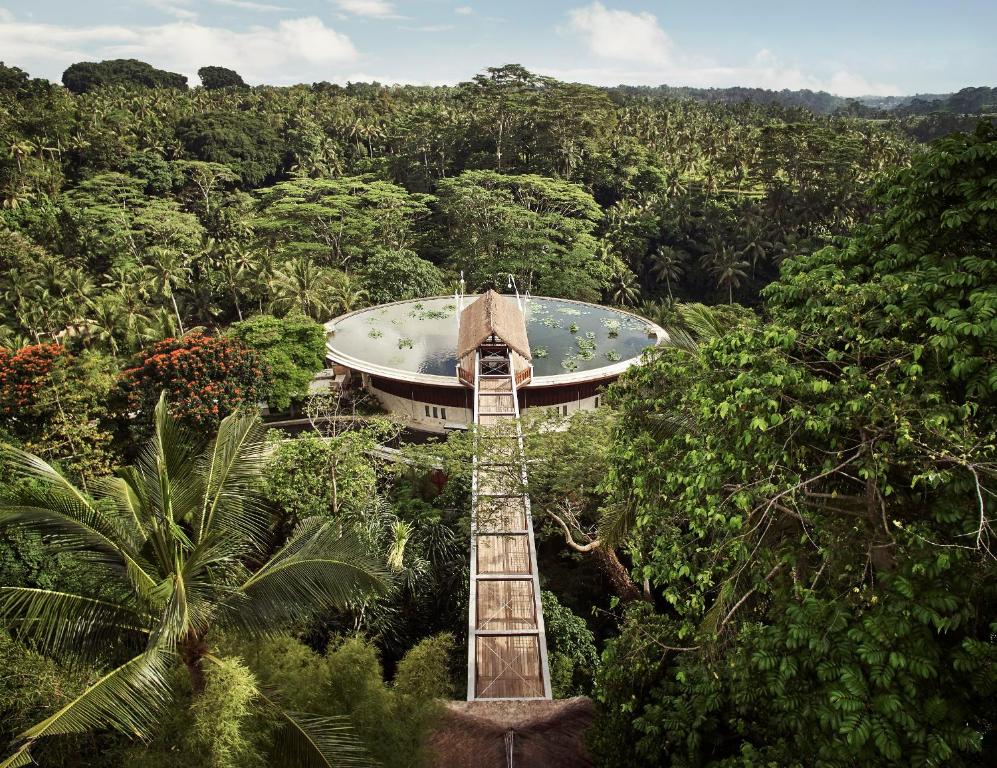 There's no shortage of luxury accommodation in Ubud, in fact this part of Bali is home to some of the world's best luxury resorts and some of them are surprisingly affordable. Luxury hotels in Ubud cost alot less than what you would pay in other parts of the world making it a great place to splash out for an unforgettable experience.
If you're dreaming a stunning Balinese resorts with an infinity pool overlooking the jungle and these luxury resorts are the best hotels in Ubud with a view. If you're wondering where to stay in Ubud to soak up these amazing views and recreate the same photos yourself then you're almost spoilt for choice.
One of the very best luxury resorts in Ubud, and in the whole world, is the amazing Four Season Resort Bali. Located West of Ubud in the village of Sayan just 10 minutes drive from central Ubud.
This 5 star world famous resort makes the most of the stunning natural environment it's nestled in with jungle, ravine and river views from the sumptuous, spacious and fully equipped suites and villas, some with a private plunge pool on the terrace and views over the jungle!
This hotel is an experience in itself, with an amazing infinity pool, spa, gym, four dinning options, natural bamboo yoga shala, library, kids club and numerous activities available you'll definitely want to explore this incredible property. you really won't want to leave your suite or villa, especially not if you splash out on
The Four Seasons Sayan Resort is makes the perfect place to stay in Ubud for families, couples and honeymooners and anyone who wants to be immersed in the jungle while also indulging in one of the most luxurious experiences the world has to offer!
Check rates, reviews and book here
Also Check Out:
The Mandapa by Ritz Carlton – If you're interested in Balinese culture and spirituality there's no better place to stay. Mandapa means temples in Sanskirt and this intimate luxury resort is designed like a traditional Balinese village and cascades down the hillside to the Agung river offering amazing views and unique, culutral experiences in pure luxury.  The Royal Pita Maha offers similar views and vibes at a much more affordable price.
The Viceroy Ubud. Perched on the slopes of the Petanu valley, this 5 star resort offers only 25 luxurious private pool suites all with spectacular views of the river gorge and the terraced rice fields below.  The Viceroy's main infinity pool enjoys uninterrupted jungle views and is one of the most iconic in Ubud and defintley one of Bali's best luxury resorts.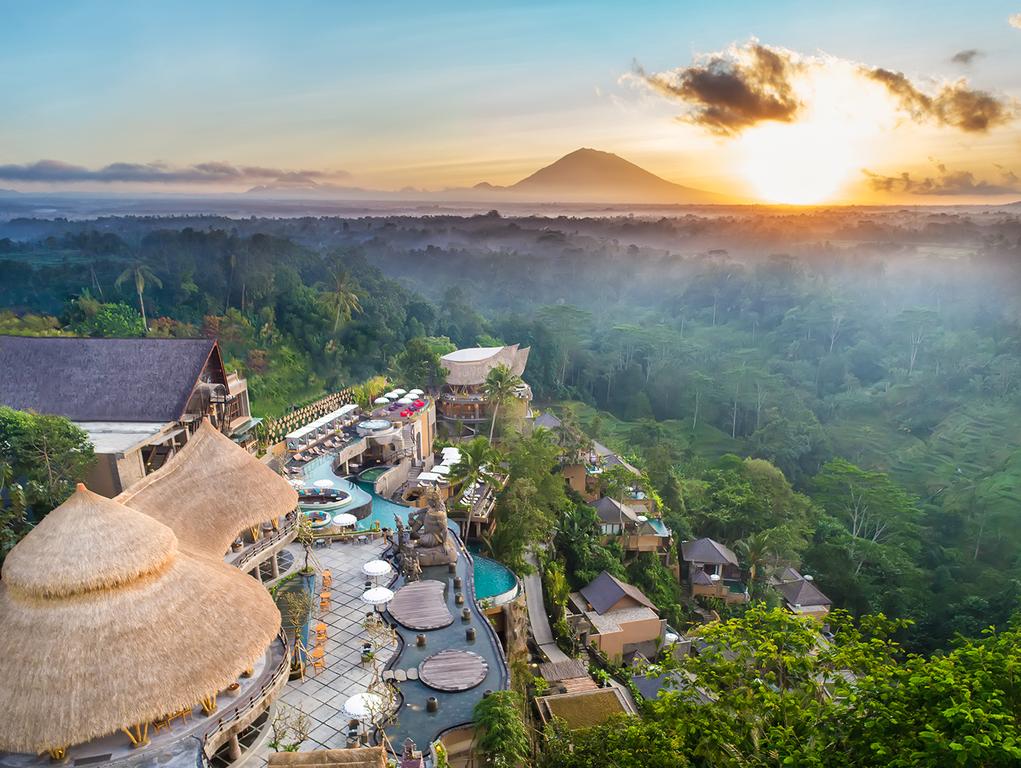 Best Place to Stay in Ubud for Couples and Honeymooners – Kayon Jungle Resort
If you are wondering where to stay in Ubud for a couples trip or honeymoon again you are really spoilt for choice. Ubud is also known as one of the most affordable honeymoon destinations in the world.
Any of the luxury resorts mentioned above would make an amazing honeymoon stay and there's no shortage of beautiful, romantic hotels in Ubud that are perfect for a couples trip.
The 5 star Kayon Jungle Resort is one of the best places to stay in Ubud for the ultimate romantic getaway or honeymoon. Stay in privacy and luxury in our own paradise jungle hideaway.
Located North of Ubud near the famous Tegalalang rice terraces and surrounded by tropical jungle, Kayon Jungle Resort offers the complete escape from it all while still offering easy access to Ubud with free bicycle hire.
With one of the most stunning three story infinity pools I've ever seen and spacious, luxurious rooms inspired by traditional Balinese architecture, many with private pools or hot tubs, you'll be forgiven for never wanting to leave this resort.
The beautiful bamboo yoga shala offers views across the canopy to accompany your yoga practice and there's a variety of activities and excursions available. The excellent spa, fitness center, restaurant, bar and service that will make you feel like royalty rounds off an unforgettable experience.
Check prices, reviews and book here
Best Private Pool Villa in Ubud – Ubud Padi Villas
For those seeking ultimate privacy stay in one of Ubud's private pool villas. There's a lot to choose from nowadays but the best experience is when you have those iconic Bali rice field views right from your private pool, so you'll need to head a bit out of Central Ubud for that.
I love Ubud Padi Villas, in my opinion this is the best place to stay in Ubud with a private pool. These villas are located North of Ubud in less developed Kedewata and so they have amazing luscious green paddie field and jungle views.
Enjoy a floating breakfast with a view in your own private infinity pool, relax in your newly built modern Balinese style villa and savour the experience of showering under the stars in the outdoor bathroom. When you get hungry visit the restaurant or ask your 24 hour butler to bring it to your room and dine in privacy.
If the private pool isn't enough for you, there's also a larger swimming pool shared with the other private villas and a shuttle into town so you can still explore Ubud. You can't fault these private pool villas – it's a great experience for couples and also makes a great choice for a family holiday too.
Check prices, reviews and book here
Also Try:
The Forest Villas for something more traditional. Cute wooden villas with private pools nestled in an immaculate private tropical garden. These traditional style villas are the best because they still have plenty of natural light, all mod cons, a fully equipped kitchen and are located in a quiet area of Kedewatan North of Ubud.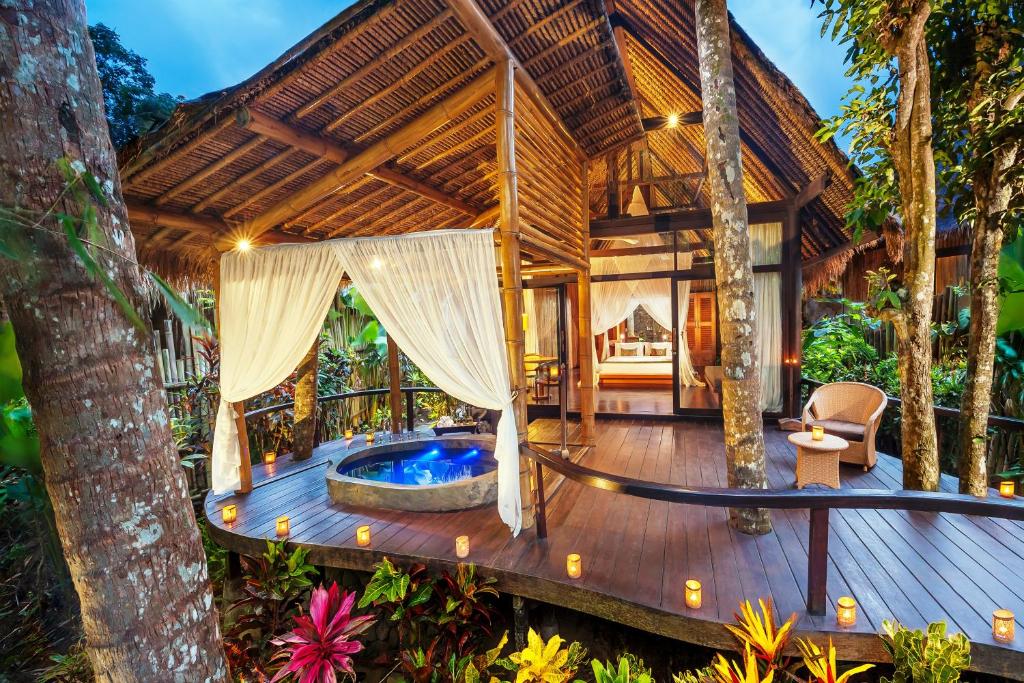 Ubud is home to some of the best yoga retreats in the world and has firmly become a yoga hotspot with too many yoga schools, yoga teacher training courses and alternative and healing therapies to mention.
One of the very best yoga retreats in Ubud is found at the fantastic Five Elements Puri Ahimsa Retreat. This beautiful eco-center and luxury yoga resort is hidden away 25 minutes from the center of Ubud with a blissful setting alongside the Ayung River.
Five Elements has a unique, holistic, integrative approach where they offer something for all the senses with their huge range of yoga and meditation classes, Balinese blessing ceremonies and other activities combined with exquisite relaxation and detox spa treatments. There's also an absolutely delicious gourmet plant-based raw food menu.
The rooms and facilities here offer a touch of luxury in harmony with the eco-sustainability vibe of the resort and make this one of the most luxurious and best yoga retreats in Bali.
Check rates, reviews and book here
See More: Yoga Retreats in Ubud 

Did you know that the name Ubud is derived from Ubad, which means medicine. Ubud has been a center of healing for a long time and it's arguably home to the best, and most affordable, spas in the world.
Why not take the chance to stay at one of Ubud's amazing spa resorts, one of the very best is The Udaya Resort, home to the Kaveri Spa which is rated as one of the best and most beautiful spas in Bali.
Udaya is nestled in lush greenery just North of Ubud and offers a free shuttle bus every hour for guests who want to visit Central Ubud. The Kaveri Spa is famous for their signature colourful flower bath treatments.
The beautiful natural setting make these treatments even more special and the double treatment rooms are perfect for couples. There's also a huge range of traditional Balinese relaxation and healing therapies and massages.
The hotel's Deeva organic restaurant serves delicious Balinese and Indonesian dishes with fresh locally sourced ingredients. For those who want to be more active there are yoga classes held at the resort and biking, rice field trekking and other activities can be arranged by the super helpful staff.
The rooms combine modern comfort with beautiful traditional wood details, thatched roofs, romantic white draped four poster beds and private pools surrounded by greenery. The Udaya is not just Ubud's best spa resort, it's also a perfect place to stay for a honeymoon or couples trip.
Check rates, reviews and book here
Bali has become known for it's beautiful bamboo structures and eco friendly architecture so why not stay in one of Ubud's eco resorts and immerse yourself in nature in a sustainable resort.
A great bamboo eco resort in Ubud is Le Sabot Ubud – The individual boutique bamboo villas with thatched roofs hidden in the tropical greenery are absolutely beautiful and the green rice field view from the large infinity pool is another highlight. Some are even double storied – truly amazing natural architecture!
The accommodation feels comfortable and luxurious yet still feels authentically connected to the rice fields and local community. The location is great too as it situated in a quiet area of Penestan near to Alchemy restaurant.
Check rates, reviews and book here
Also Check Out:
The incredible Sebatu Sanctuary Eco-resort is another beautiful, super instagrammable, sustainable place to stay in Ubud. This boutique eco-resort has a variety of different themed rooms to choose from, including antique traditional Indonesian villas and spacious luxury African safari tents nestled in the jungle that make a good family choice. There's even an infinity pool with more than 250 native fish as part of the bio-filter that cleanses the water.
It's a little trickier figuring out where to stay in Ubud with family as most Ubud resorts cater more towards couples and honeymooners. But Ubud is a great destination for kids and has something that all generations will enjoy.
My top pick for a family friendly Ubud hotel is the Adiwana Monkey Forest is the best hotel in Ubud for families. The kids will love the pool, the hanging chairs and spotting the cheeky monkeys in the trees from the terrace.
The staff are very good with children here and the hotel offer's numerous amenities including room service, spa, spacious family rooms, a baby sitting service and a kids pool. It's also in a good location with walking distance to all the activities Ubud has to offer but hidden away in a tranquil and relaxing paradise.
Check rates, reviews and book here
Also Consider:
A private pool villa like Ratna Villa is always a good choice for families. These villas are surprisingly affordable. Choose from a 1 bedroom or family villa with 2 bedrooms and a kitchen overlooking a private pool in Penestan.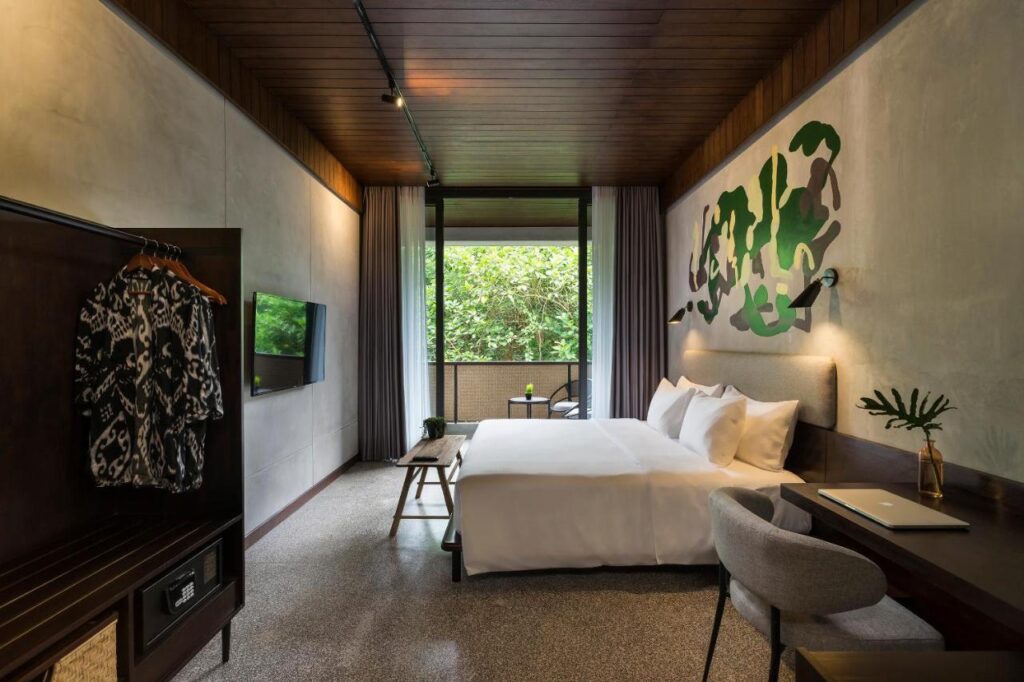 Best Place to Stay in Ubud for Solo Travellers – Artotel Haniman
Ubud is a great location for solo travellers. It's a super safe and easy place for solo female travellers and you'll find that many people visit Ubud alone.
This means it's quite easy to make connections with the eclectic, open minded and friendly community of travellers, yogis, digital nomads and expats here.
The Artotel Haniman is an artistic, boutique, modern hotel located close to the Monkey Forest and the ever popular Yoga Barn. With individually designed, super comfortable, minimalistic & chic rooms, a large swimming pool, spa and friendly staff, this boutique hotel is a great place to stay for solo travellers.
Check rates, reviews and book here
Best Backpacker Hostel in Ubud – Ubud Tropical
Another option for solo travellers is to stay in a backpacker hostel which will make it easy to meet others and stay on a tight budget. Ubud Tropical is undoubtedly the best hostel in Ubud and one of the best hostels in all of Bali.
With a lovely swimming pool, beautiful gardens and architecture Ubud Tropical is more like a resort than a backpacker hostel. Stay in shared dormitories in simple tent style rooms that allow you to feel immersed in nature.
The dorm beds all have individual privacy curtains, reading lights, power sockets and lockers. And you can be sure of a clean and comfortable room with air conditioning, wifi and hot water showers – which don't always come as standard in many of Ubud's budget hotels!
There's also a great communal kitchen area, which is handy if you are on a tight budget and want to cook for yourself. The free simple continental breakfast (toast with Nutella and other spreads, tea, coffee, water) is a plus point.
The location is North of Ubud along Jalan Raya Andong which helps to keep the peaceful, jungle vibes. I can't get over what good value Ubud Tropical is! Look no further for a hostel or budget stay with tropical vibes.
Check prices, reviews and book here
Bali is one of the most popular destination in the world for digital nomads and remote workers and Ubud is arguably it's hub.
Some digital nomads rent villas or stay in guesthouses and visit coworking spaces and cafes but the best place to stay for digital nomads who want to meet other like minded people is the Outpost coliving and coworking space in the popular area of Penestan.
Featuring 24 comfortable air conditioned private rooms around a courtyard pool, communal kitchen, rooftop cafe, yoga deck, coworking spaces and of course, fast and free wifi.
Outpost is a unique living concept and also holds member events, meetings and community gatherings. It's located next to the popular Alchmey restaurant – one of the best raw vegan cafes and hang outs in Bali.
Check prices, reviews and book here
Ubud has plenty of affordable budget accommodation but for me the Ubud Aura Retreat is unbeatable value. This typically Balinese resort is complete with a lovely swimming pool, spa and tropical gardens.
Rooms are simple but clean, well maintained and air conditioned. A simple continental breakfast is also included. The location is excellent too, tucked away in Pengosekan in the South of Ubud away from the busy streets but within walking distance to the Yoga Barn and Monkey Forest.
This makes an great choice for yogis who want affordable accommodation close the Yoga Barn and certainly doesn't feel like a budget choice. Check it out, you'll find it hard to believe that the rates start at only $37 / £30!
Check rates, reviews and book here
For a unique, cultural and budget friendly experience how about staying at one of Ubud's family homestays. Traditional Balinese families live together in a family compound complete with a family temple and many of these have opened guest houses in Central Ubud.
The Gedong Bali Family Homestay is one of my favourites due to the friendly hosts and beautiful, traditional rooms. Amazing, ornately carved doors open to a simple but clean and comfortable air conditioned private room and you'll share the compound with the friendly family.
Not only is a homestay one of the best places to stay in Ubud for budget travellers, it's also a great way to get know the locals, support small family businesses and learn about the unique Balinese culture. Rates start at only $38/ £30 and include wifi and breakfast.
Check rates, prices and book here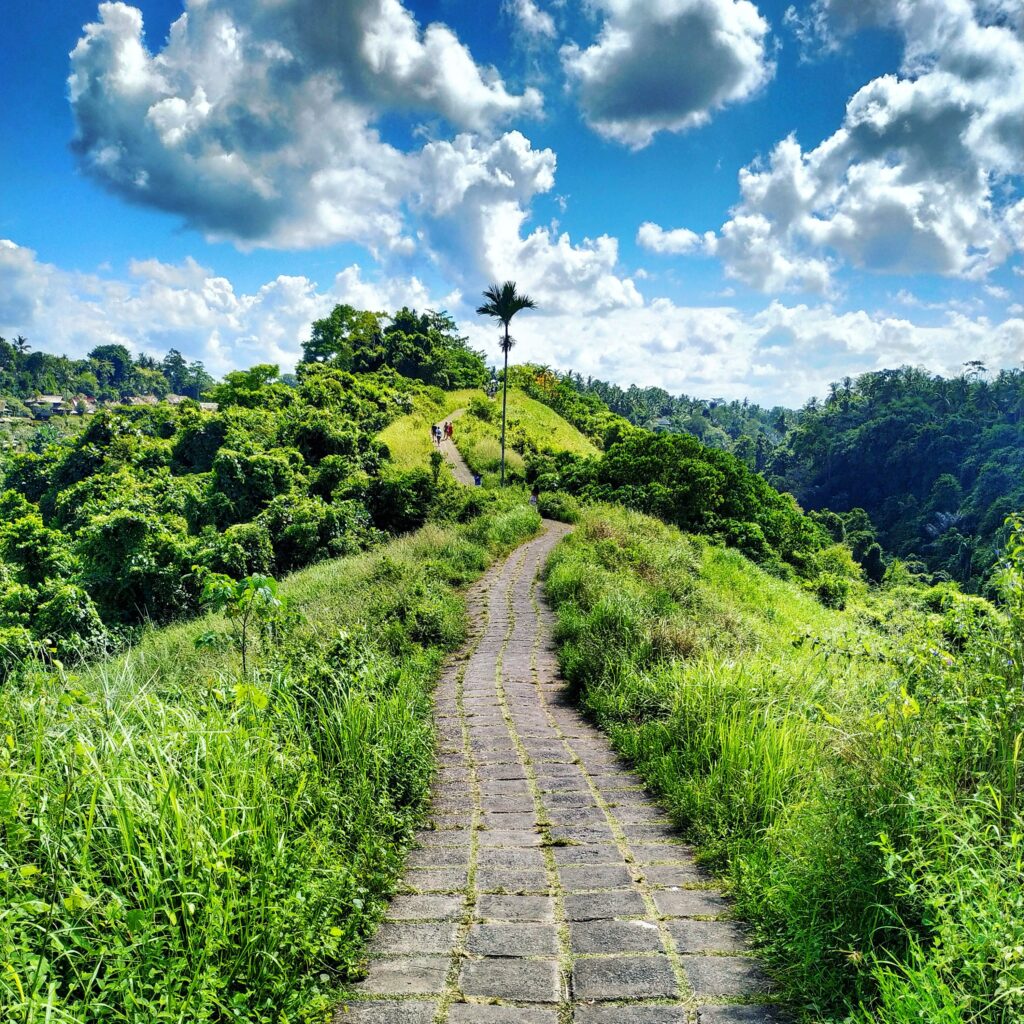 Tips For Planning Your Trip To Ubud
Before planning your Ubud and Bali trip it's good to know some essential travel tips like when to visit and how to get to Ubud and get around.
The Best Time to Visit Ubud
There's not really a bad time to visit Bali, as tropical island the weather in Bali is warm and humid all year round with temperatures hoovering between 28°C and 32°C (82°F to 90°F.) However, the more mountainous areas, like Ubud, feel slightly cooler and also see more rain in the wet season.
There are two distinct seasons in Bali that you should know about and take into account when planning your trip. Bali's dry season is between May and September which is generally considered the best time to visit, but don't be surprised to see a little rain up in Ubud even during the dry season.
July and August are the driest and busiest months when Bali's receives the most tourists. Christmas and New Year are also busy times even though these months fall in the rainy season.
Bali's wet season is from November to March with frequent tropical downpours that give Bali is luscious, tropical, greenery. Some areas, like Ubud, see most of the rain. January and February are the wettest months which could make sightseeing and adventure activities difficult so this is not the best time to visit Ubud, although you can take advantage of discounted deals and less crowds during this time.
In my opinion, the best time to visit Ubud is the shoulder seasons in April and May and September and October. You might experience some short downpours but Ubud is refreshingly cooler than other areas in Bali and visiting during these months you'll get to enjoy all Ubud has to offer while avoiding the peak season crowds and prices.
How to Get to Ubud and Get Around
Depending on the traffic, Ubud is approximately 1 – 1.5 hours drive from Bali's Ngurah Rai International Airport in Denpasar.
Most nationalities are eligible to receive a visa on arrival which costs $35 and allows stays of up to 30 days and can be extended once by another 30 days.
Bali's public transportation system isn't super convenient for visitors so the easiest and quickest way to get to Ubud is by taking one of the official Taxi and shuttle services available at the airport arrivals.
Once in Ubud, many attractions are withing walking distance. If you stay out of Ubud's center, or want to explore further afield, you can rent a scooter or motorbike or hail a ride online with the Gojek app.
Hiring a car and driver for a day of sightseeing is quite affordable too. If you want to number for my lovely driver Gusti contact me and I'll put you in touch with him.
I hope this post has helped you to find the perfect place to stay in Ubud. If you need more tips for visiting Ubud and the rest of Bali check out my other blog posts and travel guides.
More Bali and Ubud Blog Posts:
I hope this post helps you to decide where to stay in Ubud! If you found my recommendations for the best places to stay in Ubud useful and want to book through my links I can earn a small commission which helps to keep this site going at no extra cost to you so thank you and happy travels 😊