Bali, known as the island of the Gods, is a wonderland for the soul, full to the brim with endless things to do and plenty of natural beauty, rich culture, stunning temples and beautiful beaches to explore.
Popularised by the film and book Eat Pray Love, the main hangouts of Bali have since become a tad crowded. So it's no surprise that a new hip hangout has popped up on the radar to rival its predecessors in Canggu.
The Canggu area is located on the southern beaches region of Bali, just west of the previously better-known areas of Seminyak and Kuta and offers a more bohemian surfer lifestyle.
For a freshly emerged hotspot, there are many appealing reasons to visit and things to do in Canggu which I will show you in this post.
Pin Me 🙂
Canggu beach is fast becoming a place where people are choosing to stay a bit longer and once you land here, you'll see why!
This area has rapidly become a popular location of choice for digital nomads, surfers, yogis and travellers. The beaches are cleaner and less crowded, there's a collection of trendy cafes, restaurants and bars that have recently popped up on the scene and the whole area just oozes of a laid-back, beach bohemian vibe.
Surfing in Canggu has been named one of the top surfing spots in the world too! Overall, Canggu is still relatively less crowded and less overdone than other places in Bali, which suits those looking for something a bit less touristy and wish to stay awhile.
Check out my post on the best places to stay in Canggu if you haven't booked your accommodation yet.
The Best Things to do in Canggu, Bali: My Top 10.
1. Go Surfing
Probably the one thing Canggu is best known for is surfing! Canggu is dotted with several top surfing spots favoured by the global surfing community and avid local surfers alike, though the most well-known spot would have to be Echo Beach.
The waves in Canggu are arguably the best for surfing in the whole southern beaches region of Bali, which is probably also why many of the digital nomads who are also avid surfers are attracted to and all live in this area.
There's are loads of surf schools, camps and retreats in Canggu too, so even if you haven't tried surfing before, there's seriously no better place to start!
I really recommend getting some lessons or even better staying at a surf camp for a few days – you'll notice your surfing skills improve so much more than if you just go it alone.
I used www.booksurfcamps.com to find my perfect surf and yoga retreat in Canggu! I love this site because you can check reviews – it's like Booking.com but for surf camps! Don't miss getting out on the water – surfing is at the top of this list as it's simply one of the absolute best things to do in Canggu!
If your serious about learning how to surf and catching some waves then I really recommend staying at one of the fab surf camps in Bali – having daily instructor and being immersed in a surf crazy environment has improved my surfing ability dramatically – here's my pick of the 5 best Bali surf camps.
2. Visit Tanah Lot Temple
Pura Tanah Lot Temple is one of the most iconic tourist attractions of Bali, and it happens to be in Canggu! This sacred, ancient Hindu temple is one of Bali's most important landmarks and most valued treasures because of both its cultural significance and picturesque beauty.
For a dip into Bali's culture and beauty this is one of the best Bali temples to visit. The temple is perched on an eroding cliff face, with waves crashing at its base, and it's a truly unique sight to see with your own eyes!
To enter the temple will cost you approximately $4USD and the best time to visit would have to be sunset to snap up the best pictures!
3. Check out the stunning beaches
There are a number of great beaches in the Canggu area that are all worth checking out! Canggu Beach and Batu Bolong Beach and Echo Beach are the best all-round beaches.
These two are lined with golden sands and perfect, aqua blue waves rolling in, they're great for sunbathing, swimming and surfing. Most come here to watch the sunset from the many beachfront bars and restaurants.
Nelayan Beach is a very quiet spot with almost no development and you'll see local fisherman with their boats. It's a relatively calm spot that's great for swimming and wading. Echo Beach is a well-known spot that's for perfect surfing waves (although not the best for swimming).
The last beach in the Canggu stretch is Pererenan Beach. It's a bit rough here as it's at a river mouth but it's a pretty spot and worth checking out too. Even if you don't swim or surf relaxing on the beaches and watching the vibe shouldn't be missed when in Canggu. You can stroll along the sand and easily visit them all.
4. Relax at Finn's Beach Club
If you haven't yet heard about Finns Beach Club then you must have been hiding under a rock, this is one of the best places to hang out in Canggu!
There are so many reasons why Finns is a favourite for many, it's located absolute beachfront, on a beautiful white sanded beach, with day beds to laze away the afternoons on.
It's a perfect spot to watch the sun go down, there are resident & international DJs playing here every day from 1 pm onwards.
The service is everything you would expect from a 5-star place so expect to be waited on hand and foot whilst you relax and enjoy the experience!
5. Taman Segara Madu Water Park
If you have kids (or even if you're just a big kid yourself!) a visit to Taman Segara Madu Water Park is one of the most fun-filled things to do in Canggu!
Beyond the waterparks thrill-seeking rides & slides, there's also a huge Olympic-sized swimming pool to enjoy too. They're also offering dive courses at Taman Segara Madu if that's something that interests you.
Entry into the water park is about $3USD for adults and $2USD for kids. There are great food and lovely gazebos to sit at that overlook the rice paddies behind the waterpark too.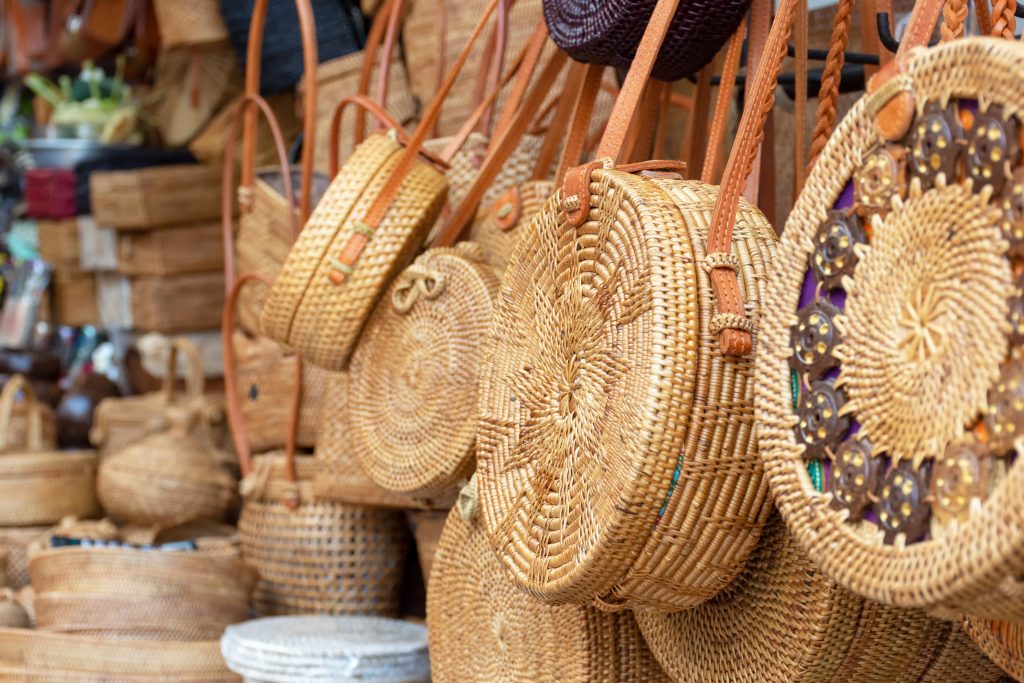 6. Old Man's Canggu Market
If you are looking for a great day out and an excuse to shop till you drop, then this is surely one of the most appealing things to do in Canggu for you!
The weekly Sunday market at Old Man's is a big event and meet-up for the Canggu community. The market boasts a huge collection of over 150+ stalls from local & expat designers; it's definitely a great place to nab up some bargains.
This place is a well-known gathering that's full of good vibes all around, there's even a beer garden with live music and happy hour drinks!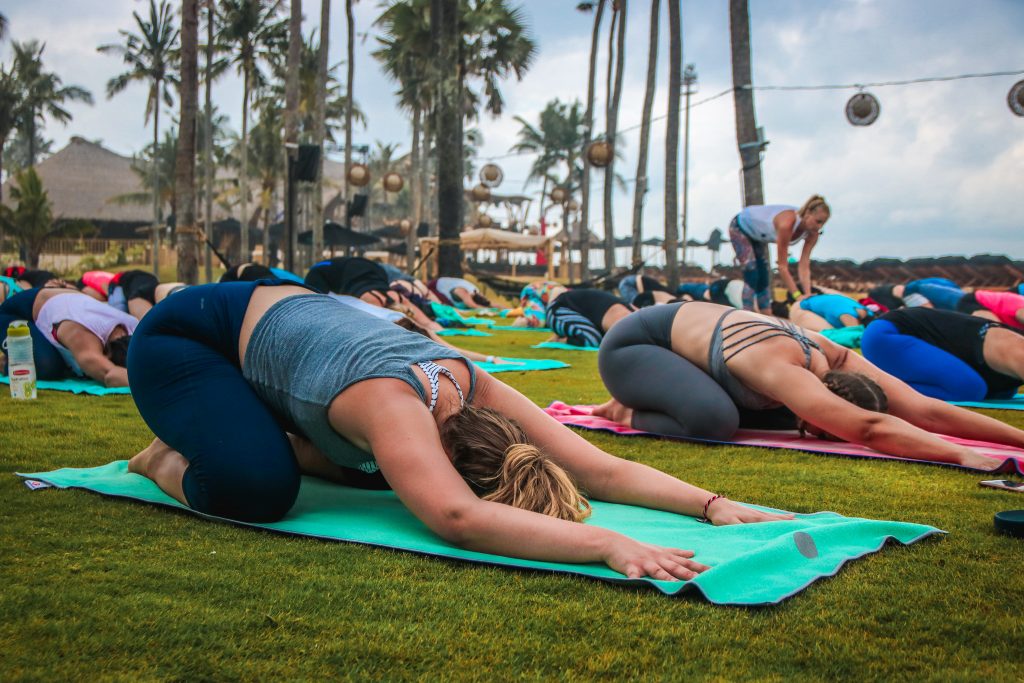 7. Take a yoga class
Bali, Ubud in particular, is one of the world's best places to practice yoga, but Canggu is also a growing hub for all things yoga, fitness and healthy lifestyles.
There are many gyms, yoga studios and retreats in this area offering a wide variety of daily yoga classes for all levels in many different styles.
The community of expats and digital nomads who stay long term in this area tend to also be healthy lifestyle people. Whether you're a beginner or a pro you'll find there are classes to suit every interest and ability level.
One of my favourite studios here for drop in yoga classes are Samadhi and Serenity. If you want to really improve your yoga practice you could take a yoga retreat (some of them are even yoga and surf retreats combining the best of both worlds!) I use www.bookyogaretreats.com to find, check reviews and book yoga courses.
8. Join a jewellery making class
If you've ever wanted to learn how to make jewellery then Canggu is the place to start! There's an abundance of different jewellery making courses that you can sign up for such as working with silver or learning how to weave macramé.
Class sizes are generally kept small so that you can get the most out of the course and there are courses starting from $50USD (very cheap when you think about it!) Materials needed for the jewellery making courses are generally included in the price too, and besides all else, what better souvenir to take home than a piece of jewellery you made yourself!
One of the most rewarding things to do in Canggu is acquire a new skill you can take with you wherever you go and what could make a better gift than something you hand made yourself!

9. Check out the amazing eateries
Another reason why this area of Bali is attracting lots of noise lately is the abundance of amazing cafes, bars and restaurants that have popped up!
Think mouth-watering and Instagram worthy meals for every breakfast, lunch and dinner! There are over 300+ restaurants in just this one area!
Whether you are looking for vegan specific, a showcase of the best of local dishes, or something from just about any corner of the globe you'll find it in Canggu.
The raw, vegan food movement is amazing in Bali and so tasty and healthy – you must try some of Bali's fabulous raw vegan restaurants, even if you're not vegan I'm sure you will love the food and feel amazing. Check out this guide to the best of Canggu's vegan restaurants. 
10. Admire the rice paddies
One of the more leisurely things to do in Canggu would be to go for a nice ride or walk through the local rice paddies. This is a nice scenic way to appreciate the local villagers way of life in Canggu.
The easiest way to get around in Canggu and to the rice paddies would be to hire a scooter, however, if you are not comfortable in riding one you can hire a bicycle, walk or even hire a private driver to take you there. The rice fields are located on Jalan Pura Blulang Yeh.
So now you know what to do in Canggu! I hope this post has helped you plan your trip and realise why Canggu has become so popular in recent years. Don't forget to check out my other Bali blogs too for more tips for visiting the Island of the Gods.
Read More Bali Blogs:
If you found my recommendations for the best things to do in Canggu useful and want to book through my links I can earn a small commission which helps to keep this site going at no extra cost to you so thank you! 😊
Have you been to Canggu? Do you have any more tips on things to do in Canggu?
Leave a comment below and your recommendations can help out other travellers 🙂