Bali is a much bigger island than most people think so it can be difficult deciding where to stay in Bali. Canggu is Bali's latest hotspot so I thought it was about time I wrote about the best places to stay in Canggu.
Why I Love Canggu
There are so many reasons to choose to stay in Canggu next time you visit Bali; Canggu is located another 20 minutes north of the upmarket Seminyak beach area, yet far enough away from the busy hustle of the more infamous area, Kuta beach.
Canggu is conveniently located close to some of the best attractions of Bali, such as the Tanah Lot Temple and the area is home to some of the best surf beaches, restaurants, cafes, hotels, and bars of the whole southern beaches region.
Pin me 🙂
Canggu has quickly become one of the most sought after beach areas to stay in Bali for all types of travelers. So it's not surprising that this area is also well known as an expat and digital nomad hub too (those guys know all the secrets *wink wink* !) and it's also popular with surfers and yogis.
Where you stay in Canggu can really make or break your trip and your idea of the place so it really pays to do your research and book ahead of your arrival.
From backpacker hostels to luxury hotels – there's no shortage of choice. Here's my pick of the best places to stay in Canggu that will suit all budgets!
Here is my pick of the 5 best places to stay in Canggu:
This centrally located, picture-perfect, concept hostel is very cleverly designed, combining the luxury aspects of 5-star hotels with the functionality, cost-effectiveness and social life of hostels! The beds are super comfortable, really large, and have a modern luxury design.
Kosone Hostel is definitely a favourite within the digital nomad community as there is great Wi-Fi throughout and plenty of space for co-working. Other great mentions would be the free work out classes and weekly pool parties.
If you are looking for a great value for money hostel then definitely look no further as Kosone Hostel is one of the best places to stay in Canggu! Click here to see more photos, reviews, prices and to book!
Read More: 5 Best Bali Backpacker Hostels 
This family-run guesthouse is situated in a nice quiet location in Canggu and has the essence of a true Balinese home. You'll feel like you're part of the family too by the end of your stay! Ryanbagus Guest House has super spacious, large rooms all have extra comfy beds, flat-screen TVs, private bathrooms, and open up to the joined balconies.
And of course, no traditional Balinese guesthouse would be complete without a beautiful pool in the center of the complex. The family is always there ready to help you with anything you may need, they serve lovely breakfasts, have scooters for hire and super fast Wi-Fi!
If you want to be immersed in an authentic Balinese experience then Ryanbagus Guest House is one of the best places to stay in Canggu that you could choose! Click here to read their reviews and make a booking.
Read More: Best things to do in Canggu!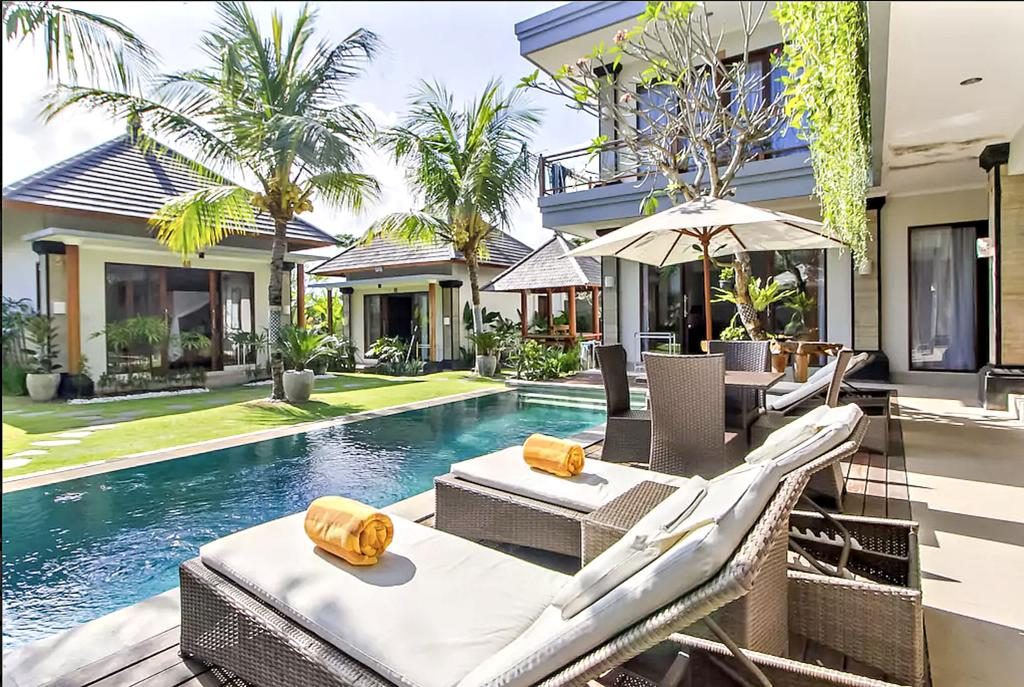 Situated in a prime location in Canggu, the Lebak Bali Residence is a collection of seven exclusive guest rooms and suites that really capture the charm of a traditional Balinese family compound.
The residence is enclosed by a beautiful, lush tropical garden with a stunning pool in the center of the complex. Rooms are fully equipped with huge, comfortable beds, flat screen TVs with cable channels, coffee/tea making facilities and all the other extra niceties you would expect such as bathrobes, slippers, and toiletries.
There's also free bottled drinking water and complimentary Wi-Fi. This is by far one of the best places to stay in Canggu for a midrange budget. Click here to check out their reviews and book your stay.
Read More: Best Things to do in Canggu
Lila Boutik is a brand new boutique residence and every part of this beautifully decorated place is an Instagram haven! Perfectly located in a central yet quiet and peaceful part of Canggu, the Lila Boutik Residence has a very spacious, modern design with an earthy, bohemian feel to it.
There's a stunning pool surrounded by lush tropical gardens and the entire place oozes of laid-back vibes. Every room is styled differently and looks like something out of a glossy magazine! The rooms also have a kitchenette and sofa areas to relax in which is an added bonus.
Of course, there's complimentary hi-speed Wi-Fi, bottled water and toiletries included too. If you're looking for something a little different, then Lila Boutik Residence is one of the best places to stay in Canggu. Click here to see photos, read the reviews and make a booking.
From the minute you walk into 4 Quarters Bali Villas you'll see why this place has been raved about, from the attention to the smallest of details to the world-class service you'll receive!
The place is very secluded and private, though not too far from all the things you would want close by. The outdoor spaces around the pool really create the atmosphere of the place and the floating breakfast in the pool is absolutely amazing and something you must try!
This place is a favorite for honeymooners and couples too! If you're looking for ultimate luxury then this is by far one of the best places to stay in Canggu area! Click here to check out their reviews, flick through their pictures and book your stay.
I hope this blog has helped you find a great place to stay in Canggu and you enjoy your time there. You might also want to check out my other blog posts about Bali to help you plan your trip.
Read More Bali Blog Posts: 
If you found my recommendations for the best places to stay in Canggu useful and want to book through my links I can earn a small commission which helps to keep this site going at no extra cost to you so thank you! 😊
Have you been to Canggu? Do you have any more tips on where to stay here?
Leave a comment below and your recommendations can help out other travellers 🙂