The Best North India Itinerary and Backpacking Route – The Magic of The Himalayas
Northern India and the Himalayas is one of my favourite places to visit in India. There's something really magical about the Himalayas but this area often gets skipped as people travel around the more famous Golden Triangle which is a shame. So I want to share my North India itinerary and backpacking route to help you if you're thinking of exploring this beautiful and fascinating part of India.
The Himalayas are the most diverse areas of the country in terms of landscape. It boasts lush green hill stations, the spectacular snow capped mountains of the Himalayas, tons of trekking opportunities in the Parvati Valley, spiritual mountain towns of Rishikesh and Dharamshala, and many important historical and religious sites in cities like Amritsar and Delhi.
You'll love exploring northern India whether you're an adventurer looking to trek through the mountains, someone who is seeking spiritual enlightenment, or a traveller in search of vibrant cities with tons of shopping opportunities, good food, and temples, forts, and palaces.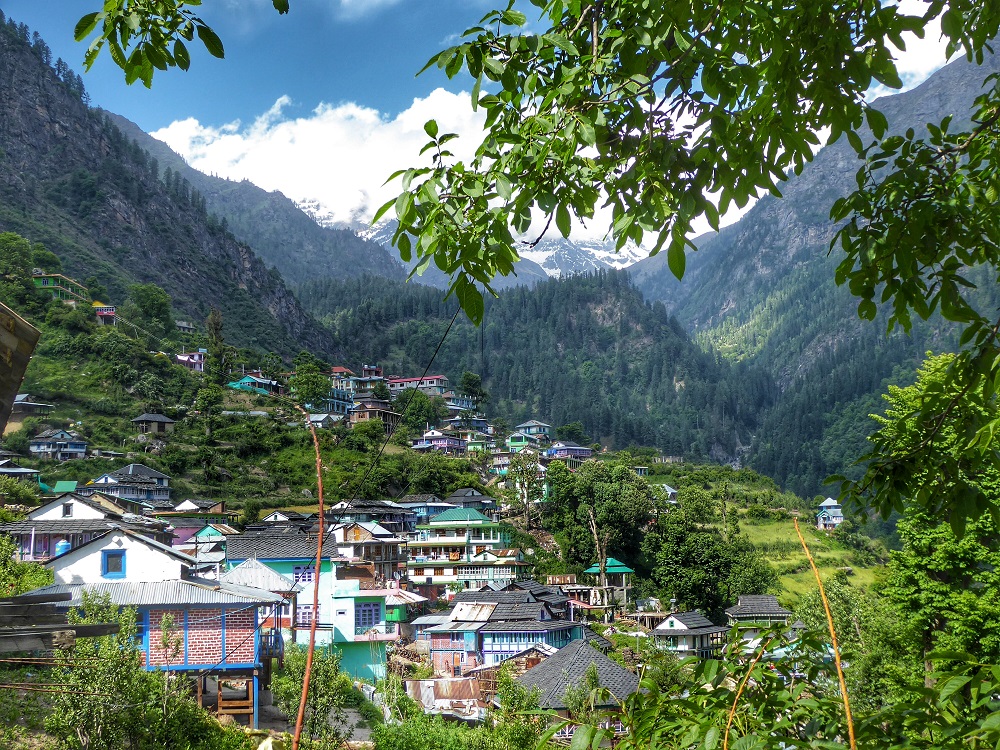 Quick Essential Info for Traveling the Indian Mountains
Budget: From $25/day. See more detail in the average costs for backpacking India.
When to go: The best time to visit the majority of India is during the cool, winter months between November and March but during this time its very cold in the mountains. However, the Indian mountains and Himalayas are at their best during the summer months of May, June and July when the rest of the country is boiling hot the mountains make for a refreshing escape. Cities like Rishikesh, Amritsar, and Delhi can be very hot at this time but in the winter can actually get quite chilly so the best time to visit these cities are during October and November or February to early April when you'll get warm days and pleasant weather without it being too hot or too cold.
Visas:  Nearly all visitors need a visa to visit India. For trips of less than 60 days you can get an E Visa (see here for more info) But there's so much to see in India its better to get a 3 or 6 month visa. It can be a bit complicated so follow my step by step guide to getting your Indian visa.
Getting around: Trains, buses, and flights in India connect to every part of the entire country. Trains are a cheap and fun way of getting around, and while they are not the fastest, can be the best bang for your buck. (Click here for my ultimate guide to train travel in India) Luxury buses are comfortable but can be on the more expensive side. It's possible to find cheap flights around the country if you look early enough. When exploring the Indian mountains you'll probably go to many destinations by bus as trains do not link all the destinations in the mountains – the luxury tourist buses are much more comfortable and convenient than the cheap and slow local buses. You can book trains and buses in India online easily at Bookaway. 
Accommodation:  You'll find anything from tents and backpacker hostels to 5 star resorts in India. Hostels tend to cost $4-6/night, while hotels can cost anywhere from $50+. I've recommended accommodation for all budgets in this North India mountains and Himalayas itinerary. You can find accommodation, check photos and reviews and book on Booking.com
Tours: Taking a trip planned by India Someday is one of the best ways to see the country without having to worry about booking accommodation or transport. They'll handle all of the hassle, and you'll have all of the freedom you want in each city! If you'd prefer to take a guided group tour I recommend the 13 days Mountains and Mystics tour by Intrepid Travel.
Read More: I travel with the Lonely Planet India Guidebook – its really useful for practical info, maps, things to do, how to get around etc. Buy it before you go on Amazon to save money.
Read More: Where to travel in July and August to avoid monsoon in India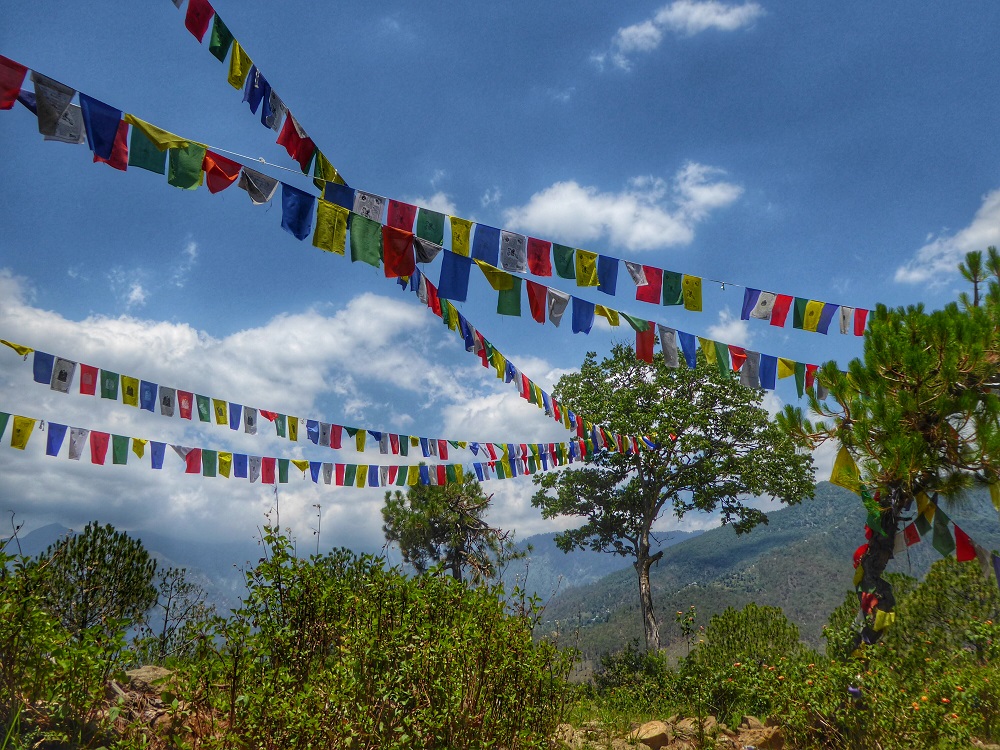 Traveling with India Someday Trip Planners
I've recently spent 12 days traveling around the mountains of India and my trip was planned and organised by an awesome company called India Someday. They organized a fun itinerary that took me from Manali, Dharamashala, Amritsar, Rishikesh, and Delhi. It was so nice being able to travel with India Someday and not having to worry about booking any accommodation or transportation, since they handled all of the hassle. I had an awesome combination of buses and trains, and loved staying in both spiritual mountain towns and bustling cities. I had ample time in each city and felt I was really able to explore each place as much as I wanted to.
They sent me an easy to read chart, which had all of the destinations, accommodation, and transportation laid out in front of me. If I ever needed to contact them via WhatsApp or email, they were quick to respond. Every went to smoothly and it was so nice having everything already booked and being able to enjoy each place without the hassle of planning.
Check out my review of traveling around the Indian mountains with India Someday and Anna's review of traveling around North India and Madhya Pradesh with India Someday.
Pin Me 🙂
My Perfect Indian Mountains and Himalayas Itinerary
The best starting point for a North Indian mountains and Himalayas itinerary is to fly into India's capital Delhi. This will probably be the starting and finishing point for your Indian mountains itinerary.
Delhi (3-4 days)
Delhi is the bustling, exciting capital city of India which is the best place to start this north India mountains and Himalayas itinerary. Delhi has a lot of history and interesting architecture to explore. There are tons of vibrant markets where you can buy some inexpensive souvenirs and trinkets. Some of the best places to visit are India Gate, Qutub Minar, the Red Fort, and the Hauz Khas ruins.
Read More: 6 Absolute best things to do in Delhi 
Where to stay: goStops Delhi was such a comfortable place to stay after the train ride, and is in a great location with a big buffet breakfast every morning. The dorm rooms are cosy and modern, with air conditioning and bathrooms. TG Tashkent Hotel has fast WiFi, a very helpful and friendly manager, and is in walking distance to the train station. Hotel City Star is in a central and quiet location in Delhi with friendly staff. Its in proximity to the New Delhi train station. If you're looking for a bit of luxury, the Prime Balaji Deluxe @ New Delhi Railway Station with rooftop seating area, a good breakfast, and spacious and modern rooms.
Read More: 5 Best places to stay in Delhi 
How to get there: Delhi has a major airport with daily international and domestic flights connecting to every parts of the country and many major cities around the world. The train station connects to many destinations around the country and there are daily local and luxury buses going to various parts of India, like Haridwar, Amritsar, and Mumbai.

Shimla (2-3 days)
The hill station of Shimla, the former summer capital of the British Raj, has historic colonial buildings, snow capped Himalayan mountain peaks, cool breezes, lush greenery, and stunning lakes, making it one of the most beautiful places in northern India. Make sure you visit some of the vibrant markets in Shimla, like the Lakkar Bazaar market and the handicraft shops at the pedestrian avenue The Mall. For beautiful views of Shimla, make sure you visit The Ridge and Summer Hill. During the winter months, Shimla is a wonderland covered in snow. In the summer, you'll see the snow covered mountain peaks in the distance but get to enjoy warm days and the surrounding nature without it being too cold.
Where to stay: Annadale View is a great option if you're a backpacker on a budget. It's family run and has a wonderful homey atmosphere with cosy beds and delicious food. Trimurti Pine Valley Resort is a budget option in a great location near Mall Road with a shared kitchen and free Wi-Fi. Snow Valley Resorts has rooms with beautiful views, courteous staff, and spacious rooms. Hotel Landmark Shimla is a clean, luxurious property with large rooms and a beautiful view of the valley.
How to get there: One of the most scenic and fun ways to reach Shimla is riding the famous toy train from Kalka. HRTC has several buses to Shimla from Manali, Chandigarh, and Delhi. The nearest airport is Jubarhati, 23 kilometres away with connecting flights to Delhi and Chandigarh. Click here to book buses and trains from Delhi to Shimla.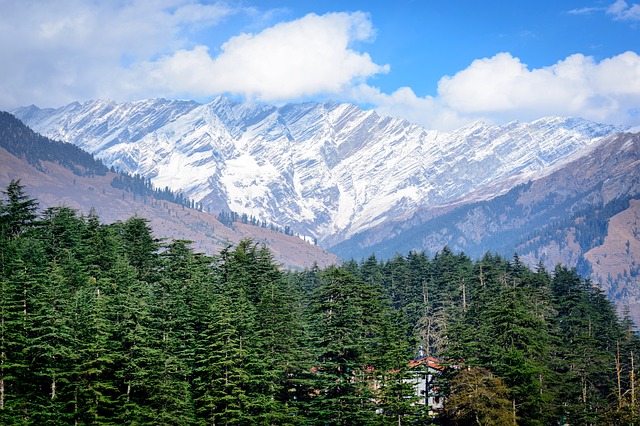 Manali (3-4 days)
Manali is a gorgeous mountain town near the Parvati Valley that offers a refreshing break from some of the bustling cities of India and should not be missed on any Indian mountains and Himalayas itinerary. Its cooler climate makes an ideal setting to get cosy and sip on a chai while looking at the mountains. Some of the best things to see in Manali are Hadimba Devi Temple, Manali Nature Park, the Museum of Himachal Culture & Folk Art, Manu Temple, and Jogini Falls.
Where to stay:  Holiday BnB Manali is good backpacker accommodation in an amazing location with gorgeous views of the surrounding mountains. I stayed at the beautiful Rock Top Cottage, which offers budget accommodation in the cosy mountains overlooking Old Manali with large rooms and tasty breakfasts. Quality Inn River Country Resort is midrange accommodation with hot water, views of the snow capped mountain peaks, and courteous staff. For a little bit of luxury, La Ri Sa Resort offers a garden view, balcony, game room, and hiking nearby the resort.
Read More: 5 Best places to stay in Manali
How to get there: Many luxury buses reach Manali from destinations like Delhi, Shimla and Dharamshala, which is a 9-10 hour overnight from Dharamshala,  13-14 hours from Delhi and 11 hours from Shimla. Click here to book bus tickets. You can also take a 14-hour train ride from Delhi to Ambala Cantt, and then a state bus to Manali.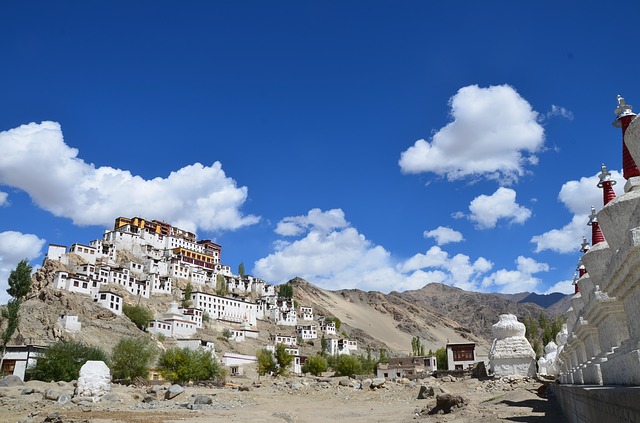 Leh (5-6 days)
Leh is a city located at 3,500 meters above sea level which used to be the capital of the Himalayan kingdom of Ladakh and the surreal mountain scenery and Tibetan history and culture means it is regarded as one of the most beautiful and unique places to visit in all of India. Leh is surrounded by mountains and is a great starting base for your adventures in one of the most northern places in India. If you're feeling adventurous, you can rent a Royal Enfield and drive on the highest and second highest driveable road in the world. The best time to visit Leh is during the summer months of May to September, when the Leh to Manali highway is open and there isn't any snow. You can also hire a car instead, to enjoy the trip without having to worry about driving yourself. You'll also see Nubra Valley and Pangong Lake, a gorgeous light blue lake that sits at 4,200 meters that you can sleep next to in tents. Make sure you also visit Shanti Stupa, Thikse Monastery, and Shey Palace.
Where to stay: Gangs-Shun Homestay has big rooms; good home cooked food, and is in a good location in proximity to Shanti Stupa. If you're looking for a budget option, Travellers House is close to the centre of Leh with a homey atmosphere and good showers with hot water. Hotel Lingzi is a gorgeous midrange option with clean and spacious rooms and is very close to the market. For a little bit of luxury, Ladakh Sarai Resort has attentive staff, excellent views, and mouth-watering food made with homegrown veggies.
Read More: 5 Best places to stay in Leh
How to get there: Getting to Leh is a bit of an adventure in itself! There are a few ways to reach this Himalayan city. There are daily domestic flights from Delhi that takes about 1 hour to reach Leh. The flight views are spectacular; make sure you grab a window seat! The Leh to Manali highway opens in May to September, when the roads are clear of snow. You can hire a shared jeep, take a tourist bus, or take the local bus, which is the cheapest option. They depart from Manali, and you will spend one night in Keylong to acclimatize to the altitude. Then, you will take the long journey to Leh. The entire journey takes about 25-30 hours.

Parvati Valley (4-5 days)
The Parvati Valley is a gorgeous area of northern India with tons of trekking opportunities. The cool mountain climate makes it an ideal place for camping and longer treks. You'll want to base yourself in Kasol, and from there, can go on various treks in the area. A trek to Chalal is only 30 minutes away, and you can trek further to Rasol, which will take 3-4 hours. Tosh is another trek that will take around 1 hour from Barshani (a 1 hour bus ride from Kasol). From there, you can trek to the hot springs in Kheerganga, which is 12 kilometres one-way.
Where to stay: Nomads Hostel is a fun place to meet other travellers and potential trekking partners. There's also a restaurant and a terrace, with some rooms boasting a balcony and mountain view. Memoir Homes & Café has a seating area and a calm and serene atmosphere, an ideal choice if you're on a budget. Brick and Wood Cottages have a terrace, shared lounge, and shared kitchen, with beautiful views of the surrounding mountains. Inwoods Café is a luxury accommodation next to the river with good rooms and even a children's playground, perfect if you're traveling with kids.
How to get there: Local buses run frequently from Manali. You may need to switch buses at Kullu, and then onwards to Kasol. The entire journey will take 5-6 hours.
Dharamshala and McLeod Ganj (3-4 days)
This beautiful spiritual mountain town in the Himalayas is a highlight of any North India mountains and Himalayas itinerary. Mcleod Ganj is home to the Tibetan government in exhile and the Dalai Lama and the cute mountain villages surrounding it, like Bhagsu and Dharamkot especially, have tons of yoga and meditation classes, chakra readings, shops selling crystals and handmade clothing and jewellery, and tons of cosy cafes. You can take an overnight trek to Triund and camp in the mountains under the stars, visit Namgyal Monastery, and Tsuglagkhand Complex Dalai Lama Temple, where you'll get to meet the Dalai Lama if you're lucky! You can also visit Dal Lake or Kangra Fort, just outside of the town.
Where to stay:  I loved staying at HosteLavie. It's a backpacker accommodation with free breakfast, a rooftop hangout area, comfortable beds, and showers with hot water. For budget accommodation, Green Hotel has balconies and views of the surrounding mountains, with a homey atmosphere and a very friendly receptionist. For midrange accommodation, Treebo Roshan House has well-mannered staff and a rooftop with open-air huts. Prakiti Aalay is beautiful luxurious accommodation next to a relaxing creek, gorgeous sunset views, and accommodating staff.
How to get there: There are many overnight buses from Manali to Dharamshala, which takes about 9-10 hours. You can book your bus ticket here. You can also grab a 5-hour local or luxury bus from Amritsar to Dharamshala.
Read More: Dharamkot and McCleod Ganj Travel Guide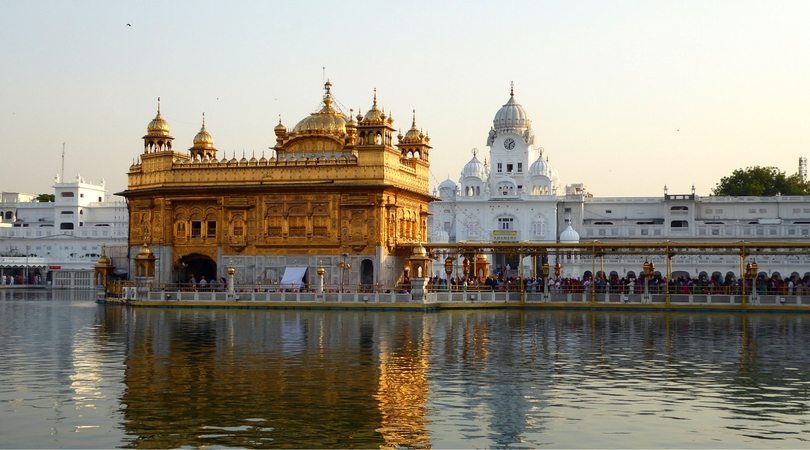 Amritsar (1-2 days)
Amritsar is a vibrant city with a powerful energy. It's home to the Golden Temple, which is the most important pilgrimage site of Sikhism, where 100,000 mouths are fed every single day. You can also check out the entertaining nightly performance at the Wagah Border, where the guards have a dance off with the guards in Pakistan and the locals go wild with pride for their country. Khalsa College and Jallianwala Bagh are two nice places to have a leisurely stroll and also check out the bizarre and unique Mata Lal Devi temple.
Where to stay:  India Someday booked me into the awesome Jugaadus' Hostel, which is a fun place to stay if you're a solo traveller. The hostel arranges tours around Amritsar, has comfortable air-conditioned rooms, clean bathrooms, and good breakfast. For some backpacker accommodation, Osahan Paradise provides traditional rooms and is in proximity to the Golden Temple. For a centrally located midrange hotel, Golden Sarovar Portico has air-conditioned rooms, flat screen TVs. Best Western Marrion is luxurious accommodation with wood furnished rooms and décor, a rooftop poolside restaurant, and a coffee shop.
How to get there: You can take a 5-hour bus from Dharamshala that leaves at both 5 and 6:30 in the morning( book here.) You can also take a train from Haridwar or Delhi to reach Amritsar, which takes around 8-9 hours.
Rishikesh (3-4 days)
Rishikesh is one of the most spiritual places in India. Home to many ashrams and yoga and meditation schools, this is the place where you can come to do your yoga teacher training. It's a wonderful place to relax at one of the many cafes along the River Ganga, visit the Beatle's Ashram, or spend the evening watching the spiritual Ganga Aarti performance.
Read More: 5 Best yoga retreats in Rishikesh and 5 Top yoga teacher training courses in Rishikesh 
Where to stay: Shiv Shakti Guesthouse is one of my favourite hostels in India, and is a wonderful place to meet travellers and to socialize. They have a comfortable rooftop hangout area, family dinners on Thursday nights, free chai all day long, and events like Bollywood Dancing on Saturdays. Maa Ganga Guesthouse serves you breakfast and has a delicious onsite restaurant, and is in proximity to the beach.  Hill Top Swiss Cottage is only 5 minutes from the beach, and provides yoga and mediation classes, and even candle-lit dinners in the garden. The luxury hotel Treebo the Lily has free WiFi, buffet breakfast, and modern rooms with bright décor.
How to get there: The train station in Haridwar runs trains to and from Delhi, Amritsar, and Rishikesh. Click here to book tickets. Once in Haridwar, you have to take a shared rickshaw or a taxi to Rishikesh, which takes about 1 hour. You can also take an overnight bus from Dharamshala, which takes about 14 hours, or a bus from Delhi.
Read More: Rishikesh Travel Guide: Best places to visit, eat and stay
To finish your North India mountains and Himalayas itinerary head back to Delhi, a good base to explore more of India, (check out my rest of India itinerary here) or to take a flight home or to your next destination.