Backpacking Delhi: The 6 Best Places to Visit
India's capital, Delhi, is a fascinating place to explore and is the start of many India backpacking trips. There is so much to see when backpacking Delhi that it can be hard to narrow it down to the best places to visit in Delhi. The metropolis is a chaotic tapestry, littered with the ancient relics of lost empires, medieval fortifications, Mughal mausoleums, bustling bazaars, colonial-era town planning as well as the new offices and mega malls of modern India.
However, exploring India's capital can be difficult for travellers due to the scams, dirt and population the city can be overwhelming and a lot of travellers don't have good experience or get out as soon as they can which is a shame because Delhi has a lot of offer for backpackers and if you give the city a chance and you might fall in love.
Pin Me 🙂
Delhi is not easy to navigate so the easiest way to tick of all the best places to visit in Delhi and make your sightseeing hassle free you can take a day tour of Delhi's top sights which includes a private air conditioned car and driver, knowledgeable English speaking guide and entrance to sights.
If you're on a smaller backpacking budget then you can hire a rickshaw for the day (haggle hard to begin with but it saves haggling for each individual ride) or use the modern, air conditioned Delhi metro. If you're staying near Paraganj (the most popular place for backpackers to stay in Delhi) then using Ramakrishna Ashram Marg station is less hassle than going to the busy New Delhi Railway Metro Station.
If you want a funky and fun place to stay in Delhi where you'll meet other travellers then check out my pick of the best backpacker hostels in Delhi. Also check out my post about the top scams in Delhi and how to avoid them  and also my pick of the 5 best places to stay in Delhi to suit all budgets.
But don't leave without seeing these top 6 places to visit in Delhi:
The Red Fort
The Red Fort, also known as Lal Qila, is Delhi's most iconic sight and one of the very best places to visit in Delhi. The Red Fort is an impressive and imposing red sandstone Mughal fortress of walls that used to contain an entire ancient city. Once inside the imposing gates you can wander around exploring halls, mosques and palaces learning about the history of Delhi and just take a respite from the chaos and noise of the rest of Old Delhi.
Top Tip: The price for foreigners for the UNESCO listed sights has recently doubled to 500 Rupees. The Red Fort is closed on Mondays.
Nearest Metro Station: Khan Market or JLN Stadium
Qutub Minar
UNESCO listed Qutub Minar is another of the must see sights in Delhi. The incredible over 72 meter high minaret stands defiant against the complex of historical, crumbling monuments on the outskirts of Delhi. The minaret was originally built about 1,000 years from red sandstone and you can still see detailed carvings and inscriptions on the tower. The minaret is the tallest in all of India, you can't go inside but it's still an impressive sight.
Nearest Metro Station: Qutub Minar


Humayuns Tomb
The Mughal mausoleum of Humayun's Tomb is one of the most beautiful and impressive places to visit in Delhi. The tomb was built in the mid 1500's in a Persian design to house the Islamic Mughal emperor called Humayun and there are some more monuments, tombs, a small museum and pleasant gardens to see here too. The main event, Humayun's Tomb, actually inspired the famous Taj Mahal and is also UNESCO listed.
Nearest Metro Station: Jor Bagh (yellow line) or JLN Stadium (purple line)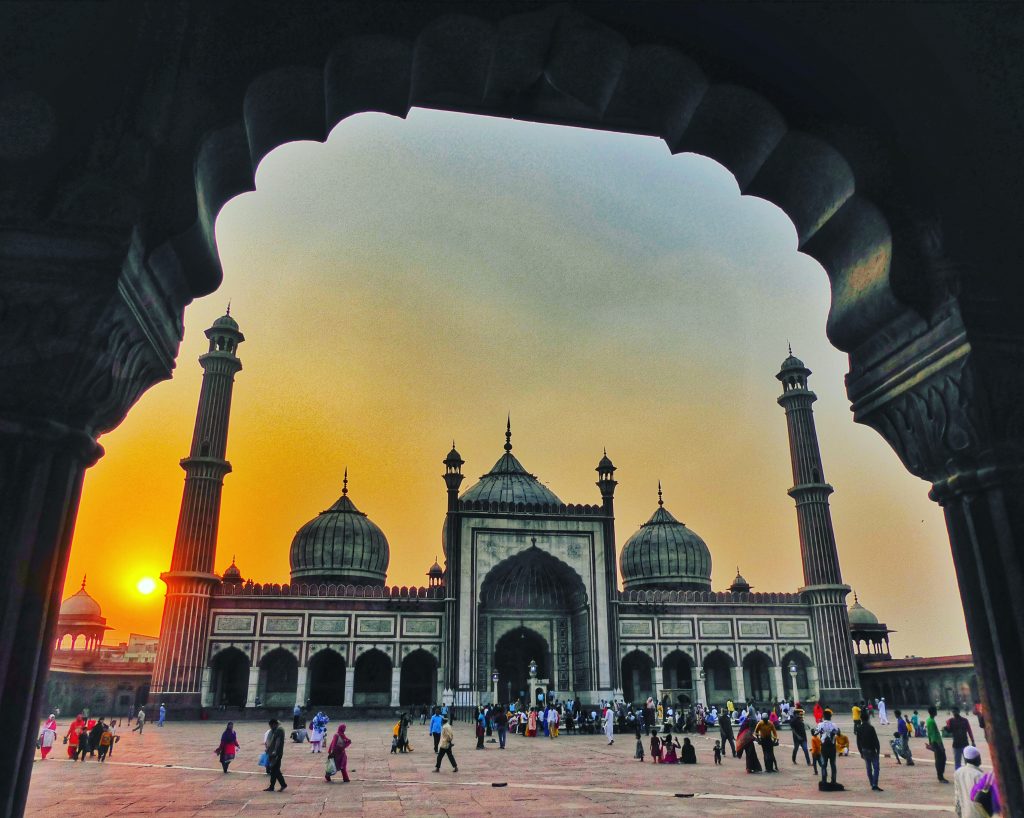 Jama Masjid and Chandi Chowk
In the heart of Old Delhi is Jama Masjid, the largest and most impressive Islamic mosque in the city. It was built in the 17th century and is large enough to house over 25,00 worshippers. The impressive sandstone building has huge onion shaped domes and towering minarets, which you can climb for a fee.
Jama Masjid is close to buzzing Chandi Chowk and Chowri Bazar one of the most chaotic but fascinating hubs of trade, street food and general life. If you prefer your shopping calm, clean, organised and hassle free then head instead to Dilli Haat Handicraft Village.
Top Tip: Entrance to the mosque should be free but there is a camera charge of 300 rupees and they can be quite threatening, especially to foreigners, about paying the fee, even though many Indians are taking photos inside with their phones.  Gowns to cover up are available at the entrance and are free.
Nearest Metro Stop: Chawri Bazar or Chandni Chowk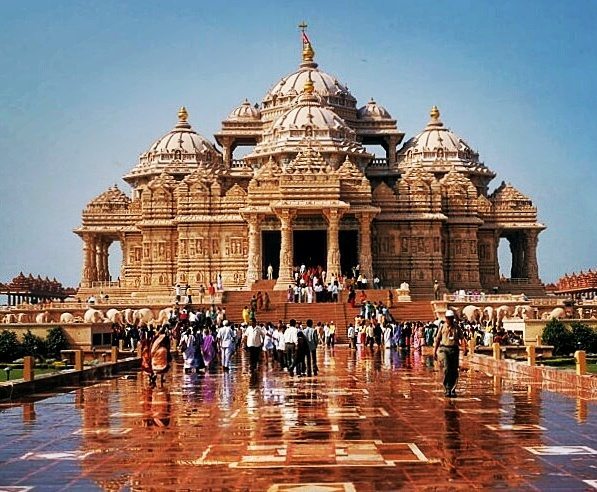 Akshardham Temple
This modern temple complex was only built in 2005 and is the biggest Hindu temple in the world. You really shouldn't miss seeing this amazing sight, it's one of my favourite places to visit in Delhi. The Akshardham Temple is unlike any other temple I've been in and really is breathtakingly beautiful inside and amazingly detailed inside. There are also exhibitions, shows, a water ride and a cool sound and light show in the fountains each night.
Top Tip: Security is super high and so they don't allow anything inside the temple complex, even bags, cameras and mobile phone but there is a free and secure place to deposit your things but at busy times getting through security may take some time. The temple is closed on Monday, its free to enter but the other attractions are chargeable.
Nearest Metro Station: Akshardham station
India Gate and Lutyens' Delhi
One of the most iconic sights in Delhi is the impressive India Gate, a 42 meter tall monument built in 1931 as a war memorial to honour Indian soldiers. Underneath is a flame that's continually lit in remembrance of the soldiers who gave their lives for their country.
India Gate is a pleasant stroll along the Raj Path in New Delhi. The sprawling area around it, often known as Lutyens' Delhi after the British Architect, Edward Lutyens who designed it,is also well worth a look.  The spacious town planning and the British Raj's impressive colonial administrative buildings like the Viceroy's House (now known as Rashtrapati Bhawan) Parliament House, the Secretariat Building and Connaught Place is a total contrast to the chaotic, winding streets of Old Delhi.
Nearest Metro Station: Central Secretariat
Read More:
How to avoid the scams in Delhi
The best backpacker hostels in Delhi
Tips for doing Delhi right – Breathe Dream Go
21 Delhi travel tips – Drifter Planet
Have you been to Delhi? What do you think are the best places to visit in Delhi?