Who doesn't dream of ditching the 9 – 5 for a life of travel and a job that gives us location independence? For digital nomads that dream has become their reality! There are so many ways that digital nomads make money from anywhere in the world, so each week I interview someone to find out how they made their dreams a reality so that you can learn from them too.
How to Work as a Virtual Assistant Anywhere in the World
This week I'm talking to Stefanie a 31-year-old mom working as a Virtual Assistant (VA). Stefanie is originally from Germany but now lives in Haiti. You can see more about Stefanie's digital nomad lifestyle on her blog  strandedinhaiti.com.
The lifestyle of a digital nomad is a dream for so many people. So can you explain briefly how you make money online?
For now I am not earning big money yet as I am still in the process of setting up my business. I am working as freelance virtual assistant over the internet. I have two clients whom I have known through my work as assistant in Berlin. Furthermore, I am also part of a company that offers virtual assistant services. At the same time I have found an instructive course for VA's to set up their business. Right now I am following it to improve and enhance my own skills and web presentation. As you can see, I am working on my career path…
And what made you decide to work as a virtual assistant and how did you make it happen?
Growing up in Germany, I studied languages (English, French as major and Spanish as minor) to get a teaching degree and spent several years abroad. I worked as an au pair in Chicago, as a Camp Counselor in Philadelphia and as a language assistant in Lourdes and Argelès-Gazost (France).
I met my husband at the school in Lourdes, married there and eventually our daughter was born there. In 2010 we moved to Berlin as my husband got a job there while I wanted to finish my studies. While writing the thesis for my degree, I started to work as an assistant in an executive search firm and later in a rating agency. After having spent 5 years in the German capital, my husband accepted a new job at the French School in Port-au-Prince and this is where we live right now.
The choice to work remotely on my own account was unconsciously (or subconsciously) made when we agreed to move to Haiti at short notice at the end of June 2015. We only had 48 hours to accept the offer and from then on only had 1,5 months to organise our move to Port-au-Prince.
At first, when we arrived to a hot and humid Haiti at the end of August, I was kind of lost and overwhelmed by the heat, the changes, the poverty of the Haitian people, the full and smelly streets.  All the sudden I did not need to go to the office 40 hours a week and honestly, I enjoyed that, too. I read a lot, had time to reflect, started my own travel blog, and decided to set up my own business.
At the beginning I was a bit lucky, too, since jobs came my way and I did not have to search for them intensely. While setting up my business I proofread a whole eBook, interpreted for a German bank team that travelled to Haiti, joined a Virtual Assistant Services team and I am organising the birthday party of my ex-boss in Berlin.
My goals for 2016 are to improve and professionalise my webpage (stefaniefaceira.wordpress.com) and my travel blog as well as enlarge my skill set and find some cool people to work with…
What do you like the best about life as a digital nomad and work as a virtual assistant ?
To be honest, I am not a "100%" nomad but rather have a home base for the next 3-5 years with several vacation spots in between. The last four years I have been working in an office for 40 hours a week and I have not seen a lot of my daughter during my work weeks.
I dropped her of at kindergarten in the morning and saw her at 6.30pm in the evening to make dinner, give her a bath and bring her to bed. All the precious afternoon time she spent with my husband. As he is a teacher he had also so many more weeks off than I did. Sometimes there were weeks during the summer when I did not see either of them as they were on vacation with family and friends in France and I had to work.
This is something I always wanted to change and my new independent job working as a Virtual Assistant makes it possible. I can choose the time and spot I want to work from. For example, during our two-week fall break we went to see our friends in Philadelphia and I worked from there. Over Christmas we went to see my family-in-law in France and I was able to work a bit during the holidays. This is pretty convenient and I don't want to change that anymore.
Moreover, now that we are living in Haiti, my daughter's school finishes at 12.20pm each week day. Now it's my turn who pick her up, do her homework with her, drive her to piano lesson or hop into the pool.
 But nothings perfect right? Are there any downsides to life as a digital nomad in Haiti?
Setting up your own business and working from a different time zone is pretty challenging at times. First of all when you start your business you are confronted with a lot of paperwork. I, for instance, based my business in Germany due to my German clients (for now most of them are still German) but organising all this from Haiti and its time zone was nerve-wracking at times. As the process is not going as fast and smoothly going as you like, frustration can settle in pretty quickly.
Another disadvantage is money. Working full-time in an office can be tiring but at least you have a stable income and when you come home at night, your work is done. Setting up your business takes time and you don't have a (stable) income flow (yet). Besides, if you spend the afternoon in the pool, you'll have to work in the evening when your daughter is sound asleep.
Do you have one standout highlight or biggest achievement?
I don't have a major achievement I am proud of but rather several small steps that I have accomplished in my life. For example, with all the travel, jobs and adventures that were going on during my studies, I am glad that I have not abandoned in between but mastered the "1. Staatsexamen" (first German state examination for teachers).
I am also glad to have started my career as an assistant in a renowned executive search firm in Berlin where I learnt the business from bottom up and where I met some inspiring people. In conclusion, I wouldn't be there today without those steps and people I have met. Having my own business (and that in Haiti!) is my latest and biggest achievement so far and I am glad and thankful.
And what has been the greatest challenge of work as a virtual assistant?
I think the greatest challenge in the first place is to overcome your lack of will power. As they say, "We don't grow when things are easy; we grow when we face challenges". Apart from that, it was not that easy to settle here in Haiti as the climatic and environmental change is quite huge. Before our move, people asked me if I was sure about my move to this developing country.
Sure, I read some information beforehand but nothing prepares you for the real shock when you arrive here. It is hot, humid, smelly, poor, dirty and you have to (learn to) live with sights of poverty everyday. We also changed our liberal Berlin life to a rather cage-like life in Port-au-Prince. In Berlin we walked everywhere, took our bike or the train. Here you have to have a car as there is no real public transportation whatsoever. You better follow security instructions from the embassies and walk not around by yourself (especially not as a white woman).
What do you wish you had known before you started working remotely as a virtual assistant?
It would have been nice to have had a clearer picture about my business in the beginning. Nevertheless it is nice how everything falls into place after having faced the first obstacles. Setting up a business in Germany is not easy at all and now I know why are so many agencies offering their service to help people open their business. I am just glad that I had some clients from the beginning on and that I found the online course and support for VA's at the right time.
So, what are your plans and ambitions for the future?
As mentioned earlier, professionally I want to grow my business, professionalise my web presentation, enrich my skill set, and get to a point where I have a relatively stable income. Personally I just would like to continue enjoying the life I am living it right now.
Finally, and perhaps most importantly, what tips would you give for people wanting to follow in your footsteps and work as a virtual assistant?
I know that everybody does not think and work in the same way. For some it might be more adventurous to go out and set up it up while doing. Others might prefer to have a bullet-proof plan before they set off. It's your choice! The only advice I can give is:
Read a lot and get yourself informed (at least a minimum when you are the adventurous kind).
Join the right groups (e. g. Facebook, LinkedIn) and use your network to get insightful information.
If you are starting from scratch, look out for help or online courses. But do not pick just one out of the blue, read testimonials and be sure to purchase good quality.
Spruce up your skills and never stop learning!
Listen to feedback and try different ways when one does not work out.
Never give up and don't forget to enjoy your life while doing so!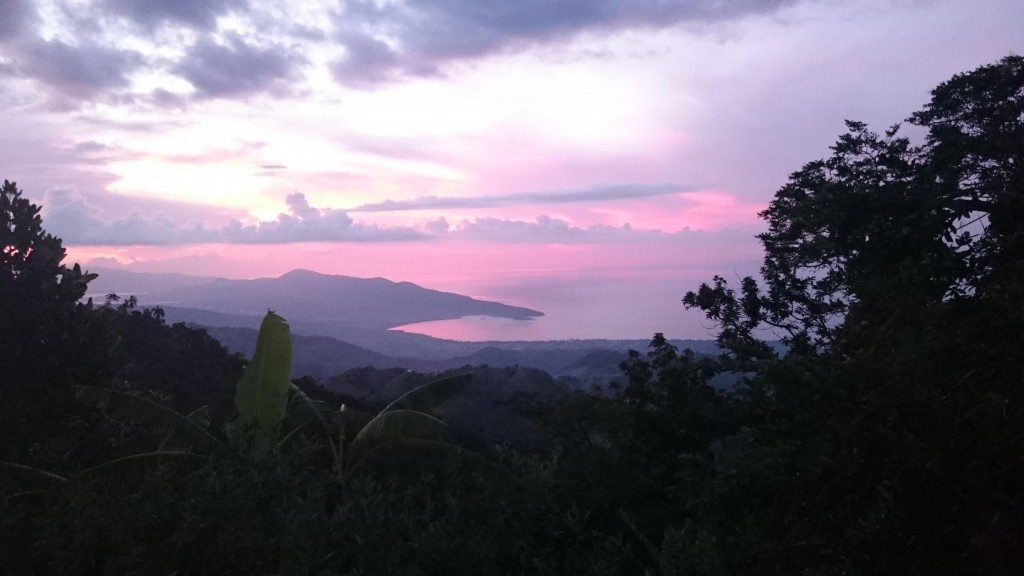 Thanks so much Stefanie for sharing such an interesting insight into your life and work as a virtual assistant and all the best for the future.
You can find out more about Stefanie's life in Haiti on her blog  strandedinhaiti.com and if you are a digital nomad contact me if you want to be featured here.