When most people think of Ibiza they imagine crazy clubs and night life, fancy beach clubs, luxury yachts, stunning beaches and mesmerising sunsets.
This is all true but I'd heard there was a quieter, more spiritual, hippie side to the party island. So I hopped on a cheap flight to go and find the other side of Ibiza and to see if it was possible to enjoy Ibiza on a budget.
Pin Me 🙂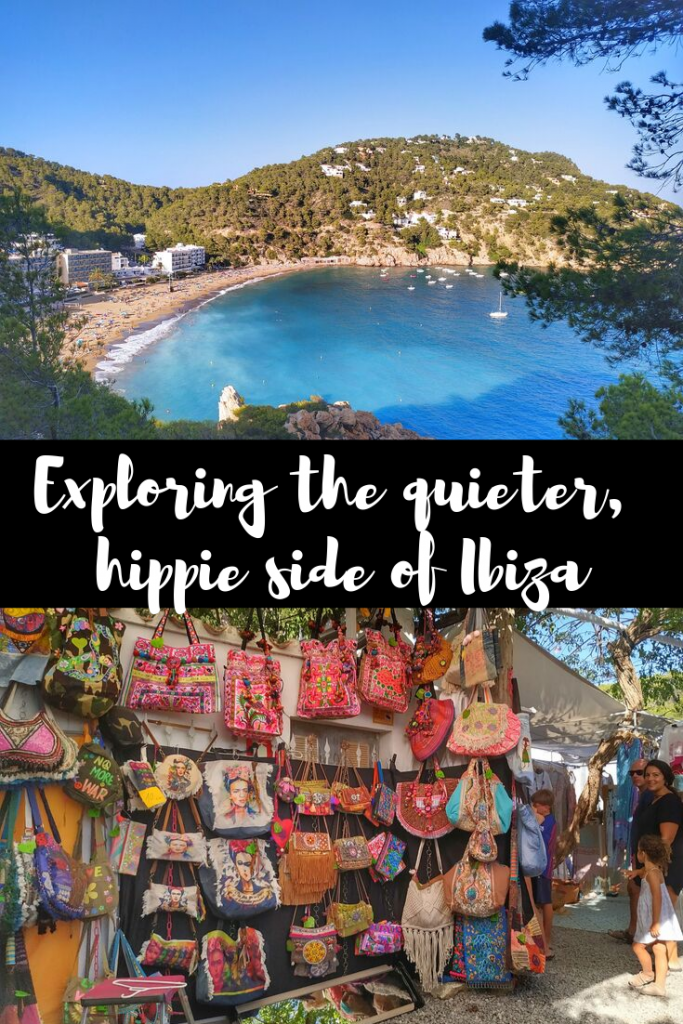 Camping La Playa, Es Canar
I choose to stay at Camping La Playa which is situated in a super peaceful spot right by the sea in the north of the island, a world away from the noise and crowds around clubbing mecca San Antonio.
The campsite is situated right on the coast just steps away from Cala Martina on one side where you can relax on the beach and on the other side is a jetty perfect for morning meditation or just jumping off into the clear, sparkling water. It's only 10 minutes walk into Es Canar, a laid back resort town with a beach, hotels, shops, bars and restaurants, and it's next door to the famous Wednesday Punta Arabi Hippie Market.
They have a huge variety of quirky accommodation options, you can bring your own tent or campervan or hire a tent, colourful retro caravan, wooden bungalow, yurt, tipi or even the big love shack caravan or an old converted bus.
I opted to stay in one of their Nomad Tents which was a huge, spacious, pre pitched tent with a real bed, electricity and sea views. I loved falling asleep to the sound of the waves and waking up to views over the water and being able to jump into the sea.
I went in September so it was cheaper than in peak season and a week cost me €441. There's plenty of showers and toilets that are in good condition with decent hot water and what really attracted me to stay at Camping La Playa is the activities on offer including yoga in the mornings and a really fun African dance class. There's also muay thai, dance, hula hoop and meditation classes in high season.
There's not a camp kitchen so I hired a fridge, cooker and kitchen set for the tent which allowed me to go to the supermarket and cook my own food enabling me to keep costs down.
If you don't fancy cooking there is also a popular beach bar at the campsite called Chirincana which serves healthy breakfast, lunch and dinner with views over the ocean and also has live music 3 times a week including a really popular party on Wednesday nights after the Hippie Market.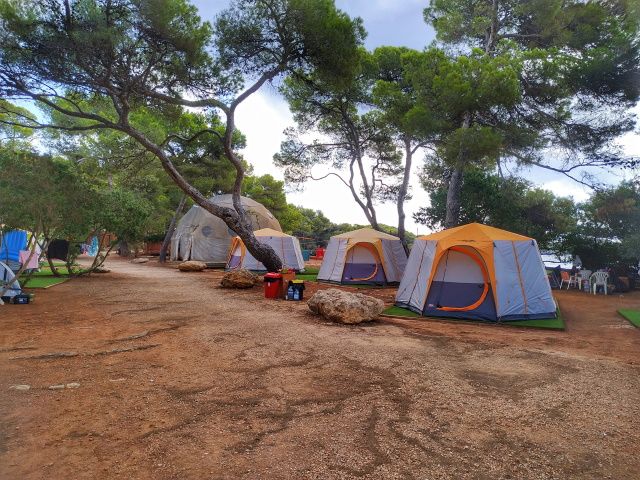 Camping La Playa offered the perfect base from which to explore an Ibiza that is a world away from the clubbing frenzy of San Antonio and was also a great place to simply hang out, soak up the sun and sea views and join in with the activities.
One of the things I enjoyed the most was the coastal walk from the campsite to the town of Santa Eularia d'es Riu which offered lots of opportunities to stop at small beaches en route for a swim and sunbathe.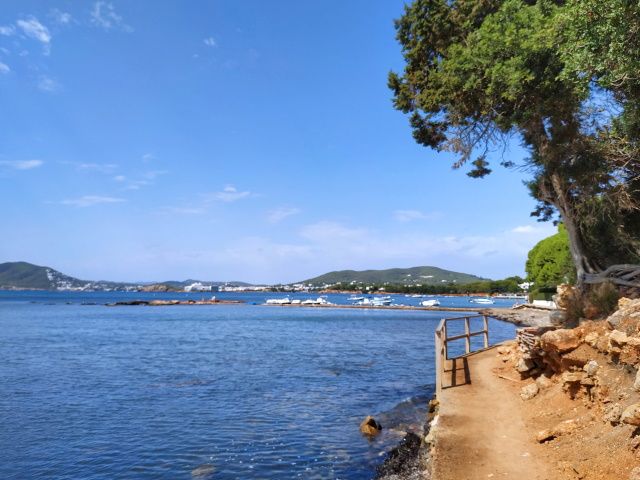 Alternative/ Hippie things to do in Ibiza
Ibiza has a long hippie history. During the fascist rule of General Franco (which began in 1936) many artists and political liberals fled to Ibiza and the island became notorious for its free thinking, liberal attitude and magical aura.
The 1960's saw Ibiza become the European equivalent of San Francisco full of artists, writers and musicians. The main hippy hangouts were Ibiza Town, Sant Joan, Sant Carles and La Mola.
The big clubs like Pacha and Amnesia that started in the 1970s had a vibrant hippy character at first and there are still bohemian, hippie markets like the Hippie Market in Punta Arabi on Wednesdays and Las Dalias in San Charles on Saturdays that have been running since the 1970s.
Ibiza's hippie markets make a wonderful, colourful day out browsing and shopping for handicrafts and jewellery in the sunshine, listening to live music and sampling the refreshment stalls.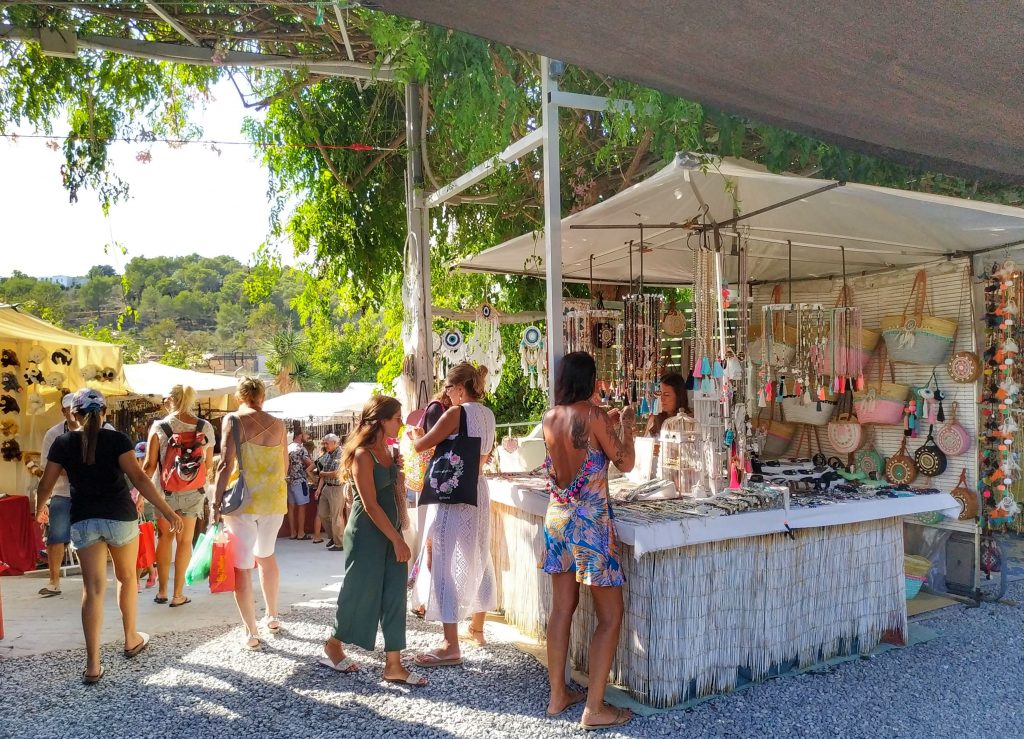 Another hippie hangout that still persists today is the Sunday sunset drum circle at Benirras beach in the north west. It's a beautiful beach hidden away between the cliffs and pine trees but on Sundays it is super packed and when I visited there was a handful of hippies drumming surrounded by hundreds of tourists from all over the island taking pictures of them.
It felt more like a tourist attraction than a genuine drum circle like you get every sunset in Goa. There are also a couple of nudist beaches in Ibiza which felt more hippie – you can even get a free mud bath at Aguas Blancas.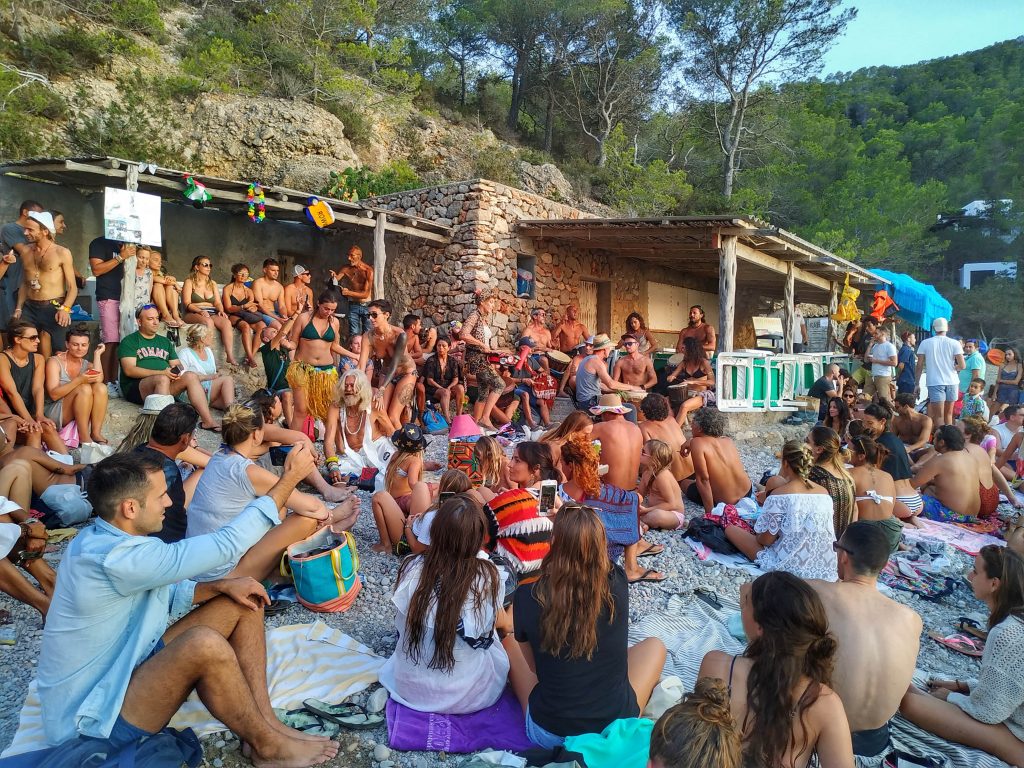 One thing I couldn't miss when visiting Ibiza was checking out the magical island of Es Vedra situated on the south coast off Cala D'hort.
Es Vedra is the source of many island myths and legends and it is rumored that this uninhabited monolithic limestone 400 meter high rock formation is the third most magnetic point in the world, after the North Pole and the Bermuda Triangle. (Read more Es Vedra myths here) I don't know how true this is but I certainly felt a very special energy watching the sunset here.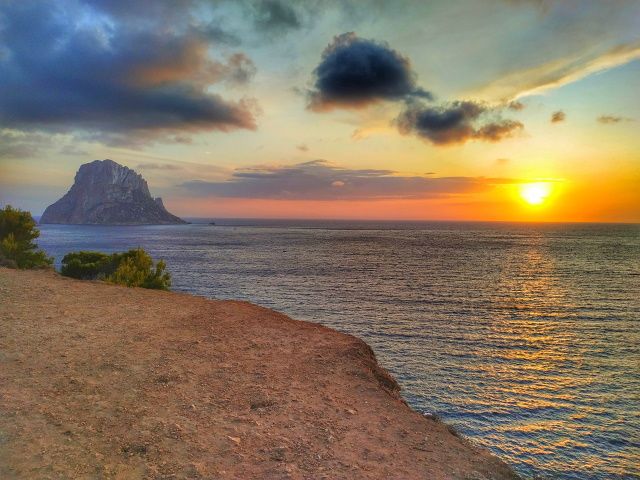 Ibiza has a magical energy that lends itself to the many fabulous yoga retreats here, one of the original and best is Ibiza Yoga near Benirras. You can also just take a morning yoga class by the beach at Amante and refuel afterwards with the delicious included healthy buffet breakfast.
If you're still feeling active then it's quite an easy climb up to an altitude of 475m on Ibiza's highest peak Sa Talaia where you can soak up great views.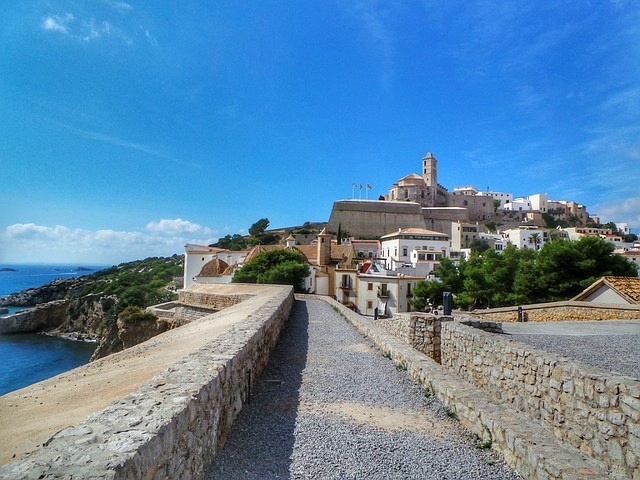 I also checked out Ibiza Town, did you know that the old city, Dalt Vila, is UNESCO listed and one of the oldest cities in Europe. It's got a cathedral, impressive 16th century fortifications, views and steep, white-washed warren of old streets to explore packed with galleries, boutiques and local amenities.
But is Ibiza really a good place for hippies?
Ibiza is a beautiful island with plenty of peaceful places to chill out, stunning natural beauty, magical vibes and a bohemian feel.
There's so much to do here than just mad partying and clubbing but is it still a good place for hippies? Sure, there's a special energy and a hippie history that shows through the hippie markets and drum circles.
But to be honest these things have just become tourist attractions for the modern well heeled tourists and even though camping made it possible to explore Ibiza on a budget the island is still too expensive for real hippies anyway.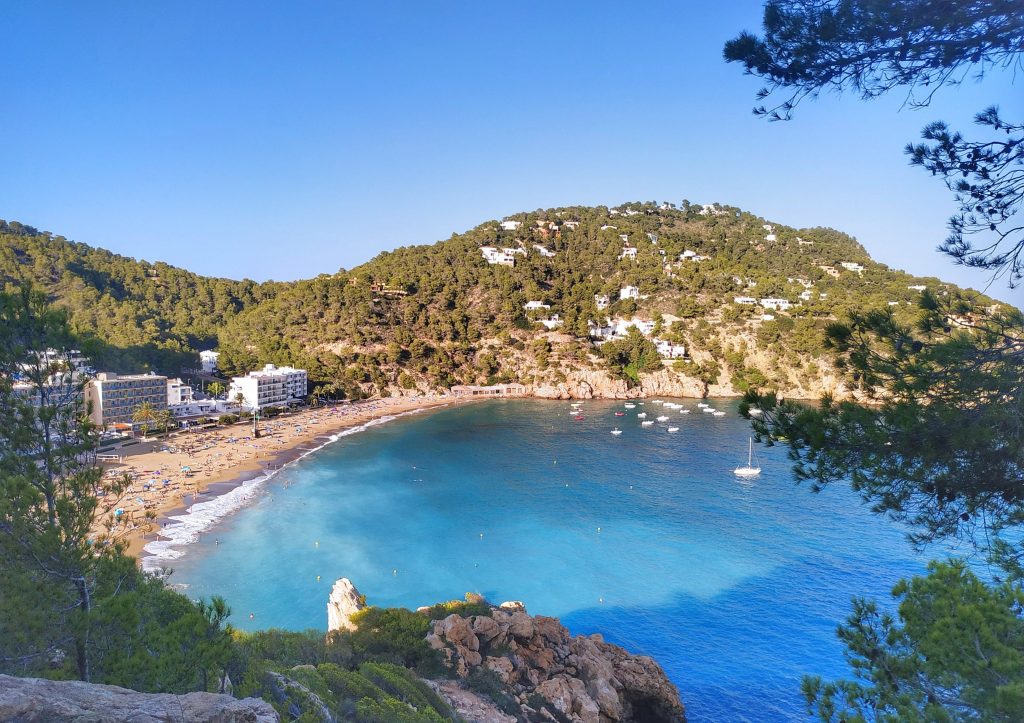 Ibiza is a great place to take a yoga retreat but there are not the plethora of cheap classes, workshops and healing therapies like you'd find in India or Bali.
To be honest, the most hippie part of my trip was the campsite Camping La Playa with the funky, unique accommodation, sea views, beach bar parties, coastal walks, yoga and African dance classes.
There was always someone around playing music, chatting, chilling or having a smoke and the highlight of my trip was just hanging out at the campsite, being in the nature, soaking up the views, meeting people and joining in with the activities and parties there.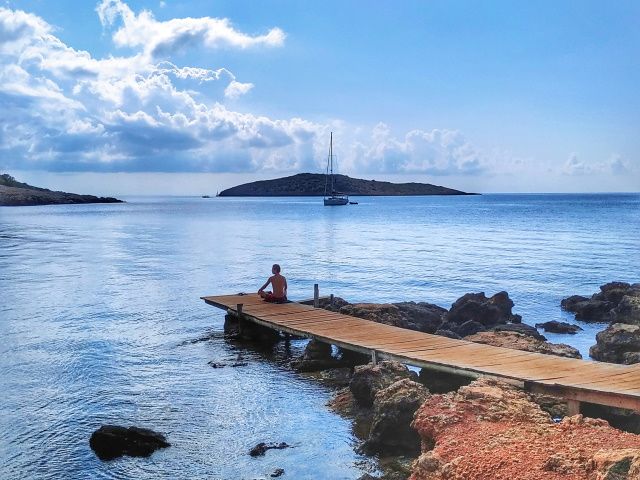 Where to Stay in Ibiza on a Budget
If you also want to explore the hippie side to Ibiza, here's some tips to help you plan an affordable trip. The first thing to decide when planning a trip is where to stay in Ibiza – this will have a huge effect on your experience here so you might want to research into the different areas and places in Ibiza.
If you are looking for pumping clubs and crazy nightlife then you'll want to stay in the popular areas of San Antonio, Playa d´en Bossa and Ibiza Town. But if you want to avoid that and find the more peaceful, hippie side of the White Isle (and the more affordable side!) then you'll want to avoid those areas.
Ibiza is not known as a budget destination, most hotels and Air BnB rooms in Ibiza cost at least €100 per night and even hostel dorm rooms were about €30 per night.
If you want to have a more budget friendly and more peaceful and laid back Ibiza trip then head instead to the North of Ibiza especially areas around Es Canar, Portinatx, Benirras and San Carlos and San Vicent.
Renting an apartment with a kitchen is a smart budget tip as you can save alot of money but cooking your own meals instead of eating out in restaurants all the time.
Some good budget apartments in Ibiza I recommend: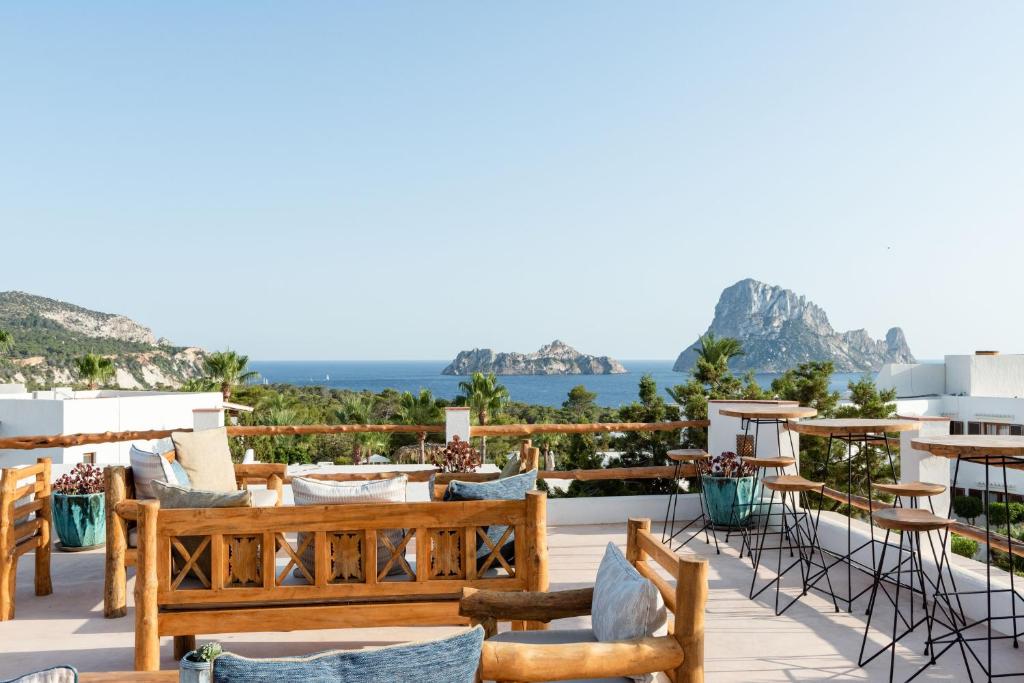 Boho Hippie Chic Ibiza Hotels
If you are looking for a boho hippie chic hotel in Ibiza, rather than a budget hippie stay, then check out:
More Ibiza Budget Stays – Hostels, Farm (Finca) Stays and Campsites.
Other options for budget acommodation in Ibiza include backpacker hostels, farm (finca) stays and campsites.
A farm stay like Agroturismo Rural Can Prats inland near the hippy village of San Charles or Finca Ecológica Ibicenca in San Rafael,  will give you a taste of authentic rural Ibizan life far beyond the beaches, tourists and nightclubs.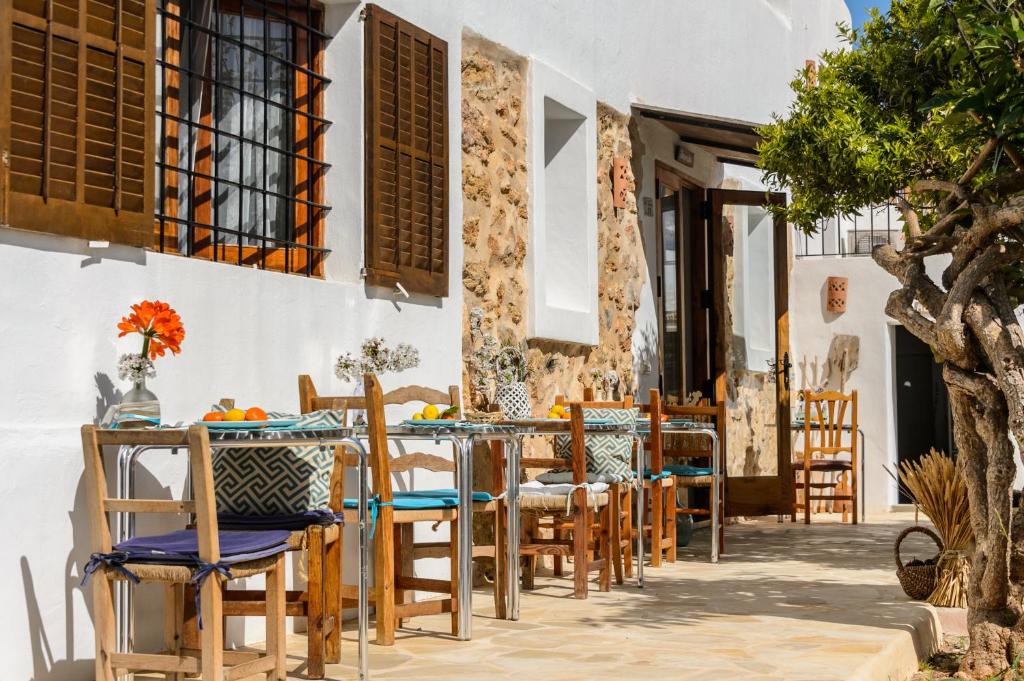 There are also a couple of campsites in Ibiza like Camping Cala Nova and Camping La Playa, both near to Es Canar, which offer the cheapest accommodation in Ibiza.
Even if you don't have a tent, or don't want the hassle and expense of taking it on the plane, no worries, these Ibiza campsites even provide tents, cabins, tipis, yurts and caravans for a hassle free glamping experience. There's even the option of a camping kitchen or shared kitchen so you can cook your own meals too.
Backpacker Hostels in Ibiza
Youth or backpacker hostels are often a good and sociable budget choice. It's a great place to meet other travellers and most have shared kitchens so you can save money by cooking your own food.
However there are not many backpacker hostels in Ibiza and most are more party focused, I don't know if you'll find much peace in the hostels in Ibiza!
Anyway, my top picks for hostels are the colourful and arty Giramundo (only private rooms though) and Amistat Hostel which has a swimming pool and dorms. They are both located in Ibiza Town.
I hope this post has helped you discover there's a whole other side to the party island of Ibiza.
Have you been to Ibiza? Did you find the hippie side of the island?
More Blog Posts on Ibiza: