Visiting Angkor Wat? Read my tips first to make the most of your trip.
Visiting Angkor Wat is one of the very top things to do in all of Southeast Asia. The Temples of Angkor are undoubtedly one of the most incredible sights in the world and one of the most stunning places I've ever seen! But they are no longer a secret – these temples get pretty crowded which kind of ruins your idea of that perfect Tomb Raider or Indiana Jones moment!
Angkor Wat is a magnificent sight, the crown of the once mighty Khmer Empire, the icon of the Kingdom of Cambodia and the largest religious building in the world and a sight you'd be crazy to miss and one that's worth battling the crowds for.
But there is so much more to see than just Angkor Wat, there are so many temples to explore and the complex is so enormous that it can be hard to know where to begin. If you want to avoid the crowds and make the most out of your Angkor experience a bit of forward planning is a good idea.
So here are my tips to help you avoid the crowds and make the most of your visit to Angkor Wat
How to avoid the crowds at Angkor Wat
Far from being lost to the jungle, now the Temples of Angkor are one of the most popular spots of the Southeast Asian tourist trail and receive over 2 million visitors a year. Which means that sadly the most famous temples are pretty crowded which takes a bit away from the adventure and experience.
But there are few things you can do to avoid the worst of the crowds:
Go in the off season
The peak season for visiting Angkor Wat is in the cooler winter months of November to March which is also the most crowded time. April and May are unbearably hot but you could visit in the rainy season(June – Oct)  like I did and enjoy cheaper prices, less crowds and amazingly luscious green countryside!  The weather kept most of the tourist away but didn't disrupt our sightseeing too much, it hardly ever rained in the morning and by the afternoon the rain was a refreshing respite.
Arrive Early
The difference between visiting a crowded temple and a blissfully empty one basically comes down to a combination of the right timings and the right sites.
Seeing the sunrise over Angkor Wat is a spectacular experience, but don't be surprised that everyone else has had the same idea!  If you're set on seeing sunrise at Angkor Wat then arrive early to get a good view point or sit further away or to the side to get a bit of peace from the crowds near the ponds.
Most tourists go back to the hotel for breakfast after sunrise so just after sunrise is the best the time to explore Angkor Wat.  If you've already seen the sunrise at Angkor it's still worth getting there early ( the complex opens at 5am and closes at 6pm)  and starting to explore the other temples in the flattering morning glow without the crowds and heat.
Lunchtime is also a good time to visit some of the busier temples as many tourists will have gone off to have lunch. For sunset avoid Phnom Bakheng as it's unbearably crowded and check out Angkor Sunset Finder for suggestions of alternative places to enjoy the sunset.
Go the opposite way round
One way to avoid the crowds is simply go the other way round. Most tourists will stick to the same routes so by mixing up your route a bit, deviating off the main path or road or even just by avoiding the main entrance and going in a different direction around the same temple (most have more than one entrance) you should be able to escape some of the crowds.
Head further away to explore some of the less popular temples
There are so many temples in Angkor but most tourists will try to rush around Angkor in one day ticking off the big, famous sights like Angkor Wat, Ta Phrom (the tomb raider temple) and Bayon (with the huge faces) but there's so much more to see and some of my favourite memories are sitting alone in the mossy green ruins of an unknown temple far from the crowds at the famous attractions.
Travelfish also has a good article on how to avoid the crowds which goes more in depth into the exact timings and sites you should aim for or avoid. See it here – How to avoid the crowds at Angkor
More Tips for visiting Angkor Wat:
Take your time
The Angkor Wat temples are located near to the town of Siem Reap which is well set up for tourists and has many accommodation options, restaurants, bars and other activities.
Don't even think about spending only one day at Angkor Wat, even 3 days visiting Angkor Wat wasn't enough for me! And don't think that once you've seen one temple you've seen them all because there is a huge variety of styles and levels of decay that mean every temple has something different to see. Get the 3 day pass (US$40) and try to spend a week in Siem Reap if you can and split the 3 day pass across a week.
There is so much to see but temple fatigue can set in quickly. There are lots of things to do in Siem Reap so alternate your days visiting Angkor Wat with days spent relaxing in Siem Reap, having a massage or Khmer cookery class, visiting the Angkor national museum or going shopping. You can also explore the idyllic countryside by horse back, visit the bird reserve or floating villages at Tonle Sap nearby, watch a classical dance or just have a night out on pub street.
Taking your time will make visiting Angkor Wat even more amazing and enjoyable if you don't try to cram it all in at once.
Hire a tuk tuk or use a local guide
The temple complex is just massive. I really can't over estimate how big it is and how much there is to see when visiting Angkor Wat. It's a few kms outside of Siem Reap and if you were to go by bicycle or walk then you will probably wear yourself out before even reaching the first temple!
Hiring a tuk tuk for the day only costs around $15 a day and the tuk tuk drivers know the complex well and can advise you on which temples to see and possibly how to dodge the crowds. If you have transport then it's also easier to visit some of the further away temples which have less crowds.
If you can't afford a guide then at least invest in a good guidebook (no I don't mean the Lonely Planet South East Asia one, something more specific!) The more you understand more about the temples, sculptures and carvings and the Angkor Empire will give more depth, interest and meaning to your visit. For example, did you know that Angkor Thom was the largest city in the pre industrial world. The Khmer's were incredibly advanced for their time and learning how and why they built these temples is fascinating and gives a better insight into an amazing ancient culture.
Come prepared for temple climbing
When visiting Angkor Wat it's best to wear sturdy shoes, take plenty of water and protection from the sun. The many uneven surfaces and huge, steep, temple mountains to climb which will feel precarious in flip flops. It's hard work exploring these massive temples and climbing up the steep steps in the sticky, jungly heat and it's very easy to get dehydrated. Take way more water than you think you will ever need.
Cover up
These temples may be in a state of ruin but they are still a highly sacred and holy site to Cambodians and are often visited by monks so try to dress respectably when visiting Angkor Wat.  This is pain in the heat but try wearing light, loose pants or a long skirt and something that covers your shoulders. Whilst you may get away without covering up in some temples, some temples will not allow you in if you are not dressed modestly and be warned that sometimes even a shawl or scarf may not be acceptable so its better to wear a long sleeved shirt.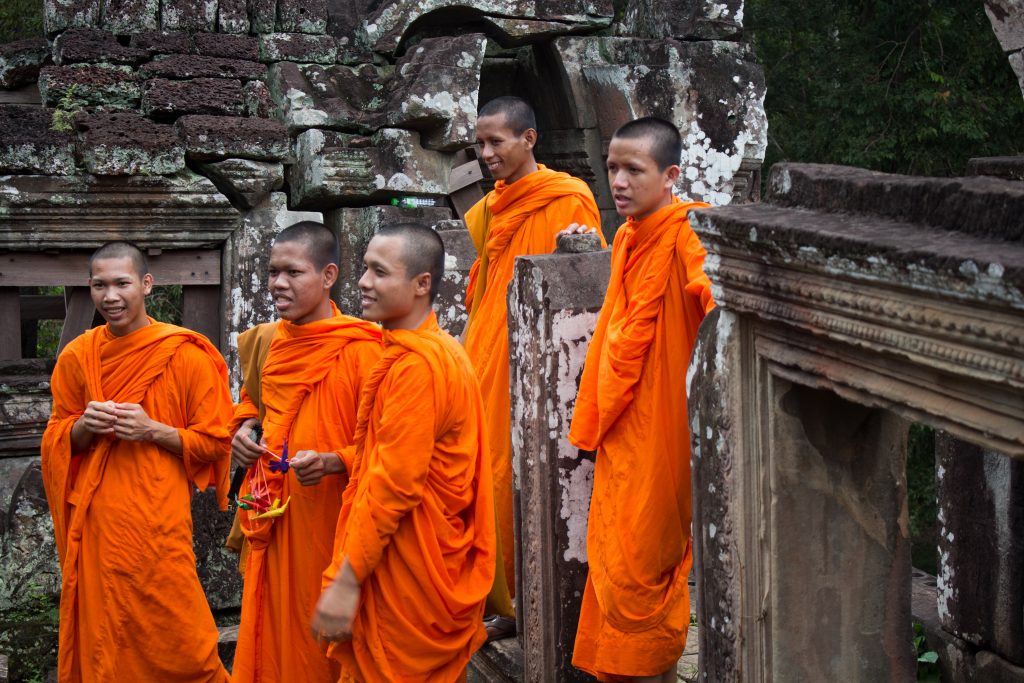 Try to ignore the beggars and touts.
One of the low points about visiting Angkor Wat is the many children, beggars and touts who work around the temples selling postcards and trinkets or begging for money and, while this is a heart breaking and controversial subject, I believe that giving to them will only encourage them to work in this way instead of getting an education and so keeps them in poverty in the long run. Most of the Cambodian people are lovely but around the temples there are some that might try and scam you and the milk scam is a common one. There are many NGOs in town that you could support instead.
Help another traveller – Pin Me! 🙂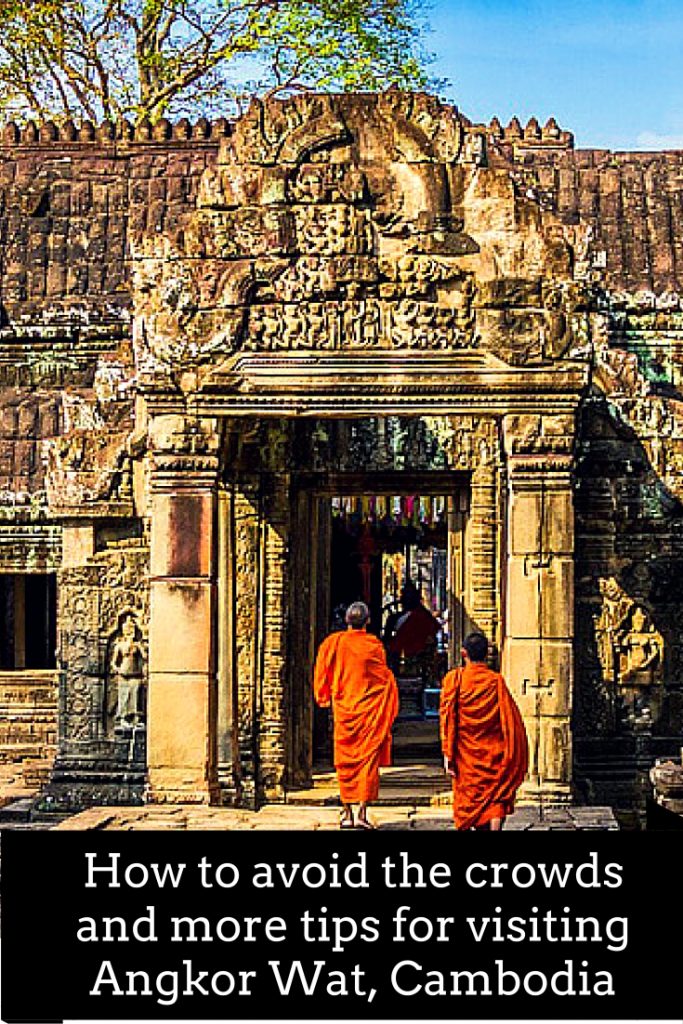 Visiting  Angkor Wat is truly an incredible experience that cannot be missed, don't let the crowds, the steep steps or the heat put you off seeing these amazing temples – it's so worth it!
Have you been to Angkor Wat? Do you have any more tips for visitors? Leave your tips in the comments below 🙂