How to Work and Travel the World as a Life Coach: An Interview with Monique Alvarez
There are so many ways to earn money while also being able to travel the world. This week I'm talking to Monique Alvarez from the US who works as a coach and life consultant while traveling the world with her family.
Monique Alvarez is originally from Colorado and is now enjoying slow travel across Mexico with her husband and two toddlers. Monique is on a mission to share her love of the world with the world. She empowers aspiring world explorers with structures and strategies that create freedom on all levels so they can say yes to travel.
Monique offers unique consulting packages for unconventional entrepreneurs, aspiring digital nomads and traveling families. You can see more on Monique Alvarez Enterprises and also follow her adventures on Facebook.com/MoniqueAlvarezEnterprises and Instagram.com/missmoniquealvarez.
The work and travel lifestyle is a dream for so many people. So can you explain briefly how you make money while also being able to travel?
The way I make money while I travel is through coaching and consulting. I started Holistic Mastermind in September of 2015 and I am now facilitating my seventh group. I also have 1:1 clients, mainly creatives and makers who want to turn their talent and passion into a business.
Being a traveling family has sparked new business offerings as many have asked how we make it happen. I have now created Family Mastermind that is an in-persona weekend event where families learn how to make full time travel a reality. I also have created a new group called Plan Your Great Escape Mastermind that will launch in January of 2017.
Last but not least I have a paid membership where aspiring travelers learn twenty different skills that equip them with what is necessary to becoming digital nomads.
That's awesome! So what made you decide to work like this and how did you make it happen?
My husband and I started an internet marketing business in 2008. We definitely learned how to use online platforms to grow any business but most of our clients came from local networking events.
A year ago, after having two kids in twelve months I knew we had to do business differently. I started consulting and coaching and my husband pursed his passion which is art.
Our kids inspired us to do work that mattered most to us and that had flexibility so we could be home with them. We used our experience with our first business and applied it to ourselves. I hired a coach and my husband hired a PR company. Together we began to work toward time freedom, location freedom and money freedom.
Inspiring stuff! So what do you like the best about this lifestyle?
What I love best about slow travel is that it slows everything down. Living in Mexico is a great way to enjoy life. Family walks, long meals and a later start to our day. We are very productive when we work and we only work three to four hours a day. We enjoy life and finding adventures in Guanajuato every day. Work flows around our travel and our boys. We also love how reasonable the cost of living is. This takes stress levels way down and it's possible to embrace a culture and pace that is so very enjoyable.
Sounds Amazing! But nothings perfect right? Are there any downsides?
I would say the biggest downside is missing family. I would love to see my family more but being here gives them a great excuse to travel and experience something new.
Do you have one standout highlight, favourite destination or biggest achievement?
I have traveled since I was nineteen years old covering seventeen countries and I had never considered Mexico for more than a weekend trip. Living here with my family is my greatest accomplishment and I have fallen head over heels in love with Mexico. Guanajuato in particular makes me feel fully alive. The architecture, the food, the music, the arts, the culture, the hills and tunnels, I love every part of this beautiful city.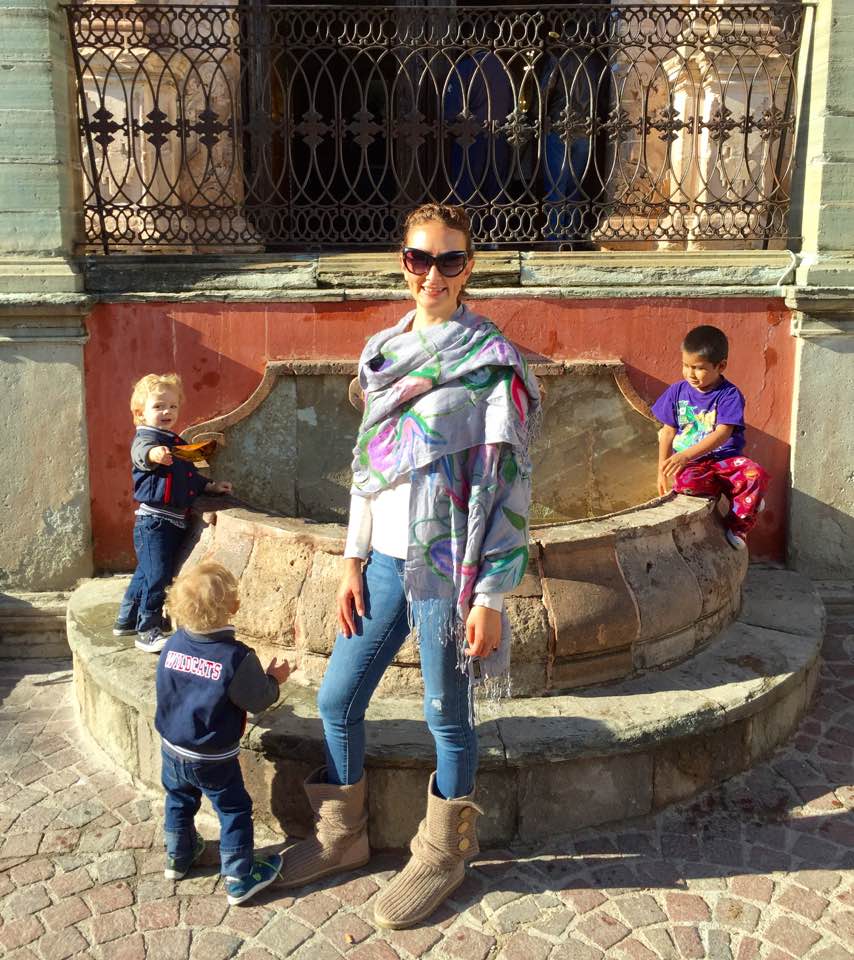 Sounds like such a good lifestyle. But what has been the greatest challenge?
I would say the biggest challenge to being a full time traveler is the criticism that comes from those who have never traveled and don't understand the draw. It can seem like a selfish or immature choice, especially as a parent. One of my favorite quotes by Rumi says, When setting out on a journey do not ask seek advice from those who have never left home.
What do you wish you had known before you started this type of work?
I wish I had known how simple it is to pull of long term travel and how much you need a support system. It's both simple and hard unless you are surrounded by people who celebrate and back you 100%. Now that I have that support system I feel unstoppable. I wish to offer this to others who want nothing more than to be out in the world.
So, what are your plans and ambitions for the future?
My plans for the future are definitely ambitious. We are taking a family vacation to Costa Rica and Mexico City next week. We will be in Mexico until the summer of 2017 when we are doing a tour of twelve baseball fields in the U.S. by train. After that we most likely will return to Guanajuato. Professionally, I am currently writing a book that will come out before year end and I am starting a podcast in November.
Wow sounds exciting! Finally, and perhaps most importantly, what tips would you give for people wanting to follow in your footsteps?
For those who want to follow in my footsteps I would say, be committed to your dream. Invest in a community, a coach and courses. The more you learn about yourself and the more you dedicate yourself to learning skills that are valuable, the more enjoyable your travels will be. Learn what it means to lead your own life and to listen to your intuition. Do not go it alone. Cultivate a community where you can both give and receive.
Thanks so much Monique for your tips and for sharing your story, its been an inspiration. Don't forget to check out the other interviews with people living the dream and working abroad. 
If you are working abroad contact me to be featured here next.