A New Adventure Starts ….
I'm so excited to be returning to a very special country that really sparked off my wanderlust. This incredible country gave me a real culture shock but also provided me with some of the most rewarding, as well as challenging, experiences and for me, is the epitome of transformative travel.
Welcome to Bangalore
I'm going to be volunteering in India, based in the southern Indian city of Bangalore, capital of the state of Karnataka and the 4th largest metropolitan in India with a population of about 9 million people.
Bangalore, or Bengularu, is often described as India's silicon city a it is the major center of India's IT industry.  Off course there are still many people in desperate need in this big, busy city. I'll be volunteering there with a local NGO working to empower women and help street children. This exciting opportunity has all been organised by an amazing local NGO there called Leave Ur Mark.
Who are Leave Ur Mark?
Leave UR Mark is a social enterprise that matches volunteers, interns, and travelers from around the world who want to come to India for a meaningful internship and volunteer experience that benefits both your career development as well as positive community growth through local initiatives.  They work with a variety of well deserving charitable and professional organisations that are working towards the betterment of India.
You can get an idea of the types of projects available on the Leave Ur Mark website and for more information you can read more about what its like working with Leave Ur Mark at Give for Granted.com 
Why Volunteer?
The poverty and inequality that I witnessed on my first visit to India really shocked me and I've longed to give something back ever since. Volunteering is also a great way to get learn more about Indian culture, get more involved with the local community, learn new skills, meet new friends and gain an all round more meaningful and immersive Indian experience. I think I'll get just as much out of it as them!
Introducing Reaching Hand
Leave Ur Mark have organised an incredible volunteering program with an NGO called Reaching Hand. Reaching Hand is a registered Charitable Trust started in 1996 to work with vulnerable children, marginalized women & deprived families empowering them to lead a life of hope, self-worth and dignity. It envisions a promising future for all by acting as a catalyst for social change. Empowerment of children, women & families from weaker sections of society through quality education, health care and skill development is the key focus of Reaching Hand.
How you can help
Right now Reaching Hand desperately need funds and volunteers to help with their work, including building a new children's home to house, protect, educate and nurture 100 vulnerable children and orphans. According to UNICEF in 2007, there are an astounding 25 million orphans recorded in India, these children lose the opportunities for school, health care, growth, development, nutrition, and shelter in addition to the profound loss and burden they experience from the death of their parents.
Reaching Hand create an environment of care & compassion for all those in need. The children's home reduces the suffering of the abandoned, destitute and vulnerable children by providing them the necessary support, protection, nutritious food, health care and quality education along with life skills.  The goal of the project is to make "Today's Destitute into Tomorrow's Leader".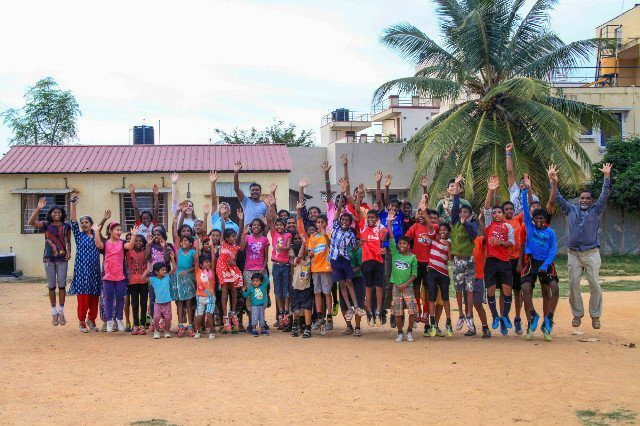 Come and Volunteer in India!
Reaching Hand, and many other organisations, desperately need volunteers.  You could help out in the office with fundraising and marketing, writing and blogging, or organising events to raise funds and and awareness. They also need help with teaching English or ICT, working to empower women by teaching them further life skills and women rights, caring for our children in the New Home and teach extra-curricular activities or by assisting and caring for HIV/AIDS affected families and organising and running Health Camps in Government Schools.
If you are interested, or to see other opportunities for volunteering and interning in India look on the Leave Ur Mark website or contact [email protected]
If you cannot spare your time then you can also see more about Reaching Hand's work and donate or sponsor a child using this link https://www.globalgiving.org/projects/education-and-hope-for-50-orphans-children-in-india/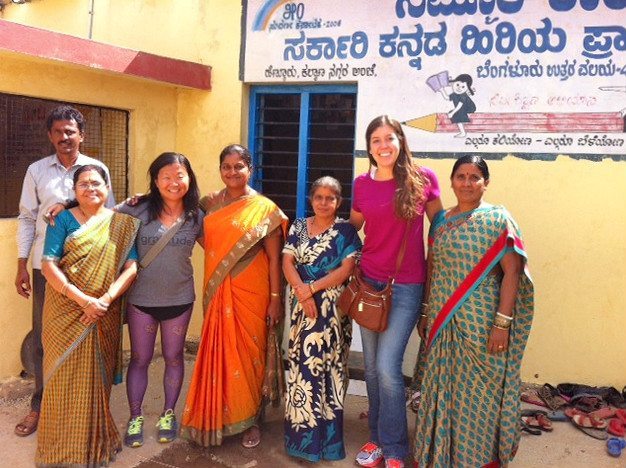 Thanks so much for your support!
As well as donating you can help by volunteering in India with Leave Ur Mark – check out the programs available here.
It's not all work though – there are plenty of things to do in Bangalore . I'm also looking forward to exploring some more of beautiful, luscious South India at the weekends; admiring the palaces of Mysore, the refreshing hill stations, the enigmatic ruins of the temples at Hampi, chilling out with the cows on the beaches of Goa.
Keep following on the blog and at facebook, twitter and instagram for the latest updates from India!