Remembering ANZAC Day
Today marks the 100th ANZAC Day. 100 years since ANZAC troops landed in Gallipoli and started an unsuccessful campaign that would end with a huge, tragic loss of life, but one that left a big mark on the national identity of Australia and New Zealand.
Last year on ANZAC Day, I was humbled to be involved in the small, rural Queensland community's ANZAC Day commemorations.
Working in rural Queensland
I spent a fabulous year in Australia, Sydney is one of the most beautiful cities in the world, Melbourne is very cool and the East Coast was awesome but what I really remember most fondly from my time in Australia is how I felt at home as I became part of the community while working in a rural Queensland pub.
I find that traveling slow, becoming part of the community, making friends and understanding the culture far more full-filling than rushing around ticking of a list of touristy sights and not actually engaging with the local culture.
The country pub I worked in was surrounded by nothing but miles of sugar cane (and there were platypus in the creek!) and working behind the bar really put me right in the middle of this rural community, so I felt honoured when a member of the RSL (Returned Servicemen's League) asked me to join in the ANZAC Day commemorations – and quickly swotted up on my Australian history!
What is ANZAC Day?
I learned that, ANZAC Day is a public holiday that is marked on 25th April every year in Australia and New Zealand. It marks the anniversary of the first major military action fought by Australian and New Zealand forces during the First World War when, despite being a federated nation for only 13 years, they were keen to prove themselves and so rushed to aid the Commonwealth as war broke out in Europe. On 25th April 1915 the ANZACs landed at Gallipoli, Turkey (because Turkey were allys of Germany) but all sides suffered horrifying losses.
Over 60,000 ANZACs lost their lives in the First World War, devastating for such a small, new nation and now ANZAC Day is held as a mark of respect and remembrance for all those who died fighting, not just at Gallipoli, but in all other wars too. ANZAC Day is also about national pride and identity, bravery, tenacity and mateship.
So ANZAC Day 2014 started early, really early, before it was even light with the dawn service, parade, the sound of the lone bugler playing the Last Post and a breakfast of rum and milk. There were many parades and services held but the dawn service is the most important as dawn was the time of the original landing at Gallipoli, the last peaceful moments before all hell broke loose.
Throughout the day each community, no matter how small, marked the occasion in some way with an excellent turn out and a real patriotic atmosphere with parades, readings, services, music, hymns, reflections, wreath laying and remembrance.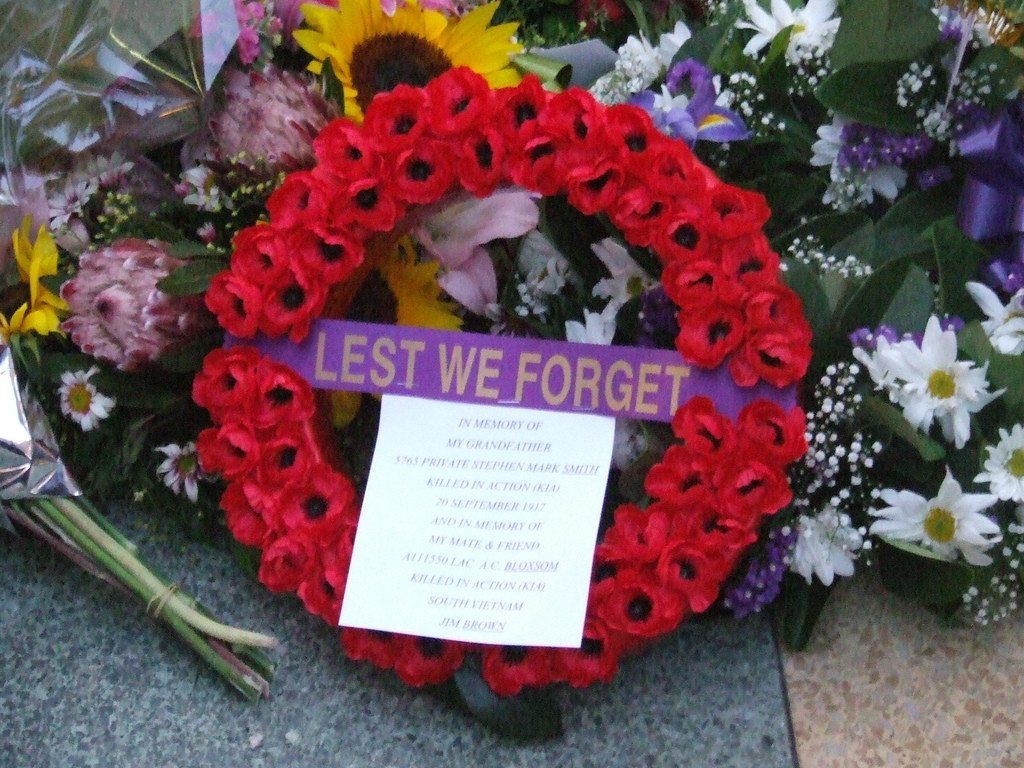 Commemoration and Celebration
That special kind of 'mateship' that you find in Australia was at it's best in the pub that day. Even the sugarcane farmers who never even wore shoes came dressed up in their finest suits and hats to show their respects and school children marched with pride and read out mature, insightful and inspiring readings and reflections.
In the evening I had to dig out something smart to wear as I was a guest of honour at the RSL dinner, it was quite strange to be involved in toasting the Queen and singing the national anthem so far away from home, and it was far from the depressing atmosphere that you might expect from such an occasion.
The evening managed to contain elements of humour and gratitude as well as solemn reflections and a sense of comradeship and celebration. So I laughed and cried in the same evening and even, to my embarrassment, was coaxed to get up and made a speech about how moved I felt to be part of the occasion which ended up with my photo being in the local paper.
The Band Played Waltzing Matilda
This was the part that made me cry by the way, (and some grown men) not just for the ANZACs but for all people, from all nations who suffer from the horror of war.
Over 87,000 Turks died defending Gallipoli and at least 300,000 more on both sides were seriously injured. Other nationalities also fought and died there, including British and Irish and 15,000 Indian soldiers who fought alongside them.
But what gives me hope is the Turkish attitude and forgiveness, the way that Turkey has tended these war graves (of people who came to invade their country lets not forget) and welcome thousands of Australian and New Zealanders who come here every year.
This quote from 1934 by Ataturk (the founder of modern day Turkey) sums it up nicely (and is found on the memorial in Canberra)
"Those heroes that shed their blood and lost their lives … You are now lying in the soil of a friendly country. Therefore rest in peace. There is no difference between the Johnnies and the Mehmets to us where they lie side by side here in this country of ours … You, the mothers who sent their sons from faraway countries, wipe away your tears; your sons are now lying in our bosom and are in peace. After having lost their lives on this land they have become our sons as well."
It's been more than 6 months now since I left Australia but it still has a special place in my heart, in many ways it still feels like second home because of the connections that I was able to make there – that is the reward and benefit of travelling slow.
So today on ANZAC Day I remember how humbling it felt for me to learn about this history and to feel part of this tight knit community, in the UK we have a remembrance day parade but nothing that stretches so far as every community and every heart, young or old, rich or poor, in such a moving way like ANZAC Day does in Australia. Hopefully this kind of reflective remembrance of the ultimate sacrifice can ensure than tragedies and war like this do not happen again.
"They shall grow not old, as we that are left grow old:
Age shall not weary them, nor the years condemn.
At the going down of the sun and in the morning,
We will remember them"
Lest We forget
Related articles