Exploring Quirky Skopje: Probably the Statue Capital of the World!
Quirky Skopje seems to be a city with an identity crisis – with brand new, neo-classical architecture that wouldn't look out of place in Athens or Rome, Ottoman era mosques and Albanian influenced bazaars,  hundreds of huge quirky and kitsch bronze statues, a Parisian style 'Arc De Triomph, red London double decker buses that ply the streets, a huge 66 meter high cross atop of a hill that is kind of like Macedonia's version of Rio's Christ the Redeemer and even a London Eye in the pipeline.
All this makes Macedonia's capital an interesting, diverse and fun place to wander around and explore but I couldn't help wondering why this country, one of the poorest in Europe (meaning its also one of the cheapest bargains for travellers 😉 )  has spent so much money on all these quirky statues and monuments that seem a little out of place.
Pin Me! 🙂
Perhaps this it's not surprising that Macedonia is so diverse given its geography and its long and interesting history.
Skopje stands at a cross roads in South Eastern Europe between Greece and Serbia to the South and North, and with Albania to the West and Bulgaria and Turkey to the East.
Macedonia has already lived through many reincarnations including being part of the Roman Empire, 500 years of Ottoman rule and part of Yugoslavia before finally gaining independence in 1991. The city has also been raised to the ground and rebuilt after several earthquakes, one in 1963 destroyed most of the city in just a few minutes.
Even now there are still debates and controversy over the very name of the country – Greece recognises Macedonia as a region of Greece and as long as Greece challenges Macedonia on its name, its access to Nato and the EU is essentially blocked.
Skopje's city center must be the statue capital of the world. I've never seen so many statues in one city! In fact I asked my walking tour guide how many statues there were and he said that nobody actually knows!
One of the most striking statues is a 22-meter statue called Warrior on a Horse. It is widely understood to depict Alexander the Great, but cannot be officially named that because of a long-running dispute with Greece, who also claim him as their national hero. Macedonia made sure they had the biggest statue but now Greece are building another to beat it and the Macedonians are planning a way to usurp them again!
So why are there so many statues in Skopje?
Since 2010, In an controversial attempt to attract more tourism and increase patriotism and national identity this former soviet bloc capital has been under much regeneration in recent years as these huge civic buildings, public works and statues have been built as part of Project 2014.
The architecture and statues are certainly interesting and tourism has increased a lot but this Disneylandish project is controversial with many locals because of allegations of corruption and because they believe the money would have been better spent elsewhere and that many of the developments actually have little connection to Macedonia's heritage. Read more about it here
The project has cost somewhere between €200-€500m and there are even statues of shoe shiners and beggars – but surely the amount of money that it cost to build these statues would probably have been better spent helping the shoes shiners and beggars out of poverty?
Even so, Macedonia's capital is an interesting, quirky and unpretentious, multicultural city that is great value for money and has a lot to explore and I really enjoyed visiting. Don't miss visiting this bargain offbeat gem.
Tips for visiting Skopje
Macedonia is a beautiful country that is one of the cheapest and best value destinations in Europe. Macedonia is not in the Euro which makes it more of a bargain, you can find a hostel bed for only €6 or a hotel from €15 and you can eat a meal out for about 100 MKD which is less than €2
It's easy and cheap to get around on public transport and is well connected to neighbouring countries like Greece, Serbia, Bulgaria and the rest of Europe. Whizz Air also has cheap flights to Skopje – you can get flights from London Luton from only £13!
Macedonia packs a lot into a small country, there's lots to do in the capital Skopje. If you liked nature it's an easy day trip to Matka Canyon . And while you're in Macedonia then you also shouldn't miss the gorgeous Lake Ohrid
Of course I had to stay at Shanti Hostel in Skopje which I loved. Its close to the bus and train  station and easy walking distance to the center and has a relaxed and friendly home away from home atmosphere. You can book Shanti Hostel on Booking.com here.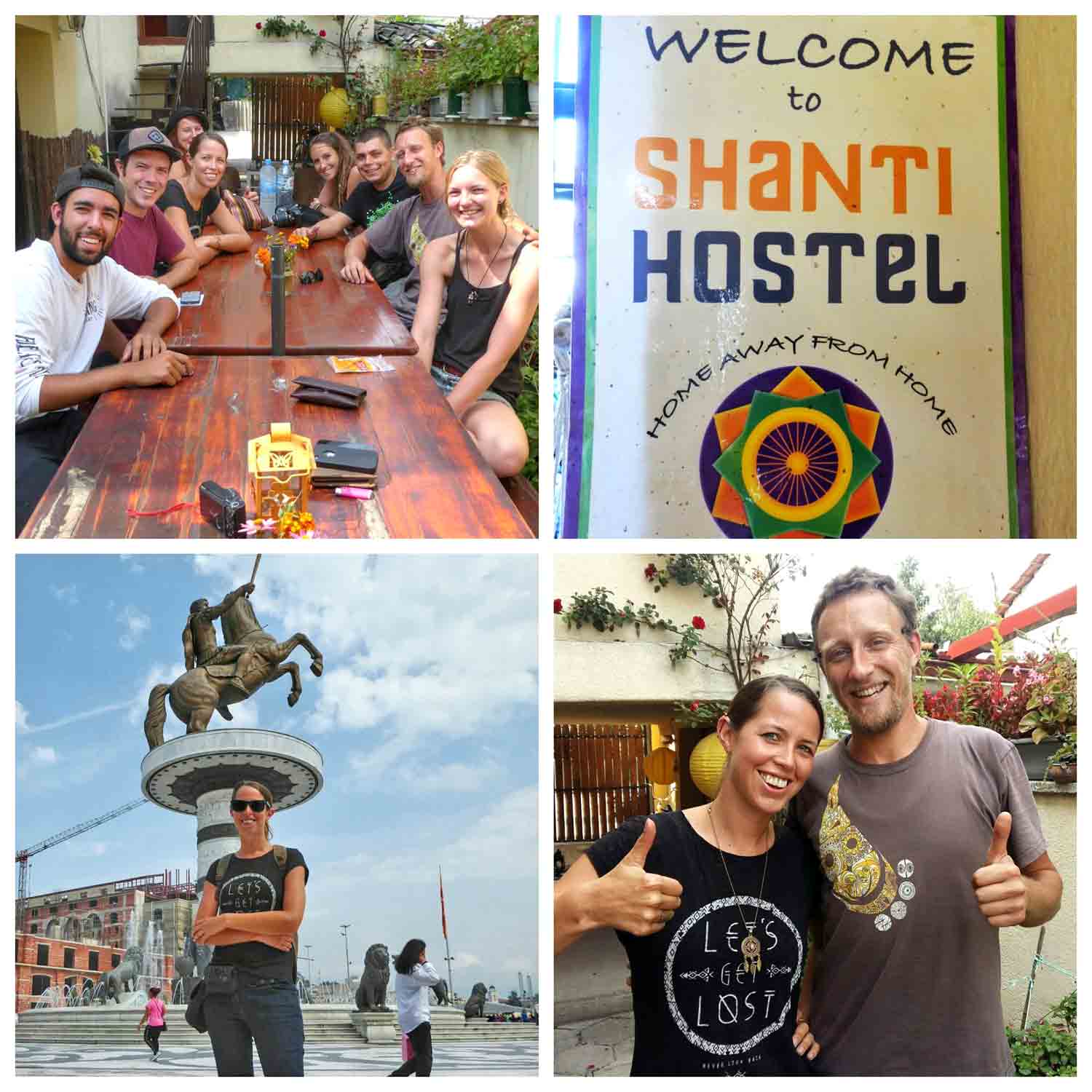 If you prefer to stay in a hotel then check out Hotel De Koka. This hotel was built in 2014 so it's ultra modern and sparkling clean but it's still a bargain. Hotel de Koka is situated in the perfect location right near the river and the old bazaar. The rooms have a super modern, contemporary design and are really well equipped. If you can splash  – if you get a king room the beds are round and there is a spa bath!
Did you know that Macedonia is also the only country in Europe that Indian citizens do not need a visa for!
I'll be writing more about Skopje and Macedonia soon but in the meantime Goats on the Road also have a great post about traveling Macedonia packed with tips and info and Charlie on Travel also has a good post about slow traveling in Macedonia.
Have you been to Skopje? What did you think of all the statues?
Pin Me! 🙂