Why you should visit Girona – The Heart of the Costa Brava
I have to start with a confession … Barcelona is one of my favourite cites of all – it has everything for a great short break from history, art, culture and architecture with a sunny climate, fabulous food and even a nice city beach plus it's still good value for one of Europe's most popular cities and close to the rugged coast of Costa Brava, one of the most charming in Spain.
I'm ashamed to admit that I'd visited Barcelona 3 times before I made it to historic Girona despite it being 10 mins from the airport, only half an hour from Barcelona, the popular seaside towns of Lloret and Tossa De Mar on the Costa Brava Coast.
Girona – A Hidden Gem
But those who do venture to wander the quaint, historic lanes of Girona are in for many treats so when in Costa Brava. If you are looking for a historic, beautiful, charming city with excellent food that is just perfect for meandering and still retains an authentic Spanish flavour then don't forget to visit Girona!
Girona is one of the main cities in Catalonia, a distinctively different region to the rest of Spain. Girona's strategically important position on the historic route from Rome to Cadiz lead to a turbulent history and even though the fortified city of Girona has been attacked, under siege and invaded many times, much of the historic architecture and beguiling charm of this city remains miraculously intact. , meaning that there is lots to explore for a modern day visitor.
Orienteering through Girona
The Girona tourism board has recently created an easy, orienteering trail which allows you to explore Girona at your own pace while discovering modern, public artworks that bring to life some of the myths and legends that surround this historic city.
Our guide, Gloria, was fantastic and really bought to life the history, myths and legends of this beguiling town. Myths that include witches, curses, ghosts, miracles, scaly creatures and kissing lion's bottoms! It is believed that if you kiss the lion's bottom then you will return to Girona. Leyla Alyanak describes the myths and legends of Girona in more detail.
Through the orienteering trail we also discovered some of the other highlights and attractions of this charming city.
Girona Cathedral
Perhaps Girona's most famous attraction is the imposing, grand, gothic cathedral.
Its tall spires dominate the skyline and its grandeur is only further accentuated by the step steps that lead up to it. Girona's cathedral lays claim to the largest gothic nave in the world and the atmosphere in this majestic huge cathedral was really quite special.
I even got to climb right up to the top and take in the sweeping views across the terracota coloured roves of the historic city below and the Pyrenees in the distance.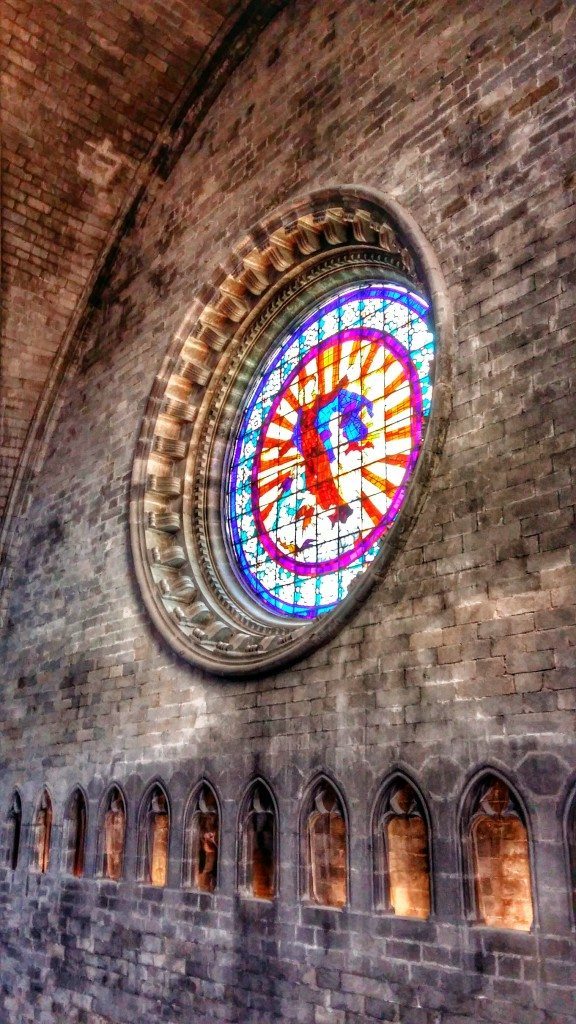 Museums and The Jewish Quarter
Girona is home to Europe's best preserved Jewish Quarter. Meandering though the cobbled lanes with their colourful houses and cute flower filled hanging pots is a delightful way to spend an afternoon and while you are here pay a visit to the Jewish Museum.
There is also an art gallery at the bottom of the grand steps up to the cathedral and an art museum. Girona is also home to the archaeology museum of Catalonia and the Girona History Museum is also worth exploring if you want to learn more about this city's fascinating history.
The Arab Baths
In the heart of old Girona you can see the remains of the 12th-century Muslim bath house, a relic of the Moorish times with several rooms which had different temperatures and uses .
The Old City Walls
Girona is a city that has been constantly at threat of invasion through it's colourful history and still has thick city fortifications to prove it – these walls withstood 30 sieges over 800 years but nowadays though they provide a peaceful escape with pretty gardens and cloisters and great views over the city and beyond.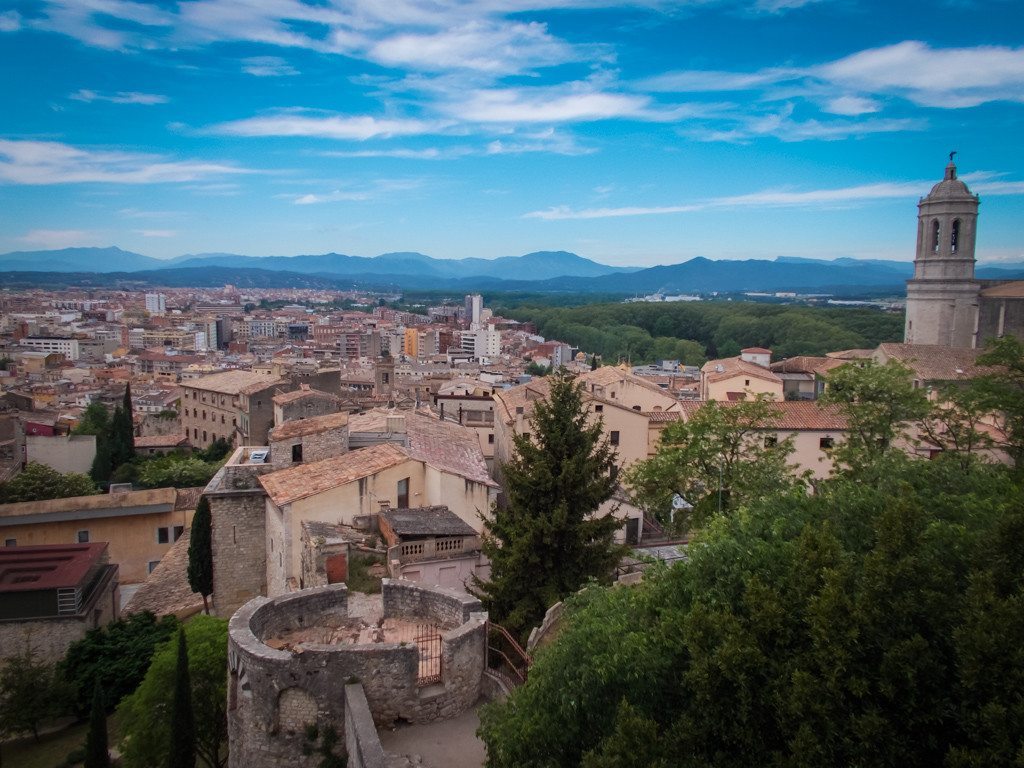 My Highlight of Girona
There is plenty to keep a visitor occupied in Girona but actually the highlight of my time here was simply wandering through these quaint and cobbled stone streets and soaking up the atmosphere of the old city. I even went out of my way to criss cross across the bridges over the river just for another glance of the stunning views of the multi coloured houses that line the river.
Girona has the Best Food in the World – For Real!
And after a day meandering through this historical, charming city you can treat yourself/ don't need to worry about going hungry in Girona either, as it is home to several Michelin-starred restaurants including El Celler de Can Roca, proclaimed by the prestigious Restaurant Magazine as the Best Restaurant in the World!
It is even home to the Rocambolesc Gelateria, reputed to be the world's best ice cream place and with so many other delicious eateries, the gastronomic delights don't stop there –  I can also highly recommend the Els Jardins de la Merce   and there are many, many ice cream parlours and well, if you don't try them all, how do you know for sure which one is the best! In fact, all the food I sampled in Costa Brava was delicious, especially the hams, wines, cheese and gelato!
Where to Stay in Girona
After my day in Girona I stayed at the Equity Point Hostel, the location in the old town with easy access to the bus station was perfect for me and at just 13 euros for a dorm bed this was a bargain especially when with views over the old town like this!
Splurge option
If hostels aren't you thing then you are still well catered for here – I was very tempted by the Hotel Historic it looks stylish and full of character right in the shadow of the cathedral.
If you needed even more reasons to explore more of Costa Brava, did you know that the amazing hometown and museum of surreal artist Salvador Dali is only 30 mins further North from Girona in the town of Figures.
So, don't forget to visit charming, historic Girona!

Charming and historic streets of Girona
By the way, my day in Girona was kindly organised by Girona Tourism where you can find out more about the orienteering trail I did, but my stay at Equity Point Hostel was organised by myself. As always, all views are my own, honest opinion.
Have you been to Girona? What was the highlight of your visit?