Portugal is fast becoming one of the best digital nomad destinations in the world due to the country's natural beauty, sunny climate, easy going lifestyle, business-friendly policies, and affordable cost of living.
Why coliving in Portugal is becoming so popular
As the digital nomad scene in Portugal booms there are many options for digital nomad accommodation and even specialised places offering stylish, sociable, affordable and hassle free digital nomad coliving in Portugal!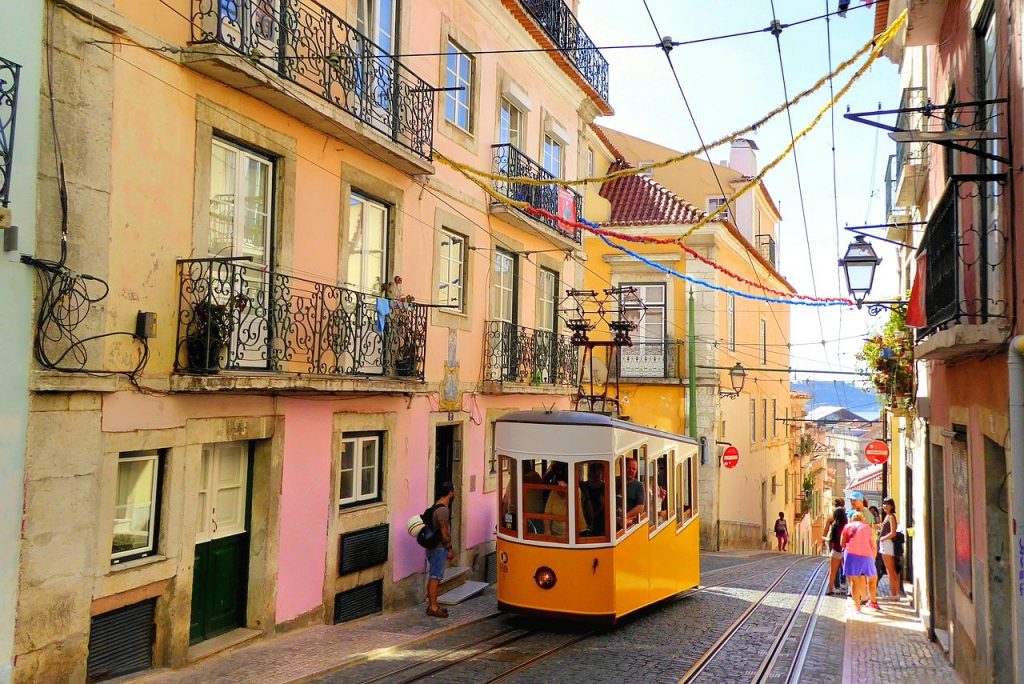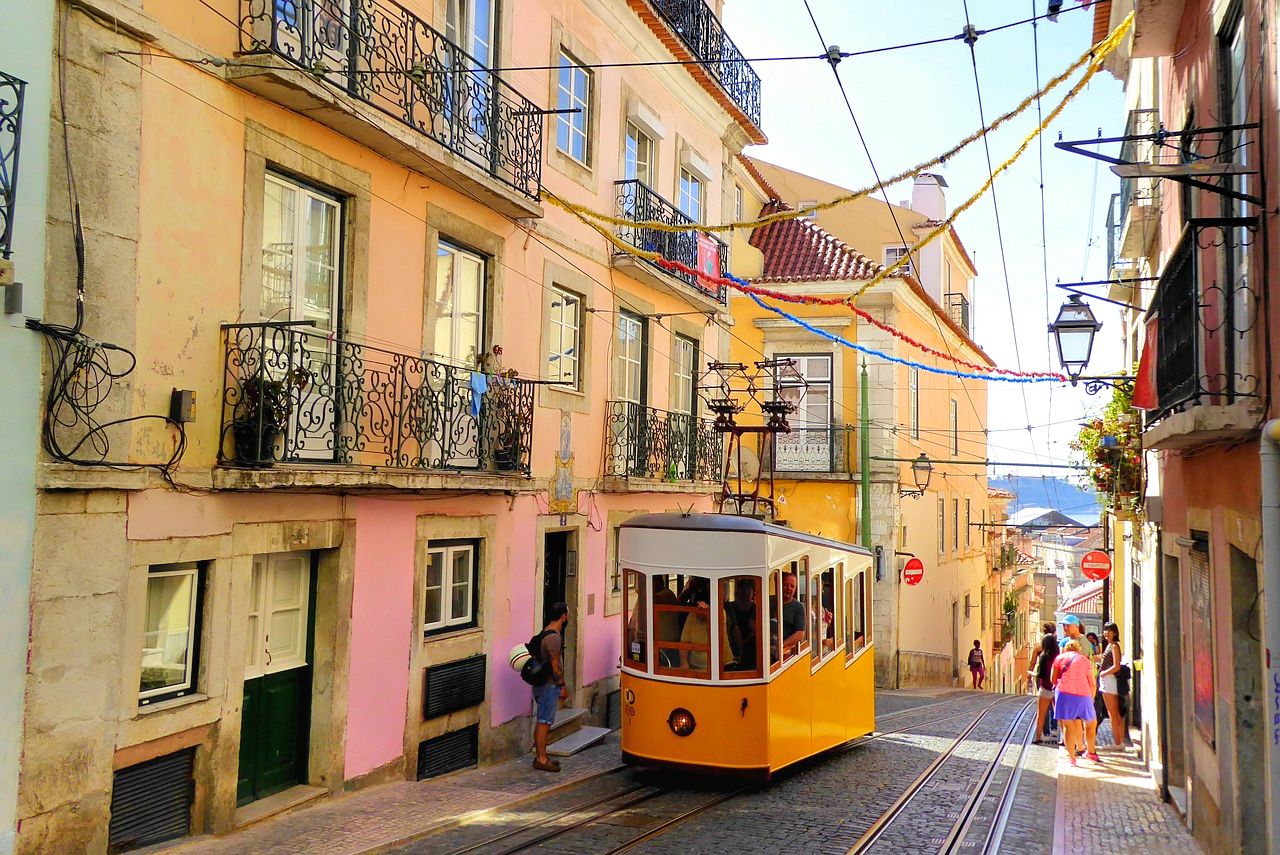 Portugal is really shaping up as a digital nomad hotspot. Forbes named Portugal as one of the top 3 countries in the world to live in, a new digital nomad village recently opened on the island of Madeira and a new digital nomad visa (D7) for Portugal has been introduced!
When you're not working Portugal offers beautiful, historic and cultured cities to explore, the best surfing in Europe, rejuvenating yoga retreats and a plethora of natural beauty spots to discover.
Pin Me! 😉
The most popular place for digital nomads in Portugal is the buzzing and beautiful capital Lisbon which has plenty of coworking spaces, like minded people to meet and events to get involved with (check out my Lisbon digital nomad guide here and my guide on Where to Stay in Lisbon here.)
The city of Porto in the North with it's lovely riverside setting is another digital nomad hotspot and those who love the sun, sea and sand head to Lagos in the Algarve.
Digital Nomad Accommodation and Coliving in Portugal
It can be hard to find suitable short term accommodation with the right equipment and good enough WiFi to enable you to live and work productively and stress free.
Air BnB's are an option but the cost can really add up and they might not have the facilities you need, hostels can be too noisy with not enough privacy to allow you to focus on work and traditional house rentals often require longer commitments and too much paperwork. I've also found it can get a bit lonely as a solo digital nomad in a foreign city.
Luckily, there are now many fantastic option for coliving in Portugal where the whole property is focused on meeting the unique needs of digital nomads and where you'll have the perfect combination of your own private space whilst also being able to meet other like minded digital nomads. You'll often also get access to onsite coworking spaces too and won't have to worry about long term commitments, deposits or complicated paperwork.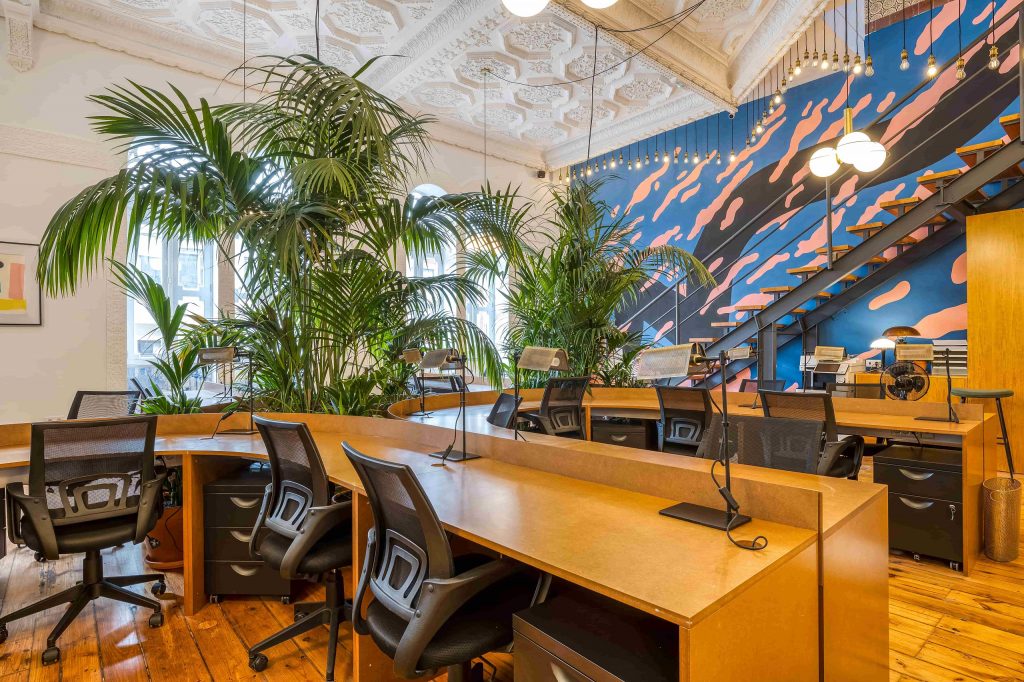 It's easier than ever to find the best digital nomad accommodation and coliving in Portugal online. My favourite sites are Anyplace.com  and Coliving.com  These fun and easy to use sites have have buzzing coliving spaces and fabulous fully furnished apartments set up especially with remote workers in mind, not only in Portugal, but all over the world.
The benefit of using Anyplace or Coliving over trying to rent an regular apartment yourself is that it's flexible meaning you can live month-to-month in any city. It's easy to find and apply for apartments online and there's no hassle as the properties are fully furnished and ready to move in to and are all inclusive as utilities, WiFi and often weekly cleaning are included too.
If you are looking to make friends and connect with other digital nomads then staying at a coliving space or hostel in Portugal could be ideal. Or if you are looking for more privacy but just looking for a shorter stay (under 1 month) then you can also find some great studios and apartments on Air BnB or Booking.com that can be suitable for digital nomads. I'll recommend some of my favourites in this post.
Here's a few of my favourite digital nomad accommodations and coliving in Portugal …
Best Coliving Spaces in Portugal
Selina has become a popular chain of coliving spaces across the world, check out this one in Lisbon to realise why. Selina Secret Garden is located in Lisbon's trendy Cais de Sodre neighborhood which gives you easy access to the area's ever growing ecosystem of art, culture, history and lively nightlife. Selina is the perfect coliving in Portugal for those who like a lively and sociable atmosphere within walking distance of the amazing nightlife of Bairro Alto, Lisbon Cathedral, the waterfront and many cultural hotspots.
Selina offers one of the most affordable coliving accommodations in Lisbon if you opt for the dorm which is complete with plenty of storage lockers, privacy curtains, comfortable beds and a stylish wooden finish. There's also quirky private bedrooms but the highlight of Selina Secret Garden is the fabulous, sunny rooftop deck with a swimming pool and patio area. There's also a bar, restaurant and co-working space on site as well as Wifi, AC, laundry, housekeeping and a shared kitchen. There's also a full weekly program which includes dance classes, wellness and yoga, social nomad meetups and more. You'll never get bored at Selina Secret Garden!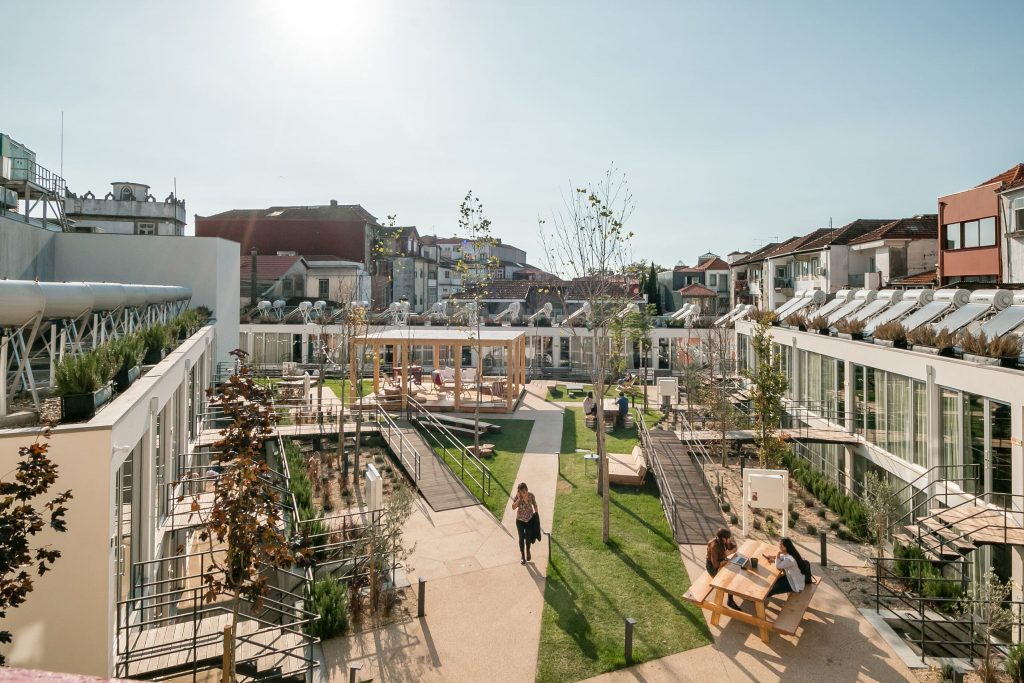 After Lisbon, Porto is Portugal's second most popular city and it's lovely historic riverside setting and famous vineyards are places all digital nomads should explore. Luckily, there's also a Selina coworking and coliving space in Porto too! It's located in a newly renovated building within walking distance of Riberia – the city's enigmatic, medieval, waterside district from where you can take a cruise along the picturesque Douro River.
There's an airy and bright coworking space with high speed WiFi and meeting rooms, an onsite cafe and you can enjoy evenings with like minded digital nomads with live music and a bar in the courtyard. Choose from comfy dorms with plenty of privacy, lockers and sockets or splash out on the spacious private rooms. What I love about Selina Porto is that most of the rooms have really large floor to ceiling windows offering lots of natural light and views of the courtyard or city. Selina Porto also offers daily excursions like visits to interesting places like the Serralves Museum, the Virtudes Garden and the Coliseu do Porto.
This beautifully renovated and stylish traditional house turned into a coliving for digital nomads is located in Bonfim, an artistic area of Porto where you can get a taste of the local life but within a short walking distance to the tourist attractions. There's 8 bedrooms of different sizes to choose from, with single or double beds and workspaces, some bedrooms with private bathrooms and balconies while the cheaper ones have shared facilities.
There's huge communal areas and work spaces, a large shared kitchen, dinning room and a terrace. Get to know people and get inspired by new connections with yoga sessions and social activities. You can call this place home from €600.
Portugal is the best surfing hotspot in Europe (check out my recommendation of the best Portugal surf spots and surf camps here) if you want to surf and work then Selina Peniche is the perfect coliving in Portugal, the only problem is there's so much to enjoy it might be difficult to tackle the boring paperwork you've been putting off!
Peniche, once a famed fishing port is now Portugal's surf capital and Selina Peniche is located in a beautiful white and blue building right in the heart of all the action and offers a coworking space, library, cinema room, pergola garden, plunge pool, Mediterranean restaurant, bar, and rooftop terrace that hosts daily yoga sessions as well as weekly workshops and live music events. There's even a skateboard ramp.
Save money by staying in the stylish dorm which has loads of storage lockers and comfy beds complete with privacy curtains or go for one of the cute and colourful private bedrooms or suites. What I love about Selina Peniche is that most of the rooms have large terraces too. There's also a shared kitchen and large communal dining area, housekeeping and laundry onsite, AC, Wifi and public parking.  When you're surfed out, explore the local markets, sample the local delicacies and enjoy soaking up the views and the sun along the cliff trails exploring old lighthouses and fortresses.
If music is your thing then don't miss this swanky beach villa coliving space with a full equipped music studio! This place is perfect for surfers, creative digital nomads or if you just need to get some tracks recorded. The villa offers twin or double rooms with shared bathrooms is located in an amazing little surf village called Ferrel a short drive from Peniche – one of the best places to surf in all of Europe!
There's 2 bright and inspiring coworking areas, my favourite is the one which overlooks the pool! There's also a large shared kitchen and dinning area, a lounge with big screen, plenty of spaces to chill outside as well as a BBQ area and not forgetting surf boards and wet suits available for hire.
Read More: Where to Stay in Lisbon – Best Neighbourhoods and Hotels
Best Digital Nomad Apartments in Portugal
If you prefer a bit more privacy than a coliving space and need a home away from home to be productive and get work done then finding a studio or apartment is the best option. You can set up a comfy workspace in your apartment, live like a local and save money and time and stay focused by cooking for yourself.
You can find some great places on Anyplace and Coliving if you can commit to 1 month. Or, if you just need a shorter stay then Air BnB or Booking.com is probably the best option.
Here's some of my favourite studios and apartments that are perfect for digital nomads:
Our Home makes a great choice due to it's super central and convenient location near the Avenida de Liberdade in Lisbon. These beautiful, bright and airy studios and apartments have everything you need to feel at home including fully equipped kitchens, workspaces and free wifi. If you stay here you will be close to all the best restaurants and attractions in Lisbon and some units even have a private garden, terrace or patio!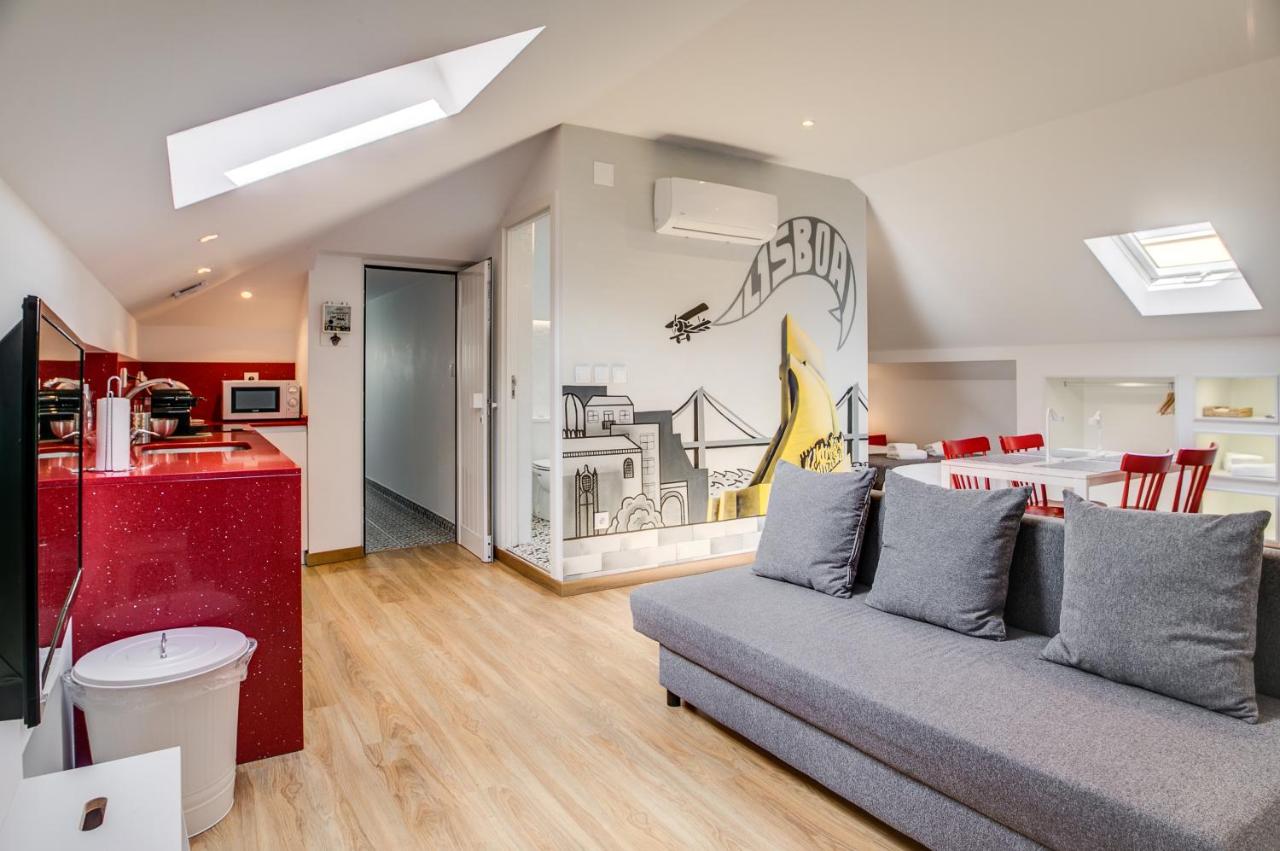 One of my favourite accommodation options in Lisbon is Home Out in Areeiro. These quiet, clean, comfortable rooms, studios and apartments feel like a home away from home with fully equipped kitchens, air conditioning, wifi and decent workspaces.
Some units have a living area and a balcony to relax on while the cheaper options have shared facilities. It's a great value choice and the location just a few minutes walk from Alameda metro station makes it super convenient and easy to get around the city. The hosts are also helpful and easy to contact through WhatsApp.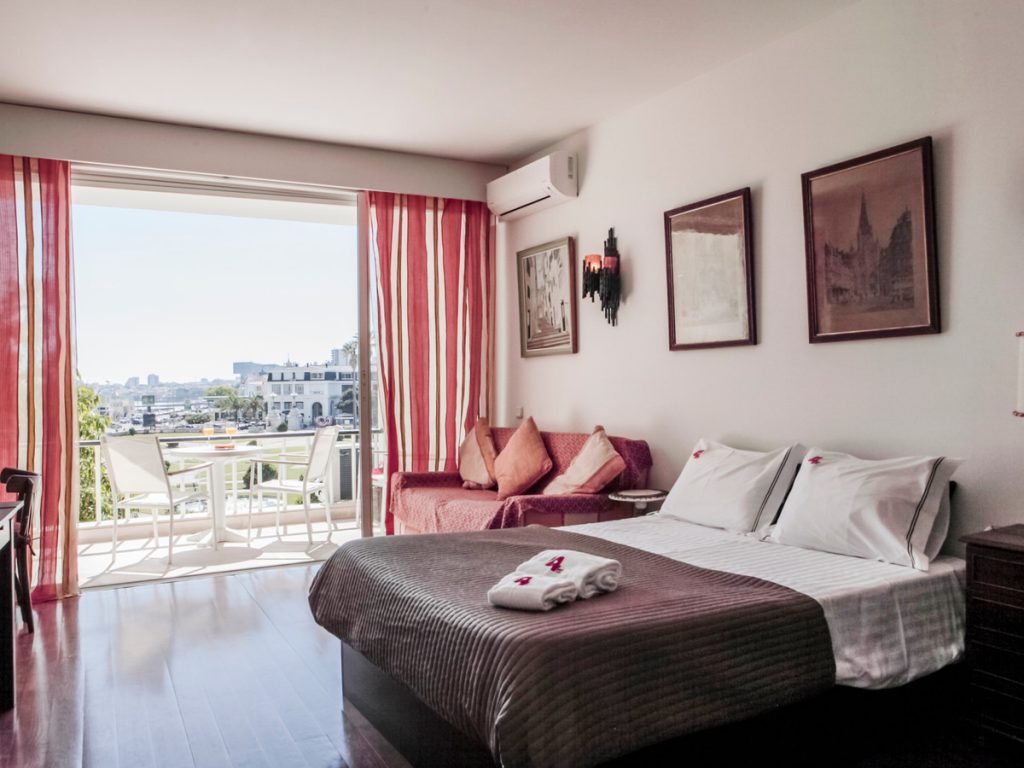 Choose from a 1 bedroom or 2 bedroom apartment on the beach front of Estoril in popular Cascais. Estoril Beachfront Apartments offer the perfect combination of a relaxed seaside setting just a stones throw to the train station that will whisk you to exploring all the buzz of exciting Lisbon in just 35 minutes. It's also only a 15 minute drive from the magical, UNESCO heritage site of Sintra making these apartments a great base for exploring the best of Portugal.
The apartments are homely, well furnished and have everything digital nomads need including a kitchen, washing machine, WiFi and comfortable furniture. I especially like the large floor to ceiling windows in the living room that open up to views over the municipal gardens and out to the ocean. Estoril Beachfront Apartments are also super close to the renowned Tamariz Beach as well as the shops, supermarkets, bars, cafes and restaurants.
This large, renovated, traditional Portuguese beach villa in trendy Ericeira is the perfect location for those who love to surf and be close to the nature as well as the buzz of the city. With homely coliving areas and commual kitchen, a bright and airy dedicated coworking area and outdoor gardens and surf and social events, you'll soon feel at home here.
Choose from dorm rooms or ensuite private rooms, there's even free safe on street parking as well as good public transport connections. All this from €485 per month including all bills.
This amazing 2 bedroom open plan penthouse apartment is located in the heart of the pedestrianised Old Town of Funchal on the beautiful Portuguese island of Madeira where Portugal's first digital nomad village has been set up in nearby Ponta Do Sol. These spacious apartments are conveniently located close to the market, shopping areas, restaurants and bars, marina and sea promenade and the cable car to Monte making it a perfect base to explore all Funchal has to offer.
These apartments feature an open plan lounge and dining area for 4 people that opens up to a french balcony facing the sea. It's fully furnished and equipped with a flat screen TV and digital channel box and WiFi. There's also a sofa bed meaning the apartment can sleep 5 guests. The kitchen is large and fully equipped and there's also a washing machine. Both bedrooms have comfortable king size beds and share a modern bathroom with a bath.
If you're looking for something extra special located close to the exciting new digital nomad village of Ponta Do Sol on the island of Madeira then look no further! This is a truly special place that will definitely have you waking up every day feeling super inspired by the views of the ocean. Seacrest is a stunning, modern 3 bedroom villa set on a hilltop with amazing views over the sea that really has the wow factor and all the mod cons.
The open plan layout and floor to ceiling glass windows and doors make the most of the stunning location and the large terrace and infinity swimming pool is just heavenly. The whole villa is ultra modern and sumptuously furnished with everything you could ever wish for, there's even a games room. For a group of 6 digital nomads this could be an amazing taste of the luxury life while coliving in Portugal!
If none of these properties suit your needs you can find many more digital nomad apartments and coliving spaces in Portugal on Anyplace.com or Coliving.com. If you find this post useful and choose to book one of these fantastic places I can earn a small commission at no extra cost to you. Thank you and I hope you have a fab experience coliving in Portugal!