A Digital Nomad's Guide to Lisbon: Where to Work, Stay, And Hang Out
Written by James Cave from Portugalist 
Portugal has become the most popular digital nomad hotspot in Europe due to the country's sunny climate, natural beauty spots, stylish coworking and coliving facilities and affordable (for Europe) cost of living. The D7 visa has been popular with digital nomads, now a new Portugal digital nomad visa has been introduced and even a new digital nomad village recently opened on the island of Madeira.
Although Lisbon is nowhere near as cheap as it was a few years ago, particularly when it comes to rental prices, it's still a fantastic destination for digital nomads I want to share all my tips with you in this Digital Nomad's Guide to Lisbon! 
Prices, particularly for eating out, are still very affordable when compared to the rest of Western Europe. It's possible to get a three-course lunch menu for less than €10 per person (and often that includes wine as well), while a coffee and a cake or a beer and a petisco will rarely cost more than a few Euros. Essentially, if you can find a reasonably-priced rental, you can easily enjoy a good quality of life here as your other living costs will be low.
The biggest pull for digital nomads, however, has to be the community. Lisbon has one of the best digital nomad communities in the world, with regular meetups, mastermind sessions, and a friendly group of people who are always open to meeting up
And when you're not working, Portugal has so many historic and cultured cities to explore, beautiful natural beauty spots and beaches with some of the best surfing in Europe  as well as rejuvenating yoga retreats.
Pin Me 😉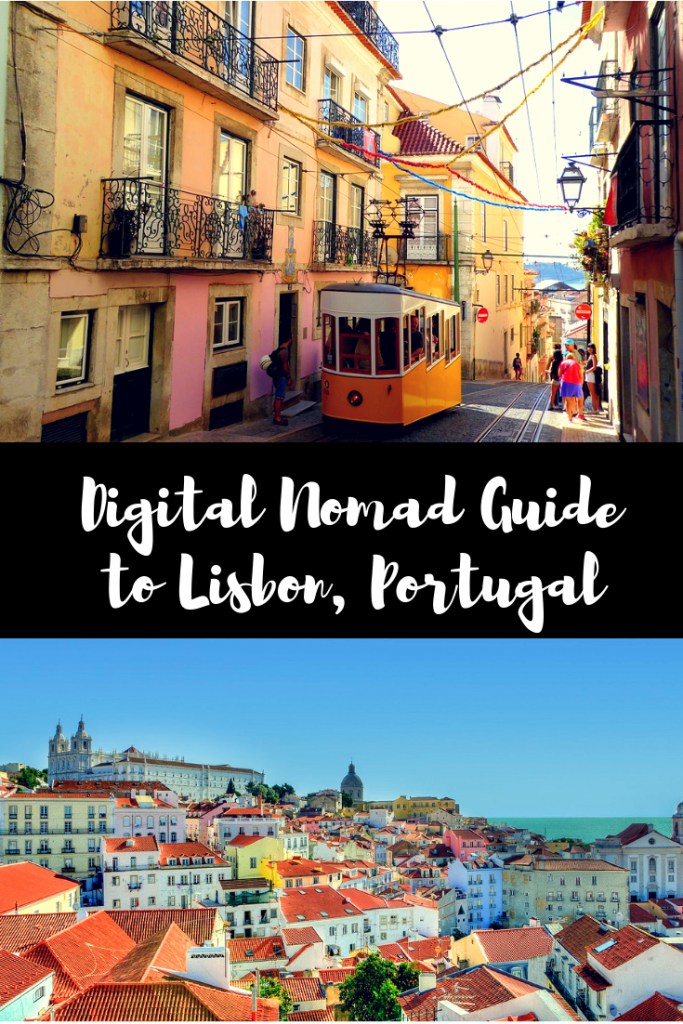 Digital Nomad Accommodation in Lisbon
Most digital nomads visiting Lisbon stay in Airbnbs or, if they're only staying for a very short amount of time, a hostel or hotel. Airbnb generally works the best for digital nomads, as it means you have a table or desk to work from and a kitchen to cook in. Click this link to get $25 off your first booking with Air BnB! 
There are also many fun, sociable coliving spaces in Lisbon that are specifically set up with digital nomads in mind. Many have coworking spaces, fully equipped shared kitchens and social areas and activities allowing you to meet other like minded digital nomads. Check out the best coliving spaces in Portugal here.  A great place to find coliving spaces and apartments specifically for remote workers is Anyplace.com 
They have buzzing coliving spaces and fabulous fully furnished apartments, not only in Portugal but all over the world. The benefit of using Anyplace over trying to rent an regular apartment yourself is that it's flexible meaning you can live month-to-month in any city. It's easy to find and apply for apartments online and there's no hassle as the properties are fully furnished and ready to move in to and are all inclusive as utilities, WiFi and often weekly cleaning are included too.A good place to find coliving spaces and apartments set up for remote workers is Anyplace.com
A lot of digital nomads stay in Alfama, which is the oldest neighbourhood in Lisbon and the neighbourhood with the most Airbnbs, but it's really not the best neighbourhood for digital nomads. Although it's one of the most traditional neighbourhoods, it's also one of the most touristic neighbourhoods: in recent years, the neighbourhood has almost become one giant Airbnb.
The problem isn't just the level of tourism but also that so many everyday services are leaving the neighbourhood and being replaced by restaurants and bars to cater for tourists. If you want anything from a keycutter to a decent-sized supermarket, you're probably going to have to go to another neighbourhood. Essentially, this is a neighbourhood for visiting as a tourist but not for living in.
Check out my big post on Where to Stay in Lisbon which describes all the different neighbourhoods and areas of Lisbon that are best to stay in.
Other neighbourhoods that tend to be very touristic are Baixa, Chiado, the Bairro Alto, and Cais do Sodré. Those last two neighbourhoods are popular going out neighbourhoods so, if you do decide to stay there, check the reviews to see any mention of noise.
Neighbourhoods that work well for digital nomads tend to be ones that have access to things like a co-working space, gym, decent-sized supermarket or market, and easy access to the centre of town. Two of my favourites are Alcântara and Campo de Ourique.
If you can't find anything on Airbnb, Uniplaces is another site to consider for medium and long-term rentals. It's primarily focused on student rentals, but you don't have to be a student to use the site. Experiences with landlords on the site have been mixed, so I'd stick to properties that have previous reviews.
Read More: Where to Stay in Lisbon
Best Hostels for Digital Nomads in Lisbon
Outsite – Outsite is a coliving space that's aimed at digital nomads visiting Lisbon. There are around 30 en-suite bedrooms, a co-working space, a cafe, and a shared kitchen for every 5 rooms.  
Home Lisbon Hostel – Home Lisbon is both a hostel and a co-working space. Visitors get free access to the onsite coworking space, which is not only a great way to save money but also to get to know other digital nomads.
Selina Secret Garden– Lisbon's sociable and lively branch of the popular coliving and coworking chain with a swimming pool on the rooftop deck located in trendy and convenient Cais de Sodre
Long Term Rentals for Digital Nomads in Lisbon
If you plan to stay long-term in Lisbon, say for longer than six months, you'll probably want to find something other than an Airbnb.
Property rentals are generally listed on classifieds websites like olx.pt, sapo.pt, and idealista as well as with individual estate agents. There's also Spotahome, which aims to be Airbnb for medium and long-term rentals. Their properties are usually more expensive than renting privately, but many of the properties come with internet which saves you the hassle of getting the internet installed. 
Where do Digital Nomads work in Lisbon?
Lisbon is a city that's packed with both traditional and hipster cafes. While I normally go to the traditional cafes for coffee and cake, I am more likely to work in the more modern cafes as there are usually other people in there doing the same.
Wish, LX Factory – You're almost always guaranteed to spot a digital nomad in the LX Factory, with many working from places like Café na Fábrica and the Ler Devagar bookshop. Wish is also a popular spot to work, with good wi-fi and usually plenty of free tables.
Copenhagen Coffee Lab – Copenhagen is a small independent chain of cafes that feels like it was just built for remote working. Just about everyone in there has a laptop in front of them, and you feel very comfortable doing the same.
Coworking Spaces for Digital Nomads in Lisbon
There are co-working spaces in just about every corner of Lisbon, with more and more opening up every month. They vary in price, but the average is somewhere around €150 per month. Many offer a day's free trial, so it's worth trying a few out before making any big decisions.
Impact Hub – Situated in Lisbon's LX Factory, this coworking space is bright and spacious. Unlike many other coworking spaces, it has a strong community feel with lots of events which makes it easy to meet other people.
Heden – Heden is a small but friendly co-working space with good natural light and plenty of space for working. It does host a few events and, because it's so small, it's easy to get chatting to other people there.
Second Home – Lisbon's coolest, but also one of its most expensive, co-working spaces is ideal for those that aren't confined to a budget. Second Home contains hundreds of plants, which help to filter the air, making it a very fun and instagramable place to work.
Meetups to Meet Fellow Digital Nomads in Lisbon
The best place to meet digital nomads in Lisbon is at the weekly Thursday meetup. This usually takes place in a different venue each week so, as well as getting to meet other nomads, it's a great opportunity to get to see many of Lisbon's best bars.
The Lisbon Digital Nomads Facebook group is always a good resource for connecting with other digital nomads and finding out about events that are on. If you're only in town for a few days, it's very easy to put a post up and find other people who want to join you on a night out, museum trip, or expedition to find the best pastéis de nata in Lisbon.
It's also worth looking out for co-working spaces that have a strong social element. Impact Hub in the LX Factory, for example, hosts volleyball games, workshops, and movie nights, all of which could be a fantastic way to meet other people.
Other Things to do in Lisbon
See a Fado Show
Fado is a traditional style of Portuguese music that's incredibly mournful and soulful. The lyrics tend to be sad and poetic, and speak of loves lost and better times for Portugal. Seeing a show is an incredibly powerful and moving experience, and something that everyone should try at least once.
Go to the beach
Lisbon isn't quite on the coast, but it's not far from it. The nearest beaches at Estoril and Cascais are less than an hour by train from Cais do Sodré or around 30 minutes by car. If you want to venture a little further afield, the coastal towns of Setúbal and Sesimbra are both worth a day trip and both have great beaches nearby.
Go on a pastel de nata quest
Lisbon is the home of the pastel de nata, the world's favourite pastry, and there are an ever-increasing number of places that you need to try. Pastéis de Belém, the first café to begin making natas should be top of your list, but it's also worth making the pilgrimage to other pastelarias like Manteigaria and Aloma.
Where to go next
Lisbon isn't the only place that should be on your Portuguese bucket list. Porto, Portugal's second city, is fast becoming a popular destination for digital nomads as well: it has a growing number of co-working spaces, small but regular meetups for nomads, and some great accommodation.
The Algarve is another popular destination for digital nomads who want to explore Portugal's beautiful beaches. The digital nomad scene here is much smaller, although there is a small community on Facebook, and there aren't really any meetups yet. It's still a nice place to spend some time, though, and definitely worthy of your time.
The Portuguese islands, particularly The Azores, are worth visiting. Despite their distance from the mainland, flights from Lisbon and Porto are very reasonable and it's often possible to get a return for €35-€40.
Are you a Digital Nomad in Lisbon? Can you share any more tips?