Living in Goa is not always perfect!
I love living in Goa, from the warm weather and tropical beaches, the cute Portuguese churches, the rich and colorful India culture, the laid back and super affordable lifestyle.
There are many reasons why I love Goa and traveling slow, or staying still for a while, means I can immerse myself into this place I love so much. See here why I think Goa is the best place on the planet!
Even so, nowhere on earth is perfect. It may look from my instagram updates and blog posts that life in Goa is perfect, and while it's pretty close, there are still things that annoy me about living in Goa.
1. The Internet
My single biggest problem about living in Goa, especially for a digital nomad or someone trying to work online it really is a deal breaker! Broadband is not common place here, using a 3G dongle is the best way to get online but still there are so many places where there is no signal or it is painfully slow. Most of the restaurants and bars advertise free wifi but in reality it's just run off a 3G dongle and most of the time is as good as useless. See more about my internet issues in the reality of being a Digital Nomad in Goa.
2. Piles of burning trash
India is a vastly populated and quickly modernizing country and yes, that means it can be dirty in India and trash is a big problem. Goa is much cleaner than other places in India but the piles of trash that litter a beautiful scene are sad to see. After a while I don't notice the trash so much but it's always sad to see natural beauty turned into a garbage dump. The beaches are not too bad and there are teams that clean them up, however there is no state trash collection in Goa so most families simply have to burn their trash which leads to horrible fires at the side of the road releasing toxic fumes.
3. Being hassled everyday
In general I feel quite safe as a white woman in Goa but I do get some uncomfortable hassle. In the rest of India women should cover up but in Goa it's more laid back with a less conservative, more European culture so I normally feel fine wearing shorts and summer dresses. However, more and more domestic Indian tourists are coming to Goa and it's great that more Indians are travelling and exploring their country, however it also means more large groups of drunk Indian men dressed only in their wet underpants staring creepily at me, following me down the beach, trying to talk to me, take photos of me and selfies with me and a couple of times even following me down the beach making disgusting sexual remarks. It doesn't happen so bad everyday but most days I get creepy stares and this kind of attention is really draining and sometimes a little unnerving at times. On the beach hawkers are also constantly hassling me to buy something or have mehendi or my legs threaded – I just want to be left alone to enjoy the beach in peace!
4. Shopping, Haggling and Getting Ripped Off
Going to the Anjuna Flea Market or the awesome Saturday Night Market at Arpora is great when you are a tourist, even though I've got used to haggling for everything when your living here and you just want to buy something quickly without having to haggle for half an hour over the ridiculously inflated price of an item of clothing that will most probably break after a week it gets old really quickly! Also please stop calling me to look in your shop 10 times every day saying that it is cheap price and good quality – because I know that it's totally the opposite! I don't blame them for trying to get a bit more money out of tourists but I'm not here for a 2 week holiday and I can't afford to get ripped off everyday!
I have a bike so I don't have to use taxis very often as that also involved half and hour of negotiation to get a reasonable price. I have a regular taxi driver who I call instead of having to haggle like a tourist. Even shopping for groceries can be a pain, I've had to haggle over the price of a banana before and all the supermarkets in Anjuna are aimed towards expats and I've seen tins of tomatoes imported from Australia for 350 Rupees! That's just silly, it takes me ages to got search through everything to find something that's actually made in India and being sold for a decent price.
5. It's not that cheap
It can be really cheap to live in India but the cost of living in Goa is more expensive. You can live in Goa really cheap if you are happy with a dark, dingy house and eating rice and dal every day. But if you want a nice house that is comfortable by Western standards it can be hard to find and won't be cheap. If you want to take yoga classes, eat Western food, buy quality clothes and things like electrical items that are not fake and don't break after a week often you have to spend the same amount or more money than it would cost in the West. It's cheap to live a basic life in India but if you need more comfort it can be harder to find and it won't be so cheap.
6. Dust and Pot holed roads
My favourite time in Goa is just after monsoon but before the tourist season starts when everything is green, jungly, fresh and quiet, plus it's not packed with tourists and there's not so much trash – or maybe you can't see it as the jungle hides it! As the year progresses Goa can get very dusty and it's hard to keep things clean. Many of the roads are also too narrow for the peak season traffic, there is often not enough room for cars to pass and many roads are in a bad state of repair – it's still fun to drive a motorbike around Goa though!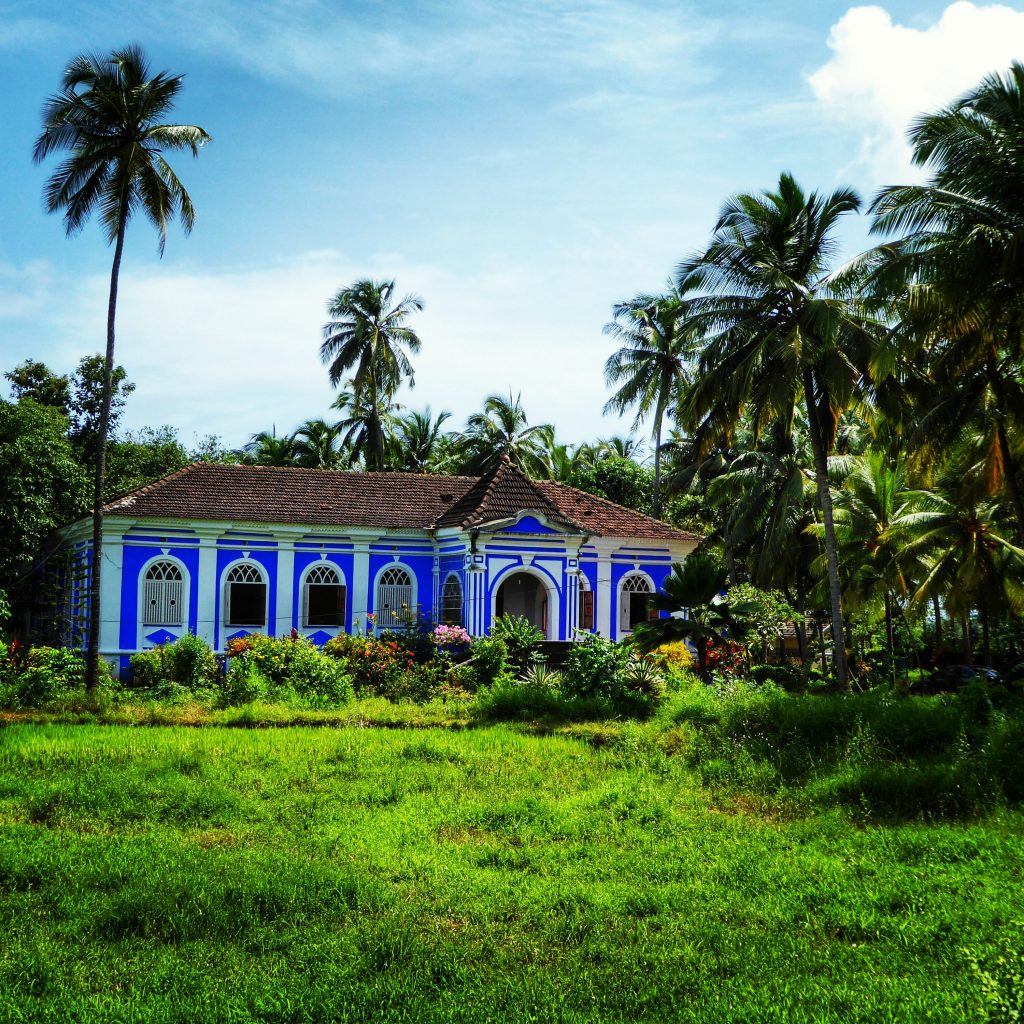 7. It can be hard to get things done
They say that time flies when you're having fun and the days pass so quickly in Goa it must be true. However, getting things done in India and paperwork is never so straight forward and things can take a long time to sort out – add this to the super quick days and it can be hard to be productive in Goa. Plus there are so many distractions – its hard to struggle with a dodgy internet connection when the beach, party or market is calling!
8. It's not the 'Real India'?
I love Goa, I love how it is laid back and life is easy here but sometimes I still get itchy feet because there is so much to see in Incredible India but it takes quite alot of time and effort to get around and sometimes I'm so comfortable in Goa I get a bit lazy and then I feel a little guilty as I'm in India but I'm not seeing the 'real India'. However, the airport's only an hour away and there are frequent flights to connect you with the rest of India – it's just hard to leave Goa!
Sometimes I miss the real India, I even miss the chaos! Luckily there are a lot of things to do off the beach and away from the tourist resorts, I especially love to explore with a bike and find secret beaches void of tourists and magical, bewitching Hampi is not too far away.
OK, rant over, but nowhere's perfect right, apart from these niggles, Goa is as close to prefect as I've found and I would totally recommend living here for a season. If you're tempted make sure to check out my guide on how to rent a house in Goa. and sign up to my free newsletter to receive all the updates and latest news and offers.
Have you lived abroad? What annoyed you about it?