Canterbury is one of the most famous historic cities in England, largely due to it's legendary UNESCO listed cathedral. But there's much more to this historic town than the cathedral, and it's one of the best places to visit in the UK.
As I've been living in Canterbury for a while now, I thought it was about time I shared my top tips for a fabulous weekend in Canterbury and nearby Whitstable.
A Weekend in Canterbury & Whitstable – Tips from a Local
As much as Canterbury is a pretty town steeped in history, it's also a vibrant university town packed with interesting independent shops and restaurants.
Combine exploring this storied city with the nearby quaint seaside town of Whitstable, famous for its oysters, for a wonderful weekend or short break within easy reach of London.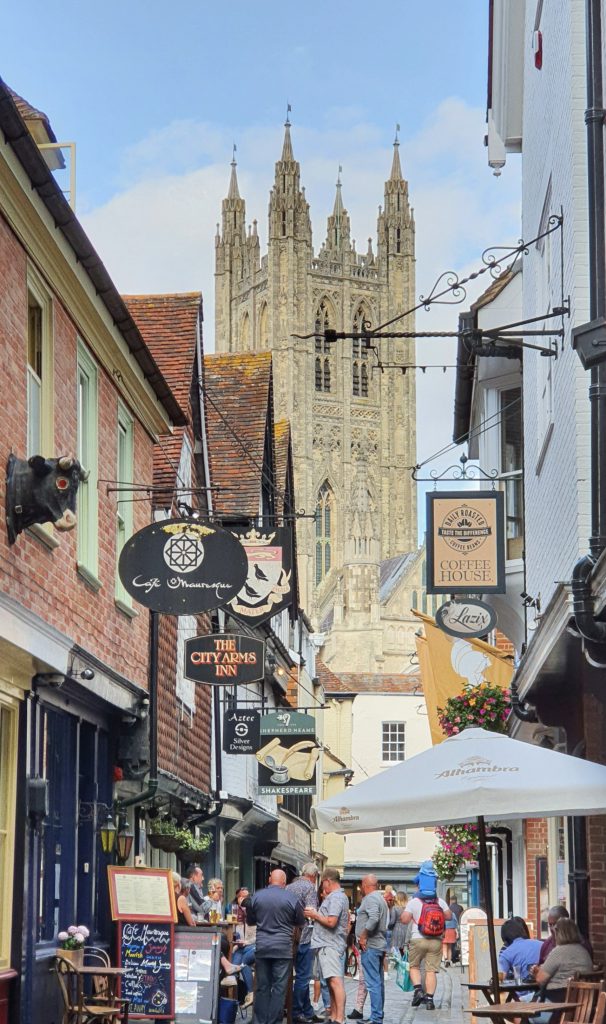 Friday Night – Start your weekend in Canterbury
Canterbury has two train stations and can be reached in about 1 hour from London. If you're arriving into Canterbury West Station you're in the perfect place to kick off your weekend in Canterbury with a bite to eat at The Goods Shed, a trendy and wholesome farmers market, food hall and restaurant. Well, Canterbury is the heart of Kent – the garden of England, so it would be rude not to try the local, seasonal produce.
Next amble through the historic streets of Canterbury and check into ABode. This 4 star, boutique hotel is perfectly located in a historic building in the middle of the pedestrianised high street so you can make the most of your weekend in Canterbury by being within easy reach to all the city has to offer. It's only 350 yards from Canterbury Cathedral and has an award winning restaurant and cocktail bar and elegant rooms.
It's also opposite my favourite historic building in Canterbury – The Beaney House of Art and Knowledge. Canterbury's museum, art gallery, library and visitor information centre which is definitely worth a look.
Another option is Canterbury Cathedral Lodge which offers comfortable and tasteful rooms with the refectory restaurant and terrace in the private and peaceful grounds of the famous Cathedral itself.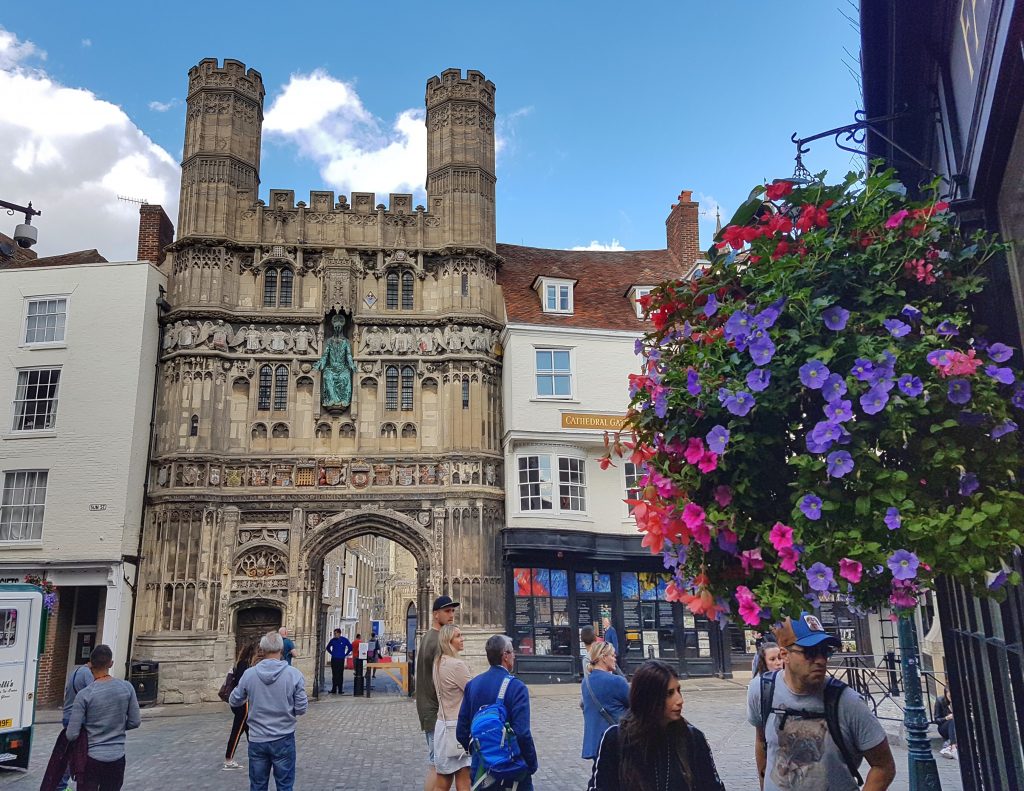 Saturday Morning – Visit Canterbury Cathedral
Of course you can't have a weekend in Canterbury without visiting Canterbury Cathedral! Make a beeline for one of the world's largest, oldest and most famous cathedrals in the morning before the day trippers get there.
This important cathedral dates back to 597 but it's been changed, damaged and rebuilt considerably over the years and is now a UNESCO world heritage site and one of the most famous religious sites in the world.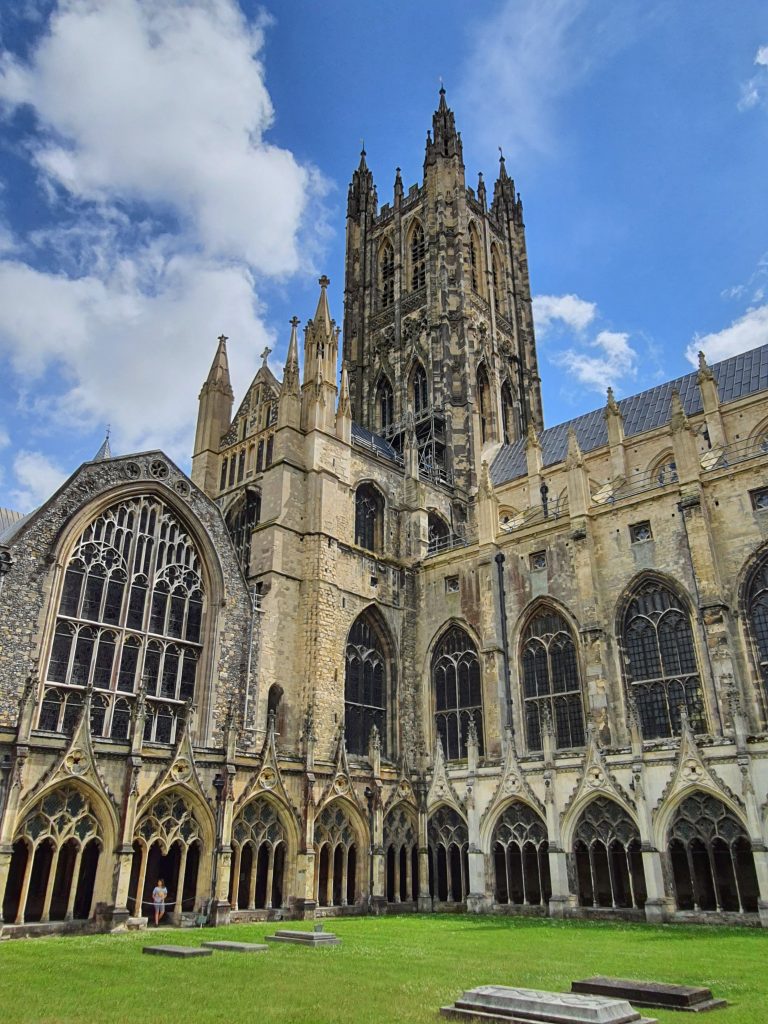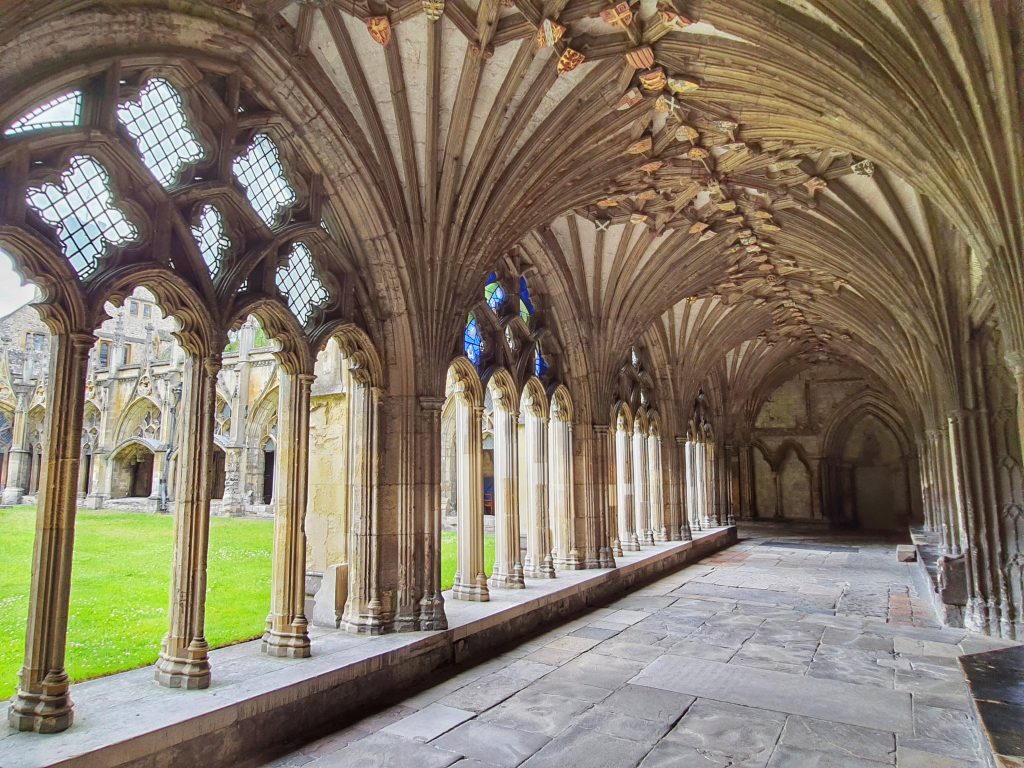 Canterbury's cathedral's fame is largely due to the events of 1170, when Archbishop Thomas Becket was murdered in the cathedral by King Henry II's knights after Henry is famously reputed to have exclaimed "Will no one rid me of this turbulent priest!".
Thomas Becket became a martyr and Canterbury became the most popular pilgrimage site in England. The pilgrims bought wealth and many stories which inspired famous works like Geoffrey Chaucer's Canterbury Tales. (Although the attraction of the same name is now permanently closed) Read more about the history here
Canterbury Cathedral today is still an awe inspiring and absolutely massive place to explore. The stained glass is particularly beautiful and dates back to the 1100's making it some of the oldest in the world.  although it could do with a bit more signage and information boards so if you are really interested in the history I'd recommend taking a guided tour.
It costs £12.50 to visit the Cathedral (you can't really see it from outside) and sadly there's alot of scaffolding on the front at the moment but it's still worth a visit. Imagine how difficult and expensive it is to keep just a complex and historic building standing for so long! Your entry fee will help maintain this important piece of history.
Lunchtime at The Westgate Gardens
One of the things I like best about Canterbury is that you can see the imposing Westgate Tower as you walk down the pedestrianised high street. It's really a lovely place to stroll around the historic streets browsing the independent shops and boutiques.
After exploring the cathedral head to my favourite place in Canterbury – the Westgate Gardens.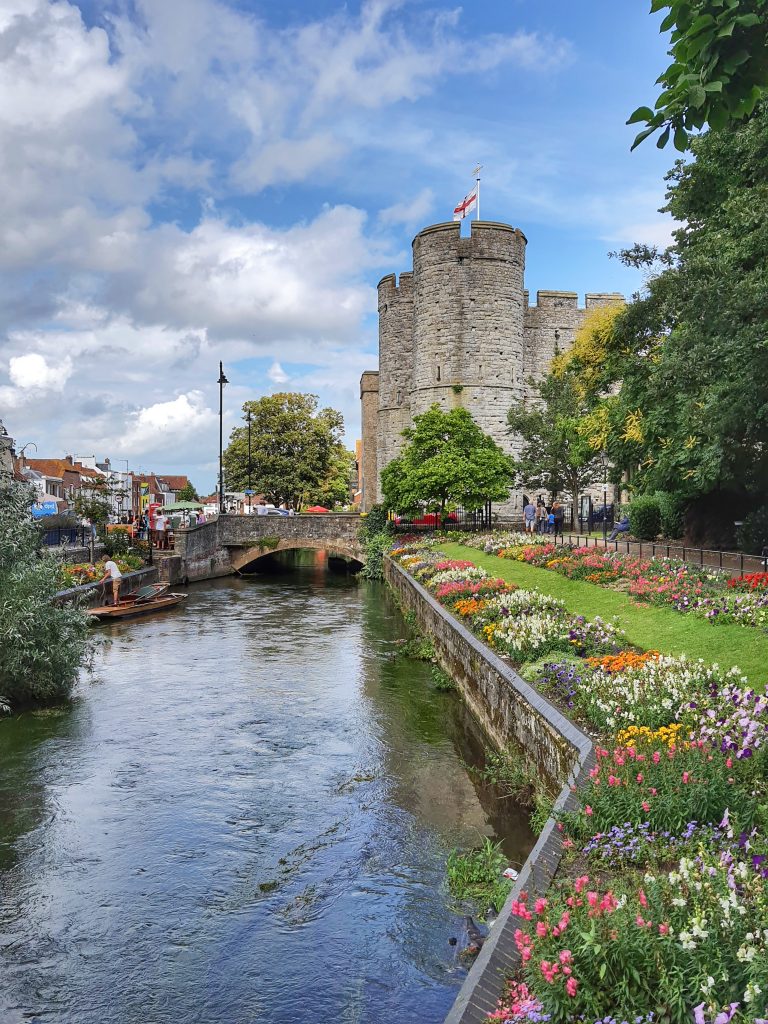 In the summer the Westgate Gardens are filled with colourful flowers and are the best place to relax watching the punts float by in the shadow of the Westgate Tower – the largest surviving medieval gateway in the UK. You can go up the tower for a great viewpoint over the city, also inside is a museum and escape rooms.
If you're feeling hungry after all this history and exploring head over the river from the Westgate Gardens to Cafe Des Amis – it's family owned and my go to for tasty Mexican food by the river and gardens.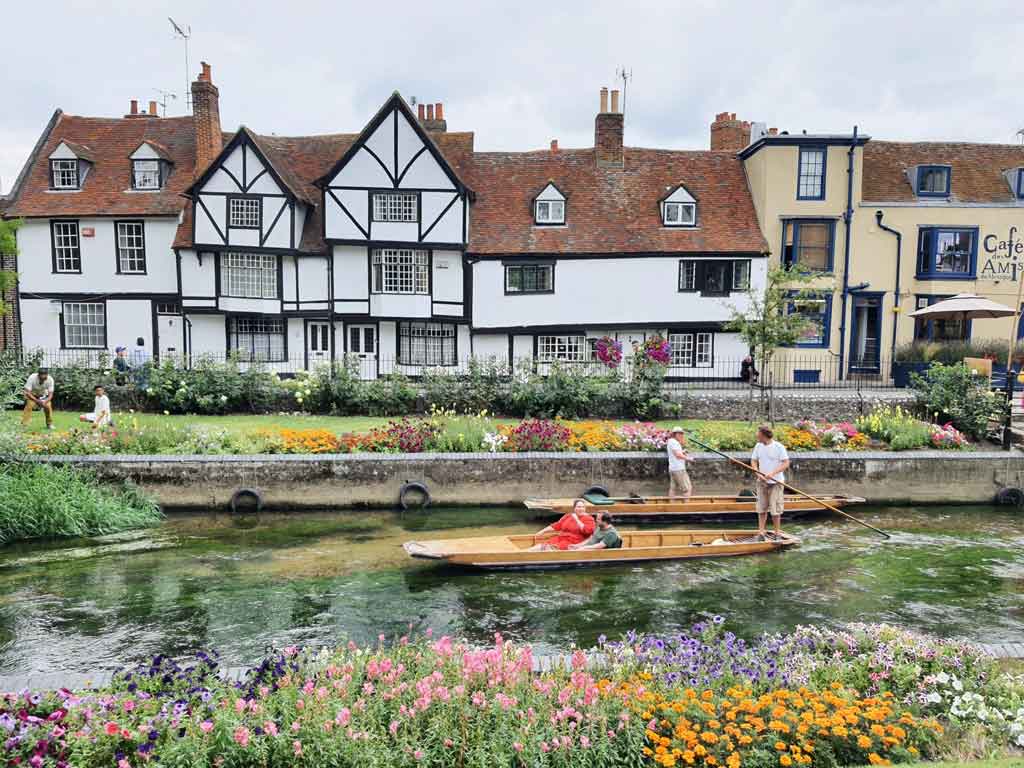 Saturday Afternoon – Relax on a Canterbury River Tour
Another thing you won't want to miss on a weekend in Canterbury is a river tour. By now you'll probably have seen the punts floating along and, if you're anything like me, are probably wanting to get on the river yourself!
You've got two options for exploring Canterbury's Great Stour River; Westgate Punts go through the picturesque Westgate Gardens, or learn more about Canterbury's fascinating history and explore the other part of the river that runs through the heart of the city on the original Canterbury Historic River Tours. 
I felt the later was more interesting and enjoyed the humorous way our guide, John, told us stories and facts about the history of Canterbury, but I won't spoil it for you by telling you too much here.
The meeting point for the river tour is by the beautiful Old Weavers House and restaurant on the high street, near the witches ducking stool!
On the tour you'll travel past this, under one of the oldest working road bridges in Britain and up to the mysterious Greyfriars' Island, once the home to the Franciscans (one of Canterbury's many religious orders) while you learn all about Canterbury's storied past.
I even got to have a go rowing. John made it look so easy – but the currents mean it's actually really difficult!
Anyone for Afternoon Tea?!
Another thing I love about England is afternoon tea; mini sandwiches, dainty cakes, freshly baked scones with butter, strawberry jam and clotted cream and a pot of warm, comforting tea. Splash out and add a glass of sparkling prosecco for an extra treat.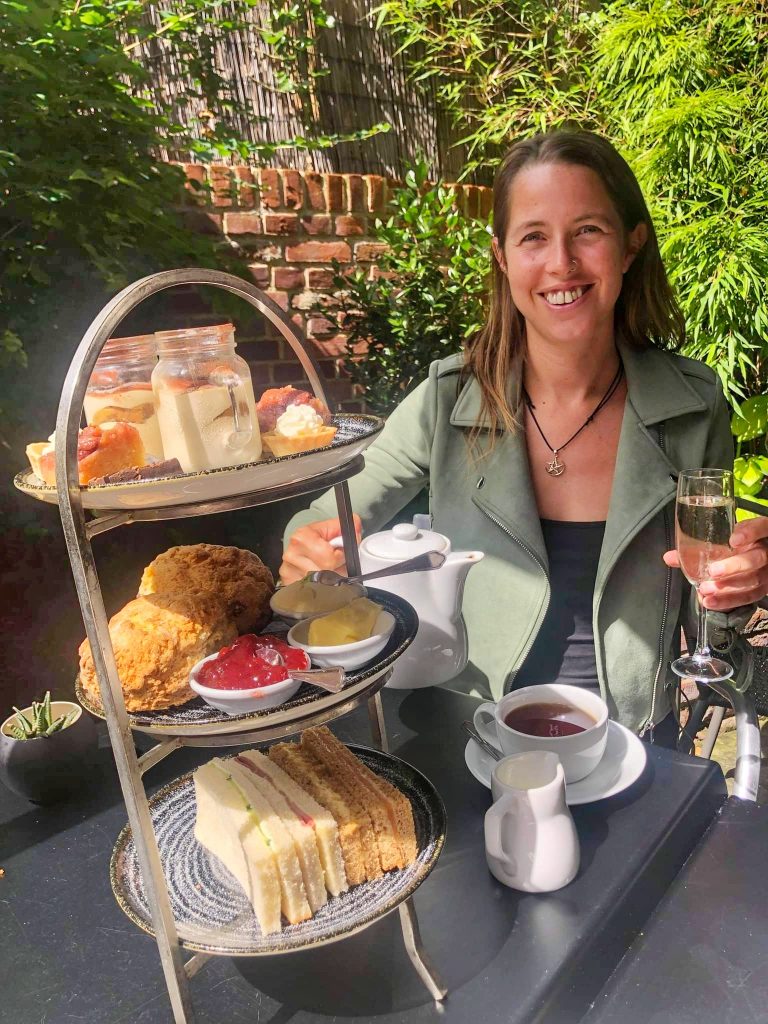 My favourite place to go for afternoon tea in Canterbury is the quintessentially English Tiny Tim's Tearoom. I love the historic building it's located in too. If you go make sure you go upstairs to the bathroom – it's an adventure in itself where you might find a surprise.
Saturday Afternoon – More history or feel good shopping?
If you thought you were finished with historic sights then you'd be wrong. Canterbury has 2 more sites that, together with the Cathedral, earned the city it's UNESCO listing. So if you want to explore more history also check out St Augustin's Abbey and St Martin's Church.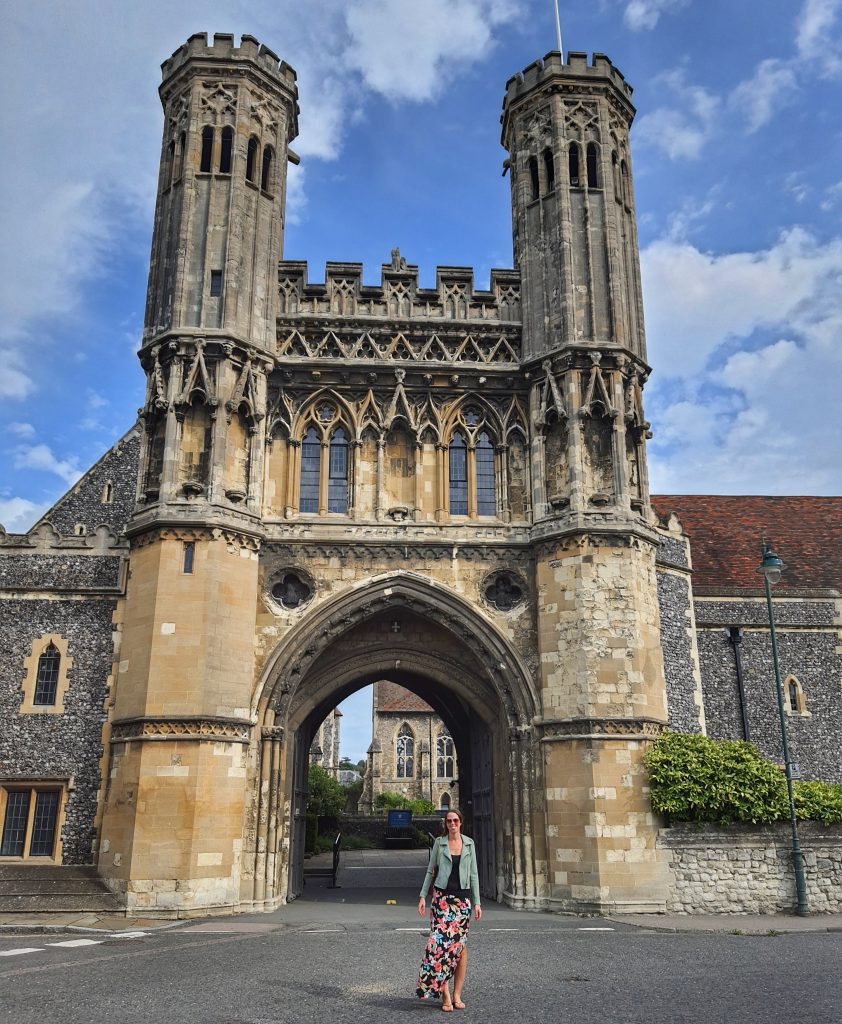 St Augustine's Abbey is now mostly ruins, apart from this gatehouse pictured above which is now the entrance to The King's School, the oldest school in Britain. The Abbey was founded shortly after AD 597 by St Augustine, who the Pope sent over from Rome, on a mission to convert the Anglo-Saxons to Christianity.
Entrance to St Augustine's is free for members of English Heritage or £7.90 and includes an interesting audio tour and entrance to the museum.
Did you know that small and humble St Martin's Church in Canterbury has been a place of worship since at least the 6th century making it the oldest church in continuous use in the English speaking world. You can visibly see the different building materials and techniques in the church, but the opening times are limited. Check their website first.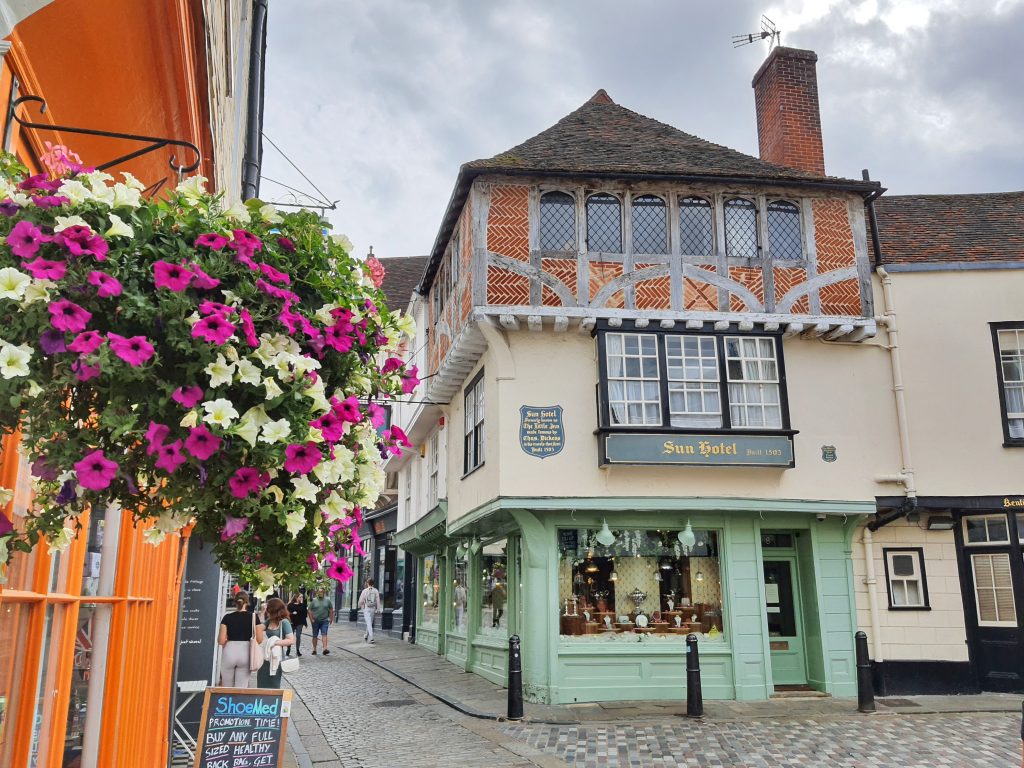 Or feel good shopping
Canterbury has plenty of independent shops to explore, especially around the King's Mile which is dedicated to them. If you like to shop and also get the feel good factor there are a couple of interesting places in Canterbury to check out.
On the high street check out Unboxed Kent – an innovative, zero waste store that does not use any plastic packaging. Bring a container, buy one there or fill up paper bags with everyday essentials, eco products and treats like sweets and even vegan wine.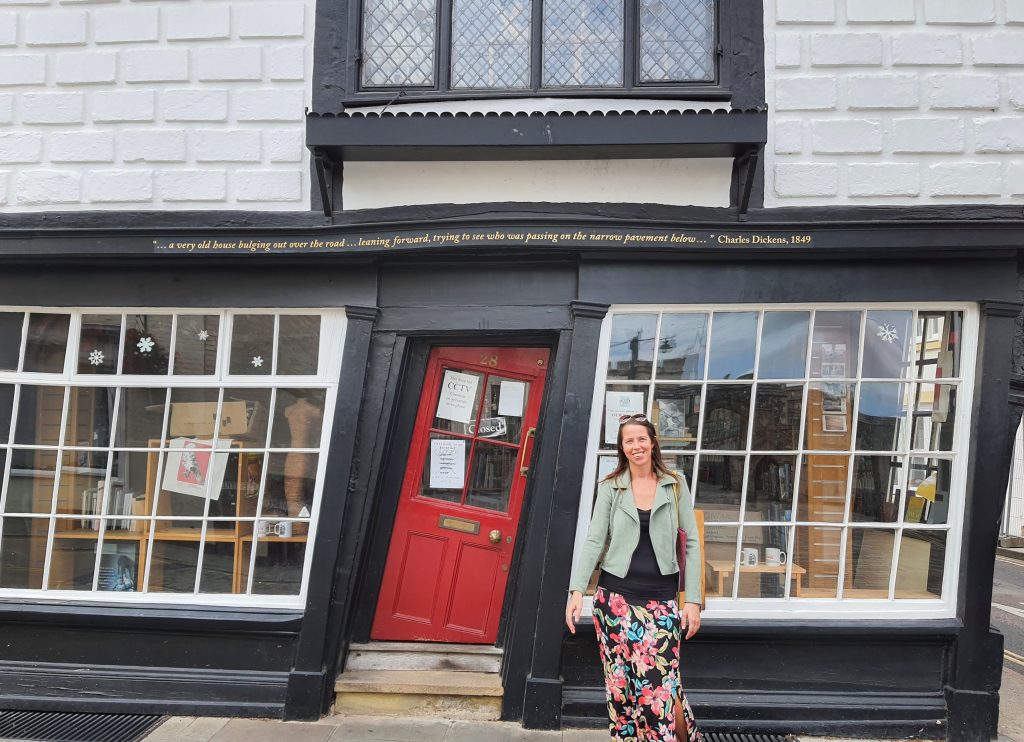 Take a wander down the Kings Mile to check out the Crooked House, a delightfully skewed 17th century half-timbered three story building at the far end of Palace Street. It's now a second hand bookshop run by volunteers that fundraises for local charity Catching Lives which supports homeless and vulnerable people.
You could also have a coffee or bite to eat at Lily's Social Kitchen nearby. It's a not for profit cafe that offers training and work experience to vulnerable people or those who are often overlooked for employment opportunities.
Saturday Night in Canterbury
Start off Saturday night with award winning incarceration themed cocktails on the terrace or in your own private cell at The Pound, an atmospheric bar set in the city's old jail next to the Westgate Tower.
Go for dinner in nearby Cafe du Soleil an excellent Mediterranean restaurant situated in a former 18th century wool store on the river Stour. If you feel like dancing and cocktails probably the best place to head is The Cuban although I don't really rate Canterbury's nightlife these days.
Sunday – Explore Whitstable
What better way to round off a weekend in Canterbury than spending a lazy Sunday strolling along the seafront in the quaint fishing town of Whitstable. A roughly 30 mins drive or bus ride.
You could even hire a bike and ride the 7.5 miles from cloisters to oysters on the Crab and Winkle Way – it runs along the route and takes the name of the first railway line in Britain.
Whitstable is famous for its oysters. When in Whitstable the best thing to do is to simply wander along the seafront and soak up the sights and smells of this cute seaside town, and of course, try some oysters or treat yourself to a yummy seafood lunch.
There's a path that runs pretty much all the way along the pebbled beach seafront, through the harbour and up to the grassy slopes and colourful beach huts at Tankerton.
Whitstable Harbour is a highlight where you'll find fishing boats, fresh seafood restaurants and little black huts selling locally made art, crafts and souvenirs.
You can also take a boat trip out to see the Red Sands Sea Forts. These eerie forts, built as defences in the 2nd World War, are now abandoned and look like something straight out of War of the Worlds. You can see them from the boat but you can't actually go inside them.
If you don't want to splash out on the expensive seafood platters in the restaurants there is a kiosk in the harbour where you can try an oyster for only £1. Whitstable oysters are so famous they even have their own oyster festival. You've got to try at least one when in Whitstable!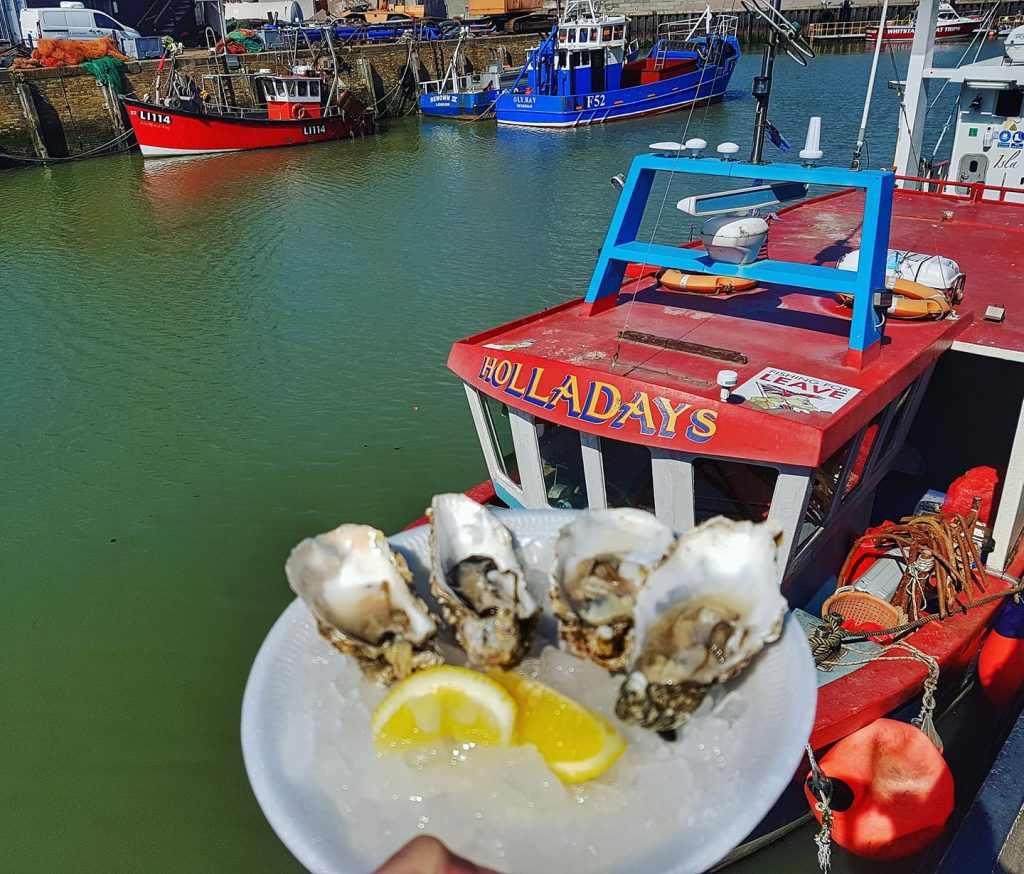 For lunch the Whitstable Oyster Company Restaurant is one of the best serving fresh oysters, fish and seafood on the beach with a view of the company's oyster grounds.
Also make sure you head off the beach path and onto the high street and get a photo of the adorable, pink Wheeler's Oyster Bar. The food's really good here but the restaurant is small but you can pre order hot and cold picnic boxes for an amazing deluxe picnic on the beach.
If you're not so into seafood then Harbour Street Tapas would be my pick. Walk off lunch by continuing down the path past the quirky wooden seafront huts and houses  and stop for a drink in the Old Neptune Pub, where the beer garden is actually on the beach.
Whitstable is also a great place to watch the sunset – it's one of the few places in England where you can see the sun touching down in the sea. Watch it from Tankerton Slopes while you day dream about owning a beach hut or with sundowners in the beachy beer garden of the Old Neptune pub.
My Top Canterbury and Whitstable Travel Tip
If you are traveling by train for your weekend in Canterbury and Whitstable it might be more convenient for you to book your tickets into Canterbury and out of Whitstable.
Despite the Crab and Winkle line between the Canterbury and Whitstable being one of the first passenger railway lines in the UK, they are no longer on the same line. So to get from Canterbury to Whitstable by rail you have to change in Faversham.
I hope you found this post helpful. It's been great to show you the best from my new UK home base and I'm looking forward to doing some weekend trips in the UK.
Have you got any more tips for a weekend in Canterbury and Whitstable? I'd love to hear them in the comments below.
Read more blogs about the UK