Do you really need travel insurance for India?
I've had a few emails from readers asking me if they really need to get travel insurance for India? – They've heard that medical care is pretty cheap in India and wonder if its worth it to get travel insurance for India.
While it's true that India is a cheap country to backpack and healthcare in India is cheaper than in many other parts of the world, personally I don't think its worth the risk to travel with travel insurance.
Travel insurance has many benefits, not just for medical emergencies, nowadays even backpackers are traveling with expensive gear, cameras, laptops and phones. And in any case when it comes to your health you want to make sure you get the best treatment – personally I would not want to go to a government hospital in India and the costs of private healthcare can really add up.
Despite years of living and traveling in India recently I became seriously sick and ended up in hospital and missing a flight as I was too unwell to take it. It sucks big time being sick abroad and alone, apart from not having to worry about the medical costs the insurance company also arranged for my Mum to come out to India to look after me and for me to get another flight home.
I know that when you are travelling or backpacking on a tight budget you want to save money anywhere you can. For small things, you can probably cover the cost of treatment without having to claim on your travel insurance but for anything more serious you'll want private medical care which is expensive and so skipping travel insurance for India can end up being a false economy.
Plus, if you're planning on joining a tour, volunteering or doing some activities like trekking or a yoga course most of the best companies will ask you to show proof that you have travel insurance before you can start.
Pin Me 🙂
Travel insurance is always important, regardless of where in the world you are travelling, and not just for medical emergencies. And I feel that travel insurance is especially important when you are travelling in India.
India is such a diverse and exciting country with so much to see, do and experience. You can go trekking in the Himalayan mountains, visit Buddhist monasteries, wander around markets and buzzing cities, snap selfies at famous sights and eat some fabulous food. Not to mention riding a camel in the desert, doing yoga with a famous guru, wandering around national parks looking for tigers, exploring historic palaces and taking in the temples. See here for more amazing experiences you can only find in India!
Whenever and wherever you travel, you never know what will happen and this is especially true for India! Part of the great adventure about traveling in India is that anything can happen! I believe that India is the ultimate travel destination that everyone needs to visit at least once in their life, but travelling in this densely populated and fast developing country is more challenging than most places.
Of course, most travellers enjoy their Indian adventure with nothing more serious than a touch of Delhi Belly, some small overcharging or harmless scams. But, sometimes things can go very wrong and the situation gets worse if you don't have the funds to get the help you need so having travel insurance for India is very important, and even if nothing happens, having insurance will give you peace of mind, but hopefully you won't need to use it!
So when you are planning your India trip, booking your flights and applying for your Indian visa, and planning your dream itinerary for your Indian adventure, don't forget to purchase travel insurance for India!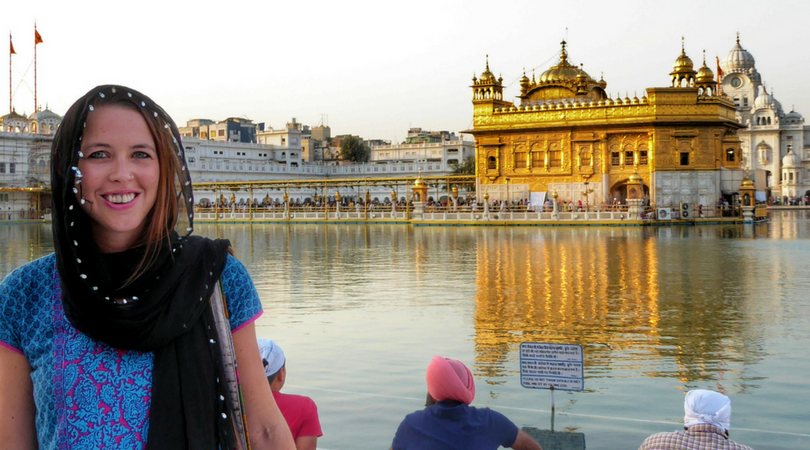 Here are 6 very good reasons why travel insurance for India is so important.
1. You might get sick
Delhi Belly is something that is very real and you don't have to be in Delhi to get it. Diarrhoea is a common ailment for travellers in India, and although most of the time it is controllable, it can lead to bigger problems, like Gastrointestinal infections and dehydration. In severe cases, hospitalization may be needed. There are many other illnesses and diseases that you can catch while in India, like Malaria and Dengue Fever that are spread by mosquitoes and for which you may need to be hospitalised. I got a parasitic infection on my first India trip but thankfully my stomach is more used to India now! It's a good idea to visit your doctors before travelling and get the recommended vaccinations beforehand but there are many illnesses that you can't be vaccinated against. The NHS Fit for Travel website has good information about recommended vaccinations as well as health and safety tips for India and you can also read more tips to avoid getting sick in India here. You can read more about this in my 'Complete step by step guide to planning your first trip to India'.
2. You could injure yourself
There is not only the risk of getting sick, but also of injuring yourself. This could be something as simple as twisting an ankle to something more severe like breaking your back. Accidents happen, the roads and pavements and health and safety regulations are not the same in India as in the West and you could fall, slip or even get into a traffic accident while travelling around India. I love riding a motorbike in India but the traffic and state of the roads can be really hazardous. If you want to do the same, even just as a passenger, you need to check and make sure your travel insurance will cover you for this as not all do.
3. You might need emergency evacuation
Hopefully this is something that you'll never have to experience, but it does happen. In fact, it happened to someone I know who was trekking in the Himalayas. You could very easily be in a remote area and have some sort of medical emergency that results in a helicopter evacuation. Worst case scenario, you will need to be flown home. This could cost 100,000's!
4. Your backpack could get lost or stolen
This can happen anywhere and generally I don't worry too much about theft in India but it can happen, especially on overnight buses. Sometimes it can even be a simple mistake – I have heard stories where people are on an organised trek in the Himalayas and when everyone's rucksack was being taken from the bus to the hotel theirs, for some reason, didn't make it. So they lost all of their clothes, shoes, toiletries and anything else that was inside. This could also happen on a long-haul bus ride, where your bag is in a luggage compartment underneath or on top where it could fall off and not make it to your destination. It's also a good idea to lock your bag with a chain while travelling on an overnight train.
5. You may have to cancel your trip
Like I mentioned before, anything can happen. And you may have to cancel your trip if you fall ill, you can't get work off, a family member passes away or there is some other sort of emergency at home. There are freak things that could happen like your roof is leaking, you get in a car accident, a pipe bursts or your toilet floods. Having insurance will allow you to reschedule or even cancel your trip all together, getting reimbursed for any expenses you have already paid. This includes hotels that have been booked and paid for, flights that have been paid or tours that have been pre booked and paid for in advance. How bad would it be if you wasted all the money you spent on your dream trip because you didn't get travel insurance for India and an emergency meant you couldn't go.
6. You might need to come home early
What if something happens to you while you are in India that makes you have to get home quickly? Or what if there is an emergency at home? Having travel insurance for India will reimburse you for any extra costs you incur by having to leave and come home early. This also includes anything that has already been booked and paid that you won't be able to enjoy, like hotels, tours, internal flights and train rides.
Tips for choosing the best travel insurance for India
There are a plethora of travel insurance companies that offer travel insurance for India and its really worthwhile finding the best (not necessarily the cheapest!) policy. Some are definitely better than others and getting the cheapest policy could be a waste of money if they don't cover you for the activities you plan to do.
Check carefully to find the one that offers the best deal for the length of your trip, the activities that you plan on doing, what cash, equipment and gadgets are covered, the excess that you are willing to pay if you need to claim and more terms and conditions. It's also better if the travel insurance policy will pay doctors and hospitals directly instead of reimbursing you later More tips here about how to choose the right travel insurance policy.
The travel insurance provider I use and can recommend is World Nomads. Not only are they one of the most trusted travel insurance companies out there, but their multi-lingual assistance team are also available 24 hours a day. This means that no matter what time of the day (or night) you have an emergency and need to get the nearest hospital or need to make a claim, you can contact them for help.
They also cover 150 activities that you may very well participate in, including camel riding, hiking up to 6,000 metres, moped/motorbike riding, scuba diving, surfing and practicing yoga. They also have specialty adventure insurance for things like skydiving, rock climbing, off-road motor biking and cavern diving.
It's just not worth the risk to gamble with your health and expensive possessions. You can buy World Nomads travel insurance online and even make a claim simply online. All of the reasons that I mentioned that make travel insurance for India important are covered through their policies. Their travel insurance plans cover everything you can think of to ensure that you have a stress and worry free trip, giving you peace of mind while you explore India and professional care if anything does go wrong.
You can even add a small donation to your plan to give to a small community in need somewhere in the world. To date, they have raised over US$2.5 million and helped over 160 communities! That is pretty impressive, and is another excellent reason to purchase travel insurance for India through them. You can see more details about World Nomads Travel Insurance here or get a quick quote below.
Don't forget to get your travel insurance for India! Get a quick quote now.
Already left and forgot to take out travel insurance for India? Most travel insurance companies will only insure you if you haven't yet left your country of residence. But don't worry if you forget or are already on the road and decide to extend your trip beyond your original insurance policy, World Nomads are the only travel insurance company who allow you to take out a policy even after you've left home.