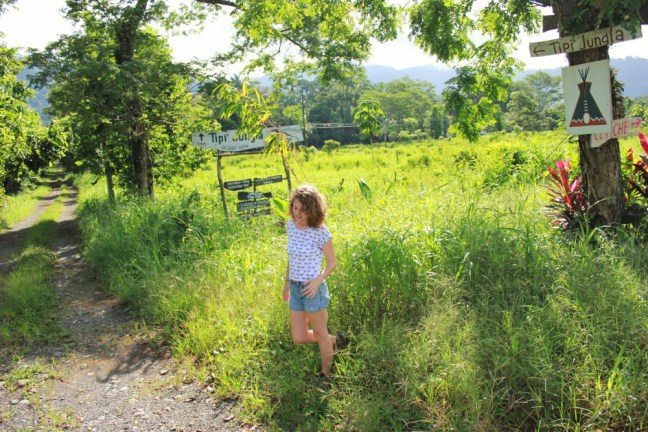 So, you want to travel forever and make money on the road? After giving you ideas on how to travel for free and how to make money while traveling now I'm talking to people who are doing just that!
Maybe they can inspire you to also make your dreams of a life of travel a reality?
How to become Freelance Writer – Interview with Charlie from Charlie on Travel
This week I'm catching up with Charlie Marchant to find out more about her lifestyle as a traveling freelance writer and house sitter. 
Charlie, originally from the UK, is all about enjoying the simple things in life, sustaining travel on a small budget and taking care of the world around us. After teaching English in Taiwan she is now a full time traveller, freelance writer and house sitter and has spent the last 11 months exploring Central America. She blogs about her adventures at www.charlieontravel.com
Charlie describes her life as:
Simple, sustainable and awesome
Hi Charlie! So can you explain briefly how you fund your travels?
I fund my travels in two ways: freelance writing and house sitting.
I originally taught English in Taiwan for a year to save up a little money, then took some time at home to get myself and my partner, Luke, set up as freelance writers and house sitters. It can take a little while to find a good writing job. We both work 4 hours per day on a fixed contract writing for a UK company, and that's enough money for us to sustain our travels as long as we stick to a small budget. House sitting fits in really well with this lifestyle as it means we have a home base with reliable internet connection to work from and it saves on accommodation costs. We're a very responsible pair, and have been fortunate to have sits in Costa Rica, Panama, Nicaragua and Guatemala.
Sounds perfect! What made you decide to work like this and how did you make it happen?
When we left university we got a job in Taiwan straight away and threw ourselves into a totally new lifestyle. We loved being expats, travelling around this gorgeous and relatively unknown island, but our teaching jobs were really stressful. We couldn't imagine going back home to work full-time; we wanted to continue our travels but without the stress of teaching. I read a lot of other travel blogs about people who were making the freelancing lifestyle work for them. I'd originally thought that it was all just some kind of big fantasy, but actually it's not!
So how did you become a freelance writer?
I set up my travel blog, Charlie on Travel, to create a kind of portfolio for my writing, and after impressing a couple of people on oDesk with my hard work and blog, I finally landed a long-term writing job. We started out as house sitters in a similar way. I set up a simple website called House Sitting Couple, with some photos of us and pets we'd looked after in the past, and some info about us. We posted the link onto some expats forums around the world – we weren't specific about where we travelled to, we just wanted to travel – and got a reply from an awesome American expat living in Costa Rica. We had a Skype interview with her and a couple of weeks later flew to Costa Rica for our first house sit. Since then, we've sustained our travels this way and had a healthy interest from homeowners across Central America.
Sounds Awesome, What do you like the best about life as a freelance writer?
I love the flexibility, I love working remotely, I love being able to work and travel at the same time. For me, the best thing about a life as a freelance writer is that I don't have to be heading into an office every morning, working 5 days a week and counting down the days until my 2-week holiday. Being a freelance writer means that I can be travelling all the time, doing what I love, and I can fit my work in around that. A lot of people dream about this lifestyle, and for me it's incredible, but it's worth saying that being a freelancer (especially on the road) means having a huge amount of discipline to make sure that the work you've committed to is done on time and to an excellent standard. I've met quite a few people who struggle to find the motivation to get their work done when they have so much freedom, but fortunately I love my work and I love that when I finish my four hours I can go out exploring.
OK, so what has been the greatest challenge?
The greatest challenge has been making the transition into a life of long-term travellers and freelance writers, and convincing our families that we weren't totally crazy. It took us about six months to get ourselves off the ground; during that time I worked some really crappy writing jobs, we lived at home with our parents, and ate through a good portion of our Taiwan savings. The worst thing was not knowing whether we were going to be able to make it work, and having our parents being pretty unsure of what exactly it was we were up to. Nonetheless, they supported us and trusted we (at least kind of) knew what we were doing. 
Do you have one standout highlight, achievement or a favourite destination?
I only have fond memories of our travels, even the hard times, because there were hard times, but we always came through them. I remember arriving at our first house sit in Costa Rica, walking up the slope and standing on the porch which looked out over this incredible view of San Jose and the surrounding mountains. We both stood there in total disbelief that we had actually got ourselves a house sit in such an incredible place. There are so many times on the road that I've stopped just in utter disbelief that we'd make it this far: the turtle arribada in Costa Rica when thousands of turtles came ashore to lay their eggs, seeing coffee growing for the first time in Panama; hiking up Concepcion Volcano on Ometepe Island in Nicaragua, and house sitting in a very grand and beautiful home in Guatemala. It feels like everything just fell into place for us over the last year, and I've loved pretty much everywhere we've been.
But nothings perfect right? Are there any downsides?
There's one huge downside to this lifestyle and that's being away from family and friends. We've had such success with finding house sitting work in Central America that we've been able to sustain our travels for far longer than we could've predicted. While this is awesome, it also means that we're really far away from home in the UK. Sometimes it just feels so rubbish knowing that you won't see your parents in the evening for dinner, and that you can't just go and visit your grandparents on the weekend, and that you haven't had coffee with that old friend for nearly a year! That's hard. Thankfully, we have very supportive families who we Skype all the time and good friends who are always there.
I can understand that. So what do you wish you had known before you started working as a freelance writer?
I'm not going to lie, I'm an avid researcher. I held off on starting a blog and establishing myself as a freelance writer for a really long time while I researched and read absolutely everything that I could think of online. I'm not talking about a couple of hours here, I'm talking about months of research. There's not really anything I wish I'd done differently, but I do wish that I'd started looking into freelance work while I was still at university as that would've been a really good time to start racking up some experience and learning about the industry. I went into it very gung-ho in the end, rather than gradually building up a workload.
So, what about the future? Where do you see yourself in 5 years time?
I don't really think about anything too much further than where I'll be travelling and/or house sitting in the next 6 months. I hope that I'll still be writing and working remotely as that's something that really works for me. I hope that I'll still be travelling somewhere new; maybe I'll make it to South America by then. 
I have a kind of vague idea that maybe Luke and I can expand our house sitting repertoire and start looking after hostels or small hotels, or even a small finca. We house sit for free and absolutely are really happy about that arrangement, but the natural progression seems to be that after some more years of house sitting we could earn an income from hotel sitting. We met a couple in a vegetarian cafe on an island in Panama about twenty years older than us who were doing that for a living, and it seemed like a great thing to do.
Wow that sounds amazing! Finally, and perhaps most importantly, what tips would you give for people wanting to follow in your footsteps and become a freelance writer?
Think about if it's what you really want. I know there are a lot of travel bloggers and freelancers who shout out about how awesome their lifestyle is and post articles about how anyone can do it, but everyone is different. When you read about travelling, freelancing and house sitting it all sounds like a dream, but is it your dream? Make sure you're not just following someone else's dream, because the worst thing is getting on the road and committing to a house sit and then realising it's not for you. If you reckon it might be though, then my advice would be to give it a go. Start up an online portfolio for yourself, get chatting to as many people as possible, and research everywhere before you commit. Most importantly, if you really want to start a career as a freelancer or a house sitter, be flexible. It could just be the best decision you ever make.
Thanks so much Charlie, great advice here and keep enjoying your travels.
From surfing and scuba diving instructors, to teaching English, tour guiding, freelance writing and even busking – there are many ways to get paid to travel check out the other working abroad interviews to find out how!
Global Gallivanting is still looking to interview people working abroad, if you are interested in being featured email [email protected]