Portugal is a beautifully diverse country, both geographically and culturally. From the vibrant cities brimming with rich historical architecture and culture to the spectacular beaches and scenery, Portugal is bound to cast a spell on you.
It's one of the most loved destinations in Europe and also fast becoming one of the best places to do yoga teacher training abroad. There are so many yoga retreats, surf schools and yoga schools offering yoga teacher training in Portugal. Some schools have even moved over from Asia meaning you don't need to go so far to get authentic yoga training!
Reasons to do yoga teacher training in Portugal
From charming and historic Lisbon to the sunkissed beaches of the Algarve there are plenty of beautiful places in Portugal to train to become a yoga teacher.
Whether you just want to develop your own yoga practice or whether you want to change your career and become a yoga teacher there are yoga teacher training courses in Portugal to suit all yoga styles and levels of experience – you don't need to be expert yogi!
People from all walks of life and all levels of experience take yoga teacher training in Portugal and it could lead you to a really healthy and rewarding career for the future. Yoga teacher training is physically, mentally, spiritually and emotionally challenging but also life changing and very rewarding.
Pin Me! 😉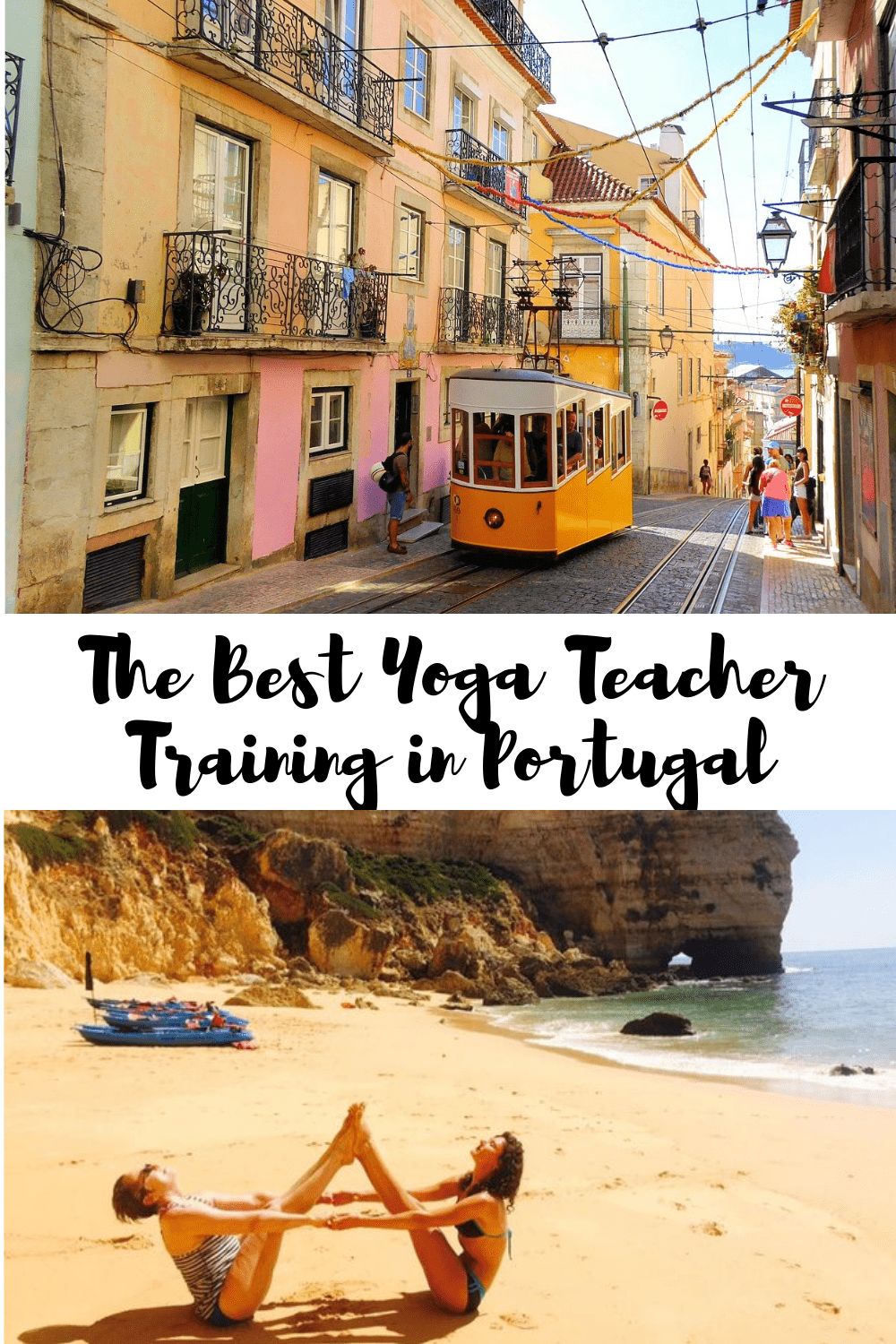 How to choose the best yoga teacher training program for you
Doing any yoga teacher training course is a big investment of time and money and it's even more important that ever to do your research before you book. Always make sure your YTT is Yoga Alliance approved. While most approved schools have similar curriculums, quality can vary so it's useful to get reviews from previous students before you book your yoga teacher training in Portugal.
I find sites like www.bookyogaretreats.com and www.bookyogateachertraining.com really useful as you can read reviews from people who've already been there as well as finding out more about the style of yoga, daily schedule and the instructors.
Make sure that the style of yoga taught matches what you wish to teach in the future. I also recommend going for the course with the longest duration you can as you'll have more time to relax those aching muscles, absorb all the information you're learning and explore the location.
For more tips see here for more things to look out for when choosing your YTT.
To help you pick the perfect yoga teacher training in Portugal here are my top recommendations…
My Pick of the 5 Best Portugal Yoga Teacher Training Courses

Join the friendly team at Bend it like Buddha Yoga for an amazing 16 day 200-hour Ashtanga and Vinyasa yoga training training in Portugal.
This top-rated YTTC also contains a bonus course on Ayurvedic massage. It all happens just a few minutes away from the gorgeous Praia da Rocha beach at the newly renovated 4-star Flor da Rocha Hotel. 15 nights accommodation is included in a spacious room complete with Wi-Fi, daily housekeeping and a large flat screen TV. Plus, there is a self-service kitchen, large swimming pool, spa, lounge area and pool cafe on site.
Joining this program is your first step in a life-changing journey of health and wellness. Your days will be filled with learning with 2 daily yoga, meditation, and pranayama sessions, teaching practice and comprehensive sessions yoga philosophy, anatomy, physiology and alignment.
You will also be able to try Reiki, Tibetan bowl sound healing, yoga Nidra, intimacy circle and emotional releasing breath work. You'll also enjoy the delicious, organic, detoxifying meals during the entire retreat. One of the best and unique things about this Portugal yoga teacher training is that you also get an added 8-hour Ayurveda massage course. Click here for more info, dates, prices, reviews and to book.
Read More: Best Yoga Retreats in Portugal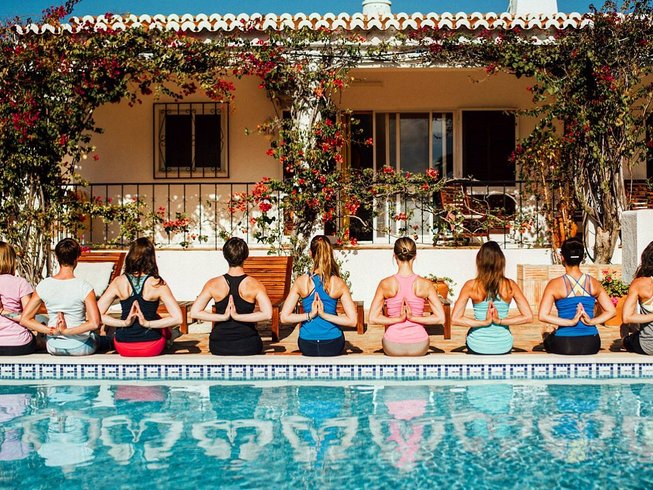 Led by founder Charlie Stewart-Brown, this Portugal yoga teacher training blends India with Portugal, ancient with modern while maintaining the integrity of the yoga traditions and philosophy. Indiv Yoga is held in a beautiful, private, sea-side, pool villa just 5 minutes away from Praia do Paraíso beach.
Spend 15 days in paradise learning all about asanas, pranayama, bandhas and kriyas, as well as yoga philosophy and history. The course explores the science behind the body and mind connection and its relation to yoga and meditation in the modern world. You'll learn how to make yoga accessible for every body. On top of that, you will leave with a knowledge of the business of teaching yoga, and, of course, a 200 hour YTTC.
Days start with morning teas, followed by a Hatha or Vinyasa yoga and meditation class, and end with a relaxing restorative yoga class. In between, you will be learning theory, anatomy and physiology, as well as ethics, philosophy and theory.
Included in the course is 14 nights accommodation in a private room with en-suite bathroom, a visit to the local fishing village and caves, and three vegetarian meals per day, cooking workshop and full use of the kitchen. To book, get info, dates, prices and to read reviews, click here.
This 21 day 200 hour Integral yoga teacher training on the beautiful island of Madeira is split into three main parts; practical, theoretical and methodology. The practical part of the course focuses on perfecting 50 Hatha asanas, meditation techniques, relaxation techniques, pranayama and Kriya Yoga.
The theoretical covers anatomy, the chakras, philosophy of Integral yoga system, review of 5 essential yoga texts including the Bhagavad Gita, and yoga for different ages. The methodology is all about how to actually teach and put together a yoga sequence. After 21 days you will leave with a 200 hour YTTC in hand and feel confident and well equipped to teach yoga all over the world.
A highlight of this course is that you'll often practice yoga outside in the beautiful nature of Madeira. You will be staying in an apartment equipped with a balcony, a lounge area, a TV, a washing machine, private bathroom and large outdoor swimming pool.
Meals are not included, making this one of the most affordable yoga teacher training in Portugal, but each apartment has its own kitchenette and there is also a larger, fully-equipped, communal kitchen onsite. On top of that, there are numerous small restaurants that you can walk to for exploring the local cuisine. Click here for photos, reviews, dates and to book.
Spend a magical 21 days learning how to teach yoga and so much more at the family-run, eco-sustainable, community-based Orada Retreat Center. Jed Pennell of School Yoga Institute chose this unique location because it's nestled in 71 hectares of nature and very private.
It's the perfect place for this very unique yoga teacher training in Portugal, which focuses on Mystical yoga; a spiritual practice. The mystical yoga teacher training curriculum is influenced by Peruvian Shamanism and offers students a unique and spiritually driven course that goes far beyond just a certification.
This unique 200-hour YTTC is described as a life-changing experience that guides you towards clarity and empowerment. The curriculum is influenced around Peruvian Shamanism combined with traditional Hatha and Vinyasa practices.
You will leave with knowledge of yogic theory, healing practices, meditation techniques and anatomy, as well as the traditional Peruvian shamanic medicine wheel , Kirtan bhajan chanting and how to lead cacao and fire ceremonies.  To book, check dates, read reviews and see photos, click here.
This 18-day training is led by the world-renowned La Casa Shambala and hosted at a restored Algarve country lodge. Nestled in the mountains, surrounded by orchards and citrus trees, and with a generous mix of countryside and sea views.
As well as training in hatha and vinyasa asana approaches, the 200-hour training has a focus on yogic philosophy, to give trainee teachers a deep foundation from which to build their personal practices.
Fresh, prana-filled dishes are prepared for each meal, to keep the body and mind energised and balanced. Between classes, you can enjoy the facilities of the lodge, including a lush garden, sauna, and natural salt-water swimming pool. Click here to check availability, reviews and prices.
I hope this blog has helped to find your perfect Portugal yoga teacher training course. If you're still undecided check out my other posts or this article about yoga teacher training abroad for more tips and recommendations.
Read more yoga blogs:
Did you do your yoga teacher training in Portugal?
I'd love to hear about your experiences in the comments below